ICTP to Inaugurate New Quantum Technologies Institute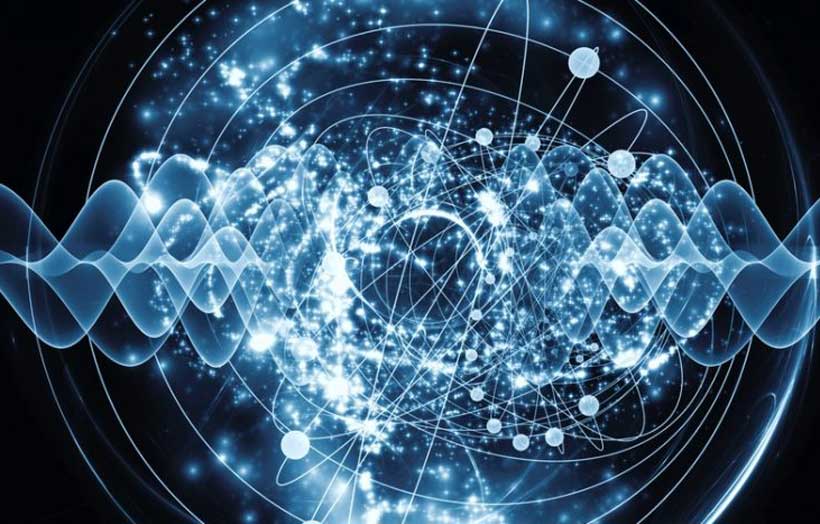 On 25 March, UNESCO's Abdus Salam International Centre for Theoretical Physics (ICTP) will launch a new institute dedicated to the study of quantum technologies. The Trieste Institute for Theoretical Quantum Technologies (TQT) is a joint initiative with the University of Trieste and the International School for Advanced Studies (SISSA). The new centre will provide a hub for the partners' research and training activities on this topic.
The creation of the institute comes as the ICTP builds on a series of recent successes in the field of quantum technologies. On 9 November 2018, Marcello Dalmonte from ICTP's Condensed Matter and Statistical Physics Section learned that he was among the recipients of a research grant offered by a major European initiative to develop quantum technology called the Quantum Flagship.
The European Commission has endowed the Quantum Flagship with €1 billion over the next 10 years. For the first three-year phase, Marcello Dalmonte will be acting as co-principal investigator of a research project that will focus on quantum simulation, one of the Flagship's five research themes. Quantum simulators study quantum systems, such as the atomic make-up of materials or chemical reactions, performing tasks that are too complex for the most powerful, transistor-based classical computers.
In early 2017, ICTP researcher Antonello Scardicchio was awarded a Google Faculty Research Award for work related to quantum computing. The US$72,000 in seed funding will be used to support graduate students and postdoctoral associates working in his group.
'Researchers in computer science and physics see quantum computation as being the next frontier. Quantum computing promises a future of unprecedented computing speed,' says Scardicchio, before adding that 'this is slowly becoming a reality, with IBM and Google already producing quantum computing chips that will someday drive a quantum machine. The creation of the first quantum computer will certainly have an impact on artificial intelligence (AI) by enabling us to solve more complex problems.'
The TQT will provide a hub for the study of the future of AI on quantum devices, offering in parallel a convenient link to private actors such as Google and IBM.
The ICTP first identified AI and data science as being critical areas for research and training in 2010, while brainstorming on the contours of its new multiyear strategic plan. The ICTP is currently recruiting a staff scientist in AI and data science.
The TQT will complement these activities, while providing a valuable venue for imparting cutting-edge knowledge to the thousands of scientists from developing countries who travel to the ICTP each year for education and training opportunities.
The Centre already has several conferences on quantum technology lined up for 2019. These include the Advanced School and Workshop on Ubiquitous Quantum Physics: the New Quantum Revolution from 18 to 22 February and the School on Advances in Condensed Matter Physics: New Trends and Materials in Quantum Technologies, which will run from 7 to 15 May.
Apple expands global recycling programs
Apple today announced a major expansion of its recycling programs, quadrupling the number of locations US customers can send their iPhone to be disassembled by Daisy, its recycling robot. Daisy will disassemble and recycle select used iPhones returned to Best Buy stores throughout the US and KPN retailers in the Netherlands. Customers can also turn in their eligible devices to be recycled at any Apple Store or through apple.com as part of the Apple Trade In program.
Apple has received nearly 1 million devices through Apple programs and each Daisy can disassemble 1.2 million devices per year. In 2018, the company refurbished more than 7.8 million Apple devices and helped divert more than 48,000 metric tons of electronic waste from landfills.
"Advanced recycling must become an important part of the electronics supply chain, and Apple is pioneering a new path to help push our industry forward," said Lisa Jackson, Apple's vice president of Environment, Policy and Social Initiatives. "We work hard to design products that our customers can rely on for a long time. When it comes time to recycle them, we hope that the convenience and benefit of our programs will encourage everyone to bring in their old devices."
Daisy is now able to disassemble 15 different iPhone models at the rate of 200 per hour, recovering even more important materials for re-use. Once materials have been recovered from Daisy, they are recycled back into the manufacturing process. For cobalt, which is a key battery material, Apple sends iPhone batteries recovered by Daisy upstream in its supply chain. They are then combined with scrap from select manufacturing sites and, for the first time, cobalt recovered through this process is now being used to make brand-new Apple batteries — a true closed loop for this precious material.
Apple also uses 100 percent recycled tin in a key component of the main logic boards of 11 different products. The company's engineering of an aluminum alloy made from 100 percent recycled aluminum allows the new MacBook Air and Mac mini to have nearly half the carbon footprint of earlier models. Starting this year, aluminum recovered through the Apple Trade In program is being remelted into the enclosures for the MacBook Air.
To further its research on recycling, Apple today also announced the opening of its Material Recovery Lab dedicated to discovering future recycling processes. The new 9,000-square-foot facility in Austin, Texas, will look for innovative solutions involving robotics and machine learning to improve on traditional methods like targeted disassembly, sorting and shredding. The Lab will work with Apple engineering teams as well as academia to address and propose solutions to today's industry recycling challenges.
Apple continues to expand its programs to ensure devices are used for as long as possible. The number of Apple Stores and network of Authorized Service Providers has grown to over 5,000 worldwide. Last fall, Apple rolled out a new method for optimizing iPhone screen repairs that allows thousands more independent shops to offer the service. Apple also launched a battery replacement and recycling program for all of its products.
Today, Apple released its 2019 Environment report, which contains additional information on the company's climate change solutions, including its recent announcement that 44 of its suppliers have committed to 100 percent renewable energy for their Apple production. The report can be viewed at apple.com/environment. The company will be celebrating Earth Day on April 22 with environmentally themed Today at Apple sessions at all Apple Stores, and will be featuring original stories and collections of apps and games on the App Store to help people honor the Earth and consider their role in the natural ecosystem. Apple's Earth Day Challenge also encourages Apple Watch wearers to complete any workout of 30 minutes or more to earn a special Earth Day Award and stickers for Messages.
Apple will also be supporting the efforts of environmentally-focused non-profits Conservation International, SEE Foundation and The Recycling Partnership — expanding on its conservation and resource efficiency work from last year.
EU plans to invest €9.2 billion in key digital technologies
The Digital Europe Programme is a new €9.2 billion funding programme whose goal is to ensure that all Europeans have the skills and the infrastructure needed to meet a full range of digital challenges.
It is part of a strategy to further develop the digital single market, which could help to create four million jobs and boost the EU's economy with €415 billion every year while increasing the EU's international competitiveness.
"For too many years, Europe's tech sector has lagged behind third countries such as the US and China. We need a coherent Union-wide approach and an ambitious investment to secure a solution to the chronic mismatch between the growing demand for the latest technology and the available supply in Europe," said Austrian ALDE member Angelika Mlinar, one of the MEPs repsonsible for steering the plans through Parliament.
A part of the budget would be allocated to encourage small and medium-sized enterprises and public administrations to use technology more often and better, while other parts will cover strategically important fields such as supercomputers, artificial intelligence and cybersecurity.
"We can count on European excellence when it comes to research and innovation, but our businesses, especially SMEs, still found it difficult to access and take advantage of new solutions," said Milnar. "This programme has been crucially designed to tackle the low take-up of existing testing technologies. We are on track to deliver one of the most promising and necessary funds for Europe's future."
UNIDO and Iran to develop ICT value chain
The Director General of the United Nations Industrial Development Organization (UNIDO), LI Yong, today met with Javad Azari Jahromi, Minister of Information and Communication Technologies (ICT) of the Islamic Republic of Iran, who announced a self-funded project to be implemented by UNIDO within the framework of its 2017-2021 Country Programme.
The US$1 million project will seek to boost the Iranian ICT value chain with the aim of creating local employment opportunities as well as to promote the regional economic integration of Iranian start-ups and SMEs. The project was designed to support the country's sixth 5-year development programme that places a strategic focus on ICT.
"The partnership between Iran and UNIDO builds on the Organization's track record in boosting the performance of private sector producers through the promotion of industrial linkages and diversification, including by creating a favourable investment climate and a conducive environment for start-ups and fast-growing organizations," said Director General LI Yong.
Minister Azari Jahromi added: "Taking into account the rapid progress achieved by the Islamic Republic of Iran in different aspects of ICT during the recent years as well as swelling number of very talented and well-educated specialized Iranian young generation in this field, it is due time to boost our regional cooperation with neighbouring countries. To that end, we intend to develop an effective partnership with UNIDO as the UN agency with the primary mandate to enhance industrial development. I trust that UNIDO's vast technical expertise and capacities and policy advisory services will ensure the effectiveness and sustainability of the aforementioned programme, which at the end will be beneficial for our whole region."
The current UNIDO-Iran Country Programme covers a range of cooperation areas to promote inclusive and sustainable industrial development in the country, including business development and sustainable job creation, the integration of local industries in global production networks and investment promotion, the development of agricultural and industrial value chains and support to meeting commitments under the Montreal Protocol as well as other international agreements for safeguarding the environment.