Agreement with Singapore set to give a boost to EU-Asia trade
The trade and investment agreements between the EU and Singapore have today received the approval of the European Parliament. The Parliament has also given its green light to the Partnership and Cooperation Agreement.
This marks an important step towards their entry into force, boosting the EU economic relations and cooperation with Singapore and leading to an increased presence in the fast-growing Southeast Asian region.
President of the European Commission Jean-Claude Juncker said: "The European Parliament's approval of the EU-Singapore trade and investment agreements marks a historical moment. This is the European Union's first bilateral trade agreement with a Southeast Asian country, a building block towards a closer relationship between Europe and one of the most dynamic regions in the world. We are forging closer economic and political ties with friends and partners who, like us, believe in open, reciprocal and rules-based trade. This is yet another win-win trade agreement negotiated by the European Union, an agreement that will create new opportunities for European producers, workers, farmers and consumers, while at the same time promoting cooperation and multilateralism."
Commissioner for Trade Cecilia Malmström said: "In uncertain times, we need agreements like these more than ever. They will help Europe and Singapore to prosper, boosting our trade and strengthening an already essential relationship. The agreements will benefit workers and farmers, as well as small and big companies on both sides. They include a strong commitment to human and labour rights and to protecting the environment. This is yet another signal that open, fair and rules-based global trade is here to stay."
Singapore is by far the EU's largest trading partner in the Southeast Asian region, with a total bilateral trade in goods of over €53 billion and €51 billion-worth of trade in services. Over 10,000 EU companies are established in Singapore and use it as a hub to serve the whole Pacific region. Singapore is also the number one location for European investment in Asia, with investment between the two growing rapidly in recent years: combined bilateral investment stocks reached €344 billion in 2017.
Under the trade agreement, Singapore will remove all remaining tariffs on EU products and will commit to keep unchanged the current duty-free access for all other EU products. The agreement also provides new opportunities for EU services' providers, among others in sectors such as telecommunications, environmental services, engineering, computing and maritime transport. It will also make the business environment more predictable. Singapore also agreed to remove obstacles to trade besides tariffs in key sectors, for instance by recognising the EU's safety tests for cars and many electronic appliances or accepting labels that EU companies use for textiles.
The investment protection agreement will ensure a high level of investment protection, while safeguarding the EU's and Singapore's rights to regulate and pursue public policy objectives such as the protection of public health, safety and the environment. The agreement will replace 12 bilateral investment treaties existing between EU Members and Singapore putting in place a modern common investment protection framework with a well-balanced Investment Court System for resolving investment disputes.
With both agreements, the EU has made an important stride towards setting high standards and rules for its trade and investments with the fast-growing Southeast Asian region. The agreements offer huge economic opportunities, while fully safeguarding public services and parties' right to regulate. The trade agreement also includes a comprehensive chapter on trade and sustainable development that sets the highest standards of labour, safety, environmental and consumer protection for trade and investment between the parties; as well as strengthening joint actions on sustainable development and climate change.
Partnership and Cooperation Agreement
EU High Representative for Foreign Affairs and Security Policy/Vice-President of the European Commission, Federica Mogherini, said:"Today's overwhelmingly positive vote in the European Parliament is good news for strengthening our relations with Singapore. In today's world you need like-minded partners and friends. Our new agreement will allow us to build on what we have already and to do more together to achieve our common goals, both on the bilateral agenda and in tackling global challenges."
The Partnership and Cooperation Agreement reinforces the existing relationship between the European Union and Singapore and builds on a shared commitment towards multilateralism and international rules-based order. This Agreement will provide the basis for more effective bilateral engagement between the EU and its Member States and Singapore by strengthening political dialogue and enhancing cooperation in a broad range of areas including sustainable development, democracy and fundamental freedoms, justice, security, connectivity, people-to-people links, information society, education and cultural exchanges as well as employment and social affairs. It will enable us to step up scientific and technological cooperation in fields such as energy, environment, fight against climate change, protection of natural resources, smart cities and transport. It will enhance cooperation on global challenges, where both Singapore and the EU play an increasingly important role, and will help address them in a more coherent way.
Negotiations for the Partnership and Cooperation Agreement started in 2005, and the High Representative/Vice-President Federica Mogherini and her counterpart, the Minister of Foreign Affairs of Singapore, Vivian Balakrishnan, signed the agreement in the margins of the ASEM Summit on 19 October 2018. The Partnership and Cooperation Agreement will need to be ratified by all EU Member States before it enters into force.
Next steps
The EU and Singapore signed the trade and investment agreements on 19 October 2018. Following today's vote, the trade agreement could then enter into force once Singapore concludes its own internal procedures and both sides complete the final formalities. The investment protection agreement will further need to be ratified by all EU Member States according to their own national procedures before it can enter into force.
Once in place, the agreements will be the first building block of a future region-to-region trade and investment agreement between the EU and entire ASEAN region.
Afghanistan: EU reinforces humanitarian support with €40 million as crisis worsens
The European Commission has allocated an additional €40 million in emergency assistance for those affected by the worsening humanitarian situation in Afghanistan, as well as for Afghan refugees in neighbouring Pakistan and Iran. This brings total EU humanitarian aid for the Afghan crisis to €77 million in 2019: €61 million in Afghanistan, €9 million in Pakistan and €7 million in Iran.
"The humanitarian outlook in Afghanistan is as bleak as ever. Not only has the conflict between the government and non-state armed groups intensified since the beginning of the year, but devastating floods have also hit this war-torn country. The EU is boosting humanitarian aid to help those most in need, especially children," said Commissioner for Humanitarian Aid and Crisis Management Christos Stylianides.
The new funding will get aid to the most vulnerable families across the country, focusing on the victims of war, forced displacement and natural disasters, as well as returning Afghan refugees. This includes providing emergency healthcare, shelter, food, access to clean water and sanitation facilities, and protection services, targeting women and children. The EU will also continue to provide education for children who have had to leave their schools.
In Pakistan, the EU funding will provide assistance to Afghan refugees, as well as internally displaced Pakistanis. In Iran, EU aid will ensure the delivery of vital assistance, including protection and access to basic services such as education and healthcare, to Afghan refugees in the country.
The EU has funded humanitarian operations in Afghanistan since 1992, providing up to €872 million to date. Funds are allocated strictly on the basis of the humanitarian principles of independence, impartiality and neutrality to ensure access to those in need and are only provided to humanitarian organisations.
Background
Afghanistan is one of the most violent crisis-ridden countries in the world. The worst-hit communities are those that have been displaced or have lost access to basic services due to the conflict between government forces and armed opposition groups, which has worsened since the beginning of 2018. While the conflict continues to limit people's access to basic services and lifesaving assistance, the total number of displaced people has risen to almost 3.4 million. Meanwhile, at least 6 million Afghans still live as refugees in neighbouring Iran and Pakistan, many of them without registration or legal status.
The risks of natural hazards further aggravates the humanitarian needs. The aftermath of the 2018 drought and 2019 floods continue to affect over 6.2 million people in 22 out of 34 provinces across Afghanistan.
Rwanda: EU provides €10.3 million for life-saving refugee support measures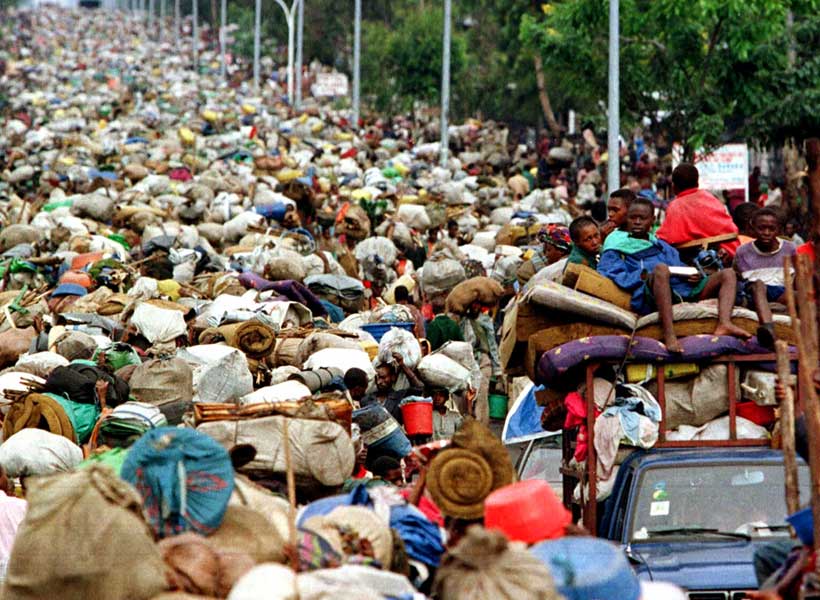 During his visit to Rwanda, Commissioner for International Cooperation and Development Neven Mimica has announced a €10.3 million support package to the UNHCR's Emergency Transit Mechanism (ETM) in Rwanda, which provides a life-saving avenue out of Libya for people in need of international protection, with a view to their further resettlement. The funding is provided through the Emergency Trust Fund for Africa. This initiative builds on the example of the ETM Niger, through which more than 2,900 refugees and asylum seekers have been evacuated out of Libya since 2017.
High Representative/Vice-President Federica Mogherini said: "The Emergency Transit Mechanism in Rwanda is a vital life-saving measure to bring people in need of international protection out of Libya. It is an important sign of African solidarity and of partnership with the European Union. It broadens the support to the most vulnerable people held in Libyan detention centres that need to be closed urgently."
Commissioner Mimica said: "This project will support efforts of the Government of Rwanda to receive and provide protection to about 1,500 refugees and asylum-seekers who are currently being held in detention centres in Libya. Such a remarkable and powerful proof of African solidarity should be further encouraged, replicated and supported."
Background
The UNHCR has evacuated more than 4,250 refugees and asylum-seekers out of Libya to other countries since 2017.
However, around 4,700 people are currently estimated to be held in dire conditions inside detention centres in the country. They urgently need to be moved to safety and to be provided with protection, lifesaving assistance, and durable solutions.
Following the escalation in and around Tripoli, namely the July air strike on a migrant detention centre, the EU continues to support the vital work of the Gathering and Departure Facility on location.
The EU is also supporting the UNHCR's increased efforts to transfer to Tripoli the most vulnerable people in need of international protection from conflict areas where they are at risk, pending their evacuation outside of Libya.
Africa-Europe Alliance: Two new financial guarantees under the EU External Investment Plan
Today in the margins of the 2019 Africa Investment Forum in Johannesburg, South Africa, the European Commission signed two guarantee agreements with two Member States' development finance institution: the Dutch 'Financierings-Maatschappij voor Ontwikkelingslanden N.V' (FMO) and the Italian 'Cassa Depositi e Prestiti' (CDP). These guarantee agreements are part of the implementation of the EU External Investment Plan, the financial arm of the Africa-Europe Alliance for Sustainable Investment and Jobs.
Commissioner for International Cooperation and Development, Neven Mimica said: "The agreements signed today, worth €70 million, will help us to unlock more than €500 million in new investment in Africa and the EU Neighbourhood. These guarantees aim at mitigating and sharing the risk with other private investors in countries where otherwise these investments would not be as attractive. They will help to boost access to finance for small businesses, notably in the tech sector – and create up to 175,000 jobs directly and indirectly."
Two guarantees, one goal: more investment in partner countries
The two guarantees will significantly boost investment and access to finance for small businesses (MSMEs), especially in the technology sector, in the countries covered by the Plan.
FMO Ventures Programme
This €40 million guarantee agreement is a partnership with FMO, the Dutch development bank. It targets Sub-Saharan Africa and the EU Neighbourhood. It will guarantee venture capital provided by FMO to start-up companies, in particular led by young entrepreneurs. The companies will use technology to lower the costs of making or supplying products and services that were previously unaffordable to many people. The guarantee will target companies offering digital solutions in a wide range of areas, from agriculture, access to energy and financial services to education, healthcare, transport and logistics. It will support up to 125,000 new jobs, directly and indirectly.
Archipelagos One4A – One Platform for Africa
The €30 million Archipelagos guarantee agreement is a partnership with Cassa Depositi e Prestiti (CDP), the Italian Development Bank, and the African Development Bank (AfDB). It will support access to finance across Africa for high potential small businesses. In order to help their growth, the programme supported by the guarantee will provide financing through innovative capital markets solutions. It will also enable financing partners to share the risk of investing in projects. By doing so it will generate up to 50,000 jobs, many for young people, and benefit about 1,500 small businesses in 10 African countries.
These guarantees are part of the External Investment Plan, which, by investing €4.5 billion, is set to leverage €44 billion in total investment. Out of the total budget, the EU has already allocated €4.2 billion.
Background
The EU External Investment Plan is using €4.5 billion in public funds to leverage €44 billion by 2020 in public and private investment for development in countries neighbouring the EU and in Africa.
The plan has three pillars. The first is finance. Through financial guarantees, the EU mitigates the risk in countries with difficult environments so that private investors and development banks will lend to entrepreneurs or finance development projects.
The plan's second part is technical assistance. This funds experts who help develop new projects, to the benefit of will authorities, investors and companies. Technical assistance may include, for example, market intelligence and investment climate analysis, targeted legislative and regulatory advice, support to partner countries in implementing reforms, chains and identification, preparation, and help to carry out necessary investments.
The third part is investment climate support. The EU works closely with governments in partner countries to help them improve the conditions which investors consider when making their decisions. These include the business environment and a country's political and economic stability. The EU also brings together governments and business to discuss investment challenges.
The External Investment Plan is a key part of the Africa-Europe Alliance for Sustainable Investment and Jobs, launched by European Commission President Jean-Claude Juncker in September 2018. The Alliance aims to boost investment which creates jobs and promotes sustainable development.