Youth, Technology and Growth are Focus of 26th World Economic Forum on ASEAN in Cambodia
For the first time, Cambodia will host the World Economic Forum on ASEAN. The meeting, in its 26th year, will focus on how the region can harness the potential of a young demographic, as well as the transformative impact of the Fourth Industrial Revolution, to foster inclusive economic growth.
More than 700 leaders from business, government, academia and civil society will convene under the theme, Youth, Technology and Growth: Securing ASEAN's Digital and Demographic Dividends, in Phnom Penh on 10-12 May.
The meeting will bring together key stakeholder groups to discuss how the region will balance rapid social, economic and political reforms while ensuring equitable and sustainable growth, employment creation and resource security. As the ASEAN region celebrates its 50th anniversary, the programme will focus on opportunities to bring infrastructure projects to life, how to adapt education systems to the needs of the digital age, and how the ASEAN community can navigate a new course in a world of accelerating change. In addition, the jobs of the future and the impact of empowered and engaged women and youth on economic growth and social development will be the focus of discussions.
"The 50th anniversary of the ASEAN community is a perfect moment not only to reflect on all that the region has achieved over the past five decades but importantly to develop fresh ideas and catalyse new initiatives to take the region into the future," said Justin Wood, Head of Asia and the Pacific at the World Economic Forum. "The 10 nations of ASEAN have fantastic potential to continue delivering prosperity to their young populations. But in an era of increasingly rapid economic, geopolitical and technological change, the task of identifying opportunities, navigating risks and setting policy requires new approaches. The meeting in Phnom Penh will bring together all stakeholders in society to work on these new approaches."
"It is an honour and a privilege for our country to host the World Economic Forum on ASEAN this year. The theme of the meeting, Youth, Technology and Growth, is especially significant for our country's current position in the ASEAN and global markets," said Sun Chanthol, Senior Minister; Minister of Public Works and Transport of Cambodia. "With over half of the population under the age of 25 and an average GDP growth of over 7% during the last two decades, Cambodia is in a position to continue to grow thanks to our young, dynamic and energetic population who embrace the technological revolution."
Ahead of the meeting, the World Economic Forum together with the Government of Cambodia invite students and the public to join the Open Forum, a publicly accessible debate session on The ASEAN Dream, at the Institute of Technology of Cambodia (ITC) on Thursday 10 May from 14.30 to 16.00. Established in 2003, the Open Forum sessions are designed to engage a diverse global public and facilitate the sharing of a broad range of ideas, experiences and stories on pressing and controversial issues, giving students and the public an opportunity to interact directly with business and government leaders.
As the meeting will focus heavily on the region's young population, inspiring ASEAN leaders under the age of 40 from business, to politics, to the arts, will be featured. From the Forum's own communities, the Global Shapers, a network of Hubs developed and led by young people between the ages of 20-30 who are making a positive contribution to their communities, will be represented by over 35 Hubs from Asia. In addition, 35 Young Global Leaders and six outstanding Social Entrepreneurs will take an active role in the meeting.
The many government representatives will include: Prime Minister Hun Sen of Cambodia, who will lead a strong senior ministerial delegation from the host country; Prime Minister Thongloun Sisoulith of Laos; President Rodrigo Roa Duterte of the Philippines; Prime Minister Nguyen Xuan Phuc of Viet Nam; Minister of Industry of Indonesia Airlangga Hartarto, and Minister of National Development Planning of Indonesia Bambang Brodjonegoro; Minister of International Trade and Industry of Malaysia Mustapa Mohamed; Minister of Digital Economy and Society of Thailand Pichet Durongkaveroj and Minister of Transport of Thailand Arkhom Termpittayapaisith; and Minister of Foreign Affairs and Cooperation of Timor-Leste Hernani Coelho.
Other key participants are: Wolfgang Jamann, Secretary-General and Chief Executive Officer, CARE International, Switzerland; Jin Liqun, President, Asian Infrastructure Investment Bank (AIIB), Beijing; Arancha Gonzalez Laya, Executive Director of International Trade Centre (ITC), Geneva; Stephen P. Groff, Vice-President, East Asia, South-East Asia and the Pacific, Asian Development Bank; Tan Hooi Ling, Co-Founder, Grab, Young Global Leader, Malaysia; Jamaludin Ibrahim, Managing Director, President and Group Chief Executive Officer, Axiata Group, Malaysia; John Rice, Vice-Chairman, GE, USA; and Tevin Vongvanich, Chief Executive Officer, PTT, Thailand.
On Thursday 10 May, the Grow Asia Forum, a joint initiative by the World Economic Forum and the ASEAN Secretariat, will also hold its annual meeting in Phnom Penh. It will bring together 120 leaders from ASEAN governments, global and regional private sector, civil society and farmers' organizations to explore solutions and make strategic decisions that will help ensure the sustainability of food systems. The Forum's work on agriculture has reached 3.6 million farmers to date and mobilized $10 billion, with $1.2 billion already invested.
New Space Sustainability Rating Addresses Space Debris with Mission Certification System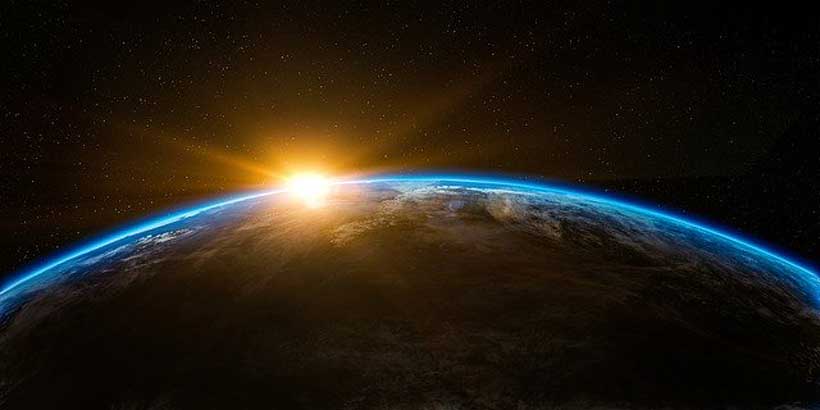 In early 2022, space organizations will be able to give their missions, including satellite launches and crewed missions, certifications for sustainability with the finalization of the Space Sustainability Rating (SSR).
With ever more satellites being launched each year, the risk of collisions and the proliferation of space debris continues to rise. This has created a need to find ways to maximize the long-term sustainability of the space environment and encourage responsible behaviour.
The SSR system aims to address these issues by quantifying the sustainable behaviour of space actors. These scores will be based on factors ranging from data sharing, choice of orbit, measures taken to avoid collisions, plans to de-orbit satellites on completion of missions, and even how well they can be detected and identified from Earth. The choice and characteristics of a launch provider will also have an impact on the score.
There will be bonus marks for adding optional elements, such as de-orbiting fixtures, which could be used for the active removal of the object once its operational lifetime has been fulfilled.
"The Forum is very glad to support such an innovative approach to a global challenge of space debris," said Nikolai Khlystov, Lead for Mobility and Space, World Economic Forum. "Incentivizing better behaviour by having actors compete on sustainability will create a race to the top and eSpace at EPFL is a great organization to take the SSR to the next level."
After a robust selection process involving close to 20 stakeholders, the EPFL Space Center (eSpace) at the Swiss Federal Institute of Technology Lausanne (EPFL), based in Lausanne, has been selected to lead and operate the SSR, in preparation for the roll-out of the transparent system for scoring the space sustainability efforts of different space actors.
"Space sustainability is in eSpace's DNA, as one of our research projects led to the creation of ClearSpace – a pioneer spin-off selected by ESA [European Space Agency] for the first debris removal mission. Hosting the SSR is a strategic move for our Center. With our experience and the partners that will support SSR at EPFL, Switzerland and international levels, we intend to initiate in 2022 what could be a game changer in the way space missions are carried out," said Jean-Paul Kneib, Professor of Astrophysics and Director of eSpace.
"The SSR aims to influence behaviour by all spaceflight actors, especially commercial entities, and help bring into common usage the sustainable practices that we desperately require," said Holger Krag, Head of ESA's Space Safety Programme. "To achieve this, the SSR rating includes a peer-reviewed assessment of the short- and long-term risks that any mission presents to other operators and for our orbital environment in general."
The SSR initiative was developed over the past two years by the Forum, the ESA and a joint team led by Space Enabled Research Group at the MIT Media Lab, with collaboration from BryceTech and the University of Texas at Austin, and it comes at a critical time. While satellites have long been used for navigation services, weather monitoring and television broadcasts, humankind's reliance on space infrastructure is set to increase sharply with the launch of large constellations of small satellites designed to boost global internet access.
"The design process of the SSR catalysed a creative community of commercial firms, universities, government agencies and civil society organizations," said Danielle Wood, Director of the Space Enabled Research Group at the MIT Media Lab. "There is more important work to do in engineering research, policy-making and norm building to ensure that the global community can operate in space for decades to come. All of us who contributed to the SSR are committed to continuing this important work and we hope others will continue to join in."
There are now nearly 4,000 active satellites in orbit, including the inhabited outposts of the International Space Station and the Tiangong Space Station, currently under construction. As many more organizations from many more countries prepare to launch new missions, this number is set to grow exponentially. The risk of collisions will inevitably increase and raise questions about the capacity of near-Earth orbit to accommodate so many objects safely and sustainably.
By voluntarily taking part in the new SSR system, spacecraft operators, launch service providers and satellite manufacturers will be able to secure one of four levels of certification which they can share externally to show their mission's level of sustainability.
This will increase transparency, without disclosing any mission-sensitive or proprietary information. The goal is to incentivize good behaviour by all space actors in addressing the problem of space debris. A favourable score for a particular rated party might, for example, result in lower insurance costs or improved funding conditions from financial backers.
Over the two-year development period of the SSR, numerous operators within the space industry have been engaged in the evolution of the rating system and there is already widespread interest in this new tool. Several companies, including Airbus, Astroscale, AXA XL, elseco, Lockheed Martin, Planet, SpaceX and Voyager Space Holdings, have actively supported the SSR concept and expressed interest in participating once it is publicly launched.
'Digital dumpsites' study highlights growing threat to children
The health of children, adolescents and expectant mothers worldwide is at risk from the illegal processing of old electrical or electronic devices, the World Health Organization (WHO) said on Tuesday, in a landmark new report on the toxic threat.
In a statement coinciding with the launch, WHO Director-General Tedros Adhanom Ghebreyesus warned that the health threat was growing, in line with the "mounting 'tsunami of e-waste'".
"In the same way the world has rallied to protect the seas and their ecosystems from plastic and microplastic pollution, we need to rally to protect our most valuable resource –the health of our children – from the growing threat of e-waste", he added.
A growing pile
Discarded electronic devices, or e-waste, has become the fastest growing domestic waste category in the world, according to the UN health agency.
The Global E-waste Statistics Partnership (GESP) said that of the 53.6 million tonnes produced worldwide in 2019, only 17.4 per cent was recorded as collected and appropriately recycled.
While the fate of the remaining e-waste is unknown, it is unlikely to have been managed and recycled in an environmentally-sound manner.
Hazards on the heap
While some e-waste ends up in landfills, significant amounts are often illegally shipped to low and middle-income countries where informal workers, including children and adolescents, pick through, dismantle, or use acid baths to extract valuable metals and materials from the discarded items.
WHO said that an estimated 12.9 million women who work in the informal waste sector are potentially exposing themselves and their unborn children to toxic residue.
Additionally, more than 18 million youngsters globally – and some as young as five – are said to be "actively engaged" in the wider industrial sector, of which e-waste processing is a small part.
'Devastating' impact
Informal methods of removing materials from e-waste have been linked to a range of health effects, especially in children, WHO said.
Recycling e-waste particularly impacts those in vital stages of physical and neurological development, with children, adolescents and pregnant women most vulnerable.
Children are more susceptible to the toxic chemicals because they absorb pollutants relative to their size and, with not-fully-developed organs, are less able than adults to eradicate harmful substances.
"Improper e-waste management is…a rising issue that many countries do not recognize yet as a health problem", said WHO lead author, Marie-Noel Brune Drisse, warning that if action is not taken now, "its impacts will have a devastating health effect on children and lay a heavy burden on the health sector in the years to come". 
Call to action
The Children and Digital Dumpsites report delves into the multiple dimensions of the problem, to practical action that the health sector and others concerned, can take to confront the insidious health risk.
It calls for binding action by exporters, importers and governments to ensure environmentally sound disposal of e-waste and the health and safety of workers and communities.
The health sector is also being asked to reduce adverse effects from e-waste by building up capacity to diagnose, monitor and prevent toxic exposure, and to advocate for better data and health research on risks faced by informal e-waste workers.
"Children and adolescents have the right to grow and learn in a healthy environment, and exposure to electrical and electronic waste and its many toxic components unquestionably impacts that right", said Maria Neira, WHO Director of the Department of Environment, Climate Change and Health.
"The health sector can play a role by providing leadership and advocacy, conducting research, influencing policy-makers, engaging communities, and reaching out to other sectors to demand that health concerns be made central to e-waste policies."
Philippines: Investing in Nutrition Can Eradicate the "Silent Pandemic"
The Philippines needs to invest more in programs tackling childhood undernutrition to eliminate what is long considered a "silent pandemic" afflicting many of the country's poor and vulnerable population, according to recent study released today by the World Bank.
Childhood stunting – characterized by prolonged nutritional deficiency among infants and young children– is considered one of the most serious but least-addressed problems in the world and an even more pressing issue in the Philippines, says the report "Undernutrition in the Philippines: Scale, Scope and Opportunities for Nutrition Policy and Programming."
In the Philippines, around 30 percent of children under 5 years of age are stunted – considered high for its level of income and high compared to most of its neighbors. Other countries with similar levels of income have rates of stunting averaging around 20 percent of children under 5 years of age.
The Philippines' rate of stunting places it fifth among countries in the East Asia and Pacific region with the highest stunting prevalence, and among the top ten countries globally with the highest number of stunted children.
Ndiamé Diop, World Bank Country Director for Brunei, Malaysia, Philippines, and Thailand said undernutrition is a critical issue hampering the Philippines' human and economic development.
"Healthy children can do well in school and look forward to a prosperous future as productive members of society, while undernourished children tend to be sickly, learn less, more likely to drop out of school and their economic productivity as adults can be clipped by more 10 percent in their lifetime," said Diop. "Improving the nutrition of all children is key to the country's goals of investing in people and boosting human capital for a more inclusive pattern of economic growth. To achieve that, we need greater coordination among the local and national government units, as well as participation of the private sector and civil society to address this silent pandemic afflicting many poor and vulnerable families."
In some regions, the level of stunting exceeds 40 percent of children under five years of age. This is true in Bangsamoro Region in Muslim Mindanao (BARMM), Mimaropa, Bicol, and Western Visayas. In rural areas, children are more likely to be stunted than their urban counterparts.
Among the primary causes of undernutrition are poor infant and young child feeding practices, ill health, low access to diverse, nutritious foods, inadequate access to health services, unhealthy household environment, and poverty.
According to Nkosinathi Mbuya, World Bank Senior Nutrition Specialist, East Asia and the Pacific Region and lead author of the report, there is only a narrow window of opportunity for adequate nutrition to ensure children's optimal health and physical and cognitive development. It spans the first 1,000 days of life from the day of conception to the child's second birthday, he said.
"Any undernutrition occurring during this period can lead to extensive and largely irreversible damage to physical growth, brain development, and, more broadly, human capital formation," said Mbuya. "Therefore, interventions to improve nutritional outcomes must focus on this age group and women of child-bearing age."
Critical to tackling undernutrition at scale are better and higher levels of nutrition investments as well as adequate domestic financing for nutrition-related programs for vulnerable populations, says the report. Increased direct government funding to and from local government units (LGUs) to deliver on their multisectoral local nutrition action plans to be a priority.
The report suggests several priority recommendations, which if implemented over the next few years can bring about effective and sustainable progress in the Government's efforts to tackle the persistent challenge of undernutrition in the country.
These include securing adequate and predictable financing for nutrition-related programs to achieve nutrition goals; implementing at scale, an evidence-based package of nutrition interventions that should be made available to eligible households in high stunting municipalities; addressing the underlying determinants of undernutrition through a multi-sector effort, and; ensuring that nutrition is one of the key priorities in the agendas of both the executive and legislative bodies in municipalities.
Such a comprehensive effort would require high-level government ownership and leadership at all levels which would facilitate a whole-of government approach to achieving nutrition results, according to the report.