Geostrategy After the Deadlock in U.S.-North Korean Relations
George Friedman, the head of the 'private CIA' firm Stratfor, issued a report on March 5th, "After Hanoi: North Korea, the US and Japan", and it said:
The strategy since World War II, built on the assumption that U.S. conventional forces can defeat any foe and pacify the country, is being abandoned. And in the case of the Hanoi talks, the U.S. is following a new strategy of diplomatic deadlock without recourse to the insertion of force. …
The U.S. has decided to accept that North Korea is a nuclear state, so long as none of its nuclear weapons can reach the U.S. mainland. This completely destabilizes Japan's strategy. Under that strategy, first imposed by the U.S. and happily embraced by Japan, the U.S. guarantees Japanese national security. The U.S., in exchange, has been able to use Japan as a base from which to project force across the Korean Peninsula, threaten China and block Russia's Vladivostok fleet from accessing the Pacific Ocean. Japan, unencumbered by defense expenditures and any responsibility in American wars, could focus on the monumental task of its dramatic post-World War II recovery. Most important, the U.S. nuclear umbrella has guaranteed that any nation that might attack Japan with nuclear weapons would face retaliation from the United States. …
The Hanoi talks subtly shift that guarantee. The new U.S. position is that it cannot accept a North Korean nuclear program that threatens the United States. Implicit in that position is that it can tolerate one that threatens Japan.
His last sentence there is false, because it excludes the following important possibility, which now actually needs to become the reality, especially after this "deadlock" that he referred to: The U.S. and North Korea can meet together in an entirely different discussion, of whether, in return for North Korea's verifiable commitment never to possess or station any missile that can reach the United States, the U.S. will do the following three things:
1: Guarantee to Japan, and to South Korea, that any nuclear attack against Japan and/or against South Korea, will be met by a U.S. nuclear attack against the attacker (regardless of whom that attacking nation might be). The U.S. would then be taking Japan (as well as South Korea) entirely under its nuclear umbrella, so that an attack against Japan or against South Korea would be equivalent to an attack against the United States itself. No troops would need to be stationed in Japan (or South Korea) in order to be able to do this. America's real nuclear umbrella for those two countries is precisely this (the nuclear intercontinental U.S. arsenal outside of Japan and South Korea, including the missiles at sea and including in mainland U.S.), and no stationing of either troops or weapons from the United States, inside either of those two countries, is necessary, at all, in order to achieve this. That's the reality, notwithstanding George Friedman's false assumption, to the exact contrary: that "Implicit in that position ["that it [[the U.S.]] cannot accept a North Korean nuclear program that threatens the United States"] is that it can tolerate one that threatens Japan." Not at all is that presumption (America's needing to station troops in Japan in order to protect Japan) by Friedman true. American troops there are superfluous for the protection of Japan — and also of South Korea. U.S. Troops aren't needed in either country, for the protection of either country's inhabitants.
2: Withdraw all U.S. troops from both Japan and South Korea. Those troops are there only for possible uses against Russia and China (as Friedman himself acknowledges by saying "The U.S. … has been able to use Japan as a base from which to project force across the Korean Peninsula, threaten China and block Russia's Vladivostok fleet from accessing the Pacific Ocean"). The U.S. has secretly continued the old "Cold War" after the Soviet Union's end, though no longer on an ideological basis (since Russia is no longer communist). It's been doing this secretly ever since 24 February 1990, purely with the aim of ultimately conquering the entire world. That, too (though secret), is the reality: America has been, and is, secretly trying to take over the entire world.
3: End all sanctions against North Korea. Under the stated conditions, there would be no realistic future possibility that that country could pose a national-security threat to the United States. North Korea's nuclear weapons would then pose no more of a national-security threat to the U.S. than do Israel's nuclear weapons (since those are only local threats). Any further aggression (including sanctions) by the U.S. against North Korea would therefore violate Article 2 of the U.N. Charter, because North Korea would no longer even prospectively constitute a threat to America. North Korea would, of course, expect the U.S. to end all sanctions against it if North Korea would no longer be able to pose a threat to the U.S., and it wouldn't sign the deal otherwise.
This arrangement that's proposed here between the United States and North Korea would end the Korean War, and it would end the major international tensions which have prevailed in the Asia-Pacific region since the end of World War II. It would bring security to North Korea, U.S., South Korea, and Japan.
This deal would be an authentic quid-pro-quo between the United States and North Korea, which would greatly benefit the economies of the United States, Japan, and South Korea (removing the unnecessary financial burden of maintaining and arming those occupying U.S. troops — troops which are superfluous to everyone except America's billionaires, who want to impose their corporate wills upon every nation — including upon Russia and China). It wouldn't benefit merely North Korea (though it also would do that). It would also set the foundation upon which, ultimately, the two Koreas might finally agree to become again one nation, much as did East and West Germany; and, it would also protect both Japan and South Korea — and block any threat from North Korea against the U.S. itself. Consequently, this would also greatly serve the interests of the American people. It would serve EVERYONE's interests (except approximately 2,153 people, as will subsequently be explained here).
Unfortunately, the world isn't so democratic internationally, nor within the United States, for the security and welfare of the public anywhere to be actually a high priority of international policy-makers — especially not in the United States, which serves only the interests of its billionaires and extracts as much as it possibly can from its own public and from every other country on the planet. U.S. President Barack Obama even was so arrogant as to assert publicly — and he said it many times — that "The United States is and remains the one indispensable nation," which was Obama's version of Hitler's "Deutschland über alles," and means (like Hitler's German version did) that every other nation in the world is "dispensable" — only the imperial nation is not. Any other nation which allies itself with a nation such as this, is being headed by a regime that has no patriotism, no national self-respect at all — it's a mere vassal-nation, enslaved (in this case) to the tyrannical U.S. regime: "the one indispensable nation."
If the United States really had ended its side of the Cold war after the 1991 termination of the USSR, and of its communism, and of its Warsaw Pact military alliance that had mirrored America's NATO alliance, then the arrangement which has been described here would have been instituted long ago, in 1991, when the other side ended the Cold War, and NATO itself would simultaneously have been dissolved when the Warsaw Pact was, instead of being expanded right up to Russia's borders (as it since has done), but the U.S. regime in 1990 secretly ordered its allies to continue the Cold War on America's side, and that one-sided aggression continues by the U.S. and its allies, until now.
And that's the real problem — America's continuation of the (originally ideological) Cold War, now purely for aggressive purposes: global conquest. It's permanent war, for permanent 'peace' and 'justice' and 'democracy' and 'human rights', and other brazen lies, now against Venezuela and so many other countries.
Just a few years after the 1991 supposed end of the Cold War (when East and West Germany merged), Spokane Washington's Spokesman-Review newspaper headlined on 2 November 1995, "U.S. Won't Reduce Troops in Japan", and opened: "Defense Secretary William J. Perry said here [in Tokyo] Wednesday that the United States has no plans to reduce the number of U.S. troops in Japan, despite a groundswell of local opposition" in Japan.
And as was reported, on 5 March 2006, from "Asahi," by the U.S. Embassy in Japan, to the CIA, and to the Joint Chiefs, and to all top U.S. national-security officials, "Japan can expect to reduce the number of US troops in Japan and to alleviate the burden of base-hosting localities while maintaining deterrent capabilities against China and North Korea. Meanwhile, the United States can swing its reduced troops around the world with Japan's backing. The two countries' expectations coincided." But it didn't actually happen — the U.S. occupation still continues. The U.S. Government is dedicated to militarily occupying as many countries as it can. Getting rid of those occupying troops is strongly opposed by the occupying power, which continues its voraciousness to control Russia and China.
As of 2017, the U.S. had 38,818 troops in Japan, and 24,189 in South Korea. The U.S. military-industrial complex (MIC) refuses to end such military occupations in foreign countries, but the only real beneficiaries from this are the MIC itself, which controls the U.S. Government. Firms such as Lockheed Martin are 100% dependent upon the U.S. Government and its allied governments (especially the Saud family) for their sales, and selling more weapons is essential to their cancerous growth. Americans pay in taxes and many other ways, and so do the local foreign governments pay, where America's troops are stationed. This is one of the reasons for the extreme inequality of wealth in today's world: that inequality is enforced, by the U.S. international regime. The U.S. military enforces it around the world, in all of America's vassal-nations. It's supporting the local aristocracy there, but also (and above all) America's aristocracy. The U.S. has over a thousand military bases worldwide, the vast majority of which are in foreign countries. It benefits only the billionaires, but the billionaires control the governments, and so this continues and even gets worse. George Friedman ignores that crucial fact. He needs to retain his customers, and they benefit from this barbaric status-quo. He's not actually a free man. He (like millions of others) speaks for the billionaires; he's one of their millions of agents. He's a bought man, so he says "The new U.S. position is that it cannot accept a North Korean nuclear program that threatens the United States. Implicit in that position is that it can tolerate one that threatens Japan." If this statement from him is not clearly and publicly rejected by the American Government, then all Japanese (except Japan's billionaires, who depend so much upon America's) must recognize that the U.S. Government is their enemy, and that Japan needs to find authentic friends, elsewhere — and kick out its existing regime.
Friedman says, approvingly, that the U.S. "has been able to use Japan as a base from which to project force across the Korean Peninsula, threaten China and block Russia's Vladivostok fleet from accessing the Pacific Ocean." All of those — against North Korea, and against China, and against Russia; and implicitly against Japan itself as an American stooge-regime — are, in fact, international-war crimes, aggressions by the U.S. military. Regardless of which country (Japan or any other) allows occupying troops, as part of some "deal" between those two nations, neither of those two nations is allowed legally to do any of those things against any third nation (such as against China, Russia, North Korea, or any other). If two people agree to threaten or rob a third person, then no matter how much both of them say it's a 'legal' agreement and only a matter between themselves, it's not. It still remains a criminal arrangement, and it's an illegal threat to their intended victim-nations. Of course, if the U.S. is an international gangster-nation, a country that ignores any international laws (except ones that it can cite against weaker nations, such as the U.S. and its allies routinely do do, as mere PR 'justifying' their many coups and invasions) — if the U.S. ignores international laws simply because no entity will enforce them — then, the U.N. has already been destroyed, effectively nullified, by the U.S. gangster-regime. But in that case no argument could even possibly be made that the U.S. is a democracy. No nation can be both a dictator abroad, and a democracy in domestic (or intra-national) matters. To presume to the contrary is simply to lie — even if only to oneself.
The U.N. Charter says: "All Members shall refrain in their international relations from the threat or use of force against the territorial integrity or political independence of any state, or in any other manner inconsistent with the Purposes of the United Nations." The American regime has been violating that with impunity, ever since the end of World War II (such as in its infamous 1953 coup against Iran — a coup which enjoyed the support of Iran's mullahs). Most recently, it did so in Yemen, Syria, Libya, Iraq, Ukraine, and a number of other countries, which it and its allies have destroyed, all in the name of advancing things such as 'democracy' and 'human rights', so as to cover over their authentic, actually vile, motivations, which are insatiable greed, and a craving for even more power than they already possess. All of this is barbaric, and they cover over that reality by kind-sounding words, in order to fool the rubes, who, thus — via their irresponsibility by trusting those serial international invaders and coup-perpetrators — accept the rightfulness of what those international invaders and coup-perpetrators have been doing, such as invading Iraq in 2003 on the basis of sheer lies, etc.
RT — a reliable news-source, but one which America's very unreliable major 'news'-media instead call a source of 'fake news' because it reports truths they hide — reported on March 5th:
Washington is leading a "revolution against international law and against international order," with its calls for regime change and efforts to oust President Nicolas Maduro in favor of pro-US opposition leader Juan Guaido, former UN rapporteur to Venezuela and professor of law Alfred de Zayas told RT.
Secretary General of the United Nations Antonio Gutierrez should "remind" the Lima Group of Western Hemisphere countries that US actions in Venezuela violate "articles 3, 19 and 20 of the Charter of the Organization of American States" (OAS) and that the charter should be "rigorously observed," De Zayas said.
The OAS charter holds that no state has a right to intervene "directly or indirectly, for any reason whatever, in the internal or external affairs of any other State." Neither can any member state "encourage the use of coercive measures of an economic or political character in order to force the sovereign will of another State."
The violation of the charter has been "so crass and so obvious that you wouldn't think that you would have to remind the Lima Group of it, but they seem to be caught in their own web," de Zayas said.
Throughout the world, the reality is: peace, and equality of economic opportunity, are tied together and cannot survive apart from one-another, and both of them are resisted by the people in power, the few billionaires, who fund all of the real contenders for the U.S. Presidency and for Congress. And equality of economic opportunity can exist only where wealth is approximately equally distributed and where the necessities of life (such as education, adequate food, essential health care, and a safe environment) are supplied by the government equally to all, regardless of personal wealth. (The billionaires can pay extra if they want, but such basics need to be equally available to all, in order to have the most productive type of economy — one which takes the fullest advantage of each individual's actual potential.) Making access to any of those basic things dependent upon how much wealth one already has is like pouring hydrochloric acid onto even merely the barest hope for equality of economic opportunity. The result of doing that is always a putrid mockery of 'justice', and any honest person would call that a dictatorship, no democracy, at all. (It certainly is a dictatorship against the less-wealthy 90%, or even — such as in Saudi Arabia — dictatorship against the less-wealthy 99%, of the entire population.) If this corrupt aristocratic system which determines power isn't soon replaced (stripping all billionaires of any and all types of political — i.e., governmental — influence and power that's connected to their grossly excessive wealth), then things can (and will) only continue to go from bad to worse, throughout the world, in every way. This is out-of-control and racing inequality, but it can get even worse than it now is. The solution isn't to have an international gangster-nation imposing its 'democracy' on the nations it targets for conquest. The solution is the exact opposite: a global public repudiation and rejection of that lying gangster-regime.
George Friedman happens to be part of that corrupt and rotten system, but he didn't create it. He exploits it, instead of attacks it, but the system is the problem, and no solution to it can be achieved without replacing that entire system — replacing it by one that no billionaire wants, and that all billionaires will employ every subterfuge in order to prevent authentic democracy from coming into existence.
As regards Japanese national security: relying upon the United States' military occupation is complicity in a crime not only against the public in Japan, but also against the publics in North Korea, South Korea, China, Russia — and every nation. Only billionaires and their retinues benefit from it. Heeding the advices of the billionaires' agents (such as Friedman) will advance it, instead of end it and replace it with an improved world. Only the billionaires and their retinues benefit from the prevailing system. Money is power, and they have enough of it to control the governments. That desperately needs to change.
There is a very fundamental conflict-of-interests between the billionaires and all the rest of humanity; and the billionaires definitely control the United States and its allies. The reality is that there is no way in which billionaires, who have come to control not only their own countries but other nations, will tolerate a world which is more peaceful, more productive, more equalitarian, healthier, happier, and less polluting — a world that's far better for the public. That wouldn't be the type of world they control, and in which they possess obscene wealth. They not only cling to their billions but they demand to become even more obscenely wealthy. As Warren Buffett, of the U.S. aristocracy's liberal (meaning hypocritical) wing, was quoted in the 26 November 2006 New York Times, "There's class warfare, all right, but it's my class, the rich class, that's making war, and we're winning." And the statement is true. (Buffet's condemnations of that class-warfare are the hypocritical part.) And it's even more true now than it was in 2006. It needs to become false, but it becomes truer each year that passes. Here is how true it is, on a global scale, as reflected in the
Credit Suisse "Global Wealth Report 2018″:
p.20:
"Figure 1: The global wealth pyramid 2018"
Wealth%, Wealth$, %/World, Wealth-range
0.8%=$142T=44.8%=$1M+
8.7%=$124.7T=39.3%=$100,000 — $1M
26.6%=$44.2T=14.0%=$10,000 — $100,000
63.9&=$6.2T=1.9%=<$10,000
100%=$317.1T=100%
For example: The poorest 63.9% own $6.2 trillion, which is 1.9% of the total, and this is the wealth of everyone whose net worth is below $10,000.
The richest 0.8% own $142 trillion, which is 44.8% of the total, and this is the wealth of everyone whose net worth is above $1,000,000.
The richest 0.8% own 23 times more than the poorest 63.9% do.
On 5 March 2019, Forbes came out with their 2019 list of 2,153 billionaires in the world during 2018, and their combined wealth is $8.7 trillion, which is 40% more than the combined wealth of the poorest 63.9% of people in the world in 2018 as shown in the recently released Credit Suisse "Global Wealth Report 2018″. The richest 9.5% had 84.1% of the total wealth. So, since money is power, democracy can't possibly exist, and so if you aren't among the richest 10%, the government's doing what you want it to do is practically impossible to achieve. This is what is meant by saying that it's an aristocratic, not a democratic, world we live in.
And that's why this is a world of permanent war for perpetual 'peace' and (in)'justice'. That's (those lies are) the problem (both nationally and internationally), and it can't be solved without conquering economic inequality — by ending obscene personal wealth, and by placing government under the control of the entire public, no longer under the control (if billionaires control it now) of only the richest 2,153 people divided by the current world population of 7.6 billion, or 0.000000283 of the world's population, or in percentage terms, of only 0.0000283% of today's population. That's not democracy. It is aristocracy. It's even an extreme case of that. Democracy would instead represent the other 7,599,997,847 people, the other 0.999999716 or 99.99997%. To pretend otherwise than this reality is to serve only that 0.0000283%, and to try to fool the remaining 99.99997%. It's theft by lying. It is force that's used against the mind (deceit), instead of force that's used against the body (violence). Theft (either type) has enormous costs, especially when it's the actual system, instead of violations of the actual system. And, now, it is the actual system. It's the system itself. And that's the real problem.
Rightfully, there is universal condemnation of bigotry — prejudice — against ethnic minorities, but there is no similar public outrage against bigotry against the poorer 99.99997%, who are the vast majority of the world's people. This is sick, and is sustained only by constant deceits. It is a system that's built upon deceit. Anyone who wants to know how this system functions within the U.S. itself can see that here.
Author's note: first posted at strategic-culture.org
The SCO needs strategic consensus and cooperation in an era of uncertainties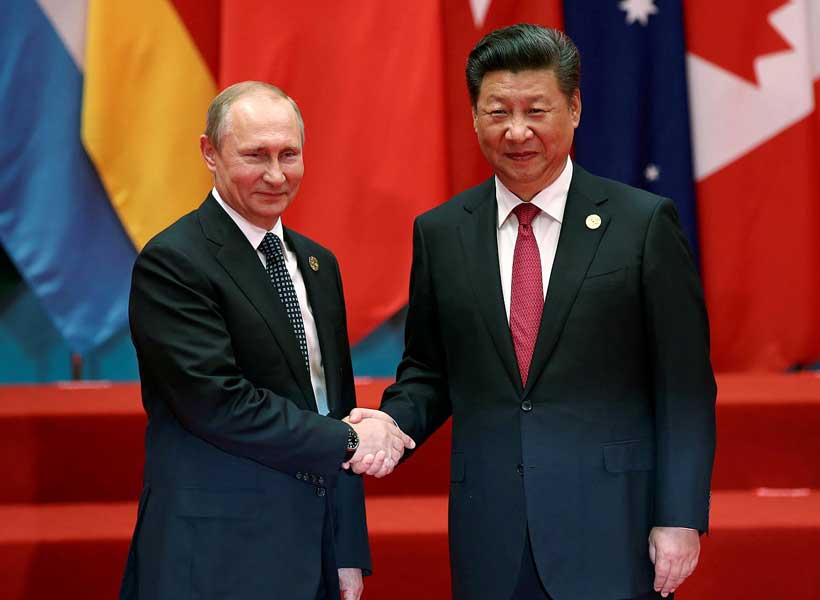 During his latest state visit to Russia, Chinese President Xi Jinping and his Russian counterpart Putin agreed to bring the two countries' relationship to a "new era of greater development at a higher level". Given this, the two core member states and the driving force of the Shanghai Cooperation Organization (SCO), China and Russia, will be expected to facilitate a broader prospect for the cooperation among the SCO member states in accordance with the "Shanghai spirit" during the 19th meeting of the Council of Heads of State of the SCO that was scheduled on June 4in Bishkek.
Founded in 2001, the original six-states of the SCO—China, Russia, Kazakhstan, Kyrgyz, Tajikistan and Uzbekistan—signed "The Shanghai Cooperation Organization Charter". It puts the priorities on mutual trust and neighborliness among the member states; and joint efforts to ensure peace, security and stability in the region; and to build up a democratic, fair and rational international order. Since then, these are enshrined into the "Shanghai Spirit" that upholds internally mutual trust, reciprocal consultations, respect for cultural diversity and common development and externally non-alignment, non-targeting any third party, and inclusiveness. From the very beginning, it has been an important mission for the organization to fight against the "three evils", which refer to terrorism, separatism, and extremism. The concept was first defined in June 2001 during the first SCO summit. Since then, taking regional security and stability as a priority, the SCO has been making unremitting efforts to crack down on the "three evils" in joint efforts to advance the cooperation and development.
True, the SCO has undergone a substantial development since its inception and now becomes a comprehensive regional organization with the profound dimensions beyond the region. Looking into the geographical locations of the eight SCO member states, it is surely the largest regional security organization in the world, accounting for nearly half of the world's population and over 1/5 of global GDP, not to mention two permanent members of UN Security Council—China and Russia; and two most populous nations on the Earth—China and India. During the previous 17 years, the SCO has developed into a vigorous platform with upholding the Shanghai Spirit based on the inclusiveness and common development. According to the current SCO Secretary-General Vladimir Norov, the SCO will continue close cooperation with the aim of implementing the UN Global Counter-Terrorism Strategy including joint activities and recommendations of the relevant UN Security Council resolutions. For sure, with its all full members alongside four observer states and six dialogue partners, the SCO has acted actively as an international cooperation organization. Considering the uncertain circumstances of the world, the 19thSCO summit will focus on security and development among other cooperative tasks.
Here, security involves a much broader spectrum. In effect, the SCO has highlighted joint efforts to ensure peace, security and stability in the region. During the latest summit between Xi and Putin, they assured that the comprehensive strategic partnership of coordination of the two countries has not only benefited the two peoples, but has also become an important force for safeguarding global security and strategic stability. To that end, China and Russia would continue to strengthen coordination on major international and regional issues, jointly deal with the challenges of unilateralism and protectionism, and maintain global peace and stability. As Putin put it, since Russia is ready to provide China with sufficient oil and gas, including more soybeans and other farm produce exported to China, the two sides expect a faster alignment between the Eurasian Economic Union and the Belt and Road Initiative. This requires security cooperation involving all member states of the SCO.
If we take a close look into the Qingdao summit of the SCO which was held in 2018, it highlighted the security cooperation in the fields such as cross-border organized crime, gun smuggling, drug trafficking and internet security as they have become the new security challenges for the region and beyond. , now all the SCO member states agree to expand the fields of security cooperation to drug trafficking and organized crime. To that end, China and Russia have closely worked alongside all other members with a view to building an efficient intelligence-sharing system among SCO member states. Now as a highly integrated security organization, the SCO needs to collectively deal with the common challenges according to their shared responsibilities.
In an era of globalization, which is full of challenges and opportunities as well, all member states of the SCO are aware that while security acts the condition for development, the latter is the insurance of long-term stability. Due to this, one of the Shanghai Spirit's original goals is to seek common development. Since 2013, Xi has urged the Belt and Road Initiative (BRI) taken deep roots and substantially benefit the SCO member states and beyond. As the BRI is the basic path to realizing common wealth, the SCO has not only continued to sublimate the Shanghai Spirit, but also to serve the interests of all the member states and the whole region as well.
During the meeting at the presidential residence in Bishkek, capital of Kyrgyzstan, right after Xi Jinping and his entourage arrived on June 13, Chinese President Xi and his Kyrgyz counterpart, Sooronbay Jeenbekov discussed joint efforts to promote bilateral ties. Xi also stated that China is ready to share experience in state governance with Kyrgyzstan to achieve common development and prosperity, hailing the solid outcomes in the joint construction of the Belt and Road. The two sides agreed to step up coordination within multilateral frameworks, including the SCO and the Conference on Interaction and Confidence Building Measures in Asia, stick to multilateralism, and oppose protectionism and unilateralism, so as to contribute to building a community with a shared future for humanity.
Now the SCO Summit takes place in Kyrgyz located in central Asia and aims to synchronize its position towards Eurasian unity. The SCO serves a platform for jointly upholding multilateralism and the free trade system and opposing unilateralism and bullying tactics. To that end, the SCO and BRI would like to be integrated with the pace of the security and development in which a new vision of common, comprehensive, cooperative and sustainable path would suit Asia and boost the common interests of all. For China, Xi is obviously looking forward to receiving the firm and frank supports from the SCO to take further measures by Beijing in safeguarding peace and stability and cracking down three evils in China's borders areas, such as Xinjiang Uygur Autonomous Region and Tibet.
Civilisationalism: Ignoring early warning signs at one's peril
A controversy about a University of British Columbia invitation to a Chinese advocate of forced re-education and assimilation of ethnic minorities highlights the risks involved in ignoring early stage civilisationalism, the emerging system of principles of governance underwriting a new world order that defines states in civilizational rather than national terms and legitimizes violations of human rights.
While the invitation sparked opposition that raised freedom of speech issues, it also spotlighted the consequences of US, European and Muslim failure to recognize initial indications that China was moving away from its long-standing policy of promoting inter-communal harmony by preserving minority cultures and ensuring that they benefitted from economic growth.
The erosion of China's long-standing policy has consequences far beyond the boundaries of Tibet and China's troubled north-western province of Xinjiang that is home to its Turkic Muslim population. It legitimizes repression of minority rights across the globe raising the spectre of inter-communal strife in societies that have long sought to foster variations of multi-culturalism and social harmony.
Calls for a rethink of China's ethnic policy emerged in 2012 after two men set themselves on fire outside Tibetan Buddhism's holiest temple in the center of Lhasa, the Tibetan capital. The International Campaign for Tibet, an advocacy group, last year published the names of 155 Tibetans who have self-immolated since 2009.
Back in 2012, military officials, businessmen, intellectuals, netizens, and dissidents asserted that the self-immolations attested to a failure of policy in what was a public debate of a long secretive and sensitive topic.
The debate was fuelled by concerns that China's official recognition of 56 different nationalities resident within its borders risked it becoming another example of the post-Communist break-up of states such as the Soviet Union, Czechoslovakia and Yugoslavia.
It was also informed by a series of incidents in Xinjiang and other parts of China, including inter-communal violence in 2004 between Han Chinese and Hui Muslims, widely viewed as China's most integrated Muslim community, that left some 150 people dead.
It was in that environment that Hu Angang, an economist and founding director of Tsinghua University's Center for China Studies, one of China's most influential think tanks, urged the government to adopt an imposed melting pot approach that would create a "collective civic culture and identity." It was an invitation extended to Mr. Angang that sparked controversy at the University of British Colombia.
Mr. Hu's policy recommendations, articulated in a widely published article co-authored in 2011 by fellow researcher Hu Lianhe, a pioneer of terrorism studies in China who has since become a senior official of the Chinese communist party's United Front Work department in Xinjiang, appear to have provided a template or at least a framework for China's brutal crackdown on Turkic Muslims.
Xinjiang serves as a prime example of the risks of failing to respond to civilisationalism's early warning signs.
Up to one million people are believed to have been detained in re-education camps dubbed "'vocational education' and employment training centres" by the government where inmates are taught Mandarin, allegedly forced to violate Muslim dietary and religious practices, and browbeaten with the notion that Xi Jinping thought, the precepts of China's president, supersede Islamic teaching.
Messrs. Hu warned that regional ethnic elites and interests enabled by China's acceptance of what amounted to minority rights could lead to separatism on the country's strategic frontiers. They suggested that the central committee of the Communist party had recognized this by pushing in 2010 for "ethnic contact, exchange and blending."
To achieve that, the two men advocated removing ethnicity from all official documents; demographic policies that would water down geographic concentration of ethnic minorities and ensure a 'proper' population mix; emphasis on the use of Mandarin as the national language; promotion of China as the prime identity of minorities; and taking steps to counter religious extremism.
James Leibold, a China scholar, who raised alarm bells early on and focused attention on Messrs. Hu's analysis and the Chinese debate, lamented at the time that "few in the West…seem to be listening."
Mr. Leibold echoed his warning six years later when Mr. Lianhe last August stepped for the first time onto the international stage to defend the Chinese crackdown at a meeting of the United Nations Committee on the Elimination of Racial Discrimination (CERD).
"The emergence of Hu Lianhe portends a significant shift in both the institutional and policy direction emanating out of Beijing, and suggests that what is happening in Xinjiang is the leading edge of a new, more coercive ethnic policy under Xi Jinping's 'New Era' of Chinese power, one that seeks to accelerate the political and cultural transformation of non-Han ethnic minorities," Mr. Leibold said.
Describing Mr. Lianhe as an influential party official and intellectual, Mr. Leibold suggested China was acting in Xinjiang and Tibet on the official's assertion in 2010 that "stability is about liberating man, standardizing man, developing man and establishing the desired working social order." Mr. Lianhe advocated adopting his approach across the country.
In Xinjiang, standardization translates into government announcements that local officials are visiting Uyghur homes during this year's fasting month of Ramadan to ensure that they are not observing the religious commandment.
"We must take effective action to end the gossiping about high level Party organs; finding fault, feigning compliance, and praising in public while singing a different tune in private or when alcohol is on the table", Mr. Leibold quoted a confidential memo written by local officials in Xinjiang as saying.
In hard-line remarks to this weekend's Shangri-La Asian Security Dialogue in Singapore, Chinese defense minister Wei Fenghe, wearing a military uniform with a chest full of ribbons, asserted that "the policy in Xinjiang is absolutely right because over the past two years there is no single terrorist attack in Xinjiang.
The living standards of the local people have improved. The number of tourists to Xinjiang is over 150 million people…. The average GDP of people in Xinjiang is 7,500 US dollars… Xinjiang has carried out vocational education and training centres to ensure that there are no terrorist attacks, to help these people deradicalize and help these people have some skills. Then they can better reintegrate into society. Isn't that a good thing?" General Wei asked.
It is good thing on the assumption that economic progress can ultimately and sustainably trump cultural and/or ethnic aspirations and that it justifies a policy that critics have dubbed cultural genocide by in the words of Mr. Leibold abolishing "non-Han cultural, linguistic and religious practices" and eroding social trust.
The policy's success depends on the sustainable Uyghur internalization through re-education and repression of religious and cultural practices as a survival strategy or out of fear.
General Wei's defense of the policy notwithstanding, renowned China scholar Yitzhak Shichor concluded in a recent study that the defense minister's People's Liberation Army (PLA) has so far refrained from involvement in maintaining internal security in Xinjiang, making it the responsibility of para-military forces.
"That could change if the civilian police force and PAP fail in their mission," Mr. Shichor quoted former US army and military intelligence China expert Dennis J. Blasko as saying. Mr. Blasko was referring to the People's Armed Police by its acronym PAP.
General Wei and Mr. Hu's Xinjiang's statements are but the most extreme example of civilizationalist politics that have globally given rise to Islamophobia; Hindu nationalism; rising anti-Semitism; jihadist massacres of minorities including Christians and Yazidis, lax attitudes towards white supremacism and efforts by some leaders to recreate ethnically and/or religiously homogeneous societies.
Civilisationalists' deemphasizing of human, women's and minority rights means reduced likelihood that incidents of radicalization and ethnic and religious conflict can be pre-empted. The risk of conflict and societal strife are enhanced by increased obsession with migration that erases escaping to safer harbours as an option.
Security in the Korean Peninsula remains fragile
North Korea's nuclear program was initially conceived useful to provide necessary wiggle room to Pyongyang to attain the objectives of normalizing relations with the US ensuring its security as well as lessening its overdependence on China. However, the country later pursued a hard-line approach in the face of heightened US sanctions. In this context, the first summit meeting between the heads of North Korea and the US in Singapore on June 12, 2018 was conceived to break new grounds in ushering in peace in the Korean Peninsula by ending long-years of isolation of North Korea from US and its allies and heralding the process of denuclearization in the peninsula.
However, many relevant questions needed answers as the process of dialogue ensued. For instance, the North Korean regime sought answers whether the denuclearization process would involve the simultaneous process of wrapping up of American extension of nuclear deterrence and missile defence system to South Korea? Second, whether the withdrawal of US troops from the Korean Peninsula was to be discussed? Third, the question that bothered the US leaders and officials alike was whether North Korea would be sincere to the denuclearization process and objectives? Based on its perception of the other party to the negotiation, US chose to insist on the unilateral abandonment of North Korean nuclear program and refused to waive sanctions until North Korea denuclearized completely. The negotiation process has been conceived as a zero sum game by Washington whereas Pyongyang is expecting returns for each move it takes. This has brought the process of negotiations to a stalemate and mutual distrust has reached its peak.
The American approach seems to be guided by the conviction that a deep-sense of insecurity, aggressive nationalism, and consolidation of power by the leader Kim-Jong-un drives North Korea's nuclear ambitions. While many experts argued that the nuclear program was intended to serve as a deterrent against foreign military intervention to the internationally isolated North Korean regime, the regime must have been emboldened to pursue a hard-line approach toward developing nuclear arsenal by learning from the instances how relinquishing Libya's nuclear program would have made it easier for the US-supported uprising to topple and assassinate Muammar Gaddafi. On the other side, many skeptics who suspect that North Korea would not disarm argue that the country has been relentlessly pursuing nuclear program for coercive purposes rather than for deterrence with an objective to drive a wedge between the US and South Korea and forge a unified Korea. The obfuscated perceptions that each carried about the other stifled the negotiation process.
John R. Bolton, the White House national security adviser condemned recent North Korean short-range ballistic missiles tests and said how the tests clearly violated United Nations Security Council resolutions and President Trump expressed his unhappiness with the tests initially but then played down their importance. On the other side, North Korea has not only blamed the US for its continuing sanctions campaign as well as the seizure of one of the country's biggest cargo ships, it has not cringed from accusing the latter of showing bad faith in negotiations by conducting nuclear and missile tests and military drills as a way to forcefully subjugate North Korea while it advocated dialogue at the same time. It has been alleged that the US had conducted a subcritical nuclear test on February 13, just days before the second summit meeting. North Korea points to how high-ranking US officials did not budge from insulting the dignity of its supreme leadership and calling North Korea a "rogue regime". Meanwhile, the South Korean Chosun Ilbo newspaper reported that Kim Hyok-chol and foreign ministry officials who conducted working-level preparations for the summit meeting in Hanoi in February were executed a month later.
While the US accused the North Korean regime from backing away from its promises and questioned the regime's sincerity in following up the first summit's denuclearization targets, North Korea considered that the summit in Singapore is the first move towards peace in the Korean peninsula to be followed by more such dialogues. The Korean regime alleged the US was expecting too much from a single summit without reciprocating to Pyongyang's initial efforts at destroying the tunnels at the Punggye-ri nuclear test site (the only nuclear site), freezing of nuclear and missile tests and returning of American prisoners. North Korea argues for a peace treaty to formally end the Korean War (1950) and security guarantees from the US that would prevent America from attacking North Korea in future. While Russia and China wish to see a denuclearized North Korea for regional peace and trade but they view the American stringent measures as attempts to dwarf the influence of potential threats and spread its own. While Russia and China would seek to prevent North Korea from succumbing to US-led sanctions, Iran was skeptical and critical of the American move from the beginning and warned North Korea against trusting the American President who could cancel the agreement within hours. Mounting American pressures on North Korea without considering efforts at reaching out to the long-isolated country with deeper engagements would only build mutual distrust and would force Pyongyang to look out for assistance from countries which share similar concerns on American hegemony. While it is evident that the US policy of putting North Korea under sanctions until it denuclearizes itself is aimed at forestalling brewing tensions in the Korean Peninsula with rising threats from the regime's muscular ambitions of developing nuclear and missile programs, the unilateral thrust in the policy is unlikely to yield results unless US considers negotiating peace a steady as well as a reciprocal process.