Addressing the Depth and Breadth of Quality Issues in the Indian Education System
Interview with- National Scholar Prof. Swapan Kumar Majumdar
Prof. Swapan Kumar Mujumdar, is India's renowned Academician, National Scholar and Management Expert who is currently the Director of the Institute of Management at the J.K Laxmipat University in Jaipur of Rajasthan State. He is an avid reader, critical thinker and a passionate teacher with thirty four years track record of success in teaching, consulting, research and academic administration of world class organizations.
Dr Majumdar is a national scholar, who has crossed many oceans to quench his thrust for knowledge and emerged as a transformational thought leader. He has several publications in national and international journals and has a varied area of research interests from Genomics of Executive Leadership; Macro and Micro Variables of Sustainable Development; E-Business Management; Digital Economy; Market-Economy, Demography, Geography, Growth, Globalization and Governance to Make in India vs Made for India and so on.
Dr. Swaleha Sindhi author with Modern Diplomacy & Dr. Adfar Shaha Delhi based Sociologist visited J.K Laxmipat University in Jaipur of India's Rajasthan and had an in-depth interaction on the theme of 'Education in India' with Prof. Mujumdar.
Modern Diplomacy (MD): At the outset tell us briefly about yourself and your achievements Sir?
Prof. Swapan Kumar Majumdar (SKM): My basic qualification is M.Sc, B.Tech with MBA. I did my M.Sc. from the London School of Economics, UK, and M.Phil. from Imperial College of Science Technology, London, UK. I have a PhD in Business Management from IIT, Delhi. Basically I am a Professor of OMISS (Operations Management, Information Systems and Strategy), and a receipient of the Award for "Best Teacher of the Year 2010 in Operations Management" by juries of the 18th Dewang Mehta Business School Award on 24.11.2010 in recognition of leadership, development, innovation and industry interface of Business school. Being a member of academic and administrative audit committee of various Universities in India, I was Ex‐Chairman of academic council of Al Akhawayn University, Morocco. Being instrumental in creating centers at different universities and having mentored various nationally and internationally funded projects, I am also member of various scientific and professional societies in India and abroad.
(MD): India seems to have a remarkable achievement in economic domain which in turn has brought lot of changes in the education sector. However, these changes have not turned to be sufficient to solve the ever existing and ever changing educational problems in India. What is your take on it Sir?
(SKM): Quality and quantity are the two major problems of Indian education systems. India is the 2nd highest populous country of the world with 1.32 billion populations of which 27.9% are illiterate. In quantity, nearly 360 million Indians are illiterate, which is largest in the world, of which bulk of them live in 638000 villages rests are in towns and cities. As far as the quality is concerned, even after 68 years of independence, only two Indian institutes could find their place in to the top 200 list of world's best universities and altogether 17 are in the list of world's top 800 Universities according to World University Ranking 2015. Every year millions of Indians are graduating from 740+ (Wikipedia) Indian universities and nearly half of them (47%) are not employable. Both quality and quantity are being addressed.
(MD): Do you think that issues persist due to faulty Education Policies in India?
(SKM): The problem persisted due to lack of priority and commitment. Though Indian literacy rate has improved six times from meagerly 12% in 1947 to 72.1% in 2015, but much lower the world average literacy rate of 84%. It took 62 years to pass the Right to Education bill. There is no comprehensive national education policy. Education is a state subject. Standard and responsibility remained fragmented. Up gradation and up scaling of education standard hardly figured as the priority agenda of Indian state governments. The gap between education and employment are getting wider. At the same time demands for skilled people are increasing worldwide. These are the signs and evidences of faulty education policy.
(MD): What according to you are the challenges and constraints in meeting International standards in Indian education? What is your view on external objectives versus local realities?
(SKM): The key constraints are infrastructure, outdated syllabus, obsolete pedagogy, unqualified teachers, ineffective regulatory mechanisms and absence hunger to excel in education. The major challenges are improving access and quality at all levels, continuous upgradation of syllabus and retrofitting pedagogy, increasing funding at higher education, nurturing innovation, critical thinking and inculcating practice oriented higher order thinking and writing skills. The country need quality education at primary and secondary schools, where every child gets equal opportunity to maximize his or her full potential.
(MD): Some of the key systemic challenges (access, equity, quality) stem from the lack of public investment and a flawed regulatory structure resulting in the rapid and unregulated growth of private provision. Share your views on it?
(SKM): The root of all Key challenges is our national education policy. It took 62 years for GOI to enact Right to Education (RTE) Bill and incorporated education as fundamental right of every children and remained as state subject. Even after the constitutional amendment, our political leaders/representatives lacked the commitment to eradicate illiteracy and improve the facilities, accessibility and most importantly quality of education. They failed to perceive education as an important element of development process, a tool/ avenue to improve quality of life.
(MD): There has been an increasing dissonance in the government's view of foreign institutions, do you think it is possible for India to build a world-class educational system and ensure that education remains a non-commercial activity that embodies national values and priorities?
(SKM): Yes, I do believe that it is possible for India to build unique world-class education system. When we coin the term "world-class' we are raising to the standards and quality, such education which promotes and propagates higher order of thinking skills and has universal appeal and which is beyond the boundaries of national values and priorities, The second part of your question, especially about government's dissonance towards the entry of foreign institutions, I feel that today's education must have the depth and breadth. Foreign institutions will bring that diversity and as well as global competitiveness of our educational institutions and systems and which eventually will improve standard of our higher education. Finally, it is needless to say that higher education is not for the mass, but for the deserving class and all higher educational institutions compete for talents (students and teachers) and there is no way to eliminate commercial element in an endeavor wherever there is competition.
(MD): What are your recommendations to educational leaders and policy planners to arrive at plausible, meaningful solutions to help provide for quality education to the local population while at the same time meeting international standards?
(SKM): The five pillars: (1) Education is the key for 'Human Development', (2) Education is a 'Fundamental Right' of every Indian child, (3) 'Learning Ability' and innate talent ('g' factor) of individuals varies significantly widely, (4) Talent remain hidden unless uncovered and nourished and (5) Education is a 'State Subject'. Indian education planners keep these five points in mind to frame a policy which should facilitate full exploitation of development potential of deserving individuals as well as take care of the diversity, preferences and competitiveness into account. and (A) India must provide high quality basic education for all up to 16 years (as Fundamental Right for Every Child); (B) beyond 16 years is based on competency and choice. Secondly, there is no parity between talent and pocket. Thirdly talents needs to be nurtured to bloom. As seed needs the soil, water and other supports for germination and growth. Similarly, a national education policy should provide opportunity for every citizen the basic support at the germination stage and multiple platforms for the growth phase to compete and choose a career or profession according his or ability. However, supports need resources. As the size of education problem is very large. This necessitates huge resources and funding. As a developing country, India alone cannot handle the problem. The best way forward is to go global, open up, and remove all the administrative obstacle. I am in favour of open international policy rather than being conservative and narrow nationalistic view of education. India should have a broad view of world-class education system. India needs thousands of high quality schools, hundreds of world-class higher educational institutions. Investment needs are in trillions. The solution is collaborate, coopt, coordinate and control the quality. We don't have much time. We have to act fast. Set up as many as new institutions possible plus upgrade the existing institutions as well as open the doors for foreign institutions which will not only increase competition in higher education, but will also increase quality, diversity and employability.
(MD): Can we hope that this New Education Policy (NPE-2015) will shape the country's education and employability ecosystem for coming several years?
(SKM): Certainly yes. Realization is the seed of change. Plan and propositions are the action plans for making things happen. When the seeds and the soils are ready, the only things that are required – execution followed by monitoring and controlling i.e. academic administration.
(MD): There is an increased emphasis on capacity building and long-term sustainability in the global economy. How can we achieve this?
(SKM): There is no other resource that 'Human Capital', which can provide sustainability in the global economy. Rest are all volatile. The attain sustainability, we need to build human capital develop talents and education is the root and the path of human development. Who so ever has neglected education remained as poor despite having rich natural resources.
(MD): Do you think that the education system in India is ready to set the tone of India's competitiveness as a young demography in promoting 'Make in India' and 'Digital India' missions?
(SKM): This question has three components: (i) Readiness of Indian Education System to equip Indian youth to be competitive, (ii) Readiness of Indian Education System to comply with the 'Make in India' and (iii) Readiness of Indian Education System to comply with the 'Digital India Mission'. Let me answer the last one first. Digital India Mission is transforming and integrating all disjointed component of economy in the digital format so that any-one from anywhere and any-time can access, interact and transact business. This provides transparency. It is mixed bag. Digital format increase the size of the market as well as increase competition. Size and location does not matter. What matters are competency and skills? Second part, 'Make in India', is an open invitation to global manufacturers to set their manufacturing facilities in India to make use of the facilities and skills and youth power of India. The underlined assumption is that there are large pool of skilled labour in India and the Global manufactures will be able make best use of these labour resources. Now the key question is: Is Indian yours are well equipped or skilled? Are Indian youths employable? Statistics and data reveals that vast majority of Indian youths are not employable. This answers the question that all is not well in Indian education system. Present Indian education system is not ready for mass skilling of the Indian youths. Indian education systems need to be revamped and retrofitted with the changing need of the globe and the mission of the country. Indian education system must be capable of producing graduates who are not only employable locally, but equally competent enough to meet the global completion and should be able to make their need felt at local as well as global arena.
(MD): What are your views on the existing system of Quality Assurance Systems in Educational Institutions?
(SKM): In my opinion, there is no set standard Quality Assurance Systems (QAS) in Educational Institutions across India. There are premier autonomous educational institutions like IIMs and IITs, NITs and renowned private universities. But as such there is no written QAS. The situation has become more complicated by mushroom growth of private players in Indian education systems. They are neither keen on quality nor standard. Many private players created huge infrastructure and buildings. But educational institutions are not built by buildings but by systems and dedicated teachers and talented students. Shortage of talented faculty and students and huge investment in infrastructure and marketing leaving very little attention for QAS. As a result large chunk of today's graduates are not employable.
(MD): What according to you are the real reasons behind so many educational institutions seeking international accreditations?
(SKM): A Quality Assurance System is considered reliable when the measures are robust and exhaustive when it measures all the aspects/parameters of the process that determines quality of the process as well as the quality of the outcome. India has yet to come up with a QAS for educational institutions, which has wide acceptance in the international community. Conversely international accreditation systems has matured over the years and accepted by world organizations. Internationally accredited institutions have to measure their processes and systems and demonstrate the evidences of the quality of their processes and the outcomes. Evidences must demonstrate the robustness and strict compliance of the standard and provide the testimony of the goodness of the systems and procedures of the educational system. That is the reason many educational institutions, who wish to differentiate themselves from the rest to attract quality global students and faculty sought for international accreditation.
(MD): How can "Make in India Approach" incentivize the advancement of business in India?
(SKM): Technology is the driver of growth and manufacturing is the mother of product innovation and development. Until a country develop its competency in innovation and product development, it will remain at receivers end. Critical success factor of product leadership depends on the capacity building in key manufacturing. No one will give away their product know-how to a third party or country. The only way to get hold of the technology is to collaborate, coopt or facilitate manufacturer to set up their manufacturing units at your place. This will facilitate and incentivize technology diffusion and development. 'Make in India Approach' is a strategic approach to incentivize global manufacturer to setup their manufacturing plant in India. Statistics says that one manufacturing job create 8-10 associated jobs. Thus this will take India forward towards the goal of 'global excellence' in product leadership.
(MD): Thank You for giving your valuable time Sir.
Pakistan at a crossroads as Imran Khan is sworn in
Criticism of Pakistan's anti-money laundering and terrorism finance regime by the Asia Pacific Group on Money Laundering (APG) is likely to complicate incoming Pakistani prime minister Imran Khan's efforts to tackle his country's financial crisis.
Addressing the criticism of the 41-nation APG, which reports to the Financial Action Task Force (FATF), an international anti-money laundering and anti-terrorism watchdog that earlier this year put Pakistan on a grey list with the prospect of blacklisting it is key to a possible Pakistani request for a US$ 12 billion International Monetary Fund (IMF) bailout.
A US demand that any IMF package exclude funding for paying off Chinese loans coupled with the APG/FATF criticism, against a backdrop of the Pakistani military's efforts to nudge militants into the mainstream of Pakistani politics and the incoming prime minister's mixed statements on extremism, could push Mr. Khan to turn to China and Saudi Arabia for rescue, a move that would likely not put Pakistan in the kind of straightjacket it needs to reform and restructure its troubled economy.
The APG criticism followed Pakistani efforts to demonstrate its sincerity by passing in February the Anti-Terrorism Ordinance of 2018, which gave groups and individuals designated by the UN as international terrorists the same status in Pakistan for the first time.
Pakistan, however, has yet to implement the ordinance by for example acting against Hafez Saeed, a leader of the banned group Lashkar-e-Taiba and the alleged mastermind of the 2008 attacks in Mumbai, who despite having been designated a global terrorist by the United Nations Security Council and having a US$ 10 million US Treasury bounty on his head, fielded candidates in last month's election.
The APG, which just ended talks with Pakistani officials, has scheduled follow-up visits to Pakistan in September and October to monitor Pakistani progress in addressing its concerns, which focus on legal provisions governing non-profit and charitable organisations, transparency in the country's beneficial ownership regime and the handling of reports on suspicious financial transactions.
Those concerns go to the heart of the effort by the Pakistani military and intelligence to mainstream militants who garnered just under ten percent of the vote in last month's election but have a far greater impact on Pakistani politics. The military and intelligence have in the past encouraged militants to form political organizations with which mainstream political parties have been willing to cooperate and establish charity operations that have had a substantial social impact.
Similarly, Mr. Khan, who earned the nickname Taliban Khan, is likely to have to counter his past record of allowing government funds to go to militant madrassas, his advocacy for the opening in Pakistan of an official Taliban Pakistan office, and his support of the Afghan Taliban. His Tehreek-e-Insaf (PTI)-headed government in Khyber Pakhtunkhwa, gave in February US$2.5 million to Darul Aloom Haqqania, a militant religious seminary.
Dubbed a "jihad university," Darul Aloom Haqqania, headed by Sami ul-Haq, a hard-line Islamist politician known as the father of the Taliban, counts among its alumni, Mullah Omar, the deceased leader of the Taliban, Jalaluddin Haqqani, the head of the Haqqani Network. Asim Umar, leader of Al-Qaeda in the Indian Subcontinent, and Mullah Akhtar Mansoor, Mullah Omar's successor who was killed in a 2016 US drone strike.
Those may be policies that, at least initially, may be less of an obstacle in assistance on offer from China and Saudi Arabia to replenish Pakistan's foreign exchange reserves that have plummeted over the past year to US$ 10.4 billion, enough to cover two months of imports at best. Pakistan's currency, the rupee, has been devalued four times since December and lost almost a quarter of its value.
Chinese loans have so far kept Pakistan afloat with state-owned banks extending more than US$5 billion in loans in the past year. PTI officials said this week that China has promised the incoming government further loans to keep Pakistan afloat and enable it to avoid reverting to the IMF, which would demand transparency in the funding of projects related to China's US$50 billion plus investment in the China Pakistan Economic Corridor (CPEC), a crown jewel of its Belt and Road initiative.
And that is where the rub is. Despite Chinese officials reportedly urging Pakistan to reduce its deficit, neither China nor Saudi Arabia, which has offered to lend Pakistan US$4 billion are likely to impose the kind of regime that would put the country, which has turned to the IMF 12 times already for help, on a sustainable financial path.
Relying on China and Saudi Arabia would likely buy Pakistan time but ultimately not enable it to avoid the consequences of blacklisting by FATF, which would severely limit its access to financial markets, if it fails to put in place and implement a credible anti-money laundering and terrorism finance regime
Moreover, relying on China and Saudi Arabia, two of Pakistan's closest allies could prove risky. Neither country shielded Pakistan from FATF grey listing in February. A Chinese official said at the time that China had not stood up for Pakistan because it did not want to "lose face by supporting a move that's doomed to fail."
The problem of pellet guns in Kashmir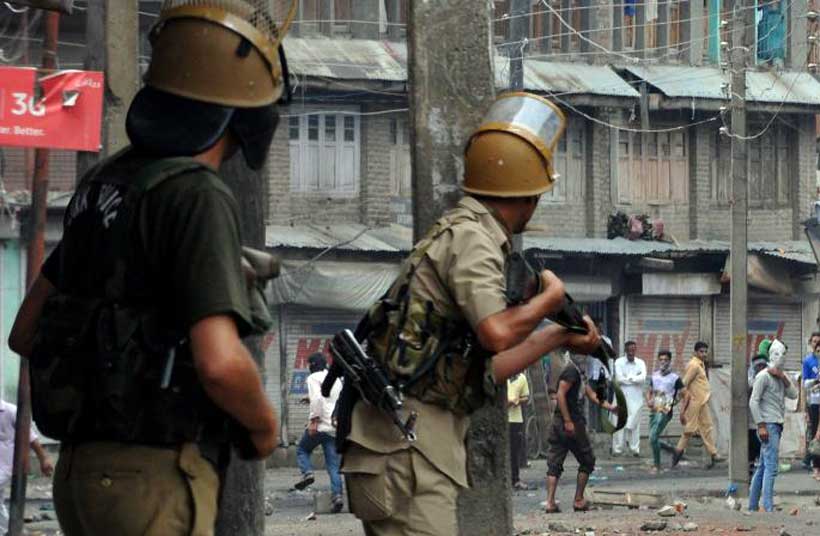 Jammu and Kashmir is the only northern state of the Indian union dogged with an overridden unhealthy political atmosphere. The valley of Kashmir is beset with a major governance deficit which has given renewed impetus to the dissenting voices of the masses day in and day out. Dissent is the hallmark of a democracy which acts as a medium for the expression of the masses against the system. There are certain rights and duties guaranteed by the Indian constitution for the citizens, including the right to freedom of expression and right to life. Caught in the quagmire of a political crisis that has deeply permeated the society, the people in Kashmir from time to time vent up their dissent. Hartals are the tools for the masses through which they ventilate their pent up emotions. Kashmir is not a different case. It is also amuck with crisis and caught in a looming distress day in and day out. Kashmir is the most sensitive zone of the whole Asian sub-continent, where situations turn awry with the passage of time, like the seasons of the year and is the only state of the Indian Union where there has been a reckless use of the pellet guns without any regard for the precious life of the common man. This is a sort of dichotomy.
The use of pellet guns is a major problem which has not only maimed, blinded and killed the masses, but also shaken the collective conscience of the people, who have fallen prey to a different approach of dichotomy of the government. The killing of militant commander Burhan Wani in 2016 brought about a volcanic eruption in valley which not only deteriorated the situation in Kashmir, but also increased the massive alienation of the masses. The waves of grief and anger against the day-to-day killings and maims that the people felt increased with each passing day. In order to control the crisis, the security agencies used the deadly pellets which caused heavy damage to the sufferers. More than 1200 people lost their vision in 2016. According to a report of State Human Rights Commission (SHRC), more than 75% people suffered injuries due to pellet guns, ranging from minor to major in 2016.There was a heavy loss of life.
Although small in size, these black metallic balls have deteriorated our young generation. The use of pellet guns has wreaked crisis in Kashmir. For the security agencies, it is meant to disperse the crowds, but, for the common masses, it is a problematic affair. Pellet guns are pump-action shotguns which fire a cluster of small, round, metal pellets with high velocity over a broad range.
Recently, after the killing of a militant from Pahalgam area during the anti-establishment protests, a number of people were injured due to pellet A nurse working in the same area personally told me that we healed at least 100 plus pellet injured victims. The bloody Sunday of this year's April and the subsequent clashes of the protestors with the security agencies left many injured, with multiple cases of pellet injuries to the eyes of the protestors.
Naseer Ahmad Bhat of Seer Hamdan, Anantnag was killed by the security forces during the post-Burhan phase of 2016 protests in Kashmir. He was an able worker and a good cricketer who fell silent to the pellets. Not only the collective conscience of the people was shaken, but also a state of disparity ensued. These deadly pellets have not even spared the school going children and snatched the power of seeing of the victims. Insha, a pellet victim who passed her matriculation examination last year despite odds is an inspiring hope for the likewise victims.
Pellets cause a number of biological ramifications in the victim, like the loss of vision, the state of paralysis, in case, the damage is caused to the spinal cord, defacements, and death in case of damage to the vital organs of the body, like, heart, kidneys, lungs, brain, etc. Moreover, the pangs of guilt that a victim suffers in silence dishearten one and all. The use of pellet guns as a crowd-control method during protests, whether in case of cordon and search operations (CASO) or common protests has added a volley of questions to the psyche of the common man? Being a part of the Indian union, that two acing the crown, Kashmir has been treated otherwise all through the passing times. People have got million queries, but, there are no solid answers to their problems and subsequent tactful solutions.
The substitution of pellet guns with PAVA shells can in no way control the crisis. The way people of other parts of the country are treated should form a close semblance in case of protests in Kashmir. Why the security forces are using pellets and bullets against the people whom the system claims with a sense of belonging. There can be other alternatives, like the use of water cannons without any damage and subsequent ensuing crisis that engulfs the society and creeps the psyche of the common men. If this is the notion of the system to punish dissent, then dissent itself takes a u-turn of additions and alterations with the passage of time. The bleeding valley is giving a close call for one and all to unite and ensue a state of peace and order. There is an urgent requirement of the administrative and political will to stop the use of pellet guns in Kashmir.
Whatever is happening to the people of Kashmir has not been experienced by the other people of the country. After all, it is a question of humanity. People suffer out of the ways as circumstances decide or may be destined otherwise. But to expect a peaceful valley without the intervention of a political will would be an underestimation of statements. There is a dual intolerance in Kashmir, one from the people and next from the system. The systematic targeting of the protestors from a point blank range irrespective of regard for the human life has shattered several families in Kashmir
Kashmir is passing through the phases of testing times with each passing day. The ugly turn of the situations and recurring events and the amateur dealing of the same has created an unhealthy atmosphere everywhere, where people have lost faith in the governance systems. The safety and security of every Tom, Dick and Harry is the looming question of the hour. Exits from dwellings and adieus from home don't guarantee the safe return of the leavers. The interlocutor of the centre in vale, Mr. Dineshwar Sharma once reiterated that, 'the priority is to prevent Kashmir turning into Syria'. The imbroglio has crippled the educational scenario, down slowed the economy, increased the unemployment, but, above all, the ultimate question is the redressal of the problem at stake, which for God sake can erupt into a lava-laden volcano one day and engulf the whole peace, stability and order of the South Asia, if not tactfully handled in the current times by the government.
The victory of BJP at the centre with the thumping majority after the 2014 Lok Sabha elections with the slogan of 'minimum government, maximum governance' falls short of words and has partially failed in the state of J&K.The killings of the common masses are in no way remedies to the political ailments. There should be the ultimate regard for the human lives. Why has the blood of the people become so cheap .When will peace return to the valley of Kashmir? The government of India had constituted an expert committee in July 2016 to explore other possible alternatives to pellet guns as non-lethal weapons. Although, the committee submitted its report and the recommendations were taken into account by the government for implementation. But, what happened afterwards lies in the public domain for discussion. The use of pellet guns is tantamount to the violation of rights of the people.
In order to direct the valley towards the state of peace and development, the role of multiple players of India, Pakistan and Valley is necessary. This way the government can make a significant contribution in the restoration of normalcy. The need of the hour is the unity of all the stakeholders of the society, like government, non-governmental parties, NGO's, etc. to help these pellet victims via financial or other means.
Although, there has been a strong criticism of the use of pellet guns not only at the local level ,but also at the international level, but the main part of the problem resolution lies with the government of India and the state. Although, much has been said and written about the people of Kashmir with the flow of waters of the river Jhelum, but the stability of the region is a farfetched dream. Here, comes the role of the government into play. The use of pellet guns against the dissenting masses has wreaked havoc and wounded the collective psyche of the people, particularly those who have lost their near and dear ones due to the deadly metallic balls. Those who have fully or partially lost the vision and are living in dark suffer in silence. The government should review the situation and put a full stop for the future use of pellet guns. Those who have lost their dear ones should be financially compensated or by provision of bread and butter. However, the clarion call of the people is the complete ban and stoppage of these pellet guns in order to prevent the further damage and restore the faith of the people in the system. The government of India should pass a resolution to put a terminal pause to the use of pellet guns in the state of Jammu and Kashmir.
The vital task for the current times is to build a consensus for the total pellet ban. The use of non-lethal methods by the security agencies like water cannons could be the best alternatives. This will not only restore the faith of the people in governance, but also generate a feeling of belongingness among the masses. The bruised scars of the pellets have defaulted the trust of the people in the political system. Although, the situation is worrisome for one and all, but, in which direction the boat sails lies with the future course of action. After all action speaks louder than the words.
Pakistan not a Threat for Israel: Clearing Misconceptions
Ever since 1998; the beginning of Pakistan's nuclear age, the state's self-defense mechanism has been a source of worry and unrest for India and the US. Both these states never really accepted that a small state like Pakistan could develop the prestigious asset and was now well capable of defending itself against external threats. US opposed the program on the grounds that it had been tested after the signing of NPT and that it is an "illegitimate" program. Their basic concern was Pakistan not being a party to NPT and US non-proliferation efforts failing. India, though very much against the program, could not openly oppose it on the same grounds because its own Nuclear Program had the same issue i.e. it was tested after the signing of NPT and they had also not signed the treaty.
There  are  a  lot  of  ambiguities  surrounding   Pakistan's  nuclear  program  which  are  there intentionally for the benefit and security of the program and state. However, there is one thing which has been kept very clear since day one and that is the Indo centric nature of Pakistan's nuclear program. The program was developed because the conventionally strong next door neighbor had developed their program. Pakistan, in an attempt to ensure territorial security, had to develop its own program as well. US, China, Russia, France or the UK were never a threat to Pakistan nor was Pakistan on their attack agenda. India on the other hand was in close territorial proximity, a historic enemy, conventionally stronger and now also a nuclear power. After evaluating all these factors any national strategist would suggest a nuclear program for Pakistan and that is exactly what the state did.
There have been news in an Israeli newspaper,  Haaretz, that Pakistan is more of a threat to Israel than Iran. This was published on 20 May, 2018. The grounds for this allegation have been identified  as  Pakistan's  growing  arsenal  and  other  similar  reasons  which  have  always  been popular in the western policy circles. Iran, a conventional enemy, one with which there have been numerous conflicts, has been ruled out as a threat to Israel since they do not have a nuclear arsenal.
However, there are many concrete facts that have been ignored in this propagating debate. For instance Pakistan has had no wars with Israel. Both the states have never even been on the verge of an all-out war. The states have never even had a conflict that could've led to war. Although Iran does not have  a nuclear arsenal at present but that did not stop the states from indulging into conflicts before and although initiating a nuclear war might not be a possibility for Iran but a conventional war is very much within their skill set.
Pakistan is already indulged in a two front defense strategy on its eastern and western borders. The Taliban threat from the west and the ever present Indian threat from the east, particularly along the  line of control is already consuming most of the state's energy, attention and resources. Under such circumstances, jumping into any sort of venture as far as Israel without any apparent or direct conflict seems like an amateur move which is not expected from Pakistan whatsoever. If any linkages are being made based on the fact that Iran and Israel have cordial ties then they are weak to begin with. On the other hand India and Iran have more than friendly ties and India's nuclear arsenal is growing rapidly with the US help. However, this does not mean that just because India is a nuclear state and a friend of Iran, it will be inclined to attack Israel.
Pakistan's nuclear program is solely for the safety and security of the nation against any external threat.  The program  is not for the state  to pick  and choose  enemies  and start  non-existing conflicts. That is definitely not how Pakistan intends to use its resources and deviate from the real agenda which is to protect the state of Pakistan. The only condition under which Pakistan would use its nuclear weapons against any state would be if they choose to attack the territory of Pakistan in a nuclear or non-nuclear manner. The state has been absolutely clear about this from the very beginning of its  nuclear era.