Addressing the Depth and Breadth of Quality Issues in the Indian Education System
Interview with- National Scholar Prof. Swapan Kumar Majumdar
Prof. Swapan Kumar Mujumdar, is India's renowned Academician, National Scholar and Management Expert who is currently the Director of the Institute of Management at the J.K Laxmipat University in Jaipur of Rajasthan State. He is an avid reader, critical thinker and a passionate teacher with thirty four years track record of success in teaching, consulting, research and academic administration of world class organizations.
Dr Majumdar is a national scholar, who has crossed many oceans to quench his thrust for knowledge and emerged as a transformational thought leader. He has several publications in national and international journals and has a varied area of research interests from Genomics of Executive Leadership; Macro and Micro Variables of Sustainable Development; E-Business Management; Digital Economy; Market-Economy, Demography, Geography, Growth, Globalization and Governance to Make in India vs Made for India and so on.
Dr. Swaleha Sindhi author with Modern Diplomacy & Dr. Adfar Shaha Delhi based Sociologist visited J.K Laxmipat University in Jaipur of India's Rajasthan and had an in-depth interaction on the theme of 'Education in India' with Prof. Mujumdar.
Modern Diplomacy (MD): At the outset tell us briefly about yourself and your achievements Sir?
Prof. Swapan Kumar Majumdar (SKM): My basic qualification is M.Sc, B.Tech with MBA. I did my M.Sc. from the London School of Economics, UK, and M.Phil. from Imperial College of Science Technology, London, UK. I have a PhD in Business Management from IIT, Delhi. Basically I am a Professor of OMISS (Operations Management, Information Systems and Strategy), and a receipient of the Award for "Best Teacher of the Year 2010 in Operations Management" by juries of the 18th Dewang Mehta Business School Award on 24.11.2010 in recognition of leadership, development, innovation and industry interface of Business school. Being a member of academic and administrative audit committee of various Universities in India, I was Ex‐Chairman of academic council of Al Akhawayn University, Morocco. Being instrumental in creating centers at different universities and having mentored various nationally and internationally funded projects, I am also member of various scientific and professional societies in India and abroad.
(MD): India seems to have a remarkable achievement in economic domain which in turn has brought lot of changes in the education sector. However, these changes have not turned to be sufficient to solve the ever existing and ever changing educational problems in India. What is your take on it Sir?
(SKM): Quality and quantity are the two major problems of Indian education systems. India is the 2nd highest populous country of the world with 1.32 billion populations of which 27.9% are illiterate. In quantity, nearly 360 million Indians are illiterate, which is largest in the world, of which bulk of them live in 638000 villages rests are in towns and cities. As far as the quality is concerned, even after 68 years of independence, only two Indian institutes could find their place in to the top 200 list of world's best universities and altogether 17 are in the list of world's top 800 Universities according to World University Ranking 2015. Every year millions of Indians are graduating from 740+ (Wikipedia) Indian universities and nearly half of them (47%) are not employable. Both quality and quantity are being addressed.
(MD): Do you think that issues persist due to faulty Education Policies in India?
(SKM): The problem persisted due to lack of priority and commitment. Though Indian literacy rate has improved six times from meagerly 12% in 1947 to 72.1% in 2015, but much lower the world average literacy rate of 84%. It took 62 years to pass the Right to Education bill. There is no comprehensive national education policy. Education is a state subject. Standard and responsibility remained fragmented. Up gradation and up scaling of education standard hardly figured as the priority agenda of Indian state governments. The gap between education and employment are getting wider. At the same time demands for skilled people are increasing worldwide. These are the signs and evidences of faulty education policy.
(MD): What according to you are the challenges and constraints in meeting International standards in Indian education? What is your view on external objectives versus local realities?
(SKM): The key constraints are infrastructure, outdated syllabus, obsolete pedagogy, unqualified teachers, ineffective regulatory mechanisms and absence hunger to excel in education. The major challenges are improving access and quality at all levels, continuous upgradation of syllabus and retrofitting pedagogy, increasing funding at higher education, nurturing innovation, critical thinking and inculcating practice oriented higher order thinking and writing skills. The country need quality education at primary and secondary schools, where every child gets equal opportunity to maximize his or her full potential.
(MD): Some of the key systemic challenges (access, equity, quality) stem from the lack of public investment and a flawed regulatory structure resulting in the rapid and unregulated growth of private provision. Share your views on it?
(SKM): The root of all Key challenges is our national education policy. It took 62 years for GOI to enact Right to Education (RTE) Bill and incorporated education as fundamental right of every children and remained as state subject. Even after the constitutional amendment, our political leaders/representatives lacked the commitment to eradicate illiteracy and improve the facilities, accessibility and most importantly quality of education. They failed to perceive education as an important element of development process, a tool/ avenue to improve quality of life.
(MD): There has been an increasing dissonance in the government's view of foreign institutions, do you think it is possible for India to build a world-class educational system and ensure that education remains a non-commercial activity that embodies national values and priorities?
(SKM): Yes, I do believe that it is possible for India to build unique world-class education system. When we coin the term "world-class' we are raising to the standards and quality, such education which promotes and propagates higher order of thinking skills and has universal appeal and which is beyond the boundaries of national values and priorities, The second part of your question, especially about government's dissonance towards the entry of foreign institutions, I feel that today's education must have the depth and breadth. Foreign institutions will bring that diversity and as well as global competitiveness of our educational institutions and systems and which eventually will improve standard of our higher education. Finally, it is needless to say that higher education is not for the mass, but for the deserving class and all higher educational institutions compete for talents (students and teachers) and there is no way to eliminate commercial element in an endeavor wherever there is competition.
(MD): What are your recommendations to educational leaders and policy planners to arrive at plausible, meaningful solutions to help provide for quality education to the local population while at the same time meeting international standards?
(SKM): The five pillars: (1) Education is the key for 'Human Development', (2) Education is a 'Fundamental Right' of every Indian child, (3) 'Learning Ability' and innate talent ('g' factor) of individuals varies significantly widely, (4) Talent remain hidden unless uncovered and nourished and (5) Education is a 'State Subject'. Indian education planners keep these five points in mind to frame a policy which should facilitate full exploitation of development potential of deserving individuals as well as take care of the diversity, preferences and competitiveness into account. and (A) India must provide high quality basic education for all up to 16 years (as Fundamental Right for Every Child); (B) beyond 16 years is based on competency and choice. Secondly, there is no parity between talent and pocket. Thirdly talents needs to be nurtured to bloom. As seed needs the soil, water and other supports for germination and growth. Similarly, a national education policy should provide opportunity for every citizen the basic support at the germination stage and multiple platforms for the growth phase to compete and choose a career or profession according his or ability. However, supports need resources. As the size of education problem is very large. This necessitates huge resources and funding. As a developing country, India alone cannot handle the problem. The best way forward is to go global, open up, and remove all the administrative obstacle. I am in favour of open international policy rather than being conservative and narrow nationalistic view of education. India should have a broad view of world-class education system. India needs thousands of high quality schools, hundreds of world-class higher educational institutions. Investment needs are in trillions. The solution is collaborate, coopt, coordinate and control the quality. We don't have much time. We have to act fast. Set up as many as new institutions possible plus upgrade the existing institutions as well as open the doors for foreign institutions which will not only increase competition in higher education, but will also increase quality, diversity and employability.
(MD): Can we hope that this New Education Policy (NPE-2015) will shape the country's education and employability ecosystem for coming several years?
(SKM): Certainly yes. Realization is the seed of change. Plan and propositions are the action plans for making things happen. When the seeds and the soils are ready, the only things that are required – execution followed by monitoring and controlling i.e. academic administration.
(MD): There is an increased emphasis on capacity building and long-term sustainability in the global economy. How can we achieve this?
(SKM): There is no other resource that 'Human Capital', which can provide sustainability in the global economy. Rest are all volatile. The attain sustainability, we need to build human capital develop talents and education is the root and the path of human development. Who so ever has neglected education remained as poor despite having rich natural resources.
(MD): Do you think that the education system in India is ready to set the tone of India's competitiveness as a young demography in promoting 'Make in India' and 'Digital India' missions?
(SKM): This question has three components: (i) Readiness of Indian Education System to equip Indian youth to be competitive, (ii) Readiness of Indian Education System to comply with the 'Make in India' and (iii) Readiness of Indian Education System to comply with the 'Digital India Mission'. Let me answer the last one first. Digital India Mission is transforming and integrating all disjointed component of economy in the digital format so that any-one from anywhere and any-time can access, interact and transact business. This provides transparency. It is mixed bag. Digital format increase the size of the market as well as increase competition. Size and location does not matter. What matters are competency and skills? Second part, 'Make in India', is an open invitation to global manufacturers to set their manufacturing facilities in India to make use of the facilities and skills and youth power of India. The underlined assumption is that there are large pool of skilled labour in India and the Global manufactures will be able make best use of these labour resources. Now the key question is: Is Indian yours are well equipped or skilled? Are Indian youths employable? Statistics and data reveals that vast majority of Indian youths are not employable. This answers the question that all is not well in Indian education system. Present Indian education system is not ready for mass skilling of the Indian youths. Indian education systems need to be revamped and retrofitted with the changing need of the globe and the mission of the country. Indian education system must be capable of producing graduates who are not only employable locally, but equally competent enough to meet the global completion and should be able to make their need felt at local as well as global arena.
(MD): What are your views on the existing system of Quality Assurance Systems in Educational Institutions?
(SKM): In my opinion, there is no set standard Quality Assurance Systems (QAS) in Educational Institutions across India. There are premier autonomous educational institutions like IIMs and IITs, NITs and renowned private universities. But as such there is no written QAS. The situation has become more complicated by mushroom growth of private players in Indian education systems. They are neither keen on quality nor standard. Many private players created huge infrastructure and buildings. But educational institutions are not built by buildings but by systems and dedicated teachers and talented students. Shortage of talented faculty and students and huge investment in infrastructure and marketing leaving very little attention for QAS. As a result large chunk of today's graduates are not employable.
(MD): What according to you are the real reasons behind so many educational institutions seeking international accreditations?
(SKM): A Quality Assurance System is considered reliable when the measures are robust and exhaustive when it measures all the aspects/parameters of the process that determines quality of the process as well as the quality of the outcome. India has yet to come up with a QAS for educational institutions, which has wide acceptance in the international community. Conversely international accreditation systems has matured over the years and accepted by world organizations. Internationally accredited institutions have to measure their processes and systems and demonstrate the evidences of the quality of their processes and the outcomes. Evidences must demonstrate the robustness and strict compliance of the standard and provide the testimony of the goodness of the systems and procedures of the educational system. That is the reason many educational institutions, who wish to differentiate themselves from the rest to attract quality global students and faculty sought for international accreditation.
(MD): How can "Make in India Approach" incentivize the advancement of business in India?
(SKM): Technology is the driver of growth and manufacturing is the mother of product innovation and development. Until a country develop its competency in innovation and product development, it will remain at receivers end. Critical success factor of product leadership depends on the capacity building in key manufacturing. No one will give away their product know-how to a third party or country. The only way to get hold of the technology is to collaborate, coopt or facilitate manufacturer to set up their manufacturing units at your place. This will facilitate and incentivize technology diffusion and development. 'Make in India Approach' is a strategic approach to incentivize global manufacturer to setup their manufacturing plant in India. Statistics says that one manufacturing job create 8-10 associated jobs. Thus this will take India forward towards the goal of 'global excellence' in product leadership.
(MD): Thank You for giving your valuable time Sir.
What, in fact, is India's stand on Kashmir?
At the UNGA, India's first secretary Sneha Dubey said the entire Union Territories of Jammu & Kashmir and Ladakh "were, are and will always be an integral and inalienable part of India. She added, "Pakistan's attempts to internationalise the Kashmir issue have gained no traction from the international community and the Member States, who maintain that Kashmir is a bilateral matter between the two countries (Pakistan is 'arsonist' disguising itself as 'fire-fighter': India at UNGA, the Hindu September 25, 2021).
It is difficult to make head or tail of India's stand on Kashmir. India considers the whole of the disputed state of Jammu and Kashmir as its integral part. Yet, at the same time, admits it to be a bilateral matter still to be resolved between India and Pakistan.
What bars Pakistan from agitating the Kashmir dispute at international forums?
India presumes that the Simla accord debars Pakistan from "internationalizing" the Kashmir dispute. That's not so. Avtar Singh Bhasin (India and Pakistan: Neighbours at Odd) is of the view that though Pakistan lost the war in East Pakistan, it won at Simla.
Bhasin says, `At the end, Bhutto the "dramatist" carried the day at Simla. The Agreement signed in Simla did no more than call for `respecting the Line of Control emerging from the ceasefire of 17 December 1971. As the Foreign Secretary TN Kaul [of India] said at briefing of the heads of foreign mission in New Delhi on 4 July 1972, the recognition of the new ceasefire line ended the United Nations' Military Observers' Group on India and Pakistan (UNMOGIP) role in Kashmir, created specifically for the supervision of the UN sponsored ceasefire line of 1949, since that line existed no more. Having said that India once again faltered for not asking the UN to withdraw its team from Kashmir, or withdrawing its own recognition to it and its privileges (Document No. 0712 in Bhasin's India-Pakistan Relations 1947-207).
Following Simla Accord (1972), India, in frustration, stopped reporting ceasefire skirmishes to the UN. But, Pakistan has been consistently reporting all such violations to the UN. India feigns it does not recognise the UNMOGIP. But, then it provides logistic support to the UMOGIP on its side of the LOC.
India keeps harassing the UNMOGIP vehicles occasionally. Not long ago, three members of the UNMOGIP had a close call along the LoC in Azad Jammu and Kashmir after Indian troops shot at and injured two locals who were briefing them on the situation after ceasefire violations.
India even asked UNMOGIP to vacate 1/AB, Purina Lila Road, Connaught Place, from where it has been functioning since 1949.
Bhasin says (p.257-259), `The Pakistan Radio broadcasts and…commentators took special pains to highlight …the fact: (i) That India have accepted Kashmir to be a disputed territory and Pakistan a party to the dispute. (ii) That the UNSC resolutions had not been nullified and contrarily (iii) Kashmir remained the core issue between the two countries and that there could not be permanent peace without a just solution based on the principle of self-determination for the people of Kashmir. And Pakistan was right in its assessment. It lost the war won the peace. At the end India was left askance at its own wisdom'.
Obviously, if the UNSC resolutions are intact, then Pakistan has the right to raise the Kashmir dispute at international forums.
India's shifting stands on Kashmir
At heart, the wily Jawaharlal Lal Nehru never cared a fig for the disputed state's constituent assembly, Indian parliament or the UN. This truth is interspersed in Avtar Singh Basin's 10-volume documentary study (2012) of India-Pakistan Relations 1947-2007. It contains 3649 official documents, accessed from archives of India's external-affairs ministry. These papers gave new perspectives on Nehru's vacillating state of perfidious mind concerning the Kashmir dispute. In his 2018 book (published after six years of his earlier work), India, Pakistan: Neighbours at Odds (Bloomsbury India, New Delhi, 2018), Bhasin discusses Nehru's perfidy on Kashmir in Chapter 5 titled Kashmir, India's Constitution and Nehru's Vacillation (pages 51-64). The book is based on Selected Works of Jawaharlal (SWJ) Nehru and author's own compendium of documents on India-Pak relations. Let us lay bare a few of Nehru's somersaults
Nehru disowns Kashmir assembly's "accession", owns Security Council resolutions
Initially, Nehru banked on so-called Instrument of Accession and its authentication by `Constituent Assembly. Yet, in a volte-face he reiterated in New Delhi on November3, 1951 that `we have made it perfectly clear before the Security Council that the Kashmir Constituent Assembly does not [insofar] as we are concerned come in the way of a decision by the Security Council, or the United Nations'(SWJ: Volume 4: page 292, Bhasin p.228). Again, at a press conference on June 11, 1951, he was asked `if the proposed constituent assembly of Kashmir "decides in favour of acceding to Pakistan, what will be the position?"' he reiterated, `We have made it perfectly clear that the Constituent Assembly of Kashmir was not meant to decide finally any such question , and it is not in the way of any decision which may ultimate flow from the Security Council proceedings' (SWJ: Volume 15:, Part II, page 394. Bhasin page 56). He re-emphasised his view once again at a press conference in New Delhi On November 3, 1951.
Nehru does not label Pakistan an aggressor at the UN
And then labels it so in Parliament
He never labeled Pakistan an aggressor at the UN. Yet, he told parliament on March 1, 1954 `that "aggression" took place in Kashmir six and a half years ago with dire consequences. Nevertheless the United States have thus far not condemned it and we are asked not to press this point in the interest of peace (Bhasin pp. 55-56).
Nehru disowns the Security Council as just a non-binding mediator
On July 24 1952, Nehru said, `Unless the Security Council functioned under some other Sections of the Charter, it cannot take a decision which is binding upon us unless we agree to it. They are functioning as mediators and a mediator means getting people to agree (SWJ, Volume 19, page 241. Bhasin page 56).
Security Council re-owned
Bhasin points out (page 57 op. cit.) `At the same press conference on 24 July, 1952 when asked what the necessity of plebiscite was now that he had got the Constituent Assembly [approval], he replied "Maybe theoretically you may be right. But we have given them [UN] an assurance and we stand by it (SWJ: Volume 19, pp. 240-241. Bhasin, p. 57, Bhasin pages 256-257).
Concluding remarks
Pakistan's recourse to the UN is India's Achilles Heel. So it is as India's stand on disputed Kashmir is a rigmarole of inconsistent myths.
To avoid internationalization of the Kashmir issue, India's own former foreign secretary Jagat Singh Mehta offered proposals (rebranded by Pervez Musharraf's) to soften the LOC in exchange for non-internationalisation of the Kashmir dispute for 10 years. Mehta presented his ideas in an article, 'Resolving Kashmir in the International Context of the 1990s'.
India had no consistent stand on Kashmir. There was a time when Sardar Patel presented Kashmir to Pakistan in exchange for Hyderabad and Junagadh. Reportedly, the offer was declined as Pakistan's prime minister Liaquat Ali Khan thought it could retain not only Kashmir but also Junagadh and Hyderabad. Jawaharlal Nehru approached the United Nations' for mediation. He kept harping his commitment to the plebiscite.
It is eerie that the whole architecture of India's stand on Kashmir is erected on the mythical `instrument of accession' and its endorsement by the disputed state's assembly, Accession documents are un-registered with the UN. The Simla Accord text makes crystal clear reference to the UN charter.
Let India know that a state that flouts international treaties is a rogue state: pacta sunt servanda, treaties are to be observed and are binding on parties. Self-determination is not only a political but also a legal right in disputed lands. Sans talks with Pakistan, and UN or third-party mediation, what else is India's recipe for imprisoned Kashmiris? A nuclear Armageddon or divine intervention?
Afghanistan may face famine because of anti-Taliban sanctions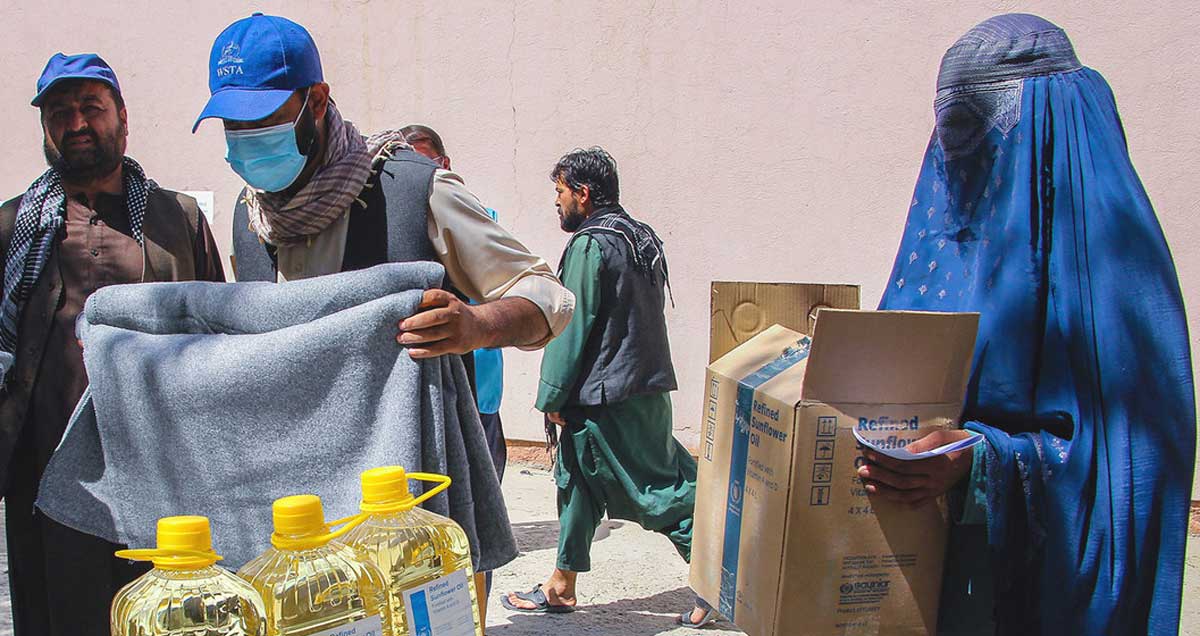 Afghanistan may face a food crisis under the Taliban (outlawed in Russia) rule because this movement is under sanctions of both individual states and the United Nations, Andrei Kortunov, Director General of the Russian International Affairs Council, told TASS on Monday.
"A food crisis and famine in Afghanistan are not ruled out. Indeed, Afghanistan is now on life support, with assistance mostly coming from international development institutes, as well as from the United Nations, the European Union, and the United States, i.e. from Western sources and institutes close to the West," he said. "The Taliban is under international sanctions, not only unilateral US and EU sanctions, but also under UN sanctions. That is why, in formal terms, the Taliban coming to power may mean that these sanctions could be expanded to the entire country, and it will entail serious food problems. Food deliveries from the World Food Program and other international organizations may be at risk."
According to the expert, statistics from recent years show that annual assistance to Afghanistan amounts to about five billion US dollars, but this sum is not enough to satisfy the needs of the country's population. "It is believed that a minimal sum needed by Afghanistan to maintain basic social institutions to avoid hunger in certain regions stands at one billion US dollars a month, i.e. 12 billion a year," Kortunov noted. "Some say that twice as much is needed, taking into account that population growth in Afghanistan is among the world's highest and life expectancy is among the lowest. And around half of Afghan children under five are undernourished."
He noted that despite the fact that the issue of further food supplies to Afghanistan is not settled, some countries, for instance, China, continue to help Afghanistan but a consolidated position of the international community is needed to prevent a food and humanitarian crisis. "A common position of the international community is needed and it should be committed to paper in corresponding resolutions of the United Nations Security Council, which should provide for reservations concerning food assistance in any case," he added.
However, in his words, the key question is who will control the distribution of humanitarian and food assistance inside the country. "There were such precedents when countries and regimes under sanctions were granted reservations and received food assistance. But a logical question arises about who will control the distribution of this assistance. This has always been a stumbling block for programs of assistance to Syria, as the West claimed that if everything is left to Damascus' discretion, assistance will be distributed in the interests of [President Bashar] Assad and his inner circle rather than in the interests of the Syrian people. It is not ruled out that the same position will be taken in respect of the Taliban," Kortunov went on to say. "It means that the international community will be ready to provide food assistance but on condition that unimpeded access will be granted to the areas in need and everything will not be handed over to the Taliban who will decide about whom to help."
After the US announced the end of its operation in Afghanistan and the beginning of its troop withdrawal, the Taliban launched an offensive against Afghan government forces. On August 15, Taliban militants swept into Kabul without encountering any resistance, establishing full control over the country's capital within a few hours. Afghanistan's President Ashraf Ghani said he had stepped down to prevent any bloodshed and subsequently fled the country. US troops left Afghanistan on August 31.
From our partner RIAC
The failure of the great games in Afghanistan from the 19th century to the present day
Whenever great powers have tried to make Afghanistan a colony, they have always been defeated. British imperialism and its "civilising mission" towards backward (and therefore terrorist) populations – a mission equal to that of the time when Great Britain established itself as the first drug pusher to the Chinese Empire with the two opium wars of 1839-1842; 1856-1860: an action that was terrorist at the best.
The Russian Empire and its exporting the orthodox faith and the values of the Tsar towards the barbaric (and therefore terrorist) Afghans. The Soviet Union and its attempt to impose secularisation on Muslim (and therefore terrorist) Afghans in the period 1979-1991. The United States of America that thought it could create parties, democracy, Coke, miniskirts, as well as gambling and pleasure houses by bombing the Afghan terrorists tout-court.
In this article I will try to explain why Afghanistan won 4-0, and in 1919 – thanks to its rulers' wise skills – was one of the only six actual independent Asian States (Japan, Nepal, Thailand and Yemen), so that at least the barroom experts – who, by their nature, believe that History is just a fairy tale like that of Cinderella and stepmother with evil sisters – reflect on the nonsense we read and hear every day in the press and in the media.
In his book I luoghi della Storia (Rizzoli, Milan 2000), former Ambassador Sergio Romano wrote on page 196: "The Afghans spent a good part of the nineteenth century playing a diplomatic and military game with the great powers – the so-called "Great Game" – the main rule of which was to use the Russians against the Brits and the Brits against the Russians".
In the days when geopolitics was a forbidden subject and the word was forbidden, in the history textbooks of secondary schools it seemed that the United States of America and the then Union of Soviet Socialist Republics had fallen from the sky as large as they were on the atlases. I still remember that in the dialogues between professors and high school students, it was stated that the two powers could not be called colonial, since they had something messianic and redeeming in themselves (therefore anti-terrorist).
It was only thanks to western movies that the young people of the time understood how the thirteen Lutheran colonies had extended westwards into lands that we were led to believe had been inhabited by savage villains to be exterminated (hence terrorists) and by uncivilised Spaniards, as Catholics, to be defeated. Moreover, we did not dare to study Russia's expansion eastwards and southwards, at the risk that the high school students – unprepared, pure and enthusiastic – would understand that the homeland of socialism had no different assumptions from all other imperialisms.
Sometimes the students heard about the great game or, in Russian, the tournament of shadows (turniry teney). What was the great game? Today it is mostly remembered as the epic of freedom of the unconquered Afghans, but in reality its solution meant the alliance between Russia and Great Britain, which lasted at least until the eve of the Cold War. A key position that is sometimes too overlooked, and not only in scientific and classical textbooks, but also in many essays by self-proclaimed experts.
British aversion to the Russian Empire – apart from the "necessary" anti-Napoleonic alliances in the Second, Third, Fourth, Sixth and Seventh Coalitions – dated back to the 17th century and worsened considerably in the 19th century. Although Russian exports of grain, natural fibres and other agricultural crops were made to Great Britain – because the Russian landowners were well disposed to good relations with the Brits in order to better market those products abroad – there were no political improvements. The opposition came more from Great Britain than from Russia.
Tsar Nicholas I (1796-1825-55) – in the late 1830s, during his trip to Great Britain in 1842, and later in 1850-52, i.e. just before the Crimean War (1853-56) – often tried to bring about normalisation, but due to British suspicions and doubts (the Russians were considered to be terrorists) this did not occur.
What worried the Foreign Office – created in March 1782 – was Russia's fast march eastwards, southwards and south-westwards. Great Britain could feel Russian breath on it from the three sides of India. The Russian goals with regard to Turkey, the successes in Trancaucasia and the Persian goals, not to mention the colonisation of Central Asia, initiated by the aforementioned Tsar Nicholas I, and conducted vigorously by his successor Alexander II (1818-1855-81), were – for Her Britannic Majesty's diplomats and generals – a blatant and threatening intimidation of India's "pearl".
In the north-west of the Indian subcontinent the British possessions bordered on the Thar desert and on Sindh (the Indus River delta) which constituted a Muslim State under leaders residing at Haidarābād, conquered by the Brits in 1843. To the north-east of Sindh, the Punjab region had been amalgamated into a strong State by Maharaja Ranjit Singh Ji (1780-1801-39) who, as a simple Governor of Lahore (Lâhau) on behalf of the Afghan Emir, Zaman Shah Durrani (1770-93-1800-†44), had succeeded not only in becoming independent, but also in extending his power over Kashmir and Pīshāwar, creating the Sikh Empire in 1801, which was overthrown by Great Britain during the I (1845-46) and II (1848-49) Anglo-Sikh wars; the region became what is known as the Pakistani Khyber Pakhtunkhwa (the North-West Frontier Province).
Given the British expansion into the neighbouring States of Afghanistan and Persia, Russia's influence was trying to creep in; hence the Brits were paying close attention to what was happening on the border of the great Northern "neighbour".
Russia had long been aiming to make its way to India through Western Turkestan, but that steppe region was inhabited by the Kyrgyz in the north-east and the Turks (Turkmen) in the south-west.
After unsuccessful attempts at peaceful penetration, the Russian Governor of Orenburg, Gen. Vasilij Alekseevič Perovskij (1794-1857), prepared an expedition against Chiva: it involved crossing about a thousand kilometres of desert and was thought to be easier to make during the winter. The expedition left from Orenburg in November 1839, but the cold killed so many men and camels that the Commander had to give up the venture and turn back (spring 1840). For a long time, the Russians did not attempt any more military infiltrations there.
In Persia, instead, Russian influence was strongly felt: Tsar Alexander II pushed the Shah, Naser al-Din Qajar (1831-48-96), to undertake an enterprise against the city of Herāt (which dominated the passage from Persia and Western Turkestan into India): it had detached itself from Afghanistan and had been a separate State since 1824. The Persian expedition began in the autumn of 1837: Herāt resisted strenuously, so much so that in the summer of 1838 the Shah had to renounce the siege and accept Britain's mediation for peace with the sovereign of that city. That diplomatic move was therefore also detrimental to the influence of St. Petersburg. Even the first relations established by Russia with the Emir of Afghanistan did not lead to any result.
In those years, Russia was busy quelling the insurrections of the mountain populations in the Caucasus, where the exploits of the alleged Italian sheikh, Mansur Ushurma (Giambattista Boetti, 1743-98), in the service of the Chechen cause, still echoed.
Through two treaties concluded with Persia (1828) and Turkey (1829), Russia had become the master of the region; however, it found an obstinate resistance from the local populations that still persists today.
The First Anglo-Afghan War (1839-42) was one of the most important military conflicts of the great game and one of the worst British defeats in the region. The Brits had started an expedition to Afghanistan to overthrow Emir Dost Mohammad (1793-1826-39, 42-63), the first of the Barakzai dynasty, and replace him with the last of the Durrani dynasty, Ayub Shah (17??-1819-23, †37), who had been dethroned in 1823, but he renounced. Not wanting to cross the Sikh country in order not to arouse mistrust among the Sikhs, the British entered Baluchistan, occupied the capital (Qalat), then penetrated into Afghanistan and advanced without encountering serious resistance as far as Kabul, where on August 7, 1839 they installed their own puppet, Shuja Shah (1785-1842), formerly Emir from 1803 to 1809.
Dost Mohammad was caught and sent to Calcutta. A the beginning of 1841, however, one of his sons – Sher Ali – aroused the Afghans' rebellion. The military commander, Gen. William George Keith Elphinstone (b. 1782), got permission to leave with 4,500 soldiers and 12,000 non-combatants to return to India. In the mountain passes near Kabul, however, the expedition was taken by surprise and annihilated (January 1842). The commander died as prisoner of the Afghans (on April 23).
The Brits obviously wanted revenge: they sent other troops that, in September of the same year, reconquered Kabul: this time the Brits – intimidated – did not deem it advisable to remain there. Convinced they had reaffirmed a certain prestige, they withdrew and, since the Emir they protected had died on April 5, 1842, they agreed – helplessly – to Dost Mohammad's return to the throne. He conquered Herāt forever for Afghanistan.
Russia did not just stand by and watch and asserted its power in the Far East. In the years 1854-58 – despite its engagement in the Crimean war: the first real act of the great game, as Britain had to defend the Ottoman Empire from Sarmatian aspirations of conquest – it had established, with a series of expeditions, its jurisdiction over the province of Amur, through the Treaty of Aigun – labelled as the unequal treaty as it was imposed on China – on May 28, 1858. Shortly afterwards the fleet arrived at Tien-Tsin (Tianjin), forced China into another treaty on June 26-27, thus obtaining the opening of ports for trade, and the permanence of a Russian embassy in Peking. Moreover, in Central Asia, Russia renewed its attempts to advance against the khanates of Buchara and Kokand (Qo'qon), and had once again led the Shah of Persia, Mozaffar ad-Din Qajar (1853-96-1907), to try again the enterprise of Herāt (1856), which had caused again the British intervention (Anglo-Persian War, 1856-57) that ended with Persia's recognition of the independence of the aforementioned city. The Anglo-Russian rivalry thus continued to be one of the essential problems of Central Asia, for the additional reason that Russia gradually expanded into West Turkestan, Buchara and Chiva between 1867 and 1873.
After the Russian conquests in West Turkestan, Dost Mohammad' son and successor, Sher Ali (1825-63-66, 68-79), came under the influence of the neighbouring power, which was trying to penetrate the area to the detriment of Britain. On July 22, 1878 St Petersburg sent a mission. The Emir repelled a similar British mission at the Khyber Pass in September 1878, thus triggering the start of the war. The Brits soon opened hostilities, invading the country with 40,000 soldiers
from three different points.
The Emir went into exile in Mazār-i-Sharīf, leaving his son Mohammad Yaqub (1849-79-80, †1914) as heir. He signed the Treaty of Gandamak on May 26, 1879 to prevent a British invasion of the rest of the country.
Once the British First Resident, the Italian Pierre Louis Napoleon Cavagnari (b. 1841) went to Kabul, he was assassinated there on September 3, 1879. British troops organised a second expedition and occupied the capital. They did not trust the Emir and raised a nephew of Dost Mohammed, Abdur Rahman (1840/44-80-1901), to power on May 31, 1880. He pledged to have no political relations except with Britain.
The former Emir, Mohammad Yaqub, took up arms and severely defeated the Brits at Maiwand on July 27, 1880, with the help of the Afghan heroine Malalai Anaa (1861-80), who rallied the Pashtun troops against the attackers. On September 1 of the same year Mohammad Yaqub was defeated and put to flight by Gen. Frederick Roberts (1832-1914) in the Battle of Kandahâr, which ended the Second Anglo-Afghan War.
This brought Afghanistan permanently under British influence, which was secured by the construction of a railway from the Indus River to the Afghan city of Kandahâr. Since the railway passed through Beluchistan, it was definitively annexed to British India. In 1880, Russia began the construction of the Transcaspian Railway, which alarmed the Brits who extended the section of their "railroad" to Herāt.
It was only with the accession to the throne of Imānullāh (1892-1919-29, †60), on February 28, 1919 (Shah from 1926), that Afghanistan took its foreign policy away from Great Britain through the Third Anglo-Afghan War (6 May-8 August 1919), by which the Afghans finally threw the Brits out of the picture (Treaty of Râwalpindî of August 8, 1919, amended on November 22, 1921).
As early as 1907, the Russian government had declared it considered Afghanistan to be outside its sphere of influence, and pledged not to send any agents there, as well as to consult the British government about its relations with that country.
Indeed, Britain soon gave up direct control of the country, given the fierce fighting spirit of its people, who had humiliated it many times, and contented itself with guarding and keeping the north-west Indian border under control.
In reality, the great game has never ended. As Spartacus Alfredo Puttini stated (La Russia di Putin sulla scacchiera, in "Eurasia", A. IX, No. 1, January-March 2012, pp. 129-147), upon his coming to power Vladimir Putin found himself grappling with a difficult legacy. Gorbachev's policy of katastroika had dealt a lethal blow to the Soviet and later Russian colossus.
Within a few years, Russia had embarked on a unilateral disarmament that led, at first, to its withdrawal from Afghanistan and then from Central and Eastern Europe. While the State was heading for collapse and the economy was being disrupted, it was the very periphery of the Soviet Union that was catching fire due to separatist movements promptly subsidised by those who – in the great game – replaced the Brits. Massive US aid to the heroic anti-Soviet patriots, who were later branded as terrorists.
In a short time the real collapse occurred and the 'new' Russia found itself geopolitically shrunken and morally and materially prostrated by the great looting made by the pro-Western oligarchs in the shadow of the Yeltsin Presidency.
To the west, the country had returned to the borders of the 17th century; to the south, it had lost Southern Caucasus and valuable Central Asia, where the new great game was soon to begin. In other words, the process of disruption would not stop, and would infect the Russian Federation itself: Chechnya had engaged in a furious war of secession that threatened to spread like wildfire to the whole of Northern Caucasus and, in the long run, called into question the very survival of the Russian State divided into autonomous entities.
This was followed by the phenomenon of "orangism" in 2003-2005 (Georgia, Ukraine, Kyrgyzstan): the various caricatures of oxymoronic "liberal" revolutions aimed at moving certain governments away from Russia's influence.
Ultimately, the central power had been undermined on all sides by the policy of Yeltsin and his clan, aimed at granting extensive autonomy to the regions of the Federation. Public property, the glue of State authority and the instrument of its concrete activity to guide and orient the nation, had been sold off. Over time, Putin put things right, and the rest is condensed into the restoration choices of the plebiscitary vote in his favour.
In the end Afghanistan also saw the US failure, which I have examined in previous articles.
The Asian sense of freedom is summed up in the expulsion of foreign aggressors from their own homelands and territories. Someone should start to understand this.