Kickbacks in India's defence purchases
Prime minister Narendra Modi of India boasts his government of being corruption- free. But, his claim has become questionable in the light of recent audit of Rafale purchase in France.
India had ordered 36 of these fighter aircraft from France in September 2016. The 7.8 billion government-to-government deal for 36 fighter jets was signed in 2016. The Indian Air Force has already raised its first squadron of the Rafale jets at Ambala and is due to raise the second one at Hasimara in West Bengal.
India expects to receive more than 50 percent of these fighters by April-end. The first batch of five Rafale jets had arrived in India on July 28 and was officially inducted on September 10 by the government.
In a startling disclosure, the French Anti-Corruption Agency, Agence Française Anticorruption
has announced that their inspectors have discovered an unexplained irregularity during their scheduled audit of Dassault. According to details, "the manufacturer of French combat jet Rafale agreed to pay one million euro to a middleman in India just after the signing of the Indo-French contract in 2016, an investigation by the French publication Mediapart has revealed. An amount of 508,925 euro was allegedly paid under "gifts to clients" head in the 2017 accounts of the Dassault group ( Dassault paid 1 million euro as 'gift' to Indian middleman in Rafale deal: French report India Today Apr 5, 2021). Dassault tried to justify "the larger than usual gift" with a proforma invoice from an Indian company called Defsys Solutions. The invoice suggested that Defsys was paid 50 per cent of an order worth 1,017,850 for manufacturing of 50 dummy models of the Rafale jets. Each dummy, according to the AFA report, was quoted at a hefty price of 20,357. The Dassault group failed to provide any documentary evidence to audit about the existence of those models. Also, it could also not explain why the expenditure was listed as a "gift to clients" in their accounts.
Shady background of Defsys
Defsys is one of the subcontractors of Dassault in India. It has been linked with notorious businessman Sushen Gupta. Sushen Gupta. He was arrested and later granted bail for his role in another major defence scam in India, the AgustaWestland VVIP Chopper case.
The Enforcement Directorate charged Sushen Gupta for allegedly devising a money-laundering scheme for the payouts during the purchase of the helicopters.
Rampant corruption in India
Corruption in defence deals is a norm rather than an exception in India. They did not spare even aluminum caskets used to bring back dead bodies from the Kargil heights ("coffin scam"). Investigations into shady deals linger on until the main characters or middleman is dead. Bofors is a case in point.
Why investigation of defence deals since independence recommended
India's Tehelka Commission of Inquiry headed by Mr. Justice S N Phukan had suggested that a sitting Supreme Court Judge should examine all defence files since independence.
Concerned about rampant corruption in defence purchases allegedly involving Army personnel, he desired that the proposed Supreme Court Judge should by assisted by the Central Vigilance Commission and the Central bureau of Investigation.
He stressed that unless the existing system of defence procurement was made more transparent through corrective measures, defence deals would continue to be murky. He had submitted his report to then prime minister Atal Behari Vajpayee, but to no avail. The Commission had examined 15 defence deals including the AJT, Sukhoi, Barak missiles, T-90 tanks, tank navigation systems, simulators, hand-held thermal. imagers, Karl Gustav rocket and Kandla-Panipat pipeline. The irregularities in the scrutinised defence deals compelled the Commission to suggest de novo scrutiny of all defence purchases since independence.
Tardy trial
The courts have absolved Rajiv Gandhi of involvement in the BOFORS scam. However, a considerable section of Indian people still believes that 'Mr. Clean' was not really so clean. The BJP exploited Rajiv's acquittal as an election issue. Kuldip Nayyar, in his article "The gun that misfired" (Dawn February 14, 2004) laments, "There was practically no discussion on Bofors-guns kickbacks in the 13th Lok Sabha which has been dissolved for early elections. Once Rajiv Gandhi died the main target – the non-Congress parties lost interest in the scam".
According to analysts, the mechanisms of public accountability in India have collapsed. Corruption has become a serious socio-political malady as politicians, bureaucracy and Armed Forces act in tandem to receive kickbacks. The anti-corruption cases, filed in courts, drag on for years without any results. To quote a few case: (a) There was no conviction in Bofors-gun case (Rs 64 crore), because of lethargic investigation (the case was filed on January 22, 1990 and charge sheet served on October 22, 1999. Among the accused were Rajiv Gandhi, S K Bhatnagar, W N Chaddha, Octavio, and Ardbo. The key players in the scam died before the court's decision). (b) No recoveries could be made in the HDW submarine case (Rs 32.5 crore). The CBI later recommended closure of this case. (c) Corruption in recruitment of Armed Forces.
Legal cover for middlemen
Central Vigilance Commissioner P Shankar had alleged (October 2003): "The CVC had submitted its defence deals report on March 31, 2001. Yet a year later, the government has not conducted the mandatory departmental inquiry to fix responsibility". Shankar explained that the CVC had examined 75 cases apart from specific allegations made by former MP Jayant Malhoutra and Rear Admiral Suhas V Purohit Vittal. Malhoutra's allegations were about middlemen in defence deals. After his report, the ministry lifted the ban on agents in November 2001 to regularise the middlemen. Purohit, in his petition in the Delhi HC on a promotion case, had alleged unnecessary spare parts were bought from a cartel of suppliers instead of manufacturers, at outrageous prices and at times worth more than the original equipment.
Past cases forgotten to continue business as usual
There were ear-rending shrieks about the Taj-heritage corridor case, Purulia-arms-drop case and stamp-paper cases. Indian Express dated November 11, 2003 reported that the stamp-paper co-accused assistant Sub-Inspector of Police drew a salary of Rs 9,000, but his assets valued over Rs 100 crore. He built six plush hotels during his association for 6 years with the main accused Abdul Karim Telgi. The ASI was arrested on June 13 and charged under the Maharashtra Control of Organised Crime Act. Investigations by the Special Investigating Team (SIT) probing the stamp scam had found that the ASI Kamath accepted Rs 72 lakh from the scam kingpin, Abdul Karim Telgi, on behalf of IGP Sridhar Vagal.
The problem is that the modus operandi of corruption ensures that it is invisible and unaccounted for. There are widespread complaints that the politicians exercise underhand influence on bureaucracy to mint money. For instance, the Chief Vigilance Commissioner complained to Indian Prime Minister (November 8, 2003) that at least "six cabinet ministers, handling key infrastructure ministries, are harassing chiefs of public sector undertakings for 'personal favours', and in some cases even for pay-offs".
For example, one PSU (Public Sector Udertaking) chief is said to have complained that he was asked to get Rs 20 crore delivered to his minister's party office and when he refused, he was "denied" an extension. Indian Express dated February 19, 2004 reported, under reportage titled "Figuring India" that 'Rajiv Pratap Rudy is only one in a long line of ministers who have misused the funds and facilities of Public Sector Undertakings". The newspaper appended the following bird's-eye view of the funds (available for corruption) at the PSUs command: Rs 3, 24,632 crore total investment in PSUs, Rs 36,432 crore profits, 12,714 crore profits of monopolies in petroleum, Rs 5,613 CRORE profits of monopolies in power Rs 7,612 crore, profits of monopolies in telecom Rs 10,388 crore, Rs 61,000 crore invested in PSUs in 1991-1998, Rs 19,000 crore returns during 1991-1998."
Corruption as proportion of gross Domestic Product
Professor Bibek Debroy and Laveesh Bhandari claim in their book Corruption in India: The DNA and RNA that public officials in India may be cornering as much as ₹921 billion (US$13 billion), or 5 percent of the GDP through corruption.
India 86th most corrupt (Transparency International corruption ranking Jan 29, 2021)
India's ranking on the Corruption Perception Index– 2020 is 86. The index released annually by Transparency International ranks 180 countries by their perceived levels of public sector corruption according to experts and business people. It uses a scale of zero to 100, where zero signifies the highest level of corruption and 100 is very clean.
All-round corruption
In India, anti-corruption focuses on big ticket graft. But it is petty corruption that hurts common people more. Both need to be weeded out. A former World Bank president Robert Zoellick once said, "Corruption is a cancer that steals from the poor, eats away at governance and moral fibre, and destroys trust."
According to Transparency International, CPI-2020 shows that corruption is more pervasive in countries least equipped to handle Covid-19 and other crises. "Covid-19 is not just a health and economic crisis. It is a corruption crisis. And one that we are currently failing to manage," Delia Ferreira Rubio, chair of Transparency International said. "The past year has tested governments like no other in memory, and those with higher levels of corruption have been less able to meet the challenge. But even those at the top of the CPI must urgently address their role in perpetuating corruption," she added.
Concluding remarks
Click Wikipedia to know that Narendra Modi's "Net worth" is "₹ 2.85 Crore" (June 2020). This figure defies his humble financial background. He has a penchant for hobnobbing with "crony capitalism". It appears he is worth a lot more. Those who make illicit money have a knack to hide it.
The US military is operating in more countries than we think
"Irregular warfare" is defined by Pentagon as "competition… short of traditional armed conflict" or "all-out war." A new report finds that Pentagon uses 'security cooperation' programs for 'secret wars,' recommends that Congress rein them in.
U.S. military forces have been engaged in unauthorized hostilities in many more countries than the Pentagon has disclosed to Congress, let alone the public, according to a major new report released by New York University School of Law's Brennan Center for Justice.
"Afghanistan, Iraq, maybe Libya. If you asked the average American where the United States has been at war in the past two decades, you would likely get this short list," according to the report, Secret War: How the U.S. Uses Partnerships and Proxy Forces to Wage War Under the Radar.
"But this list is wrong – 'off' by at least 17 countries in which the United States has engaged in armed conflict through ground forces, proxy forces, or air strikes."
"This proliferation of secret war is a relatively recent phenomenon, and it is undemocratic and dangerous," the report's author, Katherine Yon Ebright, wrote in the introduction. "The conduct of undisclosed hostilities in unreported countries contravenes our constitutional design. It invites military escalation that is unforeseeable to the public, to Congress, and even to the diplomats charged with managing U.S. foreign relations."
One such program authorized the Defense Department to "provide support to foreign forces, irregular forces, groups or individuals engaged in supporting or facilitating authorized ongoing military operations by United States special operations forces to combat terrorism."
According to the report, that "support" has been broadly — or, more accurately, too broadly — interpreted by the Pentagon. In practice, it has enabled the U.S. military to "develop and control proxy forces that fight on behalf of and sometimes alongside U.S. forces" and to use armed force to defend its local partners against adversaries (in what the Pentagon calls "collective self-defense") regardless of whether those adversaries pose any threat to U.S. territory or persons.
"I've got guys in Kenya, Chad, Cameroon, Niger [and] Tunisia who are doing the same kind of things as the guys in Somalia, exposing themselves to the same kind of danger," bragged Brigadier Gen. Donald Bolduc (ret.), who commanded U.S. special forces in Africa until 2017 and is currently running as a Republican for the U.S. Senate in New Hampshire. "We've had guys wounded in all the types of missions that we do."
The report, which relies on published work by investigative reporters, interviews with knowledgeable officials and congressional staff, official documents and records, as well as the author's legal analysis, identifies such countries as: Somalia, Cameroon, Afghanistan, Egypt, Iraq, Kenya, Lebanon, Libya, Mali, Mauritania, Niger, Niger, Nigeria, Syria, Tunisia, and Yemen.
But it stressed that the list is almost certainly not exhaustive.
Fifty countries, from Mexico to Peru in the west to Indonesia and the Philippines (where U.S. forces are known to have taken part in combat operation) in the east, and covering 22 countries in North and sub-Saharan Africa alone (not to mention Ukraine) had programs in place as of mid-2018, according to the report.
"Broadly speaking, the purpose of the authority is to take the Pentagon's approach of creating and controlling partner forces and wield it against countries like China, Russia, Iran, and North Korea," – according to the report.
International Affairs
Gung-ho statements by India's jingoist military and civil leaders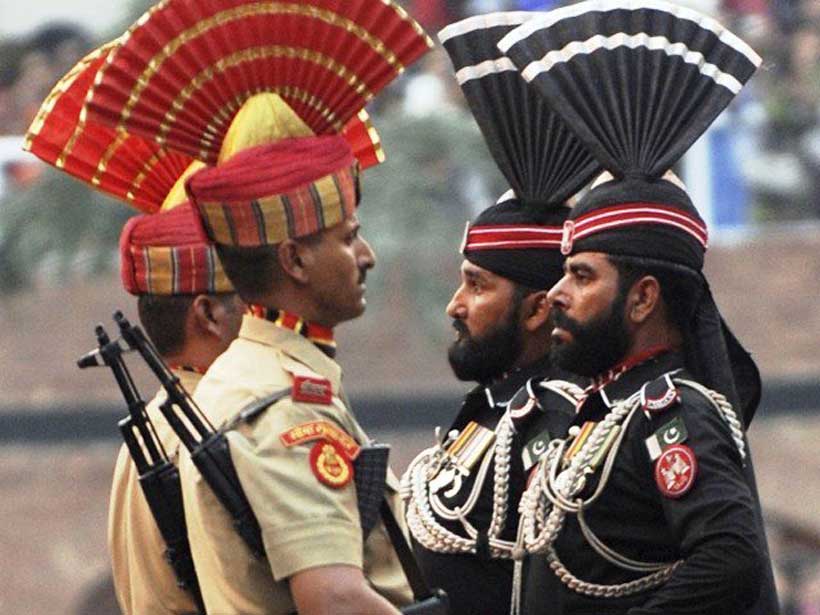 Cross fire between Indian and Pakistan forces was a recurrent phenomenon. It usually hurt the unarmed civilians rather than the troops. Realising futility of intermittent exchange of fire across the border, India and Pakistan, always at daggers drawn, agreed to ceasefire that is still being upheld. However, an agreement on no-firearms use between the two countries, akin to Sino-Indian agreement, is nowhere in the offing. Despite the accord, India and China still engaged in fisticuffs at Galwan.
As if in deliriums tremens, India's Northern Army Commander Lt General Upendra Dwivedi shouted, "As far as the Indian Army is concerned, it will carry out any order given by the Government of India [to annex Azad Kashmir and Gilgit Baltistan "(Whenever such orders are given, we will always be ready for it, The News International, November 22, 2022).
His statement is a sycophantic follow-up to a similar statement by India's defence minister Rajnath Singh "of taking back PoK". Besides Rajnath many other Indian leaders including Bipen Rawat, Ajit Doval and Narendra Modi have made provocative statements about AK and GB. Pakistan's army chief has replied to Dwivedi's statement in befitting words. In 1994, India's lok Sabha (house of people) passed aresolution under the then prime minister Narasimha Rao. The resolution stated that AJK and GB are an integral part of India by virtue of Jammu and Kashmir's accession to India.
India's claim to accession of the Jammu and Kashmir is unfounded. India never showed the so-called Instrument of accession to the United Nations. The UNO passed two resolutions to outlaw probable accession by the puppet JK assembly to India. The UN resolutions recognise that the dispute could be resolved only through a plebiscite. Till about 1954, India continued to owe allegiance to the UN resolutions. Then in a volte face, Nehru declared that the UN resolutions are mediatory, not mandatory in nature. India's unilateral renunciation of the UN resolutions eminently qualified it as a rogue state subject to international sanctions.
India treacherously annexed over 500 other princely state by hook or by crook. For instance, Junagadh annexation is still an unresolved item on UN agenda.
Dwivedi means 'one who knows two vedas'. In Sanskrit, Dvi means 'two' and Vedi means 'to see'. Therefore, a Dwivedi is one with 'two-fold vision', or someone who is able to distinguish between right and wrong. The general's statement reflects that he has purblind vision, not seeing consequences of a war between two nuclear armed neighbours. Victory in case of a nuclear confrontation will, at best, be pyrrhic.
Dwivedi appears to have been infatuated by provision of K9-Vajra self-propelled howitzer (50 mile range) is being manufactured by Larsen and Toubro in Gujarat. China has already provided Pakistan similar howitzers to neutralize India's fire power (China supplies mounted howitzers to Pak to maintain arms parity with India, Hindustan Times Jan 27, 2022).
Dwivedi appears to be oblivious of facts about Azad Kashmir and Gilgit Baltistan.
Gilgit Baltistan
On November 1, 1947, the governor of Gilgit, Brig Ghansara Singh surrendered to the Gilgit Scouts and signed an instrument of surrender on November 3, 1947. The people of the region proclaimed Gilgit as part of Pakistan and hoisted Pakistan's flag. Skardu was liberated after about a year on August 14, 1948, when Lt Col Thapa of 6th Jammu and Kashmir infantry along with 250 soldiers surrendered to liberation forces.
Historian Yousaf Saraf if of the view that Gilgit –Baltistan is a part of Azad Kashmir as is evident from Accord signed between AK and Pakistan government. Sartaj Aziz committee recommended to the federal government to make Gilgit-Baltistan a full-fledged province with representation in both the houses of parliament.
A psycho-analytic view" Indian leaders "frogs"
Indian civil military leaders suffer from a fight-and-flight complex. The human beings, particularly the macho typos, like Indian military leaders, think they are independent decision makers. But, subconsciously they are slaves to the subconscious to the scripts they have learned to live with. In his book, Scripts People Live, Claude Steiner analyses "life scripts" which we choose at an early age and which rule every detail of our lives until our death. Steiner postulates that people are innately healthy but develop a pattern early in life based upon negative or positive influences of those around them. Thus children decide, however unconsciously, whether they will be happy or depressed, winners or failures, STRONG or dependent, and having decided, they spend the rest of their lives making the decision come true. For those who choose a negative script, the consequences can be disastrous unless they make a conscious decision to change.
The tragedy is that the person who needs to rewrite his or her life script most is unwilling to admit that he needs to revamp his life script.
Narendra Modi is such a person who by his conduct and political statements reflects that he suffers from a negative life script. He wants to pose as a "prince", though he is actually a "frog". Modi's recent statements provide a clue how he is neurologically programmed.
Concluding reflections
Modi is convinced that his electoral achievements are due to his Macho (strongman) image. Lest his image should be shattered he delayed withdrawing anti-farmer laws for about a year since the farmers began protesting. He trumpets his "surgical strikes", celebrates "Kargil victory", and anti-Muslim citizenship laws.
Modi is still fettered to his teen-age memory of being a waiter at a tea-stall. The Modi government should turn a new leaf in India's relations with its neighbours by shunning the strong-man image. He could do better by attending to the economic welfare of the masses and promoting social harmony.
Ukraine recruits fighters from Africa
"If Ukraine decides to pay me a very good amount of money, which I know I cannot earn here, I will definitely go there and fight," Kimanzi Nashon, a student in the Kenyan capital Nairobi said. "When we go there, and then the war ends before anything happens, I will come back to Kenya and be a millionaire."
And Nashon isn't alone in harboring such naive thoughts of being a hired fighter in Ukraine.
"If an opportunity presented itself for me to fight in Ukraine as a mercenary, I would be on my heels running there," Beatrice Kaluki, who is unemployed in Kenya, told 'Deutsche Welle'. "I would rather die on the front line in Ukraine knowing that my family would be compensated even after my death, rather than die from depression because of the insane unemployment rate!"
However, African countries have come out strongly to condemn Ukraine's call for African fighters to join the "international legion" against the Russians.
Now Nigeria, Senegal and Algeria have criticized Ukraine's efforts to enlist international fighters as it resists a Russians. Analysts say those who have responded to the call need to reconsider.
According to Ryan Cummings, director of 'Signal Risk', a South African-based security risk management consultancy, 'President Zelenskyy might be capitalizing on Africa's challenging socio-economic conditions to lure African fighters to Ukraine.' According to the Nigerian daily, 'The Guardian', more than 100 young men registered their interest in fighting for Ukraine at the country's embassy in Abuja.
A spokesperson for Nigeria's foreign affairs minister, Francisca Omayuli, said Nigeria would not allow its nationals to volunteer as mercenaries.
Senegal has also expressed its displeasure with Ukraine's government, saying that at least 36 people in Senegal were ready to confront Russian forces. Senegal's Ministry of Foreign Affairs said that it was astonished to learn that the embassy of Ukraine in Dakar had posted an appeal on its Facebook page for foreign citizens to come to Ukraine's military forces.
In a statement, the Senegalese government criticized the initiative and warned its citizens that recruiting volunteers, mercenaries, or foreign fighters on Senegalese soil is illegal.
"These young people who want to get involved [in Ukraine] have not fully considered political or religious implications," said Serigne Bamba Gaye, a researcher on peace, security and governance at the US-based Peace Operations Training Institute (POTI).
"They are only interested in answering a call without perhaps understanding the issues surrounding the Ukrainian conflict," Gaye said.
For security and risk analyst Ryan Cummings, African countries need to consider the implications of allowing their citizens to travel to Ukraine as hired guns. "Russia has stated any country that is actively assisting Ukraine in this war, or as Russia calls it: 'A special military operation to demilitarize and de-nazify Ukraine,' will be considered at war with Russia," he said.
He warned that the Kremlin could also retaliate by ending diplomatic relations with African countries that support Ukraine in this way.