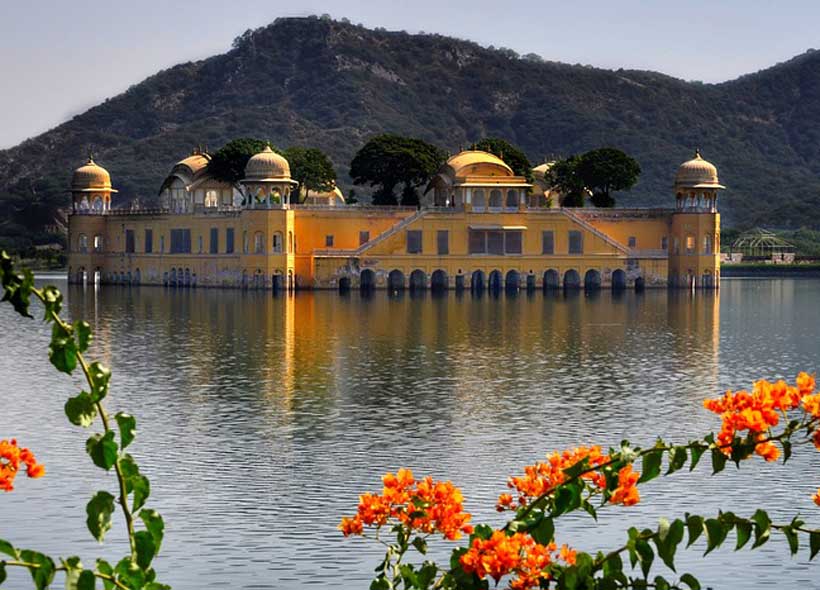 Usually the term of diplomacy is equated with a complex governmental framework with extended missions, official proceedings, treaties and much more- all part of a professional and complex system. It is generally thought that maintaining or restraining from relationships between two states is purely a state owned and worked mechanism – a faulty induction indeed.
Diplomacy works under a multilateral framework of nine tracks, known as the multi-track diplomacy: a conceptual way to view the process of international peacemaking as a living system. It looks at individuals, institutes, and communities that operate together for a common purpose: a world at peace.
Diplomacy can well be played by the citizens of democratic states as effective as the government of the state itself. Nine tracks include working relations through professional conflict resolution, business, private citizens, research, training and education, activism, religious, funding, and public opinion/communication other than the government can be exercised.
The government of Pakistan has been unable to untangle matter of maintaining cordial relations with its immediate neighbor- India since the past seven decades. The framework of governmental diplomacy somehow has never been favorable for the political environment of the both countries, usuallyacting opposite to the intended outcomes of governmental diplomatic proceedings.
Yet, it is a noted and proven fact that the societies of both the nations have a strong will to connect to each other in a cordial bond keeping aside the politics that plays between their respective governments. Particularly the newer generation, the educated millennium have given multiple examples of how this idea can be lived to a reality if the societies are bond through ties within themselves.
Both the nations are proceeding with a democratic system that pertains influence of the society in shaping policy and decision making extensively. The society shares multiple examples of how they respectively have a wish to discard the long-lived hate and cherish a long-wished relation building up on similar arts, culture, society, language, traditions, festivals etc. Some of which are shared herein through personal experience and interviews:
Tourist in Pakistan
A case of an Indian tourist visiting Islamabad for the second time where she fell in love with Pakistani hospitality. She visited multiple areas including Lok Virsa where she was gifted a bracelet just because of belonging from India. She shares her thoughts about Pakistan in her article saying:
"I witnessed a physical similarity and a sense of great familiarity, while travelling along the straight road that disconnects yet connects the two nations".
When asked about the relationship, she exclaims:
"Such is the relationship between India and Pakistan, between the states and between the people — a dichotomous relationship of conflict and cooperation, of hatred and curiosity, of suspicion and trust".
When asked about her experience in Pakistan:
"My experience in Pakistan, for the second time, majorly comprised the latter set of emotions. It was a Track II Bilateral Dialogue that brought me to Islamabad, Pakistan, that I had often heard being referred to as 'one of the world's most beautiful capitals".
She commented on the bilateral relations as:
"We often ponder about the role that common people can play in international relations when the deliberations often limit their role. It is important that the people understand how the conflict is tearing both our countries apart and how it is affecting each one of us. People of India and Pakistan not only share a language, a culture, love for Bollywood movies or Coke Studio, but (unfortunately), they also share the same socio-economic challenges".
"It is important that we pressurize or support our states to talk, despite the hurdles. We need to support the voices of peace, for it is the only path to sanity".
Tomato Soup
A local journalist from Pakistan had the experience to travel to multiple states of India during her professional career. She took a train after crossing the Wagah Border in Lahore to Amritsar. She describes the journey to be one of the best experiences of her life. She met amazing people who welcomed her in Indian land as her own. Travelling from a train and stopping at each station till Kerala, she had an in-depth experience with the Indian culture.
What she cherishes the most about her journey is the taste of tomato soup she had during her train journey. She says it was one of the best tomato soups she has ever had and has never tasted something similar to it. She fell for the Indian cuisine, which was very similar to her own. She has been an advocate of a bilateral cordial tie since her return. She fell in love with India, being from Pakistan.
A UAE love story
There exists a sense of hatred between the two countries, but remains an odd fact that when abroad, both nationals are the bests friends of each other. Particularly the UAE, which seems to be providing a unique opportunity for people from the neighboring countries to truly live like neighbors.
Danish Syed, an Indian living with a Pakistani roommate in UAE comments on his roommate Mohammad Haris as:
"He has been with me through good and bad times. Last year, my brother came to Dubai for a trip and to him, Haris was like a brother as well. Among the three of us, we didn't feel there was any distance, it was just brotherhood."
"It doesn't matter where you are from, whether India or Pakistan. It's just friendship that matters".
Today, not only has his own perspective on people across the border changed, his family also loves his roommate like a son.
Haris, an aspiring vlogger, decided to create a short film on how Indians and Pakistanis become the best of friends in a country far away from the political climate back home.
A Way Forward
The above mentioned are a very few of millions of stories that exist as a pact of a cordial relationship between India and Pakistan. The sense of similarity pulls both of the societies together, indifferent of the stance of their governments.
It is high time where societies intervene to bridge the gap by bringing up their stories of cordial relationships with the other as a sign of mutual peacemaking. Hatred, war and conflict that has been a prevalent part of the nature of this relationship has brought nothing to both the nations except skepticism, loss, blame-game and hate for each other. It is high time when the term of diplomacy is taken out of its cliched governmental prospects and is handled by societies towards peacemaking while transcending the borders that separate them.
Bilateral relations are not the sole responsibility of the governments through official track of diplomacy. Societies, education, culture, arts, business and multiple such non-governmental settings can play a tremendous role in bridging gaps- which is not only the need of the hour but is also a way forward in solving many problems faced by South Asia as a region. It is a win-win game where South Asia can be a stable, prosperous and interconnected region, like some other integrated regions of the world.
From the Mat to the World: How Yoga Diplomacy amplifies India's Global Voice
The lawn at the United Nations Headquarters echoed with slogans of 'Bharat Mata ki jai', as the much-anticipated Yoga event was held on the occasion of International Yoga Day on June 21. The Indian Prime Minister is on a four-day trip to the United States, and the journey begins with leading the Yoga event at the UN headquarters in New York. Ahead of the event, the Prime Minister paid tribute to the statue of Mahatma Gandhi at the venue. Commemorating the event, PM Modi said that Yoga is free from patents, royalty payments and copyrights. The event was registered in the Guinness Book of world record for witnessing the participation of most nationalities in a Yoga session.
The world is celebrating 9th International Yoga Day and the Indian Prime Minister is leading the event at the UN Headquarters, the venue speaks for India's rising global clout. And the impressive participation around the world on the occasion stands in depositions to India's immense reservoir of soft power. Soft Power, as suggested by Joseph Nye is the ability to shape preferences of others through appeal and attraction, or may be through aides. The classic example of implementation of soft power is America's use of the Marshall Plan. After the end of the second world war, the US pumped billions of dollars into Europe, in order to prevent it from falling to the influence of Communist Soviet Union. Be it educational exchange programmes with countries like China, India or exporting soft-drink and fast food culture. All this has led to an exponential rise in America's influence in the world.
India has long been an advocate of cultural diplomacy, that is putting soft power to use to propel the nation on the global stage. The event at the UN Headquarters turned global with the participation of over 180 countries, alongside the presence of President of the 77th UN General Assembly Casaba Korosi, New York City Mayor Eric Adams, actor Richard Gere, Grammy award winner Rickey Kej among others. Bringing 180 countries together is a difficult task, given the current political climate. There is visible ghettoisation in the global forums over the Russia-Ukraine crisis. At this juncture, India is proving its ability to bring nations together and bridge gaps through its Yoga Diplomacy, enhancing its soft power.
The importance of cultural diplomacy was first realised by India's first Prime Minister Jawaharlal Nehru. Nehru along with Education Minister Abul Kalam Azad had set up the Indian Council for Cultural Relations, as early as, in 1950. The ICCR was entrusted with the responsibility to showcase India's rich civilisational history. Former Prime Minister Rajiv Gandhi, further, added momentum to the cause by launching Indian festivals around the world. With the LPG reforms, the 1990s saw a growing interest in India's culture around the world- ranging from Yoga, idea of peace and non-violence, Indian cuisine, Bollywood films and handicraft.
However, with leaders having their credit, the cultural diplomacy could not propel India on to the global stage and complemented with contemporary factors failed to convert India into a major player. The efforts like the expansion of ICCR or establishing a small public diplomacy division within the Ministry of External Affairs (2006) remained pale in comparison with the efforts of the West or China.
For turning India's cultural diplomacy into its soft power, Prime Minister Narendra Modi relied on two aspects, first mother-language and second Yoga. The first method adopted by the Indian Prime Minister for an outreach to the 25-million strong diaspora overseas, was delivering his addresses in Hindi. PM Modi had directly asked the overseas Indians to join hands and serve Mother India, help him boost India's international image and bring in foreign direct investments. While Hindi speeches helped him gain traction, Yoga proved to be his bet.
First practised by Hindu sages, in the pre-Vedic and Vedic era, Yoga has now become India's most popular cultural export. With Prime Minister Modi energetically promoting it, it was his government's way of stretching India's influence on the global stage when PM Modi himself persuaded the United Nations to designate 21st June as International Yoga Day during his first address. The resolution was passed unanimously at the UN conference, with countries like China, the United States, the United Kingdom, Germany, Japan, the Russian Federation, Egypt, Turkey, Iran, Iraq and other OIC countries co-sponsoring the proposal. Another testimony to India's influence was that before the United Nations General Assembly adopted the resolution, it already had 177 co-sponsors. In 2015, the entire world celebrated the first International Yoga Day. Fast forward to 2023, the world is celebrating its 9th International Yoga Day with the Indian Prime Minister leading the UN event.
As Joseph Nye suggested, there are three pillars of soft power- political values, culture and foreign policy. In today's era, the countries cannot function in the binary of political values. If a country like America- the preacher of democracy- decided to only align with governments upholding democratic values, NATO would become a thing of the past. With this, India has two ways for attaining global clout, first asserting its cultural heritage-one of them being Yoga and practising independent foreign policy.
Influence in international relations is understood in two contexts, military and economic might. India has already attained the status of fifth-largest economy in the world, and is currently the fastest-growing one. As far as the military is concerned, the Global Firepower Index, 2022 suggests that India is the fourth most powerful military nation in the world. However, Nye argues that successful states need both hard and soft power as hard power (military and economic might) helps the nation exert influence, soft power helps shape long term attitudes and preferences, thus, promising a long-term alliance.
Propagating Yoga- as an Indian contribution to the world for attaining a healthy lifestyle- helps New Delhi achieve the same. PM Modi is strengthening India's global clout, not by amassing weapons or launching a military operation but by offering a life-changing Indian product called Yoga. In the 21st century, the mode of battle has probably changed- today, battles are waged with soft power which helps countries forge financial and security alliances. Yoga, in the same manner, has helped India capture the minds and hearts of the entire world. While the Indian diaspora participates at the Yoga event at the UN headquarters, they must have swelled with pride.
Any country with only hard or soft power alone cannot achieve a goal it wants to. Like China can flex hard power but enjoys little to no soft power despite its much popularised Panda-diplomacy. On the other hand, Tibet has only soft power and no hard power. India is moving towards achieving a sweet spot in which a mix of both hard and soft power will be used to achieve the ideal goals for the nation. With the world in dire need of a way towards spiritualism- India has placed its bet. The bet to be the vishwaguru- leader of the world paving the way for the future.
Breaking Barriers, Building Equality: Honouring Women in Diplomacy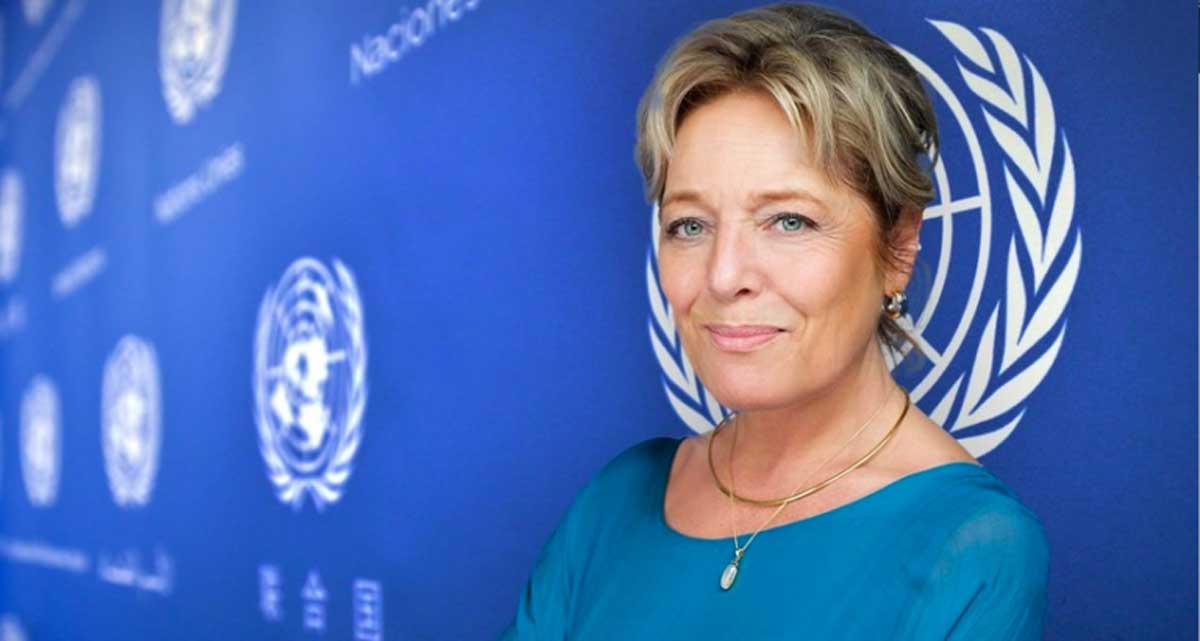 Today we honour the brave, fearless and dedicated women who have broken through confining norms and stereotypes in order to build peace, equality and human rights through diplomacy and leadership.
While women throughout history have not been given the full recognition they deserve as diplomats, dealmakers, leaders and visionaries, we are half of the global population, with a full potential to unleash.
I think of women leaders in the United Nations: UN Deputy Secretary-General Amina J. Mohammed, UNICEF Executive Director Catherine Russell, WFP Executive Director Cindy McCain, UN Women Executive Director Sima Sami Bahous, UN Under-Secretary-General for Global Communications Melissa Fleming and many more – along with the multiple visionary and bold women leaders who work with me at the ECW Secretariat. I think of the courageous Sarah Brown, Chair of Theirworld, who recently celebrated the 21st anniversary of her organization, which among other things mentors so many young women towards leadership. And I think of Sherrie Westin, President of Sesame Workshop, who has done so much for early childhood education.
I also think of the women who practice a more quiet, but equally important type of diplomacy, mothers and daughters everywhere, teachers, humanitarians, activists like Mother Teresa and Malala, visionary scientists such as Madam Curie and Katherine Johnson, and our own ECW Global Champions: Somaya Faruqi – who defied all odds to lead the Afghan Girls' Robotics Team; Folly Bah Thibault – world-renowned journalist, who launched her own girls' education foundation, Elle Ira à l'Ecole; and, Christina Lamb – award-winning journalist and best-selling author who helped bring the stories of Malala Yousafzai and Nujeen Mustafa to the world.
As Amina J. Mohammed so eloquently states: "We must all do everything possible to ensure women are at the table, our voices heard and our contributions valued." Still – despite progress and innumerable achievements and contributions to our world – that glass ceiling remains. Out of the 193 Member States of the United Nations, only 34 women serve as elected Heads of State. That's only 17%.
We cannot fail to include women at the highest levels of diplomacy and leadership in today's era.
Inasmuch as men, women too are the stewards of our planet. Inasmuch as men, women are leaders of policies that lift nations out of poverty and conflict. Still, wide gaps persist in women's participation and women remain grossly underrepresented in many weapons-related fields, including technical arms control.
The gap in economic rights is also a major barrier. Nearly 2.4 million women globally don't have the same economic rights as men, according to the World Bank.
More concerning still, women are being denied their human rights in countries across the globe, especially their right to 12 years of quality education. In Afghanistan, steps taken by the Taliban deny women of their access to secondary education, employment and power is one of the most egregious human rights abuses of the 21st century.
We can do better and we must do better.
The answer is education. Education enlightens and evolves humankind, education transcends biases and stereotypes, and it empowers girls and women to reach their full potential. For every dollar invested in girls' education, there will be US$2.80 in return. Investments that enable girls to complete secondary education could boost GDP by an average of 10%.
We must ensure the next generation of women diplomats and leaders are able to build the confidence, and access the tools, training and opportunities they need and deserve. With education for all, we can shatter that glass ceiling.
About Education Cannot Wait (ECW):
Education Cannot Wait (ECW) is the United Nations global fund for education in emergencies and protracted crises. We support quality education outcomes for refugee, internally displaced and other crisis-affected girls and boys, so no one is left behind. ECW works through the multilateral system to both increase the speed of responses in crises and connect immediate relief and longer-term interventions through multi-year programming. ECW works in close partnership with governments, public and private donors, UN agencies, civil society organizations, and other humanitarian and development aid actors to increase efficiencies and end siloed responses. ECW urgently appeals to public and private sector donors for expanded support to reach even more vulnerable children and youth.
Water Diplomacy – A Tool for Peace and Well Being
Authors: Kiran Bhatt, Prof Dr Sanjay Pattanshetty, Prof Dr Helmut Brand
On March 22nd every year, World Water Day is celebrated. The theme for 2023 focused on accelerating changes to resolve the water and sanitation crisis as part of the Agenda 2030. Starting in 2015, Sustainable Development Goal 6 aims to achieve everyone's access to water and sanitation by 2030, while Goals 14 and 15 focus on conserving water to ensure sustaining marine and freshwater ecosystems. In 2018, the United Nations General Assembly initiated the "International Decade for Action: Water for Sustainable Development – 2018-2028" to promote the management of water resources in an integrated manner. Further, UN Secretary-General António Guterres, as part of its Action Plan, stated that the demand for freshwater is estimated to grow more than 40 per cent by 2050. He added that the increased demand and the adverse impact of climate change would make water scarcity worrisome. Scholars and reports have highlighted that tackling the increasing stress on natural resources such as freshwater while battling climate change would be a primary challenge in the coming years. Thus, with the challenge evolving to affect worldwide, there is a spike in demand for international and regional cooperation despite trends of disregarding globally accepted agreements and geopolitical tensions.
Water as a Source of Conflict?
With the increasing water demand, managing transboundary water basins has become challenging for countries. Although wars or conflicts are not directly instigated by tension over water sharing, using water resources to intimidate the belligerents can potentially drive conflicts, both at the internal and international levels. In addition to the impact on security, scarcity and accessibility to water resources threaten individuals' socio-economic conditions, including food insecurity. Therefore, water impacts regional and international relations through its ability to control tensions and conflicts. As per the United Nations, a territory is termed "water-stressed" if it withdraws 25 or more per cent of renewable freshwater. Statista, an online consumer and market data platform, recently published a report highlighting the regions facing the highest water stress by 2040. Going by the definition given by the UN, the regions of Central and Southern Asia experience high levels of water stress. At the same time, it is critical in the case of Northern Africa and West Asia.
SDG 6 targets equitable access to safe and affordable drinking water. However, in many developing countries, contaminated water and poor sanitation facilities have resulted in the transmission of water-borne diseases like cholera, diarrhoea, and typhoid. Further, the absence of sanitation also enhances the breeding of vectors, which exposes threats of individuals to vector-borne diseases. Another impact of water scarcity and sanitation is its critical role in food security – from food production to ensuring adequate nutrition, which is possible through safe drinking water and improved hygiene practices. Water insecurity also has a far-stretching impact on the well-being of individuals. One of the aspects is social impact, where women are seen to encounter repercussions since they bear the responsibility of water acquisition for household tasks. Studies have further established that gender-based violence is closely related to the factors such as access, adequacy and reliability of water insecurity. Most research linked violence against women to gendered norms that justified aggression, made water and related household activities the primary responsibility of women, and limited women's capacity to seek help.
Figure 1: Sustainable Development Goals Related to Water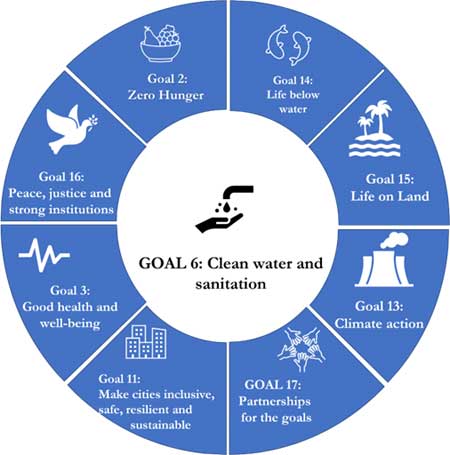 Source: Authors' own
Conflict and Crisis due to Scarcity – A Case of Sub-Saharan Africa
Fast-growing urban centres with a booming population dot the African continent on one side while it suffers from increased stress on the already overburdened water systems on the other. Multiple conflicts in the region trace their origin to increased competition for accessing depleting natural resources, among which water is placed high. The issues have risen at all levels of society; for example, the states of Sudan and Egypt have continuing disputes over the Grand Ethiopian Renaissance Dam with Ethiopia. While in 2021, a dispute between fishermen and herders in Cameroon turned violent, claiming the lives of 22 people while displacing close to 100,000 due to the continued clashes. The dispute was rooted in disagreements over the rights to water from Lake Chad. While water shortage triggers violent clashes, it also leads to food insecurity in the region due to the adverse impacts on agricultural output and wildlife. The impact of water scarcity has taken a severe turn on agriculture, thereby affecting agrarian economies. For example, South Africa, a relatively stable economy in the continent, depends on the agricultural sector for job creation, food supply and development through foreign exchange. However, the water shortage has negatively impacted commercial and subsistence farmers, affecting the latter more severely.
The nexus between climate change and conflict is a complex issue with context-specific factors playing an important role. However, water scarcity has proven to be a threat multiplier affecting lives and impelling migration. While the scarcity of water alone might not be able to explain tensions between conflicting parties, it can be used as a tool to enhance cooperation due to the mere necessity of water for survival.
Water – A tool for peace?
Water can trigger clashes between neighbours, especially in transboundary water basins, and lead to political tensions between upper and lower riparian states. Various factors, such as geography, influence these transboundary water interactions within a basin. For example, while considering the geographical setting of the course of a river, the states upstream are considered more advantageous merely because they can control the flow and volume of water. Actions such as building dams or diverting water to meet their demands are claimed to showcase power to other members. However, an upper riparian state is not always necessary to be the dominant player. This is evident in the case of the Nile basin, where Egypt has a more significant say.
It is in this context that one must view the importance of negotiations surrounding water sharing. Water negotiations provide an opportunity for the riparian states to discuss, debate and deliberate agreements on various critical factors, such as sharing technical information to agreeing upon commitments related to sustainable management of water resources. A further step in the process is water diplomacy, wherein water could be used to build diplomatic relations between states and international relations in general. While water may itself be a cause of conflicts, situations include groups competing for scarce resources. Disagreement may arise over water used for unilateral or mutually beneficial gains. Hence, the failure to address such disagreements could turn into potential conflicts. It is in these scenarios that water diplomacy becomes a tool for preventive tool. Such a diplomatic tool ensures regional cooperation by bringing stability and peace.
A good example of problems arising from water sharing can be analysed in the case of India. India and Bangladesh are known to share cordial relations, but water sharing has been an issue between the South Asian neighbours. The Ganges Water Treaty was signed in 1996, and the recent developments in signing an MoU regarding sharing water from the Kushiyara are some of the successes of water negotiations. However, an exception is the Teesta water sharing which has yet to be implemented due to remonstrance from West Bengal. On the other hand, a commonly sighted example of successful water diplomacy is the Indus Water Treaty, signed between India and Pakistan in 1960. The Treaty, which the World Bank mediated, aimed to ensure equitable access to water in the Indus River basin. Despite numerous flashpoints, the pact is viewed as a milestone not just in the political relations between the two countries but a model to negotiate, collaborate and address other outstanding concerns. The conflicts that had erupted in the Darfur region of Sudan also find water scarcity as one of the root causes of the dispute between the farmers and pastoralists communities. The international community has employed water to address the conflict that killed several and displaced thousands. Led by the African Union-United Nations Mission in Darfur (UNAMID), a project was initiated for sustainable recovery of peace in the Darfur region by enabling efficient water management, which helps build peace.
As a bottom line, water diplomacy ultimately works towards preventing and mitigating issues arising due to disputes and disagreements related to water sharing. But its success depends on the parties' willingness to cooperate. This willingness depends on the interests and motivations of the riparian states. A question arises if a powerful riparian might stall the entire process or the need for such engagements for a comparatively weaker riparian state even if there is no improvement in the prevailing imbalances. One angle to explain such unlikely cooperation is maintaining diplomatic relations and securing unexpected future circumstances that are dubious. The cooperation, if successful, could be extended beyond water management to include economic and security matters, ultimately bringing stability and peace to the region. While the success of such diplomacy centred around water depends on political will, linking the financial aspect to ensure further its implementation is also necessary. Political will is needed to establish relationships and networks for mobilising essential actors. It is also a requisite to bring all the crucial actors around a single table during disputes or crises. India's G20 presidency, along with Lifestyle for the Environment (LiFE), has provided an opportunity to share its successful programs related to water conservation, such as Jal Jeevan Mission (JJM), Namami Gange Programme  Atal Mission for Rejuvenation and Urban Transformation and Pradhan Mantri Krishi Sinchayee Yojana. By explaining and sharing the sustainability of such programmes, India can lead the way for other countries in designing action plans which ultimately help achieve the SDG targets. This would also help address the over-stressing water resources in South Asia. On the other hand, there is also a need to involve other players like the Finance Ministry within the government, regional organisations, Multilateral Development Banks and International Financial Institutions, which ensures financial support. In addition, they also provide a third perspective and act as a binding force for the entire process. Water diplomacy can be used as a practical approach that will ensure a link between sustainability and security.
*Sanjay Pattanshetty is Professor and Head of the Department of Global Health Governance and Coordinator of Centre for Health Diplomacy at Prasanna School of Public Health, Manipal Academy of Higher Education, Manipal, Karnataka, India. He completed Doctor of Medicine in Community Medicine (MD) from Manipal Academy of Higher Education, and Double master's in public policy and human Development with a specialization in Foreign Policy and Development from United Nations University and Maastricht University, The Netherlands. He has over a decade of experience in Public Health policy education program development, implementation, field research and practice. He has several scientific projects, and publications in reputed journals and has contributed to policy briefs in relevant areas.
*Helmut Brand is Jean Monnet, Professor of European Public Health and head of the Department of International Health at Maastricht University, The Netherlands. He studied Medicine in Düsseldorf and Zürich and holds a Master's in Community Medicine from the London School of Hygiene and Tropical Medicine and the London School of Economics. Prof. Brand is a specialist in Public Health Medicine. He holds an honorable doctorate from Sofia Medical University. After working in several Health Authorities and Ministries of Health, he was director of the Public Health Institute of North-Rhine Westphalia, Germany. Since then European Integration in Health is the main topic of his work. He is past president of the Association of Schools of Public Health in the European Region (ASPHER) and the European Health Forum Gastein (EHFG) president.
As a policy advisor he serves on the European Advisory Committee on Health Research (EACHR) of WHO Europe and served on the Expert Panel on "Investing in Health" (EXPH) for the European Commission. At MAHE, India, he is the Founding Director of the Prasanna School of Public Health.