Rethinking Armenian North-South Road Corridor: Internal and External Factors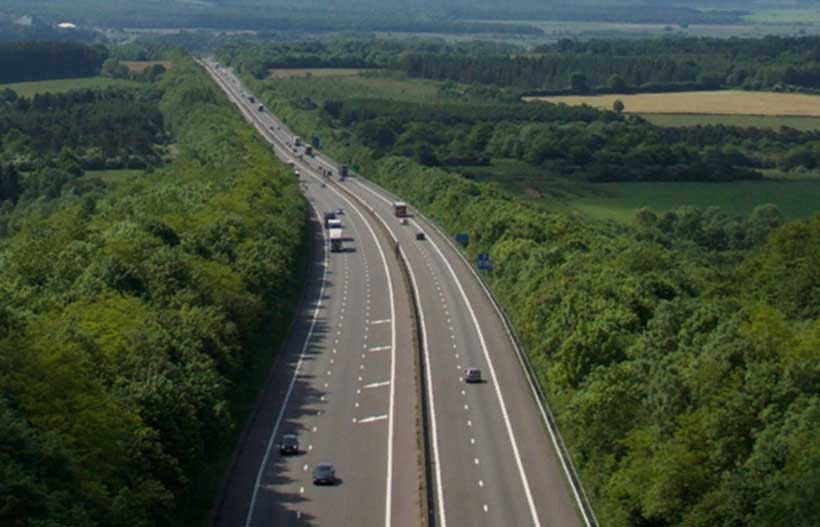 In contemporary Eurasian mainland there are three main integration developments: European Union (EU), Eurasian Economic Union (EAEU) and One Belt, One Road (OBOR). The one of the main aims of these 2 programs and 1 initiative, which coincide with each other, is to develop transportation infrastructures. If we pay attention to this triangle, we will see that through its entire territory leading attendees are building land and maritime connections between Asia and Europe. The priority is given to developments of roads, railroads, ports, pipelines, digital interconnection, etc. As a result, the infrastructures of the states which are actively participating in these integration developments are emerging and they are strengthening their ties with the leading centers of these projects and initiative such as Germany, France (EU), Russia (EAEU), China (OBOR).
The other emerging Eurasian project "International North-South transport corridor", which was initiated by Russia, India and Iran also strengthens its role in connecting Asia with the Europe, which through developing transportation infrastructure connects Indian Mumbai to Russian Moscow. These kinds of transport integration developments provide great opportunity to states, which are located in the center of Eurasian continent to connect their transportation infrastructures with the main corridors which are bridging East with the West and North with the South.
In one hand, Armenia is a member of the EAEU and in the other hand it strengthens its cooperation with the EU. Yerevan speaks also about its commitment to strengthen cooperation in the field of transportation with China in the framework of China's OBOR initiative. It is worth mentioning, that for standing transit country in transportation corridors which unites different regions of the Eurasian continent, Armenia, at first must develop and modernize its poor developed transportation infrastructure. For this reason, Armenia is building 556 km North-South Road Corridor, which will start from Armenian-Iranian border and reach to Armenian-Georgian border.
In sum, Armenia will be able to be involved in the transport corridors which are connecting East to West, if it successfully finishes construction of its North-South road corridor. Building of the North-South Corridor will provide an opportunity to Armenia to strengthen its economy, security and geopolitical role. It is also worth mentioning, that the main aims of Armenian North-South program are fully correspondent with interests and philosophies of the UN Economic Commission for Asia and the Far East's "Asian land infrastructure development program, "China's OBOR initiative, EU's TRACECA, Russia's lead EAEU, International North-South Transport Corridor (India, Russia, Iran, etc.).
The Internal and External Factors of the Armenian North-South Road Corridor
The Internal Factors      
Armenian North-South Road Corridor on both in internal and external levels will affect on further development of Armenia's economic development. At first let's discuss what kind of influence can have the implementation of this program on inner Armenian developments? It is worth mentioning that in the 21-st century, which is the era of globalization, free trade and movement, it is impossible to develop the economy of any country without constructing and modernizing transportation infrastructures of that state, which in turn must be connected with the international transport networks. Well developed, high-speed road networks play a crucial role in economic growth of every country, as they conduce to harmonize interconnected cooperation between different spheres (industry, agriculture, etc.) of economy. Meanwhile, the absence or bad condition of the roads increases transportation charges, rises unnecessary loss of time. These circumstances, in turn, have a negative impact on the final formation of the product price. Thus the final construction and  exploitation of the North-South road corridor will make it's important contribution on Armenia's economic growth, as Armenian business companies, which are spread from South to North will be able to use this transport corridor and improve cooperation with each other, they will be able to easily transport their goods to the markets of the other cities and villages, the prices of the transportation will go down  and the movement of people will also stand easy, in turn it will simulate the development of internal tourism. The above-mentioned conditions will foster the development of Armenian economy, as a result new working places will be opened. Armenia will stand more attractive for the foreign investors.
The implementation of the North-South road corridor will also increase security of Armenia. It is worth mentioning, that for the victory in the contemporary wars, one of the main important factors is the fast movement of military units and equipment and in this context North-South will strengthen Armenia's security and combat readiness of the Armenian Armed Forces. Thus, taking into consideration aforementioned facts it is very important to support to implement this project, increase confidence in Armenian society and among the members of the International society.
The External Factors
It is true, that some transport infrastructures are being built in the neighboring regions of Armenia, but it is worth mentioning, that because of the policies of some regional powers, Armenia is not involved in some of these projects (for instance Baku-Tbilisi-Kars railway), they are bypassing Armenia. This is a challenge against Armenian national security and Armenia must take appropriate steps for not being isolated. Thus, Armenia must finish construction of the North-South road corridor and through it to join the international road networks.
As we have mentioned in Eurasian mainland there are two integration projects-EU and EAEU and one integration initiative-OBOR. Every, has its own component for development of the transportation communications. Due to the aims of these integration developments, the economies of Asian states will be connected to Europeans. If Armenia to finish its North-South road corridor, it will get an opportunity to be involved in OBOR's Silk Road Economic Belt's China-Central Asia-West Asia economic corridor, it will strengthen its role in the EU's TRACECA and in the other international transportation networks. It is also worth mentioning, that the implementation of Armenian project coincides with the aims of the main players of the Eurasian mainland-EU, EAEU and China, as it will stand the other bridge, which will connect Europe with Asia. I do believe that implementation of the Armenian North South transport corridor is fully correspondent with the interests of the EU, EAEU and China as well. If we also consider the International North-South Transport Corridor which aims to connect Mumbai with Moscow, we can come to conclusion that Armenia can integrate its North-South road corridor in it, as one of the main players in this program is Russia, I do believe that Yerevan's strategic ally-Moscow will be also very interested in involvement of Armenian infrastructure in this program, additionally, it is worth mentioning, that Armenia has also normal relations with India and Iran.
It is true, that for now Armenia has not good relations with Turkey and Azerbaijan, but sooner or latter the problems between neighboring states must be solved. If Armenia builds its North-South Road Corridor it will get an opportunity to increase its role in the region and offer its transport infrastructure to regional and non-regional players, also connecting its roads with the international transport network.
Conclusion
In sum, the North-South road corridor is very important project for Armenia as it will help to grow Armenian economy, will strengthen its security and will increase geopolitical role of Armenia in the region. Thus, Armenians in Armenia and Diaspora must be interested in building this road corridor with united efforts.
The construction of the North-South Corridor will have its spillover on developing different spheres of the science in Armenia affiliated with road construction, as this corridor is being built with the modern technologies and many international leading companies from different countries are participating in the implementation of this project, thus Armenian specialists and companies work with them getting great opportunity to improve their knowledge and experience, which further they can already use in construction of other roads in  Armenia and abroad.
Armenian North-South road corridor, which is being constructing under the leadership of "Transport Project Implementation Organization" State Non-Commercial Organization,  will stand the other bridge which will connect Asia with Europe and it will strengthen security of transportation networks and interconnection between Europe-South Caucasus-Middle East-Far East, as a result it will have great impact on the economy of the South Caucasus and will have its own contribution on peacebuilding. It is worth mentioning that Armenian North-South Road Corridor has a cooperative character and it is open for every representative of the International society. The Construction of the Armenian North-South road corridor is the best example of multilateral cooperation between different nations, as in the building of this important regional corridor companies from China, Spain, France, Italy, Iran and several international institutions as Asian Development Bank, World bank, European Investment Bank, European Bank of Reconstruction are attending. It is also open for the new partners as the construction of the 4-th tranche of the road will start soon.
The Economic Roots of Georgia's "Defection" to the West
An important part of a country's foreign policy lies in its economic moves. This is particularly true in the case of large states seeking a bigger role in the international arena.
For example, China has been implementing the 'Belt and Road Initiative' (BRI), while the US during the Cold War brought in the famous Marshall Plan to help Europe restore its shattered financial strength. Both projects pursue(d) projection of political power through economic means.
Long gone are the times when it still was possible to occupy territories solely through military power. Increasingly, as modernity enabled the rise of self-consciousness and nationalism among small states and ethnic minorities in large countries, it has become difficult to rely on repressive measures. A policy of active economic initiatives targeting one ethnic group inside the country or a separate state has thus gained additional importance.
Looking at the last 30 years of Georgian-Russian relations, there has been almost everything one could imagine: from cordial talks to wars to a full-scale economic embargo. More negative than positive, but well illustrative of the limits of Russia's foreign policy.
It is true that Georgia has not been economically so important to Moscow as, for example, Ukraine, Kazakhstan or Belarus, but Russia is always interested in influencing Tbilisi. Still, Georgia is a vital transit corridor between west and east as well as north and south. Moreover, without Georgia, it will always be difficult for Russia to effectively control the restive North Caucasus in the long run.
The Russian political establishment failed to see that a major reason in Georgia's shift to the West in the early 2000s was a shattered post-Soviet economy and no help from Moscow. Russia was not perceived as an enemy when the Rose Revolution was about to happen in 2003: there were simply no concerted efforts from the Russian side to lure Georgia economically.
Russia was also experiencing turbulent times and was self-absorbed with internal problems when Vladimir Putin came to power in 1999. Even when Russia became financially stable in the late 2000s, no viable long-term economic vision was offered to the former Soviet countries. The announcement of the creation of the Eurasian Economic Union (EEU) did not produce the expected results nor did it stop Ukraine drifting from Russia in 2014.
Again, Russian political thought failed to recognize that Kyiv's choice to move closer to the European Union was based on the latter's economic attractiveness. As no brotherly relations with Russians could stop Ukrainians' drift to the western economic space, much less surprising is Georgia's eagerness to join the European market.
Simply put, Russia has not been attractive enough. Even those countries which are economically close to Russia are so because they have no alternative. Take for example Armenia, the large population of which is not inclined to Russia but is close to the Russian economy because there is no other option. The same goes for the Central Asian states, which still prefer the Russian economy to the Chinese market (however even this trend based on Central Asia's cultural and historical closeness with Russia has been shifting and the region's economic relations with China now thrive).
When it comes to choosing between Western and Russian economic spaces even countries culturally closest to Russia still choose the West. The roots of this problem for Russia are its inability to build powerful state institutions and a thriving economic space with opportunities for peaceful development across the former Soviet territories.
What is troubling is Russia's failure to understand the source of that weakness – the need for a rapid restructuring of the economy to yield higher industrial and technological results. When high-level politicians openly discuss this, it often ends with no specific results.
It can be argued that for the last 30 years, Russia has not pursued a consistent economic policy towards Georgia. Investments were occasional, while other political decisions only further hampered bilateral relations. The case of Georgia's "defection" to the West well reflects how less attention is paid nowadays in Russia to economic components in the country's foreign policy. There are even hints that Moscow now prefers military moves to economic ones.
Even from a strategic point, one can say that Russia simply has not had a foreign policy towards Georgia, except for militarily preventing the country from joining NATO and the EU. No long-term approach of economic, cultural and other components was ever formulated. As a result, by 2003 it was already too late to reverse the existing trend in Georgia, while a similar process is now being seen in Ukraine.
Author's note: first published in Georgia Today
Lost Independence of the Baltic States
In 1991 the Baltic States gained independence. They started to develop their new way. This choice was highly appreciated by the residents of the Baltic countries, as well as by people all over the world.
People craved independence then, and they still crave it now. They understand independence as "freedom from the control, influence, support, aid, or the like, of others."
Today some political decisions reduce the significance of achieved results. Thus, NATO personnel deployed in Latvia, Lithuania and Estonia is so numerous that it is hard to speak about the independence of these countries. In other words they are not free from the NATO's control, influence, support, aid, or the like.
Around 700 NATO personnel based in Estonia are took part in a major training exercise in Latvia on September, 3, Baltic News Service reports.
Exercise Furious Hawk takes place at the training area at Ādaži, NATO's Canadian-led Enhanced Forward Presence (eFP) battlegroup base in Latvia, and brings the Estonian-based troops from the British-led Estonian battlegroup based at Tapa.
The exercise means military convoys, directed by Military Police units, are already moving along routes between Tapa, southwards via Paide, Pärnu and Ikla, as they make their way to the Latvian border.
It is not even about the presence of foreign troops on the territory. The matter is locals are limited in their freedom of movement's right. It was announced that the convoys will include heavy military equipment, which could slow down traffic in that direction. The Papiniidu bridge in Pärnu is likely to be closed to the public during the period.
So, foreign troops move freely across countries, while locals are restricted in their rights. Hey NATO, who are you in the Baltic States? Are you a guest or a host?
The more so, damage to public road transport infrastructure made by heavy military equipment is considerable. Repairing damage requires large budgetary funds, which could be spent on social needs.
The officials of the Baltic States declare openly that the Baltic countries cannot defend themselves. This means that NATO supports, aids and controls the military and security spheres. NATO also influences and controls the decisions made by the Baltic States authorities in these fields. NATO hereby discards results of Baltic States' fight for independence.
It could be even said that desired independence has been lost again.
Did Russia Really Win in the 2008 August War?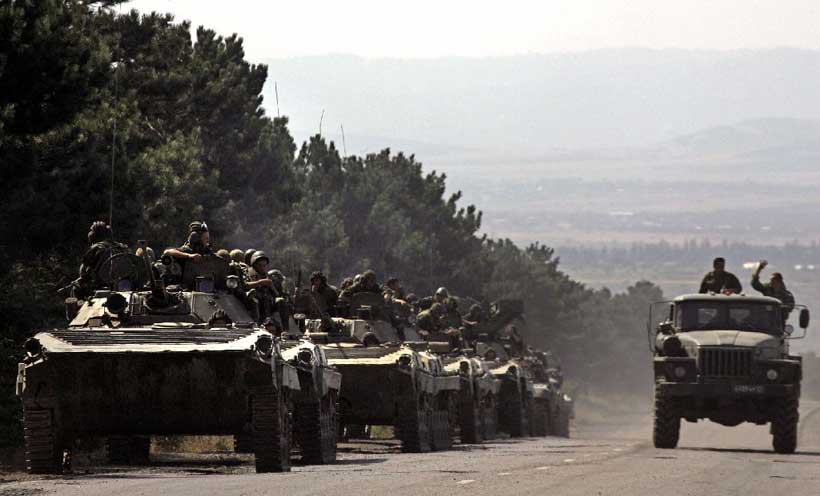 Eleven years have passed since the short Georgian-Russian war started on August 7-8 in 2008. As every discussion on who started the war generally is, the Georgian-Russian one too is about finding moral grounds for military actions which both sides took at the time.
Morality in geopolitics, and the Georgian-Russian conflict is indeed caused by pure geopolitical calculations, is at most times a superfluous thing. All these years the Russians have been trying to convince the world and the public inside the country that the Russian military moves actions and subsequent recognition of the independence of the Abkhazia and Tskhinvali regions were the only possible and correct actions to be taken. The Georgians also have their dilemmas: some marginal political figures still believe that it was the Georgian government that was most to blame for the catastrophe of 2008. Though close geographically, these diverging narratives and the constant need to prove one's own truth says a lot about how far apart Georgia and Russia have grown in the past decade.
11 years since the war and it is still unclear what Russia has gained from its military and diplomatic actions since 2008. True, military build-up in Abkhazia and Tskhinvali Region limited Tbilisi's ability to become an EU/NATO member state. Moreover, Russian intervention into Georgia in 2008 also showed the West how far Moscow can go if a strategic decision is made to draw Georgia into the alliances. At the time (August-September 2008) those seemed to be long-term (strategic) victories for Moscow. In international relations and geopolitical calculations, you can stop a country from attaining the aims harmful to you, but in the long run you will be unable to reverse the process by forceful actions alone: you have to provide a counter-policy to turn an unfriendly state into an amenable neighbor.
Put all of this into the Russian case. More than a decade has passed since 2008, only a few not-so-important states recognized Georgia's territories as independent entities. The Georgian public is overwhelmingly anti-Russian, the last hopes of a grand geopolitical bargain – the return of the territories in exchange for reversing EU/NATO aspirations – have disappeared among the Georgian public, and support for western institutions so far has only increased.
In the end, though Moscow waged a reasonably costly war in 2008, took and still experiences a diplomatic burden for its moves against the West, and has yet to attain its grand geopolitical goal of reversing Georgia's pro-western course. Politicians in Moscow, at least strategists behind the scenes, all understand that Georgia's persistence, which seems naive today, might turn into serious business if Russia's geopolitical positions worsen elsewhere in Eurasia.
Indeed, there are signs that Russian influence is set to diminish further in the former Soviet space as the country's economy is unlikely to be attractive to the neighboring states. Imagine a scenario where Russian internal problems (Putin's upcoming succession, economic downturns, China's rise, stronger Ukraine, etc.) weigh ever stronger upon the Russian decision-makers in the 2020s, then Georgia's western aspirations might become more concrete – it will be easier for the West to make a strategic decision to draw Tbilisi into EU/NATO.
Overall, Russia definitely gained significant results in 2008, but in the long run it did not change the strategic picture in the South Caucasus, though it did produce a grand design for geopolitical domination in north Eurasia: years after the war, Moscow initiated its Eurasian Economic Union (EEU) to draw its neighbors into one economic space – a prerequisite for building a world power. Ideally, it should have attracted Russia's major neighbors and it would have served the people of the former Soviet space economically. But Moscow failed to get Ukraine and other states involved: without Kiev, the EEU, if not dead, is at least a marginal project. This means that Russian policies towards Georgia and the wider South Caucasus remain the same as before 2008 – keeping foreign powers out of the region, while failing to provide an alternative vision for Tbilisi.
Author's note: first published in Georgia Today