NAM, NaMo- NATO? Indian Foreign Policy in Transition
Trajectory of a nation's growth rests on its past, and looks towards a better future with the present middling its way, improving upon the former and consequently attempting to improve the latter. India has had the dubious distinction of being just stable and detached enough to warrant a cold shoulder, sometimes self inflicted, from the major powers at their heights of confrontation. It has never been a 'frontline' state in any ideological or grand struggle, be it the Second World War, the Cold War or the War on Terror. The country was led by Pandit Jawahar Lal Nehru for almost 17 years, the statesman also donning the role of External Affairs Minister and for a brief period of time, Defence Minister. These years were crucial as they shaped the way Indian strategic thinking would evolve. While its western neighbour Pakistan has milked its sponsor since 1947 by first presenting itself as an ally in the war against communism and later creating and charging to destroy a Frankenstein monster of terrorism, its huge eastern neighbour has thrived under a unique combination of communist authoritarianism and state sponsored capitalism, creating the perfect dialectic. However, India today has been accorded an opportunity to help usher in a more liberal international order or at least maintain the status quo, in face of an ambitious and belligerent China, state sponsored terrorism, non-state actors, migrant crisis, ethnic cleansing, an increasingly hostile nuclear environment and climate change.
What do I mean when I say India has an opportunity of a lifetime? Who or what presents this? Why only India? To answer this, lets take a broad look at the current international scenario, region wise. US, the borderline global superpower finds itself oscillating between an isolationist (withdrawal from the Trans Pacific Partnership TPP and Paris Climate Deal) and interventionist stance (Expanding presence in Africa, continuing interventions in Iraq, Afghanistan and Syria, pressurising Iran and sanctions on North Korea). From an overt nuclear posture to assisting the Taliban and colluding with Pakistan, Iran and China, Russia presents a broad spectrum of challenge (subconventional to nuclear) to the US and its allies. The entire West Asia/ North Africa (WANA) region is in disarray. Turkey has initiated its own war with the Syrian Kurds, post military rout of ISIS, with battles raging in the Syrian Kurdish enclave of Afrin. Iran may suffer a renewed round of sanctions. Most of South and South East Asia has been charmed, coerced or compelled to be part of China's or more specifically Xi Jinping's mega project, the Belt and Road Initiative (BRI). The future of EU is uncertain. A migrant crisis, coupled with Brexit, lone wolf attacks and rise of xenophobia has forced cracks in the supra-state. India, due to its current stability and especially its past stands on the cusp. An opportunity has been created due to a diametrically opposite combination of India's past and present resulting in a transitional foreign policy whose future is still uncertain.
India has followed a policy of strategic restraint since its independence. Its leaders saw the armed forces as wasteful expenditure and contributors to imperialism. The Non Aligned Movement (NAM) was created by Nehru, in conjunction with prominent leaders of the Third World, out of a need to stay away from the two heavily militarised Cold War camps. India's posture of non alignment had benefits for Jawaharlal Nehru's image as an internationalist. It also created India's image as a non-aggressive, peace loving nation and a chaotic yet stable democracy which believed in the rule of law. However, as an incipient nation state, flanked on two sides by hostile neighbours, India found it difficult to carve out a strategy to either contain, suppress or rationalise relations with Pakistan or China. Fears of an omnipotent military, exacerbated by coups and dictatorship in Pakistan and China distanced the political class further from the armed forces. As a result, India was able to generate military force but never military power, an important component of any state's foreign policy. After all, a country's success in its foreign affairs, whether one may admit it or not, rests to a great extent on its country's coercive strength, whether latent or overt. Non alignment also meant missing out on security umbrellas, technical knowhow and state of the art weaponry. What non alignment did allow was for India to attempt to chart an independent course for itself. By taking part in the Neutral Nations Repatriation Commission (NNRC) in the aftermath of the Korean war, it established itself as an impartial mediator in conflict resolution. It undertook a genuine humanitarian intervention by stopping the genocide in then East Pakistan in 1971. However, shackled by Nehruvian restraint, India, whether under the Congress or the Bhartiya Janta Party (BJP), still tried to act and behave under a moral shroud, unmindful of the dangers of indirectly appeasing a country like Pakistan which kept on pushing India's non-existent red lines.
India, on the eve of national elections of 2014 was on shaky ground, in terms of international prestige and national security. BJP's election manifesto of 2014 promised a sea change in India's foreign policy and national security apparatus including an overhaul and review of India's strategic nuclear programme. Instead of treaties and deals based out of fear or dependence, this manifesto aimed at leveraging India's advantages in constructing a web of interlocking relationships that would be favourable to all parties involved. Instead of behaving as an arrogant power or regional hegemon, India invited all the countries in its neighbourhood to interact with it on an egalitarian basis. Prime Minister (PM) Narendra Modi (NaMo) embarked on an ambitious tour of countries (56 and counting) in his three years since coming to power on a landslide victory. Following an aggressive stance and creating personal rapports with heads of states, NaMo revitalised India's foreign policy. From heavily focusing on the economic and strategic parameters of its relations with ASEAN and beyond in a revamped Act East Policy to strengthening ties to the US to connecting with West Asia and Iran, NaMo has prioritised India's national interests above everything else. Some of the foreign policy benefits that have accrued to India due to NaMo are:
Conversion of Look East into Act East
Given that around half of India's foreign trade is dependent on the economies of South and South East Asia, it was just a matter of time when India had to focus on the region. Actuation of the Act East Policy (AEP) is an acceptance of the same. AEP heavily focuses on increasing connectivity between India's still-neglected North East and the East Asian countries. A number of connectivity projects have been initiated, both single mode and multi-modal, to give impetus to people-to-people and economic links. AEP has graduated from a solely economic and cultural policy to a more strategic one, with the Indian Navy playing an important role in ensuring safe passage of merchant traffic and Sea Lines of Communication (SLOCs), apart from conducting multinational exercises and humanitarian and disaster relief (HADR) operations. The Indian Navy's primary area now extends from the Red Sea, Gulf of Oman, Gulf of Aden, Southwest Indian ocean, Indian Ocean Region (IOR) island nations and East African littoral states, while the secondary area for the first time addresses South China Sea (SCS) as well as Western Pacific and East China Sea. Indian warships will start patrolling the Malacca Straits for protecting the SLOCs. This is a signal that India aims to act as a Net Security Provider for the SLOCs passing through the greater Indo-Pacific region. Signing of an agreement giving Indian ships logistics rights at Changi, Singapore is a step in that direction. India has also agreed to take part with Japan, Australia and the US in a grouping of democracies called the Quadrilateral (Quad). This has been ostensibly to coordinate in the fields of ensuring Freedom of navigation (FoN) in international waters, a free and open region and adherence to rule of law but considered as a counter to rising Chinese influence in the Indo-Pacific region. Many analysts consider it as the beginning of an 'Asian NATO' though its feasibility still remains to be tested.
Neighbourhood First Policy
NaMo has focused on improving relations with its neighbours, although that seems to be floundering at the moment. From HADR missions to Maldives, indirect financing of weapons for the Afghan National Security Forces (ANSF) through Russia, negotiations over Teesta waters and exchange of enclaves, concluding a civil nuclear agreement with Sri Lanka and attempting dialogue with Pakistan, NaMo government has made connecting with the neighbourhood his priority. NaMo has understood that for India to flourish economically, militarily and culturally, its neighbourhood has to offer a conducive environment. This can only with an active policy of shaping events and policies as per its national interests. India has offered SAARC nations benefits of telecommunications and e-medicines through the use of SAARC satellite, sacrificed real estate on its eastern border for better relations with Bangladesh and come to Bhutan's aid when defending its territorial integrity in face of Chinese aggression. India has however sent tough signals to Pakistan that its benevolence cannot be taken for granted by conducting surgical strikes on terrorist launch pads post the Uri attacks of September 2016.
Entries into Strategic Clubs
Modi's presentation of India as an emerging power and his personal style of diplomacy has ensured entry of India into various 'untouchable' clubs and groupings such as the Australia Group, Wassenaar Agreement and the Missile Technology Control Regime (MTCR). This has helped India in inching close to the membership of the Nuclear Suppliers Group (NSG) which will help in it gaining access to unprecedented nuclear material, technology and equipment, without acceding to signing the Non Proliferation Treaty (NPT). Also, India's entry into the Shanghai Cooperation Organisation (SCO) may help it in gaining access to the Central Asian Republics (CAR), alternatives to India's dependence on the Middle East for energy sources.
Closing in with the US
With an unprecedented five trips to the US, Modi has indicated a definite change in its non aligned mode towards coordinating with the US on a number of converging issues. India's entry into important clubs and groups has been facilitated by the US, its status has been upgraded to being a Major Defense Partner of the US, it has been feted as a pivot for countering China through the Quad and President Trump in his newly unveiled Afghanistan strategy has admitted to India's stabilising role in the war-torn country. Major defence deals such as acquisition of M-777 Ultra Light Howitzers, C-130 and C-17 transport aircraft, AH-64 Apache attack helicopters and Guardian drones for the Airforce have resulted in the further diversification of India's arsenal, long dependent on Russia. The US has designated Hizbul Mujahideen (HM), an old pro Pakistan terrorist organisation in Jammu and Kashmir (J&K) as a Foreign Terrorist Organisation (FTO) along with placing its chief Syed Salahuddin as a global terrorist. An India-specific Logistics Exchange Memorandum of Agreement (LEMOA) has been signed based on the Logistics Support Agreement (LSA). However the rest two foundational agreements also need to be agreed upon and signed in order to provide a platform for future collaboration with the US forces in countering common foes and sharing of sophisticated technology with India. There however needs to be a note of caution for India for not hugging the American coast too closely, as it still needs to find its feet.
Under NaMo's leadership, India is currently transitioning from a strategic self restraint phase to a more assertive one. But this can easily be set aside as an aberration rather than the accepted norm considering India's past policy of under-influencing events. The momentum that has been gained will suffer setbacks as happened in Nepal, Maldives and Sri Lanka but India has to push on. India has to accept the rise and ascendance of China on the world stage. It has to accept that it cannot match China's financial investments in its neighbourhood that have led to China leaning governments in Nepal and Maldives, re-encroachment on Doklam in Bhutan and fructifying of the China Pakistan Economic Corridor (CPEC). India's tryst with realism is still in its infantile stage due to a number of reasons. The way forward is to leave the past of non alignment behind, and engage the world based on its priorities. This will lead to situations where policy decisions affecting one country may be a hindrance to another. A classic example is India's relations with both Israel and the Palestinian Authority (PA). On one hand, India has a major strategic relationship with Israel especially in arms deals, on the other India trains the officers of PA's small military in its academies. These discrepancies will arise and will have to be dealt with in a diplomatic and mature manner. Instead of Non Alignment, India needs to follow National Alignment, facets of which can be summarised below:-
Improving Diplomatic Footprint
Though NaMo leads from the front when engaging nations, this personal touch must be seen as a superimposition over India's diplomatic prowess and not as a standalone setup. India's pool of 3000 diplomats compares poorly with countries such as Japan (5700), South Korea (4500) and the US (20000). Change of government may reduce the personal nature of diplomacy currently being followed and dedicated and expanded cadre of officers will be able to handle the political fluctuations.
Countering China
China has arrived on the global stage. This is a fact. States have to learn to live with this. Despite the US egging on India to take on China and Japan clamouring for giving the Quad more teeth, India needs to realise its present strengths and limitations. It needs to deal with China more diplomatically and needs to give dialogue more opportunity to work. It has to realise that the US and Japan each have their own motives to counter China and those motives may not resonate with India. India needs to focus on reducing its trade deficit with China, upgradation of its border infrastructure and engaging in dialogue but ceding no space on Doklam. Despite India's stance on CPEC crossing India's sovereign territory, a pragmatic decision can be made on agreeing to be part of BRI as India's projects in South East Asia will invariably clash with it, and a collaboration outlook should be more constructive for the countries involved. Indian armed forcesneed to be upgraded in its eastern sector to deter Chinese aggression.
Keeping Promises
India needs to slow down future investments and step up completion of already promised projects in various countries. The much heralded Trilateral Highway connecting India's North East to Myanmar and Thailand, a crucial link in India's AEP still remains incomplete with the earliest completion date now being pushed to 2020. India's soft loans of around $24.2 billion in the form of 'lines of credit' to various countries in Central America and Africa also needs constant monitoring.
Stop Moralising, Start Realpolitiking
It is not important that two countries' national interests align perfectly. Although US expects its allies and major strategic partners to follow its foreign policy, India needs to chart its own course as per National Alignment. As an example, post pullout of the US from the Paris climate agreement, India must coordinate more deeply with China with regards to climate change. Despite voting against shift of Israel's capital to Jerusalem, India can still expect to consummate an extensive arms deal with the country. India also needs to take on board the US, Russia and China in terms of countering terror. As of now, India seems to be the only country that seems to straddle many boats and in the process, promote a horizontal bonhomie amongst nations.
The days of the strategic alliances are all but over. NATO may have got a second chance at survival with the resurgence of Russia but whether Article Five of collective defence will be sustained by the Europeans is not as clear as it states. The current US administration's self professed isolationism in major issues has put the efficacy of security umbrellas in question. India, unlike the US, understands that all international problems do not have a military solution. It needs to step away from contemplating a NATO like model, even with like minded democracies (Quad) and focus on diversification that helps its national interests. But it should also shed its inhibitions regarding establishment of overseas bases, basing of ships and troops of other countries and conducting joint exercises with the Quad on ground and air. The idea of two mutually destructive superpowers sitting on an arsenal of nuclear weapons can be replaced with that of society of states with economic, cultural and technical linkages but with adequate coercive power to deter a challenge. What lies in India's destiny? Part of a NATO like entity or an independent yet interconnected foreign policy? Its the latter that would benefit the entire world.
Pakistan at a crossroads as Imran Khan is sworn in
Criticism of Pakistan's anti-money laundering and terrorism finance regime by the Asia Pacific Group on Money Laundering (APG) is likely to complicate incoming Pakistani prime minister Imran Khan's efforts to tackle his country's financial crisis.
Addressing the criticism of the 41-nation APG, which reports to the Financial Action Task Force (FATF), an international anti-money laundering and anti-terrorism watchdog that earlier this year put Pakistan on a grey list with the prospect of blacklisting it is key to a possible Pakistani request for a US$ 12 billion International Monetary Fund (IMF) bailout.
A US demand that any IMF package exclude funding for paying off Chinese loans coupled with the APG/FATF criticism, against a backdrop of the Pakistani military's efforts to nudge militants into the mainstream of Pakistani politics and the incoming prime minister's mixed statements on extremism, could push Mr. Khan to turn to China and Saudi Arabia for rescue, a move that would likely not put Pakistan in the kind of straightjacket it needs to reform and restructure its troubled economy.
The APG criticism followed Pakistani efforts to demonstrate its sincerity by passing in February the Anti-Terrorism Ordinance of 2018, which gave groups and individuals designated by the UN as international terrorists the same status in Pakistan for the first time.
Pakistan, however, has yet to implement the ordinance by for example acting against Hafez Saeed, a leader of the banned group Lashkar-e-Taiba and the alleged mastermind of the 2008 attacks in Mumbai, who despite having been designated a global terrorist by the United Nations Security Council and having a US$ 10 million US Treasury bounty on his head, fielded candidates in last month's election.
The APG, which just ended talks with Pakistani officials, has scheduled follow-up visits to Pakistan in September and October to monitor Pakistani progress in addressing its concerns, which focus on legal provisions governing non-profit and charitable organisations, transparency in the country's beneficial ownership regime and the handling of reports on suspicious financial transactions.
Those concerns go to the heart of the effort by the Pakistani military and intelligence to mainstream militants who garnered just under ten percent of the vote in last month's election but have a far greater impact on Pakistani politics. The military and intelligence have in the past encouraged militants to form political organizations with which mainstream political parties have been willing to cooperate and establish charity operations that have had a substantial social impact.
Similarly, Mr. Khan, who earned the nickname Taliban Khan, is likely to have to counter his past record of allowing government funds to go to militant madrassas, his advocacy for the opening in Pakistan of an official Taliban Pakistan office, and his support of the Afghan Taliban. His Tehreek-e-Insaf (PTI)-headed government in Khyber Pakhtunkhwa, gave in February US$2.5 million to Darul Aloom Haqqania, a militant religious seminary.
Dubbed a "jihad university," Darul Aloom Haqqania, headed by Sami ul-Haq, a hard-line Islamist politician known as the father of the Taliban, counts among its alumni, Mullah Omar, the deceased leader of the Taliban, Jalaluddin Haqqani, the head of the Haqqani Network. Asim Umar, leader of Al-Qaeda in the Indian Subcontinent, and Mullah Akhtar Mansoor, Mullah Omar's successor who was killed in a 2016 US drone strike.
Those may be policies that, at least initially, may be less of an obstacle in assistance on offer from China and Saudi Arabia to replenish Pakistan's foreign exchange reserves that have plummeted over the past year to US$ 10.4 billion, enough to cover two months of imports at best. Pakistan's currency, the rupee, has been devalued four times since December and lost almost a quarter of its value.
Chinese loans have so far kept Pakistan afloat with state-owned banks extending more than US$5 billion in loans in the past year. PTI officials said this week that China has promised the incoming government further loans to keep Pakistan afloat and enable it to avoid reverting to the IMF, which would demand transparency in the funding of projects related to China's US$50 billion plus investment in the China Pakistan Economic Corridor (CPEC), a crown jewel of its Belt and Road initiative.
And that is where the rub is. Despite Chinese officials reportedly urging Pakistan to reduce its deficit, neither China nor Saudi Arabia, which has offered to lend Pakistan US$4 billion are likely to impose the kind of regime that would put the country, which has turned to the IMF 12 times already for help, on a sustainable financial path.
Relying on China and Saudi Arabia would likely buy Pakistan time but ultimately not enable it to avoid the consequences of blacklisting by FATF, which would severely limit its access to financial markets, if it fails to put in place and implement a credible anti-money laundering and terrorism finance regime
Moreover, relying on China and Saudi Arabia, two of Pakistan's closest allies could prove risky. Neither country shielded Pakistan from FATF grey listing in February. A Chinese official said at the time that China had not stood up for Pakistan because it did not want to "lose face by supporting a move that's doomed to fail."
The problem of pellet guns in Kashmir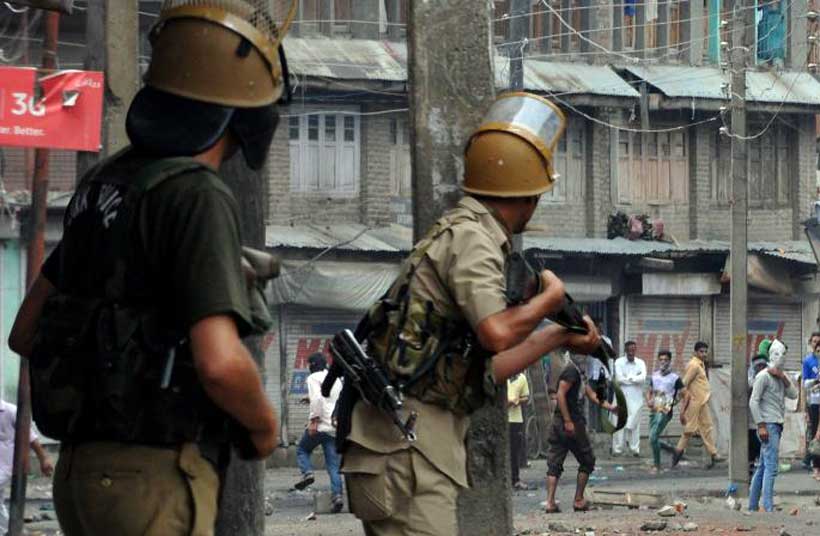 Jammu and Kashmir is the only northern state of the Indian union dogged with an overridden unhealthy political atmosphere. The valley of Kashmir is beset with a major governance deficit which has given renewed impetus to the dissenting voices of the masses day in and day out. Dissent is the hallmark of a democracy which acts as a medium for the expression of the masses against the system. There are certain rights and duties guaranteed by the Indian constitution for the citizens, including the right to freedom of expression and right to life. Caught in the quagmire of a political crisis that has deeply permeated the society, the people in Kashmir from time to time vent up their dissent. Hartals are the tools for the masses through which they ventilate their pent up emotions. Kashmir is not a different case. It is also amuck with crisis and caught in a looming distress day in and day out. Kashmir is the most sensitive zone of the whole Asian sub-continent, where situations turn awry with the passage of time, like the seasons of the year and is the only state of the Indian Union where there has been a reckless use of the pellet guns without any regard for the precious life of the common man. This is a sort of dichotomy.
The use of pellet guns is a major problem which has not only maimed, blinded and killed the masses, but also shaken the collective conscience of the people, who have fallen prey to a different approach of dichotomy of the government. The killing of militant commander Burhan Wani in 2016 brought about a volcanic eruption in valley which not only deteriorated the situation in Kashmir, but also increased the massive alienation of the masses. The waves of grief and anger against the day-to-day killings and maims that the people felt increased with each passing day. In order to control the crisis, the security agencies used the deadly pellets which caused heavy damage to the sufferers. More than 1200 people lost their vision in 2016. According to a report of State Human Rights Commission (SHRC), more than 75% people suffered injuries due to pellet guns, ranging from minor to major in 2016.There was a heavy loss of life.
Although small in size, these black metallic balls have deteriorated our young generation. The use of pellet guns has wreaked crisis in Kashmir. For the security agencies, it is meant to disperse the crowds, but, for the common masses, it is a problematic affair. Pellet guns are pump-action shotguns which fire a cluster of small, round, metal pellets with high velocity over a broad range.
Recently, after the killing of a militant from Pahalgam area during the anti-establishment protests, a number of people were injured due to pellet A nurse working in the same area personally told me that we healed at least 100 plus pellet injured victims. The bloody Sunday of this year's April and the subsequent clashes of the protestors with the security agencies left many injured, with multiple cases of pellet injuries to the eyes of the protestors.
Naseer Ahmad Bhat of Seer Hamdan, Anantnag was killed by the security forces during the post-Burhan phase of 2016 protests in Kashmir. He was an able worker and a good cricketer who fell silent to the pellets. Not only the collective conscience of the people was shaken, but also a state of disparity ensued. These deadly pellets have not even spared the school going children and snatched the power of seeing of the victims. Insha, a pellet victim who passed her matriculation examination last year despite odds is an inspiring hope for the likewise victims.
Pellets cause a number of biological ramifications in the victim, like the loss of vision, the state of paralysis, in case, the damage is caused to the spinal cord, defacements, and death in case of damage to the vital organs of the body, like, heart, kidneys, lungs, brain, etc. Moreover, the pangs of guilt that a victim suffers in silence dishearten one and all. The use of pellet guns as a crowd-control method during protests, whether in case of cordon and search operations (CASO) or common protests has added a volley of questions to the psyche of the common man? Being a part of the Indian union, that two acing the crown, Kashmir has been treated otherwise all through the passing times. People have got million queries, but, there are no solid answers to their problems and subsequent tactful solutions.
The substitution of pellet guns with PAVA shells can in no way control the crisis. The way people of other parts of the country are treated should form a close semblance in case of protests in Kashmir. Why the security forces are using pellets and bullets against the people whom the system claims with a sense of belonging. There can be other alternatives, like the use of water cannons without any damage and subsequent ensuing crisis that engulfs the society and creeps the psyche of the common men. If this is the notion of the system to punish dissent, then dissent itself takes a u-turn of additions and alterations with the passage of time. The bleeding valley is giving a close call for one and all to unite and ensue a state of peace and order. There is an urgent requirement of the administrative and political will to stop the use of pellet guns in Kashmir.
Whatever is happening to the people of Kashmir has not been experienced by the other people of the country. After all, it is a question of humanity. People suffer out of the ways as circumstances decide or may be destined otherwise. But to expect a peaceful valley without the intervention of a political will would be an underestimation of statements. There is a dual intolerance in Kashmir, one from the people and next from the system. The systematic targeting of the protestors from a point blank range irrespective of regard for the human life has shattered several families in Kashmir
Kashmir is passing through the phases of testing times with each passing day. The ugly turn of the situations and recurring events and the amateur dealing of the same has created an unhealthy atmosphere everywhere, where people have lost faith in the governance systems. The safety and security of every Tom, Dick and Harry is the looming question of the hour. Exits from dwellings and adieus from home don't guarantee the safe return of the leavers. The interlocutor of the centre in vale, Mr. Dineshwar Sharma once reiterated that, 'the priority is to prevent Kashmir turning into Syria'. The imbroglio has crippled the educational scenario, down slowed the economy, increased the unemployment, but, above all, the ultimate question is the redressal of the problem at stake, which for God sake can erupt into a lava-laden volcano one day and engulf the whole peace, stability and order of the South Asia, if not tactfully handled in the current times by the government.
The victory of BJP at the centre with the thumping majority after the 2014 Lok Sabha elections with the slogan of 'minimum government, maximum governance' falls short of words and has partially failed in the state of J&K.The killings of the common masses are in no way remedies to the political ailments. There should be the ultimate regard for the human lives. Why has the blood of the people become so cheap .When will peace return to the valley of Kashmir? The government of India had constituted an expert committee in July 2016 to explore other possible alternatives to pellet guns as non-lethal weapons. Although, the committee submitted its report and the recommendations were taken into account by the government for implementation. But, what happened afterwards lies in the public domain for discussion. The use of pellet guns is tantamount to the violation of rights of the people.
In order to direct the valley towards the state of peace and development, the role of multiple players of India, Pakistan and Valley is necessary. This way the government can make a significant contribution in the restoration of normalcy. The need of the hour is the unity of all the stakeholders of the society, like government, non-governmental parties, NGO's, etc. to help these pellet victims via financial or other means.
Although, there has been a strong criticism of the use of pellet guns not only at the local level ,but also at the international level, but the main part of the problem resolution lies with the government of India and the state. Although, much has been said and written about the people of Kashmir with the flow of waters of the river Jhelum, but the stability of the region is a farfetched dream. Here, comes the role of the government into play. The use of pellet guns against the dissenting masses has wreaked havoc and wounded the collective psyche of the people, particularly those who have lost their near and dear ones due to the deadly metallic balls. Those who have fully or partially lost the vision and are living in dark suffer in silence. The government should review the situation and put a full stop for the future use of pellet guns. Those who have lost their dear ones should be financially compensated or by provision of bread and butter. However, the clarion call of the people is the complete ban and stoppage of these pellet guns in order to prevent the further damage and restore the faith of the people in the system. The government of India should pass a resolution to put a terminal pause to the use of pellet guns in the state of Jammu and Kashmir.
The vital task for the current times is to build a consensus for the total pellet ban. The use of non-lethal methods by the security agencies like water cannons could be the best alternatives. This will not only restore the faith of the people in governance, but also generate a feeling of belongingness among the masses. The bruised scars of the pellets have defaulted the trust of the people in the political system. Although, the situation is worrisome for one and all, but, in which direction the boat sails lies with the future course of action. After all action speaks louder than the words.
Pakistan not a Threat for Israel: Clearing Misconceptions
Ever since 1998; the beginning of Pakistan's nuclear age, the state's self-defense mechanism has been a source of worry and unrest for India and the US. Both these states never really accepted that a small state like Pakistan could develop the prestigious asset and was now well capable of defending itself against external threats. US opposed the program on the grounds that it had been tested after the signing of NPT and that it is an "illegitimate" program. Their basic concern was Pakistan not being a party to NPT and US non-proliferation efforts failing. India, though very much against the program, could not openly oppose it on the same grounds because its own Nuclear Program had the same issue i.e. it was tested after the signing of NPT and they had also not signed the treaty.
There  are  a  lot  of  ambiguities  surrounding   Pakistan's  nuclear  program  which  are  there intentionally for the benefit and security of the program and state. However, there is one thing which has been kept very clear since day one and that is the Indo centric nature of Pakistan's nuclear program. The program was developed because the conventionally strong next door neighbor had developed their program. Pakistan, in an attempt to ensure territorial security, had to develop its own program as well. US, China, Russia, France or the UK were never a threat to Pakistan nor was Pakistan on their attack agenda. India on the other hand was in close territorial proximity, a historic enemy, conventionally stronger and now also a nuclear power. After evaluating all these factors any national strategist would suggest a nuclear program for Pakistan and that is exactly what the state did.
There have been news in an Israeli newspaper,  Haaretz, that Pakistan is more of a threat to Israel than Iran. This was published on 20 May, 2018. The grounds for this allegation have been identified  as  Pakistan's  growing  arsenal  and  other  similar  reasons  which  have  always  been popular in the western policy circles. Iran, a conventional enemy, one with which there have been numerous conflicts, has been ruled out as a threat to Israel since they do not have a nuclear arsenal.
However, there are many concrete facts that have been ignored in this propagating debate. For instance Pakistan has had no wars with Israel. Both the states have never even been on the verge of an all-out war. The states have never even had a conflict that could've led to war. Although Iran does not have  a nuclear arsenal at present but that did not stop the states from indulging into conflicts before and although initiating a nuclear war might not be a possibility for Iran but a conventional war is very much within their skill set.
Pakistan is already indulged in a two front defense strategy on its eastern and western borders. The Taliban threat from the west and the ever present Indian threat from the east, particularly along the  line of control is already consuming most of the state's energy, attention and resources. Under such circumstances, jumping into any sort of venture as far as Israel without any apparent or direct conflict seems like an amateur move which is not expected from Pakistan whatsoever. If any linkages are being made based on the fact that Iran and Israel have cordial ties then they are weak to begin with. On the other hand India and Iran have more than friendly ties and India's nuclear arsenal is growing rapidly with the US help. However, this does not mean that just because India is a nuclear state and a friend of Iran, it will be inclined to attack Israel.
Pakistan's nuclear program is solely for the safety and security of the nation against any external threat.  The program  is not for the state  to pick  and choose  enemies  and start  non-existing conflicts. That is definitely not how Pakistan intends to use its resources and deviate from the real agenda which is to protect the state of Pakistan. The only condition under which Pakistan would use its nuclear weapons against any state would be if they choose to attack the territory of Pakistan in a nuclear or non-nuclear manner. The state has been absolutely clear about this from the very beginning of its  nuclear era.