Welcome to the Caspian Daily, where you will find the 10 most important things you need to know on Caspian Sea Region. We appreciate ideas, reports, news and interesting articles. Send along to Caspian[at]moderndiplomacy.eu or on Twitter: @DGiannakopoulos
1"Whenever Russians think about Iran, soul-searching ensues. Some look at the Iranian system favorably, and some despise it, but in the aftermath of the recent deal to limit Iranian nuclear production in exchange for a lifting of economic sanctions and increased commercial contacts with the outside world, many Russians, worried by their country's growing status as an international pariah, have begun to ask themselves: "Are we the new Iran?"This may sound strange to foreign ears, but it is not really so far-fetched. Many Russians, both inside and outside the Kremlin, admire the Iranian way of dealing with a hostile world" Maxim Trudolyubov for the New York Times.
2Russia and Saudi Arabia failed in talks on Tuesday to overcome their differences on the fate of Syrian President Bashar al-Assad, a central dispute in Syria's civil war that shows no sign of abating despite renewed diplomacy. Russia is pushing for a coalition to fight Islamic State insurgents — who have seized swathes of northern and eastern Syria — that would involve Assad, a longtime ally of Moscow. But, speaking after talks in Moscow, Saudi Foreign Minister Adel al-Jubeir reiterated Riyadh's stance that Assad must go.
3OPEC predicts that oil production in Azerbaijan will remain steady in 2015. "Azerbaijan's oil supply is anticipated to average 0.86 million barrels per day, remaining unchanged from the previous Monthly Oil Market Report and indicating steady production in 2015," OPEC's monthly report on the oil market said August 11. Azeri crude oil output in June increased by 21,000 barrels per day to average 0.78 million barrels per day, following a decline of 57,000 barrels per day in May, which was a result of maintenance at the West Chirag platform that began on May 21 and lasted through June 6.
4Kazakhstan's average oil production is expected to decrease by 10,000 barrels per day over the previous year to average 1.62 million barrels per day in 2015, according to OPEC's August oil market report.The forecast remains unchanged from the previous monthly oil market report."On a quarterly basis in 2015, output will average 1.66, 1.60, 1.59 and 1.62 million barrels per day, respectively," the report said. Kazakhstan's oil production declined by 80,000 barrels per day in June compared to May to settle at 1.56 million barrels per day, although it stayed higher by 40,000 barrels per day compared to June 2014 due to the intensified works at Tengiz field in May and June of 2014, OPEC said in its report.
5The bilateral cooperation in the political, economic-trade, cultural, and humanitarian fields, particularly in developing a partnership in the energy, transport, and investment sectors, as well as the implementation of joint infrastructure projects were high on the agenda of talks held between Turkish President Recep Tayyip Erdogan and his Turkmen counterpart Gurbanguly Berdymukhamedov on August 7. During the bilateral meeting, the presidents of the two countries stated that the successful implementation of joint projects opens up new opportunities for Turkish business circles in the promising Turkmen market, an important factor of which is the favorable investment climate in the Central Asian country.
6Eight ways Iran might surprise you. "Compared to other countries in the Middle East and North Africa, Iran is very modern. Literacy is at 97%, women outnumber men in university enrolment, and in spite of government censorship, internet and social media use in Iran remains high. Many Iranians have satellite dishes and tune into Sex and the City and MTV, as well as the latest BBC documentaries. Iranians as a whole are far more educated and informed about the west than we are about them. If you think of Iran as a medieval backwater, prepare for a shock" Jennifer Klinec for the guardian.
7Rabitabank is conducting talks on purchase of one of the banks in Azerbaijan. However, he didn't disclose the name of the bank due to the lack of concrete results. Rabitabank's intention to purchase another bank is in line with its strategy to expand its activity.
8Schneider Electric runs energy summer school classes.Within the annual summer education program Schneider Electric has organized energy training courses for the high school students in the Republic of Azerbaijan. The one-month summer education program covered 40 students of Azerbaijan State Oil Academy and Baku Higher Oil School held in the premises of the Schneider Electric Baku office from 6 to 31 July 2015. During the education courses the students deepened their knowledge in the fields of energy efficiency, commercial and residential building management systems, industrial automation, smart energy management solutions, electrical distribution systems, data centers power supply and cooling systems.
9Russia's Geopolitical Portfolio. In recent months, western investors have been willingly discussing attractiveness of Russian assets. The community divided: some fraction of analysts and investors seems to think that Russian assets' toxicity is fundamentally exaggerated. There is an opinion that even if the US and Europe keep restricting import of their capital and technology to Russia, the country's economy is capable of self-organization and import substitution. Taking into account a hypothetical oil recovery, there is a "great" opportunity to buy undervalued energy sector big caps. Long-term traders remind that the profit making entry to market is the most risky. After putting aside long-term risks evaluation (value at risk, VaR) let us try to understand if Russian technological sector has a chance to adapt. [investing.com]
10Turkmenistan: TAPI Announcement Yet Another Disappointment In choosing a domestic firm to lead the pipeline project, Ashgabat raises questions about future momentum. [The Diplomat]
ADB Operations Reach $32.2 Billion in 2017- ADB Annual Report
The Asian Development Bank (ADB) Annual Report 2017, released today, provides a clear, comprehensive, and detailed record of ADB's operations, activities, and financial results over the past year.
Annual operations of ADB reached a record $32.2 billion in 2017, as the bank continues to meet Asia and the Pacific's growing development needs, according to the Annual Report. This was a 26% increase from the year before.
ADB's total operations of $32.2 billion last year consisted of $20.1 billion in loans, grants, and investments from its own resources (up 51% from 2016) including nonsovereign operations of $2.3 billion (a 31% increase from 2016); $11.9 billion in cofinancing from bilateral and multilateral agencies and other financing partners; and $201 million in technical assistance (a 11% increase from 2016).
These figures are based on ADB's new performance measure of "commitments," or the amount of loans, grants, and investments signed in a given year. ADB introduced this measure in 2017 to promote project readiness at approval stage, expedite post-approval steps, and get closer to project disbursement, by placing more emphasis on when the projects are signed, rather than when they are approved by ADB's Board of Directors.
"We began a new chapter in meeting development needs across Asia and the Pacific in 2017," said ADB President Takehiko Nakao. "With the merger of the bank's concessional Asian Development Fund lending operations with the ordinary capital resources balance sheet from the start of 2017, ADB has a solid capital base to support our operations going forward."
Mr. Nakao added, "We continue to combine finance with innovative solutions to respond better to the region's diverse and specific challenges and needs, such as rapid urbanization, climate change, and growing demand for water and energy."
ADB's financing of climate mitigation and adaptation reached a record $4.5 billion in 2017, a 21% increase from the previous year. The bank is now in a good position to achieve its $6 billion annual climate financing target by 2020. ADB also mobilized an additional $606 million from external financing, bringing total climate financing to $5.2 billion last year.
The Annual Report emphasizes the importance of partnerships for ADB in scaling up project financing, and for sharing development knowledge and expertise. With the support of donors, ADB established five new trust funds in 2017 that will unlock capital for climate investments through innovative financial products, increase private sector participation in climate change mitigation and adaptation projects, help cities prepare high-priority urban infrastructure investments, increase mobilization of domestic resources, and integrate high-level technology into infrastructure project designs.
On the downside, ADB's disbursements decreased to $11.1 billion in 2017 from $12.3 billion in 2016, according to the Annual Report. Cofinancing also fell short of ADB's targets.
"We will come up with concrete measures to increase disbursements and cofinancing, building on the new ADB procurement policy approved in April 2017 and ongoing efforts to leverage the bank's resources," said Mr. Nakao.
The Annual Report 2017 presents a more comprehensive picture of ADB operations than the previous annual reports in terms of numbers and institutional data. It provides expanded sections on financial highlights, sector and thematic work, and knowledge. ADB's specific assistance to countries and regional programs, lists of trust funds and corporate reports, and organizational structure are also added.
The figures in the report update the provisional operations numbers released by ADB in January.
New Funding for Mindanao Trust Fund to Strengthen Peace and Development in Southern Philippines
Efforts to bring peace and progress in Mindanao were reaffirmed today following the signing of a new agreement that will build more socioeconomic infrastructure and improve literacy in conflict affected areas.
The new Program Partnership Agreement signed by the Bangsamoro Development Agency (BDA) – the development arm of the Moro Islamic Liberation Front (MILF) – and humanitarian organization Community and Family Services International (CFSI) entrusts the two parties to implement the USD 3.2 million grant with financing from the Mindanao Trust Fund for Reconstruction and Development (MTF).
The Spanish Agency for International Development Cooperation (AECID) also provided complementary funding amounting to 1 million euro to support similar activities.
"This new partnership agreement strengthens Normalization under the Comprehensive Agreement on the Bangsamoro. It will help improve the quality of life of people in conflict-affected areas through community participation and the pursuit of sustainable livelihood within a peaceful, deliberative society," said Secretary Jesus Dureza, Presidential Adviser on the Peace Process. "For four years, we have been reaching out to our fellow Filipinos in the south, touching lives and taking 'peace by piece' steps towards a developed Bangsamoro."
Established in 2006 with support from development partners including the Australia, Canada, European Union, Sweden, New Zealand, and the United States, and administered by the World Bank, the MTF consolidates international development assistance for the socioeconomic recovery of conflict-affected communities in Mindanao and seeks to build confidence in the normalization process with the MILF.
From 2006 to 2017, development partners have provided PHP 1.4 billion (USD 28.9 million) to the program. Within this period, results delivered by the MTF-Reconstruction and Development Project include 573 projects that improved infrastructure, strengthen livelihoods and functional literacy in 315 conflict-affected communities across 75 municipalities. Nearly 650,000 people now benefit from clean water, better roads, and more post-harvest facilities and access to farming and fishing equipment.
"The support of the Philippine government and development partners towards projects that strengthen the Bangsamoro's capacities to improve their socioeconomic conditions reinforce people's trust on the Bangsamoro peace process and the passage of the Bangsamoro Basic Law," said MILF Peace Implementing Panel Chair Mohagher Iqbal.
The project also supported activities to improve livelihoods, infrastructure, and basic literacy in the Six Acknowledged MILF Camps: Camps Abubakar, Omar, Rajamuda, Badre, Bushra, and Bilal. The decision of Secretary Dureza of OPAPP, the MILF, and development partners to further intensify these efforts through the MTF highlight the partners' commitment to peace and development in Mindanao.
"Greater economic opportunity and access to basic services foster hope in conflict-affected areas, which can build understanding and collaboration among community members. The World Bank is committed to supporting efforts that enhance the prospects for peace in Mindanao," said Mara K. Warwick, World Bank Country Director for Brunei, Malaysia, Philippines and Thailand.
"Australia is a longstanding supporter of peace and development in Mindanao, and is proud to be a partner for change in the second phase of the Mindanao Trust Fund," said Australian Ambassador Amanda Gorely. "As the first phase has already shown, the socio-economic infrastructure and literacy projects it will provide can have a remarkable impact for communities in Muslim Mindanao."
"One of the biggest challenges for development policies is to tackle the most vulnerable communities affected by multiple conflicts and threats; to not leave them behind. This complex aim needs joint resources from national and international stakeholders following a sound local leadership. MTF has acted as a valuable driver of such efforts," said Juan Pita, General Coordinator of AECID.
The MTF has a steering committee that oversees the implementation and evaluation of the program. It is chaired by OPAPP, BDA, and the World Bank, which also serves as the trust fund secretariat.
Bangladesh: World Bank Increases Support for Clean, Renewable Energy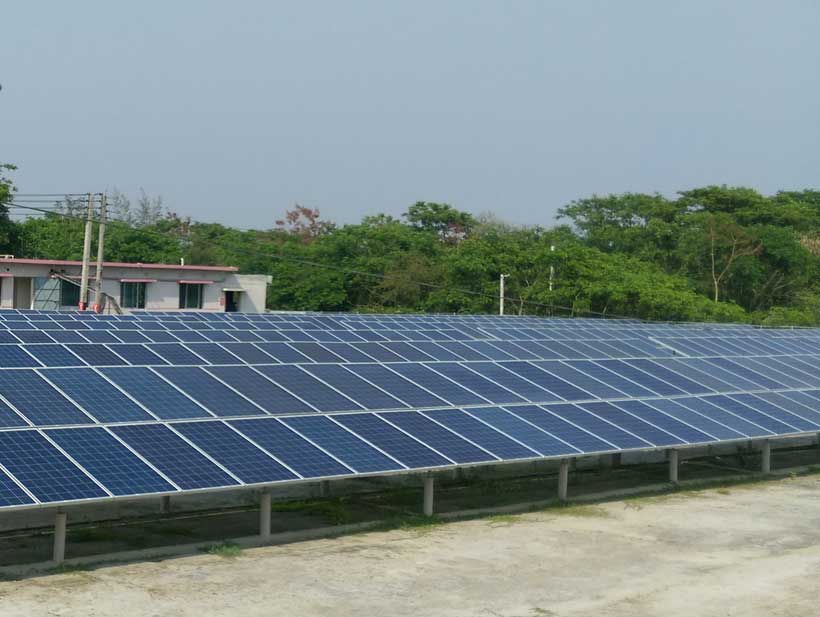 The World Bank today approved $55 million to expand use of clean renewable energy in rural areas of Bangladesh where grid electricity cannot reach easily.
The additional financing to the Second Rural Electrification and Renewable Energy Development (RERED II) Project will install 1,000 solar irrigation pumps, 30 solar mini-grids, and about 4 million improved cookstoves in rural areas. The project, including the additional financing, will enable about 10 million people living in villages, shoals, and islands to access electricity and use energy efficient cookstoves. These interventions will help the country reduce carbon emissions.
"We are proud to be helping Bangladesh increase access to clean electricity through solar power. Today, the country has one of the world's largest domestic solar power programs, covering 14 percent of the population," said Qimiao Fan, World Bank Country Director for Bangladesh, Bhutan, and Nepal. "Building on its success in using solar energy to provide electricity in rural areas, this financing will also scale up other clean renewable energy options."
The project has already built 10 solar mini-grids in remote areas, including islands and shoals to provide grid quality electricity. This additional financing will help construct another 30 solar mini-grids. These will provide about 28,000 connections to households and businesses, including small and medium-sized enterprises.
The financing will also help increase use of solar irrigation pumps, a low-cost technology that is well suited to the country's flat terrain and abundant sunshine. This switch from diesel pumps will decrease greenhouse gas emissions and save foreign exchange by reducing the government's subsidy on diesel imports.
"In Bangladesh, indoor air pollution causes 107,000 deaths per year, mostly women and children. Traditional cookstoves used in rural areas is a major contributor to this," said Amit Jain, World Bank Team Leader for the project. "This project will scale up use of improved stoves. Their energy-efficient design will emit 90 percent less carbon monoxide and use half as much firewood as a traditional stove. A major thrust of the project will be to increase use of affordable-fuel efficient cookstoves by the poor and extreme poor."
Since 2002, the World Bank has been helping the government expand renewable energy programs. In the energy sector, the World Bank has ongoing support of over $1.6 billion in Bangladesh covering generation, transmission, distribution, and renewable energy.
In addition, the Green Climate Fund (GCF) Board has on February 27, 2018 approved an additional $20 million to support the energy efficient cookstoves project, which is their first approved cookstoves project.
The credit from the World Bank's International Development Association, which provides grants or zero-interest loans, has a 38-year term, including a 6-year grace period, and a service charge of 0.75 percent.
The World Bank was among the first development partners to support Bangladesh following its independence. Since then, the World Bank has committed nearly $28 billion in grants and interest-free credits to the country. In recent years, Bangladesh has been among the largest recipients of the World Bank's interest-free credits.