Arguing Over Petty Things: Turkish Pop or Poop Art?
Talking about the relationship between art and politics corresponds to an intellectually provocative action for the vast majority. When we view history, we can see that art in Nazi Germany legitimized the position of high culture and added many symbols and images to the cultural missions of the Nazis. According to Walter Benjamin, fascism can be called as "aestheticized politics".
Art in Turkish context has been instrumentalized by the ruling elites most of the time so far however this time it also seems that art is also used as a tool by the unaudited local governments. This article is an attempt to address the current debates around controversial sculptures dominating Turkish social media. The headline of this article has been given as an inspiration from the recent debates circulated on Twitter.
Turkey is famous for its plethora of historical places and impressive monuments. However the controversial sculptures built in some cities raised debates. A prominent Turkish artist Gürkan Coşkun has defended sculptures and statues that mostly stand at the entrances of the cities depicting things those cities are known for, saying that they were "examples of Turkish pop art." According to Coşkun, "these artistic works are popular and absolutely creative," and "Turkish contemporary art must follow these works' steps. These are the symbols of the people of this region expressing themselves in their own ways."
Some people reacted on social media over the artist's evaluation and called these sculptures and statues as "poop art". There are quite bizarre sculptures and statues built in some particular cities. For instance, in capital Ankara there is a T-Rex dinosaur statue and researcher Mete Sohtaoğlu in an ironic way says that it replaces 'Transformers' robot.
Journalist Arzu Geybulleva argues that Turkey's spectacular city statues raise questions about art and corruption. In a detailed news-analysis she wrote, she said that "The watermelon statue in Diyarbakir reportedly cost 4.4 million Turkish Lira (517,000 US dollars)… The budget for these statues is not transparent and is often associated with corruption at the local government level."
Mirroring the Heart of Heaven and Earth: Ideals and Images in the Chinese Study
Mirroring the Heart of Heaven and Earth: Ideals and Images in the Chinese Study, an exhibition designed by New York-based firm OLI Architecture, has opened in the Palace Museum. Located in the center of the 72-hectare complex in the Forbidden City, built in the fifteenth century, the museum houses one of the world's largest collections of ancient Chinese artifacts, calligraphy, paintings, and porcelain. Working closely with curators at The Palace Museum, OLI Architecture has created a space that brings together art and objects spanning from antiquity to contemporary art within the historical architecture.

Housed in the Meridian Gate Galleries, Mirroring the Heart of Heaven and Earth centers on the evolving role of the scholar throughout Chinese history, exploring the relationship to the court, to other scholars, the natural world, and the universe. The exhibition brings together 105 works ranging from antiquities to contemporary art, including books, scrolls, vases, sculptures, paintings, screens, cups, and seals. Alongside the art, the displays also include materials such as brushes, ink, and paper ranging from the 6th to the 21stt centuries. The three gallery wings are divided into three chapters: "Chapter One: Sanctuary of Literature and Music," "Chapter Two: A Channel for Enlightenment," and "Chapter Three: A Bond of Companionship." These chapters deal respectively with the themes of a spiritual haven; self-cultivation and the bond between humanity and nature; and the appreciation of the finitude of life against the infinity of the universe.

The exhibition encourages a dialogue between heritage objects and modern artworks. For instance, an eighteenth-century plaque bearing the words 'Chamber of the Five Classics' in the Qianlong Emperor's hand, that typically hangs in the hall that served as the imperial study, is prominently displayed at the beginning of the exhibition. The Five Classics include some of the oldest surviving Chinese texts and are the central works of Confucianism.

Contemporary artists represented include:
Liu Dan (b. 1953) an ink painter trained in traditional style ink painting, he lives and works in Beijing, China.
Xu Bing (b. 1955) is a multimedia artist known for his calligraphy and printmaking, who divides his time between New York City and Beijing.
Xu Lei (b. 1963) an ink painter heavily involved in China's 1980's New Wave movement who currently serves as the Art Director of Beijing's Today Art Museum.
Bai Ming (b. 1965) a ceramicist and painter who teaches at Tsinghua University in Beijing.
Young Ho Chang (b. 1956) an award-winning architect and researcher who is currently a professor of architecture at MIT. Hiroshi Okamoto, Founding Partner of OLI Architecture, remarks, "Our office often works with contemporary art and artists. It was a challenge to design this remarkable exhibition with pieces from famous contemporary artists paired with such rare and prominent antiquities. When we started the project the idea of the scroll and the ephemerality of paper became a central concept. Where the art and antiquities were displayed on a transparent softly glowing surface which flowed from the vertical to the horizontal at the datum of a scholar's table height giving the viewer an intimate experience."

World Economic Forum Announces 2023 Crystal Award Winners
Artist Maya Lin, acclaimed soprano and arts/health advocate Renée Fleming and actors and humanitarians Idris Elba and Sabrina Dhowre Elba are the recipients of the 29th Annual Crystal Award, the World Economic Forum announced today. The winners will be honoured at the opening session of the Forum's Annual Meeting 2023 in Davos-Klosters, Switzerland, on the evening of Monday, 16 January. The award celebrates the achievements of leading artists who are bridge-builders and role models for all leaders of society.
The Crystal Award is presented at Davos each year by Hilde Schwab, Chairwoman and Co-Founder of the World Economic Forum's World Arts Forum. The cultural leaders receiving the 2023 Crystal Award are bridge-builders. They connect us to each other; they help us reflect on the human condition and they provide visions of the world that can cut through the limitations of short-term or linear thinking.
Awardees
Maya Lin receives the 2023 Crystal Award for her extraordinary creative talent in combining science, art and architecture and her exemplary leadership in the promotion of nature and environment. Lin has fashioned a remarkable interdisciplinary career through her highly acclaimed art and architectural works, showcasing sustainable design and emphasizing a stronger connection to the land and nature.
From her first public work, the Vietnam Veterans Memorial in Washington D.C., Lin has been committed to focusing attention on the key issues of our time: women's rights, civil rights, Native American history and the climate crisis. In 2016, on awarding Lin the Presidential Medal of Freedom, President Barack Obama said her Vietnam Veterans Memorial "changed the way we think about sacrifice and patriotism and ourselves".
Lin's latest memorial, What is Missing?, is experimental and multidisciplinary in nature. In this work, Lin uses science-based artworks to raise awareness of the current mass extinctions of species, while emphasizing that by protecting and restoring habitats and reforming our land-use practices we could significantly reduce emissions and restore and protect biodiversity
Renée Fleming receives the 2023 Crystal Award for her leadership in championing the power of music and its relation to health, community and culture.
Renée Fleming is one of the most acclaimed sopranos of our time and a leading advocate for research at the intersection of arts, health and neuroscience. She launched the first ongoing collaboration between the Kennedy Center for the Performing Arts and the US National Institutes of Health (NIH) with the participation of the National Endowment for the Arts (NEA). The Sound Health initiative explores and brings attention to research and practice at the intersection of music, health and neuroscience. This collaboration has led to workshops at the NIH and events and performances at the Kennedy Center. It also led the NIH to recently award $20 million in funding for music and neuroscience research over five years. The Renée Fleming Foundation is now partnering with the Foundation for the NIH to develop a toolkit for standardizing music and health clinical research for brain disorders of ageing. Fleming has presented her programme, Music and the Mind, around the world.
Idris Elba and Sabrina Dhowre Elba receive the 2023 Crystal Award for their leadership in addressing food security, climate change and environmental conservation.
Actor, filmmaker and humanitarian, Idris Elba, and his wife, the model, actress and humanitarian, Sabrina Dhowre Elba, were appointed UN Goodwill Ambassadors for IFAD in April 2020. As IFAD Goodwill Ambassadors, they focus on issues related to food security, climate change and environmental conservation. The couple recently visited an IFAD-supported project in Sierra Leone, where they met farmers who received support for rice production and assistance with rural finance after the Ebola crisis.
The late Queen Elizabeth II awarded Idris Elba with the Most Excellent Order of the British Empire (OBE) in 2016 and the Prince's Trust, founded by King Charles in 1976 – which Elba credits with helping to start his career – appointed him as its anti-crime ambassador in 2009
Elba supports causes related to poverty, HIV/AIDS, at-risk and disadvantaged youth, health and education. He worked with the UN and the Department for International Development in the UK during the Ebola health crisis and filmed campaigns in support of UNICEF, as well as the Sustainable Development Goals. He has recently created a number of youth-focused campaigns to promote education and learning and discourage violence.
Sabrina Dhowre Elba works with a variety of civil society organizations, including Farm Africa, raising funds to help farmers across eastern Africa, and Conservation International on environmental issues. She promotes gender equality and the empowerment of women and girls worldwide. She chairs the European board for Global Citizen and has been a keynote speaker at leading global events.
Idris Elba and Sabrina Dhowre Elbaare board members of Conservation International.
Crystal awardees are part of a large community of cultural leaders in Davos.
Growing demand for oriental cuisine in India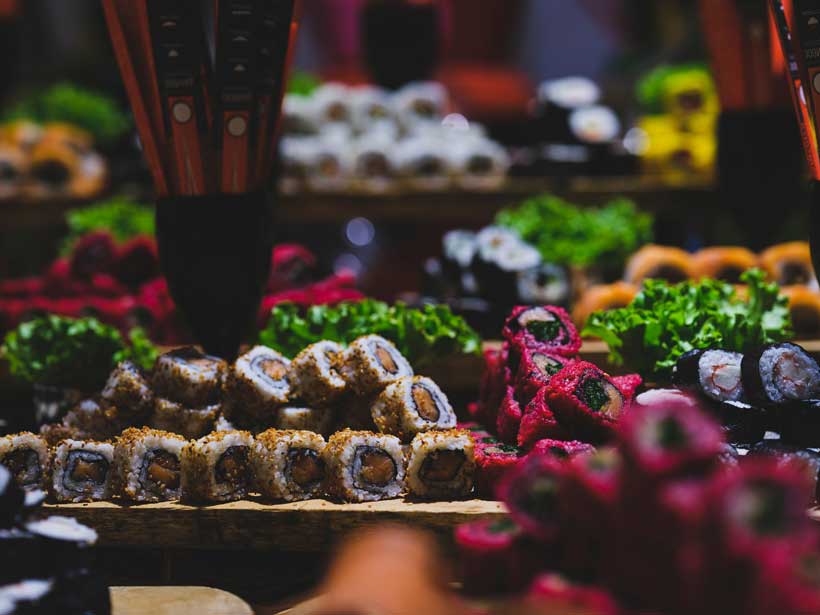 Recent years have witnessed the mushrooming of oriental restaurants serving 'authentic' Chinese, Japanese, Korean, Thai, Malaysian and of late Vietnamese cuisine (in certain instances it is not so authentic!). It is not just expats or members of the diplomatic community of these countries residing in India, but even the Indian consumer, in not just metro cities but even tier 2 cities, who is always up for some lip-smacking cuisine from East and South-East Asia.
In metropolitan cities – especially Mumbai, the National Capital Region (NCR) region and Bengaluru — apart from several other cities, it is true that several Chinese, Japanese, Korean and Thai restaurants serve East Asian and South-East Asian cuisine of a high quality, which is truly authentic.
It would be pertinent to point out, that for long restaurants located in five-star hotels were the preferred choice for consumers willing to spend on some authentic oriental cuisine. That is no longer the case with a number of stand-alone restaurants (some in the fine dining category) mushrooming in recent years in not just metropolitan cities, but tier two cities as well.
If one were to look at Vietnamese, Indonesian and Malaysian stand-alone restaurants in India, there is certainly scope for more authenticity. It is also important, for restaurants specializing in one oriental cuisine, to focus on one cuisine – while a few popular dishes from other cuisines are perfectly acceptable – a mish mash of dishes from across the orient while specializing in one cuisine is not advantageous.
There is no doubt, that it is important to cater to Indian taste buds, it is also important to bear in mind, that a lot of Indian consumers who have travelled and have a good knowledge of different cuisines are looking for authentic cuisine.
A number of oriental restaurants, which claim to serve authentic oriental food and specialize in one particular oriental cuisine end up serving a mish-mash of different Asian cuisines. While there is nothing wrong in the same, it is important then to position yourself as a restaurant which serves a blend of dishes from across the orient. It would be pertinent to point out, that as far as Chinese, Thai, Japanese and Korean cuisine is concerned, the Indian consumer – especially in metropolitan cities – has numerous choices.
Here it would also be important to mention that many oriental restaurants have managed to strike a balance by catering to local palette, while also ensuring a degree of authenticity and providing a mix of dishes from the orient at a reasonable price. It is also important for stand-alone fine dining restaurants to realize, that if they are excessively over-priced, they will lose their competitiveness if there are other options available to the consumer.
In conclusion, there is a growing demand for East Asian and South-East Asian cuisine in India. As mentioned earlier, it is not just expats or members of the diplomatic community, but a large number of Indians who are well travelled who are willing to spend on good oriental cuisine. It is important however for restaurateurs and chefs to remain in sync with changing trends in the market, and to remain relevant in an increasingly competitive market.