The 15th BRICS Summit, in Johannesburg from 22-24 August 2023, is an important event for the world, especially for the global South. Why is it so important? The reason is simple. The birth and strengthening of the BRICS+ is a step towards limiting the dominance of the West, which has become increasingly aggressive and overconfident since the fall of the Berlin Wall. This is a positive change, writes Aicha El Alaoui, economist, professor at University Sultan My Slimane-Béni Mellal, Morocco.
However, the countries of the underdeveloped South (most African countries) must be particularly vigilant, because nothing particularly shows that the BRICS+, once structured and organized, would not opt for an imperialist economic tendency or an authoritarian political system. One must not forget that human rights and democracy are universal values. Justice is requested by all citizens of the world regardless of their geographical position. The South needs a new era of freedom and justice.
The people of the global South continue to suffer from the persistence of colonialism in its contemporary form (neocolonialism), whose proponents are the Bretton Woods institutions and their so-called development partners. The BRICS+ will thus be an opportunity for the countries of the global South to strengthen their national and international sovereignties. In other words, it will be an opportunity to free themselves from the control and hegemony of the North. The official statements at the 15th BRICS summit constantly stressed the importance of the grouping for sustainable and equitable development for each country, especially those from Africa, which has long suffered from the domination of the North. Still, the five countries were very vigilant in selecting the countries invited to join the group.
The permanent and provocative crises of recent decades have shown that certain countries of the global South cannot decide sovereignly and independently on their economic and political development without "soft" or "hard" interventions from the United States and its allies. Even Europe is subjugated by the US and it is now flailing under its crumbling democratic, economic, and social system due to this. No country should trust the US. Therefore, in a world infested by permanent crises (political crises, economic crises, financial crises, health crises, terrorism), bringing the South and the North together is a necessity.
Faced against this unipolar system, unified by its ideology and formal organization, the new bloc is taking its first steps towards formal structuring. Can it succeed? Economically, BRICS+ can compete with the North, but politically it will be too difficult since BRICS+ involves a great deal of heterogeneity: some countries have very deep political, religious, and cultural conflicts.
Inviting Saudi Arabia, the United Arab Emirates, Iran, Ethiopia, Argentina, and Egypt is a clever consent of the BRICS to progressively establish a new system of de-dollarization and create cracks in old global institutions such as OPEC, the World Bank, and the IMF.
However, will it succeed in uniting its members to serve democracy and social justice in the global South? The answer is "No", as some countries of the BRICS+ have authoritarian systems. The Global South must collaborate with certain countries of the North to serve the democratic and social restructuring of their societies. 'Win-win' collaboration between all countries is a necessity for a better and just world. Therefore, global institutions and organizations must be restructured by respecting the sovereignty of each country.
The last question is, will the BRICS+ be an opportunity to create a just multipolar system? While it is nigh impossible in the short term, in the long term it depends on whether the poor and underdeveloped countries can manage to find a good negotiating position. They ought to show their independence without truly cutting ties with the North so that they can negotiate comfortably their interests with the BRICS+.
The "new" Global Order speaks the same economic language as the United States and its allies: "more profit."
We must not believe that the first of January 2024 is a date for the freedom and independence of the Global South, but that it is the coming of a new economic power that wants to conquer new markets, especially in Africa.
Let's be vigilant because freedom and democracy are defended by the people, Aicha El Alaoui stresses.
Can Europe survive Trump 2.0?
Here's something the European mind can't fully comprehend: "Come November 2024, Donald Trump may be headed back into the White House," states POLITICO.
It's a nightmare scenario for Europeans who bore the brunt of the former U.S. president's antagonism during his four years in office and hoped to never have to think about him again.
Back in early 2016, when a slightly less grizzled POLITICO journalist was asked to do the rounds of European embassies and think tanks to ask about Trump getting elected, several officials haughtily explained that the question wasn't worth answering because he had no chance.
Not so in 2023. Europeans are wide awake to the possibility of a Trump redux, and most of the officials POLITICO spoke to for this article called for the bloc to prepare.
"Europe must be ready to face any situation linked to the results of the U.S. elections," former French President François Hollande told POLITICO in response to emailed questions.
"In a democracy, there is always the risk that the worst candidate can be elected," he added. "The people decide. Trump has been president. He can become president again, even if today he faces a lot of legal trouble. What we need to prepare for is the United States distancing itself from European affairs and the possible unraveling of the transatlantic alliance."
Several European diplomats struck the same note of stoic realism. "It's increasingly on people's minds. We need to plan for every eventuality and avoid the situation in 2016, where we were unprepared for both Brexit and Trump," said a second European diplomat who was granted anonymity to discuss politics in another country.
Asked whether a second Trump presidency would be different from the first, the second diplomat said Europe should brace for the worst. "Who will sign up to work with him given his record on how he treats people and how he betrays them? How can he have a strong team? With everyone he pretty much parted ways. And everyone wrote books bashing him. Even the nut jobs wrote books."
Adding to the unease is a sense that a reelected Trump may feel invincible. The former president has been impeached twice and faces several criminal indictments, including one for denying the results of the 2020 election. If none of this prevents him from taking office, several European officials argued, why should he feel any constraints on his behavior at all?
The prospect of Trump's return is particularly vexing for Germany, a frequent target of his attacks. Having been caught completely unprepared for his election in 2016, German politicians are eager not to repeat the same mistake — hence Foreign Minister Annalena Baerbock's recent trip to Texas, where she met with Republican Governor Greg Abbott.
Norbert Röttgen, the senior member of the German parliament, said: "To prepare for Trump's return the German federal government should urgently collaborate with its European partners to develop an independent defense policy. Unfortunately, I see no signs of this initiative within the government."
Jacek Saryusz-Wolski, a European lawmaker in Poland's Law and Justice party, said his camp would welcome Trump's reelection. "Our experience with Trump 1 was good," he said. "Under Trump, we got progress on the physical presence of American troops in Poland, as well as the base which we have baptized Fort Trump."
Meanwhile, several European officials underscored efforts already undertaken by EU governments to bolster the Continent's strategic independence.
They argued that European powers have not only coordinated massive weapons deliveries to Ukraine, surpassing the U.S. in the total value of support delivered; European countries have also significantly ramped up production of ammunition on the Continent in an effort coordinated by France's Thierry Breton, who's the European commissioner in charge of industrial policy.
"The Europeans have already done a lot, more than most people could have imagined," said Toomas Hendrik Ilves, former president of Estonia. "Just look at the amount of European weaponry on the battlefield in Ukraine."
But there's a big difference between spending marginally more on defense and seriously preparing for what Trump could reap in Europe — not least if he tries to follow through with his promise to strike a deal with Putin to end the war in Ukraine.
Such a move would not only pull the rug out from under the Ukrainians, who might feel huge pressure to give up part of their territory, but also be humiliating for the European powers that have cast their lot in with Kyiv.
In such circumstances, it would be "difficult to imagine" Europeans staying united on Ukraine," said François Heisbourg, senior adviser for Europe at the International Institute for Security Studies. "They could try to help Ukraine, but all of a sudden they would be against the United States because it's a deal negotiated by Trump. It's a very black scenario."
In 2018, Trump raised the possibility of pulling Washington out of NATO and letting the Europeans fend for themselves.
The upshot is that a reelected Trump could do anything, including pulling out of NATO. That's a terrifying prospect for Europeans who have relied on a U.S. security guarantee for the past 78 years — so much so that few diplomats and officials are willing to theorize about what it could mean for Europe's future.
Security analysts who are willing to go there paint an alarming picture: Suddenly deprived of U.S. strategic leadership, European countries would face huge, daunting questions about how to reorganize the security alliance. Who would be in charge? Would NATO continue to exist? Would European countries make sacrifices to their social welfare model to accommodate much higher defense spending?
Then there is the question of leadership: Who would be in charge of a European security alliance? Paris? Berlin? Warsaw? A rotating selection of European capitals? And where would Europe's military leadership be housed, given what Rasmus Hindren, a Finnish security expert, called a "lack of strategic culture" in the EU's executive branch? A solution is difficult to imagine, he said, given hostility between European powers and the fact that some countries, like Poland, trust Washington more than they do Brussels.
In the event of a Trump-ocalypse in transatlantic relations, Speck sees an effective split emerging in Europe's security architecture. Eastern European countries that share a border with Russia and others that feel immediately concerned by Moscow's ambitions, such as the Nordics plus Turkey and Romania, would have a natural inclination to band together in a de facto security alliance. "You have the makings here of a kind of coalition to block Russia's advance," he said.
Such a group would add pressure on others in Europe to form their own blocs, pushing the Continent's countries further apart. Put differently, one possibility for a post-U.S. security order in Europe could look a lot like what existed before World War I: a series of interlocking alliances at risk of tumbling into war with each other.
Scenarios like that remain, for now, distant possibilities, but it's a sign of the times that they are no longer unthinkable. For Europe's leaders, Trump's potential return is turning out to be a waking nightmare: They see it approaching but can't seem to do anything about it, concludes POLITICO.
U.S. Army Hospital in Germany Is Treating Americans Hurt Fighting in Ukraine
The Army's Landstuhl Regional Medical Center has quietly started admitting soldiers who were wounded in Ukraine combat – most of them American volunteers, reveals 'The New York Times'.
A group of Ukrainian Army soldiers pierced by Russian grenades and mortar shells arrived at a hospital recently in need of surgery. It would have been a familiar scene from the bloody war grinding on in Ukraine, except for two crucial differences: Most of the wounded soldiers were American, and so was the hospital — the U.S. Army's flagship medical center in Germany.
The Army has quietly started to treat wounded Americans and other fighters evacuated from Ukraine at its Landstuhl Regional Medical Center. Though the number so far is small — currently 14 — it marks a notable new step in the United States' deepening involvement in the conflict.
When the war erupted in 2022, hundreds of Americans — many of them military veterans — rushed to help defend Ukraine. Nineteen months later, perhaps a few hundred are still there, volunteering for local militias or serving under contract with the Ukrainian national army.
An unknown number of them have been shot, hit by artillery, blown up by mines or otherwise injured in combat. About 20 have been killed. Most of the wounded have had to rely on a patchwork of Ukrainian hospitals and Western charities for help. Now, though, the Pentagon has stepped in to offer some of them the same care it gives to American active-duty troops.
The hospital at Landstuhl is authorized to do so under a Defense Department policy, which began last summer, that allows the hospital to treat up to 18 wounded members of the Ukrainian forces at a time, the Pentagon confirmed in a statement. The fact that most of the Ukrainian troops at Landstuhl are Americans illustrates how the war has progressed in unexpected ways.
The Biden administration vowed at the start of the war that it would not put American troops on the ground in Ukraine, and it warned Americans not to get involved. Now it finds itself treating those it told to stay away.
Asked about the development by The New York Times, a Defense Department official who is regularly briefed on Ukraine-Russia matters expressed surprise, and said that leaders at the Pentagon were unaware that Landstuhl was regularly treating wounded American volunteers, but added that the leaders were not concerned about it.
The 65-bed facility, a Level II trauma center, is the largest American military hospital outside the United States, and served for years as a way station for thousands of wounded American troops evacuated from conflicts in Iraq or Afghanistan. After those wars wound down, Landstuhl's beds and expertise often went unused.
The patients now at Landstuhl are mostly from the United States, but also from Canada, Britain, New Zealand and Ukraine. Several of them said in phone interviews from their beds that they were receiving excellent care.
"We're blessed to be here," said an American veteran who underwent surgery this month to remove shrapnel from an arm and both legs. The veteran, who previously served in the U.S. Air Force, asked not to be identified because he feared reprisal by Russia.
He and others from a company of English-speaking fighters were hit during an assault on a village near the Russian-held city of Donetsk. More than two dozen soldiers were wounded, and two were killed. Over the next few days, the wounded were moved among Ukrainian evacuation points and hospitals, first near the front lines and then in Kyiv, the capital. The fighters who were interviewed said Ukraine's hospitals were under tremendous strain.
"Man, we are so thankful" to be at the hospital, said another American veteran, who was hit by shrapnel in his legs, arm and neck. He, too, asked not to be named. "I was wounded in Ukraine three weeks before they told me it would be a month before I got surgery. In Germany, they did it in two days."
Mr. Sanchez, the spokesman for Landstuhl, said the hospital was prepared to treat more wounded, and "remains postured and ready to support U.S. Armed Forces, NATO member countries and other allies and partners as directed."
But the arrangement is not without risks. Russia has repeatedly warned that any increase in U.S. involvement could spark a broader war. It would not take a particularly creative Russian propagandist to portray the American volunteers, wielding American weapons and being treated at an American Army hospital, as de facto U.S. troops on the ground.
Sen. J.D. Vance (R-OH) and House Republicans urged President Joe Biden's Pentagon to stop escalating a "dangerous" war with Russia, as the "same idiots" pushed the Iraq war.
Vance and Reps. Chip Roy (R-TX) and Matt Gaetz (R-FL) sent a letter to Defense Secretary Lloyd Austin as influential media outlets such as Foreign Affairs have called to lift the restriction on the number of American government personnel allowed in Ukraine and across its defense apparatus.
"The idea that we're going to send in offensive equipment and have planes and tanks and trains going in with American pilots and American crews — just understand, don't kid yourself, no matter what y'all say, that's called World War III," Vance said.
'Foreign Affairs' explained: "Sending advisers would increase the number of Ukrainian soldiers who receive top-of-the-line training. It would enhance Washington's understanding of Kyiv's material needs, allowing U.S. policymakers to fine-tune the aid they already provide and offer psychological assurance to Ukraine. Positioning U.S. advisers inside Ukraine would let Washington better champion crucial defense reforms that could pave Ukraine's path toward NATO and EU membership. Advisers would give the United States an added layer of oversight, as well, ensuring that aid is both optimized and employed responsibly. And, critically, deploying advisers would deliver these results at a reasonable cost."
Sen. Vance, Roy, and Gaetz cautioned that any military adviser mission risks severe escalation with a nuclear-armed Russia. They wrote:
"A military adviser mission to Ukraine would run a significant escalatory risk with Russia. It would mean placing additional "boots on the ground" in the midst of a direct and bloody conflict with Russia. Harm to our personnel under such a mission would be a tragedy, and could easily trigger Article IV consultations or even an Article V collective security declaration by our NATO Allies under the Washington Treaty. A military adviser mission would be one more step towards a dangerous, unnecessary war between the United States and Russia."
"We write to ask whether the U.S. government plans now, or in the future, to deploy an adviser mission to Ukraine, either U.S. direct-hire personnel or contractors, whether under foreign affairs, military, or intelligence authorities," the conservatives continued. "We request a response by October 3, 2023."
Why Biden administration has imposed sanctions on five Turkish companies?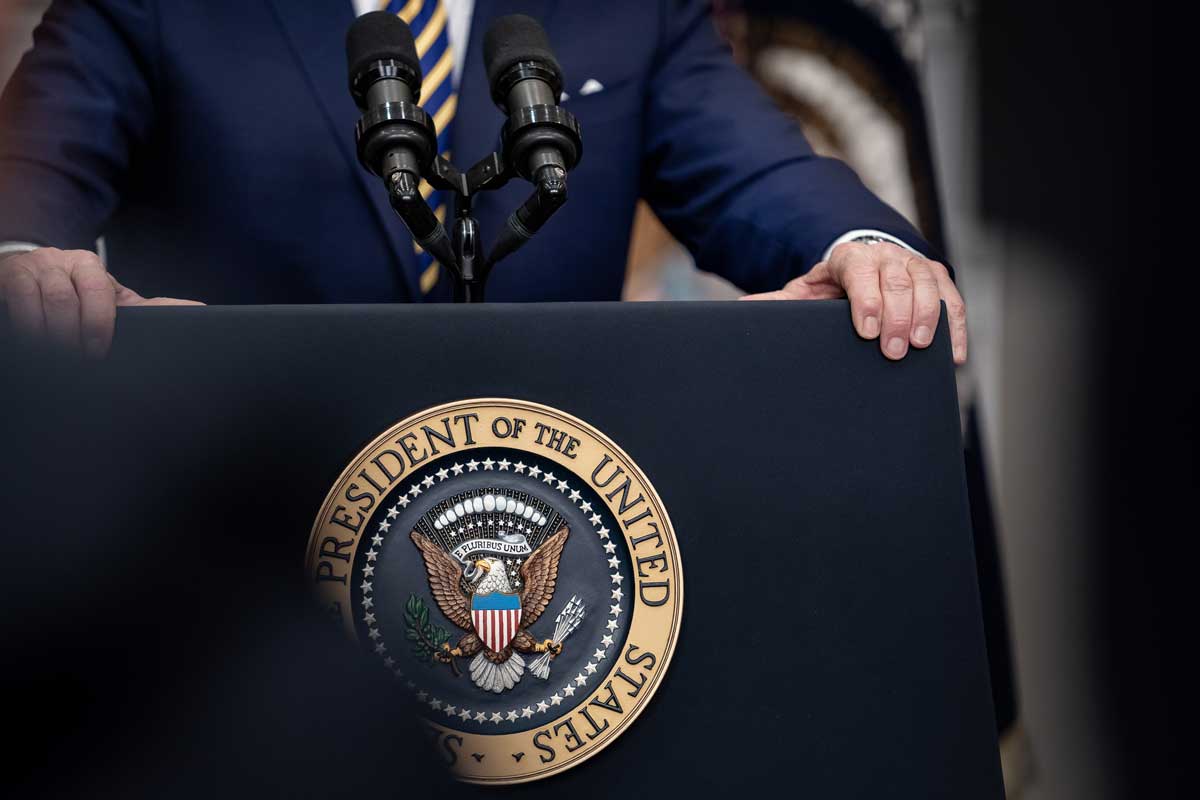 Secondary sanctions are all the rage as Washington gets more desperate to crack down on unaligned countries. The Biden administration has imposed sanctions on five Turkish companies and one Turkish national accused of helping Russia evade sanctions and supporting Moscow in its invasion of Ukraine, turning up the pressure on Ankara over its neutral stance on the Ukraine war, writes Mark Episkopos, an adjunct professor of history at Marymount University, writing on national security and international relations issues.
The new round of designations — part of a larger sanctions package targeting a wide array of Russian entities — included Turkish companies Margiana Insaat Dis Ticaret and Demirci Bilisim Ticaret Sanayi, accused of facilitating the transfer of dual-use goods to Russia.
Ankara sharply broke ranks with its fellow NATO member states, rejecting the West's maximum pressure strategy against the Kremlin in an effort to position itself as a possible mediator between Moscow and Kyiv.
Not only has Turkey refused to participate in the Western sanctions regime, but Ankara's trade relations with Moscow have boomed in the invasion's aftermath. Reuters reported earlier in 2023 that Turkey's exports to Russia jumped 262 percent year over year, reflecting the stark degree to which Ankara has profited from the vacuum caused by the withdrawal of Western economic actors from Russian markets.
Moscow and Ankara have even agreed on the construction of a new gas hub on Turkish territory that would provide Russia with alternate supply routes for gas exports, though the ambitious project is apparently being held up by management disputes.
Russia's economy has proven highly resilient against successive waves of U.S. and EU sanctions packages in large part because it has maintained and even deepened trade ties with much of the non-western world, notably including Turkey, key Middle Eastern actors, and the other BRICS countries. The Biden administration has sought to tighten the screws on Russia by levying secondary sanctions on Chinese, UAE, Turkish, and other entities accused of helping Moscow acquire advanced technology and other goods that U.S. officials say can be used to bolster the Russian war effort in Ukraine.
Turkish President Recep Tayyip Erdogan has built a political brand, cemented well before the 2022 Ukraine invasion with his decision to import S-400 missile defense systems from Russia, as a swing player between Russia and the West. Erdogan has proven adept at exploiting the geopolitical leverage afforded by Turkey's position as a strategically situated Eurasian crossroads, maneuvering between Moscow and Western capitals to advance a ruthlessly pragmatic foreign policy vision that flouts and occasionally even defies broader NATO objectives.
The Ukraine war has provided Erdogan with a surfeit of opportunities to advance this signature brand of statesmanship. Rushing to fill the diplomatic void left by Western states pursuing a maximum-pressure strategy against Moscow, Turkey has cemented its status as one of the war's most important brokers with its role in hosting the ill-fated Spring 2022 Russia-Ukraine peace talks and implementing the Black Sea Grain Initiative, better known as the Ukraine grain deal.
It appears unlikely that Erdogan will be dissuaded from his nonaligned stance by this latest round of secondary sanctions, which follows a similar set of designations announced in April 2023; nor is there any indication that the Biden administration is contemplating upping the ante with more direct punitive actions against Ankara, Mark Episkopos notes.