As global oil markets have been struggling with a myriad of difficulties and turmoil with regards to both supply and demand being most acute ever since the eruption of the pandemic in 2020 and now with issues of under investment, one tiny country has been emerging in the global oil field with a significant pace and intensity and which could change the oil landscape in South America in the coming years and that country is the Cooperative Republic of Guyana, becoming some sort of a poster child as the global economy is being more and not less thirsty for oil and more visible as a consequence of the war in Ukraine.
This started in 2015 specifically when in the waters off the coast of Guyana were discovered around 11.5 billions of barrels in reserves specifically in the called Stabroek block and then the discovery of the Liza-1 well and prompting the quick arrival of companies such as EXXON ($XOM) and HESS CORPORATION ($HES) which altogether started production only as recently as in 2019 while counting the new discoveries up to 35 new wells where clearly EXXON controls the majority of production of the tiny country of 804.567 inhabitants now with an average of production of 380.000 barrels per day at the end of 2022 which has kept an impressive upward trend ever since the first discoveries of the mentioned blocks and wells and with the government of Guyana set to open new bidding rounds for up to 14 more blocks as this country received around 1 billions of dollars in revenues only in 2022 and with projections by the firm Rystad Energy to reach around $8 billions by 2030 as different projections have Guyana's oil production to reach easily the 1 MMBD in the coming years due mostly to its low break- even cost which is at $28 per barrel.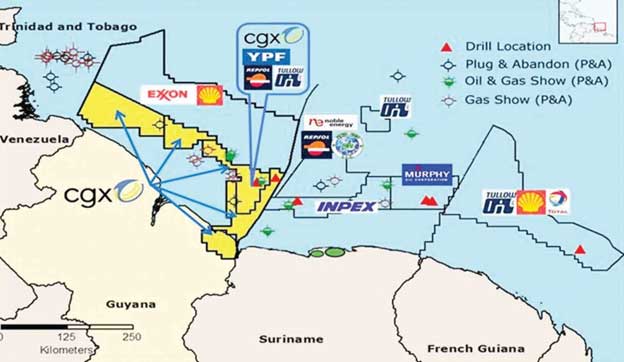 Certainly the case of Guyana has been one major and impressive in a global oil market suffering from new significant discoveries of large reserves and fields and with an urgent need for more massive investments of around 15 trillions of dollars in the middle of an ongoing energy oil and gas crisis but at the same time challenges lie ahead for the country if it wants to adequately capitalize the sudden inflow of oil riches such as creating a clear legal framework to manage this newly arrived industry and sources of in-come for the country, avoid falling into the corruption trap that hugely has impacted other oil industries across South America while also avoiding falling into the so called dutch disease that has been the cause of economic downturn and collapse in countries awash with oil income while abandoning investments in other sectors of the economy and prompting a vicious cycle of endemic corruption and other malaises such as the known case of Venezuela to name one for a country that is now in the eyes of global oil markets and also now being an exporter of oil to Europe averaging over 100.000 barrels per day bringing a new geopolitical dimension for Guyana becoming a new emerging player in the region as an oil producer and exporter.
And with OPEC+ experiencing important problems with underinvestment, lack of enough spare capacity of some of its most prominent members such as Saudi Arabia or the UAE, with the ongoing ban against russian seaborne oil exports and the upcoming ban against russian products exports, Guyana is set to become even more strategic as is set to ramp up production just as it has a low rate of consumption of around 15.000 barrels of oil per day and with a quality of its crude as sweet light of high appeal and demand by refineries, Guyana will continue 2023 surely with an expansion of its oil production and with the challenge of establishing a serious legal framework to raise the position of Guyana and potentially even prompting its membership in OPEC+ as well as the landscape in Latin america for oil companies don't look promising this year.