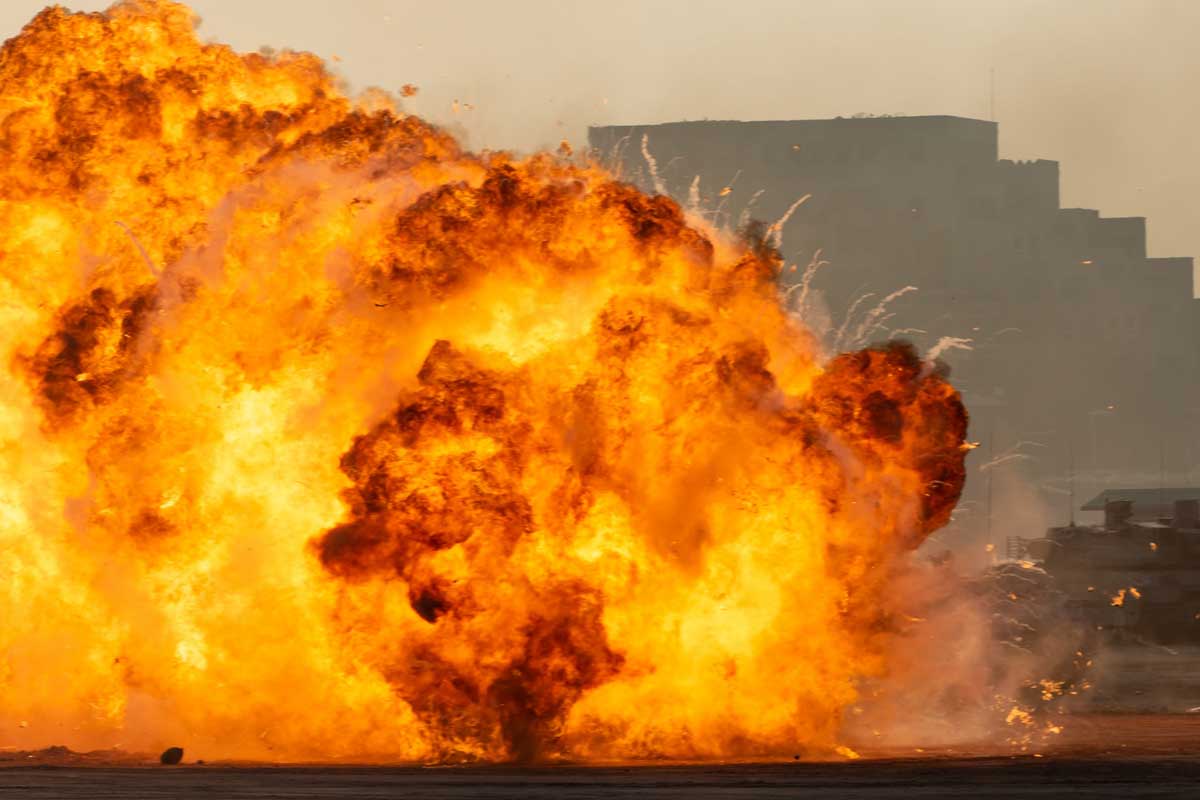 Since the beginning of time, wars and conflicts have been an inextricable part of human history. As such, they have developed in lockstep with the complex interactions between social, political, and technological changes that have shaped our world. Warfare's methods and goals have undergone a significant metamorphosis, moving from crude and simple engagements to ones that are sophisticated and complex. Armed conflicts have expanded to take on global proportions with the advent of destructive world wars, and are no longer restricted to simple tribal or regional skirmishes. In addition to transcending their religious roots, these conflicts are now driven by nationalistic imperatives, giving rise to wars with geopolitical goals.
However, in the fierce race to reach the pinnacle of technological achievement with the introduction of a revolutionary artificial intelligence-powered search engine, issues of veracity and the widespread dissemination of false information are the most crucial issues of our time. These worries are well-founded because the consequences of a poorly functioning search engine could distort reality, worsen the already virulent spread of false information, and cause irreparable harm to the fabric of truth.
Additionally, warfare has changed from being characterized by linear battles to being characterized by maneuver warfare, placing greater emphasis on flexibility, agility, and strategic maneuvering. Armed engagements have evolved from primitive first-generation manifestations to the complex dynamics of fourth-generation warfare. They now involve a variety of unconventional tactics such as asymmetric tactics, psychological operations, and information warfare. Thus, in order to successfully navigate the complexity of the modern battlefield, this evolution calls for both a thorough understanding of the many facets of modern warfare and the adoption of adaptive strategies.
Simultaneously, the concept of fifth-generation warfare, also known as hybrid warfare, denotes a paradigm shift in contemporary military tactics, where the importance of cultural warfare, information warfare, and unconventional methods surpasses the conventional use of brute force on the battlefield, as seen in third- and fourth-generation warfare. India is said to be using 5th-generation warfare strategies against Pakistan to sow seeds of enmity and spread false information in an effort to block Pakistan's progress. Moreover, India is using all of its resources to undermine Pakistani society in a number of different domains. Pakistan to modernize its weaponry and armed forces given the strategic landscape of South Asia, which is becoming more complex and volatile, especially given India's use of fifth-generation warfare against Pakistan.
Relatedly, information warfare has undeniably grown significantly important in the effort to effectively project Pakistan's narrative both domestically and internationally. A well-calibrated national response reinforced by a clearly defined foreign policy is required in light of the double-edged nature of fifth-generation warfare. Modern times see a rapid spread of irregular wars across the spectrum of conflict, amid intensifying great power competition, as the nature of warfare changes continuously.
Modern warfare has undergone a sea change as a result of the advancement of information technology, which makes it easier for nontraditional actors like violent extremist groups to communicate. We find ourselves ensconced in a world permeated by high tension, accompanied by a flood of tweets, ranging from the tumultuous battlefields in Ukraine to a pernicious terrorist attack on mass transit inside the borders of the United States. Our insatiable appetite for knowledge is driven by a desire to protect our safety, show compassion for those who are suffering, or see wrongdoers brought to justice. Despite our desire for knowledge, we must maintain an appropriate level of skepticism toward the sources that provide it. After all, we are living in a time that is frequently referred to as the "golden age of fake news."
Today's conflicts are largely not fought between nation-states and their armies; instead, they are increasingly fought with the mighty arsenal of words rather than with traditional weapons. In recent years, policy discussions, popular discourse, and academic analyses have given priority to a particular breed of weaponry: "fake news" and viral disinformation. In reality, disinformation used in warfare in the digital age may not differ much from other forms of warfare; after all, wars are fought to establish power, with some reaping financial rewards while the most vulnerable suffer the most.
The problem of fake news has gotten worse since the Internet and social networks were invented. The conventional news model, which involved a small number of media outlets run by experienced journalists who interviewed reliable sources and meticulously verified the information before it was published, has been overturned by the current media environment. Today, there are numerous channels, a never-ending stream of messages, and an environment where contradictory information is frequently overlooked that all contribute to the relative ease with which conspiracy theories and rumors can spread. The temptation to cling to a simpler fiction rather than taking on the laborious task of dissecting a more complex reality grows as we are frequently presented with contradictory messages.
Weaponizing Intelligence: How AI is Revolutionizing Warfare, Ethics, and Global Defense
Is artificial intelligence the future of global warfare?" If you find that question compelling, consider this startling fact: The U.S. Army, by leveraging AI in its logistics services, has saved approximately $100 million from analyzing a mere 10% of its shipping orders. In an era defined by rapid technological advances, the marriage of artificial intelligence (AI) with military applications is shaping a new frontier. From AI-equipped anti-submarine warfare ships to predictive maintenance algorithms for aircraft, the confluence of AI and defense technologies is not only creating unprecedented capabilities but also opening a Pandora's box of complex ethical and strategic questions.
As countries around the globe accelerate their investment in the militarization of AI, we find ourselves at a watershed moment that could redefine the very paradigms of global security, warfare ethics, and strategic operations. This article aims to dissect this intricate and evolving landscape, offering a thorough analysis of how AI's ever-deepening integration with military applications is transforming the contours of future conflict and defense—across land, cyberspace, and even the far reaches of outer space.
AI on Land, Sea, and Air – A Force Multiplier
The evolution of AI in military applications is reshaping the traditional paradigms of land, sea, and air warfare. In the maritime realm, take DARPA's Sea Hunter as an illustrative example—an unmanned anti-submarine warfare vessel that can autonomously patrol open waters for up to three consecutive months. This autonomous behemoth promises to revolutionize the cost metrics of naval operations, operating at a daily cost of less than $20,000 compared to $700,000 for a conventional manned destroyer. On land, the U.S. Army's Advanced Targeting and Lethality Automated System (ATLAS) represents another significant leap. By incorporating AI into an automated ground vehicle, the military aims to accelerate target acquisition, reduce engagement time, and significantly lower the logistical and human costs associated with ground operations. The ATLAS program follows earlier attempts like the remotely controlled Military Utility Tactical Truck, essentially taking the next logical step toward full autonomy.
While the United States is making significant advancements in this arena, it is not alone. China's autonomous Type 055 destroyers and Russia's Uran-9 robotic combat ground vehicle are testaments to a global acceleration in AI-based military technologies. The international competition makes the ethical and strategic implications even more intricate
In the aerial domain, the fusion of AI with drones and combat aircraft is reaching new heights—quite literally. The Kratos UTAP-22 Mako Unmanned Combat Aerial Vehicle (UCAV), powered by the Skyborg Autonomy Core System, recently underwent a 130-minute test flight where it demonstrated capabilities ranging from basic flight patterns to intricate combat tasks. This experiment lays the groundwork for the "Loyal Wingman" project—a system that allows a single human pilot to command multiple AI-powered drones, thus expanding the operational reach and impact of aerial units exponentially. Beyond singular platforms, AI is leading to the development of 'swarm intelligence,' where multiple autonomous units, whether they are drones, boats, or land vehicles, can work in concert, amplifying their capabilities beyond the sum of their individual parts.
As these AI applications manifest across different operational theaters, they serve as 'force multipliers,' amplifying the effectiveness of military assets without proportionately increasing the resources invested. They provide higher operational tempo, improve decision-making, and most critically, enhance the speed and accuracy of threat neutralization. However, the enhancement in operational effectiveness comes at the price of navigating complex ethical waters. Decisions that were once the sole purview of trained human operators are increasingly being delegated to algorithms, raising fundamental questions about accountability, the rules of engagement, and even the very nature of conflict.
Cyber Warfare and Information Operations – The Invisible Front
In the evolving landscape of military strategy, cyber warfare has transitioned from a futuristic concept to an immediate reality. The testimonies and actions of top military brass, including Admiral Michael Rogers, former commander of the U.S. Cyber Command, underscore a pressing need for integrating artificial intelligence (AI) into our cyber defensive and offensive operations. According to Rogers, the lack of machine-assisted predictive capabilities essentially puts us "behind the power curve." This is not just a conceptual shift but a strategic imperative. The reactive cybersecurity paradigms of the past, characterized by a so-called "fortress mentality" of building digital walls, have faltered in the face of increasingly sophisticated attacks. It's here that AI steps in as a force multiplier. By enabling a predictive form of cybersecurity that analyzes potential threats in real-time, AI shifts the balance from a defensive posture to proactive engagement. The DARPA Cyber Grand Challenge, which encouraged the creation of AI algorithms for real-time vulnerability assessment and patching, signaled an official acknowledgment of AI's critical role in cyber defense. More to the point, The United States isn't the only player focusing on AI in cyber warfare. Countries like Israel, China, and Russia are investing heavily in AI-based cybersecurity solutions. Russia's focus on information warfare, in particular, presents an evolving challenge that AI aims to mitigate.
But the invisible front of cyber warfare is not just about repelling hacks or malware attacks; it's also about the war on perception and truth. The emergence of AI-assisted deep fake technologies presents a profound challenge, morphing the battleground from just code and firewalls to the manipulation of reality itself. The incident involving U.S. Army Stryker vehicles in Lithuania in 2018 is a case in point, where deep fake technologies were deployed to manipulate public sentiment. While DARPA's Media Forensics program aims to counterbalance this threat by advancing deep fake detection algorithms, the real concern is the adaptive nature of this technology. As AI-based deep fake creation techniques evolve, so must our detection capabilities, creating an endless loop of technological one-upmanship. This arms race in information warfare adds an entirely new dimension of complexity to military strategy.
The amalgamation of AI in cyber warfare and information operations isn't merely an enhancement of existing systems but a radical transformation that augments and, in some cases, replaces human decision-making. This transition mandates not just technological adaptation but an ethical reevaluation of the principles governing warfare and security. In summary, AI isn't an adjunct to the new age of cyber warfare and information operations; it's a sine qua non—a necessity we can neither ignore nor underestimate.
Space and Beyond – The New Frontier in Defense and Security
The Space Force's establishment by the United States in 2019 didn't just signify the birth of a new military branch; it was a formal recognition of space as a contested theater where AI-driven technologies have serious geopolitical implications. In this evolving landscape, AI serves as both a facilitator and a disruptor. While it offers unparalleled capabilities in satellite management, from collision avoidance with floating space debris to optimizing the end-of-life of satellites, it also introduces a new set of vulnerabilities. China's AI-driven simulation of space battles targeting high-value assets, such as SpaceX's Starlink constellation, signals a worrisome development. This isn't merely a rehearsal of theoretical combat scenarios; it's an overt strategic move aimed at nullifying communication advantages facilitated by these satellite constellations.
Yet, the AI-driven militarization of space isn't simply an extension of earthly geopolitics; it fundamentally alters the dynamics of warfare at an orbital level. China and Russia's aggressive tests against high-value American satellites underscore the indispensable role of AI in developing real-time, autonomous countermeasures. With space assets becoming intrinsic to everything from communications to Earth observation, the AI capability to make split-second, data-driven decisions becomes invaluable. For instance, AI can not only preemptively analyze mechanical failures in satellites but also execute automated defensive counteractions against adversarial moves, potentially limiting or preventing damage. In essence, AI isn't merely supplementing our existing capabilities in space; it's rewriting the playbook on how we strategize, implement, and protect space-based assets. As such, the urgency for international norms to regulate this new battleground has never been greater. Without some form of oversight or control, the risk of a disproportionate escalation—a 'space race' in the most dangerous sense—becomes a looming possibility with wide-reaching consequences.
Can We Trust AI on the Battlefield? Ethical Fixes for Tomorrow's Robo-Soldiers
Ethical Frameworks and Human-Centric Decision-Making
One of the most compelling ethical questions surrounding AI in military applications is the notion of decision-making, particularly where lethal force is involved. The debate here often oscillates between a "human-in-the-loop" versus fully autonomous systems. The assumption underpinning the human-in-the-loop model is that humans, endowed with higher-level ethical reasoning, should be the final arbiters in consequential decisions. It provides for diverse human perspectives and enables the AI to serve in an advisory capacity. However, relying solely on human judgment comes with its own set of ethical pitfalls. Humans possess inherent biases and cognitive flaws that can lead to suboptimal or even dangerous decisions, especially in high-stress military situations.
Testing, Transparency, and Explanation Facilities
Robust testing frameworks are another vital component for mitigating ethical issues. Given the complexity of AI software, especially machine-learning models, exhaustive testing is essential to minimize harmful mistakes or unintended lethal actions. However, conventional testing techniques like "fuzzing" are often inadequate for the dynamically learning nature of AI. Approaches like "cross-validation" offer a more robust testing environment for these evolving systems. This takes us to the realm of "explanation facilities," tools designed to illuminate the reasoning pathways of AI algorithms. Explanations can help bridge the ethical chasm by providing transparency and legal justification. Yet, they remain challenging in the context of complex numerical calculations, like those made by artificial neural networks. Furthermore, sensitive or classified data may restrict the transparency of military algorithms, requiring a nuanced approach that respects both ethical and security imperatives.
Automated Ethical Reasoning and Bias Detection
Arguably, the most radical avenue for ethical improvement lies in automated ethical reasoning within the AI systems themselves. The idea is to integrate ethical principles directly into the AI's decision-making algorithms. This could manifest as separate neural networks dedicated to assessing the potential harm to civilians in a given military operation. While these systems would require complex, probabilistic assessments, they offer the promise of objective, data-driven ethical reasoning that is free from the emotional and cultural biases that can skew human judgment. Simultaneously, robust algorithms for detecting and correcting biases—whether based on height, nationality, or other factors—can help in building AI systems that are both effective and ethical.
The increasing integration of AI in military and defense strategies is irreversible, yet there remains a substantial gap in our ethical comprehension of this complex relationship. While no single approach provides a silver bullet, a blend of human-centric models, robust testing frameworks, and automated ethical reasoning can pave the way for a more ethically sound AI-powered defense landscape.

Conclusion
In sum, the fusion of artificial intelligence with military applications is a double-edged sword that enhances capabilities while simultaneously raising moral and strategic dilemmas that cannot be easily resolved. Whether it's optimizing traditional warfare on land, sea, and air, fortifying the invisible fronts in cyber and information spaces, or pushing the envelope in the uncharted territories of outer space, AI is both an enabler and a disruptor. It accelerates operational effectiveness but leaves us navigating a labyrinth of ethical, legal, and strategic implications.
The real challenge lies not in harnessing the powers of AI for military advancement but in governing its usage to prevent strategic imbalances and ethical lapses. This need for governance becomes more critical as we stand at the brink of an AI-induced transformation that could redefine the very nature of conflict and security. With the accelerating pace of AI militarization, the window for establishing ethical norms and international regulations is rapidly closing. It's not just about who has the most advanced AI but about how we manage this transformative technology responsibly.
As the global competition intensifies over the integration of artificial intelligence into military operations, the focus must extend beyond merely adopting this technology. The critical issue at hand is not just whether AI will define the future of warfare, but how we can navigate this future in an ethical and responsible manner. This pivotal moment calls for a collective approach to decision-making that transcends individual national agendas. The decisions taken today are set to sculpt the geopolitical realities of tomorrow. Therefore, it's imperative for policymakers, ethicists, and military experts to come together now to address the complex ethical and strategic dimensions of AI in warfare, before we reach an irreversible tipping point.
U.S. Sanctions and Russia's Weapon Systems: A New Game in the Quest of High-Tech Microchip
Modern warfare places a great deal of emphasis on semiconductors and microchips because they are the fundamental building blocks for a wide range of military technology, such as drones, radios, missiles, and armored vehicles. Russia has consistently used modern weapons in its military operations against Ukraine since the start of the war between Russia and Ukraine in 2022, thereby prolonging the ongoing war.
In the year 2022, Moscow initiated a comprehensive military intervention in Ukraine, while the nation of Russia saw an increase in the importation of semiconductor technology, with a value of $2.5 billion, compared to $1.8 billion in the preceding year of 2021. Microprocessors originating from Western countries are used in smartphones and laptops, which are progressively being integrated into Russia's military inventory. Moscow has been procuring a higher quantity of superior Western technology by using intermediate nations, such as China.
The Russian military incorporates a diverse range of foreign-manufactured components throughout its 27 advanced military systems. These systems include various technologies such as cruise missiles, communications systems, and electronic warfare complexes. A significant majority, exceeding two-thirds, of the foreign constituents detected in Russian military equipment may be traced back to corporations based in the United States. Additionally, a portion of these components are sourced from Ukraine, as well as other allied nations like Japan and Germany. Russia continues to successfully import the essential Western-manufactured components required for its military operations. Nevertheless, the influx of microchips into Russia continues via trade lines through China, Turkey, the United Arab Emirates, and other nations, contributing to the expansion of the country's prewar inventories.
China is the primary supplier of microchips and other technological components used in critical military equipment to Russia. This represents a substantial increase compared to the same period in 2021 when Chinese sellers accounted for just 33% of the imports. Furthermore, Moscow has seen a notable rise in its imports from nations situated in the Caucasus, Central Asia, and the Middle East. In 2022, there was a notable increase in exports to Russia from Georgia, Armenia, and Kyrgyzstan. This rise mostly consisted of automobiles, airplanes, and warships, which played a key role in driving the overall growth. Simultaneously, there was an increase in exports from the European Union and the United Kingdom to these nations, although their direct commerce with Russia saw a significant decline.
The increasing trade flows have led Western partners to advocate for expanding the number of countries participating in sanctions or imposing secondary restrictions on specific companies operating inside those countries to suppress Russia's military capabilities. In June 2023, the European Union implemented a fresh set of sanctions that include an anti-circumvention mechanism aimed at limiting the trade, provision, or export of specifically sanctioned commodities and technology to certain third nations serving as intermediaries for Russia. In addition, the aforementioned package expanded the roster of corporations that directly endorse Russia's military by including 87 newly incorporated entities across several nations, including China, the United Arab Emirates, and Armenia. Furthermore, it imposed limitations on the sale of 15 specific technological goods that are often found in Russian military apparatus deployed in Ukraine.
The use of microchips originating from the United States is contributing to the enhancement of Russia's military capabilities, even amidst the ongoing war between Russia and Ukraine, facilitated via clandestine channels including intermediate nations like China. American technological companies like Intel, Micron Technology, Texas Instruments, and others produce a portion of these microchips. The United States and other Western countries have put restrictions in place to make it more difficult for Russia to trade certain technologies.
While the Russia-Ukraine war is ongoing, Hong Kong ranked as the second-largest exporter of microchips to Russia in terms of monetary value and as the third-largest exporter in terms of transaction volume. In 2022, Finland ranked as the fifth-largest supplier of microchips to Russia in terms of dollar value and Germany ranked as the third-most significant supplier of microchips to Russia in terms of dollar value and held the fifth position in terms of the number of transactions conducted. Germany is a significant supplier of semiconductor equipment to the Russian market. In 2022, the Netherlands and Estonia held the position of being the fourth-largest exporters of microchips to Russia in terms of dollar value. ASML Holding NV, a prominent Dutch company, is globally recognized as the foremost provider of lithography equipment, a critical component in the production of sophisticated microchips.
Subsequently, the United States has implemented sanctions on Russia, which include prohibiting the shipment of American semiconductors, as well as items manufactured using American equipment, software, and designs, to Russia. The United States has engaged in collaborative efforts with its allied nations, including the European Union, Japan, Australia, the United Kingdom, Canada, and New Zealand, to effectively enforce such limitations. The United States Commerce Secretary has issued a warning over the potential termination of Chinese firm's access to essential American technology required for chip manufacturing in the event of their non-compliance with the ban on chip supply to Russia. The United States has also called upon China to participate in international endeavors aimed at exerting pressure on Russia to withdraw from Ukraine. The United States employs diverse methodologies to oversee and trace the transportation of chip shipments that have the potential to reach Russia.
The sanctions imposed on Russia have had a substantial and diverse effect on its military capability. To develop modern weapons, Russia is heavily dependent on purchasing a variety of high-tech goods from Western nations, such as microchips, engines, composite materials, and semiconductor machinery. The implementation of Western sanctions has limited Russia's ability to produce and maintain its modern military hardware, including aircraft, missiles, drones, tanks, and radar systems. Russia's military-industrial complex, which includes more than 800 businesses engaged in defense and related industries, is largely responsible for the country's defense capabilities. Western sanctions have been imposed on several companies, including Rostec, Mikron, Tactical Missiles Corporation, Sukhoi, MiG, and Kalashnikov Concern. The implementation of these sanctions has resulted in the cessation of their ability to get funding, access technological advancements, and engage in market activities, leading to a decline in their overall financial gains and profitability.
The Russian economy and energy industry exhibit a significant reliance on the exportation of oil and gas to Western countries. The industries have also been subject to Western sanctions, which have imposed limitations on their ability to access financial markets, technology, and services. This resulted in a decrease in their ability to produce new weapons. Additionally, this has led to a decline in the government's foreign exchange reserves, both of which are essential for funding its military activities and defense expenditures. Also, these sanctions have resulted in the isolation of Russia from the international community since they have curtailed Russia's ability to engage in diplomatic, political, and security collaborations with other nations. Russia's influence and power in regional and international affairs have decreased, which has also made it more vulnerable to pressures and challenges from abroad. Furthermore, this has undermined Russia's perceived credibility and standing as a dependable and trustworthy collaborator.
In conclusion, the imposition of Western sanctions has effectively sent a resolute and unified message from Western nations in reaction to Russia's aggressive actions against Ukraine. However, there is little proof that these sanctions have caused Putin to behave differently or withdraw from Ukraine. Hence, the efficacy of the imposed restrictions in restraining Russia's military aspirations remains uncertain.
Three Sahelian Interim Military Leaders Sign Security Pact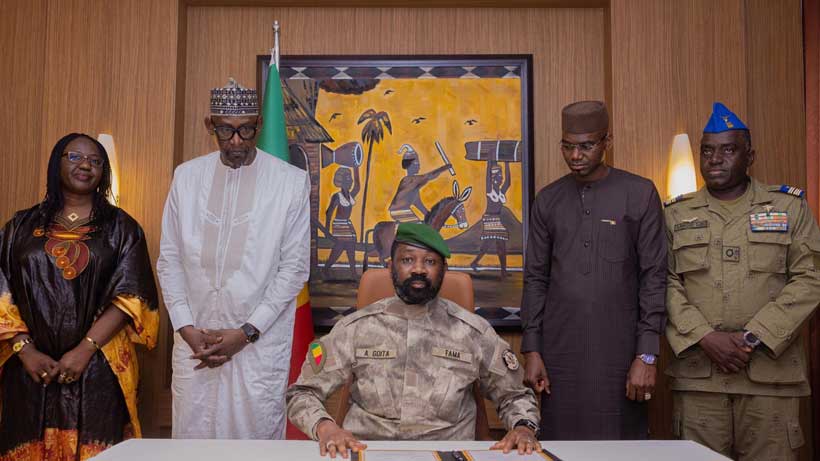 Burkina Faso, Mali and Niger have taken an admirable strategic step by signing trilateral security pact in collective efforts to battle extremism and terrorism threats in the Sahel region. It is an opportunity, especially this critical moment, to work relentless for peace and tranquility, a necessary factor that could determine their sustainable development.
These three Sahel states are under the interim military administration. The Economic Community of West African States (ECOWAS), the 15-member regional bloc, has put political pressure on them to return to constitutional democracy since after removing the elected civilian governments. The African Union (AU) and the ECOWAS have jointly suspended their membership, and further imposed stringent sanctions on them.
Backed by the AU, ECOWAS has even gone as far as threatening the use of force to reinstate constitutional governance in Niger. In response, Mali and Burkina Faso have solemnly pledged to extend their support to Niger if it is eventually attacked by ECOWAS Standby Forces. Burkina Faso, Mali and Niger also have considerable strain on their relationships with neighboring states and international partners.
Nevertheless, in a significant development on September 16th, three West African Sahel states came together to ink a security pact. Currently grappling with formidable challenges of combating Islamic insurgents associated with groups like al Qaeda and the Islamic State (ISIS), this accord offers the possibility to tackle any rebellion or external aggression.
The security pact, known as the Alliance of Sahel States (ASS), unequivocally indicated that an assault on the sovereignty or territorial integrity of any of its signatory nations would be deemed an aggression against all parties involved. The agreement outlined their unwavering commitment to provide assistance, either individually or collectively, and further categorically stipulated the deployment of armed forces.
The signed charter binds the signatories to assist one another – including militarily – in the event of an attack on any one of them. "Any attack on the sovereignty and territorial integrity of one or more contracting parties shall be considered as an aggression against the other parties and shall give rise to a duty of assistance… including the use of armed force to restore and ensure security," it states.
Malian leader, Col. Assimi Goita, announced the establishment of the Alliance of Sahel States through his social media account. He emphasized their primary objectives of establishing a framework for collective defense and mutual assistance. Its aim is to "establish an architecture of collective defence and mutual assistance for the benefit of our populations", he wrote.
The Liptako-Gourma region – where the Mali, Burkina Faso and Niger borders meet – has been ravaged by jihadism in recent years. A jihadist insurgency that erupted in northern Mali in 2012 spread to Niger and Burkina Faso in 2015.
"This alliance will be a combination of military and economic efforts between the three countries. Our priority is the fight against terrorism in the three countries," Mali's Defence Minister Abdoulaye Diop also said after the signing the document.
Mali and Burkina Faso have vowed to come to Niger's aid if it is attacked. "Any attack on the sovereignty and territorial integrity of one or more contracted parties will be considered an aggression against the other parties," according to the charter of the pact, known as the Alliance of Sahel States.
The three French-speaking West Africa states were previously members of the France-backed G5 Sahel alliance joint force, (with with Chad and Mauritania) initiated in 2017 to combat Islamist extremist groups in the region. However, Mali withdrew from this alliance following its own military coup, and relations between France and these three Sahel states have severely deteriorated. France has been compelled to withdraw its military presence from Mali and Burkina Faso, leading to a tense standoff with the junta that assumed power in Niger after requesting the withdrawal of French troops and its ambassador. France has firmly declined to recognize the authority of the interim military governments.
The situation in the Sahel region including Burkina Faso, Chad, Mali, Mauritania and Niger still remains extremely difficult with internal conflicts, extremism and militant attacks, economic development is undeniably at its lowest points in history. In fact, Sahelian states are consistently looking for strategic ways to effectively address the sustainable development in the region. These three French-speaking states and the entire Sahel region are the most volatile and have large impoverished population in Africa.
The African Union, Economic Community of West African States (ECOWAS), the European Union (EU), the United States and the United Nations (UN) are all asking for quick transition to civilian governments, and that efforts are taken to resolve outstanding issues relating to sustainable development and observing strictly principles of democracy in these French-speaking states in West Africa.