Newsweek: "Putin scores a win in Turkey's election"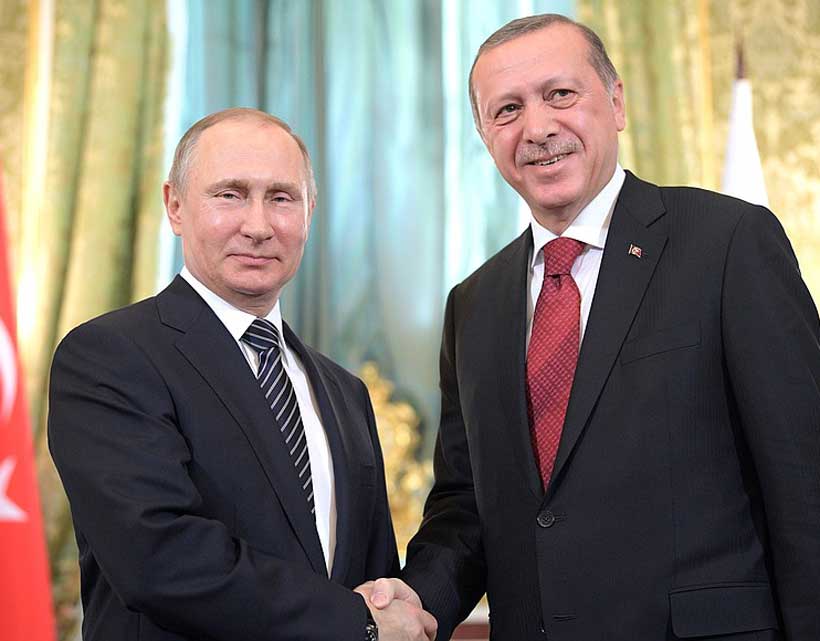 Russian President Vladimir Putin secured a victory in Turkey's presidential election results on Sunday, writes 'Newsweek'.
Turkish President Recep Tayyip Erdoğan appeared to beat back a challenge from Kemal Kilicdaroglu, the head of the center-left Republican People's Party (CHP), winning his third five-year term since taking office in 2014. Erdoğan claimed victory on Sunday, telling supporters in a speech, "I thank each member of our nation for entrusting me with the responsibility to govern this country once again for the upcoming five years," the Associated Press reported.
He ultimately prevailed by roughly 5 percentage points, according to unofficial data from state-run Anadolu Agency. Turkey's election has been defined by high voter turnout, but has also led to questions about the fairness of Turkey's electoral system.
Erdoğan's victory is viewed as good news for Putin, whose relations with many world leaders grew strained after he launched the invasion of Ukraine last February. Many governments viewed the "special military operation" as lacking justification and a violation of international norms, leading to swift backlash and economic sanctions against Moscow.
Turkey, however, has taken an important role in the conflict, often serving as a mediator between Kyiv and Moscow. Erdoğan himself has walked a fine line between support for Ukraine while also maintaining close diplomatic relations with Russia. Both countries lie along the Black Sea, so maintaining strong economic ties has remained a priority for both governments.
Erdoğan's victory likely guarantees a continuation of the status quo.
Notably, Turkey's actions in the North Atlantic Treaty Organization (NATO) have aligned with the interests of Russia. Turkey has previously blocked bids from Sweden and Finland to join NATO, which would bring the alliance to Putin's doorstep. The Russian leader has also opposed the expansion of NATO, an issue that has sparked tensions with the West.
Putin congratulated Erdoğan on his victory, writing in a statement that he appreciates the Turkish president's "personal contribution to strengthening friendly Russian-Turkish relations, mutually beneficial cooperation in various areas."
"Winning the election was a natural result of your selfless work as head of the Republic of Turkey, evidence of the Turkish people's support for your efforts to strengthen the state sovereignty and the pursuit of an independent, independent foreign policy," the Russian leader wrote.
Erdoğan has previously touted his relationship with Putin during his reelection bid.
"We are not at a point where we would impose sanctions on Russia like the West have done. We are not bound by the West's sanctions," he told CNN earlier this month. "We are a strong state and we have a positive relationship with Russia."
UN: A divided world faces a huge number of problems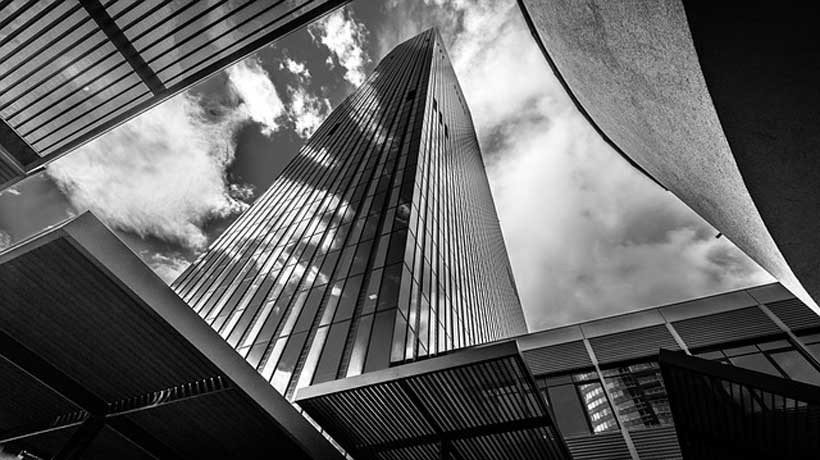 The current session of the UN General Assembly has shown that the United States will not force the Global South to take its position in the Ukrainian conflict, writes 'An Nahar' from Lebanon. Developing countries refuse to condemn Russia and demand an end to hostilities, as they suffer from their consequences.
UN Secretary-General António Guterres said during his speech that humanity faces enormous challenges, from a worsening climate emergency to escalating conflicts, a global cost of living crisis, growing inequality and technological changes.
This is a huge number of problems that a divided world faces. The role of the United Nations has noticeably declined. There is intense competition between the West, led by the United States, on the one hand, and developing countries, led by China, on the other. More than ever, Beijing wants a say in international affairs commensurate with the size of the Chinese economy that has boomed over the past four decades.
The United States appears to be facing an almost impossible task of forging a global consensus on isolating Russia internationally over the situation in Ukraine. Most developing countries have a different view of the Ukrainian conflict, which has been going on for 18 months. They demand a political solution and an immediate cessation of hostilities.
Washington is trying in vain to pressure countries in the Global South to accept a Western strategy based on the idea that the problem will be solved when Russia suffers a crushing defeat in Ukraine. There are leaders in the world who strongly disagree with this approach. Brazilian President Luiz Inacio Lula da Silva, for example, accused the United States of encouraging the conflict in Ukraine. In addition, developing countries have not joined Western sanctions against Russia, despite the pressure put on them.
While Western powers are able to pay for aid to Ukraine, developing countries are suffering from continued hostilities and cannot bear the costs of the conflict. The longer the fighting goes on, the more states in the Global South insist on a ceasefire.
Developing countries are increasingly concerned about pressing issues such as food security, climate change, inequality and the debt crisis. It won't be long before the consequences of the collapse of the Black Sea grain deal between Russia and Ukraine begin to show in poor countries.
Although the regular session of the UN General Assembly allows for discussion of pressing global problems, disagreements have arisen among participants regarding how to solve them.
The division of countries into international blocs competing with each other has led to the fact that the United Nations has practically lost its global significance and demonstrated ineffectiveness in resolving international conflicts.
The more tensions between states escalate, the weaker the role of the United Nations becomes.
The intensity of global competition is preventing the United Nations from fulfilling the mission for which it created.
The world divided into opposing camps, each of which is looking for the best way to protect its national interests. It is not easy to find a way to salvation or get out of a dead end, 'An Nahar' writes.
The timing of the Canadian assault on the Indian foreign and security policy establishment over the killing of Hardeep Singh Nijjar is not in doubt, stresses M.K. Bhadrakumar, Indian Ambassador and prominent international observer.
It surged in the aftermath of the G20 summit, which witnessed a crushing diplomatic defeat for the US in front of the world community, where the host country India navigated skilfully to scuttle any negative reference to Russia in the event's final document.
The Nijjar affair can be metaphorically called the grapes of wrath. The liberal western world so far granted Modi government a free passage through their rules-based order. India could preach, but wasn't accountable for its own practice. All good things come to an end.
Canada has a record of acting as a surrogate of the US. As regards Nijjar file, a Canadian official familiar with the matter told Associated Press that Prime Minister Justin Trudeau's allegation against Modi government was based on surveillance of Indian diplomats in Canada, including intelligence provided by a "major ally" who is a member of the infamous Five Eyes, the secretive intelligence network of Anglo-Saxon countries — Australia, Britain, Canada, New Zealand and the US.
Interestingly, Britain scrambled to distance itself from Trudeau's tirade, while a Canadian source told Reuters that Canberra and Washington collaborated "very closely" to examine evidence indicating potential Indian involvement in Nijjar's killing.
Trudeau spoke in the Canadian parliament after consultations with President Biden, and the White House reaction on the same day was highly supportive. The White House National Security Council spokesperson Adrienne Watson said, "We are deeply concerned about the allegations referenced by Prime Minister Trudeau. We remain in regular contact with our Canadian partners. It is critical that Canada's investigation proceed and the perpetrators be brought to justice."
Watson works under NSA Jake Sullivan who reports directly to Biden. It is unlikely that Sullivan made this a personal issue with the Indian security establishment. Simply put, the buck stops at the Oval Office.
Indeed, after Watson's initial remark, the White House quickly switched to megaphone diplomacy with its highflying strategic communications chief John Kirby, a retired rear admiral, confirming for record that Biden is "mindful of the serious allegations" by Trudeau "and they are very serious… and we support Canada's efforts to investigate this. We believe a fully transparent, comprehensive investigation is the right approach so that we can all know exactly what happened, and of course we encourage India to cooperate with that."
Such gratuitous lecturing is sheer hypocrisy by a country that freely resorts to assassination as a tool in its foreign policy. Who killed Qassem Soleimani?
Alas, in the face of this bullying, Delhi's reaction has been pusillanimous, to say the least — as if it is stone deaf and couldn't hear what the White House officials were saying.
One would like to believe that India, with high values in global governance and deep respect for national sovereignty — apart from being the flag carrier of the concept of 'Vasudhaiva Kutumbakam' ('The World is One Family') — would never descend to such a heinous level as to practice murder in its statecraft.
The Indian government should strategise through its present predicament. After all, as a key member of the western alliance and a close ally of the US, Canada plays an important role for the US in establishing a so-called rules-based international order and promoting the Indo-Pacific Strategy. And "rules-based order" and Indo-Pacific Strategy are Indian mantras too.
Biden himself may come under cloud very soon and be battling for his political career. Inviting him to be the chief guest at the Republic Day with an additional frill thrown in by way of a QUAD summit to placate him is pointless. Once the Canadian investigation runs its course, Ottawa may put on the public domain further accusations passing for "evidence" — and that could happen at some point closer to our general election. All in all, the big question is, what is it that the US is really upto.
Assad-Xi Jinping meeting: China-Syria strategic partnership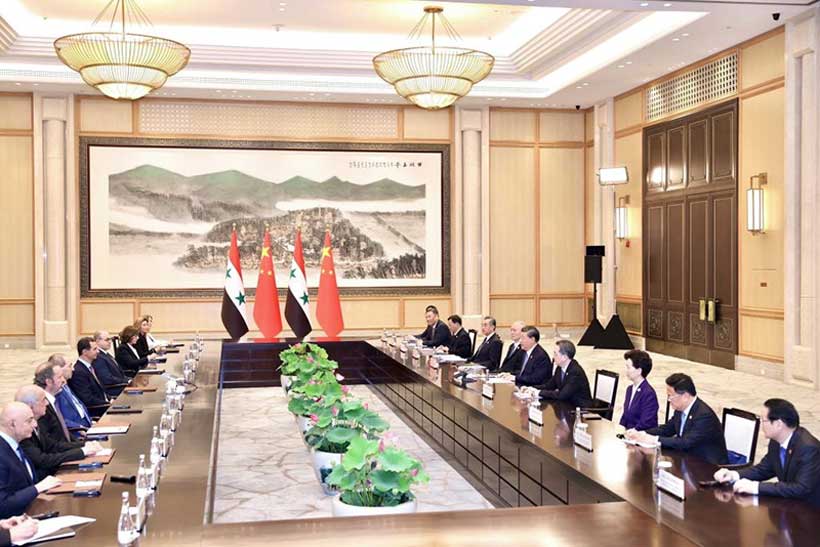 Chinese President Xi Jinping and Syrian President Bashar al-Assad on Friday jointly announced the establishment of a China-Syria strategic partnership, Chinese Xinhua Net informs.
The two presidents met in the eastern Chinese city of Hangzhou, Zhejiang Province, ahead of the opening of the 19th Asian Games.
Syria was one of the first Arab countries that established diplomatic relations with the People's Republic of China, and was one of the countries that co-sponsored the resolution to restore the lawful seat of the People's Republic of China in the United Nations, Xi said.
Over the 67 years since the establishment of diplomatic relations between the two countries, the China-Syria relationship has stood the test of changes in the international situation, and their friendship has grown stronger over time, he said.
Xi noted that the establishment of the strategic partnership will be an important milestone in the history of bilateral ties.
China is willing to work with Syria to enrich their relationship and continuously advance the China-Syria strategic partnership, Xi said.
Xi emphasized that China will continue to work with Syria to firmly support each other on issues concerning the two sides' respective core interests and major concerns, safeguard the common interests of both countries and other developing countries, and uphold international fairness and justice.
China supports Syria in opposing foreign interference, rejecting unilateralism and bullying, and safeguarding national independence, sovereignty and territorial integrity, he said.
China supports Syria in conducting reconstruction, enhancing counter-terrorism capacity building, and promoting a political settlement of the Syrian issue following the "Syrian-led, Syrian-owned" principle, Xi said.
China also supports Syria in improving its relations with other Arab countries and playing a greater role in international and regional affairs, he added.
China is willing to strengthen Belt and Road cooperation with Syria, increase the import of high-quality agricultural products from Syria, and jointly implement the Global Development Initiative, the Global Security Initiative and the Global Civilization Initiative to make active contributions to regional and global peace and development.
Assad said that in international affairs, China has always aligned itself with international fairness and justice, and upheld international law and humanitarianism, playing an important and constructive role.
Syria highly appreciates and firmly supports the Belt and Road Initiative, the Global Development Initiative, the Global Security Initiative and the Global Civilization Initiative, and will actively participate in them, Assad added.
The Syrian side thanks the Chinese government for its invaluable support to the Syrian people, firmly opposes any act of interference in China's internal affairs, and is willing to be China's long-term and staunch friend and partner, he said.
Assad said Syria will take the establishment of the Syria-China strategic partnership as an opportunity to strengthen bilateral friendly cooperation and step up their communication and coordination in international and regional affairs.
After the talks, the two heads of state witnessed the signing of bilateral cooperation documents in areas including Belt and Road cooperation, and economic and technological cooperation.