Deciphering Quad's expanding agenda in the Indo-Pacific
Here, I try to throw light on Quad's expanding regional agenda and where it is headed to.
The third in-person Quad summit took place in Japan's Hiroshima, the rendezvous of this year's G7 summit. Following each annual summit, regional observers eagerly look forward to big announcements from the four-nation grouping, via its joint statements. The Hiroshima statement mentions, "Harnessing our collective strengths and resources, we are supporting the region's development, stability, and prosperity through the Quad's positive, practical agenda. Our work is guided by regional countries' priorities and responds to the region's needs."
Every Quad summit since 2021 had seen new initiatives or collaborative ventures being announced that are further carried ahead in the subsequent years. At the same time, Quad has also supported the leadership role of regional institutions of the broader Indo-Pacific region such as the Association of Southeast Asian Nations (ASEAN), the Pacific Islands Forum (PIF), and the Indian Ocean Rim Association (IORA). The grouping also welcomed the Indo-Pacific vision statements of these organisations and also of extra-regional countries and organisations like the European Union (EU).
An oft-repeated sentence in all Quad joint statements is "the promotion of free, open and inclusive Indo-Pacific with respect for a rules-based order and international law", which hints that the grouping has a "balancing character" against coercive behaviour by any regional power. However, the tangible areas of cooperation of the grouping had kept hard security at bay, until recently.
Even though the Quad is not a collective security alliance, the meeting of military chiefs of the four Quad nations in California, United States, earlier this month, in a clear indication of enhanced security cooperation with apparently China in mind. Moreover, they have participated in the Malabar naval exercise four times – in 2007, 2020, 2021 and 2022. Later this year, Australia will host the 2023 edition of Malabar naval exercise. Meanwhile, Quad's Maritime Security Working Group held its first meeting in Washington earlier this year.
Hiroshima 2023
The Hiroshima joint statement further goes on to mention, "We seek a region where no country dominates and no country is dominated – one where all countries are free from coercion, and can exercise their agency to determine their futures. Our four countries are united by this shared vision." However, this vision has its limitations as long as Quad exists short of an alliance. At the same time, the grouping has charted for itself a wide-ranging area of mutual cooperation.
A new 'Quad Partnership for Cable Connectivity and Resilience' was launched in Hiroshima, recognising the urgent need to support quality undersea cable networks in the Indo-Pacific. The leaders, via the joint statement, also announced a 'Clean Energy Supply Chains' initiative and its allied set of principles for accelerating the region's clean energy transition along with a fellowship scheme to boost infrastructure expertise across the region.
The Quad has agreed on a set of principles to augment cybersecurity in the Indo-Pacific along with a new Space Working Group to explore avenues to deliver Earth Observation data and other space-related applications to assist nations across the region to strengthen climate early warning systems and better manage the impacts of extreme weather events. The existing Vaccine Partnership has been elevated to a broader Health Security Partnership.
In a first in the Pacific, the Quad has agreed to join hands with the island nation of Palau to establish Open Radio Access Networks (Open RAN), with the aim of expanding and modernising telecommunications networks in the crucial subregion. A private sector-led Quad Investors Network (QUIN) is also launched to facilitate investments in strategic technologies such as clean energy, semiconductors, critical minerals, and quantum computing.
The first Quad summit
Two years ago, the White House became the venue for the first in-person Quad leaders' summit. In fact, there was one more summit-level meeting that year, in March, but in virtual mode. The joint statement following the March 2021 virtual summit was titled "Spirit of the Quad". It saw the initiation of three key working groups – on vaccine distribution, on climate change, and on critical & emerging technologies – the earliest areas of cooperation since the grouping was elevated to the apex level.
Other than the initiation of the aforementioned working groups, the leaders also pledged "to respond to the economic and health impacts of Covid-19 and address shared challenges in the cyber space, counterterrorism, quality infrastructure investment and HADR…" Moreover, the March 2021 summit specifically took cognizance of issues such as the role of international law in the maritime domain, challenges to rules-based order in the East and South China Seas, de-nuclearization of North Korea and the need for restoring democracy in junta-ruling Myanmar.
In September 2021, in their first in-person deliberations, Quad leaders extensively looked into how vaccine distribution progressed since their first virtual meeting six months ago and what more can be done in this regard by making use of each other's comparative advantages and strengths. The leaders also launched the 'Quad Principles on Technology Design, Development, Governance, and Use' to guide responsible innovation, a fellowship scheme for science and technology students from Quad nations, and has enhanced partnership in the fields of infrastructure, cybersecurity, outer space and humanitarian support to Afghanistan.
Tokyo 2022
March 2022 saw an emergency virtual meeting by Quad leaders in the wake of the Ukraine crisis. Two months later, in May, they met in person in Tokyo and called for demonstrating that Quad is "a force for good, committed to bringing tangible benefits to the region". In this regard, they launched a new partnership for maritime domain awareness in the Indo-Pacific (IPMDA) to work with regional partners in combating illegal fishing and responding to disasters by making use of information fusion centres in the Indo-Pacific sub-regions of the Indian Ocean, Southeast Asia, and the Pacific Islands and by providing near-real-time, integrated and cost-effective data to maritime agencies in these sub-regions.
Tokyo also saw the announcement of a new HADR partnership to further strengthen collaboration in effectively responding to disasters in the region. A new working group on counterterrorism was announced during the Quad foreign ministers' meeting in March 2023 in New Delhi, India. The next summit was scheduled to be held in Sydney, Australia. But the U.S. President's inability to attend the summit led to its cancellation and instead the four leaders met in Hiroshima on the sidelines of the G7 summit. Japan, thus, got to host two Quad summits in a row. In 2024, it will be India's turn to host the leaders' summit.
All Quad countries, along with several other regional countries, chose to participate in the U.S.-led Indo-Pacific Economic Framework for Prosperity (IPEF) launched in Tokyo, just ahead of the 2022 Quad summit. This gives Washington an expanded economic footprint in the region at a time when Chinese economic engagement with regional actors is increasing steadily and progressively. 2022 also saw the launch of the 'Quad Climate Change Adaptation and Mitigation Package' (Q-CHAMP) and the 'Quad Clean Hydrogen Partnership'.
A partnership that predates its name itself
In fact, cooperation among the United States, India, Australia and Japan predates the idea of the Quad itself. Nearly two decades ago, when the Boxing Day tsunami of 2004 wreaked havoc in the Indian Ocean, the four nations came together to coordinate humanitarian assistance and disaster relief (HADR) operations by forming a 'Tsunami Core Group' and acted as first responders to the looming humanitarian crisis and their collective effort continued till mid-January 2005 before handing over the mission to the United Nations.
So, even before the idea of Quad as such took shape, the four-nation grouping had its first item in its agenda – HADR. The phrase "Quadrilateral Security Dialogue" (QSD), predecessor of the present-day Quad, and the maritime construct of "Indo-Pacific" made its entry into the politico-diplomatic lexicon only three years later, led by the persuasive leadership of former Japanese prime minister Shinzo Abe. The first QSD was held in May 2007 on the sidelines of the ASEAN Regional Forum in Manila, only to get disbanded the following year due to Australia's withdrawal and differences on what the grouping's aims and objectives should be in the years ahead.
Australia backed off primarily due to the diplomatic pressure and the prospect of a promising economic relationship with a rising China. Together with unfavourable regime changes in Canberra and Tokyo in the end of 2007, the Quad remained in a dormant state for about a decade from 2008 to 2017. The fact that China successfully managed to persuade Australia to come out of the Quad just a year after its formation says a lot about Beijing's negative perceptions of the grouping, or to be precise the perception of it as a U.S.-led attempt to build an "Asian NATO" to contain its rise.
The grouping was given a new life in 2017 when the Donald Trump Administration in the United States (January 2017 to January 2021) took a special interest in reviving it by initiating a working group for 'consultations on issues of common interest in the Indo-Pacific region'. From November 2017 to March 2021, senior officials from the four Quad nations met seven times and the foreign ministers met thrice, one each in 2019, 2020, and 2021 respectively.
The grouping was finally upgraded to the summit-level in 2021 and then it was followed by in-person summits in 2021, 2022 and 2023, while the foreign ministers continue to meet annually as a precursor to the summits. Today, there is a greater convergence of interests between the Quad partners, which is unlikely to shrink any time soon. The disruptive nature of China's rise has been a constant factor that has influenced, and is influencing, agenda-setting within the grouping, particularly as a "balance of power" mechanism.
Today, the broad range of areas where the Quad countries cooperate on, as mentioned earlier, happen to be arenas of wider strategic competition with Beijing, even though they don't wish to acknowledge it explicitly. Taking into account the current trajectory of conflictual nature of geopolitics in the Indo-Pacific, these areas of cooperation and arenas of competition are poised to expand further and further with time. However, what needs to be seen in the years to come is the extent to which Quad dares to tread when it comes to the realm of hard security outside of a formal alliance.
Rising Powers in the Asia-Pacific: Implications for Global Stability
For a long time, the Asia-Pacific region has been the epicentre of rising economic growth and strategic influence, gradually changing the dynamics of world power. Because of the rapid rise of China and India, the increasing influence of ASEAN, and the steady comebacks of Japan and South Korea, its significance has only increased in the twenty-first century. Given the ongoing challenges to the traditional dominance of Western powers, this shifting environment raises intriguing questions about the future of global stability.
The rise of China stands out as the most significant factor in this dynamic. China's phenomenal economic growth, along with its more assertive foreign policy and military modernization, have propelled it to the forefront of the global stage since the economic reform policies of the late 1970s. The Belt and Road Initiative, companies like Alibaba, and military actions in the South China Sea are just a few of the ways it is increasingly challenging the US-led international order. Due to its second-largest economy, China's actions and policies have a significant impact on the stability of the world.
Despite lagging behind China, India is another growing Asian power that has started on a path of significant economic expansion. It has the potential to play a significant role in the region due to its distinct demographic dividend, IT industry, and geostrategic location. However, it problems a insufficiency in infrastructure, social inequality, and enduring poverty hinder its potential and raise the level of complexity in the power dynamics of the area.
In the midst of this power shift, Japan and South Korea, two countries that are already major global players, have been rearranging their positions. The balance of power in the region is greatly influenced by their advanced economies, sizable military capabilities, and strategic alliances with the US. A crucial role in the region is also played by the Association of Southeast Asian Nations (ASEAN). A seat at the table for shaping the future of the region has been secured for ASEAN despite its diversity and disparities thanks to its prominence in regional diplomatic structures like the East Asia Summit and the ASEAN Regional Forum.
Additionally crucial to this shifting dynamic are the Pacific powers, particularly the US and Australia. While the US remains the most powerful country on the planet, it must deal with these new regional forces, necessitating a reevaluation of its Asia-Pacific strategy. Australia's position has changed as well as a result of its efforts to strike a balance between its regional economic interests and its long-standing alliances. The effects of these changing power dynamics on world stability are significant. First, there is a chance that a power vacuum in the area could cause unrest and possible conflict. This is amply demonstrated by the South China Sea dispute, in which numerous nations are asserting territorial claims and frequently supporting them with military showdowns.
Second, the spread of power might also create more significant opportunities for cooperation and multilateralism. However, much of this depends on these countries' ability to manage disagreements and rivalries as well as build inclusive and effective regional institutions. Thirdly, these changes might result in new economic structures that reshape international economic relationships and structures. The Regional Comprehensive Economic Partnership (RCEP), a free trade agreement involving 15 countries in the Asia-Pacific, is a good illustration of this. Last but not least, the changes in power may significantly affect international institutions and norms. As Asia-Pacific nations gain power, they may try to change international institutions so that they better represent their interests.
The main worry, however, is that these changes could result in more tensions and conflicts as countries with various political ideologies and systems compete for influence. For instance, the rivalry between the US and China goes beyond merely a contest of political and economic power. Several things are essential to preserving global stability in the midst of these shifting power dynamics. First and foremost, it is essential to promote a cooperative regional order based on mutual respect and gain. Second, preventing the escalation of regional disputes into conflict requires ensuring that they are settled peacefully in accordance with international law. Third, safeguarding and bolstering regional and international institutions will be essential for preserving stability and offering forums for communication and cooperation.
In conclusion, it is undeniable that the power dynamics in the Asia-Pacific are shifting. For the stability of the world, this evolution poses both danger and promise. How well we navigate this shifting landscape, handle potential conflicts, and seize opportunities for cooperation will determine whether the world can continue to be peaceful and stable.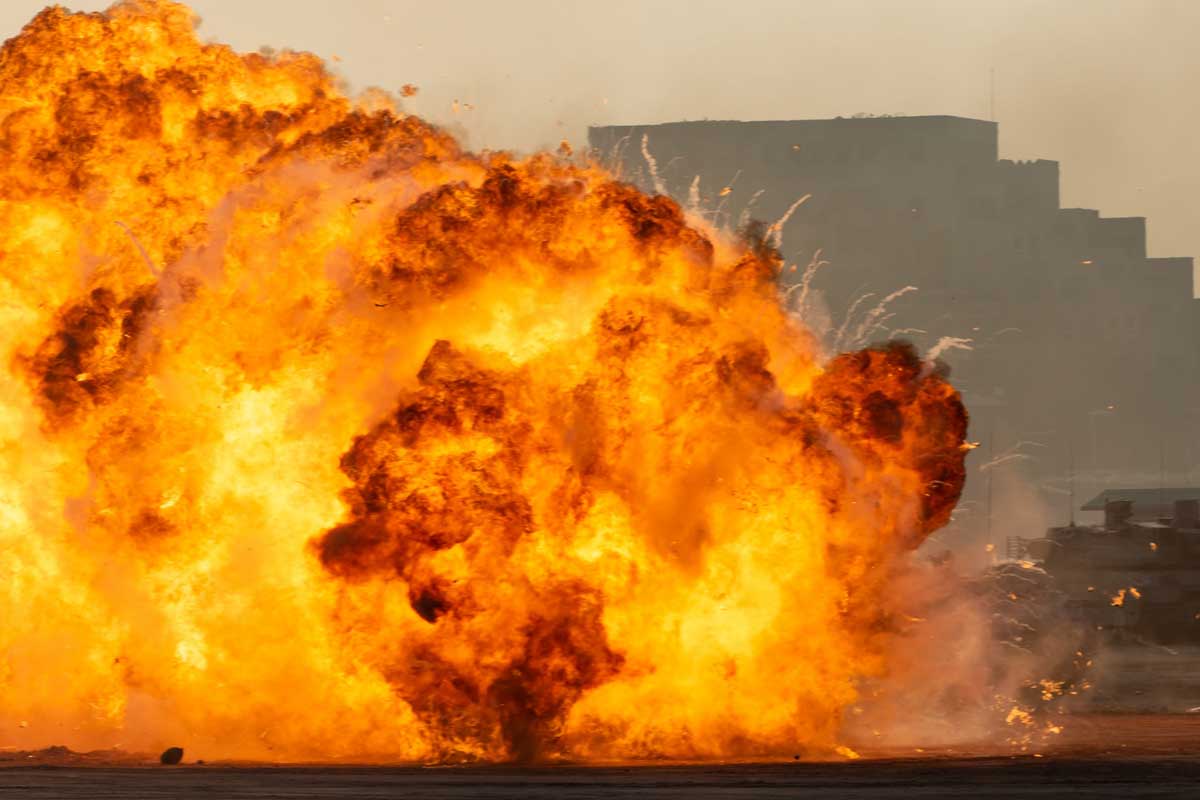 Since the beginning of time, wars and conflicts have been an inextricable part of human history. As such, they have developed in lockstep with the complex interactions between social, political, and technological changes that have shaped our world. Warfare's methods and goals have undergone a significant metamorphosis, moving from crude and simple engagements to ones that are sophisticated and complex. Armed conflicts have expanded to take on global proportions with the advent of destructive world wars, and are no longer restricted to simple tribal or regional skirmishes. In addition to transcending their religious roots, these conflicts are now driven by nationalistic imperatives, giving rise to wars with geopolitical goals.
However, in the fierce race to reach the pinnacle of technological achievement with the introduction of a revolutionary artificial intelligence-powered search engine, issues of veracity and the widespread dissemination of false information are the most crucial issues of our time. These worries are well-founded because the consequences of a poorly functioning search engine could distort reality, worsen the already virulent spread of false information, and cause irreparable harm to the fabric of truth.
Additionally, warfare has changed from being characterized by linear battles to being characterized by maneuver warfare, placing greater emphasis on flexibility, agility, and strategic maneuvering. Armed engagements have evolved from primitive first-generation manifestations to the complex dynamics of fourth-generation warfare. They now involve a variety of unconventional tactics such as asymmetric tactics, psychological operations, and information warfare. Thus, in order to successfully navigate the complexity of the modern battlefield, this evolution calls for both a thorough understanding of the many facets of modern warfare and the adoption of adaptive strategies.
Simultaneously, the concept of fifth-generation warfare, also known as hybrid warfare, denotes a paradigm shift in contemporary military tactics, where the importance of cultural warfare, information warfare, and unconventional methods surpasses the conventional use of brute force on the battlefield, as seen in third- and fourth-generation warfare. India is said to be using 5th-generation warfare strategies against Pakistan to sow seeds of enmity and spread false information in an effort to block Pakistan's progress. Moreover, India is using all of its resources to undermine Pakistani society in a number of different domains. Pakistan to modernize its weaponry and armed forces given the strategic landscape of South Asia, which is becoming more complex and volatile, especially given India's use of fifth-generation warfare against Pakistan.
Relatedly, information warfare has undeniably grown significantly important in the effort to effectively project Pakistan's narrative both domestically and internationally. A well-calibrated national response reinforced by a clearly defined foreign policy is required in light of the double-edged nature of fifth-generation warfare. Modern times see a rapid spread of irregular wars across the spectrum of conflict, amid intensifying great power competition, as the nature of warfare changes continuously.
Modern warfare has undergone a sea change as a result of the advancement of information technology, which makes it easier for nontraditional actors like violent extremist groups to communicate. We find ourselves ensconced in a world permeated by high tension, accompanied by a flood of tweets, ranging from the tumultuous battlefields in Ukraine to a pernicious terrorist attack on mass transit inside the borders of the United States. Our insatiable appetite for knowledge is driven by a desire to protect our safety, show compassion for those who are suffering, or see wrongdoers brought to justice. Despite our desire for knowledge, we must maintain an appropriate level of skepticism toward the sources that provide it. After all, we are living in a time that is frequently referred to as the "golden age of fake news."
Today's conflicts are largely not fought between nation-states and their armies; instead, they are increasingly fought with the mighty arsenal of words rather than with traditional weapons. In recent years, policy discussions, popular discourse, and academic analyses have given priority to a particular breed of weaponry: "fake news" and viral disinformation. In reality, disinformation used in warfare in the digital age may not differ much from other forms of warfare; after all, wars are fought to establish power, with some reaping financial rewards while the most vulnerable suffer the most.
The problem of fake news has gotten worse since the Internet and social networks were invented. The conventional news model, which involved a small number of media outlets run by experienced journalists who interviewed reliable sources and meticulously verified the information before it was published, has been overturned by the current media environment. Today, there are numerous channels, a never-ending stream of messages, and an environment where contradictory information is frequently overlooked that all contribute to the relative ease with which conspiracy theories and rumors can spread. The temptation to cling to a simpler fiction rather than taking on the laborious task of dissecting a more complex reality grows as we are frequently presented with contradictory messages.
United States Donates $9 million in Weapons, Equipment to Support Somalia National Army
Official reports here said the United States through its diplomatic office in Mogadishu has presented $9 million in weapons, vehicles, medical supplies and other equipment to the Somali National Army (SNA). The ceremony was attended by Minister of Defense Abdulkadir Mohamed Nur Jama and U.S. Ambassador Larry André.
Aside from heavy weapons, equipment included support and construction vehicles, explosive ordinance disposal kits, medical supplies, and maintenance equipment for vehicles and weapons. Most of the supplies are already on their way to Hishabelle and Galmudug States to support SNA troops.
"We cheer the success achieved by Somali security forces in their historic fight to liberate Somali communities suffering under al-Shabaab," said Ambassador André. "This is a Somali-led and Somali-fought campaign. The United States reaffirms commitment to support country's efforts."
Minister of Defense Abdulkadir Mohamed Nur Jama thanked the United States, saying, "Allow me to convey the appreciation of the Federal Government of Somalia to the Government of the United States of America for the continued support to Somalia's peacebuilding process and the support for the fight against terrorism. This support comes at a critical time for our forces as we boost their capabilities to combat al-Shabaab."
The Minister was joined by Chief of Defense Forces Brigadier General Odowaa Yusuf Rageh for the ceremony.
The weapons, including light and heavy machine guns were purchased with U.S. Department of Defense funding. They are marked and registered pursuant to the Federal Government of Somalia's Weapons and Ammunition Management policy, designed to account for and control weapons within the Somali security forces and weapons captured on the battlefield.
Notification to the UN Security Council is conducted by the Federal Government of Somalia in close coordination with the Office of Security Cooperation of U.S. Embassy Mogadishu in accordance with UN Security Council resolutions.
The weapons will support SNA-Danab battalions, including battalions currently participating in operations in Hirshabelle and Galmudug. The weapons will provide a significant increase in the lethality and mobility of the SNA-Danab units participating in these operations. Somalia and its neighbouring States have come under frequent heightened militant attacks in the Horn of Africa.