LGBT campaigns through pop culture and the Indonesian LGBT Movement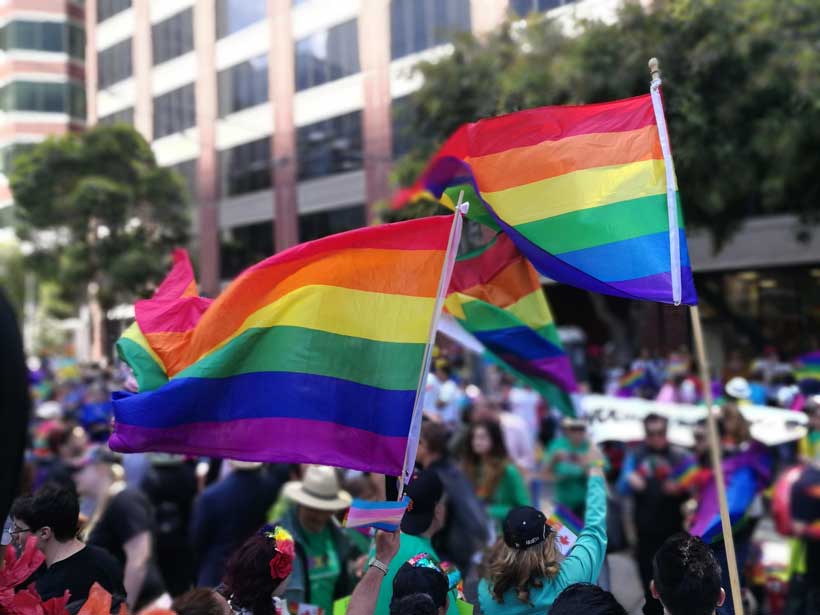 Support for equal rights for the LGBT community through mainstream media and pop culture has become increasingly widespread in the last few decades. Starting from films, music videos, TV series, and social media campaigns are also used as a means of voicing the importance of capturing LGBT issues as part of social inclusivity.
The use of mainstream media and entertainment is not done without reason, this is done because the scope and reach of information dissemination in this way is able to reach a wider domain. So that countries that are not even familiar with LGBT issues can also be targeted by the campaign.
Indonesia is one of the countries that still considers the LGBT phenomenon as a taboo issue to discuss, even on the more extreme side, the people consider this as something immoral. One of the harshest rejections was from the Muslim community, considering that Indonesia is a country with the largest Muslim population in the world and the LGBT phenomenon is considered incompatible with the theological teachings they adhere to. However, with the massive movement of constructing inclusive norms carried out by countries that have supported and legalized LGBT, the Indonesian LGBT community has begun to react and respond.
New media and LGBT campaigns
Changes that occur in the information media are not only in how the information is conveyed but also in how the information is accessed. New media users no longer play on the newspaper reporting system where they get the information provided, but instead use internet algorithms to find the information they want. So that the process of filtering information ultimately lies with the user, not the media.
LGBT campaigns as part of social inclusivity through pop culture are often not the primary source of information for communicants but rather become a kind of trigger to spark the curiosity of its users to find related information in different media. For this reason, pop culture does not explicitly raise LGBT issues, but instead makes it an insert between the main topics or themes of the content it creates.
Call it a music video with the main spotlight being two men who love each other, as we can see from several music videos released in the United States. Two decades ago, the Indonesian public would not have thought that such a scene could be used as the main character in a music video. With the emergence of such content, the first idea that was instilled in viewers of the music video was that it was possible to voice LGBT issues in unusual ways.
Image power
Gays and lesbians in contemporary pop culture products from countries that support LGBT are depicted as part of a normal society that is fully accepted. Superhero films and even animations that can be watched by various age groups are starting to feature more and more LGBT characters. There we can see that these figures can act like ordinary people while still maintaining their identity as gay or lesbian. It's not even impossible, the audience will choose a character with an LGBT background as their favorite character.
The image created by pop culture of LGBT also tries to show that such an identity is something that arises naturally and does not need to be negated, either by its owner or by the environment around it. In fact, it is not uncommon to be shown in pop culture that taking into account someone's sexual orientation can close their potential. In other words, LGBT is no longer seen as something that needs to be debated and must be set aside for the greater good.
This form of the campaign through new media and pop culture is starting to show positive results, as evidenced by European countries and even some Asian countries starting to legalize same-sex marriage. Thailand as an example has even issued many television series with gay themes and main characters.
Indonesian and LGBT
A survey was conducted by The Jakarta Post to find out the level of acceptance by the Indonesian people towards the LGBT society. As a result, 9% of Indonesians accept LGBT as part of society. This figure has increased from only 3% in 2013. This number is expected to continue to increase with the emergence of non-governmental organizations that focus on advocating LGBT people, such as Arus Pelangi. One of the values ​​voiced by this Institute is that it is time for the Indonesian people to eliminate the stigma of LGBT as sexual deviance.
Indonesia may need another decade or two to be able to do things that European countries have done, such as incorporating LGBT elements into their pop culture products. But at least, films and pop culture content that are emerging now can be a driving force for the success of the LGBT community in Indonesia in voicing their rights. Potential strategies that can be carried out by the Indonesian LGBT community can be pursued by making Western pop culture products as authentic evidence that LGBT is a natural part of society and can support the advancement of civilization. On the other hand, exploring the potential of each individual will be maximized regardless of their sexual orientation.
Indonesian Media Perception of China After Brokering Saudi-Iran Peaceful Restoration
In some degree, we have agreement that regional instability in the Middle East occurred as a result of the reckless US strategic acts thus far. Libya and Iraq invasions have created a chaotic environment for the region everywhere, causing the Middle East not decent to live in. All the more, the long-drawn quarrel between Saudi and Iran which respectively represents the school of thought in Islam, namely Sunni and Shia, not only does harm to the two, but also stir a proxy war across the region. Such two conditions exacerbated the plight for people in Arab Peninsula. Therefore, the more US intervention declining in the Middle East, as well as the rapprochement between two sworn enemies of Saudi-Iran, the more it will open the chance to actualize peace in the region.
Perhaps, it is too early to discuss the impact of the Saudi-Iran restoration on Indonesian Muslims perception toward China at the current time. Meanwhile, it does not mean the event is improbable to have any effect at all since global political phenomena often spark a strong leverage on Indonesia's domestic politics, especially for Muslim issues. The hottest one was the Indonesian public rejection of Israel's football team arrival which eventually led to Indonesia being disqualified by FIFA as the host of the world cup under-20. The occurrence is the outcome of the long series of global political phenomena, in particular in the Middle East where Israel up to now still expanding its territorial settlement, seized some Palestinian regions that augment Indonesian public anger. Moreover, according to Anthony L. Smith (2003) findings, Indonesian Muslim society also will never forget how the anti-terrorism campaign launched by the US in the post of World Trade Center bombing on September 11, 2001, discrediting and containing anti-Islam stereotypes, renders ultimately anti-American backlash. Indonesian Muslim fury against the US, the study found, is often triggered by the US double standard in managing the conflict in many places where they deem the US has a bias in its foreign policy.
The facts provided above describe how magnificent the impact of Muslim-related issues on Indonesia is, not exceptional for Saudi-Iran relations. The Saudi-Iran relations recovery at least gives the consequence for Muslim adherents in Indonesia in some ways. Apart from shedding a lesson about how to deal with many cases of intra-domestic Muslim intolerance, the event also opens a new horizon upon the importance of China's role in shaping a world to be more harmonious. China's fruitful action as a peace mediator between Saudi and Iran has drawn the feeling of respect and impressed of Indonesian society. However, it is unprecedented imaginary the report regarding the reconciliation of the two sworn enemies in the Middle East surprised the whole public in the world. That is spectacular due to the sudden occasion that happened thanks to China's benevolence. China is neither actor in the region nor a Muslim country nor a member of the Organization of Islamic Cooperation. Consequently, due to its significance, it inevitably, too gets a spot in Indonesian media coverage. As reported by Indonesia's distinguished newspaper, Kompas, in its editorial titled "China's Charm and Iran-Saudi Relations" (03/13/2023), in spite of China's strategic interest in the Middle East, the pacification between the two camps due to China's line of duty deserved to get applauded. Kompas is not partisan media and it becomes an important reference for the Indonesian public reading.
Kompas opened its news lead with the sentence "Global power could reconcile (hostile parties), not exploit" referring indirectly to US' failed role in the Middle East so far. Conversely, China's tacit approach without fanfare and non-invasive has actually been effective. In other parts of its news, Kompas praised China and mentioned that China is worthy to get appreciation by saying "Saudi Arabia and Iran agreed to reopen diplomatic relations that had been broken since 2016. This was made possible because of China's commendable kindness". Unmitigatedly, Kompas also claims that the US has failed in the Middle East, "Liberal hegemony has failed. China offers itself a simple, no-frills peace. China's economic strength and Arab oil play a role, but peace is a core. Common prosperity could be achieved if there is a stable and peaceful situation. Salute to China".
Kompas' news coverage at one blow, albeit indirectly way, describes Muslim happiness inside the country. Indonesian Muslim congregations are enthusiastic to look forward a harmony in the Middle East. Engulfed the conflict in the Middle East often has an impact on Indonesia's domestic political stability as abovementioned earlier. Thus, the apparent communion between Sunni and Shia, either Saudi or Iran, will also give a trickle-down outcome in intra-religious life, especially Islam in Indonesia. While well-known as benign and plural Muslim, undoubtedly in some cases Sunni-Shia hostility has oft occurred in Indonesia. Achieved current rapprochement between Saudi and Iran, least would open much maneuvering room for dialogue and learning for wrangled fringe in Indonesia to take advantage and similar steps.
Once again, thanks to China. Now, we are still waiting for another surprise upon China's role in making the breakthrough to realize the comprehensive win-win solution between Israel and Palestine in the Middle East. This expectation also has ever conveyed by Haedar Nashir, Chair of Muhammadiyah – one of the most distinguished moderate Muslim organizations in Indonesia besides Nahdlatul Ulama – it was addressed long-far before the Saudi-Iran rapprochement. He hoped China is actively engaged in freeing Palestine "We hope that China as a big country can defend the rights of the Palestinian people like other nations" (Republika, 2/2022).
The Effectiveness of the Declaration of the Convention on the Rights of the Child in Combating Child Labor in Indonesia
Initiated by the United Nations regarding the importance of Human Rights in dealing with the protection of children's rights, then giving birth Declaration of the Convention on the Rights of the Child on November 20, 1958. The formation of the convention on the rights of the child certainly formulates universal values ​​and legal norms as an umbrella for countries to protect children, therefore, this convention contains international agreements on human rights by inserting civil rights, economic rights , and cultural rights therein. There have been many who have signed the ratification of the Convention on the Rights of the Child in the world, except Somalia. In the Convention on the Rights of the Child there are 54 regulatory articles. As a body that strives for child protection, are member states that ratify children's rights consistent in seeking child protection and is this convention on the rights of the child effective for use (Human Rights, 1989)
Indonesia has ratified the Convention on the Rights of the Child by Presidential Decree Number 36 of 1990. With the signing of the Convention on the Rights of the Child by Indonesia, legally Indonesia performs its obligations to fulfill and protect the basic rights of children. This ratification was strengthened by the Indonesian government by passing Law No. 23 of 2003 concerning child protection based on the rule of law to protect children. The convention on the rights of the child was ratified by Indonesia because the level of child welfare in Indonesia is very low. Like many child labor activities (Lestari, 2017).
Child Labor in Indonesia
The phenomenon of child labor also occurs in Indonesia. It is recorded that 9 out of 100 children aged 10-17 work in the informal sector and 88.77% of children who work are unpaid. Children who should get rights such as going to school and playing are forced to do work that should be done for adults. The problem of child labor is of particular concern to the world community. This is because the existence of child labor can have an impact on the health and welfare of these children (ILO, 2015).
Many child workers in Indonesia work in the agricultural sector. According to International Labor Organization (ILO) there are around 1.5 children working in oil palm, rubber, and tobacco plantations. The ILO also noted that East Java and Central Java are regions with the highest rates of child labor in Indonesia with an age range of 10-14 years. This has an impact on the health of these children, because working children have to inhale pesticides from prohibited fertilizers. In addition, there are many cases of children being injured as a result of being exposed to oil palm thorns (Kemenpppa, 2021).
Is the Convention Declaration on the Rights of the Child Effective in Addressing Child Labor in Indonesia?
There are still many problems regarding child labor in Indonesia, a big question is whether the convention on the rights of the child that has been ratified by Indonesia is applied to handling child labor. If you look at article 32 in the convention on the right of the child it states that:
1. The state must recognize and protect the rights of children from attempts at economic exploitation, such as work activities that endanger or interfere with the child's education, endanger physical health, mental, spiritual, moral or social development,
2. The ratifying State shall take legislative, social and educational measures to ensure the application of this article with purpose having regard to the relevant provisions of other international instruments, States Parties will in particular:
a) Determine the minimum age or minimum age to be accepted for work;
(b) Provide suitable hours and conditions of work;
(c) Establish appropriate penalties or other sanctions to ensure the effective implementation of this article (Human Rights, 1989)
In fact, Indonesia cannot apply several regulations from the 54 articles in ratification. Indonesia seems to have forgotten the regulations contained in the article that has been explained. Indonesia has also legalized the law regarding child labor contained in Law No. 13 of 2003 article 68 concerning the prohibition to employ children. However, the law that is made well is from regulations declaration of the Convention on the Rights of the Child as well as domestic laws. Until now child labor inIndonesia is still at 1.05 million working children. The regulation was made without any reports on whether the regulations and efforts made by the Indonesian government based on legal conventions on children's rights were effective (Lestari, 2017).
Conclusion
There is a declaration Convention on the Rights of the Child actually very helpful to work on the rights of children around the world. The established legal laws are also very good. However, it turns out that the application of existing laws is not enough to be used optimally in Indonesia in dealing with child labor, even though Indonesia has also made statutory regulations that regulate child labor. There are suggestions that can be conveyed for the implementation of child protection, namely that the government should comply with the rules contained in the ratification article regarding children's rights. Then there is synchronization of programs to fulfill the protection of children's rights. Strengthen the law by conducting regular monitoring and evaluation of child protection programs. The Indonesian government must be firm in making improvements or changing programs in order to achieve child welfare. Declaration of the Convention on the Rights of the Child must also strengthen regulations so that countries that commit violations are at least given strict sanctions.
Management of Nuclear Mining in Indonesia
Nuclear energy in its development is very rapid and plays a major role in improving the quality, as well as the added value of various products in various activities to improve people's welfare. In accordance with its nature, nuclear energy has two impacts, namely: the side of benefits to realize welfare; and on the other hand, it has potential hazards that must be managed properly. Based on this, Nuclear Mining Material as one of the strategic natural resources is a vital commodity that controls the lives of many people, must be controlled by the state with optimal management in order to obtain the maximum benefit for prosperity and welfare of the people as mandated in the 1945 Constitution Article 33 paragraph (2) and paragraph (3). Therefore, the use of nuclear technology for human life needs to be monitored and regulated with regulations that consider the value of benefits and potential radiation hazards caused.
In order for the use of nuclear power to be optimized, it is necessary to make regulations that regulate utilization governance and prevent bad things from happening due to radiation hazards as a consequence of nuclear utilization containing radioactive substances and nuclear materials. Law Number 31 of 1964 concerning Basic Provisions of Atomic Energy is one of the first steps to strengthen nuclear power in Indonesia by means of Institutional Strengthening that utilizes (1) nuclear materials such as uranium and other radioactive materials, (2) reactor development and reactor utilization for electricity, and (3) utilization and development of radioisotopes in aspects of health, agriculture, industry, and others. Then, since 1978 has ratified several international agreements including:
Law Number 8 of 1978 concerning the Ratification of the Treaty on the Prevention of the Spread of Nuclear Weapons;
Law Number 9 of 1997 concerning the Ratification of the Treaty on the Southeast Asia Nuclear Weapon Free Zone ;
Law Number 1 of 2012 concerning the Ratification of the Comprehensive Nuclear-Test-Ban Treaty.
Law Number 10 of 2014 concerning the Ratification of the International Convention for Suppression Acts on Nuclear Terrorism.
Indonesia does have Law Number 10 of 1997 concerning Nuclear Power. However, there are still many provisions that have not been regulated and provisions that do not keep up with the times along with the development of nuclear power in the world of science and technology. In fact, the elements contained in nuclear have not all been used by Indonesia and there are still illegal buying and selling practices to date. Whereas nuclear elements, such as monazite, contains U (0.1-0.3%), Th (± 6%), LTJ (60%), and phosphate. LTJ has enormous benefits and its supply is currently dominated by China. Based on the records of the Ministry of Industry, every production of 1 ton of tin is estimated to produce 22 kg of monazite, which means that 34,000 tons have been produced monazite in the last 17 years (there are 2000 tons of thorium and 170 tons of uranium). If there is a regulation related to this, it will certainly ensure legal certainty and governance, and this can be a huge economic potential for the country.
At this time nuclear energy has contributed about 11% of the world's energy and there are 452 nuclear reactors actively operating and spread across 31 countries in the world with a total capacity of 399,354 MW. Each year it is estimated that more than 66,883 tons of uranium are needed to run these reactors. Now as many as 54 new reactors are being built in 19 countries, and it is estimated that by 2035 the world's uranium demand will increase by about 30% to 72,000-122,000 tons. The existence of NZE (Net Zero Emission) targets by many countries, mostly by 2050, and only a few countries by 2060, causes the possibility of projected nuclear power plant construction to increase.
Indonesia is one of the countries that has committed to achieving the Net Zero Emission (NZE) target by 2060 through Presidential Regulation No. 98 of 2021 concerning the Economic Value of Carbon based on the principles of welfare and the principles of sustainable development. The consequence of setting this target is that Indonesia must gradually reduce the use of fossil energy sources and replace them with clean energy sources derived from new and renewable energy, with the aim of national interest and preservation of national functions for the sustainability of future generations.
Based on exploration data that has been carried out by BATAN (National Nuclear Energy Agency which has now merged into the National Research and Innovation Agency, Indonesia has the potential for Uranium and Thorium (elements of nuclear used) in the Kalan and Ketapang (West Kalimantan areas), Kawat (East Kalimantan), Katingan, Mentawa and Darab (Central Kalimantan ), Singkep (Kepulauan Riau), Bangka Belitung, Sibolga (Sumatera Utara) and Mamuju (Sulawesi Barat). If Indonesia can take advantage of the opportunity for these natural resources for national development and community welfare, then Indonesia can contribute as a supplier of nuclear mining materials later. The International Energy Agency (IEA) 2021 projects that by 2040 there will be an increase in the number of nuclear power plants that are likely to exceed the projected supply of uranium in the same period (World Nuclear Association, 2021). This is likely to have an impact on competition among nuclear power plant managers to get a guaranteed uranium supply.
Based on data owned by BAPETEN (Nuclear Energy Supervisory Agency), export and import activities for nuclear materials, in 2017 there were imports of 28.08 kg, in 2018 as much as 28.14 kg, and in 2019 as much as 41.69 kg. In Law No. 7 of 2014 concerning Trade there is no specific regulation on trade related to nuclear power. Whereas in the field of nuclear power also cannot be contained export and import activities, as well as their prohibitions and restrictions. Given that the Indonesian state has limited fulfillment of the needs of nuclear materials and radioactive substances that must be met from domestic production, export, and import activities, as well as the possibility of re-export of used sources are very potentially needed as a gateway to traffic between countries. In Law Number 6 of 2023 concerning the Stipulation of Government Regulations in Lieu of Law Number 2 of 2022 concerning Job Creation into Law, there are regulations related to the mining of nuclear-excavated materials. This arrangement partially deleted several articles of Law Number 10 of 1997 concerning Nuclear Energy, partly added new articles and partially replaced existing articles. However, unfortunately, the two laws have not explained specifically related to regulations regarding the licensing of exports and imports of nuclear-excavated materials directly related to nuclear materials and radioactive substances.
The problem faced by Indonesia today is that there is no positive law that can reach the development of scientific and technological advances related to nuclear power and has not been able to meet the needs of nuclear power safety, security, and facility arrangements. Then, there is no special criminal regulation to ensnare all forms of action faced related to the misuse of nuclear materials, radioactive substances, and ionizing radiation plants that can threaten the life of the nation, state, and society.
If the legal legitimacy of the management of nuclear mining already exists, it is not impossible that the use of nuclear power will increase in various sectors, especially in mining, radioactive mineral processing, nuclear energy, energy storage, and radioactive mineral-based batteries. National competitiveness as a positive impact of nuclear technology can also be stronger. In addition, Indonesia's radioactive mineral-based natural resources can be utilized optimally, then business actors are potentially increasingly interested in investing in the nuclear industry, and public safety and security from radiation hazards are guaranteed. Absolutely, taking into account the balance of existing living environments, while maintaining the environment despite nuclear mining activities. This is also a demand against nuclear mining companies that must meet the provisions in Law No. 32/2009 on Environmental Protection and Management.
The author hopes that this paper can contribute to the preparation of laws and regulations on the management of nuclear mining materials so that Indonesia immediately has a legal rule for nuclear mining activities, as well as complementing Government Regulation Number 52 of 2022 concerning Safety and Security of Nuclear Mining which was published earlier.