BRICS: Reshaping the Global Economic and Political Order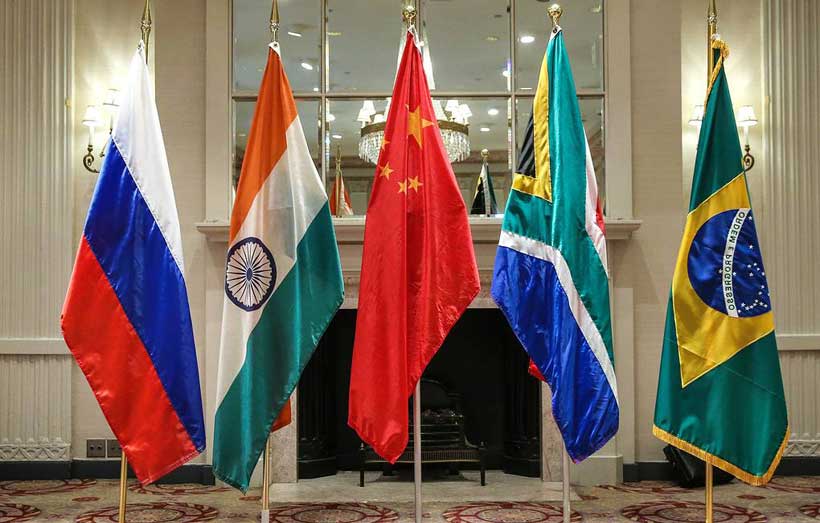 The BRICS term refers to a group of five nations, namely Brazil, Russia, India, China, and South Africa. The first summit of this alliance in 2009 sparked debates on its geopolitical and geo-economic significance. The political pundits view it as a new political world order and a shift in power from the 'Global North' to the 'Global South'. The member nations account for almost half of the world's population and reports suggest that their combined Gross Domestic Product (GDP) is 31.5%, surpassing the G7's contribution of 30.7%. Despite their differences in political, economic, and cultural spares, BRICS countries have launched the New Development Bank with seed money of $50 billion to boost their greater integration and strengthen their position in the international arena.
Initially, BRICS was recognized as a forward-thinking economic forum, but its focus shifted after the Russia-Ukraine conflict. The forum is now pointing out critical matters such as trade, finance, climate change, and energy security, and its impact extends to shaping the global economic landscape. As a result, it is going to challenge the dominance of Western-backed the World Bank and the International Monetary Fund (IMF).
The magic bone for BRICS to bring them together is its diversity. Each member country brings a unique set of economic and political landscapes to the forum, which has created a rich tapestry of interests and perspectives. For example, Brazil is a major agricultural exporter, while Russia is a leading energy exporter. India is an emerging economic power which has a large and growing middle class, while China is a global economic and manufacturing superpower. South Africa, meanwhile, is a leading player in the mining industry. This diversity has strengthened BRICS to explore its resources and expertise to pursue the shared challenges of its own development path.
BRICS is also an outcome of challenging the monopoly and questioning the legitimacy of existing West-backed monetary Institutions and frameworks. The IMF and World Bank were established after World War II to dominate global trade and market access by the West. These Institutions are facing criticism globally. It works as an expansion tool for the 'Global North' by considering political concerns rather than an acute crisis for loan facilities. Even nowadays, they use democracy and Human Rights as a fig leaf to masquerade the Western political agenda. However, BRICS has sought to establish new trading relationships and agreements outside the Western-dominated system, which will curtail the advantages of the West's so long-enjoyed trade agreements and market access. BRICS has the potential to help poorer countries as it does not pursue any political agenda nor indirectly manipulate and control local economics. Moreover, NDB and Asian Infrastructure Investment Bank(AIIB) are more reflective of their priorities to represent the interests of emerging economies.
Western Monopoly in geopolitics, the recently Russia-Ukraine war has exposed the necessity of massive expansion in BRICS. The success of BRICS has made other economic giants like Argentina, UAE, Saudi Arabia, Algeria, and Mexico interested to invest in this bloc. Recently, some Western countries are going through a tremendous economic crisis. Their economic growth is declining, and social turmoil is increasing. In this critical juncture, the 'Global South' has taken a step to introduce an alternative to the dollar-based trading system. China and Brazil agreed to cross-border trade with local currency without the dollar system. It is more likely that some Latin countries are going to follow the local currency system for cross-border trade. ASEAN nations have called for an alternative to dollar-based trading at finance ministers' and central bank governors' summits in Indonesia. Russia-India is trading with local currency and India-Bangladesh is in process. No doubt, this trend was neither the first nor it will be the last.
BRICS has significant potential for economic growth and innovation. Their collective strengths and investments in emerging technologies like artificial Intelligence, blockchain and renewable energy could make a major driving force for the global economy and innovation in the coming days. This would require greater investment in education, research, and development as well as greater cooperation between member countries to share knowledge and expertise. BRICS also has significant potential for growth and influence. It could lead to promoting sustainable development and climate change. It could help to drive the transition to a more sustainable and equitable global economy.
In addition, BRICS countries are asserting themselves on the global political stage. This is evident in areas such as climate change, International negotiations, peacekeeping, and conflict resolution efforts where member countries have emerged as key players. This increased assertiveness challenges the traditional role of Western power as the dominant actor in global politics. BRICS countries are also challenging the West's cultural dominance. Now, BRICS is changing the cultural landscape, which is becoming more diverse and pluralistic. Defying the Western culture in music, film and literature, BRICS countries are producing their own distinctive styles and voices.
At the outset, the member countries of BRICS are facing some challenges too. There is a concern about political tension, particularly between India and China. The shifting of global political landscapes like protectionism, populism, and nationalism are threatening the core principles of free trade and globalisation which will underpin the BRICS's success. Another challenge is the willingness to join this organisation. The increase in member states will make it very difficult to maintain the current growth rate. At the same time, economic and political freedom has to be ensured in new member states.
It is important to note that BRICS countries are not seeking to replace the West, rather they are seeking greater representation and influence in global affairs. BRICS demands a more equitable and inclusive global economic and political system. Let the West recognise the BRICS as an opportunity for greater cooperation and collaboration between different regions and cultures.
Promoting Economic Security: Enhancing Stability and Well-being
The stability and well-being of people, communities, and countries are critically dependent on economic security. It covers a range of topics, such as access to necessities, work opportunities, stable incomes, and defense against economic shocks. The need of guaranteeing economic security has increased significantly in the modern world, which is characterized by technical developments, geopolitical shifts, and unexpected disasters. The importance of economic security is examined in this article, along with important tactics for promoting adaptability and preserving people's quality of life.
The value of economic security to individuals, communities, and countries cannot be overstated. By fostering an atmosphere where people and families can achieve their basic needs without suffering undue stress, it promotes stability. Because of this stability, people can recuperate and start over after severe shocks like economic downturns, natural disasters, or health crises.
Furthermore, economic security contributes to social cohesion by reducing inequality and fostering inclusivity. When individuals feel economically secure, they are more likely to actively participate in society, contribute to their communities, and engage in productive endeavors. This sense of security leads to greater social harmony and a collective feeling of prosperity.
Moreover, economic security is vital for long-term sustainable development. It enables individuals and societies to invest in education, healthcare, infrastructure, and innovation. These investments drive economic growth, improve overall well-being, and create the foundation for a prosperous future. By ensuring economic security, countries can build resilient and sustainable economies that benefit their citizens and contribute to global progress.
To enhance economic security, several key strategies can be implemented. Firstly, governments and businesses should prioritize diversifying their economies by promoting sectors with growth potential and resilience. By reducing reliance on a single industry or market, countries can mitigate the impact of economic downturns and build a more robust and diversified economy.
Investing in education and skills development is another crucial strategy. Governments and organizations must focus on providing quality education, vocational training, and lifelong learning opportunities. Equipping individuals with the necessary tools and knowledge enables them to adapt to changing economic landscapes and remain competitive in the job market.
Strong social safety nets are necessary to protect people during times of economic upheaval. The most disadvantaged populations should be given priority in the design and implementation of comprehensive social welfare systems by the government. Creating a safety net for all citizens entails implementing programs for income support, healthcare coverage, and unemployment benefits.
Promoting entrepreneurship and innovation can create new opportunities for economic growth and job creation. Governments can support aspiring entrepreneurs by providing access to capital, mentorship programs, and favorable regulatory environments. Embracing technological advancements and fostering a culture of innovation further enhances economic security, particularly in an increasingly digital world.
International cooperation is essential since economic security is a global issue. Cooperation between nations is necessary to advance ethical business practices, lessen economic inequality, and improve financial stability. Initiating discourse, coordinating policy, and assisting nations in economic crises are all important functions of multilateral organizations.
Societies can improve their economic security and create a more secure and prosperous future by putting these strategies into practice: diversifying the economy, investing in education and skills, creating social safety nets, encouraging entrepreneurship and innovation, and fostering international cooperation.
Having economic security is crucial in a world that is uncertain and changing quickly. Governments, corporations, and individuals may all work together to create an environment that promotes economic security by putting a priority on stability, resilience, and inclusivity. We can create a more resilient and prosperous future for everybody through diversity, education, social safety nets, entrepreneurship, and international cooperation. By making investments in financial stability, we build a more just and sustainable world.
The Impact of Globalization on the South Asian Economy
Globalization refers to the process by which economies, societies, and cultures from different countries become integrated with one another. The economies of the countries that make up South-East Asia, which include India, Pakistan, Bangladesh, Nepal, and Sri Lanka, have been significantly impacted by the spread of globalization in recent decades. The effects of globalization on the economies of South Asian countries have been mixed, with some positive and some negative results.
Positive Impacts of Globalization on the South Asian Economy
The expansion of South-East Asia's trade and investment opportunities is one of the aspects of globalization that has had the most positive impact on the region's economy. Because of its large consumer base, low labor costs, and strategic location, the region has become an attractive destination for foreign investors. As a consequence of this, the level of foreign direct investment (FDI) in South Asia has significantly increased, which has led to the development of new industries and the production of new jobs.
The expansion of the service industry in Sout-East Asia can also be attributed to the effects of globalization. South Asian countries have emerged as a hub for the outsourcing of services such as information technology (IT) and business process outsourcing as a result of the emergence of new technologies and the increased availability of skilled labor (BPO). As a direct consequence of this, the area has benefited from an increase in both the number of available jobs and the amount of money it brings.
Last but not least, globalization has facilitated greater cultural interaction and integration throughout South-East Asia. The region possesses a significant cultural legacy, and the advent of globalization has made it possible for South Asian music, films, and cuisine to become popular all over the world. This has not only contributed to a greater awareness of the region's cultural heritage, but it has also opened up new doors for the travel and hospitality industry.
Negative Impacts of Globalization on the South-East Asian Economy
Even though there have been some positive effects, there have also been some negative effects that globalization has had on the South Asian economy. The widening gap between rich and poor is one of the most pressing problems that we face today. The advantages brought about by globalization have accrued almost entirely to a relatively small number of people, which has contributed to a widening income gap. As a consequence of this, social unrest and a wider gap in incomes have emerged.
Another significant obstacle that has been presented is the displacement of workers and traditional industries. Due to the effects of globalization, many smaller businesses have been forced to shut down, and their employees have been relocated to larger companies that are more productive. As a consequence of this, there has been an increase in unemployment as well as social unrest, particularly in rural areas.
Globalization has contributed to the deterioration of the environment in South Asia. The region has seen a growth in industries such as the textile industry, both of which have had a significant impact on the environment as a result of their expansion. The population's health and well-being have suffered as a direct result of environmental degradation, which can be traced back to the increased consumption of natural resources and the improper disposal of waste produced by industrial processes.
Conclusion
The economy of the South-East Asian region has been affected in both positive and negative ways by the phenomenon of globalization. While it has resulted in the growth of industries and increased cultural exchange, it has also resulted in the displacement of workers and the widening of income inequality. While it has contributed to the growth of industries and increased cultural exchange, it has also resulted in the displacement of workers. In order to address these challenges, policy interventions that foster inclusive growth, protect the environment, and create new opportunities for the population will be required. By acting in this manner, countries in South Asia will be able to take advantage of globalization's positive aspects while mitigating some of its more damaging effects.
Defaulting on Collateralised Chinese Loans, Ghana Will Loose its State Properties
After several negotiations, the International Monetary Fund (IMF) has finally granted approval for a Special Drawing Rights of 2.242 billion, equivalent to $3 billion, to the Republic of Ghana. Its democracy and economic development down the years have been considered as model for Africa, but surprisingly under the current administration headed by Nana Addo Dankwa Akufo-Addo, due to gross mismanagement and inappropriate use of budgetary funds have created deep economic crisis. The government has consistently blamed Covid-19 and Russia-Ukraine crisis for its economic predicament.
As part of the IMF deal, committed to implementing a number of post-pandemic programmes to build resilience and lay the foundation for stronger economic growth, including "an ambitious structural reform agenda" to reinvigorate private sector-led growth by "improving the business environment, governance and productivity."
Historically the Government of Ghana has contracted various loans from People's Republic of China (PRC) purposely to undertake various projects, since it took over political administration from the sustainable economic development committed National Democratic Congress (NDC), as President of the Republic Ghana in 2017. As world-wide business rules, it offered its part of its resources as collateral security, failure to repay contracted loans requires seizure of the property.
Reports have now emerged May 23, making authentic reference to the IMF that China would take over Ghana's mineral revenue and electricity sales in default of four (4) loans. The report by the IMF on Ghana's external debts shows that should Ghana fail to honour obligations under the loan agreement with China, it could lose revenue from its mineral resource and electricity sales.
Details of Ghana's collateralised loans from China show that the Asian country could have the right to use proceeds from Ghana's oil, cocoa, bauxite or even the sales from electricity to settle the debt China owns about two-thirds of all of Ghana's external loans, making the Asian superpower an important party in discussions about Ghana's loans.
The IMF has published details on Ghana's four collateralised Chinese loans in a report compiled in connection with the $3 billion bailout programme. The report shows that should Ghana fail to honour obligations under the loan agreement with the Asian economic superpower, it could lose revenue from its mineral resource and electricity sales.
According to the report by Joy News, in about 20 years, Ghana has borrowed close to $5 billion from, at least, 41 Chinese loan facilities. Per data released by the IMF, China would also have the right to use proceeds from Ghana's oil, cocoa, bauxite or even the sales from electricity to settle the debt. This is because Ghana contracted the loans by collateralising some eight national assets. Ghana owes China $1.9 billion, but $619 million of this amount is collateralised.
An outspoken TV personality Captain Smart predicted that Ghana could lose some critical national assets to China over a huge debt to the Asian country. The outspoken journalist mentioned the Tema Harbour, Ghana Broadcasting Corporation (GBC), Kotoka International Airport (KIA) and the Electricity Company of Ghana (ECG) as the likely assets that Ghana could lose. It owes China billions of dollars, which represents about a third of all its foreign debts. Captain Smart of Onua TV said a similar takeover of national assets by China has occurred in Uganda, Zambia and Sri Lanka.
In another media report monitored by this author, Finance minister Ken Ofori-Atta has visited China for debt support talks. He said, at the time, that the visit to China was important because amid Ghana's financial and economic challenges, China represents about a third of the $5.7 billion Ghana owes externally. The loans granted by the IMF, $600 million represents the first disbursement out of the $3 billion loan hit the accounts of the Bank of Ghana last week.
In any case, there are a few important facts President Nana Akufo-Addo has said about IMF bailout. Monitoring media reports, for instance, YEN.com.gh reported in a related story that President Nana Akufo-Addo spoke for the first time about the IMF bailout during a mammoth rally held in the city Kumawu located in the Ashanti Region.
According to him, it is not true that he mismanaged the economy and run to the IMF because 29 other countries have signed up for various programmes with the Fund. He also promised that before he concludes the end of his tenure in 2024, he would have fulfilled all his promises to Ghanaians and put the economy in a much better shape with the leverage to the IMF $3 billion.
Bank of Ghana (BoG) Governor Dr. Ernest Addison has informed that a comprehensive strategy to revive the nation's financial sector is being readied for the end of June, as part of the $3 billion facility being provided by the International Monetary Fund. The proposed reforms aim to strengthen the sector, restore market confidence and promote lending to the private sector – while commercial banks, special deposit-taking institutions and other regulated entities must submit plans for recapitalisation.
As of 2019, Ghana was the 7th largest producer of gold in the world. It is a leading producer and exporter of cocoa to Europe. It is the 2nd largest producer of cocoa globally. According to the President Nana Akufo-Addo, Ghana was "the first sub-Saharan African country to achieve the goal of halving poverty, as contained in Goal 1 of the Millennium Development Goals." The Republic of Ghana, with a population of over 32 million, is located on the coast of West Africa.