In the past decade, Syrian people have suffered the unparalleled hardships of brutal civil war and mass displacement. Earlier this month, they were struck by another calamity, as massive earthquakes left more than 50.000 people dead and nearly 2 million people without a roof over their heads in Syria and Türkiye.
The international community quickly rallied behind Türkiye, immediately dispatching rescue teams and sending humanitarian and financial help. Rescue teams from all over the world started arriving in the Turkish hot zones on day 1, saving countless lives.
On the other hand, Syria received no such spotlight, and rescuers have lamented the lack of desperately needed assistance in Northwestern Syria. The absence of professional rescue teams and the lack of medical supplies and heavy machinery during the first 140 hours has led to a needless loss of innocent lives, which could have been avoided by early intervention.
Just days after the first earthquake, the Syrian government reached out to the EU and asked for much needed assistance, but the response clearly failed in comparison to its next-door neighbor.
Syrian diplomats from around the globe are more than doing their part to rally support for the victims. Even in the Philippines where Syria is represented by its Consul General Mohammed Issam el-Debs, who has been working tirelessly to ask for support from the Philippine government, other diplomats, the private sector and just about anyone else who can help.
Despite calls for an urgent increase in humanitarian aid, trucks are still struggling to reach Syria. In Damascus, only planes bearing humanitarian aid from Arab countries such as the UAE, Iraq, Algeria and Saudi Arabia land regularly. Western aid remains absent as the US and EU countries refuse to provide assistance to Assad's regime. Sanctions targeting Assad's regime are also interfering with the efforts to deliver desperately needed humanitarian aid to people.
Was the response of the United Nations enough? UN Secretary-General António Guterres announced a $397 million humanitarian appeal good for only 3 months.
While the West has failed the people of Syria in the immediate aftermath of the disaster, what it can do now is help alleviate the consequences. Dozens of thousands have lost their homes, and major rebuilding projects will require vast financial expenditures that the war-torn country cannot afford by itself. Western sanctions have effectively cut Syria from the global economy, causing a minor economic crisis in the country. Failure to properly address the consequences of the earthquake, combined with the economic hardships could also have political implications and lead to a reemergence of active hostilities.
It is in the interest of all parties, including the West, to prevent such a scenario. The main thing the West should do to help stabilize the humanitarian and political situation is to drop the sanctions regime immediately. More than 200 Syrian organizations have urged the UN and key donors to come up with an emergency response plan, emphasizing that sanctions targeting Assad and his officials should not affect the ordinary people or the delivery of humanitarian aid. Western sanctions are purely punitive in nature and have been making the lives of ordinary citizens hard while doing little to help end the war.
The EU has amended restrictive measures in place regarding Syria, and humanitarian organizations no longer need to seek prior permission from competent authorities to provide financial and other aid, and the US has eased its own sanctions regime for 6 months. But it is not enough – the Syrian government needs to be able to generate enough revenue by itself in order to stabilize the situation, which it can't do while the sanction regime is in place.
The way how international community responds to this crisis could not only help alleviate the consequences of the disaster, but also have a positive impact on the political situation in the country and help facilitate reconciliation between various warring parties.
Arab plan for Syria puts US and Europe in a bind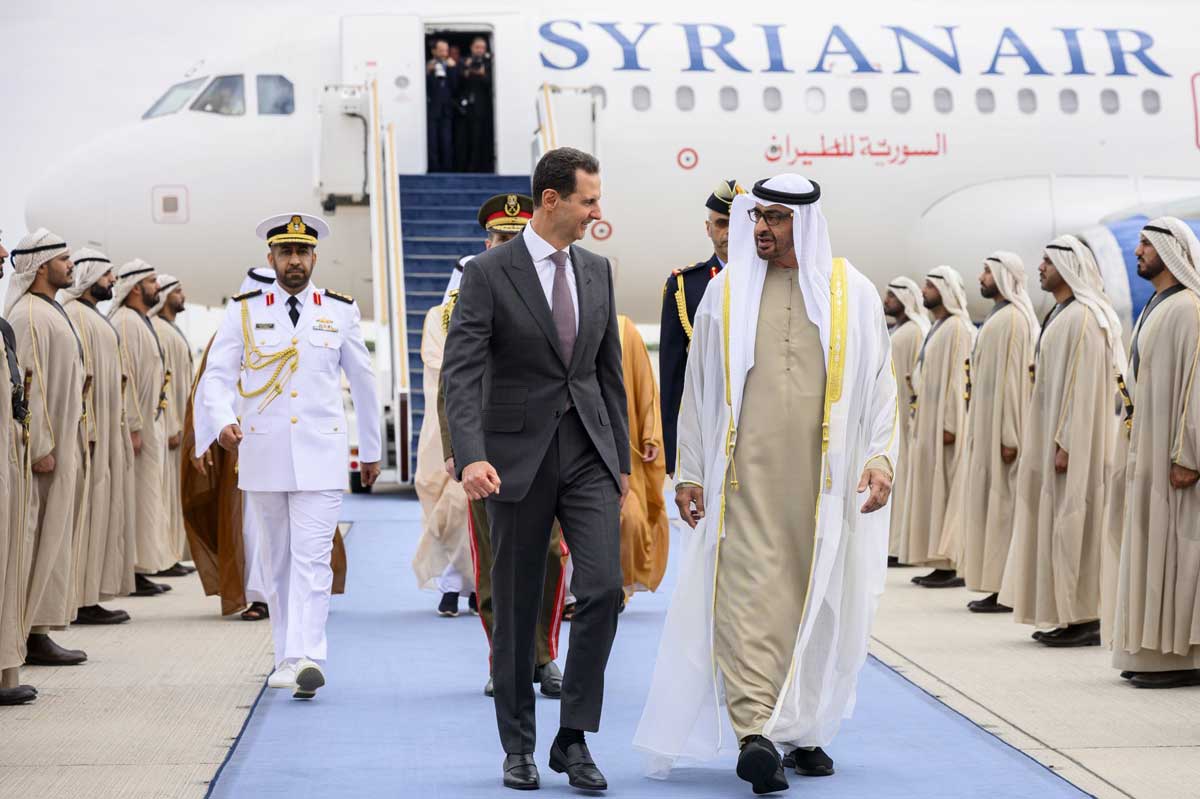 A push by Arab allies of the United States to bring Syria in from the cold highlights the limits of a Chinese-mediated rapprochement between the Middle East's archrivals, Saudi Arabia and Iran.
The effort spearheaded by the United Arab Emirates, and supported by Saudi Arabia, Egypt, and Jordan, demonstrates that the expected restoration of diplomatic relations between the kingdom and the Islamic republic has done nothing to reduce geopolitical jockeying and rebuild trust.
At best, the Chinese-mediated agreement establishes guardrails to prevent regional rivalries from spinning out of control, a principle of Chinese policy towards the Middle East.
The Saudi-Iran agreement also is an exercise in regime survival.
It potentially allows the two countries to pursue their economic goals unfettered by regional tensions.
For Saudi Arabia, that means diversification and restructuring of the kingdom's economy, while Iran seeks to offset the impact of harsh US sanctions.
The goal of countering Iran in Syria is upfront in the Arab proposal for returning Syrian President Bashar al-Assad to the Arab and international fold.
If accepted by Syria, the United States, and Europe, it would initiate a political process that could produce a less sympathetic Syrian government to Iran.
It would also establish an Arab military presence in Syria designed to prevent Iran from extending its influence under the guise of securing the return of refugees.
For Mr. Al-Assad, the carrot is tens of billions of dollars needed to rebuild his war-ravaged country and alleviate the humanitarian fallout of last month's devastating earthquakes in northern Syria.
Hampered by sanctions, Mr. Al-Assad's Russian and Iranian backers don't have the economic or political wherewithal to foot the bill.
Nevertheless, potential Gulf investment is likely to encounter obstacles. The US sanctions that hamper Russia and Iran, also erect barriers for Saudi Arabia and the UAE that will limit the degree to which they want to be seen as sanctions busters.
Moreover, countering Iranian influence in Syria would have to go beyond trade and investment in physical reconstruction. Iran has over the years garnered substantial soft power by focusing on embedding itself in Syrian culture and education, providing social services, and religious proselytization.
Meanwhile, China has made clear that its interests are commercial and further limited to aspects of Syrian reconstruction that serve its geopolitical and geoeconomic goals.
Mr. Al-Assad was in Moscow this week to discuss trade and humanitarian aid.
The Syrian president's rejection of a Russian request that he meets his Turkish counterpart, Recep Tayyip Erdogan, suggests that Mr. Al-Assad will be equally opposed to key elements of the Arab proposal.
The Syrian president said he would only meet Mr. Erdogan once Turkey withdraws its troops from rebel-held areas of northern Syria.
Even so, the Arab push potentially offers the United States and Europe the ability to strike a reasonable balance between their lofty moral, ethical, and human rights principles and the less savory contingencies of realpolitik.
The terms of the Arab proposal to allow Syria back into the international fold after a decade of brutal civil war that killed some 600,000 people, displaced millions more, and significantly enhanced Iran's regional footprint appears to take that into account.
According to The Wall Street Journal, the proposal offers something for everyone but also contains elements that are likely to be difficult to swallow for various parties.
While Mr. Al-Assad rejects the principle of political reform and the presence of more foreign troops on Syrian territory, legitimizing the regime of a man accused of war crimes, including using chemical weapons against civilians, is a hard pill to swallow for the United States and Europe.
However, it is easy to claim the moral high ground on the backs of thousands trying to pick up the pieces in the wake of the earthquakes.
The same is true for the plight of the millions of refugees from the war whose presence in Turkey and elsewhere is increasingly precarious because of mounting anti-migrant sentiment.
That is not to say that Mr. Al-Assad should go scot-free.
Nonetheless, the failure to defeat the Syrian regime, after 12 years in which it brutally prosecuted a war with the backing of Russia and Iran, suggests the time has come to think out of the box.
The alternative is maintaining a status quo that can claim the moral high ground but holds out no prospect of change or alleviation of the plight of millions of innocent people.
To be sure, morality is not a concern of Arab regimes seeking to bring Mr. Al-Assad in from the cold. However, countering Iran and managing regional conflicts to prevent them from spinning out of control is.
Even so, the Arab proposition potentially opens a way out of a quagmire.
It would enhance the leverage of the United States and Europe to ensure that political reform is the cornerstone of Mr. Al-Assad's engagement with elements of the Syrian opposition.
In other words, rather than rejecting any solution that does not involve Mr. Al-Assad's removal from power, the United States and Europe could lift sanctions contingent on agreement and implementation of reforms.
Similarly, the US and Europe could make sanctions relief contingent on a safe, uninhibited, and orderly return of refugees.
However, there would be questions about the ability and willingness of Arab forces loyal to autocratic regimes to safeguard that process impartially.
US and European engagement with Arab proponents of dealing with Mr. Al-Assad would potentially also give them a seat on a train that has already left the station despite their objections.
Ali Shamkani, the Iranian national security official who negotiated the deal with Saudi Arabia in Beijing, was in the UAE this week to meet President Mohammed bin Zayed. There is little doubt that Syria was on the two men's agenda.
Mr. Al-Assad met this weekend in Abu Dhabi with Mr. Bin Zayed for the second time in a year and traveled to Oman for talks with Sultan Haitham bin Tariq last month.
The Jordanian and Egyptian foreign ministers recently trekked separately to Damascus for the first time since the civil war in Syria erupted in 2011.
Perhaps, the most fundamental obstacle to the Arab proposition is not the fact that Syria, the United States, and Europe would have to swallow bitter pills.
The prime obstacle is likely to be the Arab proponents of the plan. The UAE, Saudi Arabia, Egypt, and Jordan are unlikely to stick to their guns in presenting the plan as a package.
Having taken the lead in cozying up to Mr. Al-Assad, the UAE has since last year demonstrated that it is willing to coax the Syrian leader to back away from Iran at whatever cost to prospects for reform or alleviation of the plight of his victims.
Saudi Arabia, like Qatar and several other Arab countries, initially opposed reconciliation but the kingdom has since embraced the notion of rehabilitation of Mr. Al-Assad.
In early March, Saudi Foreign Minister Faisal bin Farhan Al Saud noted "that there is a consensus building in the Arab world, that the status quo is not tenable. And that means we have to find a way to move beyond that status quo."
Mr, Al-Saud insisted, however, that it was "too early" to discuss Syria's return to the Arab League that groups the Middle East's 22 Arab states. The League suspended Syrian membership in 2011 because of Mr. Al-Assad's prosecution of the civil war.
Even so, this puts the ball in the US and European courts.
Much of the Arab proposition is about enticing the United States and Europe to be more accommodating and more inclined to a conditioned lifting of sanctions.
The problem is that Mr. Al-Assad is likely to call the Arab states' bluff in the knowledge that Iran is his trump card.
A speedy in principle US and European embrace of the Arab proposition would hold Emirati and Saudi feet to the fire and put Mr. Al-Assad on the back foot.
Iraq's Geopolitics, Key Factor for US, EU Energy Security Strategies
Twenty years after the US-led coalition invasion of Iraq in 2003, which resulted in the overthrow of the Baath regime and the formation of a new government framework and state constitutions, the Iraqis' dream of enjoying political, financial, and security stability has yet to come true.
Iraq, the second-largest crude oil producer in OPEC after Saudi Arabia and with the world's fifth-largest proved crude oil reserves at 145 billion barrels,, continues to face a variety of challenges, ranging from a lack of sovereignty to failing to provide the basic necessities for its people, despite the fact that the state's revenue has surpassed USD 1,000 billion since 2005.
While Iraq's index for government integrity is only 19.0, placing it in 162 out of 183 countries, the state stands in 157th place out of 180 countries for the corruption perceptions index, and the poverty rate among children rose to 38% when the poverty rate in Iraq reached 25 percent. The country's unemployment rate increased to 13.0%, while direct foreign investment inflow has gone negative again since 2019 and reached $-2,613.0 million in 2021. In contrast, only 59.66% of Iraqis will have access to safe drinking water in 2020, a 0.31% increase from 2019. This is a disappointing situation for the fourth oil-rich country, despite its oil production being raised to above 4.2 million barrels per day in 2021.
Iraq's Difficulties in Development:
Whereas the failures of Iraqi governments in establishing and developing a modern government are primarily related to the political structure formed by the Coalition Provisional Authority, led by the US convoy to Iraq, some analysts point to other causes, such as the country's ruling political leadership's indifference (3) to those critical conditions, while others point to the role of long-term internal conflicts (within and between Shia, Sunny, and Kurdish parties) and the later war against ISIS, but some of the analysts blame the ruling system established after 2003. The administration, which has not only failed to restore sovereignty, but has also been involved in widespread corruption at the highest levels of government, costing the country more than $150 billion in oil revenues since 2003.
While Iraq's oil production capacity is more than 4.6 million barrels per day, with more than 130 trillion cubic feet of natural gas reserves, the state's electricity production is only 34,000 megawatts per hour, which is still significantly lower than the peak demand amount of 40,000 MWh in 2022, and the state is still noticeably dependent on importing electricity and fuel for power generation from neighboring countries, particularly Iran, but Iraq is still the second largest flaring country after Russia, with more than 17,500 bcm in 2021, according to a world bank report, which is about double the state import of natural gas and could be enough to produce more than 9,000 MWh of electricity.
Because of the state's weak energy security, governments have been forced to increase annual purchases of electricity imports from neighbors Iran, Kuwait, and Saudi Arabia, as well as negotiate the import of more fuels, such as LNG, natural gas, and diesel, which could make the country more reliant on its neighbors in terms of energy security.
Iraq's Role in Global Energy Security and New Government's Efforts:
But, despite Iraq's failure in internal energy security, the country could have an important role in global energy security, not only because of its large oil production but also because of its geopolitical advantages. Despite some analysis pointing to Iraq's geological position as the main reason for hosting regional and global actors' confrontation in Iraq, the state could have a great role in the future of world energy supply, critically after the Russian-Ukrainian war era. The EU members' critical need to diversify their energy sources and replace some parts of Russian natural gas with new sources, while Iraq's neighboring Turkey as a potential hub of EU energy supply, provides an opportunity for the state to play a more effective role in the future of EU energy security.
Prime Minister Al-Soudani's plan to develop the state's natural gas fields began with kicking off production in the mega field of Akkas, which has around 5.6 trillion cubic feet of reserves, as well as several contracts signed recently to develop other states' fields and raise the power generation capacities. For improving the state's electrical production and distribution network, the Iraqi government inked a contract with Siemens Energy to increase the state's power generation by 11,000 MWh, which was followed by a five-year contract between the Iraqi ministry of electricity and USA G.E. Company to maintain the power plants it installed, increase their capacity, and install new plants in the future. In the next steps, the Iraqi government could negotiate with Qatar to fund and move forward Iraq's mega contract with Total Energy to develop the state's energy infrastructure. Soon, the Al Soudani could lead a contract with Crescent Petroleum to develop three oil and gas fields in Dilaa and Basra, which could be enough to supply power stations nearby in future years, while the Crescent company is a main shareholder in Pearl Petroleum, which is operating in the Kurdistan Region's Khormor gas field. If Al-Soudany could successfully execute those contracts, he could significantly change the state's energy security condition and enable Iraq to enjoy its geopolitical opportunities. In another part of Iraq, the semi-autonomous The Kurdistan Regional Government (KRG) is following its ambitious plan to export natural gas to Europe through Turkey from the Khormor gas field, which has been operated by the Pearl Petroleum consortium, including the UAE's Dana Gas and Crescent Petroleum. The plan has faced internal and regional challenges and has been attacked at least five times in the last year by Iraqi militias.
The KRG's success in running its plan to connect the Turkiye-Europe gas pipeline could be critical in exploiting Iraq's geopolitical advantages, which could make Iraq a corridor of gas exports from the Persian Gulf Countries to Europe. The concept of gas export through a pipeline from Qatar to Turkey, approaching Europe, has been paused due to a lack of secured passage after sparking the internal war in Syria (since 2011), but an alternative way through Iraq, whether it is joined to the Kurdistan gas pipeline, could bring the plan back to the table, which has a chance to receive strong support from US and EU members, making the prospect of delivering natural gas from Qatar, the UAE, and even Saudi Arabia to Europe.
The Qatar-Europe pipeline could supply Iraq's lack of natural gas for power generators in the beginning, but would be reversed soon if Iraq could run its energy plans, mainly in natural gas fields, as well as domesticating associated gas from giant oil fields in the south of Iraq.
This regional cooperation, which could strengthen economic and political ties between neighbors with Iraq, would also lay the groundwork for future developments, such as connecting new sources of products or delivering to new markets in Syria and Jordan, and would play a significant role in regional stability and peace. But internally, the state requires significant improvement in its governance and cooperation among internal actors, far from current confrontations.
U.S. Role in Iraq's New Era
While remaining neutral in US-Iran and west-Russia conflicts, the new Iraqi government is attempting to strengthen ties with all neighbors and global powers.PM Al-Soudani's visits to Iran and Saudi Arabia, followed by his visits to France and Germany, and hosting Russia's Lavarof and his plan to visit Washington, are part of his pragmatic efforts to maintain and expand relations with all neighbors and influential global countries. Also, his close relationship with KRG's leaders and their mutual cooperation in preparing the state's 2023 budget and oil and gas law are significant steps toward de-stressing the relationship between Erbil and Baghdad.
Baghdad and Erbil's ambitious steps toward improving energy security, increasing oil and gas production, and gathering regional potentials to approach the EU market are necessary but insufficient for stabilizing the state, fostering Iraq's political and economic growth, and enabling them to play a role in global energy security. Active global involvement is vital to the project's destiny.
Historically, the U.S. presence in Iraq has been a guarantee of the state's stable security, as occurred between 2003 and 2011, but the U.S. withdrawal in 2011 caused a religious war as a result of the power vacuum in the region. More than security issues, it could be an assurance of having a better democratic context for Iraqi people to have less fear of oppression from the government and Iraqi security forces, or another (10). Of course, in a stable situation, far from rocket attacks on the oil and gas fields, the development plan would be ramped up and more attractive for foreign investment.
Having a long-term plan for improvement in Iraqi federal administration, as well as defining the role of the US in supporting Iraqi federal and Kurdistan governments in planning and running a robust development, is required in the new US' return to Iraq. In the absence of those plans, and in the case of the US leaving the country after decreasing Iraq's importance for the US, when the Russia-Ukraine war ends, the country could be in a more critical situation, compared to the US leaving Iraq in 2011. More than that, the US should play a role in establishing a long-term and mutually beneficial relationship between the KRG and the Iraqi federal government, particularly in the areas of federal budget and oil and gas regulation. The KRG's autonomous authority in oil and gas development will benefit Iraqi federalism while also preventing the state from becoming a centrally consolidated autocratic power, a step back to before 2003 or a condition between 2011 and 2014. But global support for improving the local administration of oil and gas is vital to ensuring the successful approaching the development plan, dedicating it for public benefits, and finally securing it from endemic corruption, which was addressed as a reason for leaving some big projects to international oil companies.
Iraq's stability and growth will bring new opportunities for cooperation with western companies, mainly in but not limited to the energy sector, while also backing world order and the West's interest in global energy security.
A developed and stable Iraq, both politically and economically, will be a better choice for the U.S. and the EU and their interests in the region or globally. That's why Iraq is still important for the U.S. and will remain so in the future.
China's Saudi Iranian mediation spotlights flawed regional security policies
A Chinese-mediated Saudi-Iranian reconciliation potentially casts a spotlight on fundamentally flawed security policies of regional powers, including not only the kingdom and Iran but also the United Arab Emirates.
While much of the discussion in recent years has focused on Iran's strategy of creating a defense line far beyond its borders by nurturing and/or supporting aligned militias in various Arab countries, Saudi Arabia, and, even more so, the UAE, have adopted similar approaches.
To be sure, Iran has itself to blame for being the focal point of the debate.
Its nurturing and/or support of militias-cum-political organizations such as Hezbollah in Lebanon, the Popular Mobilization Units in Iraq, Houthi rebels in Yemen, and in Syria, the regime of President Bashar al-Assad, has been one driver of US and Arab efforts to contain the Islamic republic.
Even so, the Saudi-Iranian agreement could bring into sharp relief the challenges posed by what scholar Andreas Krieg has termed 'surrogate warfare' not only to the short-term resolution of conflicts like the Yemen war but also the long-term rejiggering of the Gulf's overall security architecture.
Support for militias "empowers complex networks of surrogates…that…become increasingly actors in their own right who disrupt post-conflict resolution and state building… Security assistance to non-state actors…does not contribute to building institutions in recipient states but exacerbates conflict polarization and division," Mr. Krieg said in a just-published study of UAE policy in Yemen and Libya.
It's an approach that reduces conflicts to a zero-sum game and exploits weak institutions and governance rather than seeking to empower the state by building strong foundations and transparent and accountable authorities.
It also allows supporters of non-state actors to evade responsibility under the guise of plausible deniability.
Shielded by public relations and public diplomacy mastery, the UAE has long been able to keep out of the public eye the downside of its regional security strategy that shapes its defense, foreign, and soft power policies, including its militant opposition to political Islam and the quest to be the dominant power in defining what constitutes moderate Islam.
Much like what happened in Libya where the UAE, together with Russia, Saudi Arabia, Egypt, and others, support renegade Libyan Field Marshall Khalifa Haftar against the country's internationally recognised government in debilitating civil strife, Emirati support for secessionist groups in Yemen could complicate if not thwart efforts to end its war.
In a sign of what could happen in Yemen, Mr. Haftar's Libyan National Army has refused to relinquish control of oil-rich swathes of eastern and southern Libya. Mr. Haftar has threatened to renew fighting if the country's political stalemate persists.
Policymakers and analysts see an end to the Saudi-military intervention in Yemen as the litmus test of the recently Chinese-mediated agreement between the kingdom and Iran.
The UAE withdrew the bulk of its troops from Yemen in 2019 but continues to support the Southern Transitional Council (STC) that demands independence for South Yemen in what would be a return to two separate Yemeni states as they existed before unification in 1990.
In a first response, the Council welcomed the China-mediated agreement "as an embodiment of our keenness to strengthen relations between the peoples and countries of our region."
The Council controls southern Yemen's strategic ports and waterways, the UNESCO-protected Socotra archipelago, and the volcanic Mayun Island in the Bab el-Mandeb Strait.
The UAE is operating Socotra as if it were Emirati rather than Yemeni territory with infrastructure projects that link it to the Gulf state and Emirati immigration and social service policies.
The UAE strategy resembles Iran's support for Arab non-state actors.
That may be one reason why the UAE was stepping ahead of Saudi Arabia and other Gulf states such as Bahrain in rebuilding relations with Iran,. This included returning its ambassador to Tehran in 2022.
The UAE downgraded its diplomatic representation in Iran in 2016, but, unlike Saudi Arabia, did not break off relations in the wake of the ransacking of Saudi diplomatic outposts in the Iranian capital and the shrine city of Mashhad.
The missions were attacked by crowds protesting the kingdom's execution of a prominent Saudi Shiite cleric, Nimr al-Nimr.
Moreover, the UAE sent Emirati coast guard commanders in 2019 to Tehran for discussions with their Iranian counterparts on maritime cooperation in the Strait of Hormuz.
To be sure, mounting uncertainty about the reliability of US pledges to guarantee Gulf security was the most immediate driver of Emirati outreach to Iran.
Uncertainty is also what governs the UAE's engagement in surrogate warfare in a bid to project power and influence.
In that sense, the drivers of surrogate warfare are equally valid for Iran, which sees itself as encircled by hostile US-backed powers with varying degrees of security ties to Israel, and Saudi Arabia which views Iranian-supported non-state actors and Iran's weapons programs as existential threats.
With Yemen as a litmus test, the Chinese-mediated Saudi-Iranian rapprochement offers an opportunity to reduce regional tensions more structurally by positioning surrogate warfare as a threat to long-term stability and security rather than a partisan issue that puts Iran but not others in the hot seat.
"One of the most concerning drawbacks of security assistance being provided to non-state actors that do not cooperate but compete with government authority is that it creates new fault lines in already polarized conflicts," Mr. Krieg said.
He went on to say, regarding Libya and Yemen, that "rather than offering avenues for the integration of conflicting parties into an inclusive national framework that could assist with reconciliation," support for non-state militias adds "additional layers of conflict to already conflict-torn countries."
That is as true for Iranian and Emirate surrogate warfare and degrees of Saudi support for non-state actors as it is for direct Saudi military intervention in Yemen or Iranian involvement in Syria.
To be sure, dialling down the tension between Saudi Arabia and Iran is in the interest of all parties.
So are inclusive security approaches that consider the concerns of all and strengthen institutions and governance rather than mitigate against reconciliation and reconstruction.
The ultimate valuation of the Chinese mediation will depend on the degree to which it contributes to sustainable conflict management, if not conflict resolution.
What is certain is that in the words of analyst Raffaello Pantucci "people will look at China's proposals and its attempts at mediation as evidence of Beijing offering something new which, while not perfect, is at least not simply stoking the flames of conflict."
Potentially, that is what offers an opening for a rethink of security strategies and the development of approaches that that could help create a more sustainable security environment.