James Rickards: "Biden administration has turned the war in Ukraine into an existential crisis for the U.S. and NATO"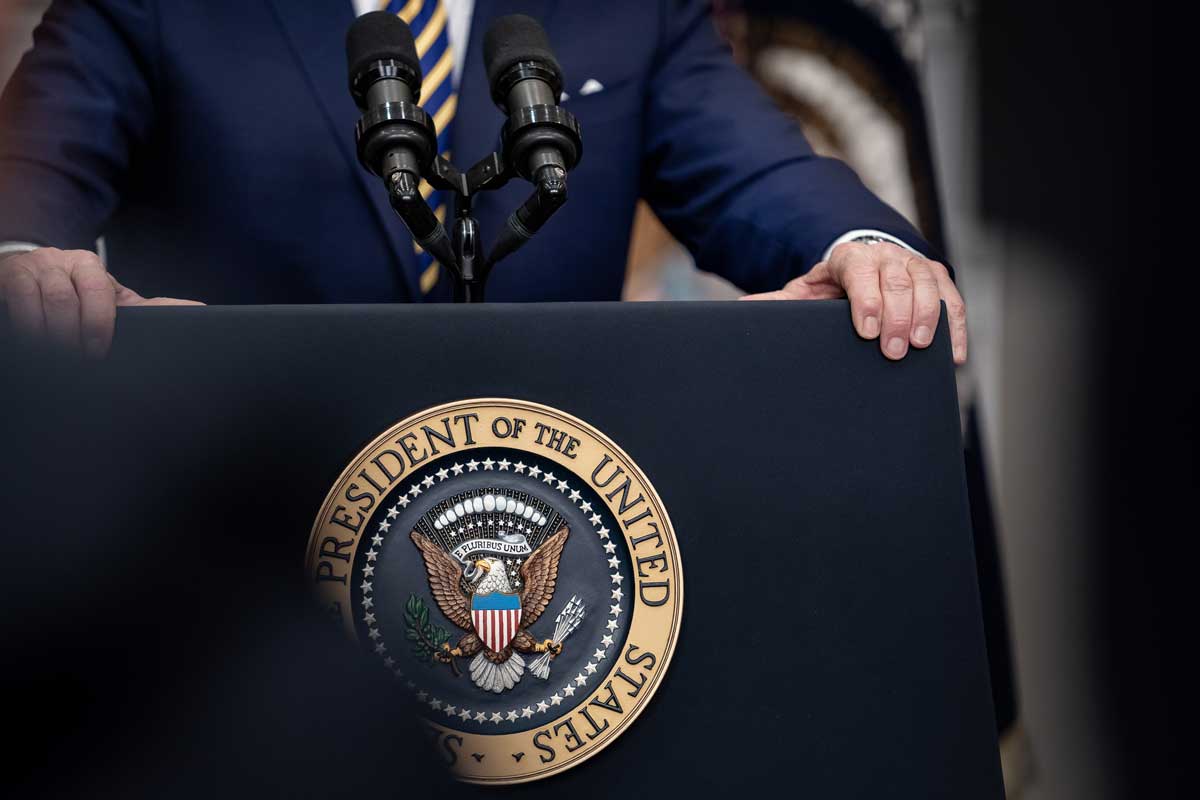 "The Biden administration has essentially turned the war in Ukraine into an existential crisis for the U.S. and NATO, when it never should have been. Ukraine has never been a vital U.S. interest. But the war is existential for Russia, and won't give up," writes James G. Rickards, the editor of Strategic Intelligence, once an advisor on capital markets to the U.S. intelligence community, and at the Office of the Secretary of Defense in the Pentagon. He continues:
Is the U.S. just going to throw up its hands and concede Russian victory? NATO may actually disintegrate in the face of such spectacular failure. Maybe a desperate Biden orders troops into western Ukraine as a buffer against a complete Russian takeover of the country. You can imagine what could go wrong.
That situation may quickly devolve into a direct war between the U.S. and Russia rather than the proxy war that it is now. The American people and investors in particular are not prepared for any of this. They should be. It's becoming increasingly likely.
He writes about 'two facets of the war in Ukraine that you don't hear from legacy media in the United States or U.K.'
The first is that Russia is actually winning the war. U.S. outlets such as The New York Times (a channel for the State Department) and The Washington Post (a channel for the CIA) report endlessly about how Russian plans have failed, about how incompetent they are about how 'the Armed Forces of Ukraine (AFU) have pushed back Russians in the Donbass, and how NATO weapons such as U.S. Abrams tanks, U.K. Challenger tanks and German Leopard tanks will turn the tide against Russia soon.'
This is all nonsense. None of it is true.
First off, the Ukrainian (AFU) advances that took place in late summer were against lightly defended positions that the Russians quickly conceded to conserve forces. The Russians were willing to give up the land so that they wouldn't lose valuable men and materiel.
The Russians withdrew to more defensible positions and have been badly mauling Ukrainian attacking forces ever since. Ukraine has wasted incredibly large amounts of men and equipment in these futile and ill-advised attacks.
In all, credible reports indicate that AFU casualties are nearing 500,000 and are increasing at an unsustainable rate.
What about the tanks NATO is supposedly sending? Well, the tanks have not been delivered yet and most won't be for months or longer. Our own M1 Abrams tanks might not even arrive for a year or more.
We actually have to custom build these tanks so that they don't have the special armor and other advanced systems that our own M1s have. The Pentagon doesn't want them falling into Russian hands if they're destroyed or captured. Besides, we're only sending 31 tanks anyway.
When the NATO tanks do arrive, they'll likely quickly be destroyed by Russian artillery, anti-tank weapons and precision missiles. They're good tanks, but far from invincible. For decades, the Russians have been developing powerful weapons specifically designed to destroy these NATO tank models. The Russians aren't particularly worried about them.
Aside from that, tanks rely on effective air cover for protection, which Ukraine lacks. They'll be sitting ducks on the battlefield. It doesn't really make sense to send tanks to Ukraine unless you send combat aircraft to give them cover.
Meanwhile, Russian forces have nearly encircled the city of Bakhmut, which is a major transportation and logistics hub, with several key roads and rail lines passing through it. It'll probably fall to the Russians within weeks.
Losing Bakhmut will be a major blow to Ukraine, despite claims in the western media that it really isn't very important. Ukraine's entire 800-mile defensive line would probably begin to crumble, and they don't have heavily fortified positions to fall back on. Ukrainian troops are exhausted and running out of supplies as it is.
On top of that, it appears likely that Russia is preparing a devastating offensive with massive amounts of men, tanks, armored personnel carriers, artillery, helicopters, drones and fixed-wing aircraft.
This Russian army is not the same army that invaded Ukraine a year ago. It's much better trained, led and equipped. It's learned from the mistakes it made during its initial invasion last February.
The second facet of this war not reported in the media, or at least downplayed, is the growing risk of nuclear war. This risk increases with every escalatory step by both sides. The U.S. is the leader in reckless escalation by supplying long-range artillery, Patriot anti-missile batteries, intelligence, surveillance, and now the tanks. Russia responds at each step.
There's a number of steps before the two sides arrive at the nuclear level, but neither shows a willingness to step back.
By the way, Russia has every legal right to attack those NATO countries supplying arms to Ukraine. By supplying arms to a party to the conflict, they've given up their neutrality and have become, in effect, combatants.
Russia hasn't done this because it doesn't want to bring NATO directly into the fight. But legally, it can.
The U.S. won't end the weapons deliveries because Joe Biden is afraid of losing face and his closest advisors such as Victoria Nuland have an irrational hatred for Russia and are total warmongers.
Now, we can add a new danger, resulting from desperation.
This is the fact that the U.S. itself may be the biggest loser in the war, stresses James Rickards.
International Affairs
Shedding light on the Sun
As questions abound about the Earth's closest star, scientists are seeking answers critical to forecasting solar flares that threaten satellites and other electronics.
By ANTHONY KING
For most of humankind's history, it has been hard to explain the Sun as anything other than a powerful deity.
For instance, the ancient Greek god Helios – the personification of the Sun – raced his chariot across the sky to create night and day, whereas the ancient Egyptians worshipped their falcon-headed sun god, Ra, as creator of the universe.
Powerful surprises
Since then, science has revealed that, for example, the Sun on average turns on its axis once every 28 days. But at its equator, the hot plasma ball rotates once every 25 days, while it takes around 35 days at the poles, creating a swirling soup of piping hot plasma.
Nonetheless, the power of the Sun can still offer surprises, with blasts fierce enough to fry communication satellites or electronics on Earth. Scientists warn of more powerful solar flares as a peak of activity approaches in late 2024 and early 2025.
'There is this turbulent motion inside our star, called convection, that is a bit like how water wrinkles just before it boils,' said Professor Sacha Brun, director of research at CEA Paris-Saclay, part of the French Alternative Energies and Atomic Energy Commission.
An infamous magnetic storm that hit Earth in September 1859, known as the Carrington Event, triggered spectacular auroras far from polar regions and sizzled telegraph systems around the world.
There have been more since. In 1989, a geomagnetic storm caused a blackout in Quebec, Canada, according to Brun.
Greater knowledge about the Sun is needed to predict and understand such events.
That swirling ball of hydrogen and helium is also unimaginably hot – with core temperatures of 15 million °C. And it's ginormous – more than 1 million Earths fit inside the Sun.
Its peaceful presence on a summer's day belies the intense nuclear reactions at its core that generate vast amounts of energy. The Sun is a churning ball of plasma, with gases so hot that electrons are booted out of atoms, generating intense magnetic explosions from its surface that spew billions of tonnes of matter into space.
Magnetic charm
As it spins, the Sun's mechanical energy turns into magnetic energy – a bit like the dynamo on a bicycle light, where pedal motion is converted into magnetic energy.
On the Sun, twisty ribbons of magnetism rise and break out as sunspots, dark patches at the surface where the magnetic field is 3 000 times more intense than in the surrounding areas.
Sunspots can trigger those solar flares that damage electrical equipment. But this activity isn't constant.
'The magnetism of the Sun is variable over an 11-year cycle,' said Brun, an astrophysicist.
Over that cycle, coronal mass ejections rise in frequency, from one every three days to an average of three per day at its peak.
'As we go further into the cycle, more outbursts will emerge from the Sun,' Brun said. 'People don't realise that the Earth bathes in the turbulent magnetic atmosphere of our star.'
So there's an obvious need to anticipate when such solar storms approach. For example, a solar flare in February 2022 knocked out 40 SpaceX commercial satellites by destroying their electronics.
Those energetic particles take just 15 minutes to reach Earth from the Sun. The threat posed by magnetic clouds usually takes a few days, offering more time to brace for any onslaught.
Brun co-leads an EU-funded project called WHOLE SUN to understand the interior and exterior layers of the only star in the Earth's solar system.
Running for seven years through April 2026, the initiative focuses on the inner turbulence of the Sun and the complex physics that turns the inner turmoil into magnetism in the outer layers.
This requires the most powerful supercomputers in the world. Yet forecasting solar flares means that scientists gain greater understanding of the insides of the Sun.
A star is born
What about the distant past of the Sun? It has been around for 4.6 billion years – 100 million years before Earth. Where and how it was formed would seem to be an impenetrable mystery.
Not so, according to Dr Maria Lugaro at the Konkoly Observatory of the Hungarian Academy of Sciences.
Lugaro, an Italian astrophysicist, is researching this very question in the EU-funded RADIOSTAR project. It began in 2017 and runs through August this year.
'We believe that the Sun wasn't born alone, but was born in a star-forming region where there's lots of stars,' Lugaro said.
She is looking into this past by examining chemical fossils in meteorites today.
Radioactive atoms are unstable. They release energy and decay into so-called daughter atoms, over a certain length of time, which are measurable. The daughters are therefore chemical fossils, offering information about long-gone radioactive atoms.
Lugaro's research suggests that the Sun originated in a stellar nursery that contained lots of siblings, including exploding stars – supernovas. But digging into the Sun's history first requires finding meteorites, bits of rock formed before Earth.
These meteorites can contain traces of the radioactive atoms such as aluminium-26 and hafnium-182. It is known that these lived only a certain length of time. Together, traces of such atoms can be used as a radioactive clock to compute the age of the stars that made them, relative to the age of the Sun.
Vivid discourse
Some radioactive atoms are made in only certain types of stars. Their presence in meteorites helps to recreate a picture of the Sun's birthplace, albeit one that's up for debate.
It may be that the Sun was birthed amid dust and gas clouds in a tempestuous region alongside supergiant stars and exploding stars.
Within perhaps 20 million years, the different stars begin to make their own way out of the nursery. But things are far from being scientifically settled.
'Every year there's debate: is the Sun normal or is it a weird star?' said Lugaro. 'It's quite fun.'
Research in this article was funded via the EU's European Research Council (ERC). The article was originally published in Horizon, the EU Research and Innovation Magazine.
Biden is preparing Americans to lose the Second Cold War?
Vladimir Putin's approval rating is 82%. Joe Biden's is 42%. Xi Jinping's is anyone's guess, but the Chinese near-unanimously trust their government. More than half of Russians trust their government. Less than a third of Americans trust theirs. These statistics are not random but speak to America's imminent loss in this, the Second Cold War, writes 'The American Thinker'.
Why aren't Americans rallying around the flag? Pride, approval, and support for their respective flags in China and Russia, but not the same in America, is not an accident. All governments influence the memories they want their people and foreigners to have of them. It's called political memory.
A look at how the governments of Russia, China, and the United States are leveraging political memory sheds light on why Russians and Chinese love their governments and rulers, and Americans are souring on America and Biden. This simultaneous occurrence is not an accident. Russia and China are preparing to win the second round of the Cold War, and America is handing them the opportunity to do this.
The goal of Russia's political memory is "to give students and ordinary citizens a simple and consistent narrative of a powerful nation they can take pride in." School begins by singing the national anthem and raising the Russian flag. Taking a knee or disparaging the Russian flag is unthinkable. Putin, to be certain of unified support for the actions taken, restore Ukraine to its rightful place, and prepare for Cold War II, launched a new patriotic history in 2022. Putin described the purpose: "A deep understanding of our history… to draw correct conclusions from the past."
Russia's political memory constantly conditions Russians to fear existential threats, particularly from the West. It's why they revere their militaries and have always been prepared to endure heavy casualties in war. The military prevents the Russian state from being subjugated.
Russia's approach to political memory is consistent with China's approach and motivated by the same theme: China lives with a perceived existential threat to its independence, particularly from the west. Cold War II will test its resilience.
China began preparing for round two at the end of Cold War I. This is when it began its "Patriotic Re-education Campaign." Cementing patriotism in China, as in Russia, is key to preparing for and achieving victory in Cold War II.
China's and Russia's approaches to political memory are contrary to the U.S. government's. Instead, America appears to be preparing to wave a white flag, or maybe a rainbow-colored one. Pride in America has been sinking, and this ties to the government's design for America's political memory.
This political memory could emphasize things such as America being the first colony to defeat a European empire or its WWII victory over fascism. Or it could tell how, in just over 150 years, America became an economic powerhouse on the back of capitalism and then sustained this with an education system designed to unify Americans and later foster innovation.
Instead, the center of history in 4,500 schools is to depict American slavery via exaggerated interpretations of personal memories, untempered by facts. Instead of a history of patriotism and achievement, the American government is supporting a history of trauma, including systemic racism and inequality.
In 2022, it was reported that the average IQ of Americans dropped for the first time in 100 years. The researchers speculated that it was due to changes in the educational system.
The Biden government's trauma-centered political memory strategy to divide America politically, and racially has motivated this Russo-Chinese partnership and escalated the likelihood of Cold War II, – writes the "American Thinker".
Riyadh joins Shanghai Cooperation Organization
Saudi Arabia's cabinet approved on Wednesday a decision to join the Shanghai Cooperation Organization (SCO), as Riyadh builds a long-term partnership with China despite U.S. security concerns.
Saudi Arabia has approved a memorandum on granting the Kingdom the status of a dialogue partner in the Shanghai Cooperation Organization, state news agency SPA said.
The SCO is a political and security union of countries spanning much of Eurasia, including China, India and Russia.
Formed in 2001 by Russia, China and former Soviet states in Central Asia, the body has been expanded to include India and Pakistan, with a view to playing a bigger role as counterweight to Western influence in the region.
Iran also signed documents for full membership last year.
Dialogue partner status will be a first step within the Organisation before granting the Kingdom full membership in the mid-term.
The decision followed an announcement by Saudi Aramco, which raised its multi-billion dollar investment in China, by finalising a planned joint venture in northeast China and acquiring a stake in a privately controlled petrochemical group.