New World Bank Toolkit To Make Transport and Public Spaces More Gender Inclusive
The World Bank today launched a "Toolkit on Enabling Gender Responsive Urban Mobility and Public Spaces in India" with the aim of guiding Indian cities on how to design public transport that is more inclusive of women's travelling requirements. Public transport services are not traditionally designed keeping in mind women's safety and their specific travel needs. This severely limits their access to work, education and life choices. India has amongst the lowest female labor force participation rates globally, at 26.2 percent in 2020-21.
The World Bank toolkit, designed especially for Indian cities, recommends integrating a gender lens in new and existing transport policies and plans. It also asks for enhancing women's representation in decision-making in key institutions such as urban local bodies and public transport authorities. Doing this, especially at senior leadership and decision-making levels, can make women feel more seen. The continuing poor representation of women as frontline staff in public transport encourages a vicious cycle where women continue to feel unsafe in public transport.
The report also recommends several interventions in transport and public spaces, including adequate streetlighting, improved walking and cycling tracks that particularly benefit women who are big users of non-motorized transport. The report says that devising responsive fare policies can boost ridership for women and persons of other genders. Setting up a strong grievance redressal system can help fast-track sexual harassment complaints.
"As urban mobility systems expand, implementing agencies are feeling the need to address concerns of different genders and ensure safe and inclusive public spaces and public transport for women," says Gerald Paul Ollivier, Lead Transport Specialist, World Bank, and co-author of the toolkit. "The toolkit brings together lessons learnt on the 'what' and 'how' through a series of 50 case studies from across India and the rest of the world, throwing light on interventions that have worked."
Women are amongst the biggest users of public transport across Indian cities. Eighty-four percent of trips taken by women for work were estimated to be by public, intermediate public, and non-motorised transport. How men and women travel is also intrinsically different. More women tend to walk to work compared to men—45.4 percent versus 27.4 percent. More women also travel by bus and are likely to consider affordability into account when travelling. They often choose slower means of transport since faster modes are more expensive. Lack of safety also deters women from stepping out, reducing their presence in public spaces.
The toolkit recommendations are based on a study of more than 50 international best practices and efforts by cities across the world. Most notably, the toolkit recommendations draw on the team's practical experience of designing and implementing gender responsive urban transport projects in Chennai, as part of the World Bank-supported Chennai City Partnership project. The newly formed Gender and Policy Lab in the Greater Chennai Corporation has also conceptualized a two-year action plan to ensure a safer and more inclusive city.
The toolkit contains practical tools that can inform a wide set of policymakers as well as private or community-based organisations to help ensure safe and inclusive public spaces and public transport for women in India.
The timing of the Canadian assault on the Indian foreign and security policy establishment over the killing of Hardeep Singh Nijjar is not in doubt, stresses M.K. Bhadrakumar, Indian Ambassador and prominent international observer.
It surged in the aftermath of the G20 summit, which witnessed a crushing diplomatic defeat for the US in front of the world community, where the host country India navigated skilfully to scuttle any negative reference to Russia in the event's final document.
The Nijjar affair can be metaphorically called the grapes of wrath. The liberal western world so far granted Modi government a free passage through their rules-based order. India could preach, but wasn't accountable for its own practice. All good things come to an end.
Canada has a record of acting as a surrogate of the US. As regards Nijjar file, a Canadian official familiar with the matter told Associated Press that Prime Minister Justin Trudeau's allegation against Modi government was based on surveillance of Indian diplomats in Canada, including intelligence provided by a "major ally" who is a member of the infamous Five Eyes, the secretive intelligence network of Anglo-Saxon countries — Australia, Britain, Canada, New Zealand and the US.
Interestingly, Britain scrambled to distance itself from Trudeau's tirade, while a Canadian source told Reuters that Canberra and Washington collaborated "very closely" to examine evidence indicating potential Indian involvement in Nijjar's killing.
Trudeau spoke in the Canadian parliament after consultations with President Biden, and the White House reaction on the same day was highly supportive. The White House National Security Council spokesperson Adrienne Watson said, "We are deeply concerned about the allegations referenced by Prime Minister Trudeau. We remain in regular contact with our Canadian partners. It is critical that Canada's investigation proceed and the perpetrators be brought to justice."
Watson works under NSA Jake Sullivan who reports directly to Biden. It is unlikely that Sullivan made this a personal issue with the Indian security establishment. Simply put, the buck stops at the Oval Office.
Indeed, after Watson's initial remark, the White House quickly switched to megaphone diplomacy with its highflying strategic communications chief John Kirby, a retired rear admiral, confirming for record that Biden is "mindful of the serious allegations" by Trudeau "and they are very serious… and we support Canada's efforts to investigate this. We believe a fully transparent, comprehensive investigation is the right approach so that we can all know exactly what happened, and of course we encourage India to cooperate with that."
Such gratuitous lecturing is sheer hypocrisy by a country that freely resorts to assassination as a tool in its foreign policy. Who killed Qassem Soleimani?
Alas, in the face of this bullying, Delhi's reaction has been pusillanimous, to say the least — as if it is stone deaf and couldn't hear what the White House officials were saying.
One would like to believe that India, with high values in global governance and deep respect for national sovereignty — apart from being the flag carrier of the concept of 'Vasudhaiva Kutumbakam' ('The World is One Family') — would never descend to such a heinous level as to practice murder in its statecraft.
The Indian government should strategise through its present predicament. After all, as a key member of the western alliance and a close ally of the US, Canada plays an important role for the US in establishing a so-called rules-based international order and promoting the Indo-Pacific Strategy. And "rules-based order" and Indo-Pacific Strategy are Indian mantras too.
Biden himself may come under cloud very soon and be battling for his political career. Inviting him to be the chief guest at the Republic Day with an additional frill thrown in by way of a QUAD summit to placate him is pointless. Once the Canadian investigation runs its course, Ottawa may put on the public domain further accusations passing for "evidence" — and that could happen at some point closer to our general election. All in all, the big question is, what is it that the US is really upto.
Assad-Xi Jinping meeting: China-Syria strategic partnership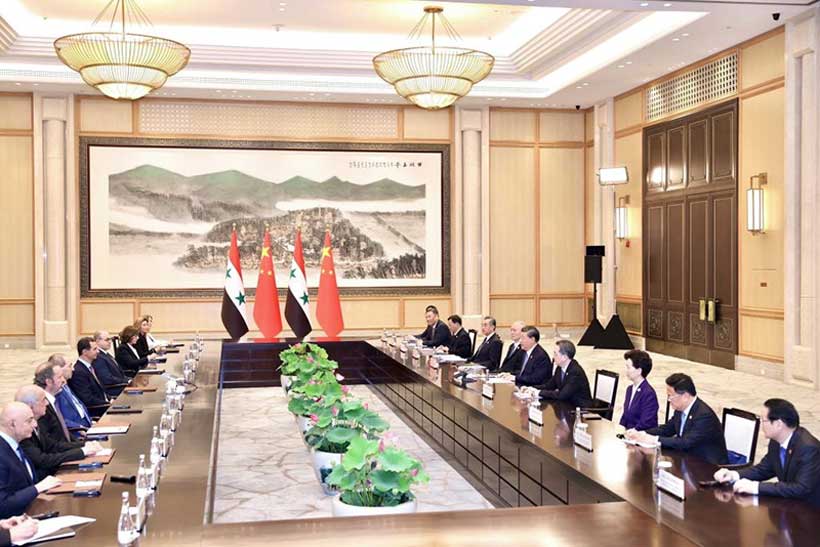 Chinese President Xi Jinping and Syrian President Bashar al-Assad on Friday jointly announced the establishment of a China-Syria strategic partnership, Chinese Xinhua Net informs.
The two presidents met in the eastern Chinese city of Hangzhou, Zhejiang Province, ahead of the opening of the 19th Asian Games.
Syria was one of the first Arab countries that established diplomatic relations with the People's Republic of China, and was one of the countries that co-sponsored the resolution to restore the lawful seat of the People's Republic of China in the United Nations, Xi said.
Over the 67 years since the establishment of diplomatic relations between the two countries, the China-Syria relationship has stood the test of changes in the international situation, and their friendship has grown stronger over time, he said.
Xi noted that the establishment of the strategic partnership will be an important milestone in the history of bilateral ties.
China is willing to work with Syria to enrich their relationship and continuously advance the China-Syria strategic partnership, Xi said.
Xi emphasized that China will continue to work with Syria to firmly support each other on issues concerning the two sides' respective core interests and major concerns, safeguard the common interests of both countries and other developing countries, and uphold international fairness and justice.
China supports Syria in opposing foreign interference, rejecting unilateralism and bullying, and safeguarding national independence, sovereignty and territorial integrity, he said.
China supports Syria in conducting reconstruction, enhancing counter-terrorism capacity building, and promoting a political settlement of the Syrian issue following the "Syrian-led, Syrian-owned" principle, Xi said.
China also supports Syria in improving its relations with other Arab countries and playing a greater role in international and regional affairs, he added.
China is willing to strengthen Belt and Road cooperation with Syria, increase the import of high-quality agricultural products from Syria, and jointly implement the Global Development Initiative, the Global Security Initiative and the Global Civilization Initiative to make active contributions to regional and global peace and development.
Assad said that in international affairs, China has always aligned itself with international fairness and justice, and upheld international law and humanitarianism, playing an important and constructive role.
Syria highly appreciates and firmly supports the Belt and Road Initiative, the Global Development Initiative, the Global Security Initiative and the Global Civilization Initiative, and will actively participate in them, Assad added.
The Syrian side thanks the Chinese government for its invaluable support to the Syrian people, firmly opposes any act of interference in China's internal affairs, and is willing to be China's long-term and staunch friend and partner, he said.
Assad said Syria will take the establishment of the Syria-China strategic partnership as an opportunity to strengthen bilateral friendly cooperation and step up their communication and coordination in international and regional affairs.
After the talks, the two heads of state witnessed the signing of bilateral cooperation documents in areas including Belt and Road cooperation, and economic and technological cooperation.
Seymour Hersh: "Zelensky's army no longer has any chance of a victory"
Next Tuesday will be the anniversary of the Biden administration's destruction of three of the four pipelines of Nord Stream 1 and 2. There is more I have to say about it, but it will have to wait. Why? Because the war between Russia and Ukraine, with the White House continuing to reject any talk of a ceasefire, is at a turning point, writes Seymour Hersh, a famous American investigative journalist.
There are significant elements in the American intelligence community, relying on field reports and technical intelligence, who believe that the demoralized Ukraine army has given up on the possibility of overcoming the heavily mined three-tier Russian defense lines and taking the war to Crimea and the four oblasts seized and annexed by Russia.
The reality is that Volodymyr Zelensky's battered army no longer has any chance of a victory.
The war continues, I have been told by an official with access to current intelligence, because Zelensky insists that it must. There is no discussion in his headquarters or in the Biden White House of a ceasefire and no interest in talks that could lead to an end to the slaughter. "It's all lies," the official said, speaking of the Ukrainian claims of incremental progress in the offensive that has suffered staggering losses, while gaining ground in a few scattered areas that the Ukrainian military measures in meters per week.
"There were some early Ukrainian penetrations in the opening days of the June offensive," the official said, "at or near" the heavily trapped first of Russia's three formidable concrete barriers of defense, "and the Russians retreated to sucker them in. And they all got killed." After weeks of high casualties and little progress, along with horrific losses to tanks and armored vehicles, he said, major elements of the Ukrainian army, without declaring so, virtually canceled the offensive. The two villages that the Ukrainian army recently claimed as captured "are so tiny that they couldn't fit between two Burma-Shave signs" — referring to billboards that seemed to be on every American highway after World War II.
Zelensky's message this week to the annual United Nations General Assembly in New York offered little new and, the Washington Post reported, he received the obligatory "warm welcome" from those in attendance. But, the Post noted, "he delivered his address to a half-full house, with many delegations declining to appear and listen to what he had to say." Leaders of some developing nations, the report added, were "frustrated" that the multiple billions being spent without serious accountability by the Biden administration to finance the Ukraine war was diminishing support for their own struggles to deal with "a warming world, confronting poverty and ensuring a more secure life for their citizens."
President Biden, in his earlier speech to the General Assembly, did not deal with Ukraine's perilous position in the war with Russia but renewed his resounding support for Ukraine.
Biden, with the support of Secretary Blinken and National Security Adviser Jake Sullivan — but diminishing support elsewhere in America — has turned his unrelenting financial and moral support for the Ukraine war into a do-or-die issue for his re-election.
The American intelligence official I spoke with spent the early years of his career working against Soviet aggression and spying has respect for Putin's intellect but contempt for his decision to go to war with Ukraine and to initiate the death and destruction that war brings. But, as he told me, "The war is over. Russia has won. There is no Ukrainian offensive anymore, but the White House and the American media have to keep the lie going. The truth is if the Ukrainian army is ordered to continue the offensive, the army would mutiny. The soldiers aren't willing to die any more, but this doesn't fit the B.S. that is being authored by the Biden White House," Seymour Hersh concludes.