Uzbekistan's Artel joins UN's 'Orange The World' campaign against gender-based violence
Artel Electronics LLC (Artel), Central Asia's largest home appliance and electronics manufacturer, has teamed up with the UN Population Fund (UNFPA) on a public information campaign against gender-based violence.
The campaign is in line with the UN's 16 Days of Activism against Gender-Based Violence, which utilizes the color orange to symbolize a brighter future. Artel's green branding turned orange for several days in advertising material throughout Uzbek capital Tashkent, and public figures made statements to raise awareness.
Artel joins an international movement that kicked off on 25th November and lasts for 16 days. Since 1991, it has been used by individuals and organizations to call for the prevention and elimination of violence against women and girls.
This is the second year the company has 'gone orange'. Artel Electronics HR Director, Lazizbek Mamatov, also took part in a panel discussion about Gender Equality in the Workplace hosted by the UNFPA at Westminster International University in Tashkent in line with the campaign.
Shohruh Ruzikulov, CEO of Artel, said "It is a privilege to once more work with the UN in raising awareness about the issue of Gender Based Violence. In Uzbekistan, this conversation is at a relatively young stage. We are proud to stand against domestic violence and continue Artel's work in all areas to contribute to a better society."
Mr. Yu Yu, Country Representative of the United Nations Population Fund, said "We are delighted to partner with a company like Artel on such an important issue. The public reach of the private sector is vital in ensuring our message to stand against domestic violence can be heard across all segments of society. We are grateful to Artel for taking leadership on this important issue in Uzbekistan. Together, we can make the change."
The true rate of domestic violence in Uzbekistan is not known. However, the government alongside diplomatic partners and aid organizations are prioritizing the issue. In recent years the Presidential Administration has issued decrees targeted at domestic violence prevention, the government has adopted laws guaranteeing equal rights for women, and funding has been provided for information campaigns and rehabilitation centers.
Support for this campaign is just one of Artel's initiatives to support women's empowerment. Internally, the company has introduced whistle-blowing mechanisms, and is implementing an internal legal clinic to improve the legal literacy of employees. Over the last year, the proportion of women in the company's 10,000 employees has risen by 5%, to 35%. The global average for the manufacturing industry is thought to be around 30%.
In 2021, Artel became a full participant of the UN Global Compact (UNGC), the world's largest business community focused on sustainable development. In doing so, the company committed to promoting ten principles covering human rights, labor rights and environmental protection.
Former CIA analyst: 'A costly and prolonged cold war now seems a certainty'
'No one knows how the war in Ukraine will end, but there is one post-war certainty: there will be a prolonged and costly Cold War between the United States and Russia,' – predicts Melvin A. Goodman, a former CIA analyst, now a senior fellow at the Center for International Policy and a professor of government at Johns Hopkins University.
He writes: In an interview with David Ignatius of the Washington Post, who has been doing the bidding of the Pentagon and the Central Intelligence Agency for several decades, Secretary of State Antony Blinken emphasized the importance of a "long-term goal of deterrence." Ignatius took this to mean that the Biden administration will make sure that Russia "should not be able to rest, regroup and reattack."
In addition to this year's record defense budget that found the Congress providing $45 billion more than the Pentagon requested, a so-called "emergency" provision will lay the foundation for adding scarce resources to defense spending in the coming year. This provision will allow multiyear, noncompetitive agreements to produce such ordinary weaponry as rockets and munitions.
According to the Washington Post, the Pentagon will now have a way to replenish its stockpiles that will provide a "new golden age" for military contractors.
The Biden administration's gift to the military-industrial complex rivals what the Reagan administration provided in the 1980s and ensures the country's rich market for weapons sales. Nearly half of the record defense spending of $858 billion goes to military contractors.
The House and Senate Armed Services Committees made sure that these spending spigots remain open by naming individuals with ties to the weapons industry to a commission that will review the Biden National Defense Strategy. The chairwoman of the commission, former Representative Jane Harman, protected Lockheed-Martin when she served on the Hill and currently is on the board of a military contractor that recently received a seven-year $800 million contract from the Pentagon.
The increased defense spending and the new emergency provision coincide with House Speaker Kevin McCarthy's creation of a new committee — the House Select Committee on Strategic Competition Between the United States and the Chinese Communist Party. In view of the recent rise in anti-Asian violence in the United States, it can only be hoped that Democrats appoint members to the committee who understand the domestic consequences of hyping the threat from China at this particular time.
Our China policy is not working, and the exaggeration of the China threat comes just in time for the hawks in the political aviary who fear that the severe deficiencies of the Russian military in Ukraine is making it more difficult to exaggerate the Russia threat. I've been calling attention to the exaggeration of the Russian threat for the past 50 years.
But the policy community, the bipartisan congressional community, and the pundit community can't let go of the idea that the Soviet Union and Russia present a 'threat to the national security of the United States'.
The Biden policy ensures a robust military presence on the Russian border that will worsen Cold War 2.0. There will be prolonged and unnecessary increases in defense spending, and the absence of a diplomatic dialogue in those important areas where there is Russian-American agreement.
These areas include a variety of arms control and disarmament issues, such as stopping the proliferation of nuclear weaponry and limiting the use of space in the military competition as well as dealing with insurgencies and terrorism; environmental degradation; and future pandemics.
It is hard to imagine any Russian government willing to pursue diplomatic solutions with a United States that has sponsored a NATO with more than 30 members; a military base in Poland; a regional missile defense in Poland and Romania; and the use of Romanian military facilities close by Russian forces and the Black Sea.
This serious turning point is being ignored by the policy community as well as the pundit and academic communities."
NATO press South Korea to provide arms to Ukraine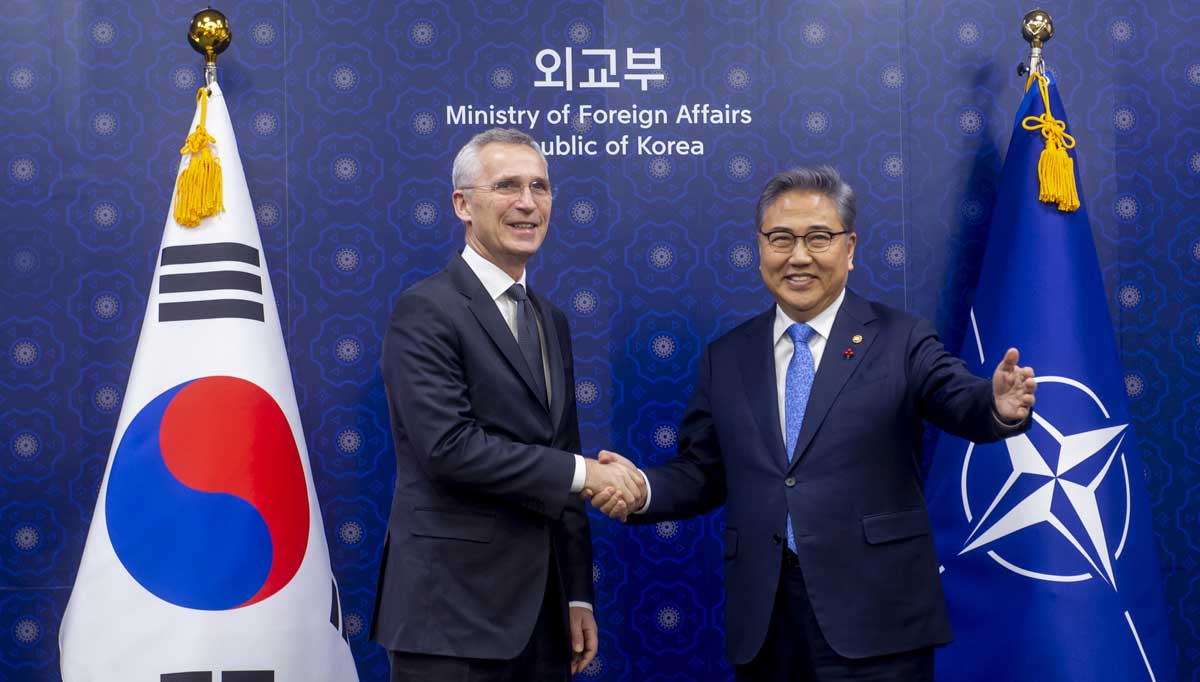 NATO Secretary-General Jens Stoltenberg urged South Korea to provide military support to Ukraine, saying the country is in urgent need of ammunition, stresses "The Wall Street Journal". Mr. Stoltenberg met with South Korean President Yoon Suk Yeol. After the meeting, Mr. Yoon promised to provide continued support to Ukraine, without saying whether Seoul would consider sending arms.
NATO is calling on South Korea to supply Ukraine because it is a U.S. ally with substantial capability to provide weapons, said Cha Du-hyeogn, a research fellow at Asan Institute for Policy Studies in Seoul. It means that NATO efforts are no longer enough.
While not a member of the North Atlantic Treaty Organization, South Korea is a close U.S. ally, and Mr. Yoon attended the NATO summit last year in Madrid. South Korea has sent materials such as gas masks, bulletproof vests and medical supplies to Ukraine, but has declined to provide lethal weapons, citing a law that prevents it from arming countries engaged in conflicts.
South Korea has been supplying arms to countries that have been supporting Ukraine in the war, including NATO member Poland. Seoul has signed deals to provide Poland with tanks and aircraft since the start of the war.
But, Seoul has sought to tread carefully with Russia, which is a large energy supplier to South Korea and holds sway with North Korea.
Mr. Stoltenberg in Seoul called North Korea's nuclear-weapons development and missile tests grave threats that violate United Nations Security Council sanctions.
Pyongyang called Mr. Stoltenberg's visit to South Korea and Japan a "prelude to confrontation and war," saying it could bring a new Cold War to the Asia-Pacific region, according to North Korean state media.
Russia restored Syrian air base for joint use
Russia and Syria have restored the 'Al-Jarrah' military air base in Syria's north to be jointly used, Russia's Defence Ministry said.
"Russian and Syrian military personnel restored the destroyed al-Jarrah airfield," the ministry said on the Telegram messaging. "The joint basing of aviation of the Russian Aerospace Forces and the Syrian Air Force at the al-Jarrah airfield makes it possible to cover the state border."
The small base east of Aleppo was recaptured from Islamic State fighters in 2017.
Russia has been a dominant military force in Syria since launching air strikes and ground operations there in 2015. It further asserted its presence after the United States pulled out its forces in 2019.
The conflict in Syria, which has killed hundreds of thousands of people, displaced millions and drawn in regional and world powers, has entered into a second decade, although fighting is at a lower intensity than in earlier years, writes 'The National' from Abu Dhabi, UAE.
With backing from Russia and Iran, Syrian President Bashar Al Assad's government has recovered most of its territory.
Turkish-backed opposition fighters still control a pocket in the north-west, and Kurdish fighters backed by the US also control territory near the Turkish border.