The Indo-Pacific Economic Framework for Prosperity (IPEF) was launched in the wake of President Joe Biden's Asia trip this May, signaling the commencement of "Pivot to Asia 2.0" on the economic dimension. In the following months, China has accelerated to revive, despite being dubbed as "re-emergence", its decades-old supply and marketing cooperatives—a Mao-era institution that once served as the engine of Chinese planned economy in the 1950s. The rebooting of the co-op system was actually initiated as early as 2016, but its recent sudden expansion across the country has provoked suspicion that China is reversing its market-reform efforts, and more importantly, it could be used as a pre-mobilization training by China to counter the increasing pressure from America or even to prepare for military operations targeting Taiwan.
China's Co-op System in the 1950s: An Outgrowth of Geopolitical Threats
The first few years after the 1949 Chinese revolution is often portrayed by Beijing as a period fraught with internal and external threats—internally, a dearth of qualified infrastructure and urban workforce for industrialization; externally, the Korean War and intermittent border conflicts with Cambodia, Vietnam, and India. Consequently, China was forced to prioritize the development of heavy industry with the help of Soviet Union. The result of the rapid industrialization led by state-owned enterprises was the food shortage in cities due to the huge influx of farmers into urban areas. In order to efficiently balance the circulation of food and industrial products between urban and rural areas, the supply and marketing co-op system was born.
A year after the termination of Soviet aids to China in 1957, Beijing transformed its supply and marketing co-op system to a more centralized Commune System in the name of improving the "self-reliance" of poor communities to solve the issues of impoverishment. Later that same year, China triggered the second Taiwan Strait Crisis by initiating an artillery bombardment of Taiwan's front-line islands, Quemoy and Matsu. Even though there was no direct evidence showing that the nearly decade-long collectivization movement in the 1950s was designed in the first place to target Taiwan, it was still an outgrowth of a grim geopolitical circumstance China believed it was in. Therefore, it is not difficult to understand China's motivation to revive the Co-op system today.
Co-op 2.0: Decoupling from the U.S. and Targeting Taiwan?
The recent Biden-Xi meeting during the G20 summit may have sent a positive signal to the world that a period of détentebetween the U.S. and China could be expected in the near future, but a real breakthrough in their systematic competition may take a much longer time. With the successful implementation of the Regional Comprehensive Economic Partnership (RCEP) this year, China's economic influence could be further projected in the region, which would largely bolster China's confidence that building a regional trade bloc to exclude U.S. influence is feasible. China's plan of becoming economic autarky, as having been framed as "internal circulation" , may be a workable cause so that a self-reliant China would no longer needs external demand to be a major driver of its economic growth.
Following the recent revival of Quadrilateral Security Dialogue (Quad) and the establishment of AUKUS, the announcement of IPEF by the United States undoubtedly reaffirm China's conviction that it is again caught between a rock and a hard place the way it was in the early 1950s—external challenges with intensifying geopolitical tensions and internal downward economy compounded by its unwavering "zero Covid" policy. Consequently, the rebooting of the supply and marketing cooperatives was initiated with the hope to pave the way for a grand duel strategy in the future: externally, further decoupling from global economic system dominated by the U.S. and its western democratic allies; internally, tightening the government's grip on the economy to weather international sanctions that could be imposed by western countries.
It is without doubt that Taiwan Strait is the most probable battlefield should any hot wars initiated by China in the years to come. In spite of speculations that Russia's setbacks in Ukraine may thwart China's potential aggression against the self-governing island, Xi Jinping's Taiwan ambition did not seem to take a hit. Instead, his historic third term as the top leader of China appeared to inject a shot of adrenaline to his "wolf-warrior" warmongering proclivity. Not only did the 20th Party Congress deliver a work report that manifested "the most authoritative" evaluation of China's Taiwan policy, but Xi' recent portrayal of China's geopolitical situation as "unstable and uncertain" was a message sent to the United States and Taiwan that any provocative initiatives from them could be greeted with China's forceful responses.
However, that type of forceful responses would come at a cost as having been seen in Russia's case. Having learned from from Russia' lack of economic preparation for international sanctions, Beijing realizes the importance of planning ahead. Thus, the supply and marketing cooperative system would function as a practical drill for China's need to transform its socialist market economy to wartime economy for possible military confrontations with the U.S. and Taiwan.
Implications for Counterstrategies of the U.S. and Taiwan
The legislation of America's new export controls of semiconductor chips may have landed a huge blow to the China's hope to save its economy via high-tech industry, but it is not likely that the U.S. would directly respond to the intentions behind China's Co-op 2.0 other than continuing to proceed the advancement of IPEF. Apropos to certain bilateral trade issues, the Biden administration may even favor a temporary ceasefire with Beijing, not only for the urgency to tackle the ongoing inflation, but also for the 2024 presidential election.
On the other hand, Taiwan can actually make the most of America's "Pivot to Asia 2.0" to win itself more bargaining chips. First, despite being denied membership, Taiwan can still take advantage of the support from its allies inside of American congress to seek active participation in IPEF under the name of the "Separate Customs Territory of Taiwan, Penghu, Kinmen and Matsu", the same title it uses as a member of the WTO. Second, it should put more efforts to promote the "Chip 4 Alliance" which is comprised of the United States, Taiwan, Japan, and South Korea, and strengthen technological ties with more European democracies. Last, it can seek more strategic dialogues with the new Republican-dominated congress. Compared to his predecessor, the would-be House Speaker, Kevin McCarthy, holds a tougher stance toward China and has already set to form a special committee to contain Beijing. Taiwan's active interactions with the new American congress would be helpful to increase its strategic value to both U.S. China policy and U.S. partisan politics in the following two years.
The Upcoming Recession and its Ramifications on the World Economies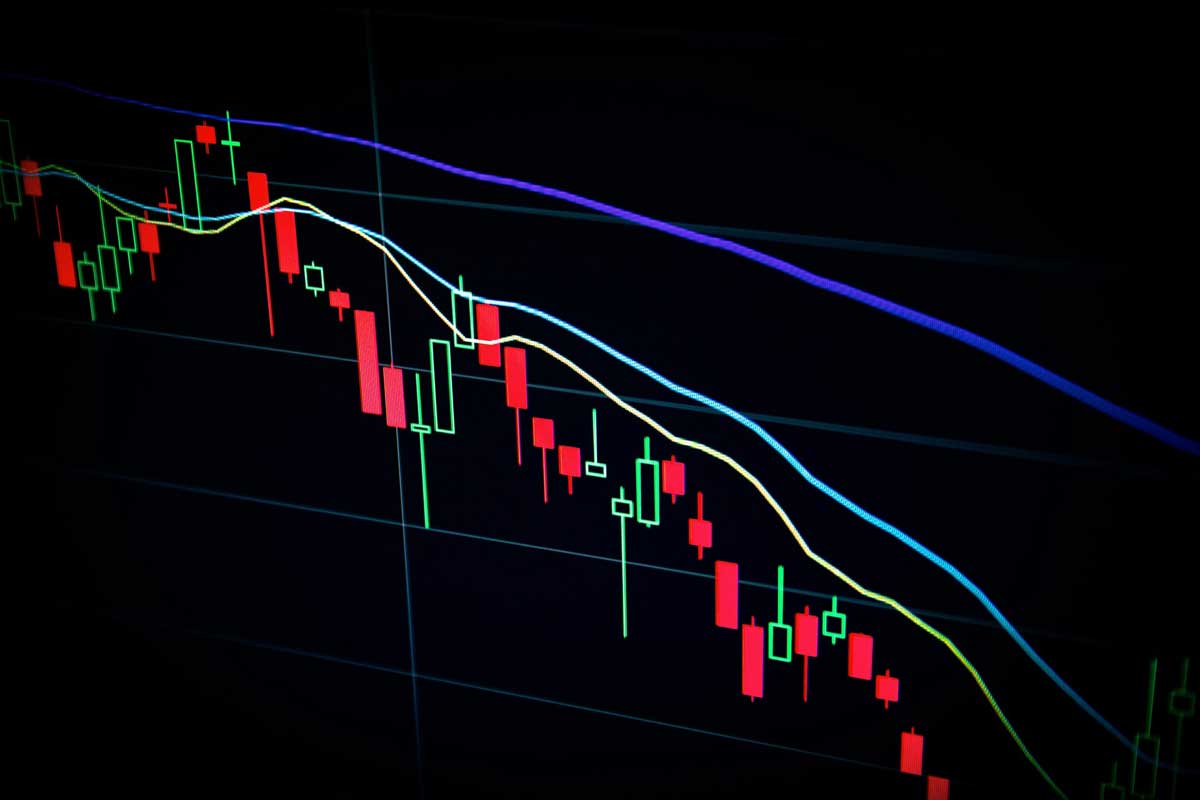 The recent decision of the new head of Twitter, Elon Musk, to sack approximately 50 percent of the workforce is only indicative of the recession that is glooming over the world. The story of Twitter is just one example among many visible ones. Almost all the major firms around the globe have or are planning to lay off employees, including Microsoft, Meta, Tencent, Xiaomi, Unacademy, etc.
According to a comprehensive study titled 'Risk of Global Recession in 2023 Rises Amid Simultaneous Rate Hikes' by the World Bank, all the nation-states are tilting towards a cascade of economic crises in global financial markets and emerging economies, leading to long-term damages. The report blames central banks around the globe for raising interest rates to tackle inflation caused due to the Coronavirus pandemic and Russia's aggression on Ukraine in the European arena. The report states that even raising the interest rates to an unprecedented high not seen over the past five decades will be insufficient to pull global inflation down to the pre-pandemic levels. It further instils the need to focus on supply disruptions and subside labour-market pressures. The President of the World Bank Group, David Malpass urged policymakers to focus on boosting production instead of cutting consumption and make policies that generate auxiliary investments, improving productivity and capital allocation, which are crucial for growth.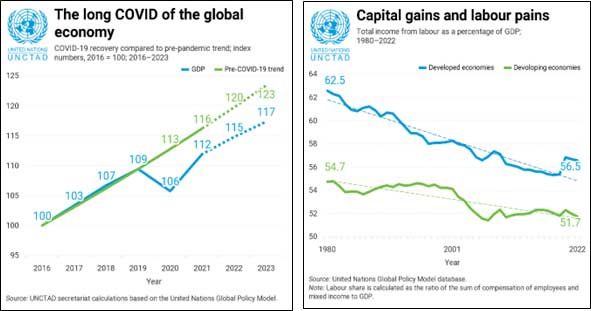 Economics 101: Recession
Amidst the pandemic, many states released relief and stimulus packages that heavily leaned on measures to expand liquidity, such as loosening lending restrictions or reducing repo rates (the rate at which commercial banks borrow money from the central bank) as well as reverse repo rates (the rate at which commercial banks lend money to the central bank). China was the first state to act upon these stimulus measures to counteract the disruptions caused by the covid, followed by Japan, the EU, Germany, India and so on. Though the measures helped economies absorb the pandemic's impact, one major drawback was increased demand due to induced money flow in the market, leading to inflation.
Inflation, defined as the rate of increase in prices of general goods and commodities in a given period of time, can be caused by multiple factors. A shortfall in aggregate supply, one of the most common factors, can lead to excessive demand pressures in the market. To curb inflation, central banks often tweak or change the fiscal and monetary policies of the nation. Increasing the interest rates is one such measure, as it tightens the economy's banking system and thus contracts the flow of money, reducing already high demands. However, suppose only the rates are increased without substantial reforms in line with resetting the supply chains, increasing production and overall growth to meet the demand; in that case, a country may move towards a recessionary period. Therefore, alongside rising rates, a nation must diversify its suppliers, invest in technology (without increasing the debt burden), and focus on self-reliance while sustaining employment.
The International Monetary Fund (IMF) defines recession practically as the fall in a country's Gross Domestic Product (GDP), i.e. a decline in the value of all the produced goods and services in a country for two consecutive quarters. Simply, a recession is a period of massive economic slowdown. Pointing at a specific moment when a recession occurs is almost impossible and futile. However, a few indicators, like the downfall of GDP and public spending, increased unemployment, and a decline in sales and a country's output, generally point towards an upcoming recession. To sum up, there are various ways for a recession to start, from sudden shocks to the economy and excessive debt to uncontrolled inflation (or deflation) and non-performing asset bubbles.
The Stumbling Economies
According to IMF Managing Director Kristalina Georgieva, "First, Covid, then Russia's invasion of Ukraine and climate disasters on all continents have inflicted immeasurable harm on people's lives." One-third of the world economies, including the United States, Europe and China, are expected to contract in the subsequent quarters. 
For US economists and forecasters, the recession is no longer about 'if' but 'when'. The decision of the Fed (US Central Bank) to increase rates to cool inflation without inducing higher unemployment and an economic downturn has only shrunk the possibility of a 'soft landing,' which occurs when the tightened monetary policies of the Fed reduce inflation without causing a recession. Nouriel Roubini, one of the few economists who rightly predicted the financial crisis of 2008, also claims a prolonged and inevitable recession in 2022 that will last till 2023. Economists expect a growth rate of 0.4 percent in the fourth quarter of 2023 as opposed to the fourth quarter of the previous year, and in 2024, they expect the economy to grow at 1.8 percent. The rate of unemployment is expected to rise to 3.7 percent in December this year and to 4.3 percent in June 2023, compared to 3.5 percent in September.
Like the US, Europe was also under the impression that the economic situation would improve without a recession. Assumptions of subsiding or transitory inflation due to solid businesses, enough public savings and adequate fiscal adjustments turned out wrong for the European economies. The Euro area (5.1 percent), and the UK (6.8 percent), are among the countries with the most expected output loss. Europe has mainly been affected by the Russian war on Ukraine and the resulting oil and gas disruptions leading to an 'Energy War' against the former. Similarly, China doesn't lie far from them, with an expected output loss of 5.7 percent in 2023. Zero Covid Policy, coupled with the mortgage crisis and exodus in the manufacturing sector, has led to the economic slowdown of the Asian giant.
Impact on the Indian Economy
India reported a growth of 13.5 percent in the April to June quarter and became the world's fifth-biggest economy, taking the spot of Great Britain. However, this growth results from the nation's shutdown amid Delta-driven covid lockdowns during previous quarters and not because of the significant improvements in the economic activities. India needs to focus on skill-based human development projects to unleash its economic potential and effectively utilise its demographic dividend. However, India is not immune to the global slowdown. It is expected to face an output loss of 7.8 percent in 2023.
Indian CEOs are also expecting a decline in the growth of companies, but the economy is expected to bounce back in the short term, according to KPMG 2022 report. Moreover, 86 percent of CEOs in India expect an impact of up to 10 percent on earnings in the next 12 months. Reducing profit margins, boosting productivity, diversifying supply chains, and implementing a hiring freeze (worst case, layoff policies) are a few steps firms can take to weather such challenges.
India, thus, needs to tap the potential of start-ups and small enterprises, as opposed to just established firms, by expanding and enhancing the private sector's access to capital investments and curbing environment-related risks. Reforms in dispute resolution mechanisms are also long overdue, evident through the Ease of Doing Business report, where India ranked 63rd out of 190 countries worldwide. India needs to prove its worth by showing investors that not only can their money achieve decent returns, but it is safe in Indian soil as well.
The stand on India's future remains split. The global rating agency S&P claims that India will not face the true and horrifying brunt of the global recession thanks to its decoupled economy with huge domestic demand, healthy balance sheets and enough foreign exchange reserves. On the contrary, according to the Japanese brokerage firm- Nomura, policymakers are misplaced in their optimism about India's growth trajectory. Its economists assert India's estimated growth at 7 percent in FY23, which is at par with the RBI's revised forecasts, but it also predicts a sharp decline to 5.2 percent in FY24. This estimated growth doesn't align with India's commitment to becoming a 5 Trillion USD economy.
Way Forward
UNCLAD's Trade and Development Report 2022 projects global economic growth will plunge down to 2.5 percent in 2022, followed by a drop to 2.2 percent in 2023, costing the world a loss of more than 17 trillion USD in productivity. It further warns that the developing nations will be most vulnerable to the slowdown resulting in a cascade of health, debt and climate crises. Regarding the proportion of revenue to public debt, Somalia, Sri Lanka, Angola, Gabon, and Laos are the worst-hit countries, evident through the excessive inflation these states face.
Similarly, Indian fuel and food commodities prices have increased, but India's sturdy performance when other countries are struggling can be attributed to its efficient policies. India does not have a perpetual external debt burden to hamper its growth. In addition, the government has focussed on developing the industrial and service sector to promote jobs and increase savings, especially after the Pandemic, to revitalise the Indian economy. Domestically, the government has provided effective social safety nets to ensure healthy livelihood for the population.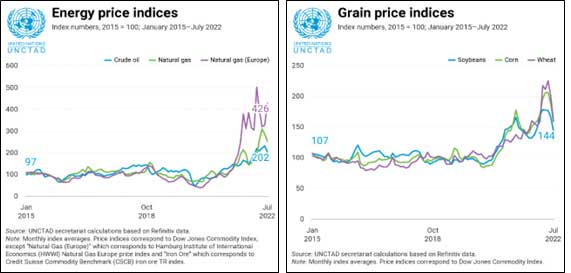 Despite these factors, India must realize and accept the harsh reality of the upcoming turbulent times. India may have a decoupled economy, but the world is one interlinked system. Global slowdowns will lead to a recession in India as well, whose effects are becoming more and more visible with each passing day. Major tech firms in India like Wipro, Tech Mahindra and Infosys have revoked their offer letters to young freshers, while others have started laying off employees amidst the fear of global recession. Irrespective of whether India becomes the "fastest growing economy" in the end, even a modest growth rate of about 5 percent will push millions into poverty in a country like India. It's only imperative to realise that a depreciating currency and elevated inflation will hit the poorest the hardest, and India must be prepared to deal with this challenge.
Who can live in England with less than £3 a week?
A study from the Joseph Rowntree Foundation found that 7 million families in England have gone without things like heating, toiletries or showers this year. Gheorghe, for her part, sometimes eats just one meal a day. And this Elena Gheorghe had never eaten at a food bank until this year. But like millions of people in the UK, she has watched her daily expenses eat up more and more of her income, and she ran out of corners to cut. That's a story from Bloomberg.
As they've watched double-digit inflation degrade their paychecks, millions of people in the UK have for the first time found themselves in a similar position. Over the last nine months, the share of UK households with little or no discretionary income has doubled from 20% to 40%, according to Asda Income Tracker data.
Many have gone into debt paying for things other than food and housing. Others are cutting back on essentials. "It's hard to feel anything but despair," said Abigail Davis, a social policy researcher at Loughborough University who has studied poverty and inequality for 22 years.
This is but a slice of the cost-of-living crisis that the UK's new Prime Minister, Rishi Sunak, will have to contend with as he takes office.
Britons across income levels face a foreboding combination of energy, mortgage, and pension crises. More than half of UK adults were finding keeping up with their bills a heavy burden this spring, according to the Financial Conduct Authority. Mortgage payments are already rising and the number of people either behind or struggling to pay rent has spiked by 45% since April, according to housing charity Shelter.
But the economic pain hasn't hit all equally. Poorer people have disproportionately seen their spending power evaporate. That's partly because those groups tend to lay out a bigger share of their income for essentials, such as food, whose prices have sky-rocketed.
The current political turmoil has only created more uncertainty over if and how the government will address skyrocketing prices.
Half of independent food banks in the UK say they either won't be able to help everyone who reaches out to them, or they'll have to cut the amount of food they're giving out this winter, according to a survey by the Independent Food Aid Network.
…Britain lived 'well and richly' as long as the Crown plundered in India, Africa while  stolen funds came to London from everywhere. Nowadays the country gradually sinks into its normal state – an island without resources and wealth. They once  said –  an island of Royal Pirates. Salute to captain Morgan and captain Drake!
International Affairs
Britain's autumn budget and the twilight of Thatcherism
On the 17th of November, barely over a month in office, the UK's Chancellor of the Exchequer Jeremy Hunt presented a career-defining autumn statement. But whether he agrees or not, it also put to bed four decades of economic orthodoxy.
A moment of reckoning was reached in the wake of September the 23rd, when Hunt's predecessor Kwasi Kwarteng presented his so-called 'mini-budget.' It announced £45bn in unfunded tax cuts alongside government spending to protect British consumers from sky-high energy bills caused by Russia's de facto natural gas embargo. The top rate of income tax was slashed from 45% to 40%, duties to be paid on house purchases were slashed, and a planned hike on business taxes was cancelled. In a paroxysm of ideological purity, the short-lived prime ministership of Liz Truss denounced 'handouts' and refused to implement a windfall tax on energy producers while committing to a bonfire of EU-origin legislation by the end of 2023.
When the permanent secretary to the Treasury, Tom Scholar, voiced his concerns, his misgivings were dismissed as 'abacus economics.' He was fired from his job. It was thus that the Thatcherite revolution had begun to eat its children. After a near-decade of austerity and six years after Brexit, common sense Girondins and Mensheviks of the cooperative trade and sound public finances kind were seen as unacceptable, market-unfriendly traitors to the cause. Libertarian Jacobins and Bolsheviks ran around shouting feel-good catchphrases such as 'growth, growth, growth,' 'Singapore-on-Thames,' 'Britannia Unchained,' and the Brexiteer mantra of 'taking back control' from shadowy experts and elites. Thatcherism was no longer simply an approach to macroeconomic management that puts markets at the centre. It had morphed into a religion that would brook no infidelity.
Yet the markets, funnily enough, weren't having any of it. The pound plunged to a 37-year low. The yield on the benchmark 10-year bond shot above 3.7%. As of the end of September, the UK government's ten-year borrowing rate was roughly half a point above US Treasury rates. Global finance treated the UK almost as though it were a fragile emerging market. Britain was being charged a 'moron risk premium,' according to Dario Perkins of TS Lombard. The Bank of England had to launch an emergency bond-buying programme to calm investors' nerves.
This was unprecedented: the neoliberal worldview had outlasted even the crash of Lehmann Brothers and the global financial crisis of 2007-09, with austerity-on-steroids insisted upon both in London and by Berlin. Despite British incomes falling by 2% since 2008 and despite the tragedy of Greece's sovereign debt crisis, Hayek's 'Road to Serfdom' and Austrian school dogma reigned supreme. But this time around, its seductive powers failed to impress neuralgic investors and gilt traders. Reeling under the aftereffects of a global pandemic and Russia's invasion of Ukraine, they had very little appetite for further unpredictability and made their displeasure known. Like in Italy where Mario Draghi was installed by the bond markets, Brexiteer delusions of sovereignty were tempered as the financier Rishi Sunak was practically ushered into 10 Downing Street by gilt traders and the managers of pension funds. His specific mandate: to put a check on fiscal profligacy.
The immediate after-effects of the 'mini-budget'
Much of this saga stems from a misunderstanding of the Reagan-Thatcher years themselves and the subsequent hagiography surrounding both politicians. In the US, underlying growth was more or less constant in the 1970s and 1980s. The double-dip recession of 1979-82 was followed by a rapid recovery. But by the end of Reagan's second term, the economy was roughly where it could have been expected to be based on extrapolation of the 1973-79 trend. Bill Clinton's undoing of the Reagan tax cuts actually increased growth and by the end of his presidency US GDP outperformed extrapolations of the 1973-1989 trend. If anything, it was Clinton's 1999 dismembering of the Glass Steagall Act- which separated investment banking from commercial banking and protected against excessive financial speculation- that brought on the crash of Lehmann Brothers and the Great Recession. Margaret Thatcher, for her part, launched her 'Medium Term Financial Strategy' in 1980. This was a monetarist experiment where high interest rates (the Bank of England was not an independent entity back then) and tight fiscal policy combined to push the economy into a deep recession, generated more than 3 million unemployed, and decimated the manufacturing industry of the north of England. The recovery that followed in the late 1980s was geographically concentrated in London and the southeast, spurred on by rapid consumption growth resulting from a house price surge and the bonanza of North Sea oil. Thatcher's broadsides against the European Community at the Dublin European Council in November 1979 and the infamous Bruges speech of September 1988 sowed the seeds of toxic Euroscepticism that led to the 2016 referendum. More than the work of agents of chaos like Nigel Farage who profited off the 2015 Middle East migration crisis, Brexit was a child of her libertarian revolution. At the Conservative Party conference in October 1987, Margaret Thatcher asserted: 'we haven't worked all these years to free Britain from the paralysis of Socialism only to see it creep in through the back door of central control and bureaucracy from Brussels.' Déjà vu ?
Now the chickens have come home to roost. The Bank of England, in raising its interest rate to 3%, has warned that the UK risks entering its longest recession in a century. Britain can no longer operate under the illusion that it is an economic superpower with a GDP of $20 tn and a population of 330 mn, able to scoff at a market of hundreds of millions of people in Europe. The Office for Budget Responsibility has calculated that Brexit has resulted in a 15% reduction in trade intensity and will reduce British GDP by 4% over 15 years. The pound has fallen consistently against the dollar since 2016, business investment hasn't returned to its 2016 peak, and unlike other advanced economies, British exports haven't bounced back after Covid. The British economy has fallen from 90% of the size of Germany's in 2016 to 70% now. Rows over the Northern Ireland protocol have led to the EU scrapping 115 grants for British scientists and academics and the UK threatening to pull out of the £80bn Horizon Europe programme. Meanwhile, growth has been slowing since the 1970s and productivity has remained stagnant since the 1980s.
Social misery is palpable. As inflation seems set to peak at 13%, pay rises could trail inflation by 8% later this year. This would be the biggest drop in UK wages and living standards since the decline of 13.3% in real terms in the fourth quarter of 1922. Mirroring the Winter of Discontent of 1978-79, workers in several sectors of the British economy are contemplating or taking part in industrial action, beginning with strikes organised by railway workers in June 2022. The toxic formula of ever-decreasing capital spending, underfunded social care, culture wars over immigration and Europe, and unsustainable housing market bubbles is now being seen to fail- in real time. Britain is on the verge of becoming the second most unequal country in Europe, after Bulgaria.
To his credit, Jeremy Hunt seems to have read the writing on the wall. Just as the 1956 Suez crisis shattered British delusions of imperial grandeur, the economic turmoil brought on by Trussonomics and the prospect of being wiped out by Labour at the next general election seem to have unmoored the Chancellor from some of his own militant free-market a prioris. While saying that growth remained a priority to avoid a 'doom loop' of higher taxes and lower dynamism, his autumn statement read like a white paper on 21st century social democracy. On personal taxes, the threshold for the 45p additional rate of tax was brought down from £150,000 to £125,040. Windfall taxes of 35% were levied on energy producers, up from 25% earlier. National insurance contributions from employers were frozen for 6 years, constituting a major effective tax hike on bosses, alongside cuts to capital gains and dividend allowances. The pensions triple lock was preserved and benefits are set to rise in line with inflation, with a £3.3bn increase in funding for the National Health Service and an increase in the schools budget by an extra £2.3bn a year. Despite the fact that King Charles III was blocked from attending COP27 and his current boss only decided to attend at the very last moment, Hunt also underlined his commitment to COP26 and a 68% reduction in UK emissions by 2030.
Had the US Democrats' vision of a Green New Deal finally taken over London? Or was this a desperate attempt by free-market Gorbachevs to enact last-ditch perestroika to shore up a bankrupt worldview? As long as politically difficult measures such as streamlined planning, higher immigration, and ensuring a healthier relationship with the UK's largest trading partner have not been taken, one has to conclude the latter.
It is too soon to tell whether the Labour party will win back power- and what policies it is able to enact if and when it does- or whether the Tories will defy odds and grimly hang on for a while yet. What is clear this autumn is that Britain, and the world, have witnessed the twilight of Thatcherism.