Humanitarians call for greater support to prevent famine in Horn of Africa
Greater global solidarity is needed to address the rapidly unfolding humanitarian catastrophe in the Horn of Africa, where millions are going hungry due to two years of unprecedented drought, UN agencies and partners said in a statement on Monday. Humanitarians must urgently prepare to continue their life-saving work in Ethiopia, Kenya and Somalia, as the drought – the longest and most severe in recent history – is set to run well into the coming year.
Even though nearly 21 million people are highly food insecure – with some areas of Somalia still projected to face famine – response plans are only 50 per cent funded.
Fear of famine repeat
"Despite the intrinsic uncertainty of rainfall forecasts, there is solid certainty about the urgent need for global support and solidarity to avert a Famine (IPC Phase 5) in the months ahead," said the partners, referring to the humanitarian classification scale for food insecurity.
Recalling that 260,000 people in Somalia died during the 2011 East Africa drought, with most deaths occurring before famine was declared, they urged the world not to allow this situation to be repeated.
"Given rising death rates in many areas, the size of the affected population, and the likely duration of the crisis, the cumulative levels of excess mortality could become as high as in 2011. We cannot – and must not – wait for a Famine (IPC Phase 5) to be declared, or for additional rainy seasons to fail, to act," their statement said.
Increase in child deaths
Significant increases in severe acute malnutrition have been observed across the whole Horn of Africa region, the partners reported. Overall, nearly 7.5 million children under five are estimated to be affected, including 1.85 million who are facing the severest form of the condition.
Child deaths also have risen. A recent assessment following the Gu rainy season in Somalia, from March to June, found under-five death rates exceeding two in 10,000 a day among four surveyed population groups.
Multiple disease outbreaks
More than 23.7 million people are facing daily problems in accessing water, thus increasing their vulnerability to water-borne diseases.
The situation also forces women and children to travel long distances to fetch water, putting them at heightened risk of violence and exploitation.
"The drought impacts on health risks are also significant, and multiple ongoing disease outbreaks, including measles and cholera, for which health outcomes are worse when combined with malnutrition, are major public health concerns," the statement said.
Some 1.77 million have fled their homes because they face severely limited access to food, water, and other resources. These people are now internally displaced, and over 40,000 have sought refuge in neighboring countries since the beginning of the year.
Poor rains expected
The situation is deteriorating due to the poor start of the October to December rains, particularly in Kenya and southern Somalia, the partners said.
These areas are expected to receive rainfall totals that are less than 60 per cent of average for the period from 1 October through 15 November, with some affected areas experiencing the poorest start of season on record.
"Worryingly, there is a broad consensus across meteorological agencies that the probability of continued below-average rains through the remainder of the season is high, resulting in an unprecedented fifth consecutive poor season," they noted.
Furthermore, preparations should be made for the likelihood that the March to May rains will also be below average, which would result in a record sixth consecutive poor season.
Regardless of what happens with rainfall next year, "recovery from a drought of this magnitude will take years, with the extremely high humanitarian needs set to persist and even increase in 2023", said the partners.
Former CIA analyst: 'A costly and prolonged cold war now seems a certainty'
'No one knows how the war in Ukraine will end, but there is one post-war certainty: there will be a prolonged and costly Cold War between the United States and Russia,' – predicts Melvin A. Goodman, a former CIA analyst, now a senior fellow at the Center for International Policy and a professor of government at Johns Hopkins University.
He writes: In an interview with David Ignatius of the Washington Post, who has been doing the bidding of the Pentagon and the Central Intelligence Agency for several decades, Secretary of State Antony Blinken emphasized the importance of a "long-term goal of deterrence." Ignatius took this to mean that the Biden administration will make sure that Russia "should not be able to rest, regroup and reattack."
In addition to this year's record defense budget that found the Congress providing $45 billion more than the Pentagon requested, a so-called "emergency" provision will lay the foundation for adding scarce resources to defense spending in the coming year. This provision will allow multiyear, noncompetitive agreements to produce such ordinary weaponry as rockets and munitions.
According to the Washington Post, the Pentagon will now have a way to replenish its stockpiles that will provide a "new golden age" for military contractors.
The Biden administration's gift to the military-industrial complex rivals what the Reagan administration provided in the 1980s and ensures the country's rich market for weapons sales. Nearly half of the record defense spending of $858 billion goes to military contractors.
The House and Senate Armed Services Committees made sure that these spending spigots remain open by naming individuals with ties to the weapons industry to a commission that will review the Biden National Defense Strategy. The chairwoman of the commission, former Representative Jane Harman, protected Lockheed-Martin when she served on the Hill and currently is on the board of a military contractor that recently received a seven-year $800 million contract from the Pentagon.
The increased defense spending and the new emergency provision coincide with House Speaker Kevin McCarthy's creation of a new committee — the House Select Committee on Strategic Competition Between the United States and the Chinese Communist Party. In view of the recent rise in anti-Asian violence in the United States, it can only be hoped that Democrats appoint members to the committee who understand the domestic consequences of hyping the threat from China at this particular time.
Our China policy is not working, and the exaggeration of the China threat comes just in time for the hawks in the political aviary who fear that the severe deficiencies of the Russian military in Ukraine is making it more difficult to exaggerate the Russia threat. I've been calling attention to the exaggeration of the Russian threat for the past 50 years.
But the policy community, the bipartisan congressional community, and the pundit community can't let go of the idea that the Soviet Union and Russia present a 'threat to the national security of the United States'.
The Biden policy ensures a robust military presence on the Russian border that will worsen Cold War 2.0. There will be prolonged and unnecessary increases in defense spending, and the absence of a diplomatic dialogue in those important areas where there is Russian-American agreement.
These areas include a variety of arms control and disarmament issues, such as stopping the proliferation of nuclear weaponry and limiting the use of space in the military competition as well as dealing with insurgencies and terrorism; environmental degradation; and future pandemics.
It is hard to imagine any Russian government willing to pursue diplomatic solutions with a United States that has sponsored a NATO with more than 30 members; a military base in Poland; a regional missile defense in Poland and Romania; and the use of Romanian military facilities close by Russian forces and the Black Sea.
This serious turning point is being ignored by the policy community as well as the pundit and academic communities."
NATO press South Korea to provide arms to Ukraine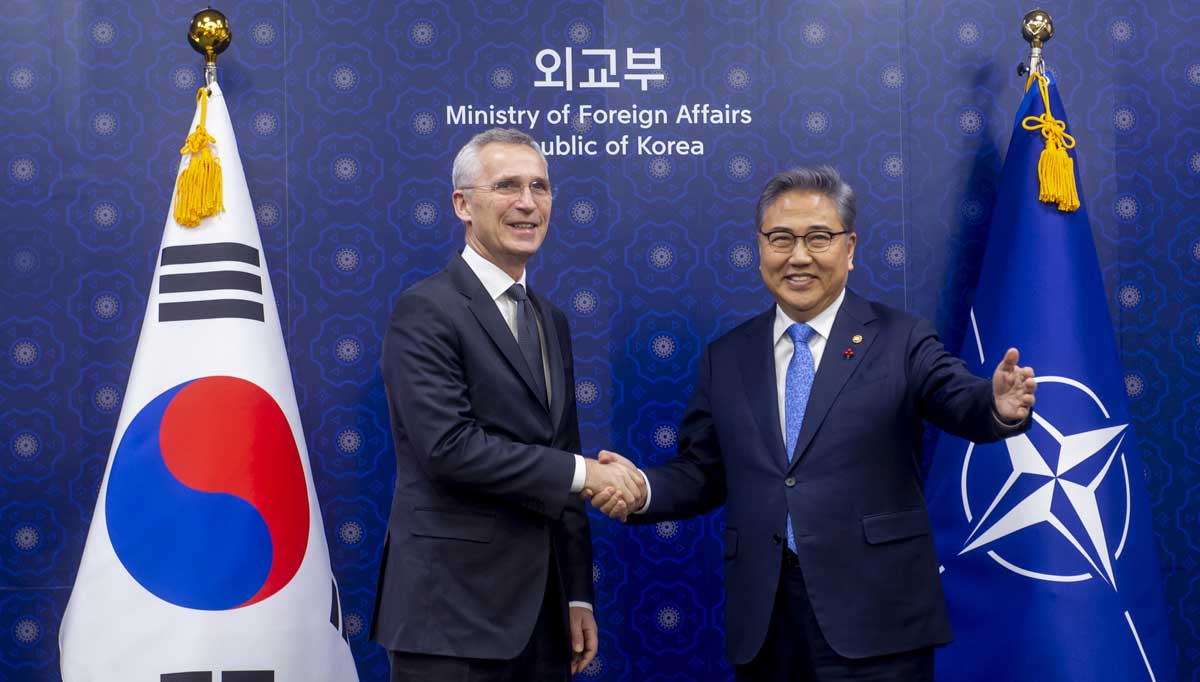 NATO Secretary-General Jens Stoltenberg urged South Korea to provide military support to Ukraine, saying the country is in urgent need of ammunition, stresses "The Wall Street Journal". Mr. Stoltenberg met with South Korean President Yoon Suk Yeol. After the meeting, Mr. Yoon promised to provide continued support to Ukraine, without saying whether Seoul would consider sending arms.
NATO is calling on South Korea to supply Ukraine because it is a U.S. ally with substantial capability to provide weapons, said Cha Du-hyeogn, a research fellow at Asan Institute for Policy Studies in Seoul. It means that NATO efforts are no longer enough.
While not a member of the North Atlantic Treaty Organization, South Korea is a close U.S. ally, and Mr. Yoon attended the NATO summit last year in Madrid. South Korea has sent materials such as gas masks, bulletproof vests and medical supplies to Ukraine, but has declined to provide lethal weapons, citing a law that prevents it from arming countries engaged in conflicts.
South Korea has been supplying arms to countries that have been supporting Ukraine in the war, including NATO member Poland. Seoul has signed deals to provide Poland with tanks and aircraft since the start of the war.
But, Seoul has sought to tread carefully with Russia, which is a large energy supplier to South Korea and holds sway with North Korea.
Mr. Stoltenberg in Seoul called North Korea's nuclear-weapons development and missile tests grave threats that violate United Nations Security Council sanctions.
Pyongyang called Mr. Stoltenberg's visit to South Korea and Japan a "prelude to confrontation and war," saying it could bring a new Cold War to the Asia-Pacific region, according to North Korean state media.
Russia restored Syrian air base for joint use
Russia and Syria have restored the 'Al-Jarrah' military air base in Syria's north to be jointly used, Russia's Defence Ministry said.
"Russian and Syrian military personnel restored the destroyed al-Jarrah airfield," the ministry said on the Telegram messaging. "The joint basing of aviation of the Russian Aerospace Forces and the Syrian Air Force at the al-Jarrah airfield makes it possible to cover the state border."
The small base east of Aleppo was recaptured from Islamic State fighters in 2017.
Russia has been a dominant military force in Syria since launching air strikes and ground operations there in 2015. It further asserted its presence after the United States pulled out its forces in 2019.
The conflict in Syria, which has killed hundreds of thousands of people, displaced millions and drawn in regional and world powers, has entered into a second decade, although fighting is at a lower intensity than in earlier years, writes 'The National' from Abu Dhabi, UAE.
With backing from Russia and Iran, Syrian President Bashar Al Assad's government has recovered most of its territory.
Turkish-backed opposition fighters still control a pocket in the north-west, and Kurdish fighters backed by the US also control territory near the Turkish border.