India's 3D Chess in the Ukraine War
Since the beginning, India has steered for a neutral course against the Russia's invasion of Ukraine. From the outset, however, India's stance on the Ukraine war looks more like subtly pro-Russian, a stance that signals an aloof, a realpolitik policy to look out for only its own interests above all else. While abstaining from successive UN votes condemning Russian aggression in Ukraine, New Delhi crude oil imports from Moscow have jumped over 50 times since the Ukraine war began, which have been causing the Western-led isolation strategy to fail, as recently becoming one of the biggest buyers of Russian oil, which making up for 10 per cent of all crude purchased from overseas, which was only 0.2 per cent before the war.
Even though sanction expectations, it was vast frustrating for the West, particularly the United States that India has further benefited from cheap Russian oil and coal since the outbreak of war, rather curbing or terminating its import. However, last week, Indian Minister of Petroleum and Natural Gas Hardeep Singh Puri said that "India will buy oil from wherever it has to for the simple reason that this kind of a discussion cannot be taken to the consuming population of India," as stated that it is the government's moral duty to provide energy to its people, also highlighting that India has not been told by anyone to stop buying oil from Russia.
The odd neutrality of New Delhi that have led it to steer clear of adjudicating the aggression and publicly condemning Moscow while contenting with urging respect for the territorial integrity and sovereignty of states as well as cessation of violence and return to diplomacy and dialogue is explained by India's perceptions of core national interests. Indeed, Delhi's neutral position is mostly shaped by the question of how alienating Moscow might undercut Indian vital interests.
First and foremost, India's principal focus is not to stuck in a two-front war scenario involving China and Pakistan, a war scenario India will lose. Evidently, the two-year-old lethal border clash showed once again India cannot yet tackle China. Even though there have been 16 rounds of high-military talks, significant military assets are still deployed along the Himalayan border. New Delhi purchased the S-400 missile defence system from Moscow with the expectation to give India strategic deterrence against China and Pakistan, despite strong opposition from Washington, and a significant proportion of Indian equipment, weapons and military platforms come from Russia. India's dependence on Russian-origin military equipment is significant aspect of avoiding to alienate the Kremlin, the most valuable defence tie that because of being cheaper as well as good enough for New Delhi, although its diversification of arms purchases by buying more from countries like the United States, Israel, France and Italy. Moreover, Russia readily offers India the advanced defence technologies without heavy end-user constraints while the West, the United States has not shown any willingness to provide technology transfers to India, and also Russia is the only country that leases a nuclear submarine to the latter.
Obviously, Russia is viewed as having been a time-tested friend of India, while the United States as an uncertain partner in comparison, although the existence of precedential civil nuclear deal, and being supportive of Delhi during the Indo-Chinese war in 1962 unlike Russian ambivalence, and the more current, the convergence of rules-based Indo-Pacific views. The Soviet Union wielded its veto power or abstained from voting in the UNSC on India's behalf on at least six occasions over Jammu and Kashmir; supported India amid the Indo-Pak war in 1971, while Washington pressured; displayed a consistent reticence to criticise New Delhi's internal developments unlike the West.
Having said all this, according to Indian strategic calculations, the less Delhi engages the Kremlin, the more Beijing gets closer to the latter, and it is a foregone conclusion that the more Sino-Indian rivalry grows, the more China will wean Moscow from India. However, the deterioration of Russian-Western connections is a much more determinative factor of Moscow-Beijing closeness than the level of Indian engagement with Russia. The Indo-Western intimacy, meanwhile, is another motivation of Russia moving closer to China. On the other hand, Moscow would not will to simply become Beijing's junior partner, a great motivation for Indo-Russian cooperation. India, hence, objectives to prevent Russian embrace to China as well as dalliance with Pakistan while balancing its Western links. Yet, New Delhi considers Russian-Pakistani cooperation as a mean to pressure India, even if it remains mostly symbolic. Strictly speaking, India has three main focus whatever happens in world politics: its China concern, its own room to manoeuvre in general, and being a great power that having a voice in multipolar world order.
Yet the remarks of Western leaders so far have already demonstrated that India will not be sidelined by its subtle neutrality. There is little doubt that even if India's ultra-realist stance on Russian invasion of Ukraine, only expressing displeasure and calling for diplomacy, shows inconsistency with its rules-based Indo-Pacific objective, Washington that pivots India around strategic Indo-Pacific calculations would not leave the latter alone to balance China in its best interests, and so New Delhi could also seek to ensure the Kremlin's support to deal with its Beijing concern by walking a tightrope of neutrality to shy away from blames in any way. Given this reality, literally, even if the United States occasionally chides India, Washington would not backtrack on its special treatment granted to New Delhi. Not surprisingly, then, Washington has implemented an India-specific waiver for CAATSA sanctions on its purchase of Russian S-400s, while imposed sanctions on Türkiye, by displaying once again US double-standard.
Hindutva has overshadowed Indian Republic Ideology
India observes Republic Day on January 26 each year to honor the 1950 Constitution of India, which succeeded the Government of India Act (1935) as the country's governing law. Following decolonization, India's new constitution was secular, emphasizing a reasonable separation of religion and state matters rather than strict demarcation as in many Western democracies. However, the political victory of the Hindu nationalist Bharatiya Janata Party in the late 1990s and past six years of Moodi's victory, deduced an obvious Hindu interpretation of democracy that differs from the existential western form of democracy. Religious content has increased in India's electoral environment (BJP). The post-colonial era has conveyed an alternative nationalism, one that is founded not on secular ideas but rather on the idea that Hindu culture and Indian culture are inseparable. Moodi is ready to transform India into a contemporary Hindu version of controlled democracy through his widespread advocacy of Hindutva ideology.
The secularism of the Indian Republic has always been opposed by the Hindutva movement. A significant portion of Muslims were persuaded to remain in India instead of migrating to the newly founded Islamic state of Pakistan because, at the time, independent India proclaimed itself a secular state, offering freedom to all minority groups as well as citizens' fundamental rights. All those who supported secularism were perished tragically due to the brutality of the rising Hindu extremism. Even Mahatma Gandhi, the most influential Hindu leader, was assassinated by the RSS because of his secular vision. Since then, Hindutva has become the core of every right-wing political group in India, including the RSS, Shiv Sena, Hindu Mahasbha, and BJP, led by Narendra Modi.
Since many years, termite fascism—which rejects equality—has been encroaching on India in the form of Hindutva. Apparently, in present day India, the Hindu Rashtra is theoretically opposed to caste discrimination against political Hindus. Modi's ordinary beginning and ascension to authority offer conclusive proof of a free and fair modernity. However, in practice, Hindutva is ready to accept the daily coercions that characterize contemporary Indian society. Instead of assuring the due rights of minorities residing in India, the parliament validated the communal, majoritarian, and intolerable Citizenship Amendment Act (CAA) – 2019 (CAA) followed by Indian High Court's suspicious decision on the Babri Masjid. By fabricating a "Muslim threat" to support the BJP's anti-Muslim actions, Hindutva has exacerbated social divisions in India. Undoubtedly, right-wing Hindu nationalism threatens India's constitutional foundations by establishing a Hindu Rashtra. This includes the 2019 Citizenship (Amendment) Act, the removal of Kashmir's autonomous status, and the Kerala hijab ban. Fascism is reshaping itself in India. It has infiltrated Hindu nationalism, or Hindutva, and now seriously endangers Indian democracy.
Similarly, the inauguration of a Hindu temple in Ayudha on August 5, 2020 (the same day a year after Article 370 was revoked) in lieu of a Mughal-era mosque razed by a right-wing Hindu mob in 1992. This confirms that the BJP has re-energized Savarkar's plan of Hindutva as a political religion, although in a decidedly populist tone. Conservatism is now increasingly couched in current class semantics ("rich" and "poor") rather than ancient caste terminology. Some people are considered more equal than others. Muslims, Christians, Marxists, and anti-caste campaigners are the new targets of prejudice and rejection. Individuals under such categories would be deemed political Hindus if they accepted Hindutva. In the new Hindu government, the lines are porous, and everything is negotiable.
Here, the point of concern is whether secularism would continue to serve India's central philosophy. Perhaps it would be determined by a confluence of political factors, specifically the BJP's future electoral success and the tactics the opposition uses to challenge the ruling party. Hindu nationalism is stripping India of one of its greatest strengths at a time when nations all over the world are struggling to deal with religious diversity. Therefore, it may not be incorrect to say that Hindu nationalism has an unquestionable sphere of influence over Indian politics and society, despite its evidently xenophobic emergence under the BJP. In fact, the revival of caste identities, which frequently threaten religious identities, is indirectly detrimental to secularism. The BJP has consistently attempted to adopt discriminatory policies to exploit caste-based individualities. In sum, India's commitment to secularist republic tradition is now in doubt given the political dominance of the BJP's trademark of Hindu nationalism.
Saudi-Chinese Friendship: Should India be Concerned?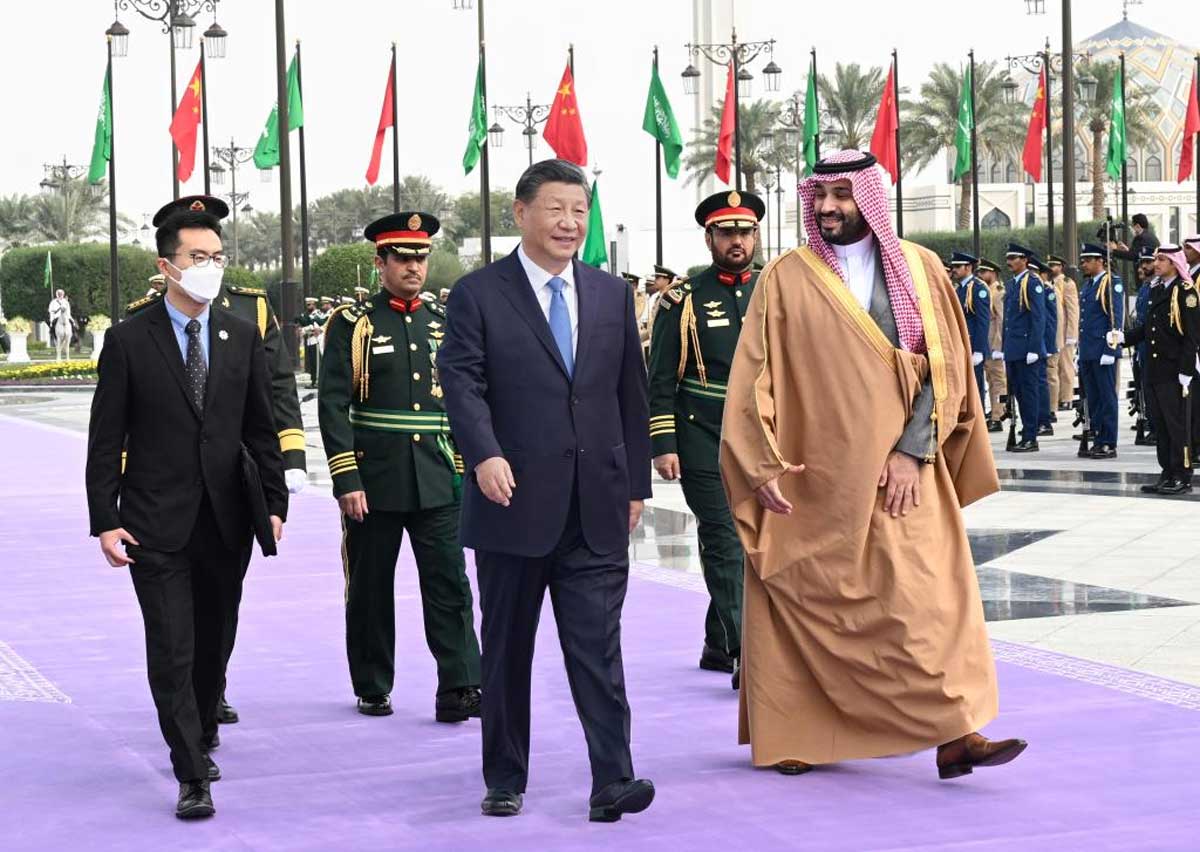 Saudi Arabia hosted the grand China-Arab summit in December last year and leaders of the two nations deliberated on future trade ties and regional security. The summit happened at a time when USA and Saudi ties are at an all time low. There lies massive uncertainty on global energy markets after the West forced a price cap on Russian oil and Washington is looking guardedly at China's rising influence in the Middle East.
In Oil trade, China is Saudi Arabia's largest trading partner, with bilateral trade more than $87 billion in 2021. Saudi Arabia is China's top oil supplier, making up 18% of China's total crude oil purchases. The two countries have deals in refineries, power and military & security.
Africa's natural resources have long been a Chinese favourite. Every year, China doles out billions in grants and loans to African governments as an inducement to secure raw material deals or to finance the infrastructure projects which are ultimately going to benefit its own companies.
What is India's position on the China- Arab summit that intends to boost development and cooperation among the two? India would be in a bit of a quandary one may assume as Arabs are their good friends, as they claim; while the Chinese are not. The trio of the China, Arabs and Pakistan (being used as a mere proxy), uniting is bound to be a slight source of worry for India. What is India's take on this friendship?
From a diplomatic perspective, if their friendship and goodwill is promoted, it's a good thing but one hopes that this does not undermine Indian interest, as any bilateral relation must not destabilize a third relation. In general when one talks of the Arab world, one thinks of its gargantuan energy power and energy crisis and its management is a global issue right now. With the Ukraine Russia war hanging around the energy crisis, it could be an 'Energy Security' thing they are trying to do bilaterally. If a big country like China enters the domain of energy, food etc it could turn out into a fairly big movement in the markets, in terms of prices and availability. India has to reckon by the fact that China is large and when you take out a large chunk of something that is available, that can create a pressure situation for others.
Also the union of China, Saudi Arabia and Pakistan may have certain repercussions on India, as China and India already have problems and those are huge problems, there's no denying that. Sachin Sawant, Senior leader of the Indian National Congress leader, the country's main opposition party states that they are already over-exerting their power on India. The Chinese are going on building roads, tunnels and bridges nonstop along the border. India needs to develop stronger guiding principles, when dealing with China and its global intentions are concerned. It is a huge point of worry for India.
India definitely cannot do or say much if two good friends decide to meet, but it does have its set of concerns. If China forges more business alliances with the Arabs in the energy and other sectors, India foresees instability in the markets which may be against its economic interest. It also is wary of the Chinese and Arabs getting together as this is a powerful alliance and its outcome may have a negative impact on Indian interest.
What could be the intentions of China to promote this friendship further and strengthen their relations with the Arabs. How does India look at this union of two economic superpowers? Every country wants to have good friends. They both have global ambitions and one goes about a decade back or lesser, they had invested heavily in Africa. They went there and tried to get hold of all the mines that were of strategic importance to them. They need nickel, gallium etc which are crucial for smart phone manufacturing. So, yes! They would be eyeing many such opportunities in their bilateral ventures.
China is known for its expansionism and they use their financial strength to arm-twist many countries, especially the economically weaker ones. "They are the Shylock kind of money lenders; they keep on lending money at exorbitant rates and then the poorer countries like Pakistan get into that vicious cycle where China takes hold of all their resources at very cheap rates. India is not at all bothered about their befriending the Arabs, because Chinese intentions are well known to the world," says a concerned Sawant.
India says it is well aware that the Chinese mean business when they talk of befriending the Arabs. Together the two may explore many more avenues of business which strengthen their respective economies. Would their friendship affect India's foreign policy in anyway? How affected or concerned is the Indian Government with this strategic partnership of China and the Arab nations?
Both Saudi Arabia and China are also part of G-20, and they must work in some areas of convergence that emerge from this global exercise. India closely follows whatever they are doing in terms of multilateral regional matters which impact the well being of all people, and also other matters that are taken up in G20, like climate change, green development and digital economy. India has sufficiently strong relations with the Arabs and its foreign policy will only be affected if China does something that is out of line of its interest.
Sawant reiterates that it is a matter of concern for India. The leader says that the alliance of China with the Arabs is definitely rooted in more trade and greater geo-political ambition. It can harm India. He says that China has this habit of deliberately targeting India's neighbours, antagonizing them like it has been doing with Nepal, Bangladesh and Sri Lanka, all in a bid to weaken India. It has been their strategy and India should be worried about that. "India needs to revamp its foreign policy in dealing with China. On one hand we ban their apps but then our imports from them are also growing multi-fold, this has to stop. Even on the Bhutan front India needs to be more proactive in protecting the interests of people in that region," argues Sawant.
If India looks at the China-Arab partnership through the prism of G20 then, it will jointly work on pressing global issues and is confident of a positive outcome. However, it would expect China to cooperate with it in its G20 endeavours. Does the Indian Government have any certain policy to enhance cooperation and influence in the Mid East Region? Yes, the Middle East is India's immediate neighbourhood. India has an authentic historical and cultural relationship with them which is now nicely developing into a stronger and closer economic partnership. Gulf Cooperation Council (GCC) is India's major economic partner; most of its energy comes from there. Also, it has huge Diasporas in the Arab countries who are emerging as investors in India's growth and infrastructural development.
"Any foreign policy is good until is serves the interest of the country. Just on the basis of how you are welcomed by foreign countries and how we welcome them cannot help determine foreign policy; this is a holistic issue. The Chinese President comes here and enjoys a resplendent welcome but that doesn't stop their army from attacking us. What exactly we do in the interest of the country will help shape up strong foreign policy with any country. The Arabs, though our good friends will obviously be happy with the trade agreements with China, but we must be wary that it does not harm us or our economy inadvertently," says Sawant.
In the end, India must be confident of its faith and friendship with the Middle East. Being a long time economic partner of theirs, they also benefit from the fact that Indians living in the Arab nations are a huge plus point for them. While there seems to be a bit of skepticism about the China- Arab ties, India should be confident that this will not come in the way of their strong relations with the other 7 GCC countries.
Taliban and the crisis in Afghanistan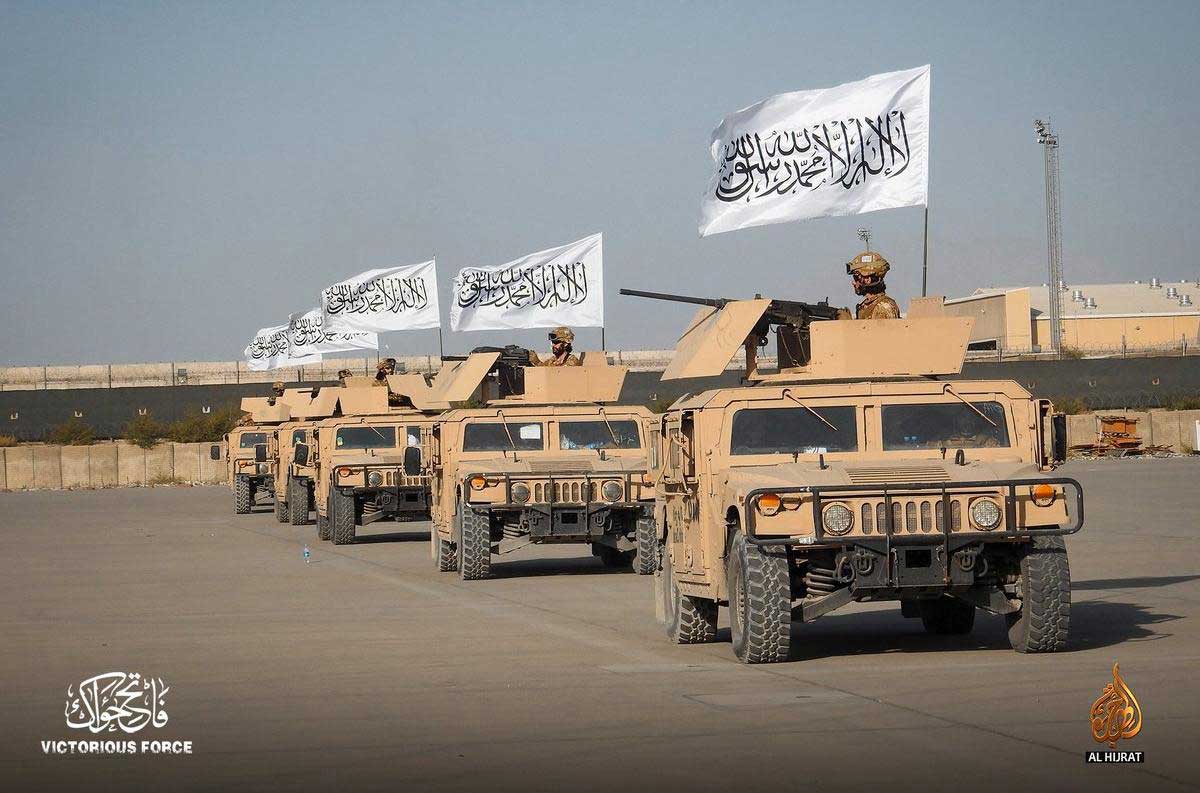 In 2021, the Afghan Taliban took back control of Afghanistan after fighting a rebellion for twenty years. The Taliban reformed and began regaining territory less than 10 years after the American-led invasion that overthrew the previous regime in 2001. In line with a 2020 peace agreement with the Taliban, they staged a swift assault as the US started to evacuate its last forces from Afghanistan.
Even though they promised to preserve the rights of women and communities of religious and racial minorities, the Taliban have enforced a strict interpretation of Islamic law. The Taliban have failed to provide Afghans with sufficient food supplies and economic possibilities as they have evolved from an insurgent organization to a functioning administration.
Numerous instances of human rights violations have been documented by the UN mission in Afghanistan. Because the Taliban scared off journalists and put limits on press freedom, more than 200 news outlets had to close. Activists and protesters have been tracked and forcefully disappeared, and their government has ruthlessly suppressed protests. They also reinstated the Ministry for the Propagation of Virtue and the Prevention of Vice, which was previously in place, and enforced laws against actions judged to be contrary to Islam. They instructed judges to apply their version of sharia in November 2022; in the following weeks, authorities resumed public hangings and floggings.
Women's rights have been undermined. Due to restrictions put in place by the Taliban, girls are not allowed to go to high school, and women are not allowed to go to college or teach there. The group banned women from working for local and international voluntary groups in December 2022. According to estimates from the UN Development Program (UNDP), limiting women's employment might cost Afghanistan's GDP up to 5%. Amnesty International reports a substantial increase in the number of women jailed for defying discriminatory rules, such as those requiring women to cover their whole bodies while in public and to only appear with male chaperones. In addition, there are now more child marriages.
The UNDP says that the Taliban's rule has also taken away the gains that Afghans made in their living conditions in the 20 years after the US invasion. In a study from October 2022, the organization claimed that practically all Afghans were living in poverty. Since the takeover, the economy has contracted by up to 30%, and there have been an estimated 700,000 job losses. More than 90% of individuals are impacted by food insecurity. The problem is getting worse because several countries and international groups have stopped giving aid, which is vital to the economy and public health.
International observers are nonetheless worried that the Taliban pose a danger to national and international security through their funding of terrorist groups, especially Al-Qaeda. Taliban leadership might convert Afghanistan into a haven for terrorists who could launch attacks against the US and its allies, despite Taliban pledges that the country's territory wouldn't be used against the security of any other country. The violence has also increased along Pakistan's border with Afghanistan, which has always supported the Taliban. Tehrik-e-Taliban, a terrorist organization commonly referred to as the Pakistani Taliban, has gained strength due to the Taliban's ascent to power. The organization broke off a cease-fire with the Pakistani government in 2022 and began carrying out assaults throughout the nation. Officials from Pakistan have charged the Afghan Taliban with giving the extremists a safe harbor in their country.
For many years, the Afghan government relied on help from a number of countries; according to 2019 World Bank research, contributions from foreign partners funded 75% of the government's public expenditures. Many of these countries stopped off aid when the Taliban took control, fueling concerns about potential future economic turmoil. Nevertheless, aid rose in 2022 as donors sent more than $2.6 billion. The US has donated more than $1.1 billion in help since the coup. However, according to UN authorities, the pledges fell short of the nation's humanitarian requirements.
Many Western countries, most notably the US, shut down their diplomatic posts in Afghanistan when the Taliban took power. Diplomatic relations and recognition have been withheld from the Taliban regime, which refers to Afghanistan as the Islamic Emirate of Afghanistan. The UN General Assembly has also postponed a decision on who would indefinitely represent Afghanistan at the UN. The Taliban are now being investigated by the International Criminal Court for suspected atrocities, including crimes against humanity, committed against Afghans.