Solar PV Employs More Women Than Any Renewables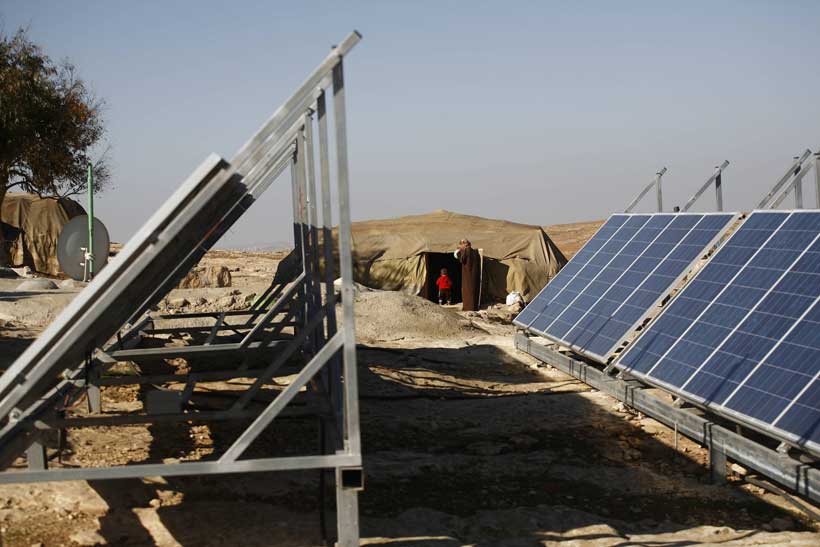 Solar photovoltaic (PV) has emerged to be the leading employer in the renewable energy sector, both in global number of employees and in gender balance. In 2021, the solar PV industry employs 4.3 million people—one-third of all renewable energy jobs worldwide. Women account for 40% of this number. It is almost double the share of women employed in the wind industry (21%) and the oil and gas sector (22%). It is also higher than the average share of women employed in all renewables sectors, which is 32%.
The International Renewable Energy Agency (IRENA)'s new report, Solar PV: A Gender Perspective, finds that women fare best in solar PV manufacturing, representing 47% of the workforce. Service providers and developers follow with 39% and 37%, respectively, while solar PV installers perform the least, with barely 12% of the segment's workforce.
"A just and inclusive energy transition is not only about energy access. It is about making sure everyone is included and benefits from the process," says Francesco La Camera, Director-General of IRENA. "The findings of our new report are promising and confirm renewable energy's great potential as an equal employer, but they also signal the need to step up our efforts to pave the way for more women to lead the energy transition and shape our shared future."
Presented at the 8th World Conference on PV Energy Conversion in Milan today, the report highlights the need for equal opportunities for women in technical positions in science, technology, engineering and mathematics (STEM) and in other professional fields, where they hold 38% and 32% of positions, respectively. Additionally, there is a wide space for women to take over more decision-making positions, as they currently hold 30% of managerial jobs and barely 13% of senior management posts in the solar PV industry.
Decentralised solar PV, on the other hand, seems to offer significant opportunities, as the off-grid solar PV value chain engages women both in delivering solutions and as beneficiaries. Driven in part by off-grid solar PV deployments, women account for 35% of other non-technical positions such as marketing, sales, distribution, and product assembly and installation.
Based on IRENA's global survey of some 1,300 individuals and organisations conducted in 2021, the report evaluates the role of women in the solar PV industry, highlighting barriers and opportunities. The most prominent barriers are perceptions of gender roles, lack of fair and transparent policies, as well as cultural and social norms that shape behaviour.
Raising awareness on gender equality, improving national as well as workplace policies, offering more training, networking opportunities and access to mentorships are all critical steps to level the playfield for women in the sector. These efforts are needed not only to increase the participation of women, but also to diversify the workforce by including the visions, talents and skills of all minority groups.
This is the third report in the Gender Perspective series, which is an integral part of IRENA's extensive research work on the effects of renewable energy deployment during energy transitions. The initial focus on employment creation and skills was expanded over time to cover other socio-economic elements such as gross domestic product, broader measures of welfare, local economic value creation, improved livelihoods and gender-differentiated impacts.
Greek shipowners do not care about the boycott of Russian oil
European sanctions against Russian oil will only lead to higher prices, it will hit the pocket of the end consumer, says Nicolas A. Vernicos, the largest Greek ship owner and president of the International Chamber of Commerce. He made this statement in connection with the decision of the European Union to impose a price cap on Russian oil.
The French 'Liberation' published an interview with N. Vernicos under the title "Russian oil: Greek shipowners, in whose hands half of the world's tankers, do not care about the boycott."
Vernicos says: "Transportation costs, which are already skyrocketing, will rise even faster, but the embargo on the transportation of Russian oil by sea will have a positive effect on shipowners, because we will become richer."
At the same time, he warns that Greece will comply with the new conditions. The European decision on sanctions will bring a net benefit only to maritime carriers. Nicolas A. Vernicos recalls: "The Greek shipping community is the strongest in the world… Nothing can be done without it, and the Greeks will definitely find a way around the sanctions."
And on the fact that prices will rise, Russia will also earn.
'Liberation' writes that in the hands of the Greeks 21% of the world's shipping tonnage and 40% of the world's tonnage in the transportation of oil, their trade cooperation with Russia has existed since the 19th century, and they do not intend to stop it.
The EU countries have already agreed on the issue. An agreement was reached to set the price limit at $60 per barrel. The decision came into force on 5 December.
International Affairs
OPEC+ agrees to stick to its existing policy of reducing oil production
Led by Saudi Arabia and Russia, OPEC+ agreed in early October to reduce production by 2 million barrels per day from November, – informs CNBC.
An influential alliance of oil producers on Sunday agreed to stay the course on output policy ahead of a pending ban from the European Union on Russian crude.
OPEC and non-OPEC producers, a group of 23 oil-producing nations known as OPEC+, decided to stick to its existing policy of reducing oil production by 2 million barrels per day, or about 2% of world demand, from November until the end of 2023.
The European Union is poised to ban all imports of Russian seaborne crude from Monday, while the U.S. and other members of the G-7 will impose a price cap on the oil Russia sells to countries around the world.
The Kremlin has previously warned that any attempt to impose a price cap on Russian oil will cause more harm than good.
Led by Saudi Arabia and Russia, OPEC+ agreed in early October to reduce production by 2 million barrels per day from November. It came despite calls from the U.S. for the group to pump more to lower fuel prices and help the global economy…
The looming Russian oil price "cap" has all the hallmarks of a historic debacle in the making, – notes "The Hill".
For months, the United States and the G-7 have haggled over a complex plan to constrain the money that the Kremlin makes from some of its oil exports.
Despite Russian war against Ukraine and subsequent Western sanctions on his regime, Russia is swimming in petrol dollars. By the end of the year, the Russian Economy Ministry estimates that the country will have made a record $338 billion from its energy exports.
Together with America's existing embargo on Russian crude, when the European Union's oil embargo comes into full force on Dec. 5, policymakers fear that the move will constrain global petroleum supplies and push prices upward.
Assuming that EU and G-7 leaders can sort out their current price puzzle and fix Russian crude below what the international market would prefer to pay, who will pick winners and losers in the subsequent scramble for cheap Kremlin oil: Putin and his energy cronies?
The Russian oil "cap" would not be necessary if the Biden White House had been making it easier to open the spigots of American oil from the start. The president's pledge of "no more drilling" in America continues to undercut his economic and foreign policy against Russia.
If the Russian oil price cap fails to materialize or work as officials intend, the United States and its allies should drop the scheme, – stresses "The Hill".
G7 agrees oil price cap: reducing Russia's revenues, while keeping global energy markets stable
The international Price Cap Coalition has finalised its work on implementing an oil price cap on Russian seaborne crude oil. EU Member States in the Council have also just approved in parallel its implementation within the EU.
The cap has been set at a maximum price of 60 USD per barrel for crude oil and is adjustable in the future in order to respond to market developments. This cap will be implemented by all members of the Price Cap Coalition through their respective domestic legal processes.
Ursula von der Leyen, President of the European Commission, said, "The G7 and all EU Member States have taken a decision that will hit Russia's revenues even harder and reduce its ability to wage war in Ukraine. It will also help us to stabilise global energy prices, benefitting countries across the world who are currently confronted with high oil prices."
While the EU's ban on importing Russian seaborne crude oil and petroleum products remains fully in place, the price cap will allow European operators to transport Russian oil to third countries, provided its price remains strictly below the cap.
The price cap has been specifically designed to reduce further Russia's revenues, while keeping global energy markets stable through continued supplies. It will therefore also help address inflation and keep energy costs stable at a time when high costs – particularly elevated fuel prices – are a great concern in the EU and across the globe.
The price cap will take effect after 5 December 2022 for crude and 5 February 2023 for refined petroleum products [the price for refined products will be finalised in due course]. It will enter into force simultaneously across all Price Cap Coalition jurisdictions. The price cap also provides for a smooth transition – it will not apply to oil purchased above the price cap, which is loaded onto vessels prior to 5 December and unloaded before 19 January 2023.
More Information
The EU's sanctions against Russia are proving effective. They are damaging Russia's ability to manufacture new weapons and repair existing ones, as well as hinder its transport of material.
The geopolitical, economic, and financial implications of Russia's continued aggression are clear, as the war has disrupted global commodities markets, especially for agrifood products and energy. The EU continues to ensure that its sanctions do not impact energy and agrifood exports from Russia to third countries.
As guardian of the EU Treaties, the European Commission monitors the enforcement of EU sanctions across the EU.
The EU stands united in its solidarity with Ukraine, and will continue to support Ukraine and its people together with its international partners, including through additional political, financial, and humanitarian support.