Why Parties to Russia Ukraine War Prolonging it?
Russia Ukraine War seems to be entering a deadly phase after seven months, witnessing significant twist in the form of Kremlin's declaring victory in hasty referendum in four regions of occupied territory to join Russia, poising itself for complete annexation of occupied areas, having announced partial mobilization calling up 3,00,000 reservists for frontline duties. The recent successes of Ukrainian counteroffensive, as the cumulative military aid over $60 billion poured into Ukraine from US led NATO, seems to have emboldened Zelensky to talk of defeating Russia and getting back his entire territory. Angered NATO, left out of battle by nuclear threat, calling out sham referendum, is looking to table new resolution against it, knowing fully well that it will be vetoed by Russia.
Why No Party to the war is thinking of conflict termination?
This prolonged war is making everyone in the world vulnerable to inflationary pressures, triggering an unprecedented energy crisis and acute food shortages. In view of that, diplomacy and talks for conflict termination should have been the logical option long back, but no party to the war seems to be thinking about it due to own strategic interest, wanting to make more gains before getting back to negotiation table. All parties know that they can't be outright winners in this war, but all are prolonging their agony to avoid being an outright loser.
Russian Stakes
Russia is yet to achieve its strategic aim of liberating complete Donbass Region and remaining southern Ukraine to landlock it, to join up with Transnistria. It has suffered heavy casualties and reverses in many regions like Kharkiv. It has received no worthwhile military material support from anyone in the prolonged war; hence consolidating its gains, redeployment of troops in Russian friendly areas by pulling back from unfriendly ones, along with regrouping and rejig in military hierarchy is a sensible option from military perspective.
The awkward thinly veiled threat by President Putin to use nuclear weapons in Ukraine, if Russian "territorial integrity" is threatened has put NATO on notice as to how it would respond. The expected annexation post referendum complicates the nuclear threat, as attack on annexed territory may invite nuclear response as per Russian nuclear policy.
Putin may not be encouraged with meek support from China, its 'strategic partner with no limit' seemingly responding within careful limits, and comments like 'Not an era of war' from otherwise impartial India. Russia might end up with extension of direct land border with NATO by over 1000 Km in terms of Finland joining it. It also continues to suffer standoff attacks from Ukraine's recently acquired long range capabilities including drones and clandestine raids of special forces and non-state actors like blasts in Crimea.
Russia is aware of its limitations in the areas of economic, diplomatic, information warfare, and political warfare. Russia's much-criticised partial mobilisation and call for reservists is comparable to Ukraine's, which carried it out while under Martial Law, seven months ago and was praised by Western media, highlighting information war against Russia. As a result, it will be prone to hold onto its existing territorial gains and prolong the conflict into the winter, which could favor a new offensive to accomplish remaining military objectives to give itself a stronger negotiating position to have the sanctions lifted.
Ukrainian Stakes
Having accepted so much of political, strategic and military investment of NATO in his country and tasted some success in his counteroffensives, President Zelensky, posing to be fighting on behalf of US led NATO to weaken Russia, is not in a position to back out from prolonging the war.
Ukraine cannot overlook the fact that it has lost 15% of its original land since being independent, is left with over 10 million refugees, devastated towns, suffered significant casualties, and its hyped democracy is struggling under martial law and referendum. While US-led NATO's military assistance and arsenal can increase its combat power to launch standoff attacks, regaining lost ground from the Russians will be very difficult because they will use built-up areas for defending their gains in a manner similar to how Ukrainian troops did, more so under nuclear hangover.
NATO's military support to pursue war will not bring Ukraine any closer to peace; nevertheless, it may result in long-term changes to its territorial configuration, unending proxy war, and enhance long term Russian threat. President Zelensky is aware that the western narrative and information war that portrays him as a hero and clear victor is unsustainable, yet he will prolong the conflict in order to safeguard his political survival and continued aid.
NATO's Stakes
NATO may be encouraged by successes of Ukrainian counter-offensives, and its own gains in non-kinetic, non-contact, undeclared war against Russia in economic, information, diplomatic and political domains, but concerned that it can't take Putin's nuclear threat lightly, because a tactical nuclear strike from cornered Russia is within the realms of possibility, if Russia declares newly acquired territory as its integral part, post successful referendum and applies the policy of escalate to de-escalate.
The United States may benefit from sales of arms, energy, and post-conflict construction contracts in Ukraine, and it may justify recent increases in aid in order to pursue its goal of weakening Russia in order to fend off potential rivals in Europe, but its biggest strategic loss is bringing Russia, China, and Iran closer than ever before in a strategic partnership. It may be beginning of adoption of alternate global/localised financial systems, undermining its grip on current global financial system.
NATO, encouraged by soft Russian response to the bid of Finland and Sweden to join NATO, is keen to add both with strong militaries, to secure its northern flank for better collective security posture in the long run. It also makes sense in context of Sino-Russian footprints in Arctic region and North Atlantic Ocean.
NATO will continue to urge Russia to end the conflict while supporting Ukraine in its proxy war until last Ukrainian remains because holding negotiations when a sizable portion of the land is in Russian hands will be viewed as NATO's weakness. With millions of refugees mixed in with activated mercenaries and a longer border with belligerent Russia, which will reorganise itself after learning from its mistakes, the war is undoubtedly not making Europe more peaceful. It has signaled its willingness to sacrifice its energy and economic interests in order to achieve that goal. To effectively combat unfriendly Russia in the long run, the EU will need to increase its defence spending while holding some sovereign decisions hostage to the USA.
Way Ahead
Despite the narrative and rhetoric of the west, Ukraine may not recapture a sizable amount of territory, but standoff strikes, proxy war, clandestine operations, and some ground operations to cause Russian fatalities will continue in the coming days, inviting an equal or stronger Russian reaction.
In the Big powers' contestation in Ukraine, the global need is that this war should end, but the negotiations are unlikely, because Russia has not yet achieved its strategic objectives on the ground, which is essential to persuade NATO to lift sanctions. On the other side, US led NATO doesn't have any leverage to restrain Putin, so it finds weakening Russia by ongoing proxy war, without sharing any burden of body bags, as the most convenient option. This is especially true when Zelensky is prepared to take this move because he understands that without US support, he will lose his position of power.
In current phase of offensive, Russia seemed to have reached its culmination point before seizing center of gravity of Ukrainian forces, a situation which is uncomfortable for any attacker in military campaign. The referendum and nuclear threat by Russia have pushed the war into next phase, with NATO yet to work out its responses.
Gung-ho statements by India's jingoist military and civil leaders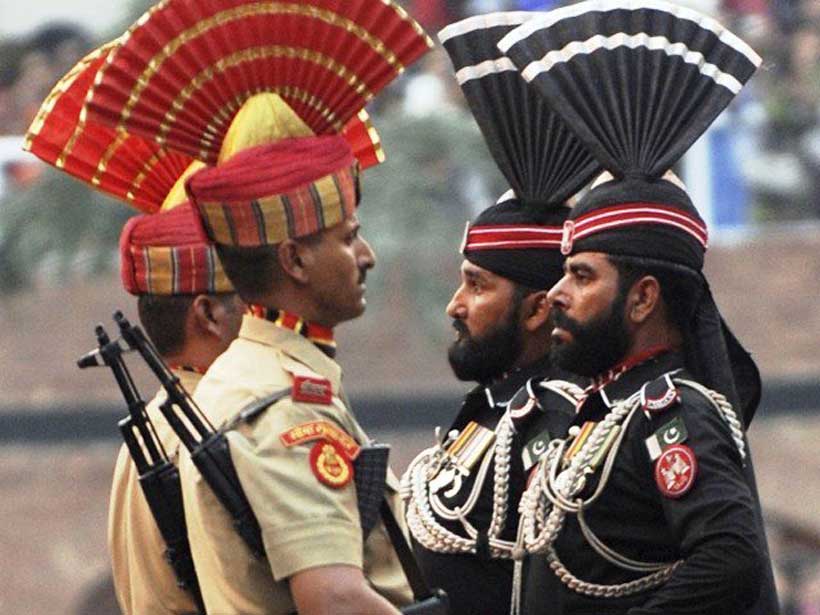 Cross fire between Indian and Pakistan forces was a recurrent phenomenon. It usually hurt the unarmed civilians rather than the troops. Realising futility of intermittent exchange of fire across the border, India and Pakistan, always at daggers drawn, agreed to ceasefire that is still being upheld. However, an agreement on no-firearms use between the two countries, akin to Sino-Indian agreement, is nowhere in the offing. Despite the accord, India and China still engaged in fisticuffs at Galwan.
As if in deliriums tremens, India's Northern Army Commander Lt General Upendra Dwivedi shouted, "As far as the Indian Army is concerned, it will carry out any order given by the Government of India [to annex Azad Kashmir and Gilgit Baltistan "(Whenever such orders are given, we will always be ready for it, The News International, November 22, 2022).
His statement is a sycophantic follow-up to a similar statement by India's defence minister Rajnath Singh "of taking back PoK". Besides Rajnath many other Indian leaders including Bipen Rawat, Ajit Doval and Narendra Modi have made provocative statements about AK and GB. Pakistan's army chief has replied to Dwivedi's statement in befitting words. In 1994, India's lok Sabha (house of people) passed aresolution under the then prime minister Narasimha Rao. The resolution stated that AJK and GB are an integral part of India by virtue of Jammu and Kashmir's accession to India.
India's claim to accession of the Jammu and Kashmir is unfounded. India never showed the so-called Instrument of accession to the United Nations. The UNO passed two resolutions to outlaw probable accession by the puppet JK assembly to India. The UN resolutions recognise that the dispute could be resolved only through a plebiscite. Till about 1954, India continued to owe allegiance to the UN resolutions. Then in a volte face, Nehru declared that the UN resolutions are mediatory, not mandatory in nature. India's unilateral renunciation of the UN resolutions eminently qualified it as a rogue state subject to international sanctions.
India treacherously annexed over 500 other princely state by hook or by crook. For instance, Junagadh annexation is still an unresolved item on UN agenda.
Dwivedi means 'one who knows two vedas'. In Sanskrit, Dvi means 'two' and Vedi means 'to see'. Therefore, a Dwivedi is one with 'two-fold vision', or someone who is able to distinguish between right and wrong. The general's statement reflects that he has purblind vision, not seeing consequences of a war between two nuclear armed neighbours. Victory in case of a nuclear confrontation will, at best, be pyrrhic.
Dwivedi appears to have been infatuated by provision of K9-Vajra self-propelled howitzer (50 mile range) is being manufactured by Larsen and Toubro in Gujarat. China has already provided Pakistan similar howitzers to neutralize India's fire power (China supplies mounted howitzers to Pak to maintain arms parity with India, Hindustan Times Jan 27, 2022).
Dwivedi appears to be oblivious of facts about Azad Kashmir and Gilgit Baltistan.
Gilgit Baltistan
On November 1, 1947, the governor of Gilgit, Brig Ghansara Singh surrendered to the Gilgit Scouts and signed an instrument of surrender on November 3, 1947. The people of the region proclaimed Gilgit as part of Pakistan and hoisted Pakistan's flag. Skardu was liberated after about a year on August 14, 1948, when Lt Col Thapa of 6th Jammu and Kashmir infantry along with 250 soldiers surrendered to liberation forces.
Historian Yousaf Saraf if of the view that Gilgit –Baltistan is a part of Azad Kashmir as is evident from Accord signed between AK and Pakistan government. Sartaj Aziz committee recommended to the federal government to make Gilgit-Baltistan a full-fledged province with representation in both the houses of parliament.
A psycho-analytic view" Indian leaders "frogs"
Indian civil military leaders suffer from a fight-and-flight complex. The human beings, particularly the macho typos, like Indian military leaders, think they are independent decision makers. But, subconsciously they are slaves to the subconscious to the scripts they have learned to live with. In his book, Scripts People Live, Claude Steiner analyses "life scripts" which we choose at an early age and which rule every detail of our lives until our death. Steiner postulates that people are innately healthy but develop a pattern early in life based upon negative or positive influences of those around them. Thus children decide, however unconsciously, whether they will be happy or depressed, winners or failures, STRONG or dependent, and having decided, they spend the rest of their lives making the decision come true. For those who choose a negative script, the consequences can be disastrous unless they make a conscious decision to change.
The tragedy is that the person who needs to rewrite his or her life script most is unwilling to admit that he needs to revamp his life script.
Narendra Modi is such a person who by his conduct and political statements reflects that he suffers from a negative life script. He wants to pose as a "prince", though he is actually a "frog". Modi's recent statements provide a clue how he is neurologically programmed.
Concluding reflections
Modi is convinced that his electoral achievements are due to his Macho (strongman) image. Lest his image should be shattered he delayed withdrawing anti-farmer laws for about a year since the farmers began protesting. He trumpets his "surgical strikes", celebrates "Kargil victory", and anti-Muslim citizenship laws.
Modi is still fettered to his teen-age memory of being a waiter at a tea-stall. The Modi government should turn a new leaf in India's relations with its neighbours by shunning the strong-man image. He could do better by attending to the economic welfare of the masses and promoting social harmony.
Ukraine recruits fighters from Africa
"If Ukraine decides to pay me a very good amount of money, which I know I cannot earn here, I will definitely go there and fight," Kimanzi Nashon, a student in the Kenyan capital Nairobi said. "When we go there, and then the war ends before anything happens, I will come back to Kenya and be a millionaire."
And Nashon isn't alone in harboring such naive thoughts of being a hired fighter in Ukraine.
"If an opportunity presented itself for me to fight in Ukraine as a mercenary, I would be on my heels running there," Beatrice Kaluki, who is unemployed in Kenya, told 'Deutsche Welle'. "I would rather die on the front line in Ukraine knowing that my family would be compensated even after my death, rather than die from depression because of the insane unemployment rate!"
However, African countries have come out strongly to condemn Ukraine's call for African fighters to join the "international legion" against the Russians.
Now Nigeria, Senegal and Algeria have criticized Ukraine's efforts to enlist international fighters as it resists a Russians. Analysts say those who have responded to the call need to reconsider.
According to Ryan Cummings, director of 'Signal Risk', a South African-based security risk management consultancy, 'President Zelenskyy might be capitalizing on Africa's challenging socio-economic conditions to lure African fighters to Ukraine.' According to the Nigerian daily, 'The Guardian', more than 100 young men registered their interest in fighting for Ukraine at the country's embassy in Abuja.
A spokesperson for Nigeria's foreign affairs minister, Francisca Omayuli, said Nigeria would not allow its nationals to volunteer as mercenaries.
Senegal has also expressed its displeasure with Ukraine's government, saying that at least 36 people in Senegal were ready to confront Russian forces. Senegal's Ministry of Foreign Affairs said that it was astonished to learn that the embassy of Ukraine in Dakar had posted an appeal on its Facebook page for foreign citizens to come to Ukraine's military forces.
In a statement, the Senegalese government criticized the initiative and warned its citizens that recruiting volunteers, mercenaries, or foreign fighters on Senegalese soil is illegal.
"These young people who want to get involved [in Ukraine] have not fully considered political or religious implications," said Serigne Bamba Gaye, a researcher on peace, security and governance at the US-based Peace Operations Training Institute (POTI).
"They are only interested in answering a call without perhaps understanding the issues surrounding the Ukrainian conflict," Gaye said.
For security and risk analyst Ryan Cummings, African countries need to consider the implications of allowing their citizens to travel to Ukraine as hired guns. "Russia has stated any country that is actively assisting Ukraine in this war, or as Russia calls it: 'A special military operation to demilitarize and de-nazify Ukraine,' will be considered at war with Russia," he said.
He warned that the Kremlin could also retaliate by ending diplomatic relations with African countries that support Ukraine in this way.
The Reagan Institute poll: Americans are losing trust in the military
The current era is marked by fading trust in U.S. institutions, but confidence in one pillar has held up: the military. But now even that is eroding, and the question is whether the brass will get the message, writes "The Wall Street Journal".
The Reagan Institute releases an annual survey of public attitudes on national defense, and this year only 48% reported having "a great deal of confidence" in the U.S. military in results first detailed here. That's down from 70% in 2018, and within the margin error of last year's 45%.
Some 52% also had reduced confidence in uniformed officers.
General Mark Milley's speech to Congress last year that he wanted to understand "white rage," in response to reasonable inquiries about whether cadets at West Point should be learning critical race theory, was a lapse in judgment. Many Americans think the military is no longer an institution that runs on excellence, merit and individual submission to a larger cause.
The Pentagon denies this is a problem, but it surely is if half the public believes it.
Americans on the left have their own reasons for declining confidence in the military: 46% cited right-wing extremism, even though this scourge has been wildly overstated.
This drop in confidence comes at an ominous moment, as the public seems to know.
Some 75% in the Reagan survey viewed China as an enemy, up from 55% in 2018, and the percentage of those worried about Russia has doubled. Some 70% are concerned China might invade Taiwan within five years, and 61% support increasing the U.S. military's Pacific footprint.
International Affairs