Extra flavour and fraud prevention on the menu for Europe's beer and wine industries
BY DANIELA DE LORENZO
The debate over whether fermentation was a more important human discovery than fire will continue forever. In the meantime, with Europe as the world's premier producer of wine and a significant manufacturer of beer, Horizon-backed scientists are researching ways to reinforce Europe's competitiveness in the drinks industry.
In 2019, European Union wine sales were 16 billion litres with an export value close to € 20 billion, while beer production in the EU in 2020 amounted to 33.1 billion litres. Europe accounts for 63% of global wine production while the number of breweries in Europe now exceeds 11 000.
The wine sector has built its reputation and dominant market share based on quality but all the turmoil of recent years and the risks from climate change mean that the drinks industry cannot afford to stand still, especially with imported beverages becoming increasingly popular.
Enhancing beer and wine flavours through research into new yeast strains is one way the drinks industry is trying to keep ahead. At the other end of that, more secure supply chains are needed to ensure delivery of a quality product. This will help Europe's drinks industry retain its market position.
Distinct aroma
Alcoholic flavours result from complex metabolic reactions performed by yeasts. A type of fungus that transforms sugars into alcohol during fermentation, yeasts also help to give each wine its distinct aroma and taste.
The Horizon-funded Aromagenesis project, led by the University of Dublin in Ireland, focused on understanding the genetics and biochemistry in yeast strains that are responsible for aromas and flavours in lager beers and wine.
'The traditional wine and beer industry uses specific and limited numbers of yeast strains,' said Ursula Bond, professor of microbiology at the University of Dublin. 'We thought it was important to make a big survey of different wines' and lagers' yeasts and characterise them to see whether some already existing in nature have more favourable aroma and flavour.'
Aromagenesis, which finished researching in May this year, assessed whether science could help by varying the flavour profile of certain strains. Working with the drinks industry, through experiments, co-fermentation and hybridisation, the researchers were able to select new yeast strains.
They then created a bank of natural yeast that can produce different flavour compounds and in varying amounts. This led to a bounty of new yeast varieties and taste profiles.
Yeast palette
The new yeast palette is currently available to companies involved in the project. They include German brewer Erdinger Weissbräu and Canada-based Lallemand, who develop of yeasts for the global market.
'We are now finishing the first trial fermentations in our experimental wineries,' said Jose Heras, technical manager at Lallemand Oenology in Spain. Spain is Europe's second largest exporter of wine with 27% of the market in 2019. The project will turn to the winery to 'validate four of the hybrid yeast strains created for aromatic white wines,' he said.
The drinks industry intends to put the yeast research to immediate effect with commercialisation of more flavourful Sauvignon Blanc and Verdejo wines potentially starting in 2023, according to Heras.
Some consumers have reservations about genetically modified organism (GMO) products, so the research was conducted exclusively with non-genetically modified (GMO) yeasts. This will potentially broaden the appeal of the results within the drinks industry as a whole, according to Bond.
Aromagenesis research is published as a publicly available resource which could also end up benefiting many others in the drinks industry.
'Part of our research is open-source and our data will be published soon,' said Bond. If a beer or wine producer wishes to avail itself of the new strains, it can make licensing agreements, she said.
Wine fraud
Alcohol ranks among Europe's most counterfeited products. Unfortunately, the consumer appeal of such household names as Spanish Rioja, Portuguese Porto and Italian Prosecco, attracts the attention of criminal gangs seeking illicit profits. Wine fraud, where a cheaper product is passed off as a fine wine, is estimated at €1.3 billion annually, or around 3% of total sales.
At the moment, a wine label provides consumers with information about the origins and flavours of the product. However, it can't enlighten them about the number of intermediaries between the vineyard and the shop or restaurant where it's purchased.
The TRACEWINDU project, which began last year, has set out to change this.
The Horizon-backed project is focusing on a decentralised blockchain technology that, with a printed QR code, could register information about a wine bottle's whole life cycle in a manner that is transparent.
Blockchain technology is familiar to users of so-called digital currencies such as bitcoin, because it promises security and traceability.
'Wine producers are concerned about illicit trade, so we need to identify in an unambiguous way the origin of the wine,' said Gustavo Pérez González, senior project manager at the Universitat Autònoma de Barcelona in Spain.
Tracewindu are also investigating the possibility of including information derived from analytical chemistry techniques in the QR code. These can be used to specify the unique features of a bottle of wine, such as the geographical location, providing a further guarantee of the contents.
Winemakers participating in the project also suggested tracking the temperature during transportation. This would help ensure that the wine hasn't been degraded when it reaches its destination, creating improved consumer satisfaction.
Environmental goals
In line with the European Green Deal plans to reduce the use of pesticides and fertilisers, the project also has environmental goals.
'We are now looking at ways to reinforce the immune system of grapevines and therefore reduce the need for additional chemicals,' said Pérez González.
This resilience will be reflected in the label too. If it can be shown that the organic characteristics of the wine are not altered, this feature could add value by showing which winegrowers comply with European sustainability goals.
Pérez González also foresees a possible bottle-return system. This would require winemakers to commit to the QR coded and laser-printed bottles on a long-term basis – but it would align with the circular- economy objective of reusing food packaging rather than producing more of it. This would lead to job-creation in the traceability, distribution and logistics sectors.
Research in this article was funded via the EU and it was originally published in Horizon, the EU Research and Innovation Magazine.
A Gastronomic Odyssey at Yauatcha Mumbai: Where Tradition Meets Innovation
When it comes to dim sum, Yauatcha Mumbai is undoubtedly a name that stands out in the vibrant culinary landscape of the city. Nestled in the heart of Bandra Kurla Complex, this upscale restaurant has consistently garnered praise for its exquisite blend of traditional and innovative Cantonese cuisine. During my recent visit to Yauatcha, I was not only treated to an array of delectable dishes but also had the pleasure of experiencing impeccable service from an exceptional team led by Akshay Sasane, the shift manager.
Service Excellence – Akshay Sasane
As I entered Yauatcha Mumbai, it was clear that the staff here were committed to making every guest's experience memorable. Akshay Sasane, the shift manager, was the embodiment of professionalism and warmth. His welcoming smile and attentive nature set the tone for a memorable dining experience. Throughout the evening, Akshay made sure that every aspect of our dining experience was flawless, from seating us at a comfortable table to ensuring prompt service.
Culinary Mastery – Chef Gopi and Sous Chef Laxman Gaire
A restaurant's success is often a reflection of its culinary team, and Yauatcha Mumbai is no exception. The kitchen is helmed by Executive Chef Gopi and Sous Chef Laxman Gaire, both of whom have honed their skills in the art of Cantonese cuisine. Their dedication to maintaining authenticity while incorporating modern twists was evident in every dish we tasted.
Our culinary journey began with the Umeshu, a delightful Japanese plum wine that set the tone for the evening. It was a sweet and aromatic start to our meal, perfectly balancing the flavors that awaited us.
Yauatcha's tea menu is extensive and impressive. The variety of teas available caters to tea connoisseurs and novices alike. Our server, Mithila Kulkarni, provided expert guidance on selecting the ideal tea to complement our dim sum choices. Her knowledge and enthusiasm for tea were truly commendable.
Now, let's delve into the star of the show – the dim sum. Yauatcha's dim sum menu is a culinary adventure in itself, offering a wide range of choices that showcase the chefs' mastery over this traditional Cantonese specialty.
Dim Sum Delights
Har Gow: The Har Gow at Yauatcha is a testament to the restaurant's commitment to perfection. These delicate shrimp dumplings were a revelation, with thin, translucent wrappers that encased succulent, juicy prawns. The Har Gow practically melted in my mouth, leaving a symphony of flavors dancing on my palate.
XO Scallop Dumpling: For seafood lovers, the XO Scallop Dumpling is a must-try. Plump and perfectly cooked scallops were wrapped in a translucent skin, which was artfully pleated. The XO sauce added a spicy kick that complemented the sweetness of the scallops beautifully.
Wild Mushroom Dumpling: Yauatcha excels not only in seafood but also in vegetarian offerings. The Wild Mushroom Dumpling was a delightful medley of earthy flavors. The mushrooms were sautéed to perfection and encased in a delicate wrapper that allowed the umami-rich filling to shine.
Truffle Edamame Dumpling: Innovation meets tradition with the Truffle Edamame Dumpling. The infusion of truffle oil and the smooth edamame filling created a harmonious flavor profile that elevated this dish to a level of indulgence.
Prawn and Chive Dumpling: This dish was a marriage of contrasting textures and flavors. The crunchy chives provided a satisfying crunch, while the prawns remained tender and succulent. The subtle seasoning allowed the freshness of the ingredients to shine through.
Steamed Char Siu Bun: These fluffy, steamed buns were filled with succulent char siu pork that had been slow-cooked to perfection. The slightly sweet and savory filling was a true delight.
Spinach and Water Chestnut Dumpling: A vegetarian dim sum that stood out for its refreshing taste. The combination of spinach and water chestnut provided a unique textural experience, and the light soy-based sauce tied the flavors together beautifully.
Crispy Aromatic Duck Roll: This dish was a fusion of Chinese and Indian flavors, with tender duck rolled in a crisp wrapper and served with hoisin sauce. The contrasting textures and rich flavors made it a memorable choice.
Dessert Extravaganza
No visit to Yauatcha is complete without indulging in their dessert offerings. We sampled the Raspberry Delice, a heavenly dessert that balanced sweetness, tartness, and creaminess with finesse. The chocolate soil and raspberry sorbet provided delightful contrasts in texture and temperature.
As our dining experience came to an end, it was evident that the dedication of the entire Yauatcha Mumbai team, from Akshay Sasane's warm welcome to the culinary expertise of Chef Gopi and Sous Chef Laxman Gaire, had made our visit truly exceptional. Tabassum, the Retail Shift Manager, ensured that we left with a smile, and Mithila Kulkarni, the Retail Assistant, guided us through the extensive tea selection with grace and knowledge.
Yauatcha Mumbai is more than just a restaurant; it's a culinary journey that explores the rich traditions of Cantonese cuisine while embracing innovation and modernity. The impeccable service provided by the team, led by Akshay Sasane, elevates the dining experience to a level of excellence that is truly unparalleled. From the Umeshu to the wide variety of teas and the exquisite dim sum, Yauatcha Mumbai is a culinary destination that promises unforgettable flavors and unforgettable memories. It's a place where tradition meets innovation, and where every guest is treated like royalty.
A Culinary and Artistic Journey at Indian Accent, Mumbai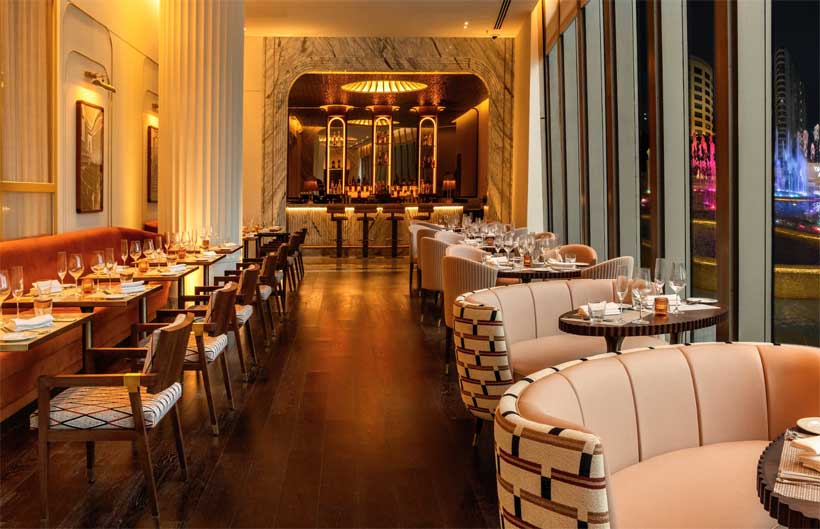 Nestled within the enchanting Nita Mukesh Ambani Cultural Centre in Mumbai, Indian Accent is a culinary gem that seamlessly marries the rich tapestry of India's diverse flavors with the artistic heritage of the nation. From its resplendent art deco interiors to its thoughtfully curated menu, every aspect of the restaurant weaves a captivating narrative that tantalizes both the palate and the senses.
Art Deco Elegance: A Tribute to Mumbai's Heritage
Art Deco, a movement that thrived in Europe and the US during the 1930s, found a unique home in Bombay, where over 200 art deco structures still stand, rivaled only by Miami. This era, known as 'the jazz age,' marked a time of innovation and spirited rhythms.
Drawing from Bombay's art deco legacy, Indian Accent pays homage to the era's style, music, and cocktails. Renowned photographer Rohit Chawla captures India's UNESCO World Heritage sites, infusing them with art deco's allure. These images, along with curated Mumbai art deco pieces, adorn the restaurant, creating a visual journey into an opulent past.
Indian Accent's interiors echo art deco's symmetrical lines, geometric patterns, and opulent materials. The chandeliers cast a gentle glow reminiscent of the era's glamour, while the upholstery exudes sophistication. It's a fusion of Mumbai's unique architectural heritage and the vibrant spirit of 'the jazz age,' creating a dining space that bridges time, design, and culture. This melding of aesthetics and flavors transforms Indian Accent into a living testament to a bygone era, inviting guests to indulge in both history and modernity.
A Symphony of Flavors: A Culinary Overture
The tasting menu at Indian Accent is nothing short of a meticulously composed symphony of flavors, where every dish is a note carefully orchestrated to create a harmonious and unforgettable experience. As guests embark on this gastronomic journey, they are immersed in a world where tradition and innovation dance in perfect harmony, guided by the culinary virtuosity of Chef Rijul Gulati and the visionary direction of Chef Manish Mehrotra.
The symphony begins with the "Indian Accent Shorba," a delicate overture that warms the palate and sets the stage for the culinary spectacle that follows. This traditional Indian soup, presented with an artistic touch, encapsulates the essence of comfort and familiarity, while signaling the start of the culinary adventure.
Moving through the menu, the crescendo builds with the introduction of the "Blue Cheese Naan." This dish is a striking example of Indian Accent's unique ability to blend contrasting elements into a harmonious whole. The naan, a quintessential Indian bread, is elevated to new heights with the infusion of pungent blue cheese. The juxtaposition of textures and flavors in this dish creates a symphonic balance that awakens the senses.
The "Smoked Eggplant, Maple Plantain" is a movement that takes diners on a journey of contrast. The smokiness of the eggplant meets the sweetness of maple-glazed plantain, resulting in a culinary melody that dances between savory and sweet. This dish exemplifies Indian Accent's skillful mastery of flavors, creating a dish that's both familiar and excitingly novel.
The symphony takes a playful turn with the "Dilli Papdi Chaat" and "Chhole Bhature." These dishes are a tribute to India's vibrant street food culture, transformed into elegant compositions that evoke nostalgia. The chaat bursts with tangy, spicy, and crunchy notes, while the chhole bhature presents an artful balance of rich flavors and textures. These dishes encapsulate the spirit of India's culinary heritage, where boldness and creativity harmonize seamlessly.
As the symphony reaches its crescendo, the "Stuffed Morel, Gobindobhog & Mushroom Payesh" takes center stage. This dish is a grand symphony of flavors, where each ingredient plays its part in an intricate ensemble. The indulgent earthiness of morels, the nutty notes of Gobindobhog rice, and the rich sweetness of mushroom payesh are accompanied by the delicate truffle nuances, creating a masterpiece that transcends boundaries.
In each dish, Indian Accent presents a new movement, a new exploration of taste and texture. The symphony concludes with dessert, a sweet denouement that leaves a lasting impression. The "Mishti Doi Cannoli" and "Pista ki Lauj" are dessert symphonies in themselves, a fusion of tradition and innovation that harmonizes familiar Indian sweets with contemporary flair.
The tasting menu at Indian Accent is more than just a collection of dishes; it's a meticulously composed symphony that takes diners on an unforgettable journey through India's culinary landscape. With each plate, a new movement unfolds, showcasing the culinary expertise, innovation, and artistic spirit that define Indian Accent's identity.
Chef Rijul Gulati's culinary prowess and Chef Manish Mehrotra's visionary guidance shine through in every note of this gastronomic symphony. Just as a symphony evokes emotions and tells a story, Indian Accent's tasting menu transcends flavors, inviting diners to experience the rich tapestry of India's culinary heritage through a beautifully orchestrated performance of taste, texture, and artistry. This is a symphony that leaves a lasting impression, resonating long after the last bite is savored.
Culinary Leadership and Artistry:
Behind every successful culinary masterpiece is a visionary leader, and Indian Accent boasts not just one, but two culinary maestros. Chef Rijul Gulati, the head chef, infuses his passion for gastronomy and creativity into every dish. Guiding the culinary direction is the acclaimed Chef Manish Mehrotra, whose innovative approach to Indian cuisine has earned him a place of reverence in the culinary world.
The culinary brilliance extends beyond the menu; it's a philosophy that permeates every aspect of the dining experience.
A Grand Culinary and Artistic Affair:
Indian Accent at the Nita Mukesh Ambani Cultural Centre is not just a restaurant; it's an experience that transcends mere dining. It's a celebration of India's diverse flavors and artistic heritage, meticulously curated by Chef Rijul Gulati under the guidance of Chef Manish Mehrotra. From the captivating art deco interiors that pay homage to Mumbai's architectural legacy to the thoughtfully crafted tasting menu that showcases the best of Indian cuisine, Indian Accent leaves an indelible mark on all who enter its doors.
It's a testament to the fact that dining is not just about sustenance; it's about storytelling, artistry, and creating memories. Indian Accent has mastered this intricate dance, and with each visit, guests are treated to a symphony of flavors, a visual feast, and an unforgettable experience that lingers long after the meal is over.
Indian Accent stands as a testament to the power of culinary artistry and cultural celebration. It encapsulates the essence of India's past, present, and future, all within the confines of an exquisite dining experience. As the art deco interiors embrace Mumbai's history and the tasting menu showcases the nation's culinary soul, Indian Accent is poised to continue its legacy as a culinary masterpiece and a cultural beacon in the heart of Mumbai's vibrant landscape.
Hilton Bogota Corferias Debuts the City's First Barbie Hotel Suite
Hilton Bogota Corferias announces the launch of the limited-time Barbie-themed suite. Available from July 10, 2023, to July 2024, the suite is designed to celebrate the innovation, fantasy and fun that Barbie personifies, while evoking a sense of nostalgia for those who held Barbie as a centerpiece of their childhood. The suite is perfect for a fun getaway, glamourous vacation, or immersion into the world of the beloved doll. Fans can also indulge in several Barbie-themed experiences from check-in to check-out across the hotel in addition to booking the suite.
"Our design for this suite is inspired by the fans who grew up with the iconic Barbie doll. From the moment they arrive at the hotel, we want them to feel transported into a Barbie utopia. In this suite, every corner is tailored to create a sense of childhood nostalgia," said John Freudenthaler, general manager, Hilton Bogota Corferias. "We would like to thank our partners at Mattel for helping us bring this Barbie dreamworld to life; this innovative offering for our guests will surely create new memories for years to come."
Barbie-themed Suite
Located on the hotel's 13th floor and offering an impressive view of the city, including the striking Eastern Hills and beautiful skylines of Northern Bogota, the 1990's inspired, and thoughtfully designed suite transports guests to the Barbie world from the moment they enter the door. The 552 square foot one-bedroom suite for four guests features inspiring and empowering Barbie mantras throughout, including "Together We Shine" and "Strong Girls Make Waves".
Shades of pink adorn the wall accompanied by patterned graphics, Barbie and her friends and contemporary artwork of the legendary doll. The king bed features a colored headboard with pink and white furnishings atop a faux fur white rug. Guests can unwind on the pull-out couch featuring Barbie throw pillows or prepare for a night of glam and style at the light and bright dressing suite-inspired vanity featuring an amenities kit, including a Barbie doll, tutu and pink glasses. Also, in the suite guests find a robe, slippers, and towels with Barbie's name on them. The expansive bathroom features Barbie graphics throughout and a large dressing mirror. As a pet-friendly suite, four-legged friends can live their Barbie dreams too, enjoying a space created specifically for them atop a shag bean bag chair.
Barbie-themed Programming
Not only guests can experience Barbie's unmistakable style while in their suite, but this experience is also reflected in programs throughout the hotel where everyone is welcome, even pets. Guests can choose from a variety of special activities, such as relaxing in the spa or hosting a vibrant pool party with friends in the heated indoor pool.
In addition, they can enjoy a pink sunset with delicious drinks from Four Eleven Bar or delight in a glamorous pinknic on the hotel´s terrace with snacks and drinks inspired by Barbie. Other activities include pizza, bakery, and fashion master classes, make-up, karaoke, a photo booth and accessory kits, including pink aprons. Guests can also dine at OKA Grill House, and Bon Market where iconic culinary creations get a touch of Barbie's color palette through fresh fruits and local ingredients.