As the months begin to change and you feel that recognisable chill starting in the air, it clearly indicates that Autumn is on its way. As a transitional season, along with spring, finding very versatile wardrobe pieces is a sure way to extend your closest options without breaking the bank.
Mixing and matching midi dresses with cardigans and tailored trousers will graphic tees allow you to remain stylish and comfortable as you battle your way through interchanging hot and cold days before the winter chill fully settles in.
Something to Remember
When it comes to formal business attire, you have to go by the parameters provided to you by your company. They may have a strict dress code you must follow, which sadly doesn't allow for much self-expression.
However, if you are given more freedom, don't go too far with personal expression unless your office has clearly expressed its desire to embrace this way of dressing. Instead, stick to more neutral tones, solid colours, pastels and subtle patterns. Anything too bright or "busy" instantly looks more casual, which might not be what you are after.
Tailored Trousers
Tailored trousers should be a closet must-have for all women. They are incredibly chic and can be worn all year round in formal and casual settings. Again, you have a variety to choose from, including bootleg, cigarette cut, and cuffed.
The style that suits your body shape best is mainly up to personal preference. Selecting different patterns and colours will help you dress it up or down. For a work look, pair a cigarette cut with loafers, a white button-up and a smart blazer. For a more casual look, switch to a comfortable bootleg style paired with a graphic tee and sneakers. Throw a jersey overtop if needed.
T-Shirts
If you are still working in the traditional business office environment, this one may not be for you. But more and more, thanks to a global pandemic, the level of formality in offices has changed to a more relaxed and casual nature. So naturally, this opens up the outfit possibilities quite a lot, mainly giving you the ability to include things like graphic tees and neutral t-shirts into your work attire.
A stylish way to carry this item into autumn is pairing it with trousers or fitted jeans, a pair of heels or loafers and a cardigan for a more casual look or a fitted jacket for a more formal choice.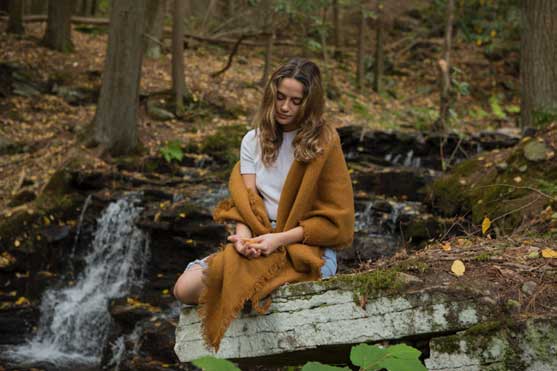 Blouses
Whether silk, satin, linen, or cotton, incorporating blouses into your clothing choices adds a feminine and flirty twist to the regular button-up shirt. Lighter, more breathable materials are ideal by themselves for the warmer autumn days and can easily be worn under any jacket option if there is a chill in the air.
Consider keeping away from any variations that have bright colours or significant patterns. These will make the blouse harder to pair with items you already have. Additionally, they might become less appropriate for the office.
Cardigans
Cardigans are a fantastic choice for Autumn due to their ability to keep you warm without making you overheat. Because of the various knit options available, including thick wool, thin wool and cotton, and knee-length or thigh-length hems, there is a cardigan out there to suit any day of autumn.
They can be worn over pants, dresses, skirts, and shorts, and you can wear them buttoned or open. Like most staple pieces, neutral colours will give you the most extensive range of wear, but if you find a cardigan that can insert a pop of colour into your outfit, don't be scared to experiment.
Shorts
Shorts might seem a little out of place in autumn fashion, but it holds its own amongst transitional pieces. A standard piece of advice for days when you can't quite figure out the temperature is to wear winter on top and summer on the bottom, or visa versa.
Cotton shorts can be effortlessly styled with a blouse, button-ups, graphic tees, and fashion sneakers for an edgy street-style inspired look. Alternately, leather or faux leather shorts can be paired with a silk blouse, heels and a smart jacket, taking you from a business meeting to evening drinks without an outfit change.
Shoes
Having footwear that you can turn to for both work and play is relatively vital as shoes can be an item that starts to add up moneywise. Investing in three or four good quality shoes that can be worn throughout the year, and more importantly, throughout the seasons, pays off in the long run.
A chic pair of heels is almost a given, but for many women, they are neither practical nor comfortable to wear. Thankfully, they are not the only option for the office so if you would rather avoid them, go ahead. Instead, look to purchase a pair of leather or faux leather loafers, traditional combat boots, and stylish sneakers.
Each of these options can be paired with pants, jeans, shorts, and dresses, giving you maximum versatility for your work wardrobe and personal life.