Recently, North Korea declared a first use nuclear policy, reserving the right to use its nuclear weapons preemptively "in case the command and control system over the state nuclear forces is placed under danger owing to an attack by hostile forces."
This decision has led to widespread concerns in the International community regarding regional as well as global peace and security. The United Nations Secretary-General Antonio Gueterres has expressed deep concerns over the declaration, calling for Pyongyang to return to talks with key parties to achieve a peaceful resolution to the ensuing crisis on the Korean Peninsula. France has also condemned North Korea's aggressive nuclear stance, calling it a "threat to peace". The United States has also expressed concerns. White House press secretary Karine Jean-Pierre reflected on past statements while making it clear that the United States was committed to the path of diplomacy while North Korea's lack of cooperation led to a deadlock.
Understanding North Korea's nuclear policy
In order to understand the complexities and the possible way out of the nuclear crisis brewing on the Korean Peninsula, it is necessary to ascertain the reasons behind North Korea's nuclear ambitions.
During the closing days of the Korean War, the Eisenhower administration stationed nuclear weapons on the Korean Peninsula as a deterrent against possible North Korean aggression. These nuclear weapons proved pivotal in getting the North Korean and Chinese forces to sign the Panmunjom armistice and restrict them to the north of the imposed border. Following the Korean War, the United States continued to provoke North Korea by declaring nuclear support to the South while maintaining its troops in the South Korean territory. By the 1980s, North Korea found itself surrounded in major conflicts and insecurities. The economic and military aid from the Communist bloc had waned, the rapid economic rise of South Korea presented a major problem for the regime, and the internal crises created a challenge of sustaining regime legitimacy. The aggressive nuclear policy followed by the United States in the past made the North Korean leadership realise the potential of nuclear weapons in extracting favourable leverages.
Various reasons contributed to this drive for nuclear proliferation. First, North Korea believed that a nuclear programme was important to counter the US nuclear umbrella over the South. Second, North Korea feared an emerging South Korean nuclear programme and wanted to pre-empt its superiority. It was also economically much more feasible to develop nuclear weapons than indulge in a conventional arms race, which it was destined to lose given the economic progress South Korea had achieved over the past few decades. Third, the North Korean leadership viewed possession of nuclear weapons as a means of gaining diplomatic leverage, perhaps to extract economic concessions from the international community amidst sluggish economic growth. Lastly, in line with the Juche ideology, the presence of nuclear weapons allowed North Korea to reduce its dependency on China and Russia, at least in security matters. Hence, a self-reliance tactic could be better employed.
It was in these circumstances that North Korea turned towards establishing a nuclear weapons programme.
While North Korea has indulged in an aggressive nuclear policy since its first nuclear test in 2006, it is highly unlikely for the nation to use its weapons preemptively. This is largely for two reasons, first, the raison d'etre of North Korean nuclear weapons programme is state survival. North Korea turned towards nuclear weapons to secure survival in the 1980s and while they have threatened adversaries with nuclear strikes since, these have largely remained only threats which were made to extract favourable outcomes to facilitate regime survival. Second, a preemptive nuclear strike will invite a potentially devastating retaliatory strike which will have catastrophic results. Possession of nuclear weapons acts as a deterrent for any country considering a preemptive strike on an adversary. Given North Korea's nuclear capabilities, it is unlikely the country will come out on top in an exchange of nuclear strikes with the United States and its allies.
The Case for First Use
A nuclear first strike is highly unlikely and potentially suicidal for North Korea which begs the question as to why would the country enshrine such a policy in its law. The answer to this can be found by analysing North Korea's nuclear diplomacy and understanding the recent developments on the Korean Peninsula. North Korea has long followed the path of nuclear brinkmanship. By using the threat of nuclear weapons, the leadership seeks to extract favourable outcomes. In the past, the North Korean leadership has been successful in bringing the United States and the international community to the negotiating table and extracting desired results in the process. The Agreed Framework (1994), the Six Party Talks (2003), the Panmunjom Declaration (2018) and the Hanoi Summit (2019) are a testament to North Korea's nuclear diplomacy. The threat of use of nuclear weapons is part of a signalling tactic that North Korea employs to achieve its desired ends. Signalling is a crucial aspect of North Korean nuclear diplomacy. Signalling refers to the ability of states to communicate their objectives, interests, and resolve to their adversaries. North Korea has used these tactics to convey its resolve to allies and adversaries alike in the past. Hence, codifying a nuclear first use policy into law seems to be an extension of this intimidation game.
While North Korea's foreign policy has historically focused on using nuclear weapons to play the intimidation game, the first use policy has also been a result of the recent dramatic developments on the Korean Peninsula. The era of amicable relations under former South Korean President Moon Jae-in has been followed by a rather harsh outlook from the current South Korean President Yoon Suk-yeol.
During the run up to his eventual election as the President, Yoon Suk-yeol made several comments about North Korea, going as far as declaring the country Seoul's 'main enemy'. Yoon took an aggressive stance to the North Korean regime by advocating for the possibility of pre-emptive strikes in order to neutralise North Korean targets. Maintaining a credible deterrence against the North Korea's missile tests has also been high on the priority list of the new President, who made his intentions clear in favour of redeployment of the US made Terminal High Altitude Area Defence (THAAD) system. Under his policy of countering North Korea with strength, Yoon has shown willingness of working more closely with the United States and its allies, even entertaining the idea of redeploying US strategic assets, such as nuclear bombers and submarines to the Korean Peninsula.
In August 2022, the United States and South Korea began their largest joint military drills in recent years as an attempt to tighten readiness over North Korea's potential weapons tests. North Korea has criticised these joint military drills as a "rehearsal for invasion" and has reportedly fired two cruise missiles into the West Sea as a retaliatory measure.
It is highly likely that enshrining the nuclear first use policy in law is a measure the North Korean leadership has taken recognising the threats that have emerged due to the US-South Korea joint military exercises on the Korean Peninsula.
Time for Change
A general lack of cooperation looms large on the Korean Peninsula. While North Korea has been accused of it, the United States and the international community have themselves made little to no efforts to establish an era of cooperation. In the past, relations with North Korea were ladened with retaliatory policies as Seoul and Washington pundits predicted the end of the North Korean regime rather than seeking the path of constructively engaging with the nation. Recent years have seen an era of retaliation mixed with disengagement. While the United States participates in military drills with South Korea and shows verbal commitment to diplomacy in dealing with the North, it does little to bring any concrete diplomatic advances to resolve the ongoing crisis. A historical assessment of relations on the Korean Peninsula shows that retaliation and disengagement have failed so far and there seems to be no hope for this policy to succeed in the near future. On the other hand, it can be argued that disengagement and retaliation may lead to terrible consequences as the nuclear crisis continues to boil over. A viable alternative that must be actively sought is reconciliation. The highest points in relations with North Korea have all come under administrations that have favoured a policy of reconciliation as opposed to retaliation. The closest North Korea has reached to an agreement on dismantling its nuclear proliferation programme has been through the channels of diplomacy where cooperation and reconciliation was made the norm. The Sunshine Policy (1998) and the reconciliatory policies under the administration of former South Korean President Moon Jae-in are a testament that peaceful arrangements on the Korean Peninsula are possible if reconciliation and dialogue take precedence over mistrust and coercion.
North Korea's actions are a result of its growing threat perceptions. The failure of punitive measures thus far demonstrates that continuing to entertain such predictions will not result in any breakthroughs and may very well encourage North Korea to advance its nuclear weapons programme. It is high time the international community recognises the urgency of the situation and comes together to resume dialogue. While just bringing North Korea to the high table will be an arduous task, efforts need to be made to resolve any long standing threat perceptions that North Korea currently faces.
Ukraine Joins NATO: Assessing Future Disasters
News related to the Russo-Ukrainian war is still for public consumption and scholar nowdays. As chess game, Russia-Ukraine are in a difficult to stop. Maybe the saying "starting a war is easy, but it's hard to stop it" is true. Since the first time Vladmir Putin declared war on Ukraine until 4 regions of Ukraine (Donetsk, Luhansk, Zaporizhzhia and Kherson) have been controlled and the referendum on joining Russia, President Putin does not seem to play with his words. If we look at the opposite side, Ukraine is no less interesting. President Zelensky kept trying to defend Ukrainian territory and seeking international support, even on October 1 this month, social media was filled with the news "Ukraine Joins NATO". This situation will obviously exacerbate the situation, not only in every war zone but will also invite other countries to be involved in the dynamics of Russia-Ukraine relations and give new chapter to the world political stage in this century.
What concern today is that the threat of a third world war is becoming more and more real. If we remaind when the war started, some scholars related to politics and war analyze underestimated the issue of nuclear involvement in the Rusia-Ukraine conflict, but now it needs to be reconsidered. Not only that, the crisis of natural gas and oil and wheat flour has also been felt more and more because of the Russia-Ukraine war consequence. If Covid 19 last year was able to weaken the economies of the world's countries, then the Russia-Ukraine war could trigger a bigger disaster.
If Ukraine with NATO signifies that the beginning of the war has begun and will worsen the times ahead. The annexation of 4 regions of Ukraine to become part of Russia, worried many parties. In response to this, the United Nations (UN) held an emergency meeting on 2 October. Russia vetoed UN Security Council resolutions proposed by the United States and Albania condemning Moscow's annexation of parts of Ukraine. US Ambassador to the United Nations Linda Thomas Greenfield introduced a resolution asking member states not to recognize Ukraine's change in status and obliging Russia to withdraw its troops, as Russia's annexation efforts contradict UN principles. At least 10 countries voted in favor of the resolution, while China, Gabon, India and Brazil still abstained. China has firmly criticized Western sanctions against Russia, but neither has it supported or assisted Russia in its military campaign. Meanwhile, regarding the submission of Ukraine to join NATO, it is not entirely certain that it will go well. Nancy Polesi as a spokeswoman for the US president argued that "NATO remains in principle, wide open to any country. However, Ukraine's desire to join NATO now needs to be carefully considered."
Russia-Ukrainian War Timeline
Russia's invasion of Ukraine has been carried out since last February. The following is timeline of the Russia-Ukraine conflict that became an important moment
In February, Russian troops attacked the Ukrainian capital, Kyiv, from the north in an attempt to overthrow the government of President Volodymyr Zelensky. With Ukrainian forces outgunned and outnumbered, many military experts expect the offensive to be successful quickly. But after weeks of fighting, the Russians withdrew, stymied by Ukrainian resistance.
March, Russian troops attacking from the south take Kherson province. The advances are part of efforts to secure Ukraine's Black Sea coast and form a land bridge between the territory of Crimea, which Russia illegally annexed in 2014, and the breakaway republic established with Moscow's support that year in eastern Ukraine's Donetsk and Luhansk regions.
In April, a Russian missile attack on a train station in Kramatorsk, a city in Donetsk, killed more than 50 civilians. The attack came at the start of the Russian offensive to seize all of Donetsk and Luhansk, collectively known as the Donbas.
May,The last Ukrainian fighters surrendered to Russian forces in Mariupol, a port city and industrial center on the Sea of ​​Azov. Russian troops destroyed the city during weeks of bombing that killed thousands of civilians. The battle ended with the siege of the Azovstal Iron and Steel Works factory, which became symbol of the Ukrainian resistance.
In June, Ukrainian troops raise flag over Snake Island, a strip of land in the Black Sea off the Ukrainian city of Odesa. Russian forces had seized the island early in the conflict, exposing the Ukrainian coast to missile attacks and a potential ground invasion. By expelling Russian troops from the island — two months after sinking the main ship of Russia's Black Sea fleet, Moscow is reducing the threat to Odesa that has further undermined the aura of Moscow's naval power.
July, after weeks of artillery bombardment and street fighting, the last city under Ukrainian control in Luhansk, Lysychansk, fell to the Russians. However, in the weeks that followed, Moscow made little headway in its bid to secure the rest of the Donbas.
In August, Ukraine said it had launched a counter-offensive in the southern Kherson region. The build-up took weeks, during which Ukraine deployed newly arrived missile systems supplied by the United States and other Western countries to destroy Russian ammunition dumps and other military infrastructure. Ukraine also attacked a Russian air base in Crimea.
In September, in swift offensive, Ukraine retook most of northeastern Kharkiv, including the city of Izium, which had become Russia's main logistics hub. Progress, which continued, allowed Kyiv to seize momentum in the war.
October, on October 1 Russia managed to annex 15% of the territory of Ukraine. Meanwhile, responding to Russia's treatment, Ukraine immediately submitted an application form to join the NATO alliance in the region. This is what is being reconsidered regarding the opportunity for a bigger war.
Listen to the Comments
Regarding Ukraine's efforts to hasten its efforts to join NATO, Dmitry Medvedev as Deputy Chair of the Russian Security Council said that "Ukraine joining NATO is the same as accelerating the occurrence of world war 3". Furthermore, Henry Kissinger, who is a former US Secretary of State who also serves as a scientist, diplomat, politician, geopolitical consultant, and veteran has also commented on what is happening between Russia and Ukraine at the moment. According to Kissinger "Ukraine must cede territory to Russia if it wants peace". He further said that "it would be unwise for the United States to include Ukraine in NATO". Henry Kissinger, dubbed the "Prophet of the Modern Century," argues that Washington tried indiscriminately to include all former members of the Soviet bloc under its umbrella after the Berlin wall fell. So that the entire territory between Russia's borders became open to restructuring. When viewed from Russia's point of view, the United States then attempted to integrate all of Ukraine's territory without exception, into the American-led strategic system, this development essentially removing Russia's historic "safety belt". According to Kissinger, sooner or later the West and Russia will engage in formal or informal dialogue, perhaps in a very important way of exploration in the nuclear circle.
Back to Think
Basically, the main reason for Russia's invasion of Ukraine is Ukraine's desire to join NATO, while NATO according to Russia is a threat to its territory and power. However, Ukraine's desire to join NATO was not the only reason for Russia's invasion of Ukraine. From February to October 2022, the Russian-Ukrainian invasion seems to be progressing, although it is too early to predict and analyze the Russian-Ukrainian invasion, but it does not seem wrong to prepare for the worst in the future. The Russian invasion of Ukraine not only involved Russia and Ukraine, but also dragged other countries and had an impact in many ways in international life, especially the involvement of the United States, which is still considered a world leader today. We still cannot provide an in-depth analysis and take into account what will happen in the near future, because the war is not over yet and the human life are dynamic. Regardless of any views, be realists, liberals or constructivists, the people who will suffer will suffer.
A Matter of Ethics: Should Artificial Intelligence be Deployed in Warfare?
The thriving technological advancements have driven the Fourth Industrial Revolution nowadays. Indeed, the rapid growth of big data, quantum computing, and the Internet of things (IoT) has been reshaping all human activities – it creates a new business model, removes geographical boundaries, and revamps the decision-making process not only on the individual level but also on the state level. It has also influenced all human dimensions, from economic and social sectors to the political sphere. One of the results of this transformation is the emersion of Artificial Intelligence (AI). AI is designed to recognize speech, learn, plan, and solve a problem. Generally, AI is described as a machine that can learn by itself, eventually imitating how the human brain works.
In the past few decades, researchers have achieved a breakthrough related to AI development that significantly exceeds the projections of experts in this field. An AI specialist who created Go-Playing, also known as Alpha Go, in 2014 said that it would take another ten years for a computer to overcome human Go-Champion. However, one year later, a researcher at Google DeepMind successfully established a technology to defeat it. From this point forward, AI is progressing at a breakneck speed. According to Greg Allen and Taniel Chan in their research about Artificial Intelligence and National Security, the evolution of AI is driven by some key factors, including: (1) exponential development in computing capability; (2) enlarged data-set; (3) advancement in the application of machine learning method and algorithm; and most importantly (4) the fast expansion of business interest and investment in AI.
There have been broad usages of AI in recent years, and it can be found in various programs and technological devices. AI has helped humans map and target markets, providing safer travel through a smart car or self-driving car, helping people predict the weather, and much more. The expansion of AI holds a promising future in many sectors, including in military dimensions. Its existence has become a huge turning point for creating autonomous weapons, vehicles, and logistic tools which could increase military capability. Robert Work, in his remark at CNAS Inaugural National Security Forum in 2015, stated that world leaders have been quick to recognize Artificial Intelligence's revolutionary potential as a critical component of national security. It is proved by the increasing global investments in Artificial Intelligence for national security and the rising usage of AI in defense strategy.
The Usage of AI in Military Sector
Since World War II, semi-autonomous weapons have been deployed on the battlefields. This type of weapons system is continuously being developed in numerous countries. The massive growth of Artificial Intelligence, supported by extensive investments in this sector, has transformed semi-autonomous weapons into fully-autonomous ones. Unmanned Aerial Vehicles (UAVs), notably deployed by the US in Kosovo in 1999, were one of the first by-products resulting from this significant development. Back then, the US Defense had not thoroughly investigated how this technology might impact future military actions.
Fast forward two decades after the first usage of UAVs in military operations, the US Government has successfully improved the AI aspect significantly. By 2019, the Sea Hunter Uncrewed Surface Vessel (USV), owned by the United States Navy (USN), successfully sailed without crew from California to Hawaii. It was navigated by AI using a data set collected by the vessel's onboard sensors, radars, and cameras. Further, the US Defense Advanced Research Project Agency (DARPA) launched an AI-powered F-16 Fighter Aircraft in 2020. During some trials, this aircraft could defeat a comparable simulation controlled by a very experienced human. The number of funds invested by the US Department of Defence for AI development has also increased – from USD 600 Million in 2016- 2017 to USD 2,5 Billion in 2021-2022. This trend is not only happening in the US.
China is now using AI to increase the speed and precision of its tactical decision-making by automating its command and control system. This practice effectively established predictive operational planning. Apart from that, the government of China has already begun testing AI-enabled USVs for future development in the South China Sea. Russia might lag, but Putin presumably does not want to be excluded in this race as the government has targeted 30 percent of its entire military forces to become robotic by 2025. Russia is also working on multiple fronts by conducting research focused on using AI in information operations and increasing the efficacy of land warfare operations. This indicates how AI has gained compelling popularity among various states regarding its military usage. It seems that the prospect of wars using robots with minimum or even no human involvement in the future would be inevitable.
Deploying AI in Warfare: Against Human Ethics?
Along with technological development, military warfare is also growing; both are interwoven. The emergence of Artificial Intelligence would bring up the same effect, if not more. The initial indications have clearly shown how AI will play a significant role in shaping future wars. Even when AI has yet to be tested in the harsh environment of the natural world of combat operations, its prospect for future warfare cannot be ignored. However, despite all its benefits to improving a state's defense and offense capability, the increasing adoption of AI into military forces gives rise to a debate, mainly related to legal, ethical, and security perspectives. Current AI development can address some specific problems more consistently than humans. It can detect patterns and anomalies within vast unstructured data faster than humans. According to Peter Layton in his publication – Fighting Artificial Intelligence Battle: Operational Concept for Future AI-Enabled Wars – the latest generation of AI is influential in five main areas, including identifying, grouping, generating, forecasting, and planning. Humans can execute those activities, but AI can do those tasks efficiently and much faster.
Nevertheless, some aspects need to be considered for further deployment of AI in warfare. With all of the intelligence an AI machine can uphold, it would still be vulnerable to cyberattacks, which brings more concern towards security. Furthermore, AI is still proven to be unably adapting to minor changes. It still has difficulties to apply the same knowledge to different contexts. And with human life at stake, this shortcoming is more or less unacceptable. In a war situation, where it is a matter of life and death, removing human footprints in the decision-making process would put ground morals and ethics at stake. After all, AI is not a human; in a general context, it should not be the one making a decision over a human.
Between the Greater Russia and the MAD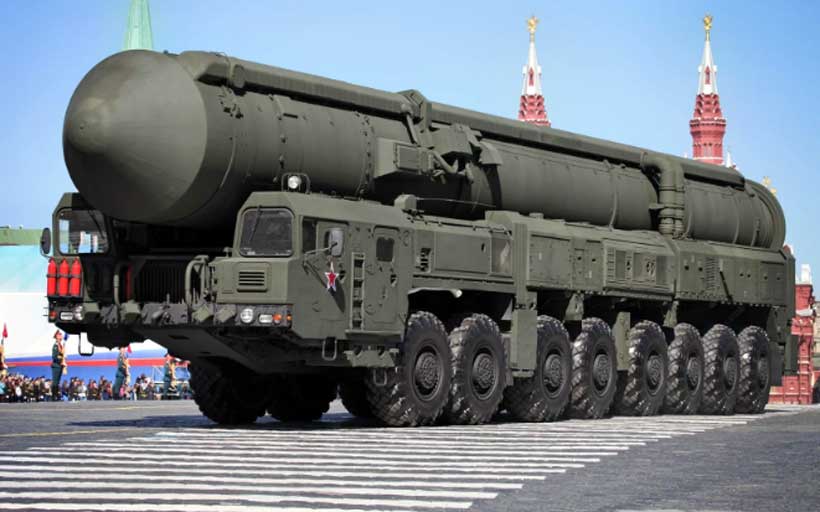 With 'The Greater Historical Russia', the impossible that the dream appears to be, and the Russian defeat at Liman and the attack on Nord Stream 1 and Nord Stream 2, the threat to use nuke by Russia has increased implying the 'Mutual Assured Destruction (MAD) and the catastrophic time for Europe ahead. MAD, a term coined by Donald Brennan, a strategist working in Herman Kahn's Hudson Institute in 1962, is flying high with the audience of IR theatre and war strategy. This has come in the wake of seven month long Russo-Ukrainian war that has lingered far longer than expectation, of course with the clandestine support of NATO. The whole gamut revolves around the Russian allegation against the US and the European counterparts that Russia is not like the African and Asian states and it won't allow its colonisation with NATO reaching at its thresholds by accepting Ukraine as its new member. In a time when US is having tough time with China, the NATO's insistence has pushed Russia further towards Asia.
The heat generated by the current Russo-Ukrainian conflict fuelled by NATO and its sympathisers on the one hand and Russia on the other reminds one of 35 days long deadlock of Cuban missile crisis of 1962. In 1961 in the aftermath of US deployment of Jupiter Missiles in Italy and Turkey Soviet Union had positioned its nuclear missiles in Cuba when the Soviet First Secretary Nikita Khrushchev signed an agreement with Cuban Prime Minister Fidel Castro in July 1962 over the deployment and the construction of a number of missiles launch facilities.
Now Russia after the occupation of Crimea and Sevastapol in 2014 has, in the midst of the war, unilaterally conducted a referendum against the world opinion on September 23, 2022 to annexe parts of Donetsk, Kharkiv, Kherson, Luhansk, Mykolaiv, and Zaporizhzhia oblasts. The annexation of about 15 percent of the territory of Ukraine is the first one after World War II and would not be digested by the world community easily. The Secretary General of NATO Jens Stoltenberg has even remarked that the NATO members "do not and will not recognise any of this territory as part of Russia". Russian President Vladimir Putin calls them the 'accession treaties' that is the part of Russia's unfinished task of the past to annex the ethnically Russian dominated areas. President Putin remarked that "The people made their choice, and that the choice won't be betrayed by Russia. Occupied regions of Ukraine vote to join Russia in staged referendums. The Russian leader called on Ukraine to end hostilities and hold negotiations with Moscow – but insisted that the status of the annexed territories was not up for discussion (Mayens, September 23, 2022). The proposal implies forced annexation and a complete surrender, which could have been the option of President Volodymyr Zelensky, well before the calling for so much of destruction of life and material.
The Russian action calls for serious attention since it rips apart the spirit of international law and United Nations by opening up the alternative of forcible solution to the unfinished territorial agendas of different states. The United Nations Secretary General António Guterres remarked that in this moment of peril, I must underscore my duty as Secretary-General to uphold the Charter of the United Nations. The UN Charter is clear. "Any annexation of a State's territory by another State resulting from the threat or use of force is a violation of the Principles of the UN Charter and international law (United Nations). The Russian actions entails UNSC response under article 39, 41 and 42 of United Nations Charter which may further alienate it from the world community.
The Russian action is not short of rather goes beyond the 'China's 'Salamy Slice Strategy' of annexing the opponent's territory in a series of small operations. Should China and India follow the suit in Taiwan and Kashmir? There is a long list of unsettled territories and boundaries among states which may catch fire from the Russian action. Should the states put aside the peaceful negotiations and return to the pre-World War state of complete chaos and colonisation? This is a big question in the face of the nuclear threat posed by President Vladimir Putin.
Russian President Vladimir Putin warned Western countries that his country's nuclear threats are 'not a bluff'. Vladimir Putin recapped to the world President Harry S. Truman's decision to drop atomic weapons on Hiroshima and Nagasaki in 1945. Ramzan Kadyrov, the Chechen leader has also advised President Putin to use low yield nuclear weapon (tactical weapon) to plug the NATO offensive against Russia in Ukraine. The use of such weapon would be less lethal (about 1 to 2 percent) to the one dropped in Hiroshima and help determine the war outcome. "Putin also issued the warning after accusing Western countries of resorting to 'nuclear blackmail', despite no NATO countries threatening to use nuclear weapons. The threat comes as Russia's prospects in Ukraine are grim, with Putin's military losing thousands of square miles of territory to a Ukrainian counteroffensive" (Hagstrom, September 21, 2022). President Biden has slammed Russia for having violated the core tenets of UN Charter. Nuclear war shouldn't be fought as its solves nothing. But NATO will protect every inch of its territory. In the heat of exchange the nearing of catastrophe frightens the world.
The Russian decision of mobilising citizens to bolster Ukraine invasion has evoked huge resistance from people. A Russian draft officer has been shot in Siberia region and people have thronged on to the streets to protest against the forced recruitment. Therefore, President Putin has been placed at two hostile fronts – domestic and international and his mercurial position is keeping everyone at the toes. Winston Churchill's counsel of declaring 'Diplomacy as the art of telling people to go to hell in such a way that they ask for directions' may sound interesting but let's remember, Russia is not a state that looks for direction. But President Putin should remember that 'as he has failed in Ukraine, the use of nuke may fail him more and bring assured destruction to Russia'.
References
Deudney, Daniel. (1983). Whole earth security: A geopolitics of peace. Washington: Worldwatch Institute. p. 80.
Hagstrom , Anders. (2022, September 21). Fox News. Putin warns West: Threat to resort to nuclear weapons 'not a bluff'. Putin claims NATO countries are using 'nuclear blackmail.
Maynes, Charles. (2022, September 30). NPR. Putin illegally annexes territories in Ukraine, in spite of global opposition.
Secretary General. (2022, September 29). Secretary-General's remarks on Russian decision on annexation of Ukrainian territory [as delivered]. www.un.org