This article attempts to contribute to the discussions on the evolutionary political confrontations and contradictions between Russia and Ukraine, its impact on and implications for Africa. Historically, both Russia and Ukraine attained their independence after the collapse of the Soviet era in 1991. It has embarked on territorial expansionism, annexing neighbouring former Soviet republics. Its annexation ambitions started with Georgia, then Crimea and now Ukraine. That, however, Russia considered itself as a superpower and hopes to lead the emerging new world order.
After these several months, the Russia's "special military operation" approved by the Federation Council and the State Duma (legislative chambers) and that began Feb. 24, has tremendous impact on Africa. As already known, it has pushed the United States, European Union and a few Asia-Pacific states to impose draconian sanctions on Russia. This article helps to understand the impact, some of the implications and future directions by looking specifically at the Southern African region.
The Southern African Development Community (SADC) is a regional political-economic organization made up of 16 member states, with its population approx. 395 million. That compared, Russia is the largest by territory and has approx. 145 million population.
The SADC collectively aims at, among others, promoting sustainable social-economic development that will ensure poverty alleviation and enhancing ultimately the living standards of the people in Southern Africa. Despite differences in approach to politics in individual states, the group cooperates on issues of security in the region.
The Russian Federation maintains friendly bilateral relations practically with all these southern African states: Angola, Botswana, Comoros, Democratic Republic of Congo, Eswatini, Lesotho, Madagascar, Malawi, Mauritius, Mozambique, Namibia, Seychelles, South Africa, United Republic of Tanzania, Zambia and Zimbabwe.
The diplomatic rhetoric is that it has uniquely supported struggle for political liberation particularly in Angola, Mozambique, Namibia, South Africa and Zimbabwe. And further to that, Russia claims to have a common understanding, solidarity and trusty position with African friends on important issues at international platforms including at the United Nations.
African representatives and their votes were considered very interesting. Some 17 African countries abstained from the vote at the UN General Assembly to deplore the Russian invasion of Ukraine while some other 28 countries in the continent voted in favour. Among those in the SADC bloc abstaining from vote include South Africa, Mozambique, Mauritius, Namibia, Angola, Zimbabwe, Madagascar, Tanzania and Democratic Republic of Congo.
The Russia-SADC Economic Scenerio
The Southern African countries are struggling to overcome multiple challenges that have originated due to the endless Russia-Ukraine crisis. But a careful study and analysis show that prior to the Feb. 24 crisis which unfolded in Ukraine, Russia indicated strong preparedness and high interests to broaden cooperation in economic sectors in Africa.
In efforts to reposition itself to become a major partner, the following priorities as an economic strategy in the region were jointly put forward during Russia-SADC meeting held back in September 2019:
– Prospecting, mining, oil, construction, mining, purchase of gas, oil, uranium, and bauxite assets (Angola, Namibia and South Africa);
– Construction of power facilities: hydroelectric power plants on the River Congo (Angola, Namibia, and Zambia,) and nuclear power plants (South Africa);
– Creation of a floating nuclear power plant, and South African participation in the international project to build a nuclear enrichment centre in Russia;
– Railway construction (Angola);
– Creation of Russian trade houses for the promotion and maintenance of Russian engineering products (South Africa); and
– Participation of Russian companies in the privatisation of industrial assets, including those created with technical assistance from the former Soviet Union (Angola).
Of course, there are disparities in the level of development and cooperation between Russia and individual states in Southern Africa. At least during the past few years, Russia has notably strengthened relations with most them. For example, it has leveraged unto exploring lucrative platinum project at Darwendale (Zimbabwe).
Foreign Minister Sergey Lavrov launched this $3 billion project back in 2014, after years of negotiations, with the hope of raising its economic profile in Zimbabwe. Few other anticipated projects have sprung up in Angola, DRC, Mozambique, Zambia, Zimbabwe and South Africa.
While Covid-19 impacted on development progress, there are currently signs of the disarray caused by restrictive foreign exchange policies and continuing inability to determine funding sources for Africa. Russia has been engulfed with crisis and worse under serious sanctions, bilateral agreements might take years to realize fully in most Southern African countries.
Our research shows that ten SADC member-states have diplomatic offices in the Russian Federation: Angola, Democratic Republic of Congo, Madagascar, Mauritius, Mozambique, Namibia, South Africa, Tanzania, Zambia, and Zimbabwe.
Impact of Russia-Ukraine Crisis
According to the United Nations Food and Agriculture Organization, many African countries rely on Russia and Ukraine for wheat imports. Russia is a major supplier of fertilizers to 15 African countries. Reuters news agency reported that Africa is suffering from disruptions in food supply and soaring prices of basic goods and risks "disastrous consequences" if the situation endures. This position was supported by African Union Chairman Macky Sall during a conversation with philanthropist Mo Ibrahim at the Ibrahim Governance Forum, far ahead before he travelled to Sochi, Russia. That Sochi trip discussed measures which could alleviate the escalating problems related to the food and agricultural inputs, and further reviewed strategic solutions within the context of Russia-African relations.
Despite the assurance of reversing the situation offered at Putin-Sall-Faki meeting, the Russia-Ukraine never-ending crisis still flushing up commodity prices world-wide. Africa's economy is currently worsening, a direct primary result of rising energy cost. With this economic instability, it further generated social discontent and tension among vulnerable impoverished groups across the population. Some have asked for wage indexations as well as increment in pensions and unemployment payments.
Local South African media have reported, during the previous months, about workers protesting against inflationary prices in Angola, Democratic Republic of Congo, Mozambique, South Africa and Zimbabwe. There has been sharp currency fluctuations throughout the southern African region. Southern Africa depends on some imported goods, such as agricultural produce and fertilizers, from Russia and Ukraine. In terms of negotiations, much has to be done in order to reach comprehensive agreements to free movement of these to the Africa's market.
Experts suggested in seperate interviews that it was necessary to implement the memorandum between Russia and the UN on exports of Russian agricultural products and fertilizers. Argubaly, there are indications that Washington and Brussels anti-Russian sanctions do not apply to foodstuffs and fertilizers. While some explain further that there are still obstacles to banking settlements, insurance and carriage of cargoes at shipping terminals due ot Western sanctions.
From our analytical position, first as African countries face continued uncertainty, the International Monetary Fund (IMF) and the World Bank (WB) interventions be necessarily seen only as short-term solutions. And second, in an article published by the French Press Agency (AFP), it says negotiations between the AU leadership and the Russian president illustrate the importance of enhancing the bilateral relations. While African leaders are attempting to build international solidarity and alliances aims at achieving genuine peace and global security, and for emerging new order, it also important to initiate a new reform drive to transform agricuture and industry throughout Africa. African financial institutions, such as the African Development Bank (AfDB), urgently have to prioritize investing more food production in the continent.
Highly commendaly the initiative, the Feed Africa strategy for Agricultural Transformation in Africa (2016 to 2025), to move the continent to the top of export-orientated global value chains where it has comparative advantage. This aims at making Africa a net-exporter rather than importer of basic agricultural products and contributing to eliminating extreme poverty in Africa and ending hunger and malnutrition in Africa by 2025.
Our research shows the bank's efforts has brought home $1.5 billion for the African Emergency Food Production Facility. It has been advocating for expanding social protection programmes, strengthening economic resilience and responsiveness to shocks of Russia-Ukraine crisis. The African Development Bank Group is Africa's premier development finance institution.
Emerging Economic Prospects
Despite the negative impacts and consequences, the Russia-Ukraine crisis has simultaneously open doors (opportunities) for Africa. Europe has seen potential supplies of energy especially gas from the region. As Mozambique is gradually emerging as an exploration hub, its is attracting investors from Europe. Meanwhile, leading energy companies such as TotalEnergies, ExxonMobil, Bristish Petroluem (BP), Shell and Eni are already working in the region, seeking alternative supplies in light of the Russia-Ukraine conflict.
Mozambique's President Filipe Nyusi and stanch member of the Southern African Development Community (SADC), has spearheaded multiple initiatives and partnerships with international partners to boost security and ensure project resumption. As a result, the European Union recently announced a plan to increase financial support for Mozambique while energy majors TotalEnergies, ExxonMobil and Eni are focused on getting projects back on track.
Mozambique is increasingly stepping up efforts in the production of liquefied natural gas and consequently become one of the suitable reliable suppliers to Europe. While it might not replace Russia which cuts its export of gas as a reciprocal action against European Union members, Mozambique seeks ultimately to earn some revenue from its natural resources. Late July, the outgoing European Union (EU) Ambassador to Mozambique, Sánchez-Benedito Gaspar, argued that natural gas from Cabo Delgado was among the alternatives in Europess plan to diversify energy sources in the face of constraints caused by Russia's military operation in Ukraine.
"Mozambique's gas, with the presence of large European multinational companies, now has an even more important and strategic value," Sánchez-Benedito Gaspar said in an interview with Lusa, Mozambican News Agency, in Maputo. According to the diplomat, Europe came to the conclusion that "it cannot trust its old partner (Russia, among the world's biggest gas exporters), which is authoritarian and uses gas as an instrument of war," and is making efforts to secure alternative sources.
With an approximate population of 30 million, Mozambique is endowed with natural resources. With the untapped huge resources, if it is strategically well-managed and exploited in the southern states – Angola, Mozambique, Namibia, Tanzania and South Africa, it will possibly be making energy poverty history in southern region and possibly entire Africa.
The Puzzling Politics
On the political perspectives, a majority of African leaders have in principle endorsed multilateralism, and also reminded respect for territorial sovereignty, independence and human rights. Reference has been made to non-interference into nations internal affairs that brought to the fore the general priniciples on which the Non-Alignment Movement organization was created.
South African President Ramaphosa called for promoting international peace and security by advocating inclusive dialogue and the peaceful settlement of disputes. "We must safeguard the principle of multilateralism. We need a United Nations that is fit-for-purpose and clear in its benefits to all humanity, especially in times of insecurity and crises," the President said late June.
Nearly all the experts contacted for this article have the same arguable points, especially safeguarding and walling (fencing) to be used by key powers as "political playing grounds" the Southern African region. Despite the contradictions, the experts acknowledged the fact that western hegemony and "rule-based order" be halted, and make way for the new emerging world order.
Russia's Foreign Minister Sergey Lavrov, however, informed about broadening African issues in the "new version of Russia's Foreign Policy Concept against the background of the waning of the Western direction" and this will objectively increase the share of the African direction in the work of the Foreign Ministry. It was last updated 2013.
The development of a comprehensive partnership with African countries remains among top priorities of Russia's foreign policy, Moscow is open to its further build-up, Lavrov said in an Op-Ed article for the African media, and originally published on the ministry's website late July.
The Future Roadmap
We have seen the extent African leaders express political sympathy for Russia. For Russia to regain part of its Soviet-era influence, it has to address its own policy approach, this time shifting towards new paradigms – implementing some of those bilateral agreements; secondly to promote development-oriented policies and its strategic efforts have to be more practical, more consistent, more effective and result-oriented with African countries.
In the context of building post-Soviet relations, Russia has to attempt creating a new model of template for itself, and for what it often refers to as "non-Western friends" in this crucial geopolitical changes occuring now in order to bring them into its armpit from Asia, Africa and Latin America. For African leaders, under the auspices of the African Union, have to design a broad roadmap. Significantly it is necessary to adopt "a collective voice and approach" for the continent.
On other hand, a major rethink is urgently required in the current evolutionary processes of the new world order. The first drastic step is for Africans to identify their weaknesses, understand the fact that it is endowed with huge natural resources and therefore work together in complete harmony by pulling their own large-scale resources to fund the development agenda.
From our analytical perspectives, it is now time for Africa and its youth to stand up and defend its history and riches. And the significant challenge is the need for adoption of a unified strategy to avoid being used as a pawn in global power games. This should be the continental task for the SADC and the African Union.
Specifically, South African Development Community leaders have to follow the same line of procedures for the region. In the process of seeking additional support and whatever contributions from foreign partners and foreign investors, either government or private, these have to fall within the roadmap as re-emphasized during the 42nd summit of the South African Development Community.
Russia and South Sudan: Exploring Opportunities for Bilateral Cooperation
Ultimately Russia has returned to Africa, this time not with 'business as usual' and rhetorics, but doubled actions to invigorate its relations after holding Sochi and St. Petersburg summits. As sealed in the summit declarations, both Russia and African states have reaffirmed to heighten bilateral contacts as a primary mechanism for raising multifaceted relations unto a more quantitative stage.
Notwithstanding its own geopolitical complexities, including stringent sanctions hitting the economy, generating social discontent and Russia-Ukraine crisis at home, Kremlin authorities are still looking to build up admirable relations with Africa. It is a fact that Africa undoubtedly has huge potential, the untapped resources including natural resources and human capital, but badly needs support to realise its expected development goals.
Russian President Vladimir Putin and South Sudanese President Mayardit Salvatore Kiir, on September 28, during talks in the Kremlin, agreed on establishing close and well-refined working relations and strengthen further economic cooperation.
Putin reminded Salvatore Kiir of their participation in the first Russia-Africa summit in Sochi. And since then, all the nitty-gritty relations have been developing very intensively. Putin also pointed to the fact that much remains to be done, primarily in the area of economic development.
South Sudan's trade statistics were not released though, Putin only explained there was 'a slight decline' in trade turnover. Putin further told him about many good opportunities in a variety of areas, including energy and construction of a refinery as well as the possible plans to create something else during the second stage of this plant, that would support the development of trade and economic ties.
"Of course, we are aware that further progressive development is connected with ensuring security, with the resolution of all those problems and difficulties that you have inherited from earlier times, so we will do everything to support you in this area as well as issues of regional stability and security," Putin emphatically said during the discussion.
Putin also brought up the issue of humanitarian cooperation. "People from your nation are being trained in educational institutions of our country. We intend to expand this collaboration. I know that there is similar interaction with the regions of the Russian Federation, including Tatarstan. I hope that this area of activity will only develop," he said.
On Sudanese side, Salvatore Kiir unreservedly pledged to work together with the Russian Federation. "As you rightly said, we were together, for the first time, in Sochi in 2019. We will work together – with you and with the Russian Federation, because the situation in the world shows that no one can survive or succeed alone, and our country is no exception," he said in a contribution to the discussion.
With the rapidly changing situation, Kremlin authorities generally consider Africa as a foundational pillar of the emerging multipolar world, and consequently combing around for partners in order to expand the range of activities in trade and expand economic ties, engage in agricultural and industrial production.
Beyond that, Russia is also interested in strengthening its ties with regional economic integration associations and other recognizable structures useful for diversifying business services and and partnerships. And experts rightly say Sudanese delegation signals a window of opportunity for future visits to Moscow.
The Russia-Africa summit's declaration reaffirmed that Russia remains a reliable food supplier for Africa. In 2022, Russian food exports amounted to 4.7 billion US dollars. Many large Russian companies are successfully working in Africa. The key spheres of bilateral cooperation include energy, subsoil use, agriculture. There are good opportunities for cooperation in research and technology, education – skills training – and culture with African countries in long-term perspectives.
Landlocked South Sudan, with estimated population of 11.5 million, is located in the northeast and central Africa. South Sudan is now a sovereign, independent state following its secession from Sudan on July 9, 2011. Like most of the conflict-wrapped African states, South Sudan has deepening economic crisis, so many social and political forces battling for political power after it separated from Sudan.
As always trumpeted, the popular perception is that it remains as one of the world's least developed African states, with deep-seated poverty despite its boastful natural resources. It claims pursuing or tackling sustainable development goals and South Sudan, as AU member, is abreast with the African Union's Agenda 2063.
Decorating Africa at United Nations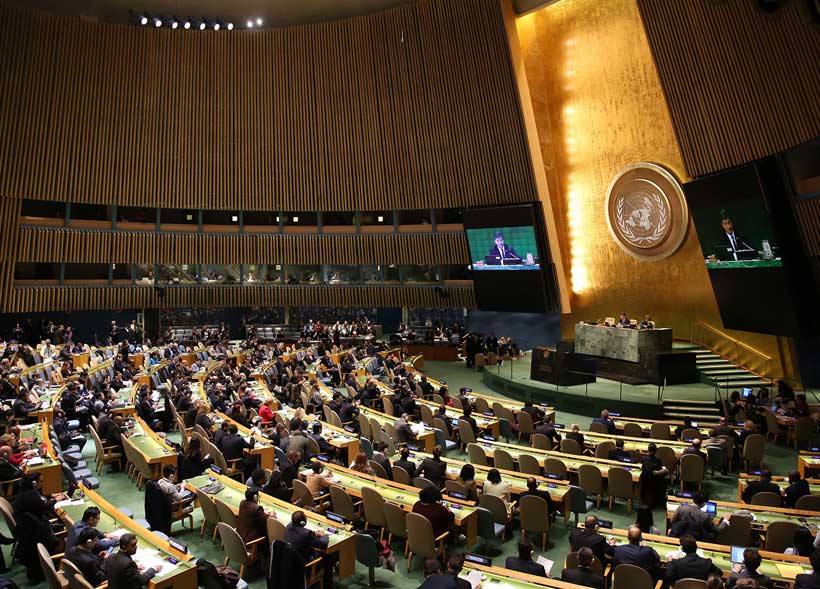 At least majority of African leaders are calling for complete overhaul of multinational financial system to enable them pursue their development goals across Africa. Further to their scathing remarks on negative impact inflicted by imperialism, neocolonialism and western hegemony struck a serious chord during their invaluable speeches delivered at the United Nations General Assembly in New York.
But in critical assessment and careful analysis of develoments for the past decades, Africa's poor development could be attributed to several reasons which African leaders have realized but grossly failed to address in the continent. African leaders provided diverse perspectives on the state of politics, economic development and socio-cultural issues that are unique and thought provoking. Paradoxically, Africa has huge resources both natural and human, but the larger size of its population lives in abject poverty. As it is now, the African continent is wrapped with its own distinctive complexities and contradictions.
Conflicts, Democracy and Good Governance
The nature of politics in Africa includes monarchy, autocracy, dictatorship, military and democracy. The intellectual and middle-class apathy to politics is also formed alongside down the years. Throughout its history, civil society have been mounting peaceful demonstrations to demand transparency and accountability primarily due to weak institutions, ineffective organs of the state especially the parliaments. Opposition groups are stiffed, putting democracy at risk, across Africa.
A number of African leaders have different views about fundamentals of democracy. Guinea's military leader Mamady Doumbouya told the U.N. General Assembly that the Western model of democracy does not work for Africa, as evidenced by a recent wave of coups. Doumbouya took power by overthrowing Alpha Conde, Guinea's then 84-year-old president who had changed the constitution to run for a third term, sparking widespread protests. Mali, Niger, Burkina Faso, Chad and Gabon are also run by military officers.
The United Nations and Western powers such as the United States and France have urged democracy to be restored as soon as possible in those French-speaking West African states. But Doumbouya vehemently argues during his speech at UN that Africans are mature enough to design their own models of governance. "Africa is suffering from a governance model that has been imposed on it… a model that is good and effective for the West but is difficult to adapt to our realities, our customs and environment," he told world leaders gathered in New York.
At the UNGA, South African President Cyril Ramaphosa told the gathering there that through the United Nations Charter nations accepted a shared mandate to foster peace and to promote fundamental human rights, social progress and a better standard of life for all. "And yet, as we gather here, much of humanity is confronted by war and conflict, by want and hunger, by disease and environmental disaster. Solidarity and trust between states is being eroded. Inequality, poverty and unemployment are deepening. In these conditions and in the wake of a devastating global pandemic, the achievement of the Sustainable Development Goals seem increasingly remote," according to Ramaphosa.
The global community needs to work alongside the African Union to support peace efforts in the eastern DRC, Libya, Sudan, Somalia, Mali, Central African Republic, South Sudan, northern Mozambique, the Great Lakes Region, the Sahel, Niger and the Horn of Africa. (UNGA, September 19, 2023). The UN Special Representative of the Secretary-General and Head of the United Nations Office for West Africa and the Sahel (UNOWAS), Mohamed Ibn Chambas, suggested to the UN Security Council's meeting as far back in 2020 that conflicts raging through Africa has to be dealt with through multilateral mechanisms. Academic research studies have shown that the radical Islamic groups have set foot in Libya, Mali, Niger, Nigeria, Chad, Somalia, Kenya, Sudan and South Sudan, and are spreading further throughout Africa.
The military leaders of Burkina Faso, Mali and Niger signed a mutual defense pact, establishing the so-called Alliance of Sahel States. It was explained that the objective of establishing an architecture of collective defense and assistance mutual for the benefit of the population and the three participating states in the Sahel region. A similar multilateral defense mechanism already exist in Southern Africa. The Southern African Development Community (SADC) with support from the Addis Ababa based African Union Commission (AUC) have set the deployment of joint regional military force in Mozambique. According to the statement released by SADC (Southern African Review, July 2012), the mission has as its objective, to support the Republic of Mozambique in the fight against acts of terrorism and extremist violence, in addition to supporting the country in restoring the rule of law in the affected areas of Cabo Delgado province.
Moussa Faki Mahamat, the Chairperson of the African Union Commission (AUC), highly commended and described it "as a strong and concrete act of African solidarity" on the part of the Rwandan Government and the Southern African Development Community (SADC). The forces are still based in Cabo Delgado Province, Mozambique. That region has suffered from what is, always referred to as acts of terrorism. Beginning in October 2017, armed extremists linked to the Islamic State of Iraq and the Levant (ISIL) launched an insurgency in the Cabo Delgado region of Mozambique.
Reviewing the gravity of these conflicts and Islamic militant treats, it is therefore necessary to ensure a continental security, a set of measures needs to be taken, along with preventive action to combat possible threats. The biggest vulnerabilities include proliferation of weapons, weak border control and unprotected industrial facilities.
Besides creating effective armed forces is just one factor of ensuring national security, preventive measures are, in fact, necessary. In order to eliminate the root causes of conflicts, review and plan for sustainable development and it is necessary to resolve acute socioeconomic problems and strengthen their public institutions in Africa.
In spite of that suggestions mentioned above, African leaders express support for the UN Secretary-General in the New Agenda for Peace for Member States to provide more sustainable and predictable financing to peacebuilding efforts. But on the opposite side, there have been so many unconstitutional changes of government in some parts of Africa.
Bema D. Yeo, a doctoral student in Global Security at the American Military University and a U.S Army Veteran, however argues in a report that "the emergence of the new wave of politicians in West African countries alongside the resurgence of coup d'états has become evident that Africa is at a critical juncture in its political evolution."
In assessing the political evolutionary processes in the continent, it is convincing to say that Africa is experiencing transformative changes especially through military coups the removal of long-time dictatorship. The path ahead may be fraught with obstacles, but with determination and strategic foresight may lead to a better future political stability. "The success of the new leaders in this political landscape may require a commitment to inclusive governance, transparency, and accountability. Learning from the successes and failures of past political transitions will be instrumental in steering these nations towards a future characterized by stable, prosperous, and democratic societies," the expert concluded.
Mismanagement and Deep-Seated Corruption
The 12th Regional Conference of Heads of Anti-Corruption Agencies in Commonwealth Africa convened in Kigali, Rwanda, from May 2022 under the theme: 'Combating Corruption for Good Governance and Sustainable Development in Africa' shared and exchanged reports. It finally discussed the impacts of corruption on sustainable development in Africa and innovative approaches in the fight against corruption, to fast-track implementation of the UN Convention against Corruption (UNCAC). This actionor decision pointed explicitly to the common fundamental fact that was in line with Africa's Agenda 2063, "The Africa We Want" – aspiration number 3, which provides for an Africa of good governance, democracy, respect for human rights, justice and the rule of law.
Most African countries have ratified African Union Convention on preventing and combating corruption and other international legal instruments on corruption. As required by international obligations, African countries have enacted national anti-corruption laws and established anti-corruption institutions. Almost every African country has a specialised anti-corruption agency to address specific crimes and malpractices including illicit flow, money laundering, embezzlement, and conflict of interest among others.
Prime Minister Ngirente, for instance, pointed to the conference several reports indicating that global corruption is now costing around $1 trillion annually, there are common causes of Africa's corruption, and this is adversely impacting the lives of African people. Corruption creates economic distortions and hampers investments. There are so many corruption-linked adverse effects. Corruption is a serious threat to sustainable and equitable development.
Corruption in South Africa
Under the presidency of Jacob Zuma, who ruled South Africa from 2009 to 2018, corruption was at its highest. Zuma participated in anti-apartheid struggle until South Africa finally attained its independence in 27 April 1994. He held various positions in ruling African National Congress (ANC) until he was elected president of South Africa. Before that, he was the deputy to President Thabo Mbeki, but was dismissed of corruption over arm deals. There were multiple graft scandals, that he was forced to step down in February 2018, and currently spends time in prison, and faces corruption allegations in court.
In January 2018, as elected president of the African National Congress, Cyril Ramaphosa has raised hopes that he will stamp out corruption. "Corruption must be fought with the same intensity and purpose that we fight poverty, unemployment and inequality. We must also act fearlessly against alleged corruption and abuse of office within our ranks," Ramaphosa declared in his maiden speech after his election. "We must investigate without fear or favour the so-called 'accounting irregularities' that caused turmoil in the markets and wiped billions off the investments of ordinary South Africans," he added.
In May 2021, the South African commission investigating corruption and graft, Ramaphosa acknowledged that the ruling ANC party did little to prevent corruption, including by his predecessor Jacob Zuma. "State capture and corruption have taken a great toll on our society and indeed on our economy as well," Ramaphosa said. "They have eroded the values of our constitution and undermined the rule of law. If allowed to continue they would threaten the achievement of growth, development and transformation of our country."
Since Ramaphosa made his promise in 2018, already five years, there are still fresh demonstrations and allegations of persistent corruption in Ramaphosa's administration and inside the government.
Africa Needs Strong Institutions
The Transparency International's Global Corruption Barometer, in its report 2021 for instance, aspect relating to Africa indicated that "Corruption is hindering Africa's economic, political and social development… More than this, it affects the wellbeing of individuals, families and large communities." The report attributed the deterioration of rule of law and weak democratic institutions, as well as a rapidly shrinking space for civil society and independent media to corruption in Africa.
In July 2009, Barack Obama was right when he told political tyrants and autocratic African leaders who have enriched themselves through opaque deals that Africa's future (including efforts to uproot all kinds of crimes, engage in sustainable development et cetera) is up to Africans.
"Development depends upon good governance. That is the ingredient which has been missing in far too many places, for far too long. That is the change that can unlock Africa's potential. And that is a responsibility that can only be met by Africans," Obama said during his first landmark presidential trip to Africa.
Obama, in addition, declared that "Africa doesn't need strongmen, it needs strong institutions." Some leaders of external countries have it a policy to interfere in the internal politics of African States, and as a result end up supporting long-time corrupt autocratic leaders. Here it must not be absolutely analysed that the United States is dictating or imposing its form (model) of democracy.
It is a normal political culture to show tenets of good governance by public accountability and that business deals at the highest levels are conducted with transparency. For instance, large-scale deals involving natural resources and financial, must be thoroughly discussed at the legislative assembly, and approved by the executive cabinet. Unilateral decisions taken, without consulting with legislative body or parliament and the cabinet, by a leader are proned to be also criticized by the civil society.
Simultaneously, there should be initiatives to boost transparency and clean society. It is worthy, at least, to keep in mind the suggestion made by the Republic of Ghana's Vice President, Mahamudu Bawumia, who early May 2022 stated: "Building strong institutions means putting in place the right systems and practices that ensure transparency and brings about efficiency. As the saying goes, the biggest disease is corruption and the vaccine is transparency. The fact is that corrupt people hate transparency."
Economic Policies and Strategies
Economic and business paradigms. The African Union expresses hope that through a series of actions and strategic mechanisms, African countries world be able to overcome development difficulties and deficiencies. The opening of the world's largest free trade area, popularly referred to as the African Continental Free Trade Area (AfCFTA), in Africa on January 2021, is also seen as one great leap towards attaining economic independence.
It aims at making Africa the largest common market in the world and accelerating continental integration. It is expected to reinforce the measures taken in terms of free movement of persons and goods and services across borders. But much depends on the collective determination and solidarity demonstrated, to face the challenges in a united and resolute manner, by the African leaders. It depends on the strong mobilisation of African leaders and the effective coordination provided by the African Union.
For this to successful, Africa has to engage in modernising agriculture, strengthening agri-food systems by working towards its own food security rather than simply accept food packages as 'gifts' from the so-called external friends. The next stage to industrialise, add value to the agricultural products by processing them, and finally distrivuting locally and for exports, hence the establishment of the AfCFTA. From this concrete perspective will emerge a new Africa, "the Africa we want" which has understandably become the resounding guiding slogan.
Modernising Food Production
What is Africa doing with its huge agricultural lands? In fact, taking adequate measures toward shedding import dependency should be part of African leaders' challenge, so also improving food production for the entire population which stands at an estimated 1.4 billion. In stark reality, Africa should not be presented as beggars at the global stage. The most popular rhetoric, it becomes more or less a chorus, is that it has abundant natural resources, and yet Africa remains the world's poorest and least-developed continent, resulting from various causes including deep-seated political corruption. According to the United Nations Human Development Report in 2023, the bottom ranked (151st to 175th) are all African states.
At the Paris summit, AfDB President Akinwumi Adesina, insisted that "it is necessary to unlock Africa's potential in agriculture. Africa must feed itself." He emphasized that adopting measures for establishing food security is crucial to sustainable development. Addressing food security, therefore, is one of the keys for Africa in this 21st century. In this context, important to say here that African Development Bank (AfDB) and the African Export-Import Bank (Afreximbank) have gained increasing prominence for their work with the private sectors within Africa. These two banks support the agricultural sectors, but more is needed to meet the highest target.
Faustin-Archange Touadera and William Ruto
Taking the podium at the United Nations General Assembly, Central African Republic Faustin-Archange Touadera raised in his flowering speech the appalling consequences of the plundering of natural resources. He was not alone in the African choir group to song the chorus. Alongside the widespread attacks on unipolar system, many African leaders who spoke in New York hold the perception that Westerners and Europeans have plundered the continent's natural resources through slavery and colonization.
Western governments and aid organizations have poured billions of dollars into Africa suffering from hunger, armed conflict and other crises over the years, but critics say delivery of the aid is often hampered by corruption from local governments and militants. Corruption has been an unerasable characteristic feature of African politics, from Maghreb down to the Southern African Development Community, from East African Community and the Horn of Africa across the Sahel to the Atlantic coastal West African States.
Addressing the General Assembly later, Kenyan President William Ruto said investments in technology, infrastructure, green initiatives and agriculture in Africa will "enable our young people to find the livelihoods they desire at home, and reverse the tide of migration in the opposite direction."
Progress Slow But SDGs Still Vital
As the world continues to evolve with key players pursuing their special interests, Africa has to discern between the truths and untruths. Speeches at the September UNGA in New York reviewed the achievements, the challenges and the highlighted pathways into the future. Some of the African leaders offered resonating development strategies, future visions worthy of appreciation that need to be unreservedly supported. Those suggestions are consistent with the ideals of African Union's Agenda 2063 and that of the UN SDGs 2030.
Seemingly there are three main directions: democracy and good governance, food security and industrialization, and economy and trade. With these, it could lead to social inclusion, and broadening employment for the youth and the next generation. It could also lead to economic growth, stability and better life conditions across Africa. All aspects of Africa's development are incorporated into the joint report published at the African Economic Conference 2022.
In a nutshell, Africa is lagging behind on the UN's sustainable development goals. However, the report further argued that formulating policies to promote the SDGs, including transforming agricultural productivity through modernisation and promoting equitable and affordable access to energy. Achieving the SDGs in their entirety may now be beyond many African nations, but much good could still come out of conscious efforts to pursue them. That ought to concentrate minds as global policymakers meet in New York for the UN General Assembly.
It might be difficult to say though, but the African Union and African leaders have to realign the foreign policies, back away from geopolitical insinuations, rather with eagle eyes take advantage of the complexities and confrontations to look for substantive opportunities to support their efforts in pursuit of building back better. Attaining sustainable development requires allies, transforming relations and refining strategies with external players. It is also advisable to bolster the confidence in raising up whatever deteriorating relations to avoid regret in foreseeable future. Above all, what is necessary, during this changing era, ability to prioritise negotiations instead of engaging in geopolitical games and confrontations. We cannot install steel borders, segregate and put partitions in this emerging multipolar world.
Africa Needs Increased Financial Support to Achieve Sustainable Development Goals
Seventy-eight years ago, in the aftermath of the Second World War, the nations of the world made a solemn commitment to save future generations from the horror and the suffering of war.
Through the United Nations Charter these nations accepted a shared mandate to foster peace and to promote fundamental human rights, social progress and a better standard of life for all.
And yet, as we gather here, much of humanity is confronted by war and conflict, by want and hunger, by disease and environmental disaster.
Solidarity and trust between states is being eroded.
Inequality, poverty and unemployment are deepening.
In these conditions and in the wake of a devastating global pandemic, the achievement of the Sustainable Development Goals seem increasingly remote.
At the moment when every human effort should be directed towards the realisation of Agenda 2030, our attention and our energies have once again been diverted by the scourge of war.
But these woes, these divisions, these seemingly intractable troubles, can and must be overcome.
Over millennia, the human race has demonstrated an enormous capacity for resilience, adaptation, innovation, compassion and solidarity.
At this moment, we are all called upon to reaffirm these essential qualities that define our common humanity.
These qualities must be evident in how we work together as a global community and as nations to end war and conflict.
Democratic South Africa has consistently advocated for dialogue, negotiation and diplomacy to prevent and end conflict and achieve lasting peace.
It has committed itself to the promotion of human rights, human dignity, justice, democracy and adherence to international law.
From the experience of our own journey from apartheid to democracy, we value the importance of engaging all parties to conflicts to achieve peaceful, just and enduring resolutions.
It is these principles that inform South Africa's participation in the African Peace Initiative, which seeks a peaceful resolution of the conflict between Russia and Ukraine.
In this conflict, as in all conflicts, we have insisted that the UN Charter's principle of respect for the territorial integrity of every country should be upheld.
Our participation in the African Peace Initiative is informed by a desire to see an end to the suffering of those most directly affected by the conflict and the millions on our continent and across the world who, as a result of the conflict, are now vulnerable to worsening hunger and deprivation.
As the international community, we must do everything within our means to enable meaningful dialogue, just as we should refrain from any actions that fuel the conflict.
As we confront other conflicts in several parts of the world, including on our continent Africa, we need to be investing in prevention and peacebuilding.
We support the call by the UN Secretary-General in the New Agenda for Peace for Member States to provide more sustainable and predictable financing to peacebuilding efforts.
As a global community, we should be concerned by recent incidents of unconstitutional changes of government in some parts of Africa.
The global community needs to work alongside the African Union to support peace efforts in the eastern DRC, Libya, Sudan, Somalia, Mali, Central African Republic, South Sudan, northern Mozambique, the Great Lakes Region, the Sahel, Niger and the Horn of Africa.
The African Union Peace and Security Council has declared that it stands ready to deepen its cooperation with the UN Security Council to silence the guns on the African continent and to achieve peace, stability and development.
We are called upon to remain true to the founding principles of the United Nations, by recognising the inalienable right of the people of Western Sahara to self-determination in line with the relevant UN General Assembly resolutions.
We must work for peace in the Middle East. For as long as the land of the Palestinians remains occupied, for as long as their rights are ignored and their dignity denied, such peace will remain elusive.
The actions of the Government of Israel have imperiled the possibility of a viable two state solution.
The principles of the UN Charter on territorial integrity and on the prohibition on the annexation of land through the use of force must be applied in this situation.
South Africa continues to call for the lifting of the economic embargo against Cuba, which has caused untold damage to the country's economy and people.
Sanctions against Zimbabwe should also be lifted as they are imposing untold suffering on ordinary Zimbabweans.
As many people around the world are confronted by hunger and want the essential human qualities of cooperation and solidarity must be evident in the actions we take to bridge the divide between wealthy and poor.
We must summon the necessary will and resolve to regain the momentum towards the achievement of the 2030 Agenda.
This means that we must address the fundamental development challenges that have long characterised our unequal world.
To address the developmental challenges that face many people in the world we required targeted investment, technology transfer and capacity building support, especially in key areas such as industrialisation, infrastructure, agriculture, water, energy, education and health.
This also requires predictable and sustained financial support, including supportive trade policies, from the international community.
We call on our partners from wealthier countries to meet the financial commitments they have made.
It is a great concern that these wealthier countries have failed to meet their undertakings to mobilise 100 billion dollars a year for developing economies to take climate action.
We support the proposals outlined in the Secretary-General's Sustainable Development Goals Stimulus.
In particular, we support the call to tackle debt and debt distress, to massively scale up affordable long-term financing to 500 billion dollars a year, and to expand contingency financing to countries in need.
It is a grave indictment of this international community that we can spend so much on war, but we cannot support action that needs to be taken to meet the most basic needs of billions of people.
The achievement of the Sustainable Development Goals depends fundamentally on the empowerment of women in all spheres of life.
Social and economic progress will not be possible unless we end gender discrimination. We must ensure that there is equal access for women to health care, education and economic opportunities.
We must pay particular attention to the provision of adequate health services to every woman, child and adolescent. By doing so, we will fundamentally improve the health and well-being of all.
The empowerment of women must be central to the actions we now take towards the realisation of Agenda 2030.
The essential human qualities of innovation and adaptation must be evident in the actions we take to prevent the destruction of our planet.
Africa is warming faster than the rest of the world.
We are told that of the 20 climate hotspots in the world, 17 are in Africa.
Centuries after the end of the slave trade, decades after the end of the colonial exploitation of Africa's resources, the people of our continent are once again bearing the cost of the industrialisation and development of the wealthy nations of the world.
This is a price that the people of Africa are no longer prepared to pay.
We urge global leaders to accelerate global decarbonisation while pursuing equality and shared prosperity.
We need to advance all three pillars of the Paris Agreement – mitigation, adaptation and support – with equal ambition and urgency.
African countries, alongside other developing economy countries, need increased financial support to both implement the 2030 Agenda and achieve their climate change goals in a comprehensive and integrated manner.
We need to operationalise the Loss and Damage Fund for vulnerable countries hit hard by climate disasters, as agreed at COP27.
Africa has embraced this challenge.
Africa is determined to deploy smart, digital and efficient green technologies to expand industrial production, boost agricultural yields, drive growth and create sustained employment for Africa's people.
As the global community, we must ensure the essential qualities that define our humanity are evident in the institutions that manage the conduct of international relations.
We require institutions that are inclusive, representative, democratic and advance the interests of all nations.
We require a renewed commitment to multilateralism, based on clear rules and supported by effective institutions.
This is the moment to proceed with the reform of the United Nations Security Council, to give meaning to the principle of the sovereign equality of nations and to enable the council to respond more effectively to current geopolitical realities.
We are pleased that the Common African Position on the reform of the Security Council is increasingly enjoying wide support.
This process must move to text-based negotiations, creating an opportunity for convergence between Member States.
We must ensure that the voice of the African continent and the global South is strengthened in the United Nations and broader multilateral system.
All the peoples represented here in this United Nations had their origins in Africa.
In Africa, they developed the tools and capabilities to spread across the world and achievable remarkable feats of development and progress.
Despite its history, despite the legacy of exploitation and subjugation, despite the ongoing challenge of conflict and instability, Africa is determined to regain its position as a site of human progress.
Through the African Continental Free Trade Area, which is creating a wider seamless trading area of low tariffs and accelerated interconnectivity, African countries are mobilising their collective means and resources to achieve shared prosperity.
Through the African Continental Free Trade Area, African countries are establishing the foundation for a massive increase in trade, accelerated infrastructure development, regional integration and sustainable industrialisation.
As the global community, we have the means and we have the desire to confront and overcome the enormous challenges that face humanity today.
As the nations gathered here in this General Assembly, let us demonstrate that we have both the will and the resolve to secure a peaceful, prosperous and sustainable future for our world and for the generations that will follow.