In Turkey, zero problems with neighbours mean multiple problems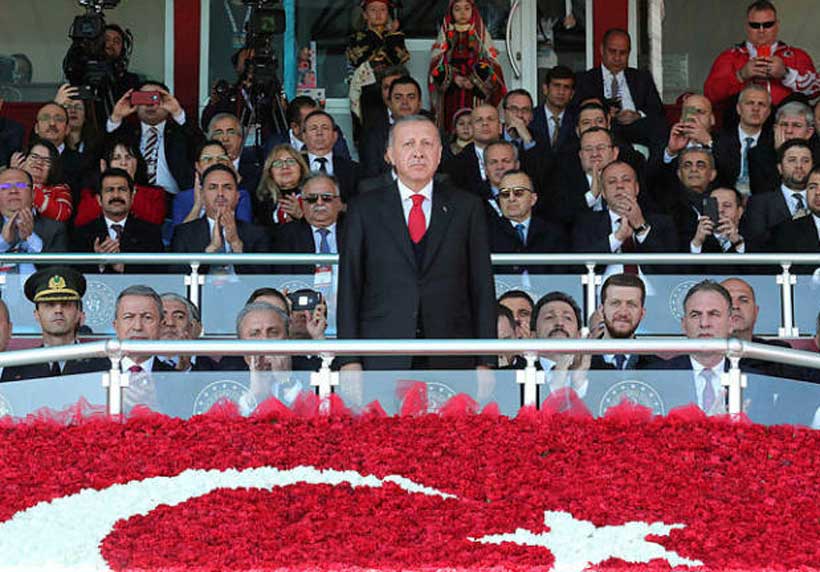 Turkey's reconciliation with Saudi Arabia, the United Arab Emirates, and Israel is doing little to return the country to its "zero problems with our neighbours" policy declared more than a decade ago.
To be sure, albeit fragile, Turkey has smoothed feathers with the Gulf states ruffled when President Recep Tayyip Erdogan effectively abandoned the policy by supporting the 2011 Arab popular revolts and the Muslim Brotherhood, coming to Qatar's aid during the 3.5-year-long UAE-Saudi-led diplomatic and economic boycott of the Gulf state, and taking Saudi Arabia to task for the 2018 killing of journalist Jamal Khashoggi in the kingdom's Istanbul consulate.
Most recently, Turkey re-established diplomatic relations with Israel after more than a decade of tensions that erupted in 2010 when Israeli commandos killed 10 Turkish activists aboard a Turkish aid vessel, the Mavi Marmara, attempting to break the Israeli maritime blockade of Gaza.
Yet, with fears mounting of an escalation of the violence on the Israeli-occupied West Bank, the unresolved Palestinian issue constitutes a ticking time bomb in relations between Israel and Turkey. Turkey has insisted that restoring ties with Israel does not mean it has abandoned its support for the Palestinians.
Turkey's problem is that it has improved relations with regional powers, none of which border Turkey.
By contrast, relations with four of its eight neighbours with which it shares land borders – Iraq, Syria, the Kurds, and Greece – are on a downward spiral, with the spectre of armed conflict hanging in the air.
At the same time, the Russian invasion of Ukraine has turned the Black Sea into a war zone.
Similarly, a potential Turkish offensive in northern Syria would create another war zone in which Turkey risks fighting Kurdish rebels, Syrian troops, and Iranian-backed militias.
So far, Turkey has insisted on its right to intervene militarily yet again in northern Syria but has held off launching a new offensive because of Russian and Iranian opposition.
Instead, Turkey is exploring under Russian auspices a modus vivendi with Syrian President Bashar al-Assad, whose political demise Mr. Erdogan has demanded since the beginning of the Syrian civil war 11 years ago.
However, reconciliation on terms acceptable to Mr. Erdogan may amount to pulling a rabbit out of a hat, given the wide gap in Turkish and Syrian approaches towards control of Kurdish and other rebel groups in northern Syria.
Add to Turkey's strained relations with its neighbours a so far carefully managed dispute between Turkey and NATO over Swedish and Finnish membership of the trans-Atlantic alliance that threatens already troubled relations with the United States.
Turkey is demanding the extradition by the Nordic states of scores of ethnic Kurds and alleged followers of exiled cleric Fethullah Gulen in exchange for ratification of Swedish and Finnish membership by the Turkish parliament. Turkey holds Mr. Gulen responsible for a failed 2016 military coup.
Rather than easing tension, Mr. Erdogan and his associates have been fuelling the fires.
In the latest forthright statement, Mr. Erdogan's interior minister, Suleyman Soylu, sounded like he was echoing Iran, that for decades has sought to force a withdrawal of the United States from the Middle East.
Mr. Soylu charged that Turkey's pro-Kurdish People's Democracy Party (HDP), whose leader is behind bars on terrorism charges, along with the outlawed Kurdish Workers Party (PKK) that has been waging a four decades-long low intensity war in the predominantly Kurdish southeast of the country, are creatures of the United States.
This week, the PKK and the Turkish defense ministry differed on the reason for the loss of a Turkish Sikorsky helicopter in Iraqi Kurdistan, where the Turkish military has been targeting Kurdish rebel bases. The Turkish operations have strained relations with the Iraqi government in Baghdad.
The PKK claimed it had downed the helicopter in retaliation for the killing by Turkey of one of its commanders, while Turkey asserted that it had crashed "due to technical issues."
To complicate things, Turkey, Iran, and Israel are fighting a low-level covert war in northern Iraq over the backs of Iraqi Kurds.
"We do not need the United States. We do not need a Europe that wants us divided and is indifferent to our religion, culture, and beliefs…. As we dismantle the terrorist organization, you should know that we also want to wipe out the USA from here," Mr. Soylu said, referring to the PKK and its offshoots in Syria as well as the US military presence in the war-torn country.
It was unclear whether Mr. Soylu was referring to the European Union as a whole or just Sweden and Finland which, according to Turkey, are stalling on agreements made on the eve of NATO's acceptance of the Nordic states' membership application.
In a similar vein, Mr. Erdogan last week lashed out at fellow NATO member Greece after Turkey accused Greece of harassing Turkish jets on a reconnaissance mission with a Russian-made S-300 air defence system.
"Hey Greece, take a look at history. If you go further, you will pay a heavy price," Mr. Erdogan said, apparently referring to the ethnic cleansing in 1923 when Greeks were forced to leave Turkey and Turks were expelled from Greece in what is euphemistically described as a "population exchange."
Those in Turkey willing to risk the wrath of an increasingly autocratic Mr. Erdogan joke that, if he had been president during World War Two, Turkey would be fighting the Germans, British, and Russians all at the same time.
Middle Eastern Geopolitics in The Midst of The Russo-Ukrainian War
Russia's national interests have been harmed by the West's efforts to obstruct Eurasia's integration and provoke conflict. Support from the United States and the European Union for Ukraine's anti-constitutional coup d'état sparked a societal upheaval and a bloody conflict. Right-wing nationalist ideology is getting more and more popular, Russia is being painted as an enemy in Ukrainian society, the violent resolution of internal problems is being gambled on, and a profound socioeconomic catastrophe is making Ukraine a chronic centre of instability in Europe and along Russia's border.
US military-biological labs in Russia's neighbours are being expanded. There are four ways Russia utilizes to keep the world safe: political, legal, diplomatic, and military. To protect national interests, armed force can be employed only after all other options have failed.
NATO has effectively rendered Russia's Black Sea control worthless in terms of gaining access to warm water. "Irresponsible" would be a better word to describe Ukraine's attempt to join NATO. Russia's Eurasian aspirations are jeopardized by Ukraine's proclivity for self-determination. From Ukraine to Abkhazia, Russia seeks to control the northern Black Sea coast and to turn it under its sovereignty. For Russia, it is necessary to remove Western influence from this region and Russia's immediate surroundings. However, it is impossible for Ukraine to remain "neutral" because of its geopolitical and ethnic realities.
Russia's geopolitical security is threatened by Ukraine's borders and sovereign orientations, which are equivalent to invading Russia's land. Eastern Ukraine (east of the Dnieper River to the Sea of Azov) is inhabited by Great Russians and Orthodox Little Russians, whereas the rest of the country is controlled by Ukrainians. Anti-Russian sentiment runs deep in Crimea, a region with a wide range of nationalities (such as the Tatars). Crimea is under Moscow's authority for strategic reasons. From Chernigov to Odessa, an area has cultural ties to Eastern Ukraine and a place in the Eurasian geopolitical context.
The Eurasian core (Russia) and the European core (Germany) should work together to complete the long-term disengagement between Europe and the United States by forming a Eurasian continental military complex.
Russian intervention in Ukraine is urgent in order to avert an attack by NATO. The foregoing suggests that Russia's policy of severing all ties with Western security systems in the vital territory directly adjacent to Russia is being carried out in Ukraine. The only way to achieve this aim peacefully is to use force.
There are two main actors engaged in this conflict; the Russian Federation (the official heir to the USSR) and the United States, which is slipping in several soft and hard power indicators. Paul Kennedy saw imperial overstretch as a precursor to strategic decline for the United States, while Richard Barnet predicted decline for the United States in the 1980s. Flora Lewis' research, published a year after Paul Kennedy's, confirmed the fall of the United States. It was prophesied by James Schlesinger that the United States will lose both its economic and military power. Peter Passell and Tom Wicker argued that the United States has lost its economic and scientific leadership to Japan because of its dependence on foreign sources of raw resources and energy.
According to Niall Ferguson's 2004 study on US diclinism, the United States wants to expand free markets, the rule of law, and representative government around the world, but it is unwilling to make the long-term investments in human capital and financial resources necessary to end conflict resulting from state inefficiency. When it comes to internal weaknesses like financial deficits and people power, as well as ignoring global responsibilities, he thinks that the United States is a failing empire that refuses to accept its own demise. "Terrorist" groups and organized crime gangs will fill the void, he predicts. Ferguson sees this as a strong endorsement of the US-China-European partnership.
Biden should not threaten China and should treat Russia as a serious power in Eurasia, as argued by one of the most anti-EU thinkers in the United States, Francis Ferguson, Jr. An analysis conducted by the US National Intelligence Council in 2008 predicted that the international system would become more multipolar due to the emergence of new major powers, the continuation of economic globalization, the transfer of wealth from the West to the East, and the expansion of sub-state and supra-state entities.
According to the report, by 2025, there would be less disparities between regions and governments in the international system. In order to avoid further collapse in Russia's interior and to enlarge Russia's critical space, each empire looks to exploit geostrategic territories. NATO's laxity has made it easier for the other empire (the United States) to halt its collapse and strengthen relations with Europe.
All of the foregoing has an impact on the Middle East, particularly on the Arab region. The Middle East is no longer a priority for US policy, according to President Joe Biden's strategic plan. Some countries in the region have attempted to compensate for the loss of the United States by forging ties with Israel to counter internal opposition and strengthen the anti-Iran coalition.
It is possible that the Ukraine issue could divert American attention away from the Middle East in the next months, which could have an impact on Arab relations with Israel, Iran and Turkey. Because of the lack of response from the Middle East in response to US demands about the Ukrainian issue (blockade of Russia, military support for Ukraine, increased gas and oil production, etc.), there has been a "relative" shift in the region's position in US strategy.
Currently, there are many thorny issues in the Middle East, including: Russia's policy in the Arab region is hampered by its inability to overcome regional power imbalances. Russian, Iranian and Israeli differences. Reconciling Iran with Gulf States and a number of Arab nations. Reconciling the security needs of Israel and Syria. Israeli demands vs. Russian pledges on Palestinian rights.
The trade volume differential between Russia and the Arab region just adds to the complexity of these political issues already in existence. Over the previous three years, Russian trade with the Arab world has averaged $18 billion each year. One group of Arab countries imports Russian civilian goods, such as wheat and iron, whereas the other group imports Russian military equipment. Russia exports civilian goods to Egypt, Morocco, UAE, Saudi Arabia, Tunisia, Jordan, and Qatar. After Syria, Algeria (81 percent), Iraq (44 percent), Egypt (41%), and the United Arab Emirates (5.3%), Russian arms sales to Arab countries account for 21 percent of Russia's overall sales, or $5 billion yearly, making them the top five countries acquiring Russian weaponry.
It's not uncommon for relations between Arab countries that acquire Russian civilian items and those that import Russian military hardware to be strained. In the near future (within the next five years), when Russia's global economic embargo will cover more civilian items than military ones, it will be difficult for Russia to limit the influence of Arab disputes on its relations with all Arab countries.
Due to its military-to-civilian trade imbalance, Russia may have to reassess its regional priorities. Relations between the Arab world and Russia could take a dramatic turn in the near future. Russia's trade with Israel ($3.5 billion) and Iran ($777 million) is impossible to compare. Even in light of the boycott, Russia's relations with Iran and Israel will be problematic.
Creating Building Blocks for Cooperative Security in the Middle East
Fading hopes for a revival of the 2015 international agreement that curbed Iran's nuclear program potentially puts one more nail in the coffin of a regional security architecture that would include rather than target the Islamic republic.
The potential demise of the nuclear agreement, coupled with America redefining its commitment to Middle Eastern security as it concentrates on rivalry with Russia and China, spotlights the need for a regional security forum that would facilitate confidence-building measures, including common approaches to transnational threats such as climate change, food security, maritime security, migration, and public health.
Mitigating in favour of a firmer grounding of the reduction of regional tension is the fact that it is driven not only by economic factors such as the economic transition in the Gulf and the economic crisis in Turkey, Iran, and Egypt but also by big-power geopolitics.
China and Russia have spelled out that they would entertain the possibility of greater engagement in regional security if Middle Eastern players take greater responsibility for managing regional conflicts, reducing tensions, and their own defense.
Rhetoric aside, that is not different from what the United States, the provider of the Middle East's security umbrella, is looking for in its attempts to rejigger its commitment to security in the Gulf.
In addition to the emerging, albeit tentative, unspoken, macro-level big power consensus on a more inclusive, multilateral approach, efforts by the major regional powers – Saudi Arabia, the UAE, Turkey, Israel, and Iran, except for as it regards ties between the Jewish state and the Islamic republics — to reduce tensions and put relations on a more even keel, contribute to an environment potentially conducive to discussion of a more broad-based security architecture.
The need to focus on conflict prevention and improved communication between regional rivals alongside more robust defense cooperation is evident irrespective of whether the Iran nuclear accord is brought back from the dead, given that the covert war between Israel and Iran will continue no matter what happens.
Israeli officials this month warned that an Israel airstrike against Syria's Aleppo airport was a warning to President Bashar al-Assad that his country's air transport infrastructure would be at risk if he continues to allow "planes whose purpose is to encourage terrorism to land," a reference to flights operated on behalf of the Iranian military and Revolutionary Guards.
Even so, the Biden administration remains focused on broadening responsibility for a regional security architecture that targets Iran rather than an inclusive structure that would give all parties a stake, seek to address root problems, and stymie an evolving arms race.
The administration has encouraged security cooperation between Israel, the United Arab Emirates and Bahrain, the two Arab states that two years ago established diplomatic relations with Israel, and Saudi Arabia, which has changed its long-standing hostile attitudes towards the Jewish state but refuses to formalise relations in the absence of a resolution of the Palestinian problem.
The year's move of Israel from the US military's European to its Central Command (CENTCOM) that covers the Middle East facilitates coordination between regional militaries. In a first, Israel this year participated in a US-led naval exercise alongside Saudi Arabia, Oman, Comoros, Djibouti, Somalia, Yemen, and Pakistan, countries with which it has no diplomatic relations, as well as the UAE and Bahrain.
In March, top military officers from Israel, Saudi Arabia, Qatar, Jordan, and Egypt met in the Egyptian resort town of Sharm el-Sheikh to discuss the contours of potential military cooperation.
Similarly, the US, the UAE, Bahrain, and Saudi Arabia are attempting to create a regional air defense alliance. In June, Israeli Defense Minister Benny Gantz claimed the partnership had already thwarted Iranian attacks.
Similarly, the United States, Saudi Arabia, and Israel are working on a fleet of naval drones to monitor Gulf waters and ward off Iranian threats.
Furthermore, CENTCOM plans to open a testing facility in Saudi Arabia to develop and assess integrated air and missile defense capabilities.
Scholar Dalia Dassa Kaye argues that focusing on confidence-building aspects of cooperative security involving a dialogue that aims to find common ground to prevent or mitigate conflict rather than collective security that seeks to counter a specific threat is one way of breaking the Middle East's vicious circle.
The Association of Southeast Asian Nations' (ASEAN) patchwork of security structures, alliances between external powers and individual association members, and inclusive regional forums demonstrate that the two security approaches are not mutually exclusive.
The ASEAN model also suggests that, at least initially, a less centralized and institutionalized approach may be the best way to kickstart moves towards regional cooperative security in the Middle East.
Negotiating an agreement on principles guiding regional conduct on the back of exchanges between scholars, experts, and analysts, as well as informal, unofficial encounters of officials, could be a first step.
To be sure, Iran's refusal to recognize Israel and its perceived goal of destroying the Jewish state likely constitutes the foremost obstacle to initiating an inclusive, cooperative security process.
The carrot for Iran will have to be credible assurances that the United States, Saudi Arabia, and Israel will not pursue regime change in Tehran and recognize that Iran's security concerns are as legitimate as those of others in the region. However, even that could prove to be a tall order, particularly if the negotiations to revive the nuclear accord fail.
Nevertheless, that may be the only realistic way of putting Iran's support for militants in various Arab countries, including Lebanon's Hezbollah Shiite militia, various pro-Iranian paramilitary groups in Iraq, and Houthi rebels in Yemen, as well as the Islamic republic's ballistic missiles program – the two major concerns of Israel and the Gulf states — on an agenda to which Iran is a participating party.
Ms. Kaye argues that "despite these serious obstacles, it is important to present a vision and pathway for an inclusive, cooperative process when a political opening emerges, or when a crisis erupts of such severe magnitude that even bitter adversaries may consider options that were previously unthinkable."
Israel's Annexation of East Jerusalem
The Israel-Palestine conflict began with the inception of Israel in 1948 and continues till date upon various levels. Palestine is a small region that plays a key role in Middle East's history. It has been under several conflicts and violent land occupiers due to its geographic location. The area has been occupied and annexed by several countries, including Egypt, Jordan, Israel, and Syria. Israel annexed the Golan Heights in 1981 and the West Bank in 1967. In 1981, Israel declared the Golan Heights as its territory and extended its control over it. In 1967, Israel occupied the West Bank and East Jerusalem. The Palestinians in these regions are under military rule of Israel. In 1993, Israel and Palestine Liberation Organization (PLO) signed an agreement known as the Oslo Accords. However, it did not specify which parts would be evacuated by Israel and which parts would remain under its control. The agreement was expected to lead to an independent state of Palestine but never materialized due to various reasons. After the collapse of Oslo Accords, Israel began building Jewish settlements in the West Bank and Gaza Strip. The settlements are considered illegal according to international law because they are built on occupied land. The settlements have created problems for the Palestinians living in these regions because they are surrounded by these settlements. The expansion of settlements has reduced more Palestinian land that could have been used for constructing settlements for Palestinians. The settlements have also made it hard for Palestinians to reach their agricultural land because they are usually located next to these settlements. Objective of this research is too understand the distribution of land after Arab-Israel war, to analyze what is going on in Israel and Palestine, to learn about Israel's annexation and to highlight the annexation's effect on Palestine. This research is followed by the theory of hegemonic stability. The attempt of Israel to dominate the Middle East will increase its influence to survive as sole regional hegemone in the international system. John Mearsheimer is one of the leading proponents, keeping in view the atrocities of Israel it is considered as a threat. As many theorist argue that capabilities explain why states and nations act in a certain way. Powerful states act in a certain way to posses more power and create the situation of hegemony, and weak states don't do that because they cannot. The research methodology is the process used to collect the data to be analyzed. It involves the process of data collection and the analysis of the gathered data. The data was collected by the researcher through written sources including books, journals, articles, newspaper reports, website articles and reports. The data was collected from the library of university and from the internet. The researcher made use of the internet by carrying out a background search of the internet, visiting WebPages of International NGOs, reading newspaper, analyzing WebPages of Middle Eastern newspapers and news agencies using the keywords annexation, Jerusalem and Palestine.
Background
Zionism and Early Jewish Immigration to Israel, 1900-1917

The war dates back to the early 1900s, when the predominantly Arab and Muslim territory was part of the Ottoman Empire and, beginning in 1917, a British' mandate.
Hundreds of thousands of Jews were migrating to the area as part of a Zionist movement among largely European Jews seeking to escape persecution and build a state in their ancestral homeland (Subsequently, vast numbers of Middle Eastern Jews moved to Israel, either to escape anti-Semitic violence or to avoid being forced evicted.) In British Palestine, communal violence between Jews and Arabs began to spiral out of control.
After the Nazis took power in Germany, there was a wave of Jewish immigration to Palestine from 1933 to 1936.
When the Nazis came to power in 1933, a tremendous refugee crisis erupted as German Jews sought a safe haven from persecution. Between 1933 and 1936, more Jews immigrated to Palestine from Germany than from any other country. Around 154,300 Jews (including 34,700 from Germany) had entered Palestine lawfully and thousands more had come illegally, bringing the Jewish population in Palestine from nearly 17% in 1931 to nearly 30% in 1935.
World War II and Jewish Resistance to the British Mandate, 1939-1945
At the onset of World War II, a huge number of Palestinians and Zionists joined to assist the British in their hour of need. But they both had their longterm goals in mind: they both saw British imperialism as the long-term adversary of freedom.
Attacks against British troops and police, raids on British armaments and supply dumps, and bombings of British installations had become routine by 1944, and military training camps were established in several kibbutzim to build an army to fight the British.
The British Government refers the question of Palestine's future to the United Nations on February 14, 1947.

Unable to reconcile its conflicting duties to Jews and Arabs, the United Kingdom proposed that the United Nations take up the Palestine issue in 1947. A General Assembly resolution established the United Nations Special Committee on Palestine (UNSCOP) in May. The goal of UNSCOP was to look into the situation in Palestine and make such ideas as it may judge appropriate for the solution of the Palestinian problem.
The Israeli annexation of East Jerusalem was the result of this conflict. The Israeli annexation of East Jerusalem is the major point of conflict between Israel and Palestine. The annexation was declared in 1980 and was carried out by the Knesset in July 1980. The annexation of East Jerusalem was carried out after Israel captured the territory in the Six-Day War of 1967. The annexation was made in order to unify the West and East Jerusalem and to ensure that the West Bank and Gaza Strip remained part of Israel. The annexation was declared by the Israeli Knesset in 1980 and was made effective from that year. The annexation is an illegal action and has been criticized by many nations. The United Nations Security Council passed a resolution in August 1980 condemning Israel for the annexation. This resolution was non-binding and was not enforced. The United States and the European Union also condemned the annexation. The UN General Assembly adopted several resolutions condemning Israel for its annexation of East Jerusalem. The UN Security Council passed a resolution in 1980 which condemned the annexation and declared it to be null and void. The United Nations Human Rights Council and the Committee on the Exercise of the Inalienable Rights of the Palestinian People have also condemned the annexation. The United States and the European Union have publicly condemned the annexation. Israel has also been condemned by the international community for the annexation of East Jerusalem.
Illegal Annexation of East Jerusalem
The annexation has been criticized by many authors and the criticism has been based on various reasons. The international community and the United Nations have declared the annexation to be illegal and a violation of international law. The United Nations has condemned the annexation. The Israeli annexation of East Jerusalem has turned the status of the city into an international issue.
Negative impact of Annexation on Palestinians:
Palestinians strongly condemn the illegal annexation because it kills their hopes for a viable Palestinian state with territorial contiguity. The United Nations has been criticized for its inability to stop the annexation. It undermines the Palestinian peoples of their right to self-determination.
Status of East Jerusalem according to international law
Therefore, according to Israeli domestic law, not only does Israeli law apply to the territory of East Jerusalem, but Israel also considers East Jerusalem to be an integral part of its territory. The territory of a state or its sovereign, on the other hand, is indeed an issue to be decided by international law rather than domestic law. As a result, it is critical to investigate how international law views Israel's passage of legislation pertaining to east Jerusalem.
The Occupation Law
The West Bank, including East Jerusalem, came under Israeli occupation following the 1967 War, as previously stated. As a result, Israel's conduct in this land should be reviewed first and foremost in light of the principles of international humanitarian law, which deals primarily with periods of armed conflict and includes a set of standards relevant to the situation of occupation.
Restrictions to changes to local laws and introducing new legislation
"The Authority of the legitimate power having in fact passed into the hands of the occupant, the latter shall take all measures in his power to restore and ensure, as far as possible, public order," according to Article 43 of the Hague Regulations, which established the basic tenets of the role of the occupying power in administering an occupied territory, including the temporary nature of occupation.
As a result, Article 43 does not provide the occupying power sovereign powers; rather, it limits the occupying power's right to protect public order and civic life "while respecting, unless absolutely prohibited, the laws in force in the nation." The occupying power may not enact its own legislation or operate as a sovereign legislator in the occupied territory. It must, as a matter of principle, follow the laws that were in effect in the occupied region when the occupation began. Article 43 is a one-of-a-kind limitation clause whose purpose is to restrain the occupying authority rather than grant it benefits.
Palestine's stance
Israeli lawmakers are adopting hawkish positions in the aftermath of the March 23 Israeli elections, which have yet to produce a new coalition government. Prime Minister Benjamin Netanyahu, Defence Minister Benny Gantz, and their main rivals, Yair Lapid and Naftali Bennett, have all stated their desire to strike a major blow to Hamas. "Hamas and Islamic Jihad have paid and will pay a very heavy price for their aggression," Netanyahu declared on May 11th. "Their blood is on their heads," I declare this evening.
Israel benefits from the ability to conflate the Palestinian liberation struggle with Hamas' Islamist ideology and indiscriminate rocket fire at residential areas. It can use the latter in particular to justify responding with even greater force, highlighting the severe power imbalance between the two sides, and avoiding responsibility for its own attacks that kill civilians by claiming that Hamas, a designated "terrorist" organisation, is using Gaza residents as "human shields" for its military facilities.
International response
Consistent with the preceding analysis, it is not surprising that the Security Council and the General Assembly have repeatedly condemned Israel's unilateral annexation of East Jerusalem, as well as the legality of the normative steps Israel has taken to assert its sovereignty over East Jerusalem. In a long series of pointed decisions, these international institutions have repeatedly emphasised that Israel's practical and normative steps in annexing East Jerusalem violate international law. The Security Council declared in Resolution 252 (1968) that "all legislative and administrative measures and actions taken by Israel, the occupying Power, which tend to change the legal status of Jerusalem are invalid and cannot change that status." In Resolution 478 (1980), the Council condemned "in the strongest terms" the passage of the Basic Law: Jerusalem, Capital of Israel, and declared that any measures attempting to change the status of Jerusalem are "null and void."
Except for Israel, all of the world's states agree on the UN bodies' stance. None of the countries with ambassadorial relations with Israel recognise the annexation, as evidenced by the fact that their embassies are located in Tel Aviv rather than Jerusalem. Furthermore, Western countries considered friendly to Israel, including the United States, the United Kingdom, France, Germany, Belgium, Italy, the Netherlands, Canada, and Japan, have all stated their refusal to recognise the legality of Israel's annexation of East Jerusalem.
The International Court of Justice (ICJ) stated in its 2004 Advisory Opinion on the Legal Consequences of the Construction of a Wall in the Occupied Palestinian Territory that Israel's unilateral annexation of East Jerusalem is not lawful under international law. It's worth noting that the ICJ didn't look at the legal status of East Jerusalem in particular; rather, the subject of the legitimacy of the Wall's construction and its consequences was addressed. However, the International Court of Justice (ICJ) had to assess the legal status of the West Bank, including East Jerusalem, in order to answer these questions.
Future of the conflict
While the United Nations and Europeans can also play important roles, only the United States, Israel's primary supporter, can make a significant difference in Israel's calculations today. Israel will want to be able to tell its citizens that it has paid the appropriate price for Hamas' rocket barrage that it has, in the words of its security establishment, "restored deterrence." However, with the Security Council meeting on May 16, the White House's diplomatic considerations could shift. Domestic considerations may also be a factor. The longer the fighting in Israel-Palestine continues, the greater the risk of spill over into domestic American politics.
There is a new variable at work in this escalation: Palestinian-Israeli violence on Israeli streets. It is unclear whether a cease-fire with Gaza would put an end to all of this bloodshed. However, continuing to bombard the coastal strip will almost certainly feed the country's internal convulsions. Israel must choose between a faster ceasefire and a faster unravelling of its social fabric.
In a broader context, Israel, regardless of source, should denounce violence and incendiary hatred speech and impartial justice to all. Israeli officials bear a special responsibility to combat ethnic hatred emanating from the Jewish far right and to ensure that Palestinian citizens are protected from both police and civilian violence in the same manner as Jewish citizens. The Israeli leaders have a parallel duty within their own communities. Many people around the world, particularly in the United States and Europe, have been taken aback by images of Jewish mob violence, but the sentiments they represent did not emerge overnight. They were cultivated and supported at the highest state levels for a long time. Camping ethnic incitement is a matter for the Jewish majority to preserve themselves, since the alternative is already in the horizon, which is an escalation in civil struggle.
Reason of the conflict
Reasons on which the Israel-Palestine conflict is largely due to
Security,
Borders,
Water rights,
Control of Jerusalem,
Israeli settlements,
Palestinian freedom of movement,
Palestinian right of return.
Recommendation
Despite tremendous effort exerted since the 1991 Madrid Peace Conference to resolve the Israeli-Palestinian conflict through a two-state solution, peace has been elusive. Today, there is a growing feeling among Palestinians, Israelis and the international community that the two-state paradigm may no longer be viable.
A commitment by Israel to end settlement expansion beyond the wall
Easing restrictions on Gaza
Redesigning parts of the West Bank currently falling under full Israeli administration as areas that fall under partial or full Palestinian administration
Removing impediments to Palestinian economic development
Ending home demolitions and other forms of collective punishment
Removing impediments to Palestinian elections in East Jerusalem, the West Bank and Gaza
Alleviating restrictions on movement and access
Gradually releasing Palestinian prisoners
Allowing the reopening of Palestinian institutions, such as the Orient House, in East Jerusalem.
Conclusion:
The Israeli-Palestinian conflict is a long lasting one that started in the year 1947-1949. The conflict originated from the Israeli-Palestinian war in the year 1947-1949. During this war, Israelis drove out the Palestinians from their homes and took over their land. Israel has expanded its boundaries by annexing the Palestinian territories. The annexation of Palestinian land by Israel is a contentious issue. This annexation has been a reason for the prolongation of the conflict. It has been a reason for the loss of lives and properties. It has also been a reason for the suffering of the Palestinians.