Somalia receiving unprecedented levels of food aid
As UN relief chief Martin Griffiths warned of an unfolding humanitarian catastrophe on Monday, the World Food Programme (WFP) announced that it is delivering more food aid to Somalia than ever before.
WFP noted that, despite so far reaching an unprecedented 3.7 million people with relief and over 300,000 with nutrition support, famine is an imminent reality unless drastic action is immediately taken. This is more than double the number of people assisted by the agency in April, and WFP is aiming to reach 4.5 million in the coming months.
The last famine in Somalia, in 2011-12, killed over a quarter of a million people – and while the scale of humanitarian assistance is much larger now than it was then, the scale of need is also much greater; the country is in the grip of a devastating drought, and is predicted to suffer a fifth consecutive failed rainy season.
Somalia is also reeling from conflict and instability, which are worsening hunger, and restricting the supply of aid to those who need it. These conditions are expected to last through to at least March 2023.
Food prices in Somalia were already rising sharply due to drought-induced livestock deaths and poor harvests; they soared even higher following the crisis in Ukraine. In June, the average cost for a household to meet its basic food needs was at its highest in five years.
Famine is now projected in several districts of the Bay region of Somalia from October to December, unless resources can be secured to sustain and expand the scale-up of humanitarian assistance.
'Shocked to my core'
"I have been shocked to my core these past few days by the level of pain and suffering we see so many Somalis enduring," Martin Griffiths said to journalists on Monday.
The Under-Secretary-General for Humanitarian Affairs and Emergency Relief Coordinator, was speaking from the capital, Mogadishu, after visiting some of the worst affected regions. "Famine is at the door," he said, "and today we are receiving a final warning."
Mr. Griffiths described Baidoa as the "epicentre of the humanitarian crisis", where children are so malnourished that they can barely speak, and said that in Banadir, not far from Mogadishu, medical teams are struggling to keep up with the rush of emaciated children who seek treatment.
"None of the children that I saw at the stabilization centre in Banadir hospital could smile" recalled Mr. Griffiths. "Very few could cry. And as we discovered when we left, we had the good fortune to hear a child cry, and we were told that when a child cries, there is a chance of survival. Children who don't cry are the ones we need to worry about."
The UN relief chief warned that one and a half million children across Somalia risk acute malnutrition by October. He called for humanitarian organizations to be given immediate and safe access to all people in need, and for more funding to tackle the crisis.
U.S. Army Hospital in Germany Is Treating Americans Hurt Fighting in Ukraine
The Army's Landstuhl Regional Medical Center has quietly started admitting soldiers who were wounded in Ukraine combat – most of them American volunteers, reveals 'The New York Times'.
A group of Ukrainian Army soldiers pierced by Russian grenades and mortar shells arrived at a hospital recently in need of surgery. It would have been a familiar scene from the bloody war grinding on in Ukraine, except for two crucial differences: Most of the wounded soldiers were American, and so was the hospital — the U.S. Army's flagship medical center in Germany.
The Army has quietly started to treat wounded Americans and other fighters evacuated from Ukraine at its Landstuhl Regional Medical Center. Though the number so far is small — currently 14 — it marks a notable new step in the United States' deepening involvement in the conflict.
When the war erupted in 2022, hundreds of Americans — many of them military veterans — rushed to help defend Ukraine. Nineteen months later, perhaps a few hundred are still there, volunteering for local militias or serving under contract with the Ukrainian national army.
An unknown number of them have been shot, hit by artillery, blown up by mines or otherwise injured in combat. About 20 have been killed. Most of the wounded have had to rely on a patchwork of Ukrainian hospitals and Western charities for help. Now, though, the Pentagon has stepped in to offer some of them the same care it gives to American active-duty troops.
The hospital at Landstuhl is authorized to do so under a Defense Department policy, which began last summer, that allows the hospital to treat up to 18 wounded members of the Ukrainian forces at a time, the Pentagon confirmed in a statement. The fact that most of the Ukrainian troops at Landstuhl are Americans illustrates how the war has progressed in unexpected ways.
The Biden administration vowed at the start of the war that it would not put American troops on the ground in Ukraine, and it warned Americans not to get involved. Now it finds itself treating those it told to stay away.
Asked about the development by The New York Times, a Defense Department official who is regularly briefed on Ukraine-Russia matters expressed surprise, and said that leaders at the Pentagon were unaware that Landstuhl was regularly treating wounded American volunteers, but added that the leaders were not concerned about it.
The 65-bed facility, a Level II trauma center, is the largest American military hospital outside the United States, and served for years as a way station for thousands of wounded American troops evacuated from conflicts in Iraq or Afghanistan. After those wars wound down, Landstuhl's beds and expertise often went unused.
The patients now at Landstuhl are mostly from the United States, but also from Canada, Britain, New Zealand and Ukraine. Several of them said in phone interviews from their beds that they were receiving excellent care.
"We're blessed to be here," said an American veteran who underwent surgery this month to remove shrapnel from an arm and both legs. The veteran, who previously served in the U.S. Air Force, asked not to be identified because he feared reprisal by Russia.
He and others from a company of English-speaking fighters were hit during an assault on a village near the Russian-held city of Donetsk. More than two dozen soldiers were wounded, and two were killed. Over the next few days, the wounded were moved among Ukrainian evacuation points and hospitals, first near the front lines and then in Kyiv, the capital. The fighters who were interviewed said Ukraine's hospitals were under tremendous strain.
"Man, we are so thankful" to be at the hospital, said another American veteran, who was hit by shrapnel in his legs, arm and neck. He, too, asked not to be named. "I was wounded in Ukraine three weeks before they told me it would be a month before I got surgery. In Germany, they did it in two days."
Mr. Sanchez, the spokesman for Landstuhl, said the hospital was prepared to treat more wounded, and "remains postured and ready to support U.S. Armed Forces, NATO member countries and other allies and partners as directed."
But the arrangement is not without risks. Russia has repeatedly warned that any increase in U.S. involvement could spark a broader war. It would not take a particularly creative Russian propagandist to portray the American volunteers, wielding American weapons and being treated at an American Army hospital, as de facto U.S. troops on the ground.
Sen. J.D. Vance (R-OH) and House Republicans urged President Joe Biden's Pentagon to stop escalating a "dangerous" war with Russia, as the "same idiots" pushed the Iraq war.
Vance and Reps. Chip Roy (R-TX) and Matt Gaetz (R-FL) sent a letter to Defense Secretary Lloyd Austin as influential media outlets such as Foreign Affairs have called to lift the restriction on the number of American government personnel allowed in Ukraine and across its defense apparatus.
"The idea that we're going to send in offensive equipment and have planes and tanks and trains going in with American pilots and American crews — just understand, don't kid yourself, no matter what y'all say, that's called World War III," Vance said.
'Foreign Affairs' explained: "Sending advisers would increase the number of Ukrainian soldiers who receive top-of-the-line training. It would enhance Washington's understanding of Kyiv's material needs, allowing U.S. policymakers to fine-tune the aid they already provide and offer psychological assurance to Ukraine. Positioning U.S. advisers inside Ukraine would let Washington better champion crucial defense reforms that could pave Ukraine's path toward NATO and EU membership. Advisers would give the United States an added layer of oversight, as well, ensuring that aid is both optimized and employed responsibly. And, critically, deploying advisers would deliver these results at a reasonable cost."
Sen. Vance, Roy, and Gaetz cautioned that any military adviser mission risks severe escalation with a nuclear-armed Russia. They wrote:
"A military adviser mission to Ukraine would run a significant escalatory risk with Russia. It would mean placing additional "boots on the ground" in the midst of a direct and bloody conflict with Russia. Harm to our personnel under such a mission would be a tragedy, and could easily trigger Article IV consultations or even an Article V collective security declaration by our NATO Allies under the Washington Treaty. A military adviser mission would be one more step towards a dangerous, unnecessary war between the United States and Russia."
"We write to ask whether the U.S. government plans now, or in the future, to deploy an adviser mission to Ukraine, either U.S. direct-hire personnel or contractors, whether under foreign affairs, military, or intelligence authorities," the conservatives continued. "We request a response by October 3, 2023."
Why Biden administration has imposed sanctions on five Turkish companies?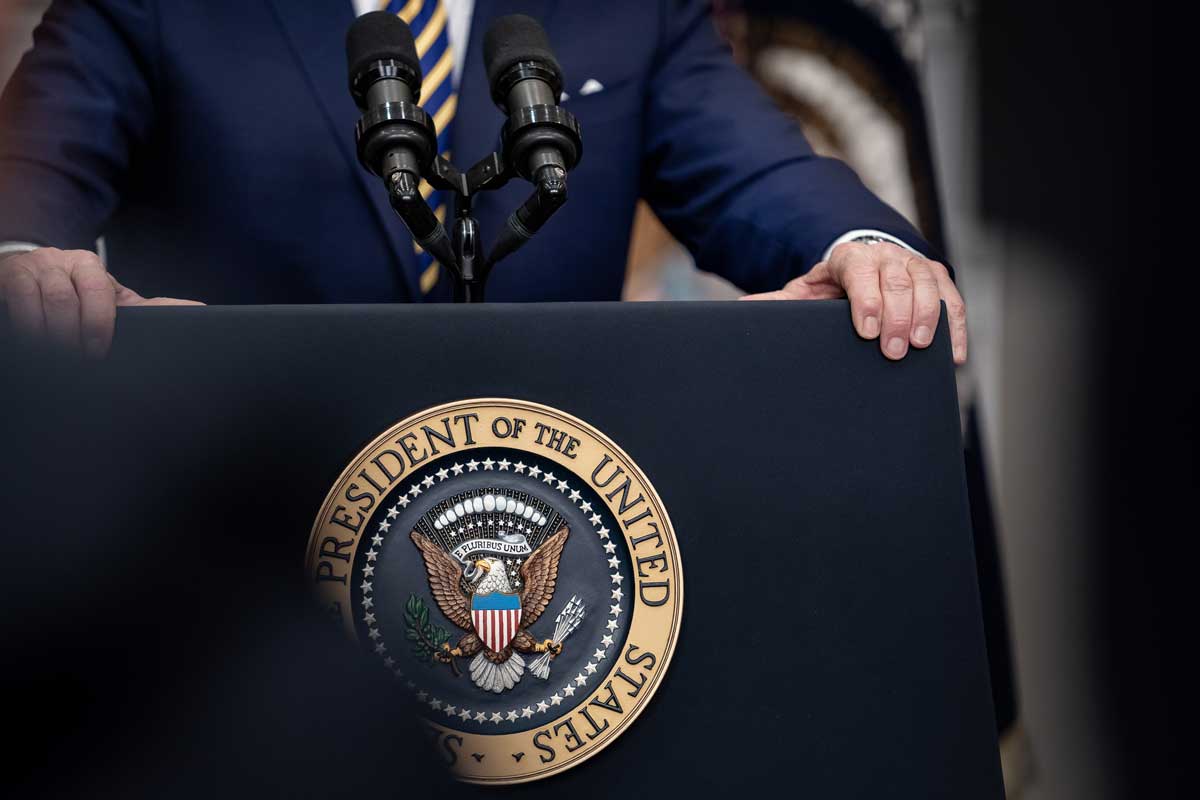 Secondary sanctions are all the rage as Washington gets more desperate to crack down on unaligned countries. The Biden administration has imposed sanctions on five Turkish companies and one Turkish national accused of helping Russia evade sanctions and supporting Moscow in its invasion of Ukraine, turning up the pressure on Ankara over its neutral stance on the Ukraine war, writes Mark Episkopos, an adjunct professor of history at Marymount University, writing on national security and international relations issues.
The new round of designations — part of a larger sanctions package targeting a wide array of Russian entities — included Turkish companies Margiana Insaat Dis Ticaret and Demirci Bilisim Ticaret Sanayi, accused of facilitating the transfer of dual-use goods to Russia.
Ankara sharply broke ranks with its fellow NATO member states, rejecting the West's maximum pressure strategy against the Kremlin in an effort to position itself as a possible mediator between Moscow and Kyiv.
Not only has Turkey refused to participate in the Western sanctions regime, but Ankara's trade relations with Moscow have boomed in the invasion's aftermath. Reuters reported earlier in 2023 that Turkey's exports to Russia jumped 262 percent year over year, reflecting the stark degree to which Ankara has profited from the vacuum caused by the withdrawal of Western economic actors from Russian markets.
Moscow and Ankara have even agreed on the construction of a new gas hub on Turkish territory that would provide Russia with alternate supply routes for gas exports, though the ambitious project is apparently being held up by management disputes.
Russia's economy has proven highly resilient against successive waves of U.S. and EU sanctions packages in large part because it has maintained and even deepened trade ties with much of the non-western world, notably including Turkey, key Middle Eastern actors, and the other BRICS countries. The Biden administration has sought to tighten the screws on Russia by levying secondary sanctions on Chinese, UAE, Turkish, and other entities accused of helping Moscow acquire advanced technology and other goods that U.S. officials say can be used to bolster the Russian war effort in Ukraine.
Turkish President Recep Tayyip Erdogan has built a political brand, cemented well before the 2022 Ukraine invasion with his decision to import S-400 missile defense systems from Russia, as a swing player between Russia and the West. Erdogan has proven adept at exploiting the geopolitical leverage afforded by Turkey's position as a strategically situated Eurasian crossroads, maneuvering between Moscow and Western capitals to advance a ruthlessly pragmatic foreign policy vision that flouts and occasionally even defies broader NATO objectives.
The Ukraine war has provided Erdogan with a surfeit of opportunities to advance this signature brand of statesmanship. Rushing to fill the diplomatic void left by Western states pursuing a maximum-pressure strategy against Moscow, Turkey has cemented its status as one of the war's most important brokers with its role in hosting the ill-fated Spring 2022 Russia-Ukraine peace talks and implementing the Black Sea Grain Initiative, better known as the Ukraine grain deal.
It appears unlikely that Erdogan will be dissuaded from his nonaligned stance by this latest round of secondary sanctions, which follows a similar set of designations announced in April 2023; nor is there any indication that the Biden administration is contemplating upping the ante with more direct punitive actions against Ankara, Mark Episkopos notes.
The 13th IPACC for Indo-Pacific, hosted by India and the U.S.
The comments on the strategic landscape came at the Indo-Pacific Armies Chiefs Conference (IPACC), being attended by military leaders from 30 countries, 'Hindustan Times' informs.
"The region faces a complex web of security challenges, including boundary disputes. The need to comprehensively deal with these challenges has led to the full involvement of the states in the region, with all their organisations, including their armies," Indian Defence minister Rajnath Singh (photo) said in his inaugural speech at the 13th IPACC, hosted by India and the US.
Rajnath Singh pointed out that states must recognise that global issues involve multiple stakeholders and no one country can address these challenges in isolation.
The defence minister said peace and prosperity in the Indo-Pacific can be achieved in consonance with the ancient Indian ethos of 'Vasudhaiva Kutumbakam' (The world is one family).
Singh emphasised that the Indo-Pacific is no more a maritime construct, but a full-fledged geo-strategic construct, and the region is facing a complex web of security challenges, including boundary disputes and piracy.
He explained his vision for the region through a theoretical model by American author Stephen R Covey, which is based on two circles – 'Circle of Concern' and 'Circle of Influence'.
"There may be instances when the 'Circle of Concern' of different nations overlap with each other. International maritime trade routes passing through high seas, beyond the exclusive economic zones of any country, are relevant examples," he said.
"This can either result in conflict between nations or they can decide to coexist by mutually deciding the rules of engagement. The concept of these circles underscores the importance of strategic thinking and prioritisation," he added.
Singh pointed out that states must recognise that global issues involve multiple stakeholders and no one country can address these challenges in isolation.
He stressed the need to engage with the broader international community and work collaboratively through diplomacy, international organisations and treaties to tackle common concerns within the overlapping 'Circle of Concern'.
Singh was of the view that states, at the same time, must identify and seek to expand their 'Circle of Influence' to promote national interests on the global stage.
"This conference is an exercise where we all are trying to expand our 'Circle of Influence' while harmonising the overlaps of our 'Circle of Concern'," he added.
Rajnath Singh said security considerations have elevated the strategic significance of the Indo-Pacific and the vast stretch confronts a web of challenges that no country can tackle alone, with army chief General Manoj Pande describing it as a theatre of complexities with manifestations of inter-state competitions and a top US general calling for deepening partnerships in the region to jointly promote peace and stability.
Pande said India's outlook for the Indo-Pacific emphasised respect for the sovereignty and territorial integrity of all countries, peaceful resolution of disputes, avoidance of force and adherence to international law.
"While efforts by countries are converging towards effecting a free and stable Indo-Pacific, yet we are witnessing manifestations of inter-state contestations and competitions."
The army chief listed territorial disputes over landmasses and the militarisation of artificial islands in contested waters as key security concerns in the region.
India's efforts to build robust military partnerships with friendly countries underscore its commitment to safeguard national interests and address global challenges, Singh said. "The Indo-Pacific Region has emerged as a pivotal geopolitical and strategic concept in recent years, transforming from a primarily maritime concept into a comprehensive strategic framework."
Singh reiterated that India stands for a "free, open, inclusive and rules-based Indo-Pacific region."
"States must recognise that there are global issues and challenges involving multiple stakeholders that no one country can address in isolation. They need to engage with the broader international community and work collaboratively through diplomacy, international organisations, and treaties to tackle common concerns," he said.
In a joint press briefing with US army chief of staff General Randy George, General Manoj Pande said the Indo-Pacific construct has come to occupy central space in the contemporary geostrategic canvass in recent years. "Its significance reflects the evolving global dynamics in the political, security, economic and environmental domains. The region is a theatre of complexities and challenges. Periodic ideation and discussions among partners are necessary, with efforts focussed on the shared responsibility for achieving and sustaining peace and stability," Pande said.
Responding to a question on China, the army chief said the IPACC construct was not a military alliance directed against any country or group of countries, with its goal being bringing military leaders together to enhance collaboration and understanding in the Indo-Pacific, sharing best practices, planning effective humanitarian assistance and disaster relief and charting a roadmap for the future. "The aim is to build trust and strengthen friendships."
General George said IPACC was looking at building a security architecture that would bind the region together and lead to unity and collective commitment. "Unity and commitment are the best deterrents," he said, adding that the partnership between the US and Indian armies was vital for stability in the region. In a challenging global security environment, having great allies and partners is more important than ever before."
The diplomatic row with Canada will not impact the participation of its army in the conference, and the country is an "important partner" in the IPACC journey, said Major General Abhinaya Rai, additional director general, Strategic Planning.
"It doesn't impact us. The Canadian (deputy) chief is coming here. His delegation is coming here. Even when we look at the relationships with some of our neighbours… where we may have had a standoff but we continue to engage them at all levels, be it the military level and at the diplomatic level. And I am referring directly to China here," Rai said at a curtain-raiser to the conference that was attended by a battery of defence attaches from the participating countries, including Colonel Todd Braithwaite from Canada.
The Indo-Pacific Armies Management Seminar (IPAMS) and Senior Enlisted Leaders Forum (SELF) will also be held alongside IPACC.
The events will provide a unique opportunity "to build common perspectives towards a shared vision" and help build partnerships and strengthen friendships across the Indo-Pacific, said Army Vice Chief Lieutenant General MV Suchindra Kumar: "It is indeed fortuitous and a matter of great pride that the triad of IPACC, IPAMS and SELF is being hosted by the Indian Army in the same year as India's G-20 and SCO Presidency."