Top rights expert questions 'double standard' on Ukraine's war displaced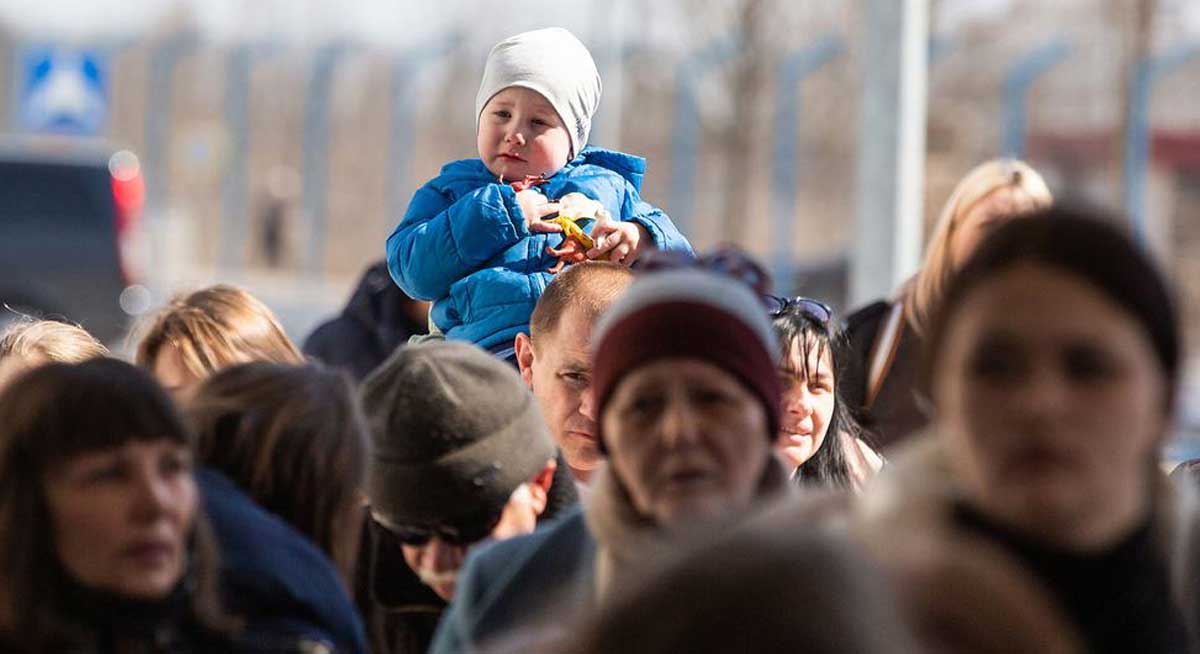 A top UN-appointed human rights expert on Thursday raised the issue of an alleged "double standard" in Poland and Belarus towards those forced to flee the war in Ukraine.
Mr. González Morales was referring to third country nationals who had been based in Ukraine at the outbreak of the war, particularly people of African descent and other racial and ethnic minorities, who he maintained had not found it so easy to integrate into Polish communities.
Victims of 'same war'
"Even for those that have fled the same war, although all were accepted for entry into Poland and have received assistance from the State, third country nationals are not protected under the same legal framework," Mr. González Morales said, adding that "this double standard approach" had prompted a sense of discrimination among third country nationals.
"Those with specific vulnerabilities including the ones with irregular migratory status face heightened difficulties in obtaining residence permits and proper shelter."
The Special Rapporteur's comments came at the end of his official visit to Poland and to Belarus – including the border area between the two countries.
Weaponising the vulnerable
That was where tensions flared late last year when between 2,000 and 4,000 migrants – many from Syria, Iraq and other parts of the Middle East – were forced to camp out in freezing conditions, before the political dispute was resolved.
Mr. González Morales said that although the border area was "relatively calm compared to last winter", some migrants who included new arrivals had remained stranded between Poland and Belraus, "and subject to violence and pushbacks from both sides".
On the Belarusian side, migrants had been put in "de facto detention" at a closed Temporary Logistical Centre, where they were now sheltering.
Children and pregnant women shut in
On the Polish side of the border, the Special Rapporteur explained with concern that "migrant children and those with their families – and pregnant women – remain detained in closed immigration facilities".
He insisted that children and other vulnerable individuals "should not be locked up" because of their migration status.
"Alternative reception and care options exist in Poland," Mr Morales said, before urging the authorities "to immediately release unaccompanied children, children with their families, pregnant women and individuals with mental conditions into open facilities".
The Polish government had provided "significant support to a huge number of refugees fleeing Ukraine", the Special Rapporteur continued.
He added that this State assistance, combined with the "solidarity and generosity" of Polish people to Ukrainian people, had resulted in more than two million of them staying in Poland.
"This explains why I do not see refugee camps in Poland," Mr. González Morales noted.
Dozens missing after migrant boat sinks in Aegean Sea
Dozens of people are said to be missing after a boat of migrants and refugees sank in the Aegean Sea on Wednesday off the Greek island of Karpathos, according to the UN refugee agency, UNHCR.
"Very sad news from the Aegean: Dozens of people are missing after a boat sank off the island of Rhodes this morning (Wednesday)," UNHCR's office in Greece said in a tweet.
News media reported that the vessel sank at dawn after setting sail from southern Türkiye yesterday, heading for Italy.
29 rescued
"A major search and rescue operation is underway," said UNHCR.
According to news reports, the Greek Coast Guard said that an air and sea rescue operation saved 29 people, all men, from the waters between Rhodes and Crete.
The media also cited the Greek authorities in reporting that the rescued are from Afghanistan, Iraq and Iran.
The wrecked boat had sailed from Antalya, located on the southern coast of neighbouring Türkiye.
Still searching
News media quoted a Greek Coast Guard press official who said that those rescued affirmed that the voyage began with 80 people on board – so up to 50 are still missing.
UNHCR confirmed the number of missing.
Deadly route
Since the beginning of the year, UNHCR has said that more than 60 people have died in the eastern Mediterranean.
Aegean Sea crossings between the Greek islands and Turkish coasts are often perilous – taking the lives of many migrants and refugees who travel on makeshift boats with hopes of arriving in Europe.
Since January, 64 people have died in the eastern Mediterranean, and 111 in 2021, according to data from the International Organization for Migration (IOM).
The last shipwreck in the Aegean Sea, which took place on 19 June, took the lives of eight people off the island of Mykonos, according to the IOM.
Every more deadly crossing
While the number of refugees and migrants crossing the Mediterranean to reach Europe is lower than in 2015, the journeys have become increasingly more deadly.
Throughout last year, the UN counted 3,231 migrants and refugees dead or missing in the Mediterranean Sea, and 945 people so far this year.
Successful voyages
At the same time, 70,325 migrants did manage to reach Europe, of which 65,548 individual crossings were reported in the Mediterranean, according to UNHCR.
Since the beginning of the year, Italy received the largest number of arrivals – 43,740, followed by Spain – nearly 17,000, Greece – 7,261, and Cyprus – 2,268.
Last year there were 123,300 arrivals, and in 2020, 95,800. Previously, 123,700 crossed the Mediterranean in 2019, and 141,500 in 2018.
Nuclear-free Mongolia a 'symbol of peace in a troubled world'
In a visit to Mongolia on Tuesday, Secretary-General António Guterres underscored the UN's full solidarity for the country, which he described as "a symbol of peace in a troubled world".
Mr. Guterres was speaking to journalists at a press conference in the capital, Ulaanbaatar, following a meeting with the Foreign Minister, Battsetseg Batmunkh.
He stated that in a world with dramatic geopolitical divides, and where conflicts proliferate everywhere, Mongolia – as an area free of nuclear weapons – is an example for other countries to follow.  
No more nuclear weapons
"We live in a world where for the first time in decades people are thinking that a nuclear war might be possible again," said Mr. Guterres.
"There is only one way to be absolutely sure that a nuclear war is impossible, and that way is if there are no nuclear weapons."
Mongolia is the latest stop on the Secretary-General's visit to Asia, which began in Japan on Friday.
Tribute to peacekeepers
Over the past six decades, the country has become an increasingly important contributor to the UN's work, he said.
Mr. Guterres expressed gratitude to Mongolian peacekeepers serving at UN peace operations, "often in the most challenging settings and with courage in the way they protect civilians where unfortunately, there's sometimes no peace to keep".
The Secretary-General had met with Mongolia's President, Khurelsukh Ukhnaa, and other senior officials, earlier on Tuesday.
They discussed the geopolitical situation in the region, the challenges Mongolia faces as a landlocked country, and national efforts to tackle climate change. 
'Make peace with nature'
Relatedly, Mr. Guterres also joined young people and peacekeepers at a tree-planting ceremony, part of Mongolia's One Billion Trees campaign to address climate change and desertification.
"My generation was very stupid. My generation declared war on nature – with climate change with the loss of biodiversity, with pollution," he said.
Mr. Guterres stressed how "nature is striking back" with storms, desertification, floods and disasters, which are making life very difficult for many people around the world and causing many victims.
"Your generation has an important task to make peace with nature," he said. "And what we are going to do today, must be a gesture of that new attitude to make peace with nature."
The Secretary-General also visited a nomadic family in Mongolia and learned about their way of life.
He also met a group of beneficiaries from UN projects, including women entrepreneurs and youth activists.  
Substantial progress made in Vienna; sides focusing on Safeguards
The third day of talks between experts from Iran and the EU centered around technical and legal matters regarding the Safeguards agreement between Iran and the International Atomic Energy Agency (IAEA).
Delegates from Iran, the EU and the U.S. resumed talks in Vienna on Thursday after nearly a five-month hiatus. This round of talks started on Thursday without the presence of nuclear negotiators from the European trio – Germany, France and Britain. Only experts from these three countries have attended the negotiations.
Iran believes that any agreement on restoring the nuclear deal, officially called the Joint Comprehensive Plan of Action (JCPOA), is dependent on putting an end to unsubstantiated allegations about Iran's past nuclear program. Iran insists that these questions had already been resolved within the PMD, when the nuclear deal was signed in July 2015.
According to reports, substantial progress has been made in bringing the views of Iran and the U.S. closer together during the last three days. However, in Tehran's view nothing is resolved until everything is settled.
Behrouz Kamalvandi, the spokesman for the Atomic Energy Organization of Iran (AEOI), also confirmed on Saturday that talks are mainly focused on Safeguards issues.
"We are now negotiating," Kamalvandi said of the talks between Iran's nuclear experts with Mora.
On the atmosphere of the talks, he said, "It is not bad."
Mohammad Marandi, a senior expert on nuclear issues, also told Al-Mayadeen TV that "progresses" have been made in Vienna, but one should be "cautious". He argued the success of talks is 50 percent. Marandi said the differences remain only between Iran and the United States.
He added, "We have heard from certain European sources that the Americans have revived their views on certain issues."
The Russian chief negotiator in the Vienna talks, Mikhail Ulyanov, also tweeted that there is "no unresolvable issue" on the table in the Vienna talks.
Source: Tehran Times