Heroes and American Politics
From the time America gained independence, a lot has been discussed about heroes. Politicians may define a hero as someone who supports their political ambitions. They may define them as someone who doesn't criticize their government.
A journalist may define a hero as someone who suffers police brutality. A child can define a hero as a provider such as a parent or a teacher. In any typical scenario, the definition of a hero depends on who is defining it. Nevertheless, there is a big divide between how politicians, media, and ordinary citizens describe heroes.
What qualifies someone to be called a hero or heroine?
In any society, there will always be a hero, but heroes are hard to find. Different researchers have given varying definitions of a hero. Among them are Zimbardo, Franco, and Blau. In their research, they have defined a hero by three main characteristics.
First, they must recognize and accept the risk of making a sacrifice for the sake of others. Secondly, they must act voluntarily for the sake of others. Thirdly, they must do their actions without expecting any recompense.
According to the definitions of the trio, no hero works for themselves. Every hero, at one point or another, paid a high price for someone or people. Considering the modern-day description of a hero, these qualities have long been forgotten. The description is worse at the political level.
Anyone can be a hero if they resolutely focus on working for the good of the community. They must be ready to experience pain and rejection while pursuing a good cause. The political world influences a lot on who is declared a hero or not. There are many essay topics on heroes and heroism you can choose from. The topic you choose is a topic that is easy to research and argue out. You must be inspired by what other people have written. You can read quality hero essay examples on the StudyMoose website. You will get different ideas on the best topics and write quality essays based on the samples.
Who is a political hero?
The 2008 US presidential campaigns will be remembered in the entire US history. This was the time when all signs were pointing to an Obama win. The major difference from all other presidential campaigns was that America was about to have an African American president. To the entire world and the US, Obama was a hero. Whether he could still be called a hero after 2017 or not was an entirely different story.
The definition of a political hero today is different from what it was a century ago. The US was undergoing different political challenges. There were civil movements, women's movements, and the like. Every individual who was pushing for human rights recognition was a political hero.
The current US president Joe Biden may have his list of unsung heroes. They could be his list of cabinet members or the team of US forces in peacekeeping missions. They could be ordinary Americans who are working hard to contribute to economic growth.
They could also be the 1.3 million Americans who died during the pandemic. To an American president, a political hero is someone who supports the ruling administration's policies. Individuals who resisted the government in the previous regime can be termed heroes in the current regime.
Heroes in the media industry
The media is viewed as the link between the citizens and politics. Journalists investigate politicians and avail information to the masses. They attend political briefings and air the news. Journalists define them in different ways. According to journalists, a kid who dies of cancer is a hero. Someone who survives a wild animal attack is a hero. Another person who gets arrested due to politics is a hero too. The media considers a situation that seems daring, needy, enterprising, or aggressive qualified as heroic.
Heroes in the eyes of the general public
The public goes through a lot of challenges, and they always need someone to help out. Whoever avails themselves to offer any kind of help makes a difference in their life. A sick person needs a doctor, while a homeless person needs a philanthropic person. If a house catches fire, the homeowner will require a firefighter. Another person requires help from the police when robbers strike at midnight.
The acts of heroism or their definition look very different in the eyes of the general public. The doctor who comes to the rescue of sick people and the firefighter who helps put off the fire are all heroes. What counts most to the public are the little things someone does to make a difference in someone else's life. Considering these heroic acts, soldiers and police officers are certainly heroes. It might sound correct to call a professional footballer who strikes most goals a hero.
Considering the critical things
Heroes and American politics are complicated subjects. According to the definition given by researchers Zimbardo, Franco, and Blau, definitions by politicians, the media, and the public seem to be biased. A soldier, for example, is in the line of duty because they are receiving a salary. The same case applies to a doctor and a firefighter.
According to the researchers, a hero should not expect recompense. They should go out of their way and do an action that benefits the public or an individual. An example is the men and women who fought for civil rights. Many more heroes today are fighting against racism and corruption. Considering the critical things, politics influences who is considered a national hero.
Conclusion
Societies celebrate their heroes in different ways and at different levels. For someone to be considered a hero, there are critical qualities they must fulfill. They must be selfless, society minded, and expect no benefit. No matter how great a hero might look, politics are crucial when determining who the national heroes will be.
Dynamics of the Sikh Vote Cloud Canada's Diplomatic Relations with India
Operating across British Columbia (BC), Alberta, Manitoba and Ontario, gangs made up of Indo-Canadian Punjabis – Brothers Keepers, Dhak-Duhre, Dhaliwal, Sanghera, Malli-Buttar, and several such, are involved in arms trafficking, racketeering, extortion, narco trafficking, money laundering, and not the least, assassinations. Formed in 2004 and mandated to disrupt and suppress organised crime in B.C. the Combined Forces Special Enforcement Unit (CFSEU-BC), has warned the public of the nexus of Punjabi-Canadians to violence.
In the murders of Punjabi singer Sidhu Moose Wala and Ripudaman Singh Malik, acquitted in the tragic 1985 Air India Kanishka terror-bombing case, the conspicuous involvement of these Indo-Canadian gangs with notorious criminals Goldy Brar and Lawrence Bishnoi at the helm, manifested itself.
On June 18 Sikh Hardeep Singh Nijjar, was gunned down as he left his gurdwara in Surrey, B.C., which has the highest proportions of Punjabi Canadians. Nijjar had entered Canada in 1995 on a fake passport and claimed asylum on arrest at Toronto. In B.C. he married a local who sponsored his immigration and he was subsequently awarded Canadian citizenship. Brazenly propounding anti-India separatist sentiments, Nijjar was even placed on Canada's no-fly list and Interpol's red corner notice. Alongwith gangsters Arshdeep Singh Dala, Maninder Singh Bual, and Mandeep Singh Dhaliwal his outfit Khalistan Tiger Force (KTF) was involved in contract killings in Punjab. Gang-related killings account for a third of all homicides in Canada's British Columbia.
Despite this disconcerting background of Nijjar's ties to organised crime gangs in Canada, on September 18, Prime Minister Justin Trudeau alleged the involvement of "agents of the Indian government" in the killing of Nijjar. A claim outrightly rejected by New Delhi as "absurd" and "motivated." If Trudeau was looking to further impair an increasingly forbidding bilateral relationship, he succeeded. Canada and India have expelled a senior diplomat each and negotiations for a free trade agreement stand suspended.
There is a palpable perversity to Canada's position on the Khalistan issue. In 1982, Trudeau's father and then Prime Minister Pierre Trudeau
had rejected Late PM Indira Gandhi's demands for extradition of Khalistani terrorist Talwinder Singh Parmar, who went on to execute the bombing of Air India Flight Kanishka, killing 329 people in 1985.
Alarmed by the presence of Sikh secessionists among the diaspora, former Prime Minister Dr Manmohan Singh during his 2010 trip to attend the G20 summit in Toronto, asked Canada "to stop people from using religious places to promote extremism." Canadian MP Sukh Dhaliwal, had introduced a motion in the Canadian parliament to declare the 1984 riots a "genocide". Fast forward to 2023, G20 under PM Modi there was no attempt at all to put even a vaguely positive spin on the India-Canada equation.
The timing of Trudeau's accusation just days after the G20 summit in New Delhi where he says he brought Khalistani extremism and "foreign interference" "directly to PM Modi in no uncertain terms" smacks of umbrage at being at the receiving end of a very hard-hitting message that the 'extremist elements in Canada are "promoting secessionism and inciting violence against Indian.'
The Khalistan issue has got a fresh lease of life after the advent of the Justine Trudeau government. With just 32.2 percent of the popular vote, Liberal leader Trudeau has the least electoral support in Canadian history, and was backed by Jagmeet Singh's New Democratic Party (NDP) which openly supports the Khalistan Referendum on Canadian soil.
Canada's Conservative opposition leader, Pierre Poilievre, has urged Trudeau to show the evidence that the government has in hand. Notwithstanding this current posture the Conservative Party (CP) too, has in the past caved in to the Sikh vote bank. In 2018 when its condemnation of 'glorification of terrorism' was objected to by the World Sikh Organisation, the CP dropped its 'anti-Khalistan' motion in the House of Commons.
There is beyond sufficient evidence, to India's contention that Canada, and other western nations including US, UK, and Australia have allowed cadres of separatist violent Khalistani groups to thrive. The UK recently set up a £95,000 fund to enhance its understanding of the threat posed by Khalistan extremism. While the amount set aside to tackle pro-Khalistan elements is not substantial, it acknowledges that a Sikh radicalisation problem exists in the west.
Sikh temples and organisations abroad orchestrate Remembrance Days for 'Operation Blue Star' on June 6 and 'Sikh Massacre' on November 5, that serve as cultural repertoires and focal points of advocating Khalistani extremism. This year at the remembrance day parade, Khalistan supporters in Ontario exhibited a female figure in a blood-stained white saree with turbaned men pointing guns at her, to celebrate the assassination of late PM Indira Gandhi. The poster behind the scene read "Revenge for the attack on Darbar Sahib."
Reacting to this macabre tableau, External Affairs Minister Dr S Jaishankar said, "Frankly, we are at a loss to understand other than the requirements of vote bank politics why anybody would do this … I think there is a larger underlying issue about the space which is given to separatists, to extremists, to people who advocate violence. I think it is not good for relationships, not good for Canada."
At multiple diplomatic and security talks, India has raised the issue of wanted terrorists and gangsters only to be defied by the Canadian government with non-committance and brazen support for extremist Sikhs. And yet Canada's NATO allies and partners in the 'Five Eyes' intelligence sharing agreement, the United States and Australia, have expressed "deep concerns" over the issue. Adrienne Watson, spokesperson for the White House National Security Council said, "We are deeply concerned about the allegations referenced by Prime Minister Trudeau." Foreign Secretary of the UK, James Cleverly, posted UK's reaction on platform X "We are in regular contact with our Canadian partners about serious allegations raised in the Canadian Parliament." One wonders if this allegation of targeted killing by India is in retaliation to New Delhi's steady favour of Russia, and has been levelled after reports of a brokered American deal with Pakistan for weapons transfer to Ukraine in lieu of an IMF bailout emerged.
Admonishing Canada on X, former Foreign Secretary Nirupama Menon Rao said, "Canada has an extremely spotty and very, very poor record on the whole issue of Khalistanis in Canada. The support these lawless elements have received under the cover of what is called freedom of expression and democratic rights of citizens…it must control such elements with a firm hand and cannot allow them to run free to foster terrorism and violence in our country."
Amid the hectic media coverage there was speculation that 'Trudeau's allegations have put the White House in an especially tight spot.' But this were swifty checked by Adrienne Watson in her X post, "reports that we rebuffed Canada in any way on this are flatly false. We are coordinating and consulting with Canada closely on this issue."
The manner in which copious evidence on Khalistan separatists handed over to the Canadian side have gone unaddressed and yet Trudeau's allegation invoked strong reactions from other western nations, implies that this has moved beyond our bilaterals with Ottawa. It will have ramifications on how India deals with its strong G7 allies, especially the US.
For India the existence of Khalistani extremists and their alignment with organised crime in Canada poses security exigencies. India must at this juncture refrain from a broad generalisation of Sikh diaspora as secessionist, an incrimination that was implied during the Sikh-dominated farmers' movement.
Political parties must rise above partisan politics over separatist movements that are a threat to nation security. Voices from Punjab attest that Khalistan supporters remain 'fringe' and 'on the margins.' Even among expatriate Sikh community leaders have challenged the anti-India narrative laid out by Khalistanis and their supporters, despite the fact that they, and the community there, regularly face harassment and threats of violence from expatriate Khalistanis. Former Punjab Chief Minister Amarinder Singh states that Nijjar's murder was the result of a factional feud within the management of the Guru Nanak Sikh Gurdwara situated at Surrey and that Trudeau had "walked into a trap owing to vote bank politics."
New Delhi must ensure that overseas Sikh communities which have tried to counter pro-Khalistan disinformation shall not be left alone to defend themselves.
China and Venezuela Deepening Cooperation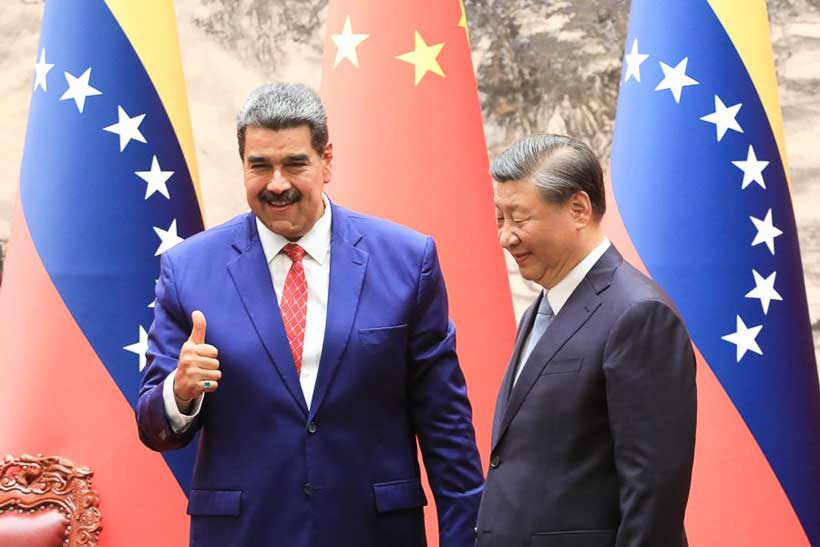 In a significant development that underscores the changing dynamics of global politics and economics, Chinese President Xi Jinping and Venezuelan counterpart Nicolas Maduro recently signed several bilateral cooperation agreements in Beijing, highlighting the changing dynamics of world politics and economics. China's determination to participate in partnerships that promote economic stability and prosperity demonstrates its unwavering commitment to global economic recovery.
The agreements signify a strengthening of their partnerships and span a variety of fields, including trade, the economy, and tourism. The cooperation has been upgraded to an "All-weather strategic partnership," reflecting the continued dedication of both countries to the advancement and development of the other. The decision by China and Venezuela to strengthen their ties comes as the world is witnessing a transformation in international alliances and trade partnerships.
The economic collaboration between the two countries is one of the most significant aspects of this new era of partnership. The recent agreements are expected to further cement Venezuela's ties with China, which has long been the country's major trading partner.Investments in infrastructure development and oil and gas exploration and production are part of the cooperation in the energy industry.
During his visit to China, President Maduro expressed his optimism for the relationship's future, stating it heralds the start of a "new era" for both nations. Venezuela, which has recently experienced economic difficulties, views China as a dependable ally that can aid in reviving its economy. China, on the other hand, sees Venezuela as a crucial friend in the region and a valuable supply of natural resources.
China and Venezuela's energy cooperation has broad implications. As the globe grapples with concerns about energy security and climate change, this alliance might have a big impact on the global energy landscape. China's investments in Venezuela's oil sector can stabilize oil prices and provide a more consistent supply of crude oil to the global market.
Aside from the energy industry, both countries have pledged to deepen their collaboration in a variety of other economic areas. Venezuela can benefit from China's expertise in agricultural technologies and infrastructural development in one area. Venezuela may enhance food production and reduce its reliance on imports by modernizing its agricultural sector with Chinese assistance, thereby increasing food security for its citizens.
Additionally, both countries have enormous potential in the tourism sector. Venezuela has incredible landscapes such as the famous Angel Falls and virgin Caribbean beaches, which may appeal to Chinese tourists looking for new travel experiences. Similarly, China's rich history and culture have always captured the interest of visitors from all over the world, including Venezuelans. The tourist accords aim to make travel between the two countries easier, to foster cultural interaction, and to develop tourism-related enterprises.
Furthermore, the strengthened relationship extends beyond economic interests to include political and strategic considerations. Both countries have reaffirmed their commitment to mutual support in international forums and to no interference in the other's internal affairs. This strategic partnership is consistent with China's aim of establishing a multipolar world and strengthening cooperation across developing nations.
The collaboration between China and Venezuela should be seen in the larger Belt and Road Initiative (BRI) initiative. The BRI seeks to establish a network of economic and infrastructure partnerships across Asia, Europe, Africa, and Latin America. A deeper integration of Venezuela into China's global economic vision through its participation in the BRI could create new trade and investment opportunities.
The potential for economic development in Venezuela is one of the most notable benefits of the China-Venezuela cooperation. In recent years, the South American country has suffered severe economic issues, including high inflation, financial sanctions, and political unrest. China's investments and assistance can help stabilize Venezuela's economy, generate jobs, and raise inhabitants' living standards.
The China-Venezuela connection is a key milestone in the shifting global political and economic landscape. In a changing world order, this partnership has the potential to provide Venezuela with economic prosperity, stability, as well as greater autonomy.
Confusion and uncertainty shape debate about U.S. Gulf policy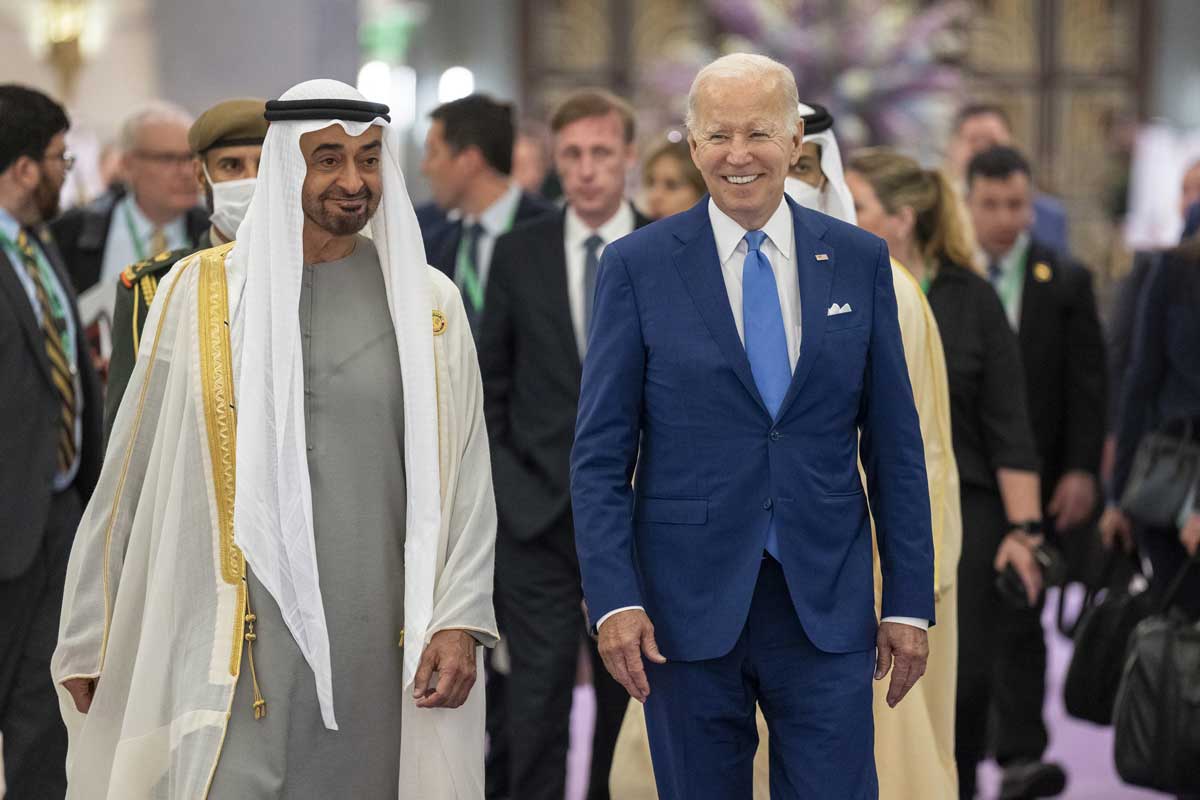 Debates about the US commitment to Gulf security are skewed by confusion, miscommunication, and contradictory policies.
The skewing has fuelled uncertainty about US policy as well as Gulf attitudes in an evolving multi-polar world and fuelled misconceptions and misunderstandings.
The confusion is all the more disconcerting given that the fundamentals of US Gulf relations are beyond doubt.
The United States retains a strategic interest in the region, even if its attention has pivoted to Asia. Moreover, neither China nor Russia is capable or willing to replace the US as the Gulf's security guarantor.
"None of the Gulf states believe China can replace the United States as the Gulf's security protector," said Gulf International Forum Executive Director Dania Thafer.
The recent US military build-up in the Gulf to deter Iran with thousands of Marines backed by F-35 fighter jets and an aircraft carrier helped reassure Gulf states in the short term. So has the possibility of the US putting armed personnel on commercial ships traveling through the Strait of Hormuz.
The build-up followed the United Arab Emirates' withdrawal from a US-led, 34-nation maritime coalition in May because the US had not taken decisive action against Iranian attacks on Gulf shipping, including a vessel traveling from Dubai to the Emirati port of Fujairah.
Even so, the United States has allowed confusion and uncertainty to persist. In addition, the US as well as the Gulf states, particularly Saudi Arabia and the United Arab Emirates, appear to pursue contradictory goals.
"The US…did not formulate a very clear approach to how the US wants to work with the GCC as a whole" instead of cooperating with individual Gulf states, said analyst Nawaf bin Mubarak Al Thani, a former Qatari brigadier general and defense attaché in Qatar's Washington embassy.
The Gulf Cooperation Council or GCC groups the six Gulf monarchies – Saudi Arabia, the UAE. Qatar, Kuwait, Bahrain, and Oman.
"Unless the US becomes clear in its intentions about how it wants to proceed with its future defense relationship with the GCC as a whole, I think we will be going in circles," Mr. Al Thani added.
The United States has unsuccessfully tried to nudge the GCC to create an integrated air and missile defense system for several years.
Former Pentagon official and Middle East scholar Bilal Y. Saab suggests that the US has moved in the case of Saudi Arabia to enhance confidence by helping the kingdom turn its military into a capable fighting force and developing a first-ever national security vision but has failed to communicate that properly.
"Our geographical command in the region, also known as the United States Central Command (CENTCOM), has been conducting a very quiet…historic transformation from being a war-time command to something of being a security integrator…to activate partnerships to attain collective security objectives," Mr. Saab said.
"This is not just about having confidence in the US role; it's also about the United States having confidence in the willingness and ability of those Gulf states to buy into this new mission of doing things together," Mr. Saab said.
"My biggest problem is that we're not communicating this stuff well… There's a lot of confusion in the Gulf about what we're trying to do," he added.
Analysts, including Mr. Saab, caution that the United States' recent willingness to consider concluding defense pacts with Gulf states like Saudi Arabia and the UAE is at odds with its revamped security approach to the region.
Saudi Arabia has demanded a security pact alongside guaranteed access to the United States' most sophisticated weaponry as part of a deal under which the kingdom would establish diplomatic relations with Israel.
The UAE initially made similar noises about a defense pact but has since seemingly opted to watch how the US talks with Saudi Arabia evolve.
A defence pact "is incredibly inconsistent with what we are trying to do with CENTCOM… The moment you provide a defence pact to the Saudis or, frankly, any other country in the region, this is where you go back to the old days of complacency, of dependency on the United States as the guardian and as doing very little on your own to promote and advance your own military capabilities," Mr. Saab said.
His comments may be more applicable to Saudi Arabia than the UAE, which has long invested in its military capabilities beyond acquiring sophisticated weaponry.
The roots of confusion about the US commitment to the Gulf lie in evolving understandings of the US-Gulf security relationship based on the 1980 Carter Doctrine, the United States' response to Iran's 1979 Islamic revolution, and that year's Soviet invasion of Afghanistan.
President Jimmy Carter laid out the doctrine in his 1989 State of the Union address. "An attempt by any outside force to gain control of the Persian Gulf region will be regarded as an assault on the vital interests of the United States of America, and such an assault will be repelled by any means necessary, including military force," Mr. Carter said.
Robert E. Hunter, then a National Security Council official and the author of Mr. Carter's speech, insists that the doctrine was intended to deter external powers, notably the Soviet Union, rather than defend Gulf states against Iran or secure shipping in strategic regional waterways.
"The often-misquoted Carter Doctrine…did not refer to the 'free flow of commerce.' I wrote almost all of the speech… it was designed to deter Soviet aggression against Iran, following the Soviet invasion of Afghanistan, which began a few weeks earlier," Mr. Hunter said.
The Reagan Doctrine, enunciated five years later by Mr. Carter's successor, Ronald Reagan, reinforced his predecessor's position.
"The US must rebuild the credibility of its commitment to resist Soviet encroachment on US interests and those of its Allies and friends, and to support effectively those Third World states that are willing to resist Soviet pressures or oppose Soviet initiatives hostile to the United States, or are special targets of Soviet policy," Mr. Reagan said.
President George W. Bush's development of US doctrine after the 9/11 Al Qaeda attacks on New York and Washington proved more problematic for the Gulf states.
Mr. Bush defended the United States' right to defend itself against countries that harbor or aid militant groups.
His doctrine justified the US invasions of Afghanistan and, Iraq. Gulf states saw the Iraq war as destabilizing and problematic, particularly with some on the American right calling for a US takeover of Saudi oil fields.
Nonetheless, Gulf states had plenty of reasons to reinterpret the Carter Doctrine to include a US commitment to defend Gulf states against regional as well as external threats.
The Gulf states' reinterpretation resulted from a US lack of clarity and actions that seemingly confirmed their revised understanding.
These included the United States leading a 42-nation military alliance that in 1991 drove Iraqi forces out of Kuwait, establishing bases in the Gulf in the wake of the Iraqi invasion, US interventionism following the 9/11 assaults, and the ongoing protection of Gulf shipping against Iranian attacks.
As a result, a lack of clarity and confusion in Washington and the Gulf's capitals continue to dominate the debate about the US-Gulf security relationship.
Said Mr. Saab: "I would like to understand from the Gulf states whether what we are selling, they are actually buying. What we are selling is…a very real partnership. No longer guardianship, but actual partnership. I don't know where individual countries stand on these proposals… Until we get common ground on this, there is nothing in the Middle East that we do that is really going to work."