Russia Struggles to Appear On Africa's Horizon
As popularly known to African leaders, Russia has thousands of decade-old undelivered pledges and several bilateral agreements signed with individual countries, yet to be implemented, in the continent. In addition, during the previous years there have been unprecedented huge number of "working visits" by state officials both ways, to Africa and to the Russian Federation.
In an authoritative research policy report presented last November titled 'Situation Analytical Report' and was prepared by 25 Russian policy experts headed by Sergei A. Karaganov, Dean and Academic Supervisor of the Faculty of World Economy and International Relations of the National Research University's Higher School of Economics (HSE University). Karaganov is also the Honorary Chairman of the Presidium of the Council on Foreign and Defence Policy.
Russia's Africa policy is roughly divided into four periods, previously after Soviet's collapse in 1991. After the first summit held in October 2019, the Russia's relations with Africa has entered its fifth stage.
According to that report "the intensification of political contacts is only with a focus on making them demonstrative." Russia's foreign policy strategy regarding Africa needs to spell out and incorporate the development needs of African countries. The number of high-level meetings has increased, but the share of substantive issues on the agenda remains small. There are little definitive results from such meetings. Next, there has been lack of coordination among various state and para-state institutions working with Africa.
Despite the above objective criticisms or better still the research findings, Foreign Minister Sergey Lavrov's trip to four African countries on 24-28 July, 2022, still has considerable geopolitical significance and some implications. The four African countries on his travel agenda: Egypt, Ethiopia, Uganda and the Republic of the Congo.
In pre-departure interview with local Russian media, Lavrov shared reflections on the prospects for Russia-African relations within the context of the current geopolitical and economic changes, fearing an isolation with tough sanctions after Russia's Feb. 24 "special military operation" in Ukraine. He unreservedly used, at least, the the media platform to clarify Russia's view of the war and attract allies outside the West, and rejected the West's accusations that Russia is responsible for the current global economic crisis and instability. Reports said African countries are among those most affected by ripples of the war. There are, however, other natural causes such as long seasonal droughts that complicated the situation in Africa. At least, the United States offered US$1.3 billion package to help tackle hunger in the Africa's Horn.
It is a historical fact that Russia's ties with Africa declined with the collapse of the Soviet Union in 1991. The official transcripts made available after Lavrov's meetings in Egypt offered little, much have already been said about developments in North African and Arab world, especially those including Libya, Syria and Yemen, as well as the Palestinian-Israeli conflicts.
With the geographical location of Egypt, Lavrov's visit has tacit implications. It followed US President Joe Biden's first visit to the Middle East, during which he visited Israel, the Palestinian territories and Saudi Arabia. Biden also took part in a summit of the six member states of the Gulf Cooperation Council, in addition to Egypt, Jordan and Iraq.
Lavrov's efforts toward building non-Western ties this crucial times is highly commendable especially with the Arab League Secretary-General Ahmed Aboul Gheit and representatives from the organization's 22 member states. Egypt has significant strategic and economic ties with Russia. There are two major projects namely the building of nuclear plants, the contract signed back in 2015 and the construction of an industrial zone has been on the planning table these several years.
In the aftermath of the Soviet Union, Russia continues efforts in search of possible collaboration and opportunities for cooperation in the past years. For the first time in the Republic of Congo, Lavrov delivered a special message from President Vladimir Putin to the Congolese President Denis Sassou Nguesso, at his residence in Oyo, a town 400 kilometers north of the capital, Brazzaville. Kremlin records show that Sassou-Nguesso, who has been in power since 1979, last visited Moscow in May 2019 and before that in November 2012.
The Congolese leader during his visit apparently asked for Russia's greater engagement, and assistance in bringing total peace and stability in Central Africa comprising the Congo, Democratic Republic of the Congo, Central African Republic, Cameroon and Chad. This presents a considerable interest especially its "military-technical cooperation" to further crash French domination similar to the Republic of Mali in West Africa. Interviews made by this author confirmed that Russia would send more military experts from Wagner Group to DRC through Central African Republic. An insider at the Congo's Foreign Affairs Ministry confirmed the special message relates an official invitation for Congolese President Sassou-Nguesso to visit Moscow.
Understanding the political developments and much talked about transition (better to describe it as hereditary succession) of regime from President Yoweri Museveni to his son, Muhoozi Kainerugaba, unquestionably brings Lavrov to Uganda. For Museveni, drawing closer to Russia sends a critical message about the motives on relations between Uganda and Russia.
With Foreign Minister of Uganda Jeje Odongo in the city of Entebbe, Lavrov in the same traditional rhetoric mentioned "the implementation of joint projects in oil refining, energy, transport infrastructure and agricultural production." It was decided to focus on practical efforts to move the above areas of focus forward in the course of an Intergovernmental Russian-Ugandan Commission on Economic, Scientific and Technical Cooperation meeting in October.
Interesting to recall that President Vladimir Putin's meeting on December 11, 2012, President Museveni said "Moscow is a kind of Mecca for free movements in Africa. Muslims visit Mecca as a religious ritual, while Moscow is a kind of centre that helps various liberation movements." Later in October 2019, Museveni expressed appreciation for the Africa–Russia meeting.
"It is good to say at this meeting a few areas which we could look at. Number one is defence and security. We have supported building an army by buying good Russian equipment, aircrafts, tanks, and so on. We want to buy more. We have been paying cash in the past, cash, cash, cash. What I propose is that you supply and we pay. That would be some sort of supply that would make us build faster, because now we pay cash, like for this Sukhoi jet, we paid cash,"Museveni during the conversation told Putin.
Lavrov displays his passion for historical references. In many of his speeches during the four-nation tour, Lavrov has repeatedly stressed that it's imperative for African leaders to support its "special military operation" in Ukraine, repeated all the Soviet assistance to Africa and the perspectives for the future of Russia-African relations. But most essentially, Lavrov has to understand that little has been achieved, both the long period before and after the first Russia-Africa summit held October 2019.
In Ethiopia where the African Union headquarters is located, and representatives of African countries are based, Russia is vying to normalize an international order and frame-shape its geostrategic posture in this capital city. Whether 25 of Africa's 54 states abstained or did not vote to condemn Russia at the UN General Assembly resolution in March, Africans are overwhelmingly pragmatic. Most of them displayed neutrality, created basis for accepting whatever investment and development finance from the United States, European Union, Asian region, Russia and China, from every other region of the world.
Lavrov, however, informed about broadening African issues in the "new version of Russia's Foreign Policy Concept against the background of the waning of the Western direction" and his will objectively increase the share of the African direction in the work of the Foreign Ministry. Relating to the next summit, scheduled for mid-2023, "a serious package of documents that will contain almost all significant agreements" are being prepared, he said.
Lavrov with his Ethiopian counterpart Demeke Mekonnnen and the African Union leadership in Addis Ababa have agreed on additional documents paving the way to a more efficient dialogue in the area of defense sales and contracts. Still on Ethiopia, Russia's state-run nuclear corporation Rosatom and Ethiopia's Ministry of Innovation and Technology signed a roadmap on cooperation in projects to build a nuclear power plant and a nuclear research center in the republic. In addition, other bilateral issues, including joint energy and infrastructure projects, and education were discussed.
"We have good traditions in the sphere of military and technical cooperation. Today, we confirmed our readiness to implement new plans in this sphere, including taking into account the interests of our Ethiopian friends in ensuring their defensive ability," the Russian top diplomat said.
"Russia is ready to continue providing assistance to Ethiopia in training its domestic specialists in various spheres," he added and finally explaining that Moscow was ready to develop both bilateral humanitarian and cultural contacts and cooperation in the sphere of education with Addis Ababa.
According to Lavrov, Russia has long-standing good relations with Africa since the days of the Soviet Union which pioneered movements that culminated in decolonization. It provided assistance to the national liberation movements and then to the restoration of independent states and the rise of their economies in Africa. Undeniable fact is that many external players have also had long-term relations and continue bolstering political, economic and social ties in the continent.
In his Op-Ed article, Lavrov argues: "We have been rebuilding our positions for many years now. The Africans are reciprocating. They are interested in having us. It is good to see that our African friends have a similar understanding with Russia." The point is that Moscow is desirous to widen and deepen its presence in the continent. On the other hand, the Maghreb and African countries are, in terms of reciprocity, keen to strengthen relations with Moscow, but will avoid taking sides in the Russia-Ukraine crisis.
Lavrov has successfully ended his meetings and talks in Africa. Now, the basic issue in its relations is still the fact that Russia has thousands of decade-old undelivered pledges and several bilateral agreements signed with individual countries in the continent, while in the previous years there have been unprecedented huge number of "working visits" to Africa. The development of a comprehensive partnership with African countries remains among top priorities of Russia's foreign policy, Moscow is open to its further build-up, Lavrov said in an Op-Ed article for the African media, and originally published on the ministry's website.
In the context of rebuilding post-Soviet relations and now attempting at creating a new model of the global order, Russia needs to be more open, make more inroads into the civil society, rather than close (isolate) itself from "non-Western friends" this fast-changing period – in Asia, Africa and Latin America. For instance, Africa is ready as it holds huge opportunities in various sectors for reliable, genuine and committed investors. It offers a very profitable investment destination.
Despite criticisms, China has built an exemplary dinstinctive economic power in Africa. Besides China, Africa is largely benefitting from the European Union and Western aid flows, economic and trade ties. That compared, Russia plays very little role in Africa's infrastructure, agriculture and industry, and making little efforts in leveraging unto the African Continental Free Trade Area (AfCFTA). Our monitoring shows that the Russian business community hardly pays attention to the significance of African Continental Free Trade Area (AfCFTA) which provides a unique and valuable platform for businesses to access an integrated African market of over 1.3 billion people.
Substantively, Russia brings little to the continent especially in the economic sectors that badly need investment. Of course, Russia aims at restoring and regaining part of its Soviet-era influence, but has problems with planning and tackling its set tasks, lack of confidence in fulfilling its policy targets. The most important aspect is how to make strategic efforts more practical, more consistent and more effective with African countries. Without these fundamental factors, it would therefore be an illusionary dream considering partnership with Africa.
Some policy experts have classified three directions for external partners dealing with Africa: (i) active engagement, (ii) sit and observe, and (iii) be passive player. From all indications, African leaders have political sympathy, and most often, could express either support or neutral position for Russia. But at the same time, African leaders are very pragmatic, indiscriminately dealing with external players with adequate funds to invest in different economic sectors. Africa is in a globalized world. It is, generally, beneficial for Africa as it could take whatever are offered from either East or West, North or South.
In stark contrast to key global players for instance the United States, China and the European Union and many others, Russia has limitations. For Russia to regain part of its Soviet-era influence, it has to address its own policy approach, this time shifting towards new paradigms – implementing some of the decade-old pledges and promises, and those bilateral agreements; secondly to promote development-oriented policies and how to make these strategic efforts more practical, more consistent, more effective and most admirably result-oriented with African countries.
Astana Trilateral Summit 2022: What did Russian President Achieve?
Since he launched the fateful invasion of Ukraine in February 2022, the Russian President had not traveled outside the former Soviet territories. His only visit outside Russia was to "friendly" Central Asian States in June, where he predictably received a warm reception. The first trip by Putin outside former Soviet territories proved to be to the Iranian capital Tehran for the Astana Trilateral Summit — a forum established for the settlement of the Syrian conflict and features key players in the Syrian conflict: Russia, Iran, and Turkey. Unsurprisingly, the Syrian conflict took a back seat and the aftermath of Russia's invasion of Ukraine dominated the discussions at the trilateral summit.
After the boycott of Putin by the Western world, the Russian leader has been attempting strategic and economic reorientation toward Asia and has achieved considerable success in making up for the losses in revenues incurred owing to the Western economic sanctions by selling oil at heavily discounted prices to countries like China and India. The trip to Iran provided the beleaguered Russian leader an opportunity to dissipate the impression of Russian isolation — no matter if the support extended is from a state under the severest of Western sanctions – Iran. The outright endorsement of his Ukraine invasion and scathing condemnation of the Western world was precisely the music Putin wanted to hearken and the Iranian Supreme Leader had plenty to offer.
Nonetheless, being under Western sanctions has positioned both the countries abreast and Russia, by offering even cheaper energy rates, has captured the energy and steel markets previously held by under-sanctions Iran. The shift did cause some resentment in Iran and Putin sought to assuage the Iranian grievances by signing the $40 billion deal between the National Iranian Oil Company (NIOC) and Gazprom for the development of oil and gas fields in Iran. Nonetheless, the suspicions do persist as the Iranian Supreme Leader pushed Russians to follow up and fulfill the agreements signed between the two countries in the oil and gas sectors.
Putin's Tehran visit has cemented Russia's position as an important power broker in the Middle East having friendly relations with countries on both sides of the regional Middle Eastern divide. Besides its longstanding relationship with Iran, Russia's intervention in the Syrian civil war forestalled the almost certain downfall of Bashar's regime and the country is also a party in the Libyan civil war, wherein it patronizes the warlord Khalifa Haftar. Moreover, Russia now has a multifaceted relationship with the USA's Arab allies — particularly Saudi Arabia, United Arab Emirates, and Qatar — primarily owing to the convergence of their energy interests in OPEC Plus. The Arab countries also avoided harshly denouncing the Russian invasion of Ukraine — as the West would have anticipated — so as to avoid antagonizing Moscow, and top Saudi and Emirati royals reportedly declined calls from President Biden during the initial days of the invasion.
Days before Putin visited Tehran, President Biden took a trip to the Middle East and in his address to a gathering of Arab leaders, tried to reassure Washington's Arab allies that the superpower remains committed to the region and urged oil-rich Arab nations to increase their oil production to mitigate global oil price shock caused by the Russian invasion of Ukraine. Following Biden's visit, the de facto Saudi ruler Muhammad Bin Salman and President Putin during a phone call agreed to keep coordinating within the framework of OPEC Plus. Accordingly, during the cartel's meeting held on August 3rd the OPEC Plus members agreed to make a small increase in the oil production, which is unlikely to drastically impact the energy prices as President Biden counted upon.
Even more remarkably, in utter defiance of the US sanctions, Saudi Arabia is importing Russian oil at discounted price for domestic use while selling its oil at higher prices in the international market. In effect, in a major geopolitical turnaround for Moscow in the Middle East, Putin has been able to reaffirm its partnerships, and the days of Arab capitals uncritically following Washington's lead are all but over.
Putin's meeting with Turkish President Erdogan during Astana Summit also captured headlines — initially after the Russian President was left awkwardly standing for around 50 seconds waiting for his Turkish counterpart before their meeting and successively for the discussions between the two strongmen to strike a deal to freight the Ukrainian grain from its three Black Sea ports (the deal has now been reached). During the discussions on Syria, Erdogan reportedly talked about the Russian President as "My dear friend Putin" in an exhibition of the close relationship between the two strongmen. Though Turkey and Russia feature on the opposite sides of equations in the Syria, Libya, Azerbaijan-Armenia, and Ukraine conflicts, they have long-lasting trade and energy ties. Turkey, despite being a member of NATO, did not join the Western sanctions against Russia and is now buying more oil from Moscow. Correspondingly, Moscow looks to Turkey as a partner — nonetheless a difficult one — among a host of antagonists and as a crucial market for its energy products and wheat. Yet another meeting between the two leaders in the Russian city of Sochi further hollows Western gambits to isolate Russia for its invasion of Ukraine; meanwhile, Putin continues to assemble allies.
Russia (Re)Schedules African Leaders Summit for 2023 in St. Petersburg
With perspectives on making a well-designed substantive agenda, African leaders will be getting ready for the next grand photo opps, witness the delivery of those sparkling high-powerful speeches and finally sign series of new bilateral agreements during the upcoming second Russia-Africa summit scheduled for mid-June 2023 in St. Petersburg, Russia.
Despite the unprecedented sanctions and information warfare launched by the United States and its satellites, Africa has become a priority of Russia's foreign policy, according to Sergey Lavrov, Minister of Foreign Affairs of the Russian Federation, noting further that "Russia highly appreciates the readiness of Africans to further step up economic cooperation, and the signed agreements and the results will be consolidated at the forthcoming second Russia-Africa summit."
During his late July visit to Addis Ababa, Ethiopia, Lavrov informed in one of his speeches about broadening African issues in the "new version of Russia's Foreign Policy Concept against the background of the waning of the Western direction" and this will objectively increase the share of the African direction in the work of the Foreign Ministry. Relating to the next summit mid-June in 2023, "a serious package of documents that will contain almost all significant agreements" is being prepared, he emphasized illustrating his passion for signing agreements.
Arguably the number of agreements signed is not the criteria for measuring success of influence in Africa. Nevertheless, Lavrov said that the two most important goals of the summit will be to sign off on "a memorandum of understanding between the government of the Russian Federation and the African Union on basic principles of relations and co-operation" and "a memorandum of understanding between the Eurasian Economic Commission and the African Union on economic co-operation."
Russia already has thousands of decade-old undelivered pledges and several bilateral agreements signed with individual countries, yet to be implemented, in the continent. In addition, during the previous years, there has been an unprecedented huge number of working visits by state officials both ways, to Africa and to the Russian Federation.
After the first summit, Russia–Africa discussions become a permanent fixture at the St. Petersburg International Economic Forum, while Roscongress continues working on the African track until the next Forum. That Sochi summit brought together 54 African states, 45 of which were represented by their heads of state, and also attended by the heads of executive bodies of eight African regional organizations.
President Vladimir Putin and Egypt's Abdelfattah El-Sisi underlined the importance of opportunities to develop investment and trade between which would help to strengthen relations in line with the 2063 concept [agenda] developed by the African Union. And that Russia has, with a vast array of competencies in previous years, is ready to implement joint projects aimed at improving people's quality of life in Africa.
In total, there were 268 speakers participated in various discussions of topical issues. Resultantly, 92 agreements and contracts were signed at the summit. There were two key agreements that include: (i) Memorandum of Understanding between the Government of the Russian Federation and the African Union on basic principles of relations and cooperation was adopted at the Summit in the presence of Vladimir Putin and Abdelfattah El-Sisi.
(ii) a Memorandum of Understanding between the Eurasian Economic Commission and the African Union on economic cooperation was signed by Tigran Sargsyan, the Chairman of the EEC Board, and Moussa Faki Mahamat, Chairperson of the African Union Commission.
Then, at the initiative of African participants, a new dialogue mechanism – the Russia-Africa partnership forum – has been created. It was agreed that top-level Russia-Africa meeting will take place within its framework once every three years, alternately in Russia and in an African state. Both Russia and Africa could not agree on the summit in 2022, and in an African country.
The Heads of State and Government from Africa and Russia adopted a final declaration that reflects the principles coordinated by the two sides, the most important of which, according to El-Sissi, are:
–. respect for international law and the UN Charter,
–. the movement towards peace and security through the creation of more equal and fair international relations
–. and a world order based on the principles of multilateralism, respect for national sovereignty, non-interference in the internal affairs of other countries
–. and the peaceful settlement of crises, as well as the protection of national identity and civilisational and cultural pluralism.
"Our declaration has reaffirmed the goals of Agenda 2063 and the 2030 Agenda for Sustainable Development. We have approved a ministerial mechanism for promoting dialogue and partnership. We appreciate all these moves and believe that they have created a solid foundation for the further development of Russian-African relations," said El-Sissi.
In an authoritative policy report presented last November titled – Situation Analytical Report – and prepared by 25 Russian policy experts, it was noted that "the intensification of political contacts is only with a focus on making them demonstrative." The number of high-level meetings has increased during the previous years but the share of substantive issues on the agenda remains small. There are few definitive results from such meetings. Next, there has been a lack of coordination among various state and para-state institutions working with Africa.
Late July 2022, TASS news agency reported that Russia has always offered African countries mutually partnership based on mutual interests, unlike some other partners. "We always offer equal cooperation. We offer projects that would be of interest to this or that side. It is never a one-way street other partners often offer to Africans, sometimes implicitly, sometimes openly," Deputy Speaker of Russia's Federation Council (Upper Parliament House), Konstantin Kosachev, said in an interview with Russia's TV Channel One.
He noted that Russia and Africa have many spheres for cooperation. "They include high technologies, the nuclear industry, machine-building, medicine, pharmaceuticals, the development of transport infrastructure, and, naturally, the energy sector. Each of these topics are important for African countries," he added.
That said, preparations for the next Russia-Africa summit mid-2023 are currently underway. "The Russian side aims to continue preparing the second and aims at making it as efficient as possible. The Russian Ministry of Foreign Affairs and other ministries are taking steps to build a full and mutually beneficial cooperation between Russia and the African countries, including the formation of a reliable social and economic infrastructure, food and energy security on the continent," according to Oleg Ozerov, Ambassador-at-Large and Head of the Secretariat of the Russia-Africa Partnership Forum.
With its impressive relations, Russia has not pledged concrete funds toward implementing its policy objectives and tasks in Africa. Moreover, Russian officials have ignored the fact that Russia's overall economic engagement is largely staggering and various business agreements signed are still not fulfilled with many African countries. There is a distinctive divide between what has been pledged and promised at high-level meetings and summits, compared to what has actually materialized on the ground. For now there is very little to celebrate, except for speeches, photo-opps and sign a new communique (joint declaration), at the next African leaders summit in St. Petersburg in 2023.
Worth saying here that African leaders are waiting to cut white ribbons marking the successful completion of Russian-managed something. Really it is time to swift from regular rhetoric and move on towards implementing the package of bilateral agreements especially those involving infrastructure investments, and further determine financing sources for concrete projects and deliver on decade-old pledges and promises made to the people of Africa.
A Friendship Higher Than Alliance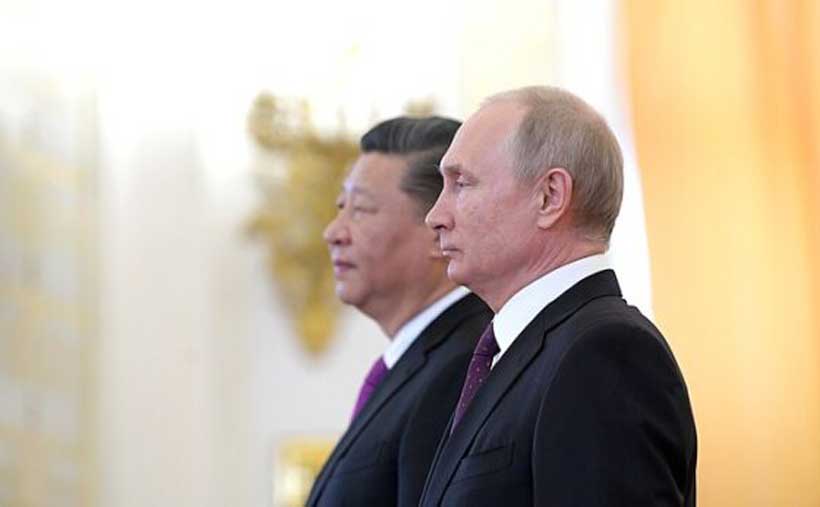 The day of July 16 marks the 21st anniversary of the Treaty of Good-Neighbourliness and Friendly Cooperation between the Russian Federation and the People's Republic of China. Within the contemporary framework of the Russia–China partnership, the treaty has been dubbed the "document of the century" and, judging by the dynamics of the inter-state relations, it stands all chances to become one of the most solid international bilateral treaties of our age, which is particularly valuable at a time when the entire architecture of international relations appears to be close to collapse.
Yet, we should not forget that Russia and China have arrived at the current level of strategic partnership following a centuries-long path full of many trials and regrettable errors. Nor should we forget that the two largest states of Eurasia initially went through a difficult period in the 17th century, when it came to establishing first political and economic relations, a process that culminated in the 1689 Treaty of Nerchinsk. We should also keep in mind that China, like today, supported the "new Russia" in the early 18th century, when the confrontation between Russia and Europe heated up and the Great Northern War (1700–1721) broke out. For instance, imports of Chinese goods (primarily, fabrics) played an important role in the formation of the Russian army, which emerged victorious under the leadership of Peter the Great[1]. Since then, the relations between the two states have not suffered protracted interruptions, remaining generally positive for two centuries. In mid-19th century, treaties establishing Russian and Chinese borders were signed, and the border issue was finally settled after the demarcation of 2004–2008.
The turbulent 20 th century had varying consequences for the relations between Russia and China. Times of strong friendship were interrupted by acute but short conflicts, typically rooted in ideology[2]. The partnership between the Soviet Union and the Kuomintang under Sun Yat-sen was cut short in 1927 by a sudden attack on Chinese communists organized by his successor Chiang Kai-shek. A new thaw that marked the relations during the Second World War, when the Soviet Union and the Kuomintang established allied relations, which was ultimately enshrined in the 1945 Treaty, smoothly evolved into a closer friendship and alliance when the People's Republic of China was established, with the Sino-Soviet Treaty of Friendship, Alliance, and Mutual Assistance signed in 1950.
However, the honeymoon decade of the 1950s was followed by an era of ideological confrontation that eclipsed the 1960s and 1970s. This period of a sudden cold spell, at times turning into animosity between the neighbours, resulted in the tragic events at Damansky Island in 1969, an incident that showed how ideological differences can destroy constructive interactions between friendly neighbouring states in virtually every area, from geopolitics to cultural ties, all in a matter of a few short years.
Since the early 1980s, this negative experience helped both parties come to the firm conviction that there is no alternative to good-neighbourly relations between the two peoples and countries. General consulates of both states were reopened in 1986. The historic visit of Soviet leader Mikhail Gorbachev to Beijing in 1989 marked a rapid and unfaltering development of friendly relations between Russia and China[3]. In 1992, the two states officially proclaimed their friendly relations; and they announced a constructive partnership in 1994. Two years later, in 1996, Moscow and Beijing signed a Declaration proclaiming their determination to foster an equal and trust-based partnership with a view to strategic interactions in the 21 st century. This declaration paved the way for the Treaty of 2001.
It is highly symbolic that the treaty was signed in the first year of a new millennium, with President of the Russian Federation Vladimir Putin and President of China Jiang Zemin putting pen to paper in Moscow on July 16, 2001. The document epitomized the many centuries of bilateral relations. Not only does it reflect four centuries of good neighbourliness and friendship between the peoples of the two countries but it also proclaims a new model of relations—one that aligns with the fundamental national interests of the two states and the hopes of their peoples. The model also plays an important role in maintaining a stable multipolar world order, ensuring security and stability. Bilateral relations were proclaimed to be free from ideological biases and prejudices. The Treaty envisaged mutual respect for the historical paths and political systems. Cooperation between the two sides was to be reinvigorated by mutual political and economic interests. Russia–China relations were now based on equality, consideration for each other's interests, and freedom from current political and ideological circumstances.
The Treaty legally enshrined the description of mutual relations as "the strategic cooperative partnership of equality and trust" proclaimed in 1996. It also formalized mutual support in protecting national unity and territorial integrity, confirming bilateral commitment to refrain from first use of nuclear weapons against each other or targeting each other with strategic nuclear missiles. It also formulated the principle of respect for choosing one's own path of political, economic, social, and cultural development, and envisaged immediate contacts in case of threat of an aggression against one of the parties.
Besides, the Treaty contains an important legal formula, stating intent "to develop the friendship between the people of the two countries from generation to generation" (a statement that has never been used in any other international instrument). The treaty calls upon the parties to always remain friends, good neighbours, and dependable partners, and to never be enemies. This legal wording was not present even in allied treaties between the USSR and China, and it makes it possible to say that the China–Russia friendship enjoys a status higher than that of an alliance.
June 5, 2019—the year of the 70th anniversary of the People's Republic of China and of the 70th anniversary of diplomatic relations between Russia and the People's Republic of China—saw the adoption of a Joint Statement on Developing a Comprehensive Strategic Partnership Entering a New Era. Russia said it highly valued the fact that relations between the two states had reached an unprecedentedly high level.
Personal relations between the leaders of the two states play a very important role in shaping and bolstering such a close partnership. As of the time of writing, Vladimir Putin and Xi Jinping have met 38 times while holding frequent telephone conversations. This creates a personal touch, ensures dynamically developing relations and allows any topical issues to be dealt with at the highest level. The vertical of power in Russia, and particularly that in China, ensure top-level decisions are effectively enforced. Consequently, Russia and China enhance their political dialogue year in year out. Strategic relations of trust between heads of state constitute a political advantage for the entire system of Russia–China relations.
Over the past year, the relations between China and Russia have faced unprecedented geopolitical and economic challenges. In 2021, Russia's relations with the West deteriorated sharply over the situation in Ukraine. Even with the heightened international tensions, China has demonstrated its readiness to lend diplomatic support to Russia once again. On June 28, 2021, Russia and China adopted a Joint Statement marking the 20th anniversary of the Sino-Russian Treaty and announced its prolongation for five years.
Finally, a Joint Russia–China statement on International Relations Entering a New Era and Global Sustainable Development was signed on February 4, 2022, following talks between Vladimir Putin and Xi Jinping in Beijing.
Back in August 1997, Russia and China signed a Joint Declaration on a Multipolar World and the Establishment of a New International Order, advocating multilateralism ever since. In their Joint Statement of February 4, 2022, the parties announced that "no State can or should ensure its own security separately from the security of the rest of the world and at the expense of the security of other States." The parties called for a new kind of relations between world powers—operating on the basis of mutual respect, peaceful coexistence and mutually beneficial cooperation.
The Statement also emphasized that the inter-state relations are superior to political and military alliances of the Cold War era, that friendship between the two states knows no limits, that there are no "forbidden" areas of cooperation, that enhancing strategic bilateral cooperation is neither aimed against third countries nor affected by the evolving international environment and circumstantial changes in third countries. Vladimir Putin said that these relations have become "a paragon of efficiency, responsibility, and aspiration for the future." Such words have established unprecedentedly close political relations between Russia and China, and the subsequent events of February 2022 showed that it was these relations that took the world into a new era.
From the first days of the conflict, China's response to the events in Ukraine has been quite positive for Russia. China is consistent in its stance that the conflict was provoked by NATO's expansion, while the sanctions that the West has imposed on Russia are at odds with international law and they are provoking a global economic crisis. Besides, Chinese diplomats stress that the conflict has to be resolved through speedy talks and that historical roots of the conflict also need to be taken into account. These statements are quite in alignment with Russia's stance.
In a telephone conversation on June 15, 2022, the Russian and Chinese leaders reaffirmed the successful development of Russia–China relations, notwithstanding a broad range of global changes. At the same time, the Chinese President reaffirmed Beijing's independent stance on the Ukrainian issue with account for historical facts and realities.
The telephone conversation that took place on Xi Jinping's birthday also happened to be on the eve of the key Russia–China session at the St. Petersburg International Economic Forum on June 16. Over 40 Chinese companies (ten of them with annual revenues of over RUB 20 bn.) participated in the Russia–China business dialogue moderated by the heads of the Institute of Far Eastern Studies (now the Institute of Chinese and Contemporary Asian Studies of the Russian Academy of Sciences) and the Union of Chinese Entrepreneurs in Russia. The delegates from China made no secret of the fact that they had come to Russia with the explicit goal of filling the niches that the West had vacated in the Russian economy. Their business areas were selected to fit with Russia's current needs: engineering, industrial equipment, automobile spare parts, petrochemical equipment, agricultural products, etc.
In his Address at the Forum's Plenary Session on June 17, the Russian President emphasized that Russia finds it "interesting and important to cooperate with China, but it does not mean that Beijing should support Moscow in everything: China has its interests, and we need to respect them." In turn, the Chinese leader, addressing the Forum's attendees via video link, confirmed that "today, China–Russia cooperation in every area is on the rise […] it evidences high stress resilience and internal potential of China–Russia cooperation."
Announcements made at the "Russia–China Business Dialogue" session included the establishment of a Coordination Council for China involving Russia's leading academic centres and supported by the Presidential Executive Office, the Government, and the Security Council of the Russian Federation. Those in attendance were also informed that the Institute of Oriental Studies had been renamed the Institute for Chinese and Contemporary Asian Studies under the auspices of the Russian Academy of Sciences, which certainly evidences Russia's great attention to Russia–China relations.
Therefore, the St. Petersburg International Economic Forum once again demonstrated the stability of and mutual interest in a steady development of practical cooperation between Russia and China. Today, political arrangements and joint statements are successfully transformed into economic outcomes. China has become the largest consumer of Russian energy resources, and the two governments are involved in intensive talks on establishing new routes for transporting Russia's oil and gas into China, and these talks could produce agreements as early as this year. The reverse flow of commodities is perking up as well: in particular, an announcement on the resumption of deliveries of spare parts for civilian aircraft from China was made immediately after the St. Petersburg International Economic Forum. Cooperation in the automobile industry is also fostered. Sales of Chinese smartphones on the Russian market have surpassed those of the traditional leaders, American and South Korean brands, for the first time this year. All these developments mean that, despite sanctions pressure, Chinese companies will continue to increase two-way trade with Russia as part of the cooperation between the two states.
Bilateral military and political cooperation is on the rise. The sharply expanded geography of joint military exercises and drills is, alongside with military-technical cooperation, proof enough of this: this year, such exercises have been held in the Arabian Sea (January), the Sea of Japan, and the South China Sea (May). In July, reports surfaced that Russia, China and Iran were preparing for large-scale joint exercises in Latin America at the invitation of Venezuela.
Global cooperation between Russia and China is also reflected in their common stances in international platforms. In particular, interest in further enhancing Russia–China relations, including taking a common or similar position on issues in international politics, was demonstrated at the 14th BRICS Summit in Beijing on June 22–24, 2022 and at the BRICS Business Forum held as part of the Summit. BRICS, which accounts for 45 per cent of the global population, will overtake G7's total share in the global GDP in the near future, thus increasing its global influence and becoming the epicentre of multilateral partnership in the interests of universal and equal development. It is by no accident that the Summit was attended by 13 countries in addition to Brazil, Russia, India, China and South Africa (BRICS+).
The leaders of Russia and China said in their addresses that the nations of BRICS stand for joint efforts to promote peace and stability around the world. BRICS enjoys support of many nations in Asia, Africa and Latin America. The five countries seek independent foreign policies and continue making active contributions to a truly multipolar system of international relations based on international law and on the key principles of the UN Charter. The Russia–China strategic partnership enshrined in the 2001 Treaty of Good Neighbourliness and Friendly Cooperation between the Russian Federation and the People's Republic of China may serve as a model of such relations between states.
[1]G. N. Romanova, "The Genesis of Russia–China Trade Ties (17th – first third of the 18 th centuries)," Tamozhennaia politika Rossii na Dalnem Vostoke 67, no. 2 (2014): 101–111.
[2]L. P. Chernikova, "Russia–China Relations: History and Present," Problemy vostokovedeniia 68, no. 2 (2015): 42–46.
[3]Y. Li, "Mikhail Gorbachev's Contribution to Normalizing Soviet-Chinese Relations," Problemy Dalnego Vostoka2 (2021): 66–82.
From our partner RIAC