These days, it feels like one crisis is chasing the next – Covid-19, conflict, climate, debt, and more. The latest is a global food crisis which is reaching alarming dimensions. Across Africa, more than 282 million people are food insecure – and that number is rising.
One of the worst aspects of crises is the tendency to turn inward and look after one's own interests – when in fact greater solidarity is needed. This is particularly true for Africa, which is often hit by crises that do not originate in the continent but its people pay for the fallout.
An effective crisis response, then, is needed – but one that goes beyond the immediate impact of the crisis to support the longer-term development agenda.
At times it seems that the world has forgotten the goals to eliminate extreme poverty or educate the world's children or provide universal health access – as captured by the Sustainable Development Goals. The SDGs are alive on paper but not in action.
Now is not the time to reduce engagement, but rather, a time to double down on partnerships that matter. It is time to make a difference in the lives of families, so parents can send their kids to school, so mothers and babies can have adequate post-natal care, so that the younger generations have a chance to find jobs and realize their dreams.
All of this requires resources and the human capital that ultimately will drive the success of Africa.
African leadership is confronted with meeting this double challenge of responding to crises but not losing sight of the longer-term development needs of their country or the continent.
For these leaders, an additional challenge is that, while OECD countries may have vastly greater financial resources, this is much more difficult in Africa – as we saw during the COVID pandemic when rich countries were able to spend 5 times more for stimulus packages than what African governments were able to spend.
The challenge for the international community is, then, how can we best support Africa during these trying times and deliver real actions, real partnership, and real money?
The World Bank stands ready. This week, I am in Dakar to meet more than a dozen Heads of State from across Africa to kick off the implementation of our latest three-year, $93 billion global program – about 2/3 of which will support Africa's development agenda – delivered through the International Development Association (IDA).
IDA is the world's largest source of concessional funds, including grants for low-income countries, helping them seize opportunities to reduce poverty and stimulate inclusive growth.
This latest IDA replenishment will enable our support to Africa to increase even more in the years ahead. Africa has become the prime region benefiting from IDA resources – growing more than tenfold its annual program of about $3 billion in 2000 to well over $30 billion currently. This support, plus our growing on the ground presence across Africa, is enabling us to work hand-in-hand with governments, with the private sector, and civil society to implement the continent's ambitious development agenda.
African leaders have, through the African Union process, articulated clear goals – from digitalization to electricity to education – and we are committed to helping Africa translate these ambitions into strong programs that can, within a short period of time, improve people's lives and transform the continent.
I am energized by the many conversations about the boundless opportunities in the African continent. A youthful population bursts with energy and vibrancy. A new free trade agreement can bring tremendous gains and African leaders are seeking their own solutions.
I am also energized by the great potential that IDA, as a fund for development, offers to the African continent. IDA has been well-supported by international partners and well-utilized by countries. And my hope for this week's dialogue is that we emerge with ambitious, concrete plans to maximize the use of IDA to support countries as they weather the storm of multiple, overlapping crises, and set up the policies, investments, and innovations that will spur resilient recovery, sustainable growth, and prosperity for all in Africa.
Ethiopia: Without immediate funding, 750,000 refugees will have 'nothing to eat'
UN agencies appealed on Tuesday for $73 million over the next six months to provide food rations to more than 750,000 people seeking refuge in Ethiopia.
The World Food Programme (WFP), UN refugee agency, UNHCR, and Ethiopian Government Refugees and Returnees Service (RRS) made the plea for assistance because without it, WFP will run out of food for the refugees by October.
The impending crisis will leave vulnerable families at risk of undernutrition, micronutrient deficiency, and increased susceptibility to diseases, the agencies warned
"Three quarters of a million refugees will be left with nothing to eat in just a matter of weeks unless we receive funding immediately," said Claude Jibidar, WFP's Representative and Country Director for Ethiopia.
Ration cuts
Cutting rations has been an issue with which WFP has long had to grapple.
Food rations for refugees in Ethiopia were first reduced by 16 per cent in November 2015, then 40 per cent in November 2021, and finally 50 per cent in June 2022.
The impact of these cuts has been heightened by global limitations on food availability, widespread economic shock, rising food and energy costs, the COVID-19 fallout, and armed conflict.
Impact of cuts
To understand the impact of ration cuts on refugees, WFP, UNHCR and RRS conducted in April, a rapid assessment on 1,215 refugee camps households throughout relevant regions.
The results show that most had coped with food insecurity by reducing the number of meals eaten in a day, consuming less expensive foods, or limiting meal portions.
The joint assessment also revealed that households are going to desperate measures to make up for funding cuts.
Funding repercussions
Funding cuts have forced refugees to rely on an ever-finite supply of food, which increases the likelihood of resource-based conflicts.
Data shows that many families have been relying on children to generate extra income to afford food.
Other households were forced to borrow cash, relying on friends or relatives for sustenance.
"We have a shortfall of $73 million for refugees' minimum needs and we are deeply concerned that if funding cuts continue, they may consider returning to their places of origin when it is unsafe," warned Mr. Jibidar.
Taking action
More resources must be mobilized to meet immediate food demands, and smart investments should be taken to prioritize sustainable farming.
"The priority for us all must be to restore assistance to at least minimum levels for refugees, all of whom are solely reliant on WFP's cash and food assistance for survival," said the UN Country Director.
With an immediate donor response, WFP would be able to buy food available in the region to meet the dietary needs of the refugees and also transfer cash to the refugees, providing them the choice of how to meet their immediate needs and stimulating local markets.
Support needed
The agencies have established an effective system to identify the food assistance needs of refugees through biometric verification, accountability mechanisms and programmes to grant monthly food and cash assistance.
The trio called on all partners to strengthen efforts to address their immediate and long-term food needs in line with international commitments.
Meanwhile, WFP, UNHCR and RRS will continue to count on donors for extended funding support based on the principle of shared responsibility to implement basic humanitarian life-saving activities.
Central African Republic: Militias spreading 'terror, insecurity', must lay down arms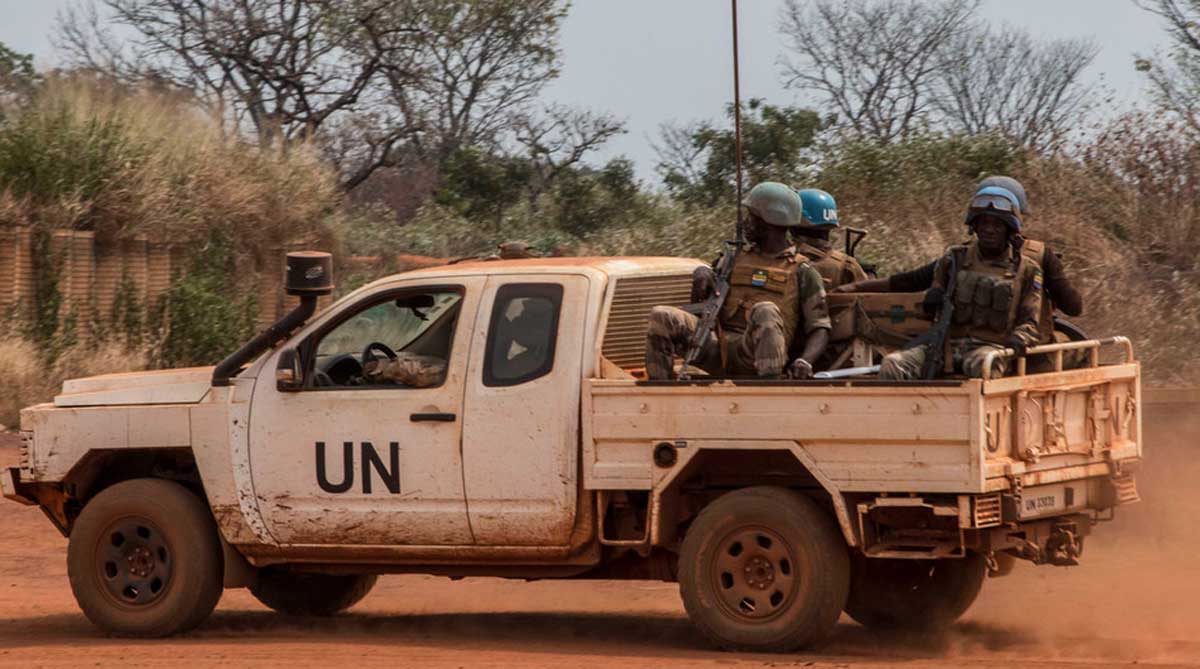 Armed groups in the Central African Republic (CAR) must lay down their arms and engage in political dialogue, a UN-appointed independent human rights expert said on Friday, urging the international community to strengthen efforts to restore State authority and end impunity there.
"I vehemently condemn the obstinacy of the Coalition of Patriots for Change and other armed groups who continue to spread terror, insecurity and suffering among the civilian population and victims of violations and abuses," said Yao Agbetse, who monitors rights abuses in CAR.
Armed groups in the Central African Republic (CAR) must lay down their arms and engage in political dialogue, a UN-appointed independent human rights expert said on Friday, urging the international community to strengthen efforts to restore State authority and end impunity there.
"I vehemently condemn the obstinacy of the Coalition of Patriots for Change and other armed groups who continue to spread terror, insecurity and suffering among the civilian population and victims of violations and abuses," said Yao Agbetse, who monitors rights abuses in CAR.
Grave human rights violations
At the end of a ten-day official visit to the country, he expressed dismay over reports from residents in the town of Bria, capital of the Haute-Kotto prefecture, who described the ease with which armed groups can move in and out of neighbouring Sudan.
In that same district, schools in Ouadda, Yalinga, and Sam-Ouandja regions, have been closed for four years.
Meanwhile, in Haute Kotto and Mbomou prefectures, the Union for Peace in the Central African Republic and the Front Populaire pour la Renaissance en Centrafrique (FPRC) have committed numerous grave human rights violations, including sexual violence, particularly rape and sexual slavery, mostly targeting girls aged 11-17.
Mahamat Salleh, an FPRC leader based in Nzako, has been implicated in several cases of rape and other serious human rights abuses, Mr. Agbetse said.
'Unacceptable' attack
He pointed to the brutal, organized attack on the village of Boyo last December, saying that human rights violations committed by the CAR national army (FACA) and the internal security forces (FSI) and their auxiliaries were "unacceptable".
Russian allies and the FACA had allegedly provided support to the mostly Christian anti-Balaka militia who committed atrocities there, including beheadings and sexual violence, and forced thousands of residents to flee.
"The seriousness of these facts requires appropriate responses from national authorities towards the victims," Mr. Agbetse said.
"I recommend that the UN Multidimensional Integrated Stabilisation Mission in the Central African Republic (MINUSCA) set up a more reactive warning system and regular joint operations with the FACA to prevent tragedies like the one in Boyo".
Mercenaries
The UN expert also demanded that Russian mercenaries of the Wagner security group refrain from obstructing collaboration and joint operations between FACA, FSI and UN peacekeepers.
"The Wagner group must not prevent the deployment of MINUSCA protection operations and not obstruct the investigation of human rights abuses and violations of International Humanitarian Law," he continued.
In the interest of all citizens of CAR, the UN expert urged outlawed militias to engage in the peace and reconciliation process led by the Commission on Truth, Justice, Reparation and Reconciliation.
Systematic investigations
At the conclusion of his visit, Mr. Agbetse recommended that all allegations of violations of human rights and international humanitarian law be systematically and thoroughly investigated by Central African authorities.
"These investigations must be followed by concrete actions to ensure that the victims have access to justice," he said.
The expert said a reparation fund should also be established to ensure justice for victims.
Moreover, he strongly recommended extraordinary judicial sessions to tackle the heavy caseload of sexual violence allegations linked to the chronic instability and conflict across CAR.
Sentencing
Mr. Agbetse upheld that in cases of conflict-related sexual violence, so-called "amicable settlements" were simply unjust to victims, and must be stopped, he added.
Moreover, he noted that some testimonies and reports indicated a lack of control and accountability within the State apparatus, including the judiciary, police, and the civil service in general.
He also called on Authorities to address hate speech and incitement to violence, and on the international community to strengthen its support to ensure that State authority restoration is effective.
Independent experts are appointed by the Geneva-based UN Human Rights Council to examine and report back on a specific human rights theme or a country situation. The positions are honorary and the experts are not paid for their work.
Russia and Zimbabwe Relations Remain Work-in-Progress, says Brig. Gen. Nicholas Mike Sango
Zimbabwe is a landlocked country located in Southeast Africa, and shares borders with South Africa, Botswana, Zambia and Mozambique. It is very rich in mineral resources and is the largest trading partner of South Africa on the continent of Africa. Russia maintains very friendly relations with Zimbabwe, thanks to ties which evolved during the struggle for independence. Since then, Russia has had a very strong mutual sympathy with and friendly feelings toward the southern African people, government and the country.
Brigadier General Nicholas Mike Sango, Zimbabwean ambassador to the Russian Federation, has held his position since July 2015. He previously held various high-level posts such as military adviser in Zimbabwe's Permanent Mission to the United Nations and as international instructor in the Southern African Development Community (SADC).
As Brigadier General Nicholas Sango prepares to leave his post in August, our media executive Kester Kenn Klomegah conducted this exclusive interview with him to assess and guage the current climate of relations between Russia and Zimbabwe specifically and Africa generally. The following are excerpts (summarized text) from the long-ranging interview.
Q: As you are about to leave, what would you say generally and concisely about Russia's policy towards Africa?
Amb. Sango: Russia's policy towards Africa has over the last few years evolved in a positive way. The watershed Russia-Africa Summit of 2019 reset Russia's Soviet-era relations with Africa. Africa fully understands that the transition from the Soviet Union to the present-day Russian Federation was a process and that today Russia is now in a position to influence events at the global scale. Even that being the case, her institutions and organs, be they political or economic are equally in a transitional mode as they adapt to the Federal policy posture and the emerging realities of the present geo-political environment. Africa in return has responded overwhelmingly to the call by its presence in its fullness at the 2019 Sochi Summit.
Q: Do you feel there are still a number of important tasks which you have not fulfilled or accomplished as Zimbabwean Ambassador to the Russian Federation?
Amb. Sango: Zimbabwe government's engagement with the Russian Federation is historically rooted in new state's contribution towards Zimbabwe attaining her freedom and nationhood in 1980. This is the foundation of the two countries relations and has a bearing on two countries interactions and cooperation. Relations between the two countries have remained stead-fast with collaborations at political and economic spares hallmarked by Russia's involvement as early as 2014 in the commissioning of the Darwendale Platinum Project followed by ALROSA, the diamond giant setting its footprints on the territory of Zimbabwe.
The President of the Republic of Zimbabwe visited Moscow in 2019. Since then, there have been reciprocal visits by ministers and parliamentarians. In early June 2022, the Chairperson of the Federation Council visited Zimbabwe. Zimbabwe's military have participated in Army Games over the years and will do in 2022 ARMY GAMES. Further to these mentioned above, Russia has continued to support human resource development through its government scholarship programmes as well as training other arms of government. Zimbabwe recently hosted the Russia-Zimbabwe Intergovernmental Commission where new cooperative milestones were signed.
Zimbabwe's foreign policy is anchored on engagement and re-engagement. As Ambassador to Russian Federation, my focus as per direction of the Zimbabwean President was to promote business-to-business engagement and attract Russian investment in Zimbabwe. While the Darwendale Platinum Project and ALROSA's entry into the Zimbabwe market, we have not seen other big businesses following the two.
The volume of trade between Zimbabwe and Russia could be better. Perhaps, as an Embassy, we have not made a strong case for importers to look in Zimbabwe's direction. Or, our own trade and investment institutions have not fully appreciated the potential of the Russian market. The concern by Russian importers regarding the logistical cost of bringing goods from landlocked countries in the far southern hemisphere is appreciated. This, however, would not inhibit the importation of non-perishable products.
As mentioned earlier on, businesses are still in transitional mode and it is the hope that the emerging world order will in time persuade business to look at Africa through the lenses to see the vast opportunities and benefits beckoning. On the other hand, having established the Russian-Zimbabwe Business Council, it was hoped that businesses of the two countries could speak to each other, appreciate the strengths and weaknesses as well as opportunities open. Although the benefits are yet to be seen, this remains work-in-progress.
Q: Has the experience, including all your interactions, changed your initial thoughts when you first arrived to this ambassadorial post in 2015?
Amb. Sango: Interestingly, my views and perceptions about Russia before and during my stay in the beautiful country has always been grounded in the history and our nation's journey to nationhood, independence and sovereignty. As a product of the revolutionary struggle and from my government's direction and policy, Russia was and will always be an ally regardless of the changing temperatures and geo-political environment.
Q: What would you frankly say about Russia's policy pitfalls in Africa? And what would you suggest especially about steps to take in regaining part of the Soviet-era level of engagement (this time without ideological considerations) with Africa?
Amb. Sango: There are several issues that could strengthen the relationship. One important direction is economic cooperation. African diplomats have consistently been persuading Russia's businesses to take advantage of the Africa Continental Free Trade Area (ACFTA) as an opportunity for Russian business to establish footprints in the continent. This view has not found favor with them and, it is hoped over time it will.
Russia's policy on Africa has been clearly pronounced and is consistent with Africa's position. Challenges arise from implementation of that forward-looking policy as summarized:
– The government has not pronounced incentives for business to set sights and venture into Africa. Russian businesses, in general, view Africa as too risky for their investment. They need a prompt from government.
– Soviet Union's African legacy was assisting colonized countries attain independence. Russia as a country needs to set footprints into the continent by exporting its competitive advantages in engineering and technological advancement to bridge the gap that is retarding Africa's industrialization and development.
– There are too many initiatives by too many quasi-state institutions promoting economic cooperation with Africa saying the same things in different ways but doing nothing tangible. "Too many cooks spoil the booth."
– In discussing cooperative mechanisms, it is important to understand what Africa's needs and its desired destination is. In fact, the Africa Agenda 2063 is Africa's roadmap. As such the economic cooperation agenda and initiatives must of necessity speak to and focus within the parameters of the AU Agenda 2063.
Q: And finally about the emerging new world order as propagated by China and Russia?
Amb. Sango: Africa in general refused to condemn Russia for her "special military operation" in Ukraine at the United Nations General Assembly and that shook the Western Powers. The reason is very simple. Speaking as a Zimbabwean, our nation has been bullied, subjected to unilateral coercive measures that have been visited upon us and other poor countries without recourse to the international systems governing good order, human rights and due process. There is one more historical fact – Africa is no longer a colony, of any nation and refuses to be viewed as secondary states. It is for the above reasons that Africa welcomes multilateralism and the demise of hegemonism perpetuated by so called "big brothers" – be it social, cultural, ideological or economic. Africa rejects this western perception of Africa.