Easier, early cervical cancer testing to save lives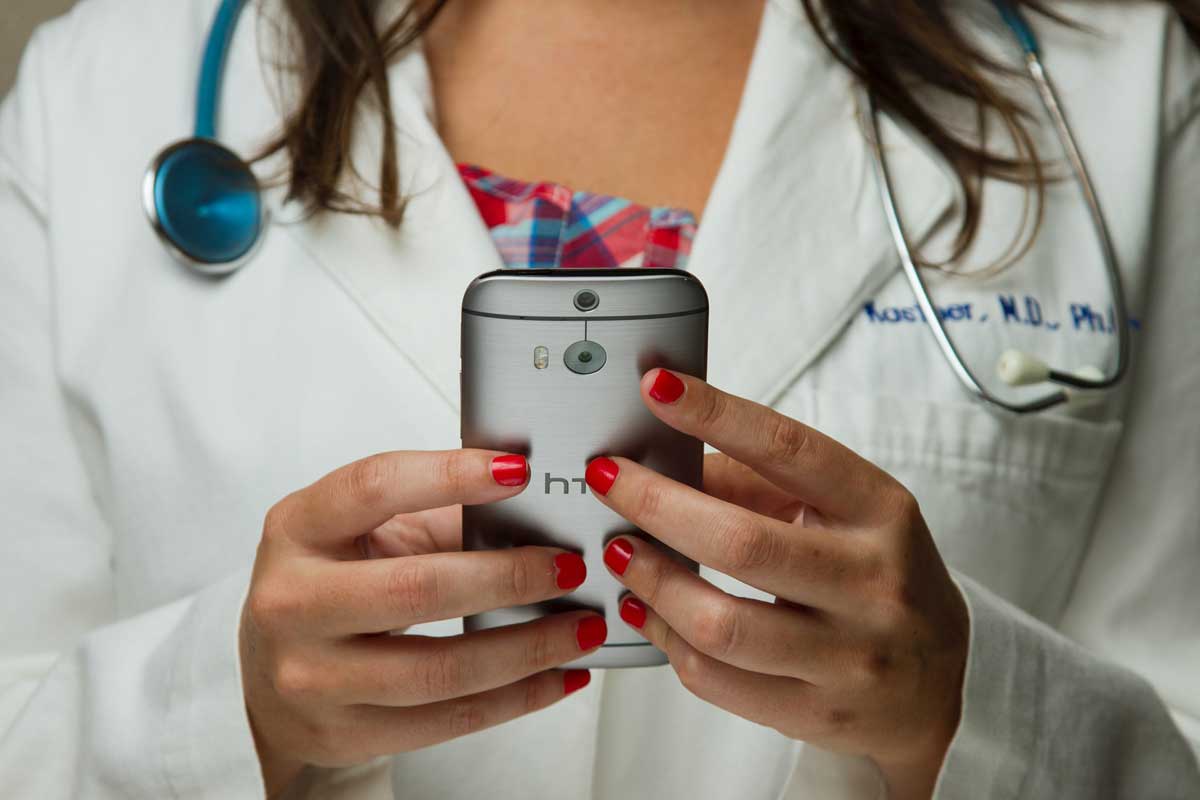 by Alex Whiting
Prevention and the HPV vaccine is helping to reduce the numbers of women dying with cervical cancer but new portable screening kits and new types of lab tests will improve diagnosis and earlier treatment of the disease.
New advances in screening for cervical cancer – the fourth most common cancer among women – have the potential to save many women's lives, their developers say.
While outcomes for women with cervical cancer have improved overall in recent years, the death toll from the disease is still too high. Despite the fact that cervical cancer is highly treatable if diagnosed early enough, more than 340 000 women died of the disease in 2020.
The majority of deaths occur in low- and middle-income countries where women often have limited access to screening services, according to the World Health Organizaton.
Even when women do get tested, there can be a delay of several months before they get the result and, if they test positive, another delay before they receive treatment.
'If you have already an advanced stage of the cancer, these months can be the difference between life or death,' says Olivier Degomme, coordinator of a project called ELEVATE, which is developing a portable screening kit to take to deprived areas.
'We really want to reduce this interval of months to an interval of ideally 24 hours,' he says.
Mobile kit
ELEVATE's mobile kit is designed for use in communities with limited access to medical care. Health workers would explain the importance of getting screened, then offer the test and be able to give women the results within a day.
The kit requires little training to use. Women collect a sample themselves, which the health workers run through the battery-powered analysis unit. The unit uses a DNA test to check for the presence of high-risk human papillomavirus (HPV) infections, which can lead to cervical cancer. Results are returned within minutes.
The researchers aim to begin using the toolkit in mountain villages and deprived urban areas in Ecuador and Brazil. They also want to use it with hard-to-reach women in Belgium and Portugal.
Initially, the researchers focused on migrant and other marginalised communities which have difficulty accessing medical care or which may not know about the importance of being screened.
Too busy
But they also found that highly educated career women were not going for screening because they were too busy. So, as well as taking the testing kit to deprived communities, it could also be useful in busy offices, for example.
'At the global level, the gains will be much higher with focusing on hard-to-reach women in poorer communities. But a nice side-effect (of the project) is that we could also use this in groups of highly educated women,' says Prof. Degomme, who is associate professor at the faculty of medicine and health sciences at Ghent University, Belgium.
Screening programmes vary between countries. Some invite all women of eligible age to get tested. Some offer opportunistic screening where a patient is told about and offered screening when she visits a clinic. Some countries do not screen at all.
The WHO has set 2030 targets to reduce cervical cancer rates worldwide. One of these is for 70% of women to be screened with a high-performance test by 35, and again by 45 years of age.
Prof Degomme hopes ELEVATE's portable kit will help countries meet the WHO target. It still has to be tested in the field, and assessed for its acceptability, feasibility and cost-effectiveness for low-income countries.
'The important thing is to make sure that it will reach women who could not otherwise be reached. And we can actually save lives, hopefully many lives', he said.
Ramen analysis
The HPV virus has more than 100 different strains, 14 of which are considered high risk for cervical cancer. Increasingly, countries with screening programmes test for high-risk HPV infections.
Researchers have recently designed a test that can distinguish between an infection that will resolve itself and one which will become chronic and possibly lead to cancer.
They use Raman spectroscopy to check for changes in the molecular make-up of cervical cells taken during a smear test.
Ramen spectroscopy is a scanning technique for identifying the chemical composition of materials by measuring their vibrational response to laser light. The research involves shining a light on the cells to make their molecules vibrate.
The resulting vibration 'fingerprint' gives an indication of whether the cell content has been changed by the virus.
Cell specialist
Currently, if someone tests positive for a high-risk HPV infection, their cervical cells are checked through a microscope. These checks are done by a specialist in cells, called a cytologist.
The cell may look fine down the microscope, but Raman spectroscopy may pick up changes on a molecular level which are invisible to the human eye, according to Prof Fiona Lyng, coordinator of a project called ARC-HPV.
The project, which ended in 2018, concluded that Raman spectroscopy could be used to test for infections that could lead to cancer. Its findings have now been patented.
Since 2018, researchers have tested the method on larger samples and found it was at least 91% accurate in differentiating between cells of concern and those which are likely to recover from infection.
The next step will be to test the accuracy of Raman spectroscopy in an entire population being screened.
Vaccination success
Another important form of prevention is vaccination. Available vaccines are highly effective, but they do not protect against all forms of high-risk HPV.
'The vaccine will really reduce cervical pre-cancers and cancers, which is brilliant.' But its success raises an issue for screening programmes, said Prof Lyng, who is head of the Radiation and Environmental Science Centre at the Technological University Dublin.
With fewer cases of pre-cancer and cancer cells presenting in the population, cytologists will not be so used to encountering these abnormalities, meaning their ability to spot them might decline. 'That's why people are interested in developing new methods (like Raman spectroscopy) which are more objective,' said Prof Lyng.
There are 'horrific stories of young women dying from this disease. That shouldn't happen because it's so treatable – if it's detected at that early stage of pre-cancer,' said Prof Lyng.
Results so far indicate that Raman spectroscopy is more accurate than cytology.
'All tests have false positives and false negatives, and Raman is not 100% accurate either. But it does have a higher sensitivity than cytology, so we think it would improve outcomes for women by detecting cancers, or pre-cancers, earlier,' said Prof Lyng.
The research in this article was funded by the EU. This article was originally published in Horizon, the EU Research and Innovation Magazine. 
More Global Approach Needed to Control Monkeypox
With increasing numbers of monkeypox virus among 1.3 billion people, African health experts have expressed worriness over lack of appropriate vaccines to contain the outbreak in Africa. That however in mid-August, the acting director of the Africa Centers for Disease Control and Prevention, Ahmed Ogwell, said there two partners "largely multilateral institutions and non-African governments" have shown some interest in helping out with manufacturing of vaccines without offering detailed information.
"Let us get vaccines onto the continent," Ogwell, said in a weekly media briefing pointing to another instance of 1.3 billion people on the continent without access to a vaccine, as it has been with the Covid-19 pandemic. Africa remains the only part of the world with no doses of the vaccine, according to the Africa Centers for Disease Control and Prevention.
More monkeypox deaths have been reported on the African continent this year than anywhere in the world. Since May, nearly 90 countries have reported more than 31,000 cases. At least 2,947 monkeypox cases have been reported in 11 African countries this year, including 104 deaths, but most of the cases reported are suspect ones because the African continent also lacks enough diagnostic resources for thorough testing, the Africa CDC director Ogwell said.
The lack of vaccine doses and shortage of diagnostics is an echo of the challenges that Africa's 54 countries faced for months during the Covid-19 pandemic as richer countries elsewhere raced to secure supplies. Given the continuous spread of the monkeypox virus especially in central and west African regions, raises the question of exploring the accesibility of vaccine supply. It relates closely plans to provide educational materials and educating the public about the virus spread, the risk of contracting it (means of transmission) – there has to be a stark acknowledgment of a preventive approach.
Although the current explosion of cases has occurred in men, experts say there is no biological reason the virus will remain largely within the community of men who have sex with men. "We certainly know it's going to spread to family members and to other non-male partners that people have," said Dr. Jay Varma, director of the Cornell Center for Pandemic Prevention and Response. The real question, he said, is whether it spreads as efficiently in those groups as it does among close sexual networks of men who have sex with men.
The World Health Organization classified the escalating outbreak of the once-rare monkeypox disease as an international emergency in July. Outside of Africa, 98% of cases are among men who have sex with men. With a limited global supply of vaccines, authorities are racing to stop monkeypox before it becomes entrenched. WHO has, however, warned against supply discrimination.
Early August, Wendy Orent, the author of "Plague: The Mysterious Past and Terrifying Future of the World's Most Dangerous Disease" and "Ticked: The Battle Over Lyme Disease in the South" wrote in Los Angeles Times Op-Ed: Monkeypox is not the next Covid. But it's spreading from the same failures.
The expert explained that monkeypox a well-studied disease: In the past, it has been concentrated primarily in rural West or Central Africa and transmitted from a bush animal to a person, who then would spread it to limited family members in close contact. During the 2003 outbreak in the U.S., people caught it directly from pet prairie dogs that got infected by small mammals imported from West Africa. None of the U.S. cases that year spread to another person.
In contrast, the recent outbreak is spreading more widely person-to-person. But if governments take the right steps and help block transmission by giving key resources to those most at risk – currently gay and queer men – monkeypox can be contained. The global alarm sounded on this virus should be a warning to intervene now while the disease is manageable and take steps to limit future outbreaks, two goals well within reach.
Monkeypox was first detected among monkeys kept in a Denmark laboratory in 1958. Only in 1970 did doctors record a human case, indicating that monkeypox could also infect people. The disease, which closely resembles smallpox, wasn't distinguished as a separate infection until smallpox was nearly eliminated. Smallpox vaccination campaigns kept both diseases at bay until 1980, when the World Health Organization declared smallpox eradicated and vaccination campaigns ended.
Smallpox spread only through humans, with no animal population keeping it alive. It evolved over millennia to become a true human specialist, effective at transmission and overcoming immunity. Centuries of an arms race in Africa, Asia and Europe allowed the smallpox virus to fine-tune its attacks on the human immune system. When it burst into the previously unexposed populations of the Western hemisphere via European invaders, the sharpened teeth of smallpox met no resistance. Some scholars estimate that 90% of native Americans died of it.
That monkeypox is spreading rapidly is undeniable. While monkeypox isn't at this point a truly sexually transmitted disease like gonorrhea or syphilis, sexual contact has driven this outbreak. Monkeypox spreads through intimate physical contact, including direct contact with monkeypox pustules loaded with virus. People may not realize that their malaise is monkeypox in its early phase. Although anyone touching an infected person or their sheets, clothing and towels could theoretically catch monkeypox, the highest risk remains in concentrated networks of friends, companions and lovers.
The scandal of monkeypox is that this worldwide outbreak has happened at all. An epidemic has persisted in Nigeria since 2017. A more deadly strain has caused thousands of suspected cases and likely killed hundreds in the Democratic Republic of Congo (DRC). We have for years had the capacity to vaccinate those most at risk via two doses of Jynneos, the safer, updated version of the old smallpox vaccine. But we haven't done so, and now the virus has reached the Western world. Now millions of doses have been ordered for the U.S. alone – and none yet for Africa.
Why do we in the West only pay attention when a disease outbreak directly threatens us? That's the real outrage, the real question. The only answer is a more global approach to health, a recognition that when disease breaks out in one part of the world, it often will – as Covid and now monkeypox have shown us – affect us all.
`Medicine from the Sky` Drone Delivery Programme Set for Take-off in Pradesh
Medicine from the Sky, a flagship initiative by the World Economic Forum, is to be launched in Arunachal Pradesh, north-east India, on Independence Day, 15 August.
The aim is to document how health systems in remote parts of the state respond to the integration of drone-based supply chains. After numerous confidence-building pilot schemes across the country, the Arunachal Pradesh initiative focuses on a more elaborate agenda involving deeper operational planning and observations.
The six-month programme will be centred around four pillars:
Basic healthcare needs – regular services for vaccines; iron, folic acid, nutrition supplements; prophylactic and mass drug administration; diagnostic sample collection; emergency medications; blood and blood products
Ecosystem skill levels, terrain, weather considerations – identification of local stakeholders, including engineering, medical, paramedical, humanities and management colleges; technical and skill development institutes; find continuous source for weather data and real-time prediction
Survivability, scalability and sustainability – resource estimation, impact assessment and economics
Stress testing of drone platforms – ascertaining ability of available technologies to handle undulating terrain
"In mid-2021, we undertook a field study in Arunachal Pradesh, along with the Public Health Foundation of India, to learn more about the local health distribution system, disease profile and the nature of the terrain. Traversing the Seppa-Bameng belt by road, in particular, made it evident that drones were an absolute necessity," said Vignesh Santhanam, Lead, Aerospace and Drones, World Economic Forum.
"Through our learnings in Telangana, we are looking to stress-test our systems in Arunachal Pradesh under the liberalized drone regime while factoring in economic principles from the point of initiation. For this purpose, we will work on two bell-weather districts – East Kameng and Lower Subansiri – over an extended time frame and supplement ongoing central initiatives with data and examples while empowering local governments with drone-based solutions. We are also planning awareness campaigns for local youth and students," he added.
In a first of its kind approach to raise awareness among rural youth, the District Collector of East Kameng has called on all heads of participating villages to nominate "drone ambassadors" in parallel with an essay-writing competition on drones for village school students.
In the context of celebrations for India's 75 years of independence, the initiative will be formally launched at East Kameng district in the presence of key state officials, care workers, local youth and key partners – the Public Health Foundation of India, Redwing Labs, Tech Eagle, Apollo Hospitals HealthNet Global (clinical partner) and USAID which will contribute to the drone programme. The initiative will be launched by Pema Khandu, Chief Minister of Arunachal Pradesh in the presence of key decision makers including Mama Natung, Minister for Environment & Forest, Sports & Youth Affairs and Water Resources, Arunachal Pradesh; Sharat Chauhan, Health Secretary, Arunachal Pradesh; Pravimal Abhishek Polumatla, East Kameng Deputy Commissioner; Nabam Peter, CEO, State Health Authority; and Vignesh Santhanam, World Economic Forum.
The East Kameng leg of the initiative is supported by SAMRIDH Healthcare Blended Financing Facility and the United States Agency for International Development (USAID).
Medicine from the Sky
In June 2020, the World Economic Forum in partnership with the state of Arunachal Pradesh hosted a session to discuss the use of drones in medical logistics and delivery in remote tribal areas. Floods and landslides have often impacted the last mile delivery of medicine, isolating populations. The session was quickly followed by a field visit in north-eastern India by the World Economic Forum and the Public Health Foundation of India. Discussions with local healthcare workers and visits to remote health establishments clearly established the urgent need for drone corridors across the state.
"East Kameng district has a hilly terrain which makes it difficult to access interior areas, particularly during the monsoon season. I am sure drone-based drug delivery will be a game-changer in strengthening access to healthcare in such remote areas. I hope the project will give us the answers and clarity for large-scale implementation," said Pravimal Abhishek Polumatla, district magistrate.
"By delivering medical supplies much faster than road-based logistics, the drone network would serve the remote areas by offering access to diagnostics, essential medicines and vaccines. We are hoping this will reduce out-of-pocket expenditure for patients," he added.
Why more heatwaves endanger our health and ability to work
As the Earth warms, heatwaves are expected to occur more often, with sharper intensity and for longer periods. Rising temperatures adversely affect worker productivity and human health, but for policymakers to take substantive action for heat adaptation, and meet what researchers see as a life-saving Paris climate agreement, making an economic case is key.
BY NATALIE GROVER
As the Earth warms, heatwaves are expected to occur more often, with sharper intensity and for longer periods. Rising temperatures adversely affect worker productivity and human health, but for policymakers to take substantive action for heat adaptation, and meet what researchers see as a life-saving Paris climate agreement, making an economic case is key. This article first appeared in Horizon Magazine in August 2020.
It's actually quite easy for us to point out the problem — we have increasing temperatures, increasing frequency of heatwaves…it affects our physical and cognitive performance,' said Lars Nybo, a professor of integrative physiology from the University of Copenhagen, Denmark. He worked on a project called HEAT-SHIELD designed to examine the effects of heat exposure on worker productivity in industrial sectors that employ half of Europe's workforce: manufacturing, construction, transportation, tourism, and agriculture. The project ran from January 2016 until December 2021.
Globally, 2021 was among the seven hottest on record, with Europe experiencing its hottest summer to date. In the Mediterranean region, an intense and prolonged heatwave in July and August lead to new temperature records and devastating wildfires, a poignant reminder that the achievement of the Paris climate agreement to keep global mean temperature increases well below 2°C is as important as ever.
Data from HEAT-SHIELD project suggest that exposure to external heat in combination with physical activity, which elevates the body's production of heat, can result in physiological changes that can diminish occupational performance, via reduced working endurance, vision, motor coordination and concentration. This can lead to more mistakes as well as injuries.
'Roughly 70% of all European workers, at some time during the working day, are not optimally hydrated,' Prof. Nybo said. The solution to the problem, he added, is intuitive: drink water, replace electrolytes and reduce physical activity, but implementing these measures whilst maintaining productivity is where things get tricky.
'You could just say to the worker stay at home and drink cold margaritas in the shadow to prevent heat stress,' he joked. 'But that will not help productivity.'
Productivity
As coordinator of HEAT-SHIELD, Prof. Nybo and his team were tasked with not just assessing the extent of the problem — modelling the expected rise in temperature in Europe in the coming years and its impact on worker productivity ­— but also devising and implementing solutions that are location and vocation specific to adjust to the inevitable increases in temperature.
A construction worker wears a safety helmet, which impairs the body's ability to purge heat, but the worker thinks this problem cannot be solved because it is intrinsic to their work, Prof. Nybo noted.
Surmounting challenges like this was one of the key objectives of the project — conceiving ways to weave in heat mitigation strategies alongside the practicalities of the job.
For instance, outdoor workers should be vigilant of weather patterns and plan work earlier in the day during periods of extreme heat, take a short break every hour and secure easy access to water. Similar remedies for workers in enclosed settings could mean a combination of air conditioning, working in shade and improving ventilation — keeping in mind the ecological footprint of such measures.
But on a macro level, for climate change policymakers to take concrete action here and now ­— the numbers are key, Prof. Nybo said.
In Europe, agricultural and construction workers for instance, lose some 15% of effective working time when the temperature goes beyond 30°C, which works out to almost one working day per week, he noted, citing HEAT-SHIELD analyses.
If you are a policymaker, he says, the numbers show that there's an incentive to act now: if you mitigate the problem the cost will stabilise at a lower level in the long run than if you don't.
Excessive heat
Diminished worker productivity and the downstream economic damage are prominent impacts of rising temperatures caused by climate change. But to get a full picture of the consequences, it's necessary to understand what excessive heat does to the human body.
It can damage organs such as the heart and the lungs, exacerbate a range of diseases, and increase the risk of death.
Extreme heat can increase the occurrence of heart attacks and strokes in susceptible patients due to increased blood viscosity, and raise the risk of cardiovascular death in vulnerable patients. Hot, humid days can also trigger asthma symptoms and have been shown to increase airway resistance, while warmer climates tend to extend the pollen season.
Another side effect of rising temperatures is the association with air pollution — the largest environmental killer in Europe, causing roughly 500,000 premature deaths annually.
Observational data and modelling suggest that as it gets warmer, air pollution levels — particularly surface ozone gas (O3) and fine particulate matter (PM2.5) — increase in some populated regions, even when emissions of air pollutants have not risen, as well as create conditions favourable for forest fires.
Both extreme heat and air pollution raise the risk of cardiovascular and respiratory disease, which currently costs the European Union an estimated €600bn a year. If these environmental stressors continue to accumulate unabated, these costs could jump.
Projections
But the synergistic relationship between air pollutants and rising temperatures is not well understood and existing health-risk projections in Europe do not properly account for adaptive measures that can be taken to ameliorate associated health risks, according to Dr Kristin Aunan, a senior researcher at the Norway-based Center for International Climate Research.
'There's quite a lot of literature on short-term impact — in terms of the day-to-day variation on the impact of heat stress on mortality — but when it comes to long-term impact, there is not a lot of information,' she said.
As part of a project called EXHAUSTION that kicked off in 2019 and is due to run until May 2023, researchers including project coordinator Dr Aunan, are focused on quantifying the risks of cardiopulmonary disease in different temperatures.
The project is also working on identifying interventions to minimise the risks to health sparked by environmental stressors and demystifying the link between air pollution and temperature hikes.
Quantifying the cascading effect of cardiopulmonary diseases on the economy is key to affecting action on climate change, she suggests.
EXHAUSTION researchers, for instance, are devising a macro-economic model that tracks increased hospitalisation and mortality in different age groups to measure the impact on the broader economy in different European countries. 'We also have a bottom-up model — where you put a price on every premature death or hospital admission and add up to estimate the economic cost.'
One of the main questions the researchers hope to answer is the magnitude of impact limiting temperature spikes to 1.5°C — the aim of the Paris climate agreement — will have on health.
'I have no answer to that today — but the reason why we're doing this project…is that we think there are reasons to believe that being able to comply with a Paris agreement will save very many lives and reduce human suffering,' Dr Aunan said.
'When you discuss climate policy and discuss the costs of it — it's very expensive to reduce emissions of greenhouse gases, etc. But you also need to consider the benefits and that's what we are doing with this project — hoping that we can contribute to the other side of the coin.'
This article first appeared in Horizon Magazine in August 2020.