April 27 can be considered a trailblazing day for the cryptocurrency industry in Africa, as the Central African Republic (CAR) approved bitcoin as its legal tender. This is the second country globally to move forward with such a bold move, after El Salvador, in September 2021, decided to adopt the prevalent cryptocurrency for internal financial transactions. This move might be seen by blockchain and cryptocurrency enthusiasts as the start of a revolution in Sub-Saharan Africa and, under certain circumstances, this might prove to be true, eventually. Nonetheless, in the current state of affairs, where CAR ranks in the 9th place in poverty globally and only 15% of its residents enjoy the perks that electricity entails, this move seems to be out of scope and not taking into consideration the actual issues that people in the Central Africa state are facing. In addition, the adoption comes at a very suspicious timing, where Russia, CAR's main security guarantor, already 4 months into the war on Ukraine, is eyeing positively cryptocurrencies as a way to perform financial transactions. Combined with the overall conundrum in the region regarding cryptocurrencies and the urge of the Bank of Central African States towards Bangui to annul this decision, a strong geopolitical element arises. Hence, several questions are brought up, including the feasibility of such a decision and the impact it can have on the local communities, lessons that can be learnt from regions where crypto tokens are being mined, as well as threats and potential geopolitical implications for CAR and for the region.
Can bitcoin make such a big impact on the CAR community?
As mentioned, it would be safe to deem it impossible that a nation with less than 15% access to electricity, less than 10% access to internet and a highly problematic grid could, at the moment, support an energy-intensive practice such as decentralized finance and its broader mining process. President Touadera, a PhD holder and assistant professor in mathematics, is fully aware of that and hitherto resorted in the short-term move of establishing the mining company for the electronic currency in Dubai. Nevertheless, this kind of structure and arrangements are very unlikely to benefit the people in the Central African country on the long-term. If Bangui is willing to support this technology, major reforms are needed in the electricity sector to increase access and reliability. President Touadera can follow two paths with that regard.
The first one would involve power plants that rely on conventional fossil fuels, such as coal, oil and natural gas, or hydropower stations. Currently, Bangui is mostly an oil importer, part of which is used to power the only thermal station in the country, located in Bangui. Imports come mainly from DR Congo($37.8mln), with France being also a significant oil partner($547k). A decision to build several conventional power plants to support digital currency mining would require, first of all, major funding. For a country that has around 45% debt-to-GDP ratio and has already resorted to the IMF for assistance 17 times and still has unresolved arrangements, seeking assistance to international financial institutions would face backlashes. Additional imports will also be needed. For both challenges to be overcome, another obstacle are the sustainability pledges in light of the Paris Agreement. Development banks, for example, are no longer funding such projects, even if they will actually change the macroeconomic landscape in a country. CAR will then need to involve global key players that still support conventional fuels, such as Russia and China. And while Moscow is in a financially weakened position amidst its isolations following the invasion of Ukraine, China is better situated. However, Beijing has also made several promises to participate in combating climate change. These promises limit the potential maneuvers it can make with regards to fossil fuel investments, but they certainly do not constitute a complete ban. These can be considered good news for Bangui and it can pursue support from the East Asian giant, but it is advisable that they do so with caution, as alleged debt traps are already starting to generate devastating results in countries such as Sri Lanka and Pakistan.
The second path would encompass broad investments in intermittent renewable energy units, such as solar and wind parks. This move has an acutely higher chance of attracting investment from key actors from around the world, both public, private but also international financial institutions with much friendlier arrangements. In this case, however, other issues come up. A grid that relies heavily on intermittent RES is a decentralized grid that requires modernization both of its infrastructure and its regulatory framework. Both will need resources, which translates to additional funding/potential debt, but also higher technical expertise, which is very challenging to be found within the country. A big impediment with that regard is expected to be put by the government as well. Reflecting on the fact that the government in Bangui scored solely 24/100 in the transparency index, place in the 154th position globally, modernization and unbundling of the grid is a tedious process that mandates transparency and hence a conflict of interest is projected to happen. Last, but not least, the ambitions of President Touadera to make CAR a blockchain hub could also backfire, converting it into a terrorist hub instead. Electronic currency mining hubs in a decentralized grid become an extremely appealing target, both to control energy resources and to make untraceable financial transactions. Considering CAR's proximity to Lake Chad, where FACT rebels and Boko Haram have occasionally been active, and to the Great Lakes, where the ADF currently operates, making such reforms for a radical shift to decentralization ought to come with the respective security measures.
Geopolitical and Security Implications for a Conflict-Torn Region
Comprehending the myriad challenges that the Central African state will have to face, so that the adoption of bitcoin can actually have a substantial societal impact, many are contemplating on potential hidden agendas in Bangui. The action of Russian PMC's in CAR to fight insurgents, such as terrorist groups, audibly delineate the status of the Kremlin as a security partner for the country. Considering the alliance of the two countries and the fact that, virtually simultaneously, both states started exploring the possibility of using digital currencies, this move can be seen as additional pressure from Moscow to exert influence to partners in Sub-Saharan Africa. The fact that Gazprom Neft decided to partner with BitRiver, the largest crypto-mining colocation services supplier, for the mining of bitcoin with flare gas, depicts that Russia sees another solution to break out of the isolation by the global community due to the war in Ukraine and that solution is decentralized finance. This means that, from now on, electronic currency from blockchain has the potential of being converted to a geopolitical asset, or even geopolitical weapon. This becomes remarkably alarming if one considers that the outreach of the Russian mercenaries spans across Sudan, South Sudan, Madagascar, Mozambique, Libya and other African states.
For Moscow and its security partners, this creates a fine line between strengthening their partnership and becoming a harbor for terrorists which will enhance instability and mayhem. On one hand, this will increase financial interconnection with Sub-Saharan Africa, which is something that the Kremlin is currently lacking and the situation is expected to get worse. Trade with Africa is projected to be heavily disrupted due to the sanctions and decentralized finance can function as a lifeline for Moscow, but also as a way to even enlarge its influence. On the other hand, a form of currency that is not able to be controlled by a centralized authority, in a terrorism-torn region, has a high chance of being used for financial transactions between terrorists. This can make the job of the Russian PMC's orders of magnitude difficult and destabilize Central and Southern Africa. Combined with the effects of the pandemic and climate change over the past years, a mix of devastation that can wreak complete havoc has high potential of occurring.
As final, and obvious, potential geopolitical implications, Sub-Saharan Africa can easily turn into a fully fragmented arena based on each country's stance on cryptocurrency. Countries such as Cameroon and Gabon have a clear stance against the actions of CAR and have audibly stood against the actions of Russia in Ukraine. This decision from Bangui comes as a means for additional polarization, leading to a decrease in collaboration efforts within the region. A further fragmentation can only be seen as a positive outcome for terrorist groups to expand their action across Central and Southern Africa. It can also lead to escalations and a replication of the battlefield in Ukraine. This would be a catastrophic scenario, as CEMAC has made colossal efforts and steps forward to maintain regional peace and stability. Other regional security guarantors, such as France, ought to pay a great deal of attention during the coming months and even play the role of the mediator, should any verbal disputes arise.
What does the future have in store for CAR and Central Africa?
Blockchain is a disruptive technology that can have an immense positive impact on the local communities, if circumstances allow and if used appropriately. This does not seem to be the case for CAR, as President Touadera made a bold move of adopting bitcoin as a legal ledger, but has done so without considering the current major limitation posed by the electricity grid nor the geopolitical implications for the region. Both internally and regionally this can create a chain of events that can have far-reaching ramifications for regional stability and can end up backfiring for cryptocurrency enthusiasts' ambitions to increase the usage of decentralized finance. Combined with the current shift of the geopolitical world order and the influence of the Kremlin on Bangui, there are numerous signs that digital currencies might start being used as a geopolitical weapon. The international community, with EU being a key player, ought to pay more attention to the Central African region. Important state actors, such as France, but also international institutions both on security and on finance, such as NATO, the IMF and African Development Bank, need to immediately approach regional players that are willing to cooperate, such as Cameroon and Gabon, but also to approach CAR directly and engage with CEMAC as a whole to find a solution that is fit for everyone, before potential disputes escalate, something that might be used by Russia as leverage later on.
European Union vs Eurasian Union: Geopolitical and Economic Significance for African Union
Understandably the African Union, pan-African organization uniting 55 African States, has the legitimate mandate for building external relations with institutions and organizations outside Africa. The AU has established long-term working relations with European Union and now seeking to build similar links with Eurasian Union. Interesting to examine both the European Union and the Eurasian Union within the global changes in relation to African Union.
Our key focus here is on the Eurasian Union and the African Union. This article, therefore, explores some historical background and basic definitive facts aim at deepening readers' understanding of its evolutionary processes, expectations and limitations. Experts discuss, here at length, their views relating to the geopolitical implications of new relations between the African Union and the Eurasian Union, often comparing it to the European Union.
Foreign Minister Sergey Lavrov has held several diplomatic talks with his counterpart, Chairperson of the African Union Commission Moussa Faki Mahamat, over these years. Documents indicated that the question of Eurasian Union-African Union has been on the agenda. For instance in March 2018 and, even far back before that, in Addis Ababa, Ethiopia, both diplomats discussed this same topic.
Lavrov emphasized during the interaction that "Russia is a member of the Eurasian Economic Union, we have supported more proactive tiers between the Eurasian Economic Union and the African Union Commission." Some 12-18 months previously, which means in 2016, the Eurasian Economic Union's member-countries submitted the relevant proposals, about formally establishing relations, to the African Union Commission.
In fact, Moussa Mahamat during his trip to Moscow in November 2021, Lavrov stressed "the relations between Russia and the African Union are on the rise and expanding in various areas. But today, we have a perfect opportunity to consider the entire scope of ties between the Russian Federation and the African Union, to see how we can progress in the context of implementing the Sochi summit decisions and preparing for the second summit of the leaders of Russia and African countries."
In the new emerging global economic order, Russia seems to be leading the Eurasian Union, now fast-tracking and stretching all muscles to link up with African Union. The aim is to showcase, Russia's power-muscles and its regional allies to Europe and the world.
Lavrov and Mahamat have agreed to transform the "documents approved at the first Russia-Africa Summit" into "An Action Plan 2022 – 2025" that will reinforce and determine the necessary directions for partnership with Africa. "The Russian side also expressed a hope for translation into practice of cooperation between the African Union and the Eurasian Economic Commission in accordance with the Memorandum of Understanding signed during the first Russia-Africa Summit in Sochi," says the statement posted to official website.
Lavrov has attached importance to establish cooperation between African Union and the Eurasian Economic Union (EAEU), which has until now remained a conceptual thought or a grandiose idea. The EAEU is an economic union comprising countries located in northern Eurasia, founded by Belarus, Kazakhstan and Russia by treaty that entered into force on January 1, 2015. As of May 2018, two republics joined – Armenia and Kyrgyzstan.
Eurasian Union's key objectives include increasing cooperation and economic competitiveness for the member states, and the promotion of stable development in order to raise the standard of living in member states. It was created partly in response to the economic and political influence of the European Union and other Western countries that are desirous to penetrate the former republics of the Soviet Union.
Media reports and official documents show that in November 2011, the presidents of Belarus, Kazakhstan, and Russia signed an agreement setting a target of establishing the Eurasian Economic Union by 2015. The member states put together a joint commission on fostering closer economic ties. Russia is the most active player among the EAEU, Belarus, Kazakhstan and Tajikistan have some interest in African affairs. Armenia, Kyrgyzstan and Tajikistan have extremely little interest in Africa, according to policy experts interviewed for this article.
Experts say while European Union is a practical well-functioning and well-structured organization, and its policies ensure the free movement of people, goods, services and capital within the internal market, the Eurasian Union members are still struggling to deal with their internal issues and most importantly their post-Soviet slippery or thorny relations with Russia. But the question most often asked is, excluding Russia, what African Union hopes to gain from this diplomatic relations with the members of the Eurasian Union.
Professor Fernando Jorge Cardoso, Universidade Autónoma de Lisboa (Autónoma Lisbon University), argues in an emailed interview that "the European Union includes giving out national sovereign powers, including on matters of trade and money. I do not see any Eurasian Union to do that – it is not even necessary to go into political arguments to come to this conclusion. The Union speaks about cooperation and economic agreements, and that should be another line of considerations – in any case one does not exclude the other. Second, African governments, in general, have shown they are very much pragmatic. They will accept everything coming from everywhere, as far as it pays…so, why choose one partner at the exclusion of another?"
The European Union is simply incomparable to the Eurasian Union, says Dr Mohamed Chtatou, a Senior Professor of Middle Eastern politics at the International University of Rabat (IUR) and Mohammed V University in Rabat, Morocco. According to him, the later looks like a hocus-pocus business, half-political, and half-kind of military, and as such does not have any economic biting-power in the global world.
Explaining explicitly his point, he said: "The African Union needs major economic investments for the time being. And the economies of its member states are on upward movement, so they badly need capital and transfer of know-how. For the moment, the economic presence of Russia in the African continent is minimal albeit the Russian Wagner group putting political pressure on the countries where they exist. Worse, Russia wants economic concessions but it does not seem to engage in large investment in Africa."
"The European Union is a substantial economic power with a lot of strength and worldwide ramifications. It is also a political power to reckon with. With the Russian war on Ukraine, the Eurasian Union will lose its little credibility and, as a result, will probably go down the drain. Another strength of the European Union is its democracy and strong institutions, which the Eurasian Union countries lack. So one cannot compare the incomparable," concluded Professor Chtatou.
As economic power, European Union consists of 27 members, it would soon have a larger numeral strength, in future, by three new members – Georgia, Moldova and Ukraine. The European Union has members such as United Kingdom, Germany, France, The Netherland, Denmark, Sweden et cetera that have played significant contributions to Africa's development compared Eurasian Union members such as Armenia, Belarus and Kyrgyzstan.
At this stage, it appears the Eurasian Union has some glaringly obvious limitations when compared to European Union. An insight into both organizations – African Union is encouraged by diplomatic adventure to establish relations at that level with the Eurasian Union.
Dr. Niklas Swanström, the Director of the Institute for Security and Development Policy, and a Fellow at the Foreign Policy Institute of the Paul H. Nitze School of Advanced International Studies (SAIS) and a Senior Associate Research Fellow at the Italian Institute for International Political Studies (ISPI), argues in an email discussion for this article that African Union and African leaders have to keep in mind these basic facts: Eurasian Union lacks the potential to become an economic bloc, partly due to the economic weakness of its members, and rampant corruption but maybe mostly due to the dominant position of Russia.
That Russia is using the Eurasian Union to influence the member states politically as well as economically, even if its economy is not able to carry the weight. The only solution would be to merge the Eurasian Union into the Belt and Road Initiative, but that would decrease the Russian influence and strengthen China's control over what Russia defines as its sphere of interest.
Dr. Swanström, says further that, Kazakhstan, but also Kyrgyzstan, is concerned about Russian influence, not least after the Russian invasion of Ukraine. There has long been a Russian interest to subjugate the Russian-speaking parts of Kazakhstan and the government in Nur-Sultan ponders how to balance Russia without provoking them too much. The war in Ukraine has, with all right, made it apparent for all members of the Eurasian Union that they could be the next target for war and territorial annexation.
As a political entity the European Union is represented, for instance, in the World Trade Organization (WTO). European Union member states own the estimated second largest after the United States (US$105 trillion) net wealth in the world, equal to around 20 per cent (€60 trillion) of the US$36 trillion (€300 trillion) global wealth.
Eurasian Union-African Union as a new paradigm that may connect the two regions, and attempt building a broader network of alliances for raising cooperation, if effectively coordinated not as diplomatic showroom. For now, Eurasian Union-African Union is only at its exploratory stage, it has extremely little potentials. During the next African leaders' summit planned for Addis Ababa, Lavrov aready emphasized that "the signed agreements and the results will be consolidated at the forthcoming second Russia-Africa summit."
Further, Lavrov explained that the two most important goals of the summit would be to sign off on a "memorandum of understanding between the government of the Russian Federation and the African Union on basic principles of relations and co-operation" and a "memorandum of understanding between the Eurasian Economic Commission and the African Union on economic co-operation." (https://www.intellinews.com/russia-preparing-for-second-africa-summit-to-build-closer-ties-as-it-pivots-away-from-the-west-247188/)
European Union members and business investors have been making consistent efforts at capitalizing on and exploring several emerging opportunities offered by the newly introduced African Continental Free Trade Area (AfCFTA), which provides a unique and valuable access to an integrated African market of 1.3 billion people. In practical reality, it aims at creating a continental market for goods and services, with free movement of business people and investments in Africa.
During the past years the European Union has held series of business summits, and been looking for ways of strengthening further aspects of various issues relating to development in Africa. That compared, Eurasian Union only started exploring around to define what to do with African Union.
The EU-Africa Summit on February 17-18, 2022, EU document, it said the summit is now focusing on the folloowing: Support AfCFTA implementation and the green transition; Improve trade and investment climate between the EU and Africa; Reinforce high level public private dialogue; Enhance long-term dialogue structures between EU and Africa Business Associations.
With its new Global Gateway Strategy, the EU is demonstrating the readiness to support massive infrastructural investment in Africa. It also seeks to unlock new business and investment opportunities, including in the areas of manufacturing and agro processing as well as regional and continental value chains development.
In a document entitled "Toward a Comprehensive Strategy with Africa" – the document sets forth what the EU plans to do with Africa. The Joint EU-Africa Strategy takes into cognizance their most common interests such as climate change, global security and the achievement of the United Nations Sustainable Development Goals (SDGs).
The Chatham House Africa Programme has monitored European Union and Africa, and has huge information resources. It has also documented their partnership guided by the Joint Africa-EU Strategy, which was adopted at the second EU-Africa Summit in Lisbon.
Likewise the arguments continue. Dr Antipas Massawe, retired Lecturer from the University of Dar Es Salaam, Tanzania, also listed his view points as follows:
· The EU is a lot more advanced and successful than the EAEU.
· It's highly reliable economic alliances and/or involvements in most of the worlds developed and developing democracies makes it the world's more globalized than the mainly regional EAEU.
· The fact that the EAEU is landlocked from the Africa by the EU, China and other non EAEU world's leading economies that are sea linked to the African continent makes a democratization of it for alliances with the EU, China, and the other world's leading economies and economic alliances to become realizable of what could enable it globalize for a bigger share of the global and African economies.
From the above discussions, there are two siginificant points to stress here: The first – with the Eurasian Union and African Union relationship, African leaders and members of the Eurasian Union have to study how to seek coherent common interests necessary for their strategic goals. Second, Russian Federation and the African Union, with their frequent interaction, have to move towards an integrated commitment in pursuit of realizing the Action Plan for 2022-2025.
The AU expresses its readiness to work closely with Russia in the implementation of the Action plan. At least, it is quite clear that Russia and African Union, instead of their previous "ad hoc" agenda, both will now have the finalized "Action Plan for 2022-2025" adopted during the forthcoming second Russia-Africa Summit.
This 3-year plan will expectedly support Russian and African entrepreneurs in exploring ways of mutually beneficial cooperation. While exploring ways to support the efforts by African States, it necessary to encourage collaboration in establishing peace and security, consistently keep eyes on technology, infrastructural development, agriculture and industrialization, health and education, social and cultural spheres.
The African Union has to layout way, on behalf of African Governments and States, the development priorities, identify existing challenges and possible steps toward achieving common or mutual benefits especially in promising areas of economic, trade and investment, social and cultural partnership between the Russian Federation and the African Union.
In conclusion, the Joint Declaration of the first Russia-Africa Summit adopted in October 2019, reaffirmed the resolve to develop comprehensive cooperation between the Russian Federation, African States and leading subregional organizations in Africa, and the African Union. What is most necessary is for the African Union to define the strategic priorities and work with common sustainable development policies as stipulated by its own Agenda 2063 and strive to show commitments toward the 2030 Agenda of the United Nations.
China Opens its First Party School in Africa
China has completed its first Political Party School in Tanzania, East Africa. It has taken in its first batch of students from six African countries. All of the political entities taking part have ruled their countries without interruption since independence. According to news agencies, 120 cadres from African ruling parties are attending the workshop at the US$40 million facility in Tanzania funded by the Chinese Communist Party.
The construction of the Mwalimu Julius Nyerere Leadership School in Kibaha, 40km outside Dar es Salaam in Tanzania, was financed by the six ruling parties of the southern African countries. The additional support came from the ruling party in Beijing through its International Liaison Department, the bureaucracy in charge of promoting Chinese ideology overseas and inter-party diplomacy.
The school provides a platform for China to enhance exchanges with leaders as a form of "party-to-party" diplomacy. Like many countries in southern Africa, Tanzania was greatly influenced by Maoism and the Communist Party during the 1960s and 1970s under founding president Julius Nyerere.
Although Sino-African relations have almost entirely shifted to economic engagement, with China's presence in Africa increasingly associated with mega infrastructure projects, echoes of Chinese socialism can still be heard in Tanzania, as well as many other countries on the continent.
Political parties from South Africa, Mozambique, Angola, Namibia and Zimbabwe still look to learn from China's governance and economic model. Observers say no African country has completely adopted the Chinese "model" but most appreciate some of its elements, such as a single-party state or state-led development.
In recent years, the party has intensified its push to solidify its political relations with African ruling parties, inviting hundreds of their officials on "study tours" to China each year. The approach remained consistent from the 1990s, when Beijing began aggressively promoting the "Chinese form of governance" in Africa, until Covid-19 put a stop to any form of gathering that risked further spreading the virus, although some meetings continued to be held virtually.
Song Tao, the then head of the International Department of the party's Central Committee, gave a virtual address to attendees of the Southern Africa Youth Cadres workshop in early June, highlighting the long-term friendship and shared concepts of the parties.
"In the face of the changes and the pandemic both unseen in a century, the CPC is ready to strengthen experience exchange in state governance and administration with the six parties," said Song, who has since been replaced by Liu Jianchao, a veteran diplomat.
Jean-Pierre Cabestan, a senior research fellow at the French National Centre for Scientific Research and a research professor at Hong Kong Baptist University, in a recent paper published by the National Bureau of Asian Research said that "in Sub-Saharan Africa the CPC has focused on ruling rather than opposition parties and countries that matter for the Chinese economy."
Chinese President Xi Jinping, who is also general secretary of the party, replied to a letter from the workshop participants with the hope that they "take an active part in the cause of the China-Africa friendship, carry forward and pass on the spirit of China-Africa friendship and cooperation," according to the South China Morning Post.
The Chinese Communist Party has set up relations with 110 political parties in 51 countries out of 54, as laid out in a white paper issued by Beijing at the end of the 8th Forum on China-Africa Cooperation (FOCAC) in Dakar, Senegal.
African Youth Deserve Better Learning Opportunities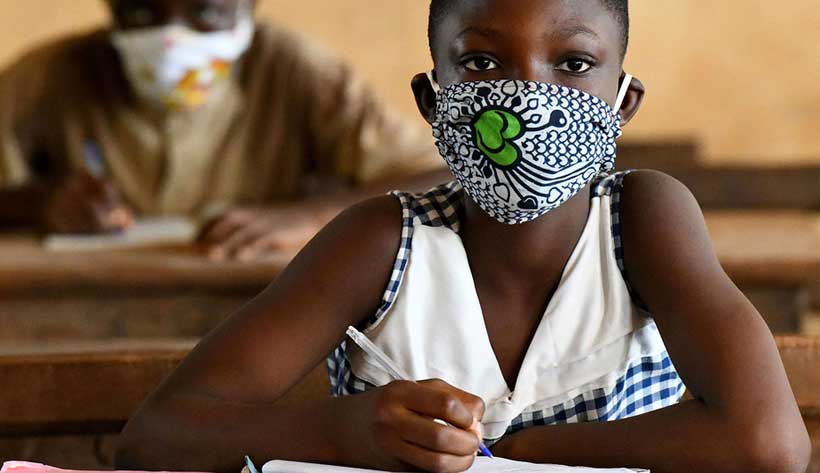 Authors: Dr. Mahamudu Bawumia and Ousmane Diagana*
Two years of the COVID-19 pandemic have exacerbated the education crisis in Western and Central Africa.  The pandemic hampered efforts to increase enrollment rates: indeed, more than 101 million children could not go to school and had little access to distance learning. As countries rebuild their economies, it is urgent to act now to secure the future of our children. We call for a general mobilization of our societies to invest in better education systems.
The leaders of the region recognize the utmost importance of educating our young girls and boys, and significant efforts have been made in this regard. Today, the average net primary school enrollment rate in the region is nearly 90 percent, a substantial increase from less than 50 percent in the 1990s. Likewise, secondary school enrollment has more than doubled in the last decade.
However, the population of Western and Central Africa is expected to double in the next 30 years, and significant challenges remain. More than 32 million children in the region are out of school. Furthermore, children who attend school do not always acquire the necessary knowledge or skills. Currently, 80 percent of children cannot read and understand a simple text by the age of 10, and options for formal skills acquisition are limited.
To reverse this trajectory, urgent action is needed to advance reforms in education and deliver better access to quality education for our children. This will require strong leadership, better implementation, and more investments in high-impact interventions, including a whole-of-society and government approach.
Strong leadership is critical to advancing reforms and scaling up innovations
We will not be able to deliver change without building and sustaining political momentum in the region. We are convinced that our call will echo the Nouakchott Declaration from the Heads of State at the Sahel Education Summit in December 2021. The countries in the region must continue to increase their investments in education. However, governments alone cannot bridge the financing gap and meet the massive and growing needs.
Many projects already demonstrate the tremendous results that can be achieved when leadership and political will are accompanied by sufficient funding. The Free Senior High School policy introduced by Ghana in 2017 is a good example of ensuring access, equity, and quality in education. Similarly, Sierra Leone's Free Quality School Education initiative launched in 2018 offers all children tuition-free admission to government-approved schools. Mali's PRODEC 2, a comprehensive 10-year national education program, takes a holistic approach to pursuing improvement in the school system, despite closures due to conflict and insecurity, among other issues. In the Edo State of Nigeria, the government is implementing a comprehensive approach that leverages technology and scripted lessons to improve teaching and learning outcomes.
The region can learn a lot from its own experiences
Time and again, the people of Western and Central Africa have proven their ability to learn from their experiences.
To deliver results at scale, we are committed to meeting ambitious targets and focusing on: helping 30 million children to read by 2030; ensuring that 12.5 million more adolescent girls are in school by 2030; training 3.7 million more young adults in foundational skills by 2025; and ensuring that 1 million more youth acquire digital skills by 2025, of whom 60 percent will be expected to obtain better jobs.
Many inspiring projects already strive to attain these targets. For instance, in Nigeria, the Better Education Service Delivery for All-BESDA Project is supporting the integration of school-age children who attend religious schools into public schools that teach the official curriculum. In Senegal, the Read@Home—Investing in Early Years for Human Development Project is improving child nutrition and early stimulation, thus improving teaching and learning. Further, across 12 countries in Western and Central Africa, the Africa Centers of Excellence (ACE) Projects are addressing the widespread skills shortages and mismatches by training post-graduate students. The Projects also support the scaling of research capacity and regional collaboration in science, technology, engineering, and mathematics (STEM), as well as the health and agriculture fields.
Better coordination and more inclusive decision-making
Although more investment is urgent, it cannot achieve the much-needed transformation without a coordinated approach at the national level, as well as the involvement of all concerned. In many of the region's countries, more efforts are needed to rationalize the governance of education systems to achieve greater coherence, cooperation, and coordination.
Recognizing the diversity of our societies, languages, and educational practices, we must also ensure that our projects are developed in an inclusive manner. All stakeholders must be involved in an elevated dialogue so that we can have a common language and therefore coherence to define the goals we must achieve.
The vitality and innovative spirit of our young people are our best assets and hold great promise for our region. Only we will be able to harness the demographic dividend, but only if our youth are equipped with the necessary knowledge and skills to realize their full potential and ensure social justice and mobility for all. Our young people deserve better education. Their interests must come first. It is only then that the region can be robustly transformed.
*Ousmane Diagana, World Bank Vice President for Western and Central Africa
Originally published by Devex/ World Bank