Terrorism, Radicalisation and Legitimacy
In discussions about fighting terrorism, the word "radicalisation" is often used, yet its meaning remains unclear. Focusing only on intellectual radicalisation risks assuming that radical ideas are a proxy for terrorism or a crucial precursor when we know this is not the case. Different paths and processes of engagement in terrorism act differently for different individuals at different times and circumstances.
This article examines the difficulties in defining radicalisation and radicalism and concludes that radicalisation, especially participation in terrorism, is best understood as a collection of distinct processes. It then discusses several potentially exciting theories, such as social movement theory, social psychology, and conversion theory, that could encourage future research into these processes. Further, the article describes potential frameworks for comprehending how the processes may assist terroristic activity.
Radicalisation has been arguably the most common foundation for understanding micro-level shifts toward violence during the past decade. Nonetheless, the concept has evolved into more than just a dominant police paradigm; it has also become a holistic government strategy that includes vigilance, security, vulnerability, and civic engagement. With the introduction of this approach came a slew of analysts, consultants, and professors claiming "expert" knowledge of individual conversions to political violence. Relevant researchers on terrorism and extremism have yet to agree on a clearly articulated understanding of this notion. However, the term's meaning and bounds are hotly debated around the globe.
The definition of radicalisationby McCauley and Moskalenko (2017) is "greater preparation for and commitment to intergroup conflict and violence." Hafez and Mullins (2015) defined radicalisation as a "gradual 'process' including indoctrination into an extreme belief system that lays the groundwork for violence but does not guarantee it."
However, Alex Schmid (2013) reassessed radicalisation to improve the consistency and objectivity of discussions around this concept. According to him,
"an individual or collective (group) process whereby, usually in a situation of political polarisation, normal practices of dialogue, compromise and tolerance between political actors and groups with diverging interests are abandoned by one or both sides in a conflict dyad in favour of a growing commitment to engage in confrontational tactics of conflict-waging. These can include either (i) the use of (non-violent) pressure and coercion, (ii) various forms of political violence other than terrorism or (iii) acts of violent extremism in the form of terrorism and war crimes. The process is, on the side of rebel factions, generally accompanied by ideological socialisation away from mainstream or status quo-oriented positions towards more radical or extremist positions involving a dichotomous world view and the acceptance of an alternative focal point of political mobilisation outside the dominant political order as the existing system is no longer recognised as appropriate or legitimate."
Although the term "radicalism" and its subsequent derivative "radicalisation" historically has had a much broader meaning, in the context of contemporary studies and policymaking, the term "radicalisation" typically refers to a path that leads to terrorism, a gradual slide into extremism or fundamentalism, or, more generally, a movement toward justifying violence and eventually engaging in it. The great majority of definitions agree that radicalisation is a process; nevertheless, they disagree on where this process will go after it is complete.
For instance, the European Commission's expert group on radicalisation describes radicalisation as "socialisation to extremism that emerges as terrorism" (European Commission Expert Group 7). In contrast, the United States Department of Homeland Security describes radicalisation as "the process of acquiring an extreme belief system, including the readiness to advocate or use violence as a means" (US Department of Homeland Security). Institute for Homeland Security Studies According to some official definitions, it is a path that leads to terrorism. For instance, in the United Kingdom, it is defined as "the process through which an individual comes to support terrorism and forms of extremism that lead to terrorism" (House of Commons Home Affairs Committee).
People in representative democracies have the freedom to voice views that go to the core of issues (precisely what the word "radical" denotes) and the right to advocate for significant changes to political, economic, or social systems. Many of the concepts European "radical groupings" proposed in the late 19th and early 20th centuries were ultimately incorporated into the conventional conception of political liberalism (widening the franchise, redistributing property, freedom of the press, etc.).
This is likely why liberal constitutions protect the rights of individuals to defend radical or unusual opinions and limit free speech only when it incites violence, is offensive or is vulgar. The rules that govern the realm of thoughts are opposed to the laws that govern the world of actions. Individual conduct is rigorously watched, especially when it involves the illegal use of violence against non-combatants that is not state-sanctioned.
Individuals and organisations who use violence without discrimination confront justifiable objections in open societies. For instance, the experts commonly use "radicalisation" while discussing Salafists and the ultraconservative Islamists. These groups are notorious for their relentless proselytising and support for ISIS and Al-Qaeda. Since Salafists are affiliated with both of these terrorist organisations, this is the case. Radicalisation, however, is not contained in one aspect or region of the globe. It is seen in all types of terrorism, including leftist, rightist, anarchist, ethno-nationalist, and religious terrorism.
Prior research and analysis support the assumption that there is no one causal pathway or explanatory theory that applies to all types of individuals. According to Walter Laqueur (2003), the search for a "universal theory" of terrorism is erroneous since "many terrorists exist, and their traits change over time and between nations." The same seems to be true of the radicalization process.
Despite this, a variety of efforts have been made to articulate a fundamental sequence of stages, events, or obstacles that may apply to both cross-group and within-group kinds. How do individuals come to accept violent extremist beliefs (radicalise), translate them — or not — into reasons or imperatives for using terrorist action, and choose (or not) to participate in violent and subversive behaviour in the service of these ideologies? This seems to be the driving question for these initiatives.
To be clear, the great bulk of what has been written so far on "radicalization" into violent extremist ideas (particularly those supporting terrorism) is conceptual rather than factual. While the exact processes and sequencing of these changes are controversial, it is certain that various pathways and mechanisms function differently for different people. We may be able to design better-informed policies and procedures to curb and prevent the spread of violent extremism if we have a more sophisticated understanding of how this process unfolds inside and among organisations.
For decades now, the international community has worked to adopt impartial standards in times of conflict that prohibit the use of particular types of violence and weaponry by setting limits aimed to safeguard certain people and objectives. However, the neutrality of these regulations has traditionally benefitted the more powerful, leaving those with less power with few options for circumventing them. This explains why, after WWII, the greatest amount of victimisation has happened during non-international wars.
Consider also that the lack of international law to offer adequate procedures for the peaceful settlement of disputes has all too often left protagonists with no choice but to resort to violence and, as a result of power imbalance, to violate the rules on the limits to violence. At a summit of chiefs of state in the Americas in 1961, President John F. Kennedy clearly said that "those who make peaceful revolution impossible make violent revolution inevitable."
Thus, in the absence of effective mechanisms for peaceful conflict resolution and the rule of law that applies equally to all protagonists, the alternative is violence—and, more often than not, violence in violation of international humanitarian law and human rights law, which falls under the definition of terrorism.
Borum (2012) has sought to describe the driving elements that drive radicalisation, particularly militant Islamist radicalisation in Europe, by looking outside of the existing radicalisation paradigm.
Background factors or personal struggles with religious identity, experience with discrimination, etc. Trigger Factors or specific events that could provoke antipathy or activism; finally, Opportunity Factors include the individual's degree of access and exposure to extremist ideas, such as physical and virtual spaces where she/he is likely to meet like-minded people. (ibid). Additionally, in developing a functional explanation for political radicalisation, McCauley and Moskalenko (2017) describe it as "a stronger readiness for and commitment to intergroup confrontation." They outline the process using the Pyramid Model, with the base of the pyramid consisting of all persons who sympathise with the terrorists' stated goals. All individuals who wanted the "Brits out" in Northern Ireland were part of the Irish Republican Army's support base.
As with the staircase model, the pyramid's higher levels are associated with decreasing numbers but increasing radicalisation among individuals regarding their views, attitudes, and behaviours as we go from the base to the apex. It was previously stated in this article that the process of radicalisation differs amongst persons.
McCauley and Moskalenko go even farther, describing how radicalisation occurs at several levels, including the individual, the group, and even the masses. Individuals may become radicalised for a number of reasons, including personal victimisation, political grievances, and joining a radical organisation, either via an existing membership with the group of a loved one or by a prolonged process of self-radicalisation. Even though self-radicalisation has been heavily debated, the presence of a group dynamic has been demonstrated to be critical for radicalisation, and an increasing number of psychological studies have shown the deadly potential of self-radicalisation.
Milgram's 1963 experiment sought to ascertain the conditions that might persuade someone to do "evil'. The experiment required volunteers to shock a person who answered a question incorrectly. As the number of incorrectly answered questions increased, so did the shock voltage until a lethal voltage was administered. Although no genuine shocks were administered, the individuals were unaware of this. The majority of participants gave what they thought were lethal quantities of electricity. While the experiment's primary goal was to understand the concept of obedience in humans, it also helped explain how people could transform into radicals simply because an authoritative figure promised them significance within a group. This provided them with enough motivation to disengage from the evil they were committing morally.
Further talking about the legitimacy or non-legitimacy of radicalisation, for decades now, the international community has endeavoured to develop impartial rules in times of war that restrict the use of certain forms of violence and armament by establishing limitations designed to protect specific persons and purposes. However, the neutrality of these restrictions has historically favoured those with more power, leaving those with less power with few choices for evading them. This explains why, following World War II, the highest number of victims have occurred in non-international conflicts.
Moreover, the lack of international law to provide proper processes for the peaceful resolution of conflicts has often forced protagonists to resort to violence and, as a consequence of a power imbalance, to breach the norms about the boundaries of violence. It has always been easier for nations to proclaim self-defence and legitimacy, whereas aggrieved groups have found it more challenging to make the same claims. A significant example is an Israeli-Palestinian conflict. Regardless of the nature of the violent action, it is legal when carried out by Israel, with the rare exception of perhaps excessive use of force. Nevertheless, it is almost always terrorism when carried out by the Palestinians. Utilising violence to instil fear in a population has been a constant throughout history. Despite what contemporary politicians claim, terrorism, as we have come to call it, is not new, nor are its responses.
Nevertheless, regardless of whether terrorism is illegitimate or not, there are three critical qualities that, when combined, distinguish terrorism from other violent social engagements. First, a violent act is considered terrorist when its psychological effects on a specific population or social aggregate, in terms of widespread emotional reactions such as fear and anxiety, are disproportionate to its actual or potential material consequences, in terms of physical harm to both people and property (Aron, 1962). Second, for such violence to impact, it must be systematic and unexpected, often directed at targets selected for their symbolic value within a dominant cultural framework and within a particular institutional framework (Thornton, 1964; Walter, 1969). Third, the injury of such targets is utilised for communicating signals and threats, making terrorism a tool for communication and social control (Roucek, 1962; Crelinsten, 1987).
Even though there is reason to believe that various state and non-state actors initiate radicalisation in reactions to oppression, hatred, bigotry, and discrimination, classifying the workflow as legitimate or illegitimate would be reducing a comprehensive and multifaceted problem to strict binary functions. Leaders of violent extremist groups, for instance, may exploit Muslims' perceived marginalisation across the globe. However, there is a heated intellectual and political debate on whether the perceived marginalisation of Muslims throughout the globe as a source of extremism is or just an interpretation of extremist goals. Human rights abuses and the perception of international hostility may radicalise diaspora groups for sure.
Several social scientists have identified legitimacy as a crucial issue in the study of terrorism. According to Martha Crenshaw, legitimacy is "a significant obstacle in conceptualising terrorism and, indeed, any kind of political violence." Often, legitimacy is at stake in conflicts between governments and terrorist organisations; in these circumstances, one side disputes the legitimacy of the other. Crenshaw identifies far-left terrorists "Consider actions against the state to be morally permissible and question the state's legitimacy. Frequently, right-wing terrorists "deny the validity of protest and believe that violence in the service of order is sanctioned by the significance of the status quo." Lastly, impacted states claim legitimacy: a state under terrorist attack is often required to "maintain and defend its legitimacy while delegitimising the terrorist threat" (Crenshaw, 1983).
States and terrorist organisations must explain their use of force or violence to obtain legitimacy and show a genuine commitment to democratic values and objectives. Given these conditions, which are necessary but inadequate for establishing legitimacy, it should be clear that legitimacy claims are not just challenging to prove but also defensible once established. A state's legitimacy crisis might be caused by a single act (denying its citizens the right to a fair and open trial) or a sequence of interconnected actions. Ultimately, this crisis may culminate in a challenge to the existence of a state or government; this challenge may take the form of substantial civil disobedience (as happened in France in May 1968), or it may be more violent.
According to the literature in the social sciences, terrorism has been utilised in response to analogous situations. In contrast, legitimacy is a challenging and complex term with legal, political, and moral ramifications. After establishing legitimacy as a crucial aspect in the struggle between governments and terrorist organisations, so, it is not unexpected that social scientists avoid discussing the issue.
Da'esh, affiliates remain 'global and evolving' threat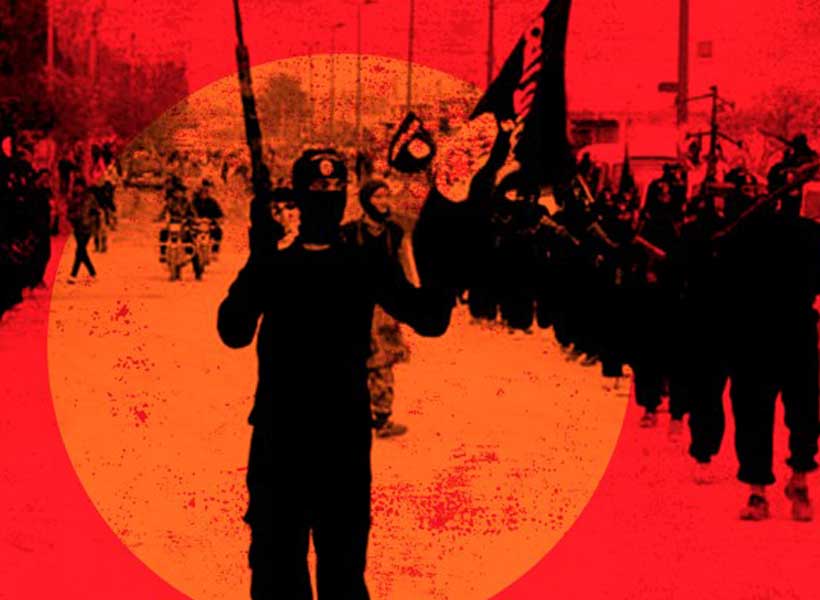 In a joint briefing to the Security Council on Tuesday, UN counterterrorism officials confirmed that the threat posed by Da'esh terrorist fighters and their affiliates remains "global and evolving".
"Da'esh and its affiliates continue to exploit conflict dynamics, governance fragilities and inequality to incite, plan and organize terrorist attacks," said UN counter-terrorism chief Vladimir Voronkov, presenting the Secretary-General's fifteenth report.
They also exploit pandemic restrictions, misuse digital spaces to recruit sympathizers and have "significantly" increased the use of unmanned aerial systems, as reported in northern Iraq.
Decentralized structure, methods
In charting the of the expansion of Da'esh expansion across Iraq, Syria and through areas of Africa that until recently had been largely spared from attacks, Mr. Voronkov attributed their success in part to a decentralized structure focused around a "general directorate of provinces" and associated "offices".
These operate in both Iraq and Syria, as well as outside the core conflict zone – notably in Afghanistan, Somalia and the Lake Chad Basin.
Better understanding and monitoring, including through global and regional cooperation, are vital to counter the threat.
Vulnerabilities across the world
Providing an overview, Mr. Voronkov said that the border between Iraq and Syria remains highly vulnerable, with an estimated 10,000 fighters operating in the area.
In April, the group launched a global campaign to avenge senior leaders killed in counter-terrorism operations.
While the number of attacks claimed or attributed to the local Da'esh affiliate has decreased in Afghanistan, since the Taliban assumed control last year, its presence has expanded into the north-east and east of the country.
In Europe, Da'esh has called on sympathizers to carry out attacks by exploiting the easing of pandemic restrictions and the conflict in Ukraine.
Africa in crosshairs
In Africa, meanwhile, the senior UN official described the expansion of Da'esh across the Central, Southern and Western reaches of the continent.
From Uganda, one affiliate widened its operations into the Democratic Republic of the Congo, while another – after being knocked out by military action in 2021 – intensified small-scale attacks in Mozambique's Cabo Delgado province.
The expansion has even affected littoral countries in the Gulf of Guinea, which had previously been spared from violence.
Managing millions
In terms of financing, Mr. Voronkov said Da'esh leaders manage between $25 to $50 million in assets, significantly less than estimates three years ago.
However, the diversity of both licit and illicit sources underscores the importance of sustained efforts to cut terrorism funding.
While he welcomed recent repatriations by Iraq, Tajikistan and France, he expressed concern that the limited progress achieved so far in repatriating foreign terrorist fighters and their family members is "far overshadowed by the number of individuals still facing a precarious and deteriorating situation".
Calls to repatriate foreign fighters
Tens of thousands of individuals – including more than 27,000 children – from Iraq and some 60 other countries remain subject to enormous security challenges and humanitarian hardship.
The counter-terrorism chief reiterated the Secretary-General's call for Member States to further their efforts in facilitating the safe, voluntary and dignified repatriation of all individuals who remain stuck in camps and other facilities.
"Terrorism does not exist in a vacuum," said Weixiong Chen, Acting Executive Director of the Counter-Terrorism Committee Executive Directorate, which was established in 2001 following the 11 September terrorist attacks in the United States.
Describing gains, he said that the Executive Directorate, which is a special political mission, was able to resume its on-site assessment visits after two years of virtual and hybrid formats brought on by the COVID-19 pandemic.
Among other efforts, his team issued a report synthesizing its extensive consultations with African civil society groups on trends related to ISIL in Africa, as well as a study on the links between counter-terrorism frameworks and international humanitarian law.
In closing, he called for a comprehensive, coordinated "All of UN" approach tailored by age and gender, and human rights compliant as the only way to push back against a global terrorist threat like Da'esh.
War Victim Becomes Hope For Pakistan's Tribal Districts
A 10-Year-old boy Irfan Ullah Jan would walk down the streets of Sadda, Kurram district heading to his school with one simple fantasy: one day he would become something. He aspired to return something back to his loved ones. Sadly, Jan's fantasy didn't remain simple as it seemed to be after a deadly bomb blast. But today, he is giving back a lot more to the once war-torn Tribal districts.
An IED blast ripping through the Awami Bazar, Sadda in Kurram District killed three people on spot, leaving several injured back in July 2011. Among them was Jan, whose legs had to be amputated to rescue his life. It took almost 10 years for him to formulate an organization in the once war-torn Tribal districts of Pakistan called as "FATA Disable Welfare Organization". Till date, he has enrolled thousands of poor disabled students in private schools.
Furthermore, he rendered social services for disables by forming an organization "Kurram Union of Special Persons". This union facilitated disabled children to get their early education without any cost. The union after years of hard work has been matured into FDWO – FATA Disable Welfare Organization. The now chairman of FDWO, Irfan Ullah Jan has successfully assisted hundreds of war victims in getting free access to education. FDWO has rehabilitated more than one thousand disabled persons by providing them with artificial limbs. Philanthropist Mr Jan has reintegrated the disabled persons by arranging community activities like Sports galas. Speaking to us on the support he has been receiving, Irfan Ullah Jan says "FDWO receives charity money from public at large. Pakistan Army has been pivotal in facilitating me to inaugurate rehabilitation center for Special Persons along with an imperative support in educating disabled children of the area. I received "President's Pride of Performance Award" this year for the services FDWO has been providing in the region."
He expresses that "the tribal region has seen worst militancy in the past which includes deaths, economic losses and instability. Apart from these challenges, rehabilitating war victims was the biggest challenge for the government of Pakistan and this was the aim behind the foundation of his organization to rehabilitate and bring normalcy in the region."
The long wave of militancy which effected people economically and socially especially in the tribal districts has now transformed into a wave of rehabilitation. Youth like Irfan Ullah Jan are returning a lot more to the once war-torn Tribal districts.
With Al Qaeda down but not out, killing Zawahiri is symbolic
President Joe Biden was not wrong when he declared that "justice has been served" with the killing of Al Qaeda leader Ayman Zawahiri in a US drone strike.
The problem is that's only half of the truth; the other half is that Mr. Zawahiri was more a has-been than a power to be reckoned with on the jihadist totem pole. In death, he may have scored his most significant achievement since becoming head of Al Qaeda as the symbol of the failure of decades of war in Afghanistan.
Mr. Zawahiri's presence in Kabul in a house owned by Sirajuddin Haqqani, Afghanistan's de facto deputy head of state, will be touted as evidence that Afghanistan has reverted to being a base for terrorist groups. Mr. Haqqani's son and son-in-law are believed to have also died in the drone strike.
In addition, the killing will likely become a partisan issue in domestic US politics, with Republicans pointing to Mr. Biden's bungled withdrawal a year ago of US troops from Afghanistan.
In anticipation of the criticism, Mr. Biden said the killing demonstrated the United States' post-withdrawal ability to protect Americans without "thousands of boots on the ground."
Even so, the withdrawal resulted from a war that the United States and its allies could not win and a fundamentally flawed US-Taliban agreement negotiated by the administration of former President Donald J. Trump that helped the Taliban regain power.
Since succeeding Osama bin Laden after the United States killed him in 2011, Mr. Zawahiri, the man who helped shape Al Qaeda from day one, could not garner the stature of the group's former leader. Nor was he able to impose his will on Al Qaeda franchises in Yemen, Somalia, and elsewhere in Africa.
Researcher Nelly Lahoud argues in a recently published book based on computer files confiscated in the US raid that killed Mr. Bin Laden that Al Qaeda had lost much of its operational capability in the immediate years after the 2001 invasion of Afghanistan.
The Islamic State, the foremost jihadist organization locked into a bitter fight with the Taliban, increasingly overshadowed Al Qaeda, showcasing Mr. Zawahiri's inability to fill Mr. Bin Laden's shoes.
In fact, the Islamic State today poses a greater threat to the United States than Al Qaeda. Equally importantly, the Islamic State also constitutes a more significant threat to Central Asian states like Tajikistan and Uzbekistan, as well as Russia and China.
If Mr. Zawahiri's presence in Kabul raises questions about the Taliban's willingness and determination to prevent militant groups from operating from its territory, repeated Islamic State attacks on domestic Afghan targets, and the firing of rockets into Tajikistan and Uzbekistan call into question the group's ability to do so.
To be sure, granting Al Qaeda leaders shelter does not by definition amount to Taliban acquiescence of the group launching attacks from Afghan soil.
The questions are particularly acute given that Mr. Zawahiri was killed days after the Taliban engaged with representatives of 30 countries at a conference in the Uzbek capital of Tashkent in a bid to unfreeze some US$7 billion in Afghan foreign currency reserves.
Days later, Tashkent hosted foreign ministers of the Shanghai Cooperation Council (SCO), who had Afghanistan high on their agenda. The SCO groups India, Russia, China, Pakistan, Uzbekistan, Kazakhstan, Kyrgyzstan, and Tajikistan.
The Taliban regime has yet to be officially recognized by any country. Countries across geopolitical divides have insisted that the Taliban first demonstrate their willingness and ability to control all of Afghanistan and curtail militant groups.
The international community also required the Taliban to form an inclusive government and ensure women's rights. The Taliban have yet to deliver on any of its promises.
Reporting to the United Nations Security Council in January, UN Special Representative for Afghanistan Deborah Lyons noted that "the existence of numerous terrorist groups in Afghanistan remains a broad international and especially regional concern. The desire of the de facto authorities to take on this threat across the board remains to be convincingly demonstrated."
Ms. Lyons' remarks have seemingly gone unheeded in Kabul. In response to the Islamic State attacks on Tajikistan, home to Russia's largest foreign military base, the Taliban are building a watchtower on the two countries' border with the help of a Tajik group bent on changing the regime in Dushanbe.
Adding insult to injury, graffiti near the tower celebrates Muhammad Sharipov, aka M. Arsalon or Mahdi Arsalon, a Tajik national wanted by authorities for the past eight years on terrorism charges.
During talks last month, Tajik President Emomali Rahmon cautioned his Russian counterpart, Vladimir Putin, against a possible recognition by Moscow of the Taliban regime. Mr. Putin insisted that he would consider Tajik concerns about ethnic minority rights in Afghanistan.
While ethnic minority rights may be a Tajik concern, the opposite may be true for China. China fears that the militant Turkestan Islamic Party (TIP), also known as the East Turkestan Islamic Movement (ETIM), hardened by the war in Syria, may want to use Afghanistan as a launching pad for attacks in retaliation for China's brutal crackdown on the Uyghur Turkic Muslim minority in the northwestern province of Xinjiang.
A United Nations Security Council report said last month that the group had built strongholds in Badakhshan near the Chinese border in northeast Afghanistan, where it had "expanded its area of operations and covertly purchased weapons, with the aim of improving its capabilities for terrorist activities."
The Taliban suggested that they had moved the estimated 1,000 Uyghur fighters away from the Chinese border to other parts of Afghanistan last October. China has long pressed the Taliban to curtail the group's activity.
Creating distance between Uyghur militants and the Chinese border may not be good enough. The Islamic State sought to make that clear when it employed an Uyghur as a suicide bomber in an attack last October on a Shiite Muslim mosque in the Afghan city of Kunduz.
The message was: Uyghur militants have alternatives. The Taliban may not be their best bet.