Do and Don't Tips When Going Traveling by Backpacking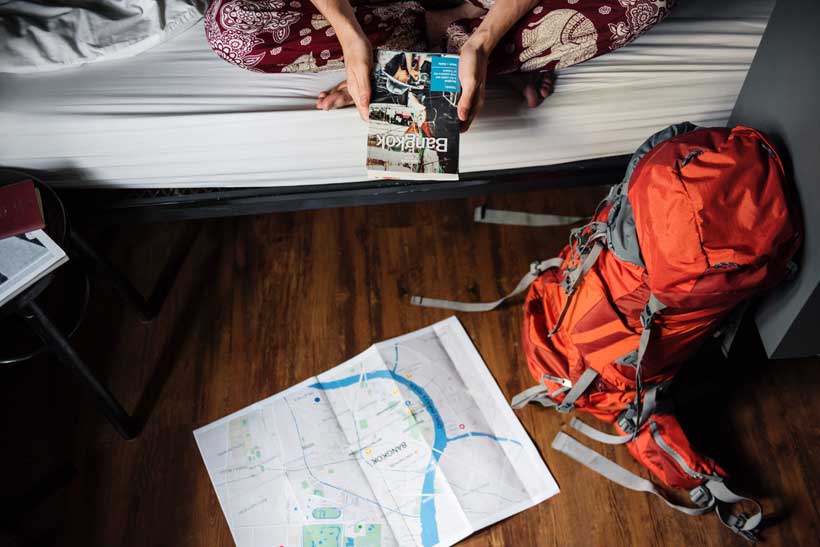 There are many ways that tourists can enjoy a tour. For some people who like activities with clear plans, they can travel together with tour guides or travel packages, but for those who prefer activities without a schedule and more free, they can travel by backpacker way. Both are equally used to enjoy travel, only the method and process is different. If you use tour guides & travel packages, they are usually more time bound and need extra costs to pay for tour guides/buy travel packages at a predetermined price. Meanwhile, for backpackers, it is a tour that is carried out without the use of a tour guide. Usually individually or in small groups of 2-4 people. Backpacker can also be interpreted as someone who travels on a limited budget. So that in doing this trip usually many unexpected conditions can occur. However, backpacker travel has many advantages such as being able to feel the essence of travel more, getting to know many new people during the trip, practicing independence, and being able to more freely manage time and costs during the trip. In addition, because backpacking is carried out without a tour guide, there are usually infinite obstacles that can occur.
To minimize risks and problems that are not expected to be able to make some preparations before going backpacking. Here are 6 tips that can be do before traveling the backpacker way:
Do a detailed calculation before leaving. Before leaving for a backpacker, make sure your financial condition is sufficient so that the traveling process can be carried out calmly and comfortably without fear of running out of money. Try to detail any expenses that might occur so that we will not spend money carelessly and can keep costs down. So that travel planning is the first step that must be done to make the trip easier.
Conduct a survey by looking for information related to the places we will visit. This survey was carried out as a whole, namely tourist locations, lodging places, transportation that can be used and the normal range of food prices and transportation costs. This needs to be done in order to make it easier for us to do backpacking and avoid the possibility of being cheated by people or being priced more expensively. Because usually foreign tourists will get prices more expensive if they are not good at bargaining prices or if they don't know the original price
Limit the items to be brought. This is done to avoid wasting space on the backpack that we use. Because later we will be traveling with a backpack, it is necessary to carry not too many items so that we are more free to travel and not be bothered with too many items.
Bring the important stuff. Important items that must be carried when doing this backpacking include: medicine needs to be carried because it makes it easier for us when sick or in a condition that requires temporary treatment so as to avoid bad things, then there are security devices, just in case it is necessary to bring at least one safety device that small and can be stored in a place that is easily accessible by hand, this is important in case something is dangerous. This safety device can be in the form of pepper spray, electric shock or etc. Then the next item that must be brought is money and cash. Carrying cash in small denominations is also important to make the payment process more effective and fast.
Use promos. When traveling to reduce costs, always check the promos available in various applications, be it promos for travel tickets, promos when buying food, hotel or other promos. As long as the promo can be used, it must be used as much as possible.
Make sure you have a healthy and optimal body condition. Health is one of the important things that must be taken care of before becoming a backpacker because if we travel with an unhealthy body condition, it is feared that we will fall ill at tourist sites so that we cannot enjoy vacation time. This is of course very unfortunate and not expected to happen.
While the above are tips that can be done before backpacking, there are also some things that should not be done when going on a backpacker trip. Some tips that should don't or even avoided when backpacking include:
Don't trust people easily. When traveling we must increase our anxiety and be more sensitive to conditions that we can experience at any time. Because crime sometimes arises because of our opportunities and carelessness. So that at any time when we are careless we can be deceived by bad people. Therefore, do not easily believe in suspicious offers and gifts from strangers.
Don't do things that are not polite and litter when we go on a backpacker trip, both during the trip and when we arrive at our destination. We must be polite and courteous. So that we can travel comfortably without causing problems with other people.
Don't want to be forced to buy an item, on a backpacker trip to a tourist spot there will be many traders who offer their wares and even tend to be pushy. But if you really don't want to buy and don't really need it, don't buy the item even if you are forced to, this is important to save expenses. Because it would be better if we spend money to buy goods according to our wishes and according to initial planning.
By implementing do and don't tips when traveling by backpacking, it is hoped that it can reduce problems that arise when backpacking. So that the tour can be enjoyed comfortably if no problems arise and enjoy the holiday according to their respective goals. Because everyone's vacation goals can vary, some want to get to know new cultures, relax their minds, heal and rest in new places they have never visited.
Enjoy a staycation at Casa De Amor, Goa
A dream destination in itself, Goa has serene palm trees, untouched roads, open blue skies and cafes galore to explore. On the south western coast of India, Goa creates a habitat for birds and natural beauty, making for an ideal staycation in the middle of nature. Casa De Amor is a gift from Mars Hospitality to Goa. With its stunning blue and white exterior amidst palm trees, an open green space outside and peacocks dancing during monsoons, there is no place you would rather be in Goa if you are looking for a quiet hideout.
Goa tends to get loud in the evenings with nightclubs and party-ragers. Casa De Amor is the ideal destination because its located at a quiet spot away from the parties, yet at an accessible distance by scooters or cars. It is great for families and couples alike. Here are 5 reasons why Casa De Amor must be on your staycation bucket list in Goa, especially if you are visiting Goa from a location internationally.
1. Enjoy a private Santorini like villa – Santorini like shades – blue and white, form the soothing exterior of the villa. The interior is calm with soothing shades of white and blue again paralleled with occasional paintings on the walls reminding travelers of the hidden beauty that exists in the world, yet to explore. The space has a calming effect like no other. You could lie in bed and see the palm trees growing against the blue skies. A serene view lies in wait for you.
2. Great food by a chef from Gordon House, Mumbai – All Stir Fry is one of my favorite restaurants in Mumbai. Their Chinese and Asian cuisine is to die for. When I learned that a chef from Gordon House in Mumbai curates special food for guests at Casa De Amor, it wasn't tough for me to extend my stay for a longer duration at the pristine villa. One thing I need on all my trips is delicious food. The breakfast pancakes and curated meals made my trip to Goa even more eventful.
3. Private pool outside the villa – One thing we all love is open, free, green space that gives us space for new ideas and creativity. Casa De Amor has a private garden space outside the villa and a private pool with cute duck statues and romantic lamps around. It makes for a perfect getaway. I enjoyed eating pancakes in the verandah outside the villa. A little quiet space never hurt nobody. It definitely helped me better with my sense of peace. I played board games outside and enjoyed the scenery around.
4. Places to explore around – Since Casa De Amor is located in Anjuna, it is at the center of everything artistic and Goan around. You could explore beaches around and detox as the waves crash by your feet. You could also visit key popular cafes like Artjuna. Cream Choc, Goa's most famous ice cream parlor is also at walking distance from Casa De Amor.
5. Carefully designed spaces to make memories – Be it board games or a curated collection of movies or a good set of speakers just at the perfect place to dance, Casa De Amor makes for a perfect stay – be it with family, friends or just your other half. You would want to bring them here to make some core memories for life with them. Having been to destinations across India, I have come across very few spaces that are designed so thoughtfully.
Be it a trip with family, friends or the person you love, Casa De Amor has a treasure filled box of memories in store for you. It has a private appeal where you can get away from your worries and disturbances. It is a place worth turning off your phone for so you can bond and connect with the people you are with. A state of peaceful flow is achieved while one is sitting outside in the garden with a coconut sipping on its water and reflecting on life. A perfect destination for a much needed break. And did I mention peacocks? You can spot peacocks dancing in the rain during monsoons.
Andaz Delhi – A runway staycation
From my most recent Delhi vacation, I can predominantly remember the runway I could see clearly from my room at Andaz Delhi. With stunning modern interiors, a quirky set-up in the room and a view to die for – semi-modernistic with a touch of tech-geeky. I loved the view from my room while on my weekend staycation. I remember working on my laptop on the slouching study table where the couch was as big as a side bed and I could relax, work, relax again before getting to work.
Here are some highlights of the trip which were to die for.
1.Food at AnnaMaya – The food at AnnaMaya, the restaurant on the group floor of Andaz Delhi was a memorable experience with long buffet spread in the evening with great options of Indian, continental and modern cuisines. The dessert counter was definitely a delight where we felt like a part of Alice in Wonderland with a colourful spread of desserts. Blueberry ice cream with a splash of sprinkles please!
2.Kombucha with a side of work from home – Since I don't drink alcohol, I definitely live for the strong flavours in kombucha – fruity and sodalicious. It was a delight to enjoy an entire bottle of Kombucha while I sat in Anna Maya during the day and enjoyed working on my laptop in the afternoon. Being a coffee addict, I am sure one of those people who are in love with afternoon coffee, specially while working because it wakes me up. But the Kombucha at Anna Maya was a clear winner and it woke me up. Overall, it was lovely to be working in the middle of Anna Maya where every second table had a serious meeting going on with some casual food on the side. Definitely a Work From Home scene like they have in London.
3.Shower away to glory – I'm not into showers. Period. I am a bath tub person but you will be surprised, my shower experience at Andaz changed that. With colors like black and silver in the shower area, I felt strangely relaxed like I was in the mountains despite being in the middle of a city like Delhi.
4.Swim away the Delhi heat – The swimming pool at Andaz is almost like a pool in Goa, surrounded by lush green trees inspired by a tropical rainforest. The elements of green around the pool are strangely calming. We all know what a fast lived experience it is to be living in Delhi. You should definitely relax by the pool on your staycation to swim away the heat.
5.Quirky décor in the lobby – The first thing that I ever notice about any hotel I visit in any corner of the world is its lobby. I carefully pay attention to the lighting and the design. The sprawling lobby at Andaz with colorful and bold elements alike, representing India in its diverse cultural sense is crafted inspiringly. I couldn't help but look around the lobby and gape at the quirky elements around. Even the lighting was crafted interestingly. Every evening I spent time in the lobby and even interacted with some foreigners who were there for business. The lobby was indeed a melting point.
6.Exploring Aerocity at an arm's length – Aerocity is literally the hub of Delhi where cafes, shopping and loads of other experiences are located. Living around five minutes walking distance away from Aerocity was interesting because I could explore different cafes and shopping around there. Moreover, at night, I could go to party and pick from some select different nightclubs.
7.Brunch brunch brunch – What's the best thing about Sunday? It's brunch. What's the best thing about anyday when you're working from home? It's brunch. I would definitely recommend you to try the brunch at Anna Maya. They have a great a-la-carte menu and you would not want to miss out while you are here.
Andaz Delhi truly created an "At-home" feel for me.
Your best vacation begins with VAN
Islands such as Hawaii can not but attract with their beauty. It is famous for its chic beaches, beautiful cliffs and rainforests. It is possible both to walk on foot and to travel by car. The list of attractions and activities of this place is very large. However, to fully see the island of Kauai, one of the Hawaiian Islands you may need a car. And not an ordinary sedan, but a large and cool minivan. Yes, it is, because for convenient movement with family or friends you need a lot of space. Thanks to VAN rental Kauai, you will be able to fully plan your trip around the island and experience unforgettable emotions. Do you need a minibus rental service? Then, first of all, you need to check all available suppliers, their requirements, conditions and costs of services. They must necessarily be reliable, affordable and of high quality. By having a comfortable van, you not only save time, but also maximize your holiday experience. There are different makes and models of vans, depending on your needs and goals. You can always choose the right option for you and your companions. Be sure you will really like the island with the windows of a spacious and comfortable van.
How can I get the VAN in Kauai ?
There are plenty of rental deals on the island, but you need to select the most reliable one. To do this, it will be convenient for you to choose from the list of proposed companies. We recommend picking CARNGO. After that, you will need to make a deal with the company. How does this happen here? Here are a few steps:
You choose a specific machine that suits your requirements. The list of vans is quite large from the Jeep Cherokee to the Nissan Frontier Pickup. Do not forget that their cost can vary greatly, depending on the price of the car, its consumption and date of purchase. The price for a car starts from $ 35 per day and can reach $ 50-60. When choosing a car, you can also rely on customer reviews, it helps a lot when making a final decision.
Decide on the place where you will pick up the van, as well as at what time it will be more convenient for you. It is worth noting that car rental companies consider the cost for their services daily, that is, it will be more profitable for you to pick up and give the car at the same time. Since if you stay for example for one hour, and the hourly duration of the lease will be 25 hours, you will be charged money for 2 days.
The last step is to meet with the manager, who will arrange legal issues with you and transfer the keys. That's it, the rental process is complete, you can start enjoying your journey.
What are the rules and restrictions for the driver ?
So, you have finally decided that you can't see your vacation without renting a van. Surely in your head you are wondering what I need to know or get in order to easily arrange a car rental service. Therefore, the following are a few requirements and rules for your familiarization:
First, of course, you must have a valid driver's license. Also, you must have an open category for driving a car with passengers. But, it is worth noting that this is not a professional category, as for driving a bus with a large number of passengers. Van provides less than 9 seats for passengers, so a special category is not required.
Your driving experience must be at least one year. In case it is still smaller, you will be asked to take with you an additional driver, more experienced. For him, unfortunately, you will need to pay a certain fee. We advise you to foresee this moment and make sure in advance that you have driving experience.
The driver's age is also regulated. You must be at least 21 years old, and also, if you are under the age of 25, you will need to pay an additional payment. The amount of the payment can vary from 35 to 45 dollars per day. An additional payment is charged for safety reasons, since the risk of getting into an accident in a young driver increases significantly. Of course, you can rent a car if you are not 21, but it will definitely not be a VAN.
You have 2 options for paying for rental services. Cash or credit card. In the second case, you need to make sure that you have enough money in the account to pay for the service.
The driver's license must comply with the international model, be readable and presentable. Just imagine, you are entrusted with a whole house on wheels for 9 people, this is very serious. Therefore, the requirements for documents are very high.
Insurance. Usually, the car you rent is already insured. But, there are cases when you have to buy insurance yourself, or you want to register it for yourself and your family, worrying about the safety of your lives. In this case, you have several options for insurance, which you can either familiarize yourself with on the spot or read on the company's website. This question should not be overlooked, as it is very important. This is the safety of not only material property, but also your lives. In this life, no one is safe from accidents.
Choosing a van rental company in Kauai is quite a serious decision. The future comfort and safety of your upcoming trip depends on it. If you want to get a lot of pleasure and impressions, you need to think through all the issues in advance so that unpleasant situations do not arise on the spot. After all, if you do not manage to get the desired car and go on the road, you will be very upset. Mood is important. And by choosing the right company and the right minivan you will be in the good mood, especially with CARNGO.