Economic And Political Reform Is Needed In Sri Lanka, Not State Violence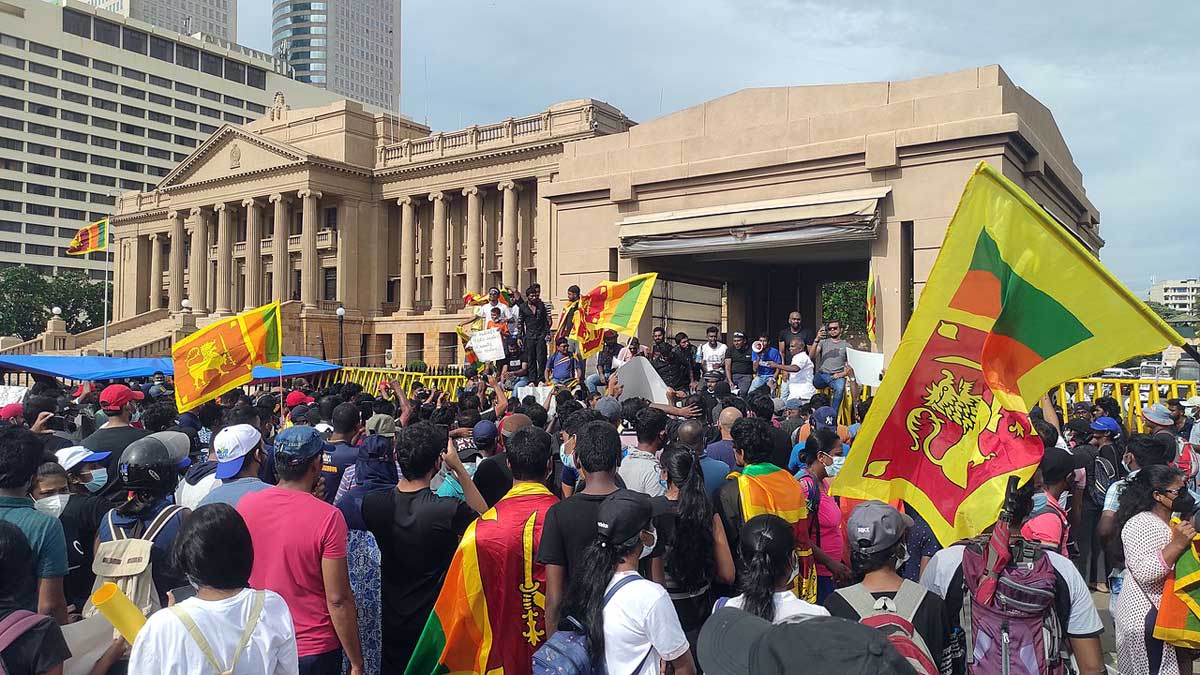 Sri Lanka's worst economic crisis since independence has highlighted years of political and economic mismanagement and a reliance on state-sanctioned violence in response to legitimate protests. Legitimate reform and respect for human rights is required if the island nation is to act in the best interests of its people.
The crisis has resulted in the import-reliant country's foreign currency reserves running dry, meaning that the government is unable to pay for imports of basic goods, including food and fuel. Rising inflation of 17 per cent has meant that any food available is now too expensive, with a kilogram of rice costing 500 rupees when it previously cost 80. The lack of fuel has meant that Sri Lankans are suffering through 12-hour power cuts, with the government asking people to work from home to save fuel.
Making matters worse, the government has defaulted on its foreign debts for the first time since independence. Sri Lanka's debt is approximately $51 billion, making it now reliant on negotiations with its creditors, such as the Asian Development Bank, to pause payments so basic goods can be purchased.
As always, these issues are affecting Sri Lanka's most vulnerable, particularly those in poorer rural areas, the elderly and people with disability. There are reports of people dying while lining up for fuel in the heat. This has the potential to worsen into a significant humanitarian crisis, with half the country sinking into poverty and food insecurity rising.
This is a big step back for a country that was once regarded as one of Asia's success stories, formerly enjoying economic growth, burgeoning industries and a wealthier middle class. The was a sign of a country that was beginning to rebuild after a brutal civil war that affected all Sri Lankans.
While the government has blamed the crisis on the coronavirus pandemic and the subsequent drop in tourism, the cause is closer to home, and the government deserves significant blame.
The President, Gotabaya Rajapaksa, previously slashed taxes and focused on domestic markets rather than exports, creating an economy reliant on imports, which created unsustainable levels of debt. The government has also racked up huge debts to fund irresponsible infrastructure projects which has severely depleted the country's foreign reserves. The banning of imports of chemical fertilisers left Sri Lanka's large agriculture sector crippled and increased debt through the reliance on importing food.
The Rajapaksa family has ruled Sri Lanka for over two decades, with Mahinda Rajapaksa ruling as President between 2005 and 2015 and then as Prime Minister until his recent resignation. Gotabaya Rajapaksa has served as President since 2019 and several family members have long held prominent positions within the military and government. This has resulted in rampant nepotism, corruption and poor economic decisions that have turned the public away from the once popular family.
The crisis in Sri Lanka has led to nation-wide protests, which have rapidly turned violent. Protesters have stormed government buildings and government forces have been injured. Citizens are justifiably angry about years of poor economic decisions that has crippled the economy, leaving millions without the most basic of goods.
Authorities have reacted to this unrest with a heavy handed approach. The deployment of the military with orders to shoot looters on sight and the use of water cannons and tear gas had led to two deaths of the arrest of over two hundred people, including peaceful protesters. President Rajapaksa has also declared two state of emergencies, severely restricting the rights of Sri Lankans and giving authorities sweeping powers to detain legitimate protesters or those breaking curfew. This raises serious concerns about the governments respect for human rights and will do little to rebuild trust in government.
Instead of the use of violence to crush protests, the government needs to take responsibility and undertake meaningful economic and political reforms to address the crisis and quell unrest.
Human rights need to be at the forefront of any solution. The United Nations High Commissioner for Human Rights, Michelle Bachelet, has rightly called for any attacks on civilians and peace protesters to be independently and transparently investigated. State of emergency declarations and curfews should also cease, allowing Sri Lankans their right to peacefully protest about legitimate issues of concern. Any peaceful protester illegally detained needs to be released immediately.
The government should also work with international partners to find rapid solutions to critical problems, such as providing basic goods to their citizens. The decision by the World Bank to provide $600 million in assistance and ongoing negotiations with the International Monetary Fund are welcome. But more needs to be done.
The government needs to undertake meaningful economic reforms, including reversing damaging tax cuts and reducing debt, so the IMF will agree to a more substantial financial package that allows the country to recover.
The democratic process also needs to be respected. The government should maintain dialogue and consult with other political parties', civil society and non-governmental organisations to find adequate solutions to the economic and political problems facing the country.
This includes negotiating with opposition parties to reach political solutions that lead to ongoing stability. However, while the embattled President has replaced his brother as Prime Minister in an attempt to ease political pressure, the opposition has so far refused to join an administration with the Rajapaksa family. A political solution may need to be found that finally breaks the link with the Rajapaksa's so Sri Lanka can move forward as a nation.
Sri Lankan's have shown that they desire legitimate change in response to this unprecedented crisis. They demand meaningful political and economic change that will allow Sri Lankans to buy basic goods and reduce poverty. The government, whether it includes the Rajapaksa's or not, needs to listen to the people and not respond with violence by respecting their human rights and undertaking meaningful change.
The Need for the Next SAARC Summit
The South Asian Association for Regional Cooperation (SAARC) came into existence on the 8th of December, 1985, with eight member states namely, Bangladesh, Bhutan India, Maldives, Nepal, Pakistan, Sri Lanka, and Afghanistan, (which became a member-state in the year 2007) Considering the approach followed by other bodies such as that of ASEAN, which might soon start addressing their differences in an "ASEAN way" i.e. resolving their internal matters amicably instead of approaching the courts, SAARC also follows an institutional framework that regularly holds summits to discuss the various alternatives regarding dispute settlement and cooperation amongst its members.
The meetings of the Heads of the States or Governments of the Member States known as the Summit is the highest decision-making forum of SAARC. Generally, SAARC organizes Summits biennially through its Member States in an alphabetical order, and the hosting country of the Summit assumes the Chair of the Association and its importance can be acknowledged by the key outcome of its summit, which takes place in the form of a Declaration and includes decisions/ directives of the leaders to strengthen and consolidate regional cooperation in different areas being pursued under the patronage of SAARC. Moreover, the Summit also considers and approves reports of the Ministerial Meetings.
The 18th SAARC Summit was held in Kathmandu, Nepal and its theme was "Deeper Integration for Peace and Prosperity." Ever since then there has been no successful attempt to schedule the next summit, mainly due to lack of consensus between the member-states. As far as India is concerned, the major reason behind its non-participation is the Uri- Terrorist Attack, which was alleged to have Pakistani involvement, and that is the reason why it turned down Pakistan's proposal to attend the 19th SAARC Summit virtually if it does not want to be physically present in Islamabad.
SAARC has held only 18 Summits since its inception, which is a violation of Article 3 of the SAARC Charter itself. The prevailing political problems and bilateral disputes of respective member-states mainly caused delays. As of now, SAARC has conducted 18 Summits, ten in the first 15 years of its existence (1986 – 2000) and eight in next 15 years (2001 – 2016) which highlight that frequent cancellations have occurred over the last 15 years.
The experience of last 35 years suggests that, SAARC as an institution cannot be a tool for "regional integration" due to Indo-Pak Rivalry as their rivalry is so profound that it cannot be addressed in terms of a regional solution, which happens to be the major reason for not conducting the summit. However, some of other the reasons for not holding the SAARC Summit are also inter-state problems and bilateral tensions.
In the year 2020, Mr. Nilambar Acharya, Nepal's envoy to India made a statement that "SAARC is alive and there will be a summit in future", which came as a ray of hope soon after PM Narendra Modi tweeted the leaders about creating a strategy to deal with the situation of covid-19. Later, the organization was all set to conduct a summit in New York next year, which was later cancelled due to the objections of certain member states regarding the participation of Taliban as the government of Afghanistan.
A successful SAARC Summit can be conducted in future if its member states work towards resolving their bilateral disputes and other internal problems such as political instability, general elections, insurgencies, and economic recession, lack of adequate infrastructure and resources on the part of some members to organize the summit, which is why its leaders should consider amending the charter and make it mandatory to hold summits at a permanent venue such as that of the SAARC Secretariat on an annual basis which will make things much convenient for the member states and increase the chances of organizing the summit.
International Peacekeeping Day: Pakistan's Case
29th May marks the 75th anniversary of International Peacekeeping Day. In conflict studies, Peacekeeping as term defines those activities and actions that tend to keep conflict and conflicting parties under control and involve such activities that serve as pathway to uproot conflict as a whole and reduce battlefield deaths. UNN Peacekeeping Missions recently have undergone several reforms and evolution to better their efficacy, coherence, and responsiveness for which they have been criticized for. While effectiveness of the very purpose of these missions is highly debated, May 29 calls for commemorating and honoring the services of all those countries and people coming together with a vision to ensure peace, stability, and sustainability across the world. Pakistan is no exception.
The image of Pakistan has, in the international politics has highly revolved around security and strategic realms. Considering that image, Peacekeeping Missions are just one of the many features where Pakistan has carved out its identity as a state that is committed to the security of not only its own but the entire world. Since its fist Peacekeeping Mission in Congo in 1960, Pakistani blue helmets have served with honor and valor in 48 United Nations missions in almost all continents of the world.
While endorsing Action for Peace (A4P) and Action for Peace Plus (A4P+) initiatives-that tend to improve efficacy and consolidate security of Peacekeeping Missions-Pakistan, being one of the few states, institutionalized peacekeeping by such structural initiatives as that of Centre for International Peace and Stability (CIPS). To date CIPS has run 175 courses, training 2853 Peacekeepers, including 407 officers from other states. In this way, CIPS stands as an embodiment to Pakistan's efforts of consolidating regionalism and Internationalism and standing as a responsible and capable state thinking for all and common peace and prosperity.
Besides working towards peace and security in war-torn communities, Pakistan has been on the forefront of peacebuilding and humanitarian efforts. Pakistan's Field Hospital established as part of UN Mission Mali, is providing premium healthcare services, including lifesaving surgeries to the dependent clientele of 3500 UN Peacekeepers besides facilitating affected civilians of the warn-ravaged region. In April 2023, services of Pakistan's hospital were appreciated at various levels in mission as well as UN headquarters for its constant quest for excellence and being in line with the needs of mission dynamics.
Through professionalism and dedication, Pakistani Peacekeepers have remained pivotal in UN's efforts to reform and strengthen the Peacekeeping Architecture. Pakistani Engineers are maintaining 1430 kms of main Communication Arteries connecting 45% of the total land territory in the Central African Republic (CAR) and providing assured connectivity to 60% of the population of CAR even during worst climatic conditions.
Pakistan has exercised resolve and manifested resilience and courage in working in some of the most dangerous war-ravaged regions of the world. Not only it has paved the way in ensuring peace and preventing full-fledged war in such regions but its commitments towards humanitarian appeal are no hidden reality. From 2022 South Sudan floods whereby Pakistani engineers constructed for them dyke system to provision of 60 metric tons of various stores in northern part of Abyei to Pakistani doctors and Engagement Teams running awareness and hygiene campaigns to psychological counselling to contributing in education field in various missions, Pakistan has proved resolve and promptness of its security architecture in the region and beyond.
Pakistan also hosts one of the oldest UN Peacekeeping Mission i.e., UN Mission Observer Group for India and Pakistan (UNMOGIP) to monitor the ceasefire violations on Line of Control and has committed to it unlike the other stakeholder in the domain.
This day, hence, is a time to commemorate the services of Pakistan's 225, 000 peacekeepers who have served uptil now, as well as honor the martyrdom of 171 Pakistani peacekeepers in the process.
29 May, on one end, is reminisce of Pakistan's advancing role in UN's agenda of maintaining peace and security around the world and on the other, it is a contemplating point at the structural amendments still needed in the peacekeeping apparatus of the world so that peace and prosperity is ensured for all nations and people of the world, once and for all.
Striving for Balance: Pakistan's Climate Equity Drive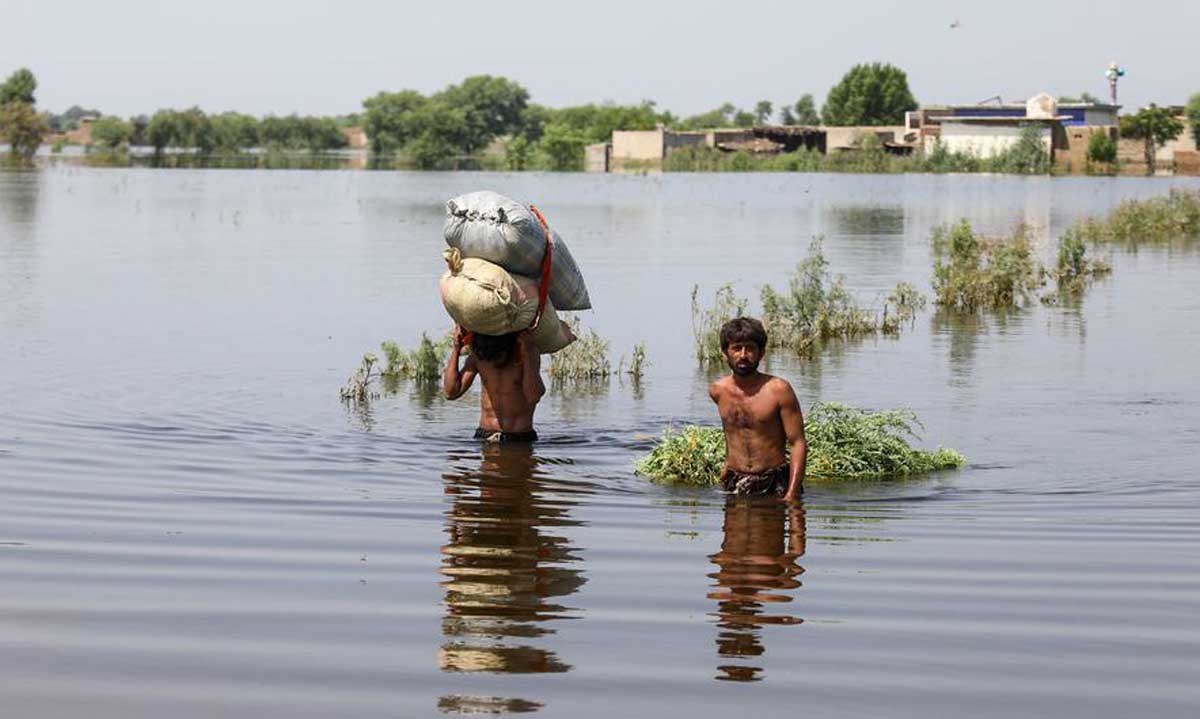 The world's population of 1.8 billion people between the ages of 10 and 24 represents the largest group of young people ever recorded in human history. A startling portion of this startling total—710 million children—live in nations that are horribly situated to bear the brunt of the catastrophic effects of the climate crisis. Every newborn child in the modern era faces numerous dangers as a result of the extensive effects of climate change, including dangers to their health and the stability of the economy. Even though they bear the least blame for the current environmental crisis, young people must now deal with an increase in the frequency of extreme weather phenomena.
Since many families, especially those living in developing countries, have been severely impacted by the rising temperatures, there has been a rise in cases of malnutrition and a decrease in food supplies as well as access to safe drinking water. The immune and respiratory systems of the human body have been severely compromised by the rapid decline in air quality, which has resulted in widespread damage and distress.
Therefore, the need for a fundamental paradigm shift within the framework of global climate change governance necessitates a firm embrace of the resounding cry for climate justice at its very core. To effectively reduce their greenhouse gas emissions (GHG), strengthen their resilience against the numerous effects of climate change, and, most importantly, deal with the enormous losses incurred as a result of the more frequent and intense occurrences of droughts and floods brought on by the irreversible progression of climate change, developing countries and economies in particular stand in dire need of significant financial assistance.
Regardless, nearly 13,000 people have been injured and over 1,600 have died as a result of the recent catastrophic floods in Pakistan, which have devastated about one-third of the country since the disaster began on June 14, 2022. According to the Pakistan Meteorological Department (PMD), the precipitation in July 2022 showed a strikingly disproportionate increase in Balochistan, rising by a staggering 450 percent, and in Sindh, rising by a remarkable 307 percent. These levels represent the highest levels seen in the previous 62 years. These areas, which have been severely impacted, are frequently arid or semi-arid.
Moreover, the findings of the World Weather Attribution Report (WWA) confirm that climate change has been a significant factor in the escalation of this unprecedented flooding, which has resulted in an incredible estimated economic loss of about US$32 billion. Therefore, it is necessary for the international community to pay attention to the call for climate justice and to show unwavering support for those countries coping with the numerous difficulties brought on by climate change.
However, the pressures brought on by climate change are putting Pakistan under a lot of stress right now, making it more susceptible to future changes in the climate and limiting its ability to adapt. The responsibility of wealthy states as outlined in Article 8 of the Paris Agreement must be emphasized, and Pakistan must emphasize the urgent need for adaptation measures. This particular article requires developed countries to contribute financial resources to support developing countries' efforts at adaptation. Pakistan can effectively advocate for more funding and resources to strengthen its resilience to the effects of climate change by using this platform, while also highlighting the necessity of global cooperation and shared responsibility.
Shortly put, Pakistan's participation in COP27 offers a significant platform to address the intertwined issues of climate change and sustainable development. Pakistan can highlight its distinct vulnerabilities and the need for increased support from more developed nations through a well-reasoned argument focused on climate adaptation, industry decarbonization, water management, food security, and resource conservation. These initiatives are essential for directing the country toward a trajectory of all-encompassing growth, the eradication of poverty, and ecological equilibrium in the face of a changing climate.
An important turning point for Pakistan was taking control of the COP27 agenda, which strengthened its position as a leader in the international discussion of climate change. Pakistani officials vehemently argued that developing countries should intensify their efforts to advance the cause of climate justice. They emphasized the dire need to deal with climate-related problems with unwavering resolve and the dangerous repercussions of doing nothing, warning that the nation would continue to bear the brunt of climate change's negative effects. Pakistan's persistent and thorough approach to addressing climate change unquestionably qualifies as a good foreign policy.
Concludingly, in order to fully address this complex problem, Pakistan must adopt a holistic approach that takes into account all aspects of climate change, from minute details to complex global issues. Additionally, it must work to embrace the positive aspect of climate security, which states that when problems are securitized, they become security conundrums. Through a three-tiered framework that includes local, global, and structural dimensions, policymakers can perceptively examine Pakistan's environmental quandaries by using securitization as a lens.