Commission revealed 12 winners of VET Excellence Awards
The European Vocational Skills Week took place across Europe and beyond last week (from 16 to 20 May). Organised by the European Commission every year, it is an occasion to celebrate best practices in Vocational Education and Training (VET), bringing together everyone involved – from local, to national and regional authorities, students, teachers and education and training organisation stakeholders – to showcase the benefits VET offers to young people and adults alike. This year's sixth edition focused on 'VET and the Green Transition', supporting people to acquire the necessary skills for the green transition, in line with the European Green Deal.
At the VET Excellence Awards ceremony, the Commission announced the winners of this flagship prize in different categories. An accountancy apprentice from Greece, the Piedmont Region in Italy, and a Swedish tree care programme have received the European Vocational Skills Week Excellence Award 2022, along with 9 other award winners.
Vice-President for Promoting the European Way of Life, Margaritis Schinas, said: "It is great to see so many outstanding nominees and winners, celebrating the true benefits that vocational education and training can offer to everyone, young people and adults alike. They showcase the transformational impact that education and training can have on people's careers and lives. I would also like to give a 'special mention' for our partners in Ukraine. We have been working closely together, also through the European Training Foundation, and will continue doing so, to support on topics such as qualifications, to help the Ukrainian people in these extremely difficult times."
Commissioner for Jobs and Social Rights, Nicolas Schmit, said: "The green transition can become a real job engine if people receive the right support they need to thrive in their careers and the changing labour markets. The VET Excellence Awards help us identify the best approaches to become fit for the green economy, overcoming today's labour shortages in key sectors such as construction, manufacturing and energy. I would like to congratulate all the nominees and VET learners, and to thank the thousands of providers of vocational education and training for their dedication."
This year's winners
The Commission awarded 12 prizes in four categories and one special mention to apprentices, projects, companies and regions, from the EU, neighbouring and neighbourhood countries, who have successfully used VET to build a greener, more digital and more inclusive society.
The award winners include:
Evangelos Pouftas, an apprentice with an accountancy firm in Greece, who demonstrated the key role of apprentices in accelerating the digital transition of small and medium-sized businesses (SMEs), by helping the company's clients to digitalise their work, such as setting up online services to remain competitive, especially in the context of the COVID-19 pandemic and increased remote working.
The Piedmont Region of Italy,with the support of theEuropean Social Fund, promoted to young learners a culture of sustainability in food production and consumption along the agri-food chain.
The 'Veteran Tree Management Skills Certification' project of Stiftelsen Pro Natura. This Swedish programme, funded by Erasmus+,is designed to raise the standard of the caring for trees that have an exceptional value for nature conservation, landscape or culture, known as 'veteran trees'.
Further award winners are:
AKMI S.A., Greece
Programme 'Working inclusion and equal opportunities for the most disadvantaged', ALMI BILBAO S.A.L., Spain
Cyclades – 5th Evening Vocational High School of Patra, Greece
Environmental and Agricultural Education in School, Georgia
Prof. Dr. Linda Clarke, University of Westminster, United Kingdom
ÖBB Infrastruktur AG, Austria
Otto Stöckl Elektroinstallationen GmbH, Austria
Riga State Technical School, Latvia
Virtual Dawn, Finland
In addition to the prizes in the different categories, a special mention went to Ukrainian partners who, along with the European Training Foundation, have been reforming their education and training systems, focusing on qualifications, the future of skills in key economic sectors, and governance arrangements to modernise the system and to bring it closer to the system in the EU.
EU actions to promote VET
The Commission is actively promoting vocational education and training as part of its work to implement the European Pillar of Social Rights, and specifically the right to education, training and lifelong learning. This is also important to achieve the European Pillar of Social Rights Action Plan EU headline target that all partners committed to at the Porto Social Summit: at least 60% of all adults should participate in training every year.
On 1 July 2020, the Commission proposed a Council Recommendation on vocational education and training, to make VET more modern, attractive, flexible and fit for the digital age and the green transition. This proposal is embedded in other Commission initiatives, such as the European Skills Agenda and the Communication on Youth Employment Support – A Bridge to Jobs for the next generation.
In addition, the Commission put forward in December 2021 proposals for Individual Learning Accounts and Micro-credentials, to help open up more opportunities for people to find learning offers, and employment opportunities.
The European Commission also supports vocational education and training through significant funding, such as through the European Social Fund Plus (with total budget of almost €99.3 billion for 2021-2027), Erasmus+, and the Recovery and Resilience Facility, which has 'reskilling and upskilling' as one of its seven flagship areas for reforms and investments. 
Assad-Xi Jinping meeting: China-Syria strategic partnership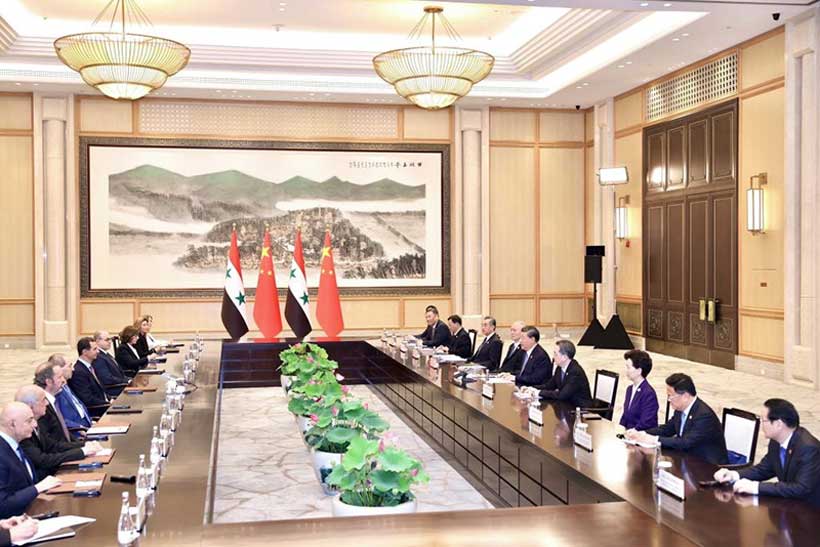 Chinese President Xi Jinping and Syrian President Bashar al-Assad on Friday jointly announced the establishment of a China-Syria strategic partnership, Chinese Xinhua Net informs.
The two presidents met in the eastern Chinese city of Hangzhou, Zhejiang Province, ahead of the opening of the 19th Asian Games.
Syria was one of the first Arab countries that established diplomatic relations with the People's Republic of China, and was one of the countries that co-sponsored the resolution to restore the lawful seat of the People's Republic of China in the United Nations, Xi said.
Over the 67 years since the establishment of diplomatic relations between the two countries, the China-Syria relationship has stood the test of changes in the international situation, and their friendship has grown stronger over time, he said.
Xi noted that the establishment of the strategic partnership will be an important milestone in the history of bilateral ties.
China is willing to work with Syria to enrich their relationship and continuously advance the China-Syria strategic partnership, Xi said.
Xi emphasized that China will continue to work with Syria to firmly support each other on issues concerning the two sides' respective core interests and major concerns, safeguard the common interests of both countries and other developing countries, and uphold international fairness and justice.
China supports Syria in opposing foreign interference, rejecting unilateralism and bullying, and safeguarding national independence, sovereignty and territorial integrity, he said.
China supports Syria in conducting reconstruction, enhancing counter-terrorism capacity building, and promoting a political settlement of the Syrian issue following the "Syrian-led, Syrian-owned" principle, Xi said.
China also supports Syria in improving its relations with other Arab countries and playing a greater role in international and regional affairs, he added.
China is willing to strengthen Belt and Road cooperation with Syria, increase the import of high-quality agricultural products from Syria, and jointly implement the Global Development Initiative, the Global Security Initiative and the Global Civilization Initiative to make active contributions to regional and global peace and development.
Assad said that in international affairs, China has always aligned itself with international fairness and justice, and upheld international law and humanitarianism, playing an important and constructive role.
Syria highly appreciates and firmly supports the Belt and Road Initiative, the Global Development Initiative, the Global Security Initiative and the Global Civilization Initiative, and will actively participate in them, Assad added.
The Syrian side thanks the Chinese government for its invaluable support to the Syrian people, firmly opposes any act of interference in China's internal affairs, and is willing to be China's long-term and staunch friend and partner, he said.
Assad said Syria will take the establishment of the Syria-China strategic partnership as an opportunity to strengthen bilateral friendly cooperation and step up their communication and coordination in international and regional affairs.
After the talks, the two heads of state witnessed the signing of bilateral cooperation documents in areas including Belt and Road cooperation, and economic and technological cooperation.
Seymour Hersh: "Zelensky's army no longer has any chance of a victory"
Next Tuesday will be the anniversary of the Biden administration's destruction of three of the four pipelines of Nord Stream 1 and 2. There is more I have to say about it, but it will have to wait. Why? Because the war between Russia and Ukraine, with the White House continuing to reject any talk of a ceasefire, is at a turning point, writes Seymour Hersh, a famous American investigative journalist.
There are significant elements in the American intelligence community, relying on field reports and technical intelligence, who believe that the demoralized Ukraine army has given up on the possibility of overcoming the heavily mined three-tier Russian defense lines and taking the war to Crimea and the four oblasts seized and annexed by Russia.
The reality is that Volodymyr Zelensky's battered army no longer has any chance of a victory.
The war continues, I have been told by an official with access to current intelligence, because Zelensky insists that it must. There is no discussion in his headquarters or in the Biden White House of a ceasefire and no interest in talks that could lead to an end to the slaughter. "It's all lies," the official said, speaking of the Ukrainian claims of incremental progress in the offensive that has suffered staggering losses, while gaining ground in a few scattered areas that the Ukrainian military measures in meters per week.
"There were some early Ukrainian penetrations in the opening days of the June offensive," the official said, "at or near" the heavily trapped first of Russia's three formidable concrete barriers of defense, "and the Russians retreated to sucker them in. And they all got killed." After weeks of high casualties and little progress, along with horrific losses to tanks and armored vehicles, he said, major elements of the Ukrainian army, without declaring so, virtually canceled the offensive. The two villages that the Ukrainian army recently claimed as captured "are so tiny that they couldn't fit between two Burma-Shave signs" — referring to billboards that seemed to be on every American highway after World War II.
Zelensky's message this week to the annual United Nations General Assembly in New York offered little new and, the Washington Post reported, he received the obligatory "warm welcome" from those in attendance. But, the Post noted, "he delivered his address to a half-full house, with many delegations declining to appear and listen to what he had to say." Leaders of some developing nations, the report added, were "frustrated" that the multiple billions being spent without serious accountability by the Biden administration to finance the Ukraine war was diminishing support for their own struggles to deal with "a warming world, confronting poverty and ensuring a more secure life for their citizens."
President Biden, in his earlier speech to the General Assembly, did not deal with Ukraine's perilous position in the war with Russia but renewed his resounding support for Ukraine.
Biden, with the support of Secretary Blinken and National Security Adviser Jake Sullivan — but diminishing support elsewhere in America — has turned his unrelenting financial and moral support for the Ukraine war into a do-or-die issue for his re-election.
The American intelligence official I spoke with spent the early years of his career working against Soviet aggression and spying has respect for Putin's intellect but contempt for his decision to go to war with Ukraine and to initiate the death and destruction that war brings. But, as he told me, "The war is over. Russia has won. There is no Ukrainian offensive anymore, but the White House and the American media have to keep the lie going. The truth is if the Ukrainian army is ordered to continue the offensive, the army would mutiny. The soldiers aren't willing to die any more, but this doesn't fit the B.S. that is being authored by the Biden White House," Seymour Hersh concludes.
Biden UN speech: no Ukraine compromise, negotiation
President Joe Biden gave an address to the United Nations General Assembly on September 20th. The speech was a disaster, stresses Stephen Bryen at Asia Times. Putting aside Biden's slurred words, the message from Biden is there will be no compromise at all when it comes to Ukraine.
By saying that the US will "not allow Ukraine to be carved up" Biden is claiming that there can be no territorial compromise in respect to Ukraine.
Virtually every peace plan put forward by numerous parties has foreseen territorial compromise as the only way a solution can be found. Even the Minsk Agreements, which Ukraine signed in 2014 and again in 2015, allowed for compromise on territory.
Ruling out territorial compromise is a message that already is understood in Russia. Russia is fighting the Ukraine war because, in its view, it wants to (a) protect the Russian speaking population of Ukraine and (b) to keep NATO out.
NATO's presence in Ukraine is a Russian red line.
In respect to the first, protecting the Russian speaking population, this applies to the recently returned to Russia parts of Ukraine – Donetsk, Luhansk, Zaphorize and Kherson. Previously Russia returned Crimea as its historic part and held a plebiscite.
As a practical matter, there is no chance that Ukraine has any ability to retake any significant part of these annexed areas. Almost all the fighting along the contact line, especially since the start of Ukraine's counter-offensive, has been about a Ukrainian attempt to break Russia's first line of defense protecting these territories. Today there is a consensus that the counter-offensive has failed to achieve any meaningful results other than to kill tens of thousands of Ukrainians and chew up billions of dollars of western military assistance.
Biden had nothing to say about NATO and Ukrainian membership, even though for Russia this has been a red line from the start, and it was NATO's buildup of Ukrainian forces that triggered the Russian special military operation in the first place. The Russians declared many warnings to the United States and NATO about NATO's presence in Ukraine, as late as more than a month before Russian troops crossed into Ukrainian territory. The US and NATO refused to have any discussion with Russia on the subject.
Biden did not discuss any peace process other than saying that Russia can do what Zelensky has demanded, namely leave Ukrainian territory and accept punishment of its military and civilian leaders for alleged war crimes.
Meanwhile the US and its allies have been working overtime to destabilize Russia by promoting attacks from Ukraine on Russian territory, assassinations and bombings in Russia, and sabotage inside Russian territory. These measures have triggered calls in Russia for the use of nuclear weapons as a way of terminating the Ukraine war and erasing Ukraine from the map.
Russia continues its military buildup, including enlarging its army and producing more weapons and ammunition. NATO and the United States' massive support for Ukraine has changed the strategic landscape in Europe. From Russia's point of view, it is involved in a war against NATO with Ukraine as the proxy. There is, unfortunately, a point where the proxy fails and where the war's backers decide to put their own troops on the front line. There already are NATO "advisers" in Ukraine, as US "advisers" once were in Vietnam before the US sent in the Marines and the Army.
If Biden is reelected, it is almost a certainty he will send in US troops to try and "save" Ukraine. In turn that will mean war in Europe.
One of the questions is how long Russia can accept attacks on its territory. The US wants to step up these attacks, as Victoria Nuland has made clear. Such measures are not going to tame the Russians. To the contrary, the Russians will put even more pressure on Ukraine, and may start to strike US and NATO assets elsewhere.
Unfortunately Biden's speech was a disaster from the point of view of finding a peaceful solution for Ukraine. Probably the speech was intended to help his reelection, notes Asia Times.