Drones to Save Lives by Providing Urban-Grade Healthcare in Rural Areas of India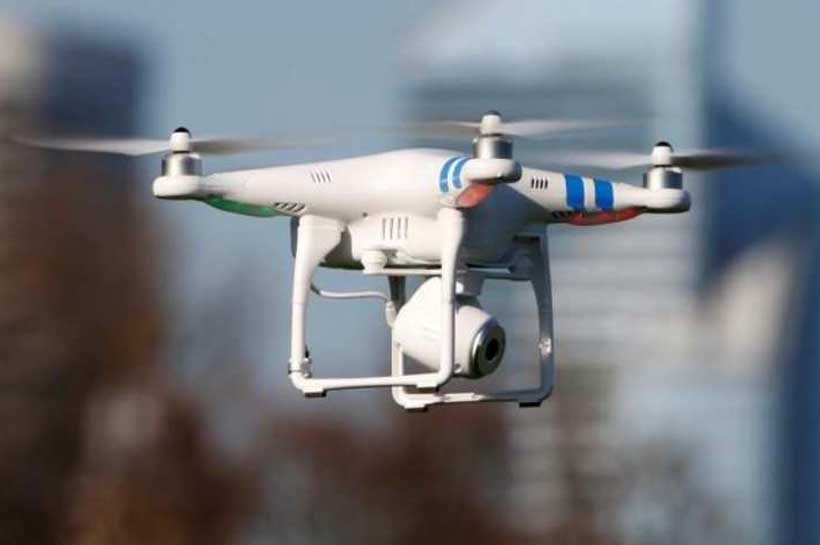 A new experimental programme has shown how drone technology can be used to bring quality healthcare to people living in the remotest areas of India.
Healthcare professionals delivered vaccines, COVID-19 testing samples and medical products to a population of over 300,000 people represented by eight district health facilities in the Vikarabad district of the southern state of Telangana. The district was chosen because it includes communities living in the dense forests of the Anantagiri hills. The trial involved over 300 drone sorties in a 45-day period.
The trial oversaw the first vaccine delivery over long range (beyond visual line of sight) in Asia. It is part of a wider programme, Medicine from the Sky, led by the World Economic Forum's Centre for the Fourth Industrial Revolution India, in partnership with the Government of Telangana, Apollo Hospital's Healthnet Global and NITI Aayog, the Indian government's federal think-tank. The programme aims to work with business, policy-makers and communities to use drone technology to extend urban-grade healthcare to India's remotest areas. Multiple stakeholders were consulted throughout, including healthcare workers, local communities, local police, district-level administrators and local air traffic control.
The findings of the trial, outlined in the report Medicine from the Sky, India: How Drones Can Make Primary Healthcare Accessible to All, offer a practical vision for delivering essential medicines to citizens who lack access to basic healthcare.
It comes after the central Indian government brought in Drone Rules 2021, a more liberalized regime for unmanned aircraft systems, which is expected to transform core sectors of the economy including logistics, agriculture, healthcare and emergency response. It also follows a drive to improve rural healthcare, with a range of programmes aimed at making it more accessible and inexpensive. The pandemic highlighted the lack of access to healthcare for rural communities due to infrastructure, supply and transport challenges.
Jyotiraditya Scindia, India's Minister for Civil Aviation, described the programme as "pathbreaking". He said: "With the recent liberalization of drone rules and the numerous government incentives for the drone sector, the stage is set for this innovative technology to flourish in India. To that end, the Medicine from the Sky initiative has demonstrated how the country can successfully make use of cutting-edge drone technology to ensure no one is left behind in terms of access to primary healthcare. We are hopeful that subsequent phases of this initiative will mainstream drones in healthcare."
As key partners in the programme, the state government of Telangana earmarked the district of Vikarabad for the trials as it serves communities in the forests of Anantagiri. KT Rama Rao, Minister for Municipal Administration and Urban Development, Industries & Commerce, and Information Technology of Telangana, said: "Telangana has been a torchbearer for the Fourth Industrial Revolution. Using drones to successfully enable a case for touching the lives of citizens in remote and inaccessible areas is a highlight that demonstrates how drones can be integrated into the healthcare ecosystem. Post Telangana, several other states have replicated the medical delivery use case."
Apollo Hospitals was a clinical partner in the trail. Sangita Reddy, joint managing director, said the organization's mission was "to enable access to quality healthcare services globally with the use of cutting-edge technology".
"We look forward to continuing working with the World Economic Forum, the Government of Telangana and other states across the country in this project, which I am sure would be the inception of a new age in enhancing the healthcare supply chain," she said.
NITI Aayog involved key decision makers in the programme to ensure high standards of compliance. "The pilot programme has demonstrated how detailed planning at the last mile, in consultation with local communities, can go a long way in ensuring that the country benefits immensely from drone technology," said Anna Roy, Senior Adviser, NITI Aayog.
Purushottam Kaushik, Head of the Centre for the Fourth Industrial Revolution India, said that India's policies on the lower skies are opening up new possibilities for innovation, business and humanitarian work. "It's critical that all citizens can benefit from this technology. This programme is enabling emergency healthcare services in remote terrain where access to services is very challenging. Drones will not only transcend difficult terrain but also pave the way for secure delivery for vaccines, medicines and all sorts of payloads," he said.
Driving Towards Safety: Cutting-Edge Technologies to Mitigate Road Accident Severity in the USA
The US communications regulator has recently granted permission for the use of the mobility platform cellular-vehicle-to everything (C-V2X) on American roads, technology that could prevent four out five of crashes in which the drivers involved are unimpaired by drink or drugs. Around the world, someone loses their life in a traffic accident every 24 seconds and improving road safety is a challenge for all countries. In the US, the Department of Transportation is working together with car and technology manufacturers to develop a plan for the introduction of warning systems on the roads. As well as new smart communication systems, other in-car technology could also help to drastically reduce the number of unnecessary accidents on the roads.
Reducing the Risk of Driver-Impaired Collisions
While road safety for non-impaired crashes could be improved with better communications technology, it is harder to prevent traffic accidents when drivers are under the influence or behaving recklessly on the roads. According to the American National Highway Traffic Administration (NHTSA), 37 people die every day in the US in collisions involving drunk drivers. An experienced accident attorney can help victims seeking justice and compensation after a collision that wasn't their fault. However, the effects of unnecessary injury and fatalities caused by common types of car accidents are still devastating. To reduce the risks of drunk driving, the National Transportation Safety Board (NTSB), the federal agency charged with investigating civil transportations accidents, would like to see all new vehicles fitted with technology that can recognize impaired driving. This could include systems to passively measure blood alcohol levels through the skin's surface and systems that automatically slow a vehicle down if it is exceeding the speed limit.
Protecting Pedestrians With New Vehicle Technology Standards
After declining for many years, the number of pedestrian fatalities on the roads of America is now at a 40-year high. In response, government funding of $5 billion is being made available at a federal and local level to make the streets safer for all road users. In addition to investment in road safety programs, the NHTSA would like to see the introduction of new vehicle technology standards that would help to protect pedestrians on the roads of America and reduce the risk of fatalities on the road. Proposals include the increased implementation of automatic emergency braking technology to help to prevent collisions with pedestrians, and adding a pedestrian crash test when assessing new vehicles. These tests help car manufacturers to develop the front of their vehicles with a view to minimizing the consequences of a collision with a pedestrian.
Across the globe, road traffic accidents are causing an increasing number of injuries and fatalities amongst all road users. In the US, government and independent federal agencies are hoping that by investing in safety programs and expanding the use of in vehicle communication and safety technology, both drivers and pedestrians will have greater protection on the roads.
The race to make hospitals cybersecure
As medical centres increasingly come under attack from hackers, Europe is bolstering protection.
By TOM CASSAUWERS
Amid the Covid-19 pandemic in early 2021, the Irish healthcare system's computers were breached by hackers who gained access to patient files and posted hundreds of them online. As a result, the network had to be shut down.
The reverberations were widespread as appointments got cancelled, people's most sensitive data was stolen and even procedures like CT scans came to a halt. The attack was one of the largest hacks of a healthcare provider in the world.
Mind the gap
'At the moment, there is a major gap in the cybersecurity capacities of healthcare,' said Christos Xenakis, a digital systems professor at the University of Piraeus in Greece. 'Hospitals need to work properly and protect our data.'
From May 2021 to June 2022, the EU's cybersecurity agency – ENISA – detected a total of 623 ransomware incidents in Member States similar to the one in Ireland. Healthcare was the fifth most targeted sector of those attacks.
That in turn has spawned more investment and technological development to secure the industry. Scientists, medical professionals and governments are increasingly taking action to prevent scenarios like the Irish one.
The answer lies not only in better software. Cybersecurity is more often than not about people and changing their behaviour.
That's one of the conclusions reached by Sabina Magalini, a professor of surgery at the Catholic University of the Sacred Heart in Rome, Italy.
She coordinated an EU-funded project called PANACEA to improve hospital cybersecurity. The initiative ran for 38 months through February 2022.
Human errors
'Human error is one of the main cybersecurity risks for hospitals,' said Magalini. 'The risk lies with people, which is logical. A hospital isn't a nuclear power plant and can't be closed off in the same way.'
Hospitals tend to be busy places. Staff need to perform medical duties and, at the same time, work on a variety of computer systems.
Research during PANACEA showed that, during a single day, nurses often had to log in to computer systems more than 80 times.
This is time-consuming and leads to shortcuts, including the same password being used by a group of people or passwords being written down on a piece of paper next to the computer.
In general, the study demonstrated that hospital staff followed cybersecurity precautions poorly and, in the process, left an opening that attackers could exploit.
'We need to make interactions between healthcare professionals and computers better,' said Magalini. 'As a doctor or nurse, you're treating the patient and using a computer at the same time. It's hectic.'
Safety precautions
PANACEA came up with ways to make it easier for hospital staff to follow cybersecurity precautions. One example is software ensuring a more secure login system.
'The software allows for facial recognition of healthcare workers,' said Magalini. 'This would bypass the need for the problems we're seeing today with passwords.'
The project also experimented with low-tech alternatives. Researchers put up stickers and posters in participating hospitals to nudge healthcare workers into following basic cybersecurity procedures.
Education also needs to play a role, including for doctors, according to Magalini.
'Cybersecurity training should be included in their residency programmes,' she said.
Easier sharing
Another EU-funded project, CUREX, facilitated the sharing of health information among hospitals. Xenakis of the University of Piraeus coordinated the project, which ran for 40 months through March 2022.
'Health data is the most sensitive data there is,' he said. 'Hackers pay more for health data than for credit card information.'
When sending patient information to another health facility, a hospital might not be aware of the extent of the recipient's cybersecurity arrangements.
CUREX addressed that uncertainty.
The project developed a software that can help detect any vulnerabilities in the security of an outside organisation. The system makes it easier for medical facilities to share information in line with EU data-protection rules.
'It's all about risk assessment,' said Xenakis. 'And to do that, you need to know how secure the other organisation is.'
Follow-up work
European researchers and cybersecurity organisations are investing in these types of answers.
As a follow-up to PANACEA and CUREX, the EU is co-funding cybersecurity procurement for hospitals, meeting 50% of the cost of new measures.
So, even while attacks on European hospitals continue on a regular basis, experts see reason for optimism about the future.
'European cybersecurity providers are rapidly becoming more mature,' said Xenakis. 'In turn, hospitals are recognising the necessity to buy new tools and upgrade their security.'
Research in this article was funded by the EU. This article was originally published in Horizon, the EU Research and Innovation Magazine.
Centre for the 4IR Malaysia to Accelerate Green Transition, Digital Transformation
The Centre for the Fourth Industrial Revolution Malaysia (C4IR Malaysia) was officially launched today by the Prime Minister of Malaysia, Anwar Ibrahim, and the President of the World Economic Forum, Børge Brende.
C4IR Malaysia will play a crucial role in driving the advancement of the digital economy in Malaysia, with a focus on supporting the country's energy transition and digital transformation. The centre will serve as a public-private platform, bringing together leaders from government, business, civil society, academia and other sectors to advance new partnerships and initiatives that can unlock the value of technology for Malaysia's economy and society. The centre is hosted by MyDIGITAL, a national initiative aimed at transforming Malaysia into a digitally driven, high-income nation and a regional leader.
This initiative marks a significant milestone in Malaysia's journey to becoming a global leader in technology governance and innovation. C4IR Malaysia is the first centre in the Asia-Pacific region as part of the World Economic Forum's global C4IR Network. With this launch, Malaysia has now joined a community of 18 centres, where new and innovative approaches to technology governance, adoption and scaling are being developed and implemented at the national, regional and international levels.
Anwar Ibrahim, Prime Minister of Malaysia, said: "Malaysia is honored to be part of the global network of Centres for the Fourth Industrial Revolution with the first Centre for 4IR in Southeast Asia. This is a testament to the critical value of Malaysia's efforts to become an advanced, digitally-driven, high-income nation and a regional digital economy leader fostering innovation, entrepreneurship and collaborations between stakeholders. The Malaysia Centre for 4IR will further strengthen Malaysia's human-centered policy towards the Fourth Industrial Revolution and contribute towards our target of entering the Top 20 in the Global Innovation Index. We are confident that a resilience-oriented approach will also improve the nation's People's Wellbeing Index score and enhance productivity to create inclusive, balanced, responsible and sustainable economic growth."
Addressing the leaders at the launch, Børge Brende, President, World Economic Forum said: "Malaysia's leadership in the region and commitment to driving the Fourth Industrial Revolution is commendable. Through the Centre for the Fourth Industrial Revolution Malaysia, we are excited to work together with the government, business and civil society leaders to unlock the value of technology for the benefit of all Malaysians. This partnership will not only drive transformation but also help build a more sustainable, inclusive and resilient future for Malaysia and the region."
Following the official launch, C4IR Malaysia hosted two roundtable discussions to address its thematic priorities, inviting leaders from business, government and other sectors to share key priorities and opportunities for the energy transition and digital transformation. These insights will serve as the foundation for C4IR Malaysia's core initiatives, informing its strategic planning and programme development.
Fabian Bigar, CEO of MyDIGITAL and Head of Centre for the Fourth Industrial Revolution Malaysia said, "MyDIGITAL team is proud to be entrusted with the responsibility of making Centre for 4IR Malaysia a success in achieving its goals. The establishment of the Centre for 4IR Malaysia aligns with and further fortifies our initiatives to catalyse homegrown technology development by enhancing collaborative opportunities among stakeholders to unlock value in 4IR technologies, with a focus on supporting the country's energy transition and digital transformation."
From adoption to transformation to regional leadership, C4IR Malaysia is a critical establishment that will help drive the country's transition to an advanced digital economy. By joining the global ecosystem of technology governance innovators and leaders, C4IR Malaysia is poised to contribute significantly to Malaysia's economic and social development in the years to come.
The World Economic Forum's global C4IR Network is a platform for multistakeholder collaboration, bringing together the public and private sectors to maximize technological benefits to society while minimizing the risks associated with 4IR technologies.