After the collapse of the Soviet system, already a little more than three decades, Russia has been struggle to raise its influence in Africa. The culmination of such efforts, inconsistent though, was the first Russia-Africa Summit that brought together African leaders, corporate businesses, academics and other experts to the Black Sea city of Sochi on October 23-24. Since 2019 Summit, Russian and African leaders have agreed on measures toward building a consolidated relations that explicitly reflected in their joint declaration, only little have been achieved.
Last November, for instance, a special report was presented under the title 'Situation Analytical Report on Africa' and was prepared by 25 policy experts, headed by Sergei A. Karaganov, Dean and Academic Supervisor of the Faculty of World Economy and International Relations of the National Research University's Higher School of Economics (HSE University). Karaganov is also the Honorary Chairman of the Presidium of the Council on Foreign and Defence Policy.
That policy report, however, praised the joint declaration adopted at the summit as it has raised the African agenda of Russia's foreign policy to a new level. The historic declaration, so far, remains the main document determining the conceptual framework of Russian-African cooperation.
Some of the situation analysis participants, who contributed to the policy report, spoke very critically of Russia's current policy towards Africa and even claimed that there was no consistent policy and/or consistency in the policy implementation at all. The intensification of political contacts is only with a focus on making them demonstrative. Russia's foreign policy strategy regarding Africa needs to spell out and incorporate the development needs of African countries.
While the number of high-level meetings has increased, the share of substantive issues on the agenda remains small. There are little definitive results from such meetings. Apart from the absence of a public strategy for the continent, there is shortage of qualified personnel, the lack of coordination among various state and para-state institutions working with Africa.
The report lists insufficient and disorganized Russian-African lobbying, and combined with the lack of "information hygiene" at all levels of public speaking among the main flaws of Russia's current Africa policy. Under the circumstance, Russia needs to compile its various ideas for cooperation with Africa into a single comprehensive and publicly available strategy to achieve more success with Africa.
Admittedly, there are various parameters of strengthening the relations with Africa. For the purpose of this article, we look at media cooperation with and in Africa. During the first Russia-Africa summit, there was a special panel discussion on media. The panelists and participants attempted to exhaustively, examine such questions as follows:
What issues are currently, encountered in the formation of the modern media landscape? What role does the media play in Russia-African relations? What are the prospects for collaboration in the information sphere? What needs to be done to develop a Russian media agenda in Africa? What is the role and place of Russia in the information space of Africa today?
Russian media resources, which are largely far from eminent in Africa, include Rossiya Sevogdnya (RIA Novosti, Voice of Russia and Russia Today), Itar-Tass News Agency and Interfax Information Service. Instead of prioritizing media cooperation with Africa, high-ranking Russian officials most often talk about information-war, the spread of anti-Russian propaganda by western and European media in Africa.
The fact is that the African continent is rapidly becoming ever more important in today's international order. Russian-African relations are adding an additional dimension to developments, especially with the boost provided by rapidly expanding links across a vast range of areas. The media can, and indeed must be a decisive factor in building effective ties.
But unfortunately, Africa is frequently portrayed in the media as suffering from numerous intergovernmental, religious, and ethnic conflicts; political and economic instability; and an array of demographic and social problems. Knowledge of today's Russia and the steps taken by its political leaders to tackle global challenges is also given little space in the continent's media landscape.
Four years ago, acknowledging undoubtedly that Africa has become a new world center for global development, Russian legislators at the State Duma (the lower chamber) have advocated for a greater media representation to facilitate collecting important information to support business and economic cooperation with Africa.
Besides that, experts from the think-tank Valdai Discussion Club, academic researchers from the Institute for African Studies and independent policy observers have repeatedly suggested that authorities use Russia's media resources available to support its foreign policy, promote its positive image, disseminate useful information about its current achievements and emerging economic opportunities, especially for the African public.
Here are the main reasons to consider the media also as a priority:
Reason One: Viacheslav Volodin, the chairman of the State Duma, told an instant meeting held, with participation of African diplomats, to brainstorm for fresh views on the current Russia-African relations: "it is necessary to take certain steps together for the Russian media to work on the African continent."
"You know that the Russian media provide broadcasting in various languages, they work in many countries, although it is certainly impossible to compare this presence with presence of the media of the United States, United Kingdom and Germany," he said as the ambassadors responded with a big applause.
Sharing additional matured sentiments and decisiveness about the media, Volodin added: "We propose to move from intentions to concrete steps. Our people will better understand each other through parliamentary relations."
For the past few years, Russia has made some efforts returning with investment and business to Africa, but unfortunately, not all these steps have received adequate publicity. The presence of Russian media on the African continent and that of African media in the Russian Federation have been raised several times in the past by many policy experts.
Reason Two: Vladimir Shubin, deputy director of the Institute for African Studies in Moscow said that Africa has great potential for bilateral relationships with Russia and, most importantly, Russia's contribution is very noticeable in dealing with the problems of Africa.
Perhaps, one of the reasons why some African leaders have written off Russia is the lack of information about Russia or rather plenty of distorted information they have received from the Western media coverage of Russia. In fact, Russia needs genuine and objective information about modern Africa, and here both state and private mass media linger a lot, according to Professor Shubin.
Reason Three: Olga Kulkova, a research fellow at the Center for Russian-African Relations at the Institute for African Studies, said that "Africa needs broader coverage in Russian media. Leading Russian media agencies should release more topical news items and analytical quality articles about the continent. Russia has to adequately collaborate with African partners and attract Russian business to Africa. More quality information about modern Russia should be broadcast in African states."
"Indisputably, it takes a lot of money and efforts, but the result will pay off. Russia ought to take the media into account if it wants to improve the chances for success in Africa. All the leading countries have been doing that quite efficiently for a long time," Kulkova noted.
Reason Four: While many experts argue that African media seem uninterested in developing working links to Russia, Vasily Pushkov, an independent expert on international media relations wrote in an emailed comment that "it works both ways and the two regions are very far from each other." Russia and Africa are not as interconnected as they were during the Soviet era, he stressed.
Pushkov explained that "Russia might have an image problem among African political and business elites, partly due to the fact that Russia has low presence in Africa compared to the Soviet era. Most African media get their global news from the leading Western media outlets, which in turn have a nasty and longstanding habit of always portraying Russia as the world's bogeyman."
Reason Five: "Russian media write very little about Africa, what is going on there, what are the social and political dynamics in different parts of the continent. Media and NGOs should make big efforts to increase level of mutual knowledge, which can stimulate interest for each other and lead to increased economic interaction as well," argues research professor Fyodor Lukyanov at the National Research University – Higher School of Economics, Faculty of World Economy and International Affairs, and editor-in-chief of the journal Russia in Global Affairs.
"To certain extent," Lukyanov said, "the intensification of non-political contacts may contribute to increased interest. Soft power has never been on a strong side of Russian policy in post-Soviet era."
Reason Six: The trend may change for the better. In a foreign policy speech, President Vladimir Putin urged all his Russian ambassadors and diplomats actively use new technologies to highlight Russian success stories, improve Russia's image and defend its interests abroad, according to Russian daily newspaper Kommersant, quoting an official who attended the meeting.
"It's not enough to just crow something once… We should explain our positions again and again, using various platforms and new media technologies, until they understand," the official, who spoke on condition of anonymity, quoted Putin as saying.
Republic of Ghana to host PanAfrican Mall
The capital city of Accra, Republic of Ghana, hosts the African Continental Free Trade Area (AfCFTA). The AfCFTA spearheads the operations of the continental single market, a mega project of the African Union (AU). In a parallel development, a Pan-African Mall (PAM), set to become one of sub-Saharan Africa's historic landmark mall for shopping.
The first of its kind, Pan African Mall is aimed at a more inclusive retail concept being introduced in Africa in furtherance of trade and socio-economic development and facilitation in alignment with the AfCFTA, considering it will accommodate businesses from several African countries and economic classes.
For shoppers, the experience will be all inclusive yet unique. PAM looks at "fostering multilateral socio-economic development and ties between African economies," Deputy Minister of Trade and Industry of Ghana, Stephen Amoah, during the sod-cutting ceremony marking the start for construction of Pan-African Mall.
Minister of Trade and Industry of Nigeria, Otumba Adeniyi Adebayo, praised the investors for their commitment to the project and their dedication to the development of Africa.
In her speech, Chairman/CEO of Nigerians in Diaspora Commission (NiDCOM), Abike Dabiri-Erewa said that they would provide mortgage financing for Nigerian business owners in Ghana, which should further be a boost.
The project is being spearheaded by Brains and Hammers Ltd (Ghana), in collaboration with Nigerians in Diaspora Organisation(NIDO), who are committed to the economic growth, job creation and empowerment of Africans. Brains and Hammers Ltd is a real estate and infrastructure construction, development and management company.
According to Mallam Bashir Patty, the Managing Director of Brains and Hammers Limited (Ghana), "the mall will have over 400 shops and over 300 workstations for those who can't afford shops."
The mall is functionally designed and will be replete with facilities and amenities, including but not limited to roof-top garden, 150 ground and basement parking spaces, banking halls, office spaces, restaurants, adequate supply of portable water, renewable energy supply and other environmentally sustainable features and elevators – a modern state of the art mall with eco-friendly facilities and environment.
As Chief Calistus Elozieuwa, the Chairman of the Board of Trustees for Nigerians in Diaspora Organisation – Ghana Chapter (NIDO), said: "This is a mall to be owned by Africans, not only Nigerians and Ghanaians because of the spirit of integration on the continent in terms of the area of trade."
Andrew Achampong-Kyei, Managing Director of GLICO General Insurance also reiterated that they would offer guarantees to the investors and shop owners and had designed a special policy i.e the rent to own, which enables an investor make substantial regular rent payments towards owning the shop.
The mall is aimed at contributing to sustainability and youth employment, including women and the disabled. It is, however, expected that the shopping mall becomes accessible to its customers and favorite shopping destination to purchase various goods and services. There are plans to include foreign products from the most desired retailers to meet the needs of customers.
By managing every aspect, the mega mall offers its customers a simple, secure and convenient solution to shopping directly from many of the best brands in the world. The PAM welcomes all African traders to take advantage of the fully secured state of the art shops and the mall. The construction is planned over a period of two years.
South Africa Faces Deep-Seated Economic and Energy Crisis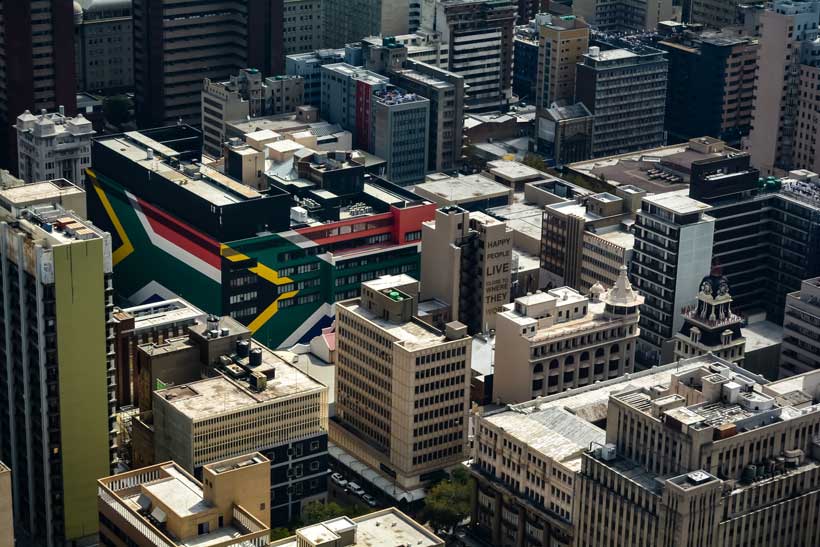 South Africa, highly considered as an economic powerhouse, is in deep-seated crisis. Energy deficit has crippled industrial operations and supplies for domestic use has largely been reduced. Unemployment is rising and cost of living becomes unbearable across the country. Social discontent, as a result of the crisis, has engulfed every corner in South Africa.
Reports monitored here say South Africa's President Cyril Ramaphosa and his cabinet on May 7 held an extensive meeting with key business leaders as concern over the country's energy crisis, logistic constraints and close ties with Russia grow. Attendees discussed collaborating to obtain inclusive growth, inspire confidence in the economy and create jobs, the Presidency said in an official Twitter post.
Five years after Ramaphosa ushered in a wave of business optimism that he'd revive the economy crippled by industrial-scale corruption under his predecessor, executives are running out of patience with the president, who is seeking reelection next year.
Economic stagnation stoked by record daily power cuts, rampant crime, disintegrating infrastructure and foreign policy missteps is leading investors to the exits. Yields on the benchmark 10-year generic government bond have risen 129 basis points this year to 12.1%, foreign buyers have been net sellers of the nation's stocks and the rand has plunged 11%.
Executives including Daniel Mminele, Nedbank Group Ltd.'s chairman, and MTN Group Ltd.'s Chief Executive Officer Ralph Mupita have called for urgency in resolving domestic hindrances to economic growth and warned the country is at risk of becoming a so-called failed state. Others such as FirstRand Ltd. Chief Executive Officer Alan Pullinger have criticized the country's relationship with Russia. The government's indifference to the war in Ukraine and its friendship with Russia is "foolhardy in the extreme," he said.
Early March, reports also warned that South Africa's banking industry faces a "profound geopolitical risk" from the government's close ties with Russia. South Africa has drawn criticism from some of its biggest trading partners, including the United States and the European Union, over military exercises it conducted with Russia and China. Those countries have also censured Ramaphosa's administration over its abstention from United Nations resolutions condemning Russia's war with Ukraine.
"Our government's left-leaning enthusiasm for China and Russia is being noticed by countries vehemently opposed" to the war in Ukraine, FirstRand Ltd. Chief Executive Officer Alan Pullinger said at an investor briefing in Johannesburg. The government's indifference to the war and its friendship with Russia is "foolhardy in the extreme," he said.
South Africa's banking industry is dependent on access to international markets, global clearing and settlement, Pullinger said. The country risks consequences because of its stance on Russia, he said. "Our collective access is a privilege; it is not a right and it can be revoked with ease," Pullinger said. "FirstRand does not share our government's enthusiasm for Russia."
With an estimated population of 58 million, South Africa is the southernmost country in Africa. It is bounded to the south by 2,798 kilometres of coastline that stretches along the South Atlantic and Indian Oceans; to the north by the neighbouring countries of Namibia, Botswana, and Zimbabwe; and to the east and northeast by Mozambique and Eswatini.
Civil Society Engagement at the Core of US-African Relations in Multipolar World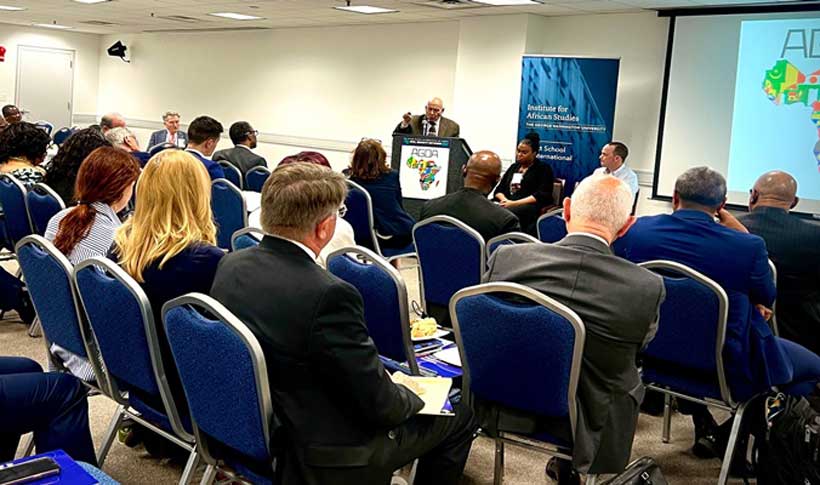 United States has held its 8th annual civil society forum to review progress, examine challenges and renew interest in forging ways to strengthen relations with Africa. United States has the largest African diaspora which has close-knitted business, educational and cultural links with the African countries. This helps to support official efforts in promoting relations with Africa.
The conference was a hybrid event that brought together civil society organizations, business, and government leaders from across Africa and the United States virtually and in person. The purpose of the gathering was to advocate for a ten (10) year Enhancement/Extension of AGOA benefits from 2025 to 2035, support the African Union's Agenda 2063, including the implementation of the African Continental Free Trade Areas and an African Customs Union, and to come up with recommendations on the way forward.
Since its passage by Congress on May 18, 2000, and signing into law on October 2, 2000, by President Bill Clinton, the African Growth and Opportunity Act (AGOA) has been the cornerstone of U.S. economic engagement with the countries of Sub-Saharan Africa (SSA).
AGOA is a long-term commitment with broad bipartisan support. On June 25, 2015, Congress overwhelmingly approved the Trade Preferences Extension Act (TPEA) of 2015, and on June 29, 2015, President Barrack Obama signed TPEA into law. TPEA reauthorizes AGOA and the associated "third Country fabric "provision for ten years through 2025.
Congress passed, and the executive branch implemented three prior legislative enhancements of AGOA, with significant bipartisan support in 2002, 2004, and 2006.
Discussion Highlights:
The Biden-Harris Administration is committed to strengthening US-Africa trade and commercial relations and engaging Congress on the next steps for AGOA.
In December 2022, the African Union Ministers of Trade from the AGOA-eligible countries met in Washington, DC, at the request of Ambassador Katherine Tai, USTR, "to have a full and frank exchange of views on how to work together to improve the utilization rates under AGOA and ensure that the program can be an effective tool for development."
At those high-level engagements, there was consensus that there is a need to extend AGOA beyond 2025. The recommendation has been tabled before the US Administration. During the meeting, Ambassador Tai, the African Ministers, and the Africa Group of Ambassadors also underscored the following:
• An extension of AGOA for at least ten years with the inclusion of ALL African countries
• The importance of Africa speaking with One Voice in all US-Africa trade and investment engagements; and,
• Enhanced commercial diplomacy between the US and Africa. There was also agreement that South Africa would host the next AGOA Forum in August/September this year.
United States Trade Representative (USTR) Ambassador Katherine Tai is committed to robust trade and economic collaboration with Sub-Saharan Africa. USTR Tai believes that Africa is the future. On-going discussions are taking place with African nations, including negotiations between Kenya and the U.S. regarding a strategic trade and investment partnership.
Stringent requirements from the various U.S. trade regulatory authorities and the limited industrialization capabilities in Africa are factors for the very low utilization of AGOA benefits. As a result, only a few product lines, such as fossil fuels, vehicles, clothing, textiles, and currently, Beef, are exported from Africa under AGOA.
Under-utilization has caused African exports to the U.S. under AGOA to decline from USD 78.01 billion in 2013 to USD 28.19 billion in 2022, resulting in a setback for Africa.
African countries are devising methods to improve export diversification, growth, and industrialization, including developing regional and continental value chains. These efforts present a tremendous opportunity for US companies to take advantage of the market provided by the African Continental Free Trade Area.
Succeeding in the African Continental Free Trade Area, a market with enormous growth potential, requires investing.
Each State participating in the African Continental Free trade agreement retains its national external tariffs. Exporting into this market will generate tariff charges.
Creating an African Customs Union will allow for a shared external tariff and pave the way for Africa to establish free trade agreements with trading partners.
American companies can enjoy duty-free exporting from their home bases, and Africa is in a better position to grow US-Africa trade with the African Customs Union in place.
A renewed U.S. policy on AGOA should prioritize investment in specific sectors, such as Trade, Financial Services, Health, Climate, Food Security, Tourism, and Logistics, including Gateway Initiatives and the Digital Economy.
Targeted U.S. investment conducted in partnership with businesses and institutions in each AGOA-eligible country, and per their respective utilization/transition plans, will catalyze American investment and technology, encourage innovation, instill U.S. values and best practices throughout Africa, create more jobs for youth on both sides of the Atlantic Ocean, and fill in gaps in markets across the continent in preparation for the African Continental Free Trade Area and the African Customs Union.
Africa is the major consumption hub of the future. The general population is young and increasing, the African middle class is also growing and with it, demand for industrial goods is 1.5 times higher than the global average.
The issue of low utilization rates of AGOA benefits needs to be addressed. Studies show that nations with AGOA Country Strategies have higher utilization rates than nations without country strategies, and these countries use AGOA benefits to create good-paying jobs.
The utilization rate of the Generalized System of Preferences (GSP) and all U.S. preferential trade programs for Least Developed Countries (LDCs) has decreased. AGOA is the only U.S. preferential trade program with a positive utilization rate of about 1.6%.
The metric and measure of AGOA's success should be contingent on RETURN ON INVESTMENT, not its short comings.
AGOA's cost to U.S. taxpayers is nominal especially compared to U.S. investment in Development Aid to Africa.
AGOA's non-oil imports have risen approximately 307% to $5.7 billion in 2022, while AGOA's apparel imports have singularly increased by more than 280%.
AGOA has created hundreds of thousands of new direct jobs and millions of indirect jobs in Africa in the textile, agricultural, and automotive industries and more than 500,000 in the U.S.
The economic impact of the COVID-19 Pandemic and Putin's Conflict in Ukraine poses a threat to US-Africa trade and investment, US-Africa strategic alliances, and gains made over the last two decades using the benefits of AGOA. AGOA has incentivized marketbased economies that safeguard private property rights, the rule of law, political pluralism, and the right to due process. It has also enhanced healthcare and education access while protecting globally acknowledged workers' rights. All these achievements are now at risk.
AGOA remains a transformative success story. Despite AGOA's challenges and areas of needed improvement, AGOA serves as "proof of concept" at a small financial cost to the U.S. taxpayer, which did not exist 20 years ago.
Africa is the major consumption hub of the future. The general population is young and increasing, the African middle class is also growing and with it, demand for industrial goods is 1.5 times higher than the global average
The region of Africa is too significant to ignore. Simply giving inspiring speeches and using diplomacy will not be enough for America to regain its economic and commercial leadership in Africa.
Members of Congress want to see AGOA benefits shared widely and used to create goodpaying jobs across Sub-Saharan Africa (SSA); members are open to discussions on ways to build on what is working, and deliberations by members and staff on the future of the legislation are ongoing as re-authorization is approaching in 2025.
There is interest on Capitol Hill to see how investment can be coupled with trade to address poverty reduction and advancement in targeted sectors, such as health care, critical minerals, and others.
Work in Progress Financing helps micro, small, and medium/smallholder farmers to increase productivity and create jobs.
Investing in a Special Purpose Investment Fund and taking advantage of tax incentives should be seen as an opportunity for the American public to support the growth of youth, effective governance, innovative ideas, strategic alliances, and the vast potential of African markets.
Congress never intended for AGOA to be permanent – it is a Trade Preference Agreement (TPA). And all TPAs must meet standards and requirements set by Congress.
Out-of-cycle reviews provide African nations with the opportunity for reinstatement once the sanctions have been addressed.
When AGOA is up for renewal, there is a decline in trade figures across the board, particularly in the apparel sector. Uncertainty regarding extending AGOA affects investment potential in AGOA-eligible countries. Extending AGOA for ten years will stimulate investment in AGOA-eligible countries.
AGOA needs to be extended as most people, especially women, and SMEs, are just beginning to learn about AGOA when the current legislation is about to expire.
Recommendations: During the event, delegates made the following recommendations:
1. The Biden-Harris Administration and the 118th Congress enhance and extend AGOA benefits for ten years from its current September 2025 sunset to September 30th, 2035, to support the African Union Agenda 2063 and the creation of an African Continental Free Trade Areas and African Customs Union – critical tools necessary to utilizing trade to strengthen U.S.-Africa strategic alliances.
2. Expand AGOA benefits to all 55-member states of the African Union from the current 49 Sub-Saharan African countries.
3. The U.S. must deliver on commitments made to Africa during the US-Africa Leaders' Summit, including a $55 billion pledge to support the African Union's Agenda 2063 and the creation of a new Digital Transformation with Africa (DTA) initiative intended to invest more than $350 million in financing Africa's digital transformation.
4. The AGOA CSO Network and private sector stakeholders, with the support of the 118th Congress, the Biden-Harris Administration, and the African Union Commission, to establish a $5 Billion Special Purpose Investment Fund (SPIF), with tax incentives to catalyze U.S. investment, technology, innovation, shared values, and best practices throughout Africa.
The 8th Annual AGOA CSO Network Spring Conference, under the theme 'Extending AGOA to 2035' was jointly coordinated by the AGOA Civil Society Organization (CSO) Network Secretariat and The Foundation for Democracy in Africa (FDA), in partnership with the Institute for African Studies, The Elliot School for International Affairs and George Washington University.