Two-nation theory, still on the march in India?
The Bengali were in the forefront of the "Pakistan Movement". When the East Pakistan seceded from the West Pakistan, many a writers assumed that it was the end of the two-nation theory that served as the primum mobile of the movement for creating a separate homeland for the Indian Muslim.
Two-nation theory
Some people consider Allama Iqbal the architect of the two-nation theory, but others attribute the theory to Lajpat Roy, a Hindu. Aside from the argumentative rigmarole who first presented the idea, the Quaid translated the idea into a Muslim homeland.
Stanley Wolpert paid tribute to Quaid in the following words, "Few individuals significantly alter the course of history. Few still modify the map of the world. Hardly anyone could be credited with creating a nation State. Muhammad All Jinnah did all three". Pakistan overcame insurmountable problems of influx of 1947 refugees, skimpy finances and myriad other problems to emerge as a viable entity. We welcomed refugees, while India was all set to drive out 4.7 million refugees from its eastern state of Assam. Fanatic Hindus in Indian National Congress thought that Pakistan would, at best, be a still-born baby. But Pakistan was able to survive all hurdles. It proved its viability despite severe politico-economic jolts.
Controversies:
Who created Pakistan
A host of controversies have been debated as to whether he was happy or frustrated at creation of Pakistan. The Quaid did not live long enough after the Partition to explain his view.
Some people even allege that as the Quad had sacrificed the idea of Pakistan at the altar of the Cabinet Mission Plan. He agreed, though conditionally, to a united India. It was Nehru's obduracy not to accept the Cabinet Mission's recommendations that culminated in creation of Pakistan (Jaswant Singh, Jinnah: India, Partition, and Independence). Some perfidious minds even suggested that it was the inanimate government-of-British-India notification that created the two states, not animus between Jinnah and Nehru.
Pakistan: A blunder?
A view is that the Quaid was remorseful at the creation of Pakistan. He considered it a blunder (Jinnah Bashing Back with CAA but What Were His Views on Partition? Mohd Ali Jinnah, till the time of his death, even wanted to return to India after his purpose was solved in Pakistan, The Print December 26, 2019).
The Quaid thought that the Muslim League leaders around him were `base coins' (khotey sikkey) and the `legal tender' was in pockets of his adversaries (Shorish Kashmiri. Boo-e-Gul, Naala-e-dl, dood-e-chiragh-e-mehfil, pp.317, 419-420). Chaudhry Ghulam Abbas corroborated this view. He ` remembered that once Quaid-i-Azam had said that "What is Muslim League? It essentially comprises three of us; me, my sister and typewriter."
Historian Mubarik Also confirmed this view. `In one of his articles, Dr Mubarak Ali mentioned in passing that Mr. Jinnah used to claim that he had founded Pakistan with the help of his typewriter and stenographer.'
According to the book 'Indian Summer: The Secret History of the End of an Empire' written by a British historian Alex von Tunzelmann, Jinnah called the demand for Pakistan the biggest blunder of his life.
On 11 Sept'1948, Jinnah, who was suffering from tuberculosis, lung cancer, and pneumonia, was on a flight from Quetta to Karachi .
On reaching Karachi airport, he saw the then Prime Minister Liaquat Ali Khan and told him that 'the demand for Pakistan was the biggest blunder of my life' and something else along the lines of:
If now I get an opportunity I will go to Delhi and tell Jawaharlal to forget about the follies of the past and become friends again.
Lajpat Rai, not Jinnah, propounded two-nation theory
Jinnah was a proponent of Hindu-Muslim amity until his cherished wish was thwarted by the fanatic Hindu. Barring Nehru and Gandhi, all the Hindu leaders were communalistic. Even Nehru, an ostensibly liberal leader, regarded the creation of Pakistan as a blunder. His rancor against Pakistan reaches a crescendo in his remarks: "I shall not have that carbuncle on my back." (D. H. Bhutani, The Future of Pakistan, page 14).
Historian Ayesha Jalal says: `Just before his own death, Jinnah proposed a joint defence with India as the Cold War started to shape the world and the two power blocs began to form. Jinnah was still thinking as a South Asian nationalist…had Jinnah's vision prevailed and found an echo in India, we would have seen a very different South Asia…there would have been no crippling defence expenditures'(Ayesha Jalal, Why Jinnah Matters, a paper in Maleeha Lodhi (ed.), Pakistan: Beyond the Crisis State). India's jingoistic military expenditure ratchets up Pakistan's defence outlays.
A. G. Noorani has exposed fanaticism of the Hindu leaders in his book The RSS: A Menace to India (p. 18):"He [Lajpat Rai] was the first to propound the two-nation theory and also the first to suggest partition of India, in 1899, he wrote: "Hindus are a nation in themselves, because they represent a civilization of their own." So, it was Lajpat Rai who first propounded the Two-Nation Theory. He also suggested the partition of India….
Barun Das Gupta, in an article Congress, Hindutva and Indian Nationalism (Mainstream Weekly. August 22, 2020) says:
`We blame the Muslim League and its leader, Mohammed Ali Jinnah, for unleashing communal violence and for the partition of India. However, there is no denying the fact that at present there is a surge of militant Hindu nationalism which is not only anti-Muslim but also anti-science, anti-history and against the very idea of India being a plural polity with diverse language, culture, costume, food habit, etc'.
He adds, `There is no denying the other fact either that in the pre-independence days, with the exception of Mahatma Gandhi and Jawaharlal Nehru, most other Congress leaders also cherished a strong Hindu identity and had a strong sympathy for Hinduism (whatever that may mean). Name any prominent Congress leader of those days — Pandit Motilal Nehru, Pandit Madan Mohan Malaviya, Pandit Bhulabhai Desai, Sardar Vallabhbhai Patel, Babu Rajendra Prasad, Chakravarti Rajagopalachari, Lala Lajpat Rai, Bal Gangadhar Tilak — and you will find a strong Hindu identity characterizing them all. Both Lala Lajpat Rai and Bal Gangadhar Tilak, two of the three famous Lal-Bal-Pal trio, had a strong Hindu sentiment. Though Lajpat Rai once said that "To require India to coalesce into a nation with one religion and one tongue . . . would revive the medieval idea of one empire, one people, one church", he joined the Hindu Mahasabha. Babu Rajendra Prasad's India Divided brings out both his Hindu identity and his anti-Muslim sentiments'.
Two-nation theory on the march
Opposition in Rajya Sabha raises issue of hate speech against minorities. But, the Chairman M Venkaiah Naidu did not allow the issue to be raised; He even ordered expunging from records the references to the alleged call by the priest for the killing of a particular minority community.
Narsinghanand, head priest of Ghaziabad's Dasna Devi temple, is out on bail in connection with a speech he made at a three-day 'Dharam Sansad' (religious parliament) held in Haridwar last December. Last week, he organised a mahapanchayat in Delhi without police permission, Yati Narsinghanand, delivered a speech exhorting Hindus to pick up arms claiming they faced the threat of conversion and violence if a "Muslim is made prime minister."
In Aligarh, district panchayat chairman Vijay Singh had issued an order on April 2 asking all meat shops in areas falling under the jurisdiction of the zila panchayat to shut down "during the period of the Navratri festival".
In a statement, the Muslim Personal law board lamented that it is even more difficult to live in India than in 1947. In Uttar Pradesh, on the occasion of New Year nine- day celebrations (Navratri), the Hindu forced the Muslim to shut down their meat shops. Harrasing the hijab-wearing Muslim women is an everyday phenomenon. In Gurgaon as elsewhere prayer-goers were beaten for offering nima 9prayer) in the open. India's Supreme Court has already held that a mosque is not essential to the Muslim mode of worship. Prayers-goers, wearing a prayer cap were brutally beaten. After campaigning against halal meat, right wing outfits have called for a ban on loudspeakers in mosques. It all started with an FIR registered by a lady vice chancellor against use of loudspeakers. Bajrang Dal and Sriram Sena are in the forefront demanding a ban on loudspeakers in mosques. Backing the Maharashtra Navnirman Sena chief Raj Thackeray, they warned that they will play Bhajans (Hanuman Chalisa) loudly on speakers to counter them at 5 AM as a protest against azaan from loudspeakers at mosques.
In Karnataka, right-wing vigilantes are out admonishing Hindus not to buy halal mutton from Muslim butchers.
These same vigilantes are also in the forefront of agitations on behalf of the movie The Kashmir Files which enacts the cruelties suffered by Kashmiri Pandits at the harrowing time of 1990. And Kashmiri Pandits through history have been halal meat eaters. It is eerie that India is the biggest exporter of meat. BJP legislators who fan hatred against meat themselves are the beef exporters.
The fanatic Hindu has been appealing to the Hindu community not to buy fruit from Muslim fruit vegetable and fruit sellers. The propaganda is that he Muslim spit on fruit
Veggies before pushing it into the market.
By corollary the Hindu should boycott India's famed weavers of sarees, etc., in the holy town of Varanasi, and other famed Muslim-made crafts in brass, porcelain, filigree, textiles, construction activity, and a whole host of other products.
Concluding reflections
Today, when Hindu communalism is threatening to transform India from a secular, democratic State to a Hindu theocratic State and a weak and enervated Congress is finding it tempting to play "soft Hindutva" politics for immediate electoral gains, the future, indeed, seems gloomy'. The CPI(M) leader Yachery has asked Congress to clarify its position on Hindutva.
.In India, they have named Mughal monuments after Hindu icons. They even want to change the name of Hyderabad. Several states have passed anti-conversation laws in flagrant violations of provisions of Indian constitution.
Under Uttar Pradesh anti conversion (love jihad) law, Hindus are allowed to marry Muslims but not vice versa. The law is being applied by police even retrospectively to jail Muslims who married Hindu women years back. Courts are barred.
The so-called love jihad law interferes with personal liberty. It violates Articles 25 to 28, under which an Indian citizen is guaranteed the freedom to practise any religion of his or her choice. It allows the Indian State to intervene not only in the citizens' private relationship with God, but also in the choice of their spouse. The atrocious law disobeys res judicata, Supreme Court's decisions in Shafin Jahan v Ashok KM (2018), K.S. Puttaswamy v UOI (2017) and Allahabad High Court's (November 11) Salamat Ansari v Uttar Pradesh (2020).
India's prime minister named a bio-technology centre after Rashtraya Swayemsevak Sangh ideologue Golwalkar. The Citizenship Amendment Act and national Register of Citizenship are communalist ploys to harass the Muslim.
The Hindutva influence percolated into even Indian courts. Look at Ram Janambhoomi judgment, verdict that `mosques are not necessary for Muslim worship' and Rajasthan High Court judge Mahesh Chandra Sharma's 193-page judgment on `cow'.
His judgment, a mélange of scriptures and law, glistens with hijinks like 'Peacocks Don't Have Sex', 'Cow is a Surgeon', `a complete pharmacy', and cow is a 'National Animal'. As per Article 48 and 51A (g) it is expected from the state government that they should take action to get a legal entity for cow in this country."
This `erudite' judgment mocks Article 51A (h) of Indian Constitution: "It shall be the duty of every citizen of India to develop scientific temper, humanism and the spirit of inquiry and reform".
It appears that Hindutva-obsessed India is all set for further subdivision on the basis of the two-nation theory.
"Haqeeqi Azaadi" or "Political Invasion"?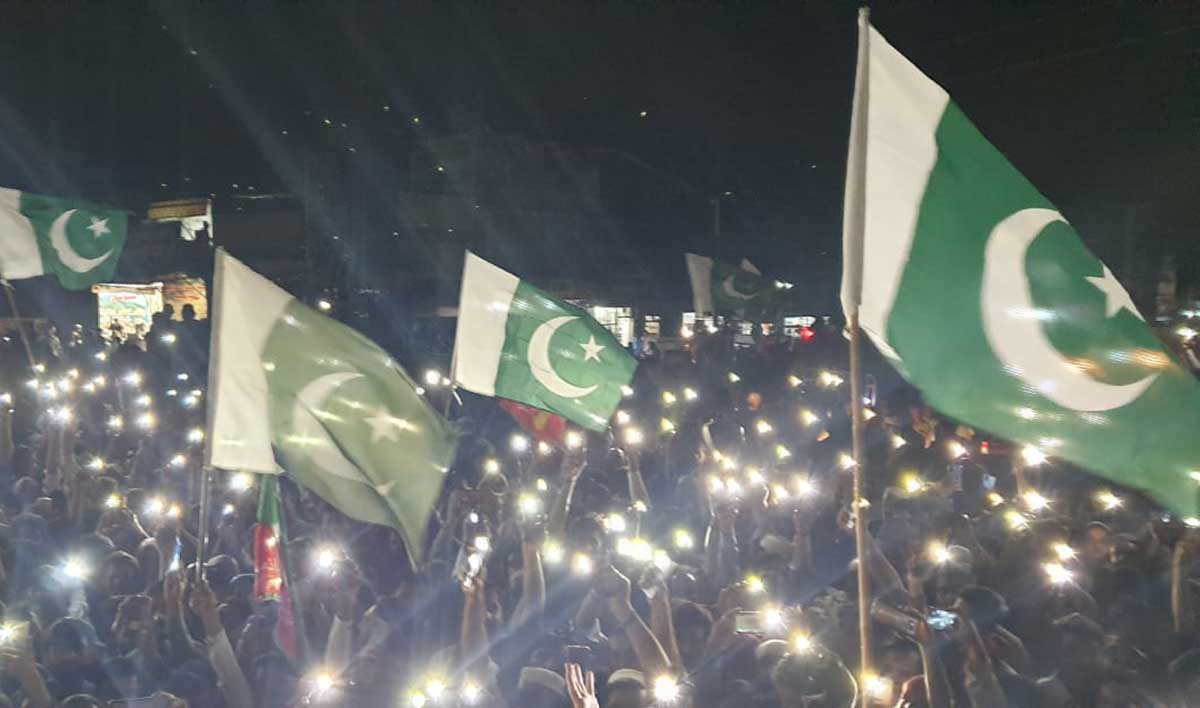 You call it a "Long March" or an "Azaadi March" or a "Haqeeqi Azaadi March" and lastly according to some people "Political invasion of the capital"; whatever attempt it may be, the impact of this "Long March" will not be "Short" at all. Seems like history is repeating. Yesterday, it was PTI, later it was TLP, then JUIF, PDM & now again PTI. This reminds us about a Supreme Court's historic judgment on Faizabad Sit in by Supreme Court, which is quite relevant again in these crucial times. The historic judgment of Supreme Court on Suo moto quotes that "The leaders of the dharna intimidated, hurled threats, abused, provoked and promoted hatred. The media provided unabated coverage. Inflammatory speeches were delivered by irresponsible politicians. Some unscrupulous talk-show hosts incited and provoked citizens." Isn't the situation once again similar? Doesn't it seem like history is repeating? Few analysts consider it to be a worst kind of situation.
Supreme Court writes in its judgment that "the freedom of speech and expression and of the press are fundamental right. However, these rights cannot be used to denigrate or undermine the glory of Islam, security or defence of Pakistan, friendly relations with foreign States, public order, decency or morality or in relation to contempt of court, or commission of or incitement to an offence. He categorically mentions that "PEMRA Ordinance mirrors the restrictions as set out in Article 19 of the Constitution and further prohibits broadcasts which are, "likely to create hatred among the people or is prejudicial to the maintenance of law and order or is likely to disturb public peace and tranquility." So, Supreme Court has already given clear instructions that if some event is likely to disrupt peace and tranquility, media broadcasts can be prohibited.
Insiders say that we are in a dead end and this is the most crucial time of history for Pakistan, especially when the economic fate has to be decided by IMF on 25th May when Imran khan marches on Islamabad. So let's playout the possible upcoming scenarios which political stakeholders may have to consider;
Marching towards Islamabad with huge crowds is one thing but forcing a government to dissolve assemblies with this crowd is another thing. Imran Khan very well knows this is a do or die situation for his political career as well. He knows his March will only succeed if he can force an early election.
Bringing larger mobs to Islamabad will only be fruitful if there is some kind of disruption by the present government or by the PTI itself. IK knows that a prolonged sit in without happenings in the red zone won't be impactful.
PTI leaders have been repeatedly convincing people including government employees, Army officers and police to bring their families in their Haqeeqi Azaadi March. The question which arises is that "Why IK doesn't bring own family members to join the "Jihad" or "Haqeeqi Azaadi"?
IMF has to take crucial decision on Pakistan's economic fate. Without an IMF Package, a Srilanka type scenario may arise. The decision will come on the same date as of long march, on 25th May. This is a do or die situation for Pakistan's economy. So the leaders of this March should definitely come with a futuristic economic plan and tell the masses how will they get rid of this dire economic situation.
While Srinagar Highway will be full of Marchers led by the so-called Ambassador of Kashmir, a big decision is expected to come from Srinagar about Yasin Malik. Unfortunately, it is expected that his sentencing maybe announced on 25th May as well.
The government also has limited options. They are arresting leaders of PTI. They are raiding houses in their own panic mode which will further incite the situation. The removal of fuel subsidiary has become inevitable and when it happens it will be the most unpopular decision. Rising, Inflation will cut purchasing power. Finalization of IMF program has brought them to a dead end.
The dread is in the air. 25th May is around the corner. It is Crucial. It is Do or Die for Pakistan. We must fear!!
When Politics turns Personal; The Toxic Allegations & Accusations become a Norm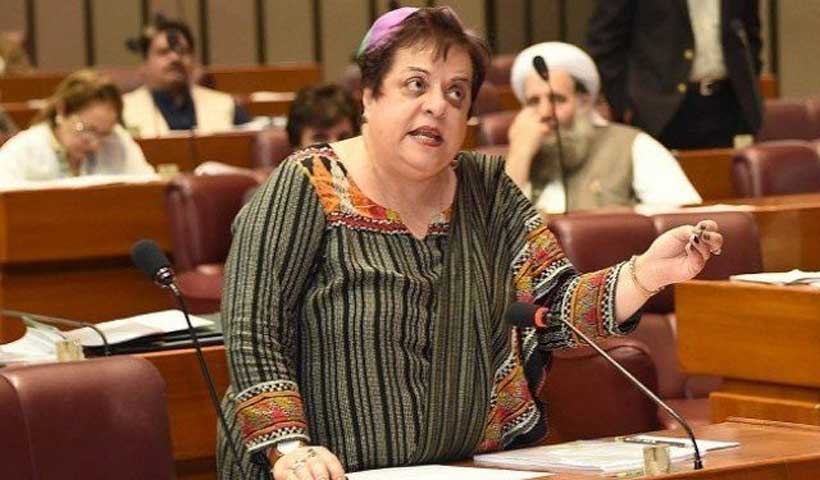 There is something happening beneath this political turmoil which is NOT looking good!!
Whenever Political landscape turns into a Personal battleground, defeats become unacceptable. These past few days are a perfect case study to see that how Political elite in Pakistan has done whatever it took it to stay in power. In this power grab scenario, there could be numerous losses including the integrity of institutions. We have unfortunately entered into a very dangerous phase, where some political stakeholders have put all stakes at risk, where they have stretched their limits beyond a constitutional limit, all to gather mass support, all to stay in power and avoid defeat. Is it a threat of losing power? Is it a double game? Is it a practical hybrid war we are fighting? Whatever it is, it doesn't seem to be good. All is at stake, all is at risk and all is toxic.
As if the political temperature was not noxious enough, Shireen Mazari Saga took place. Once again, accusations, allegations and assumptions started pouring in against the state institutions. Soon after her arrest, her daughter, a lawyer herself Imaan Zainab Mazari alleged that her mother was beaten by male police officers during the arrest. But few minutes later, a video clip surfaced that showed clearly that her mother was arrested by Female Police officers in broad daylight and as per the law. Lie number 1 of the daughter stood exposed. Within moments, without any cogent evidence the lady, known for many controversies in the past targeted state institution for such an act, although the anti-corruption already had taken responsibility of her arrest.
Abuse of power can never be tolerated, regardless of who it targets or from where it emanates. This mantra is true and everyone has an equal belief on it but let's take a deep dive to see that how politics turned dirty in this case, how blame game took place and how this entire episode was used as a tool to churn propaganda against Army leadership and Armed Forces.
1. The anti-corruption police had arrested Shireen Mazari and she herself accepted that Prime Minister and Interior minister were responsible for my arrest. But the mother daughter nexus brazenly started blaming institutions without any solid evidence. Shouldn't there be an inquiry on this too?
2. PTI was always of the opinion that why courts were opened mid night to send IK packing while he wasn't listening to anyone however when same court gave a verdict in favor of PTI ex minister, late night, it was celebrated and much appreciated by Shireen Mazari & IK who have been spearheading anti judicial tirade until recently. Isn't it blatant hypocrisy? Judicial inquiry has been ordered by the Court which is a positive sign, but the serious allegations which Mazari nexus have raised must also be inquired during this newly formed judicial inquiry. Should the Judiciary not question them on hurling these baseless allegations?
3. The present government, whose Police itself arrested Shireen Mazari disowned this attempt. Attorney General displayed his ignorance about the matter in front of the court. So, somehow the government created this impression in the public eye that they are not to be blamed for the arrest of Shireen Mazari. Was it a double game? Or a deliberate effort to discredit institutions?
Pakistan is already facing serious economic downfall, political uncertainty and civil strife. PTI has also announced Long March to Islamabad on 25th May which is likely to further exacerbate already fragile political and economic instability. It has become quite evident now for achieving petty political ends, our political elite has no serious resolve to address the crisis confronting the country. Country is being deliberately pushed to limits of economic and political dead end. The political immaturity and lack of vision to handle the crisis situation is also hurting the repute of institutions amidst internal political wrangling. If political leadership doesn't come to grips of the critical situation prevailing which is likely to aggravate further in coming days, people of Pakistan in particular and the country in general are likely to suffer unprecedented damage. Political elite must put its acts together and steer the country out of prevalent political and economic crisis by showing sagacity and political wisdom until it's too late.
Accusations to Acknowledgement: The Battle of Article 63 A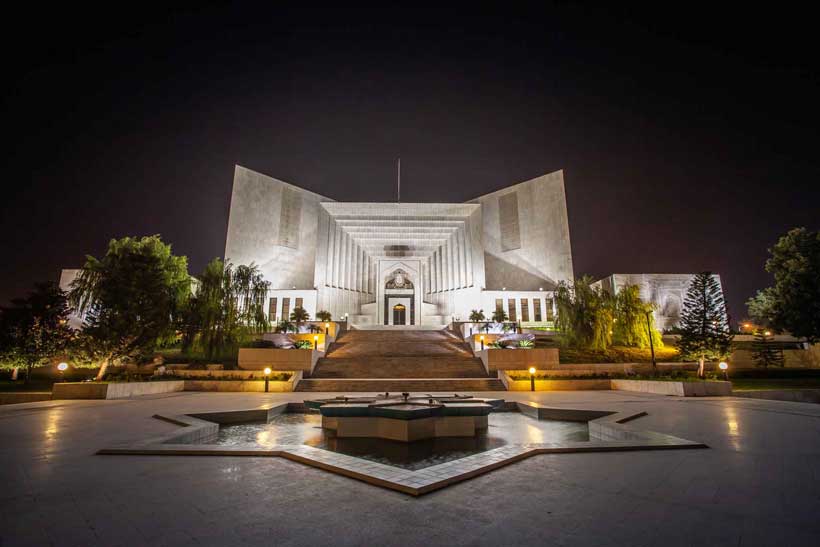 The weather is heating up. As the May is ending, Political temperatures are soaring. The fate regarding the country's political and economic stability will be measured in the upcoming days. Earlier, PDM built momentum by taking on institutions. Maryam Nawaz raised the temperature by targeting key personalities and institutions. Allegations were bursting against the institutions in all dimensions. Today, we witness reversal of roles. Accusations have been outflowing in every Jalsa by PTI. But now suddenly, the "accusations" turned into "acknowledgment". "Complaints" started transforming into "Compliments". Is it the change of narrative? Is it another U-turn? Or is it the restoration of confidence in the institutions? Where will this chaos end?
The Supreme Court's "decision" or as they say "opinion" or "binding" on Article 63 A has raised some pertinent questions on the status of CM Punjab election? In the interpretation of Article 63 A of the constitution, the Supreme court categorically condemns the practice of horse trading by calling it "a cancer afflicting the body politic". Supreme Court in its decision of 3-2 rejected the vote count of these dissident members against the party directives. So the future of the Chief Executive of Punjab is now under threat because it is contrary to what happened in National Assembly. The political instability continues and the situation is messy.
In light of this verdict, Hamza has a support of 172 MPAs in Punjab assembly but at the same time, he also has 4 dissenting members which draws the figure to 168. Now further moving ahead, PTI and alliance also has a collective figure of 168 votes minus 21 dissenting members. The situation here in Punjab is way too complex now. A support of 186 members is required for a clear majority in Punjab assembly to formulate a government. This current Punjab government can either fall through a governor led vote of no confidence or a Supreme court order. The governor even has a right to dissolve the assembly with his discretionary powers according to Article 112 (2) of the constitution. Supreme Court has already made its decision on cross voting against Party fiat. Now legal experts are interpreting the decision in their own dictionaries. What will happen in Punjab? What will happen on the federal level? Will there be an election call? If so, what will be the care taker setup? Will there be a fresh mandate? Who will make the hard economic decisions? Lot needs to be answered in these crucial times.
From "My judges disappointed me" to "Thankyou Supreme Court", a lot has happened and a lot is ready to take place. Islamabad is full of gossips, interpretations, whispers and predictions these days. There is something seething under this political turmoil. The Red zone is under a lot of pressure whether politically or economically. Pre – Elections, Elections and then Post elections, we have a lot of consequences of a lot of hard decisions. But hard decisions need to be taken. Question is who is ready to make the hard choices? Be Afraid!!