The Taliban founded an authoritarian Islamist theocracy in Afghanistan a quarter-century ago that egregiously engrossed in methodical internal subjugation, deprivation of human rights to Afghan citizens. Consequently, the Taliban endured international isolation. Now, once again, they have ascended to power and captured Kabul on 15 August 2021 that received initially mixed indications whether the Taliban 2.0 regime will be a new incarnation this time. While the Taliban have desisted from massive retaliatory exterminations, their imperium has provoked a mass exodus and intensifying uncertainties over how they will deal with women, minorities, media, and socio-political disagreement that have been well-protected under the 2004 Constitution of the Islamic Republic of Afghanistan. There are several questions such as Will the Taliban execute their stated promises about the formation of an inclusive government? Will they respect the diversity of Afghanistan while guaranteeing services and jobs for all Afghan citizens, including women? Will they again establish a Sunni clerical totalitarian regime worse than the Iranian model? Will they abide by their counterterrorism commitments and work with the Western jurisdictions to ensure free economic aid flows or once again allow isolation? To what extent do the U.S. and its allies still impact the promises and prospects of the Taliban? However, in a troubled world, the human right to dignity and the right to human equality of all people have become more needed than ever before.
The answers to the questions hereinabove are fully available under the present 2004 Constitution of the Islamic Republic of Afghanistan that was adopted after the years of protracted conflict and whose fate, now, remains in limbo. It has envisioned the Afghan State as the Islamic Republic of Afghanistan in the Preamble. The National Assembly is the supreme legislative establishment in Afghanistan, consisting of two houses; a) the Lower House (Wolesi Jirga) and; b) the Upper House (Meshrano Jirga). The Wolisi Jirga includes 249 elected seats and is empowered to amend the Constitution's provisions and makes the President accountable to the Wolesi Jirga. The Meshrano Jirga has 102 seats, including a third of presidential appointees, out of which 50% of the seats are for women. The judiciary's highest court is the Supreme Court, which includes nine judges appointed by the President at the approval of the Wolesi Jirga for a term of 10-years. The Ministry of Justice has been empowered for new enactments and law reforms. The Bonn Agreement in 2001 has established the Afghan Independent Human Rights Commission (AIHRC). Thus, AIHRC is assigned by the Constitution to promote and protect human rights and investigate human rights abuses, including war crimes. The idea of diversity is protected under Article 4 of the Afghan Constitution; the nation of Afghanistan shall contain Pashtun, Tajik, Hazara, Uzbek, Turkman, Baluch, Pachaie, Nuristani, Aymaq, Arab, Qirghiz, Qizilbash, Gujur, Brahwui, and other tribes. The majoritarian religion is Islam (Sunni); however, several other minority religions such as Hindu and Buddhism are also professed.
The existential peregrination of Afghanistan is sandwiched between once metropolis of civil liberties and present necropolis of human rights. Today, Afghanistan is jettisoned between Afghan domestic unilateralism narrative and global multilateralism narrative. Geopolitically, Afghanistan is located between South Asia and Central Asia, but it is part of SAARC (South Asian Association of Regional Cooperation)—an inter-governmental organization—bordered by Tajikistan, Turkmenistan, Uzbekistan, China, India, Pakistan, and Iran. The total area of Afghanistan is 647,500 sq. km, and more than half the landmass is mountainous, and it is shared in half by the Hindu Kush mountain range. The total population of Afghanistan is 38,928.34 (2020), and it is 40,003,062 (2021) with a growth rate of 2.40% (2021) and 25.75% (2019) live in urban centres. Afghanistan remains one of the poorest nation-states in the world, with a literacy rate of 36% (14% women and 43% men).
Legal Pluralism
Most legal systems in conflict and post-conflict countries consist of parallel and often contradictory social, economic, and political systems and regulatory mechanisms that are a potential source of future legal insecurity and social and political conflict, and Afghanistan is no exception. However, the Preamble to the Constitution stipulates that the Nation of Afghanistan observes the UN Charter and the UDHR (Universal Declaration of Human Rights). Therefore, Afghanistan is a party to a compendium of international instruments such as CEDAW (U.N. Convention on the Elimination of All Forms of Discrimination against Women) and U.N. Security Council Resolution No. 1325 to secure women's rights. Moreover, the Constitution of the Islamic Republic of Afghanistan obligates the government to foster a peaceful and progressive society based on social harmony, human dignity, equality of justice, protection of human rights, the accomplishment of democracy, and preserving national integration and equality among all ethnicities and tribes. However, the Constitution also states that an explicit provision that no law "contrary to Islam" must not be interpreted imperfectly if the same is problematic for women's human rights.
In Afghanistan, legal pluralism is based on several types of legitimating sources, including International law, State Law, Religious Law, and Customary Law. Traditional practices maintain social order, particularly in rural areas, where the State still has the only limited writ. Each village has its informal customs and processes for enforcing norms and resolving disputes. Therefore, community councils still act as the principal judicial system in the country, and almost 80% of disputes are settled outside the formal judicial system and without any legal documentation due to a lack of access to standard courts and trust deficit in them. Community councils are problematic as they reject anything construed as contrary to their creeds and convictions. As such, disputes relating to marriage, divorce, polygamy, and child custody can be poorly judged. In addition, these councils are dominated by men and have a patriarchal structure in which women are strongly under-represented. In a country where women symbolize family honour and are at risk of being considered goods and properties to be used and exchanged for this purpose, violence against women is widely tolerated at household, community, and national levels due to traditional justice mechanisms being unresponsive to women's human rights.
Implementation with HRDA Constitutionalism
Implementation of human rights in Afghanistan is possible with Human Rights Driven Approach (HRDA) Constitutionalism. HRDA Constitutionalism invokes the application and appreciation of the Constitution of the Islamic Republic of Afghanistan where appropriately sufficient arrangements have been envisioned in the Preamble and Chapter-2 on fundamental rights in the context of women's rights. International Human Rights Law (IHRL) Framework is one of the most significant devices for fostering women's human rights but does not have pragmatic implementation at the grassroots stratum. The constitutionally guaranteed legal equality of women is time and again contravened with the retaining the discriminatory personal laws stemmed from Islamic hermeneutics based on customary laws that are further seconded by the Constitutional recognition of Sharia Law, for example, a woman walks out of an abusive marriage; therefore, the judicial authorities will be subjected to chastisements, despite the fact it does not have any basis in family law, civil law, criminal law or criminal code of Afghanistan. Unfortunately, these punishments are pronounced by the judicial officers as per their interpretation of Sharia law.
The promotion of women's human rights can be accomplished by creating spaces for media campaigns, organizing conferences, encouraging the participation of NGOs, and sensitizing the common people about the human rights of women. Women's organizations will have to work with AIHRC to have a regnant voice on crimes against women while generating parallel documentation of Optional Reports to the CEDAW Committee. Now, there is a necessity to reform the local laws in tandem with the international IHRL obligations of Afghanistan. Regrettably, Afghanistan does not have an appropriate system in place for a pragmatic enjoyment of women's human rights in every walk of life that too in contravention of the constitutional protections.
Traditional Sensitivities & Islamic Councils
Primarily, Afghanistan is a traditional Islamic State in which HRDA Constitutionalism will have greater socio-cultural acceptability provided it is consistent with the applicable Sharia Law system. In this conspectus, appropriate modules can be taken from various other Islamic countries in the neighbourhood like Iran and Pakistan, where the situation is different and beyond. There is a pivotal issue of Islamic interpretations in Afghanistan that percolates from an absence of an accurate understanding of Sharia Law. Therefore, it is crucial to collaborate with Islamic scholars, particularly from the liberal Islamic democracies, to evolve the correct construction of Islamic views with the Afghan scholars on a wide range of subjects, including women's human rights. Thus, a liberal and HRDA Constitutionalism-based elucidation of the Holy Quranic verses has to be commenced by Islamic scholars in Afghanistan. HRDA has to create a social balance between women's family obligations and the rights of women. Such a premise would encourage and facilitate the training of women in the human rights discourse. It would also embolden women's empowerment and provide requisite momentum to feminist movements in Afghanistan.
The diverse challenges to women's rights need to be addressed with carving out a pragmatic role for highly influential Islamic Councils. These are, in fact, women's rights involved in the matters of polygamy, reproductive determinations, child custody & marriage, divorce, preferences for life partners. Traditionally, women's rights in these matters have always been decided by the patriarchal fiefdoms in Afghanistan. There are reasons for such a sorry state of affairs, like the low literacy threshold among the Afghan population that led the people of Afghanistan to exclusively rely upon the religious clergy that has significantly shaped and influenced their way of life, including their personal affairs. The new political leadership can facilitate accessibility and coordination to NGOs and women's rights defenders to sensitize the people in this connection. Therefore, religious scholars must be sensitive to women's rights armed with liberal and harmonious construction of religious texts. These religious scholars can be the change-makers in bridging the contradictions between traditional sensitivities and Islamic beliefs that trample upon women's rights in Afghan society. Thus, it is the Quranic human rights of women that the Afghan State must access, and it must respect the same.
Gender Representation in Judicial Routes
The Afghan Judicial System (AJS) does not adequately represent Afghan women judges; therefore, legal safeguards designed for their protection are often nosediving at the ground enforcement. The Supreme Court of Afghanistan does not have women judges, and the same is the situation within the local judiciary. Further, there is no female representation at the community level again due to the misconstruction of Sharia Law regarding the ability of women to make proper judgments. Now Afghan women judges and lawyers are fleeing for safety and refuge as criminals convicted by them are out for reprisals. It shows an inherent and deep-rooted bias and ill-conceived preponderance of patriarchal and parochial tendencies against women, and AJS is not an exception. The pace of judicial and institutional reforms has been sluggish that added salt to injury. Afghanistan got a chance to codify, revise and develop its laws in conformity with international principles of IHRL immediately after the collapse of Taliban 1.0 in the late 1990s, but it could not do so. Until now, only a few courts premises and several training programmes have been developed in the provinces. Only one family court in Kabul and some courts have been created in the adjacent provinces. Such a lacklustre approach cumulatively resulted in a miserable level of public consciousness regarding new rules, regulations, and laws about women's rights at all AJS and Afghan informal administration levels. Thus, women's human rights cannot be realized in Afghanistan without the representation of women in the AJS.
Women's Safety in A Fragile Transitional State
There is a lack of psycho-physical safety and socio-economic security for women's NGOs and women's rights defenders in all walks of life across Afghanistan. The modes of women's sartorial presentation, socialization thresholds, economic engagements, and education exposure are the regnant determinant of honour in Afghan society and culture. The writ of the patriarchal chief runs and is responsible for protecting the family fiefdom's reputation. By itself, these are stark tests and trials in expanding the scope of accessibility to HRDA Constitutionalism for sensitizing, educating, and devising programmes for Afghan women. The scarcity of understanding the nuances of justice and judicial institutions further impedes their access to public life mobility. However, Islamic councils and religious leaders have allowed few well-connected NGOs to operate to helping vulnerable women in the various communities. Despite all socio-economic trials and tribulations for Afghan women, there is a principal challenge of the rule of law and its application to traditional practices and informal justice systems for achieving justice. In the absence of formal AJS, informal justice systems have mushroomed in Afghanistan. The personnel presiding over them also head the local councils that are perceived as the primary source of traditional norms. Moreover, the lack of infrastructural facilities and logistical support has crippled their faith in the AJS has further deteriorated. The growth of the informal justice systems challenges the AJS, and its prevalence in the future remains a material question.
U.N. Security Council Resolution Principles
The U.N. Security Council Resolution 1325 stipulated fundamental principles, namely; protection, participation, and promotion of women's human rights with the HRDA roadmap and women's rights NGOs have been doing the work for their empowerment despite all odds as under:
-In the context of protection, women NGOs have been operational with the Ministry of Women Affairs (MWA) and the group 'Women Living under Muslim Laws' and other INGOs in training, empowering, and preparing the drafts for new laws of family, marriage, and crimes against women laws, etc. These NGOs and INGOs have also been pushing and encouraging gender mainstreaming within other new laws at household and community levels. Such laws are essential in ensuring the restoration of AJS to enable women to claim their rights. Moreover, the NGOs have been working with MWA to build women's shelters, help centres for those enduring violence and confronting abuse, and address the women's most basic health and economic requirements. Thus, the HRDA roadmap ensures protection by facilitating new legislation and socio-economic security for Afghan women enduring violence and promoting rights-based education.
-In the context of participation, the participation of women in decision-making bodies is a crucial step for securing their human rights. National and Global agencies have been working hard to establish women's Shuras (Decision-Making Councils) among the tribal communities under the Afghanistan National Solidarity Programme. These Councils intend to re-boot those traditional structures already in place to ensure women's participation in a pragmatic orientation. Moreover, there has been a multitude of initiatives from the NGO and political community to integrate the voices of women and promote their participation through different arrangements like the Women's Political Participation Committee (WPPC) and the Afghan Women's Network (AWN), etc. These arrangements not only revive a sense of solidarity and cooperation for women's rights defenders, but they also build partnerships with female Members of Parliament at the national stage. Furthermore, there have been active campaigns for drafting women judges in the Supreme Court. Thus, the women's rights movement has been advancing different advocacy mechanisms for law reforms and political participation at every stage of the AJS.
There is No Conclusion
It is axiomatic that Afghanistan represents an assortment of burning issues germane to HRDA Constitutionalism in defending women's rights in a necropolis of human rights, particularly in conflict and post-conflict settings. Due to the fragile dynamics of the Afghan State and the legal pluralism that has followed, NGOs operating with HRDA Constitutionalism must consider several factors, including functioning in an Islam-driven system in a culturally sensitive trajectory. The participation of women in the existing AJS and their potential drafting in the new judicial arrangements need to be ensured with fair play. All the stakeholders must recognize the challenges of women's safety. The implementation of women's human rights and their integration within the local traditional decision-making institutions must be salvaged beyond the interference of the Afghan State.
"Haqeeqi Azaadi" or "Political Invasion"?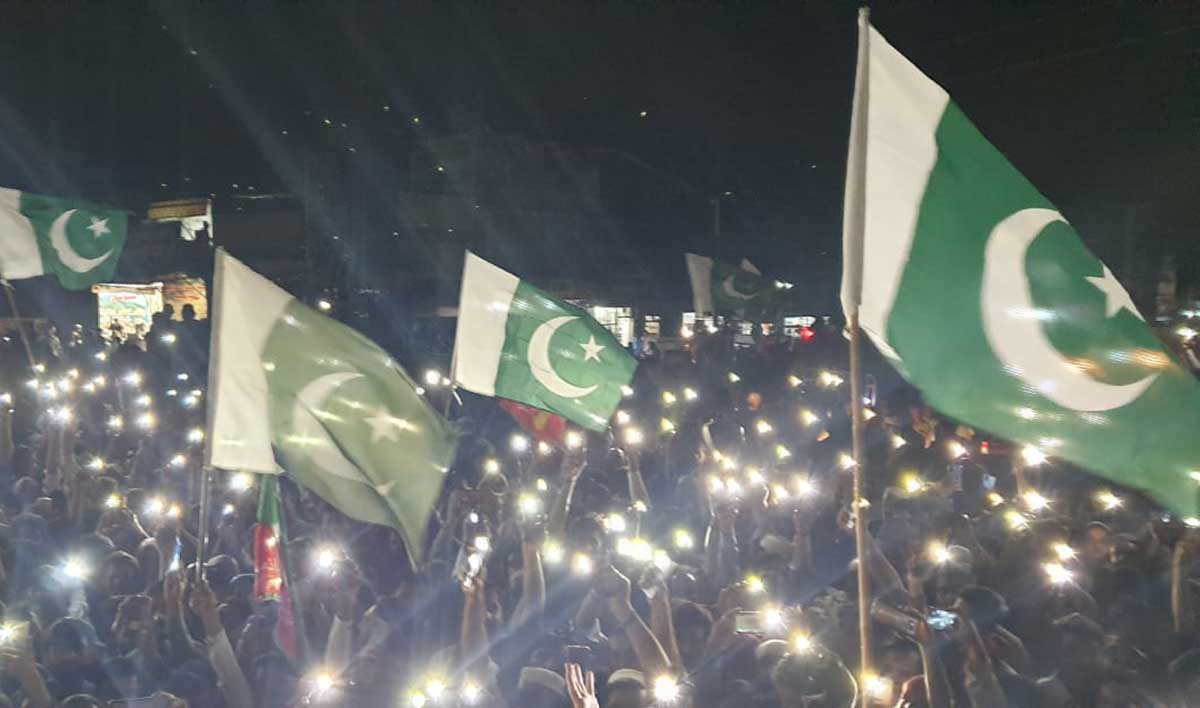 You call it a "Long March" or an "Azaadi March" or a "Haqeeqi Azaadi March" and lastly according to some people "Political invasion of the capital"; whatever attempt it may be, the impact of this "Long March" will not be "Short" at all. Seems like history is repeating. Yesterday, it was PTI, later it was TLP, then JUIF, PDM & now again PTI. This reminds us about a Supreme Court's historic judgment on Faizabad Sit in by Supreme Court, which is quite relevant again in these crucial times. The historic judgment of Supreme Court on Suo moto quotes that "The leaders of the dharna intimidated, hurled threats, abused, provoked and promoted hatred. The media provided unabated coverage. Inflammatory speeches were delivered by irresponsible politicians. Some unscrupulous talk-show hosts incited and provoked citizens." Isn't the situation once again similar? Doesn't it seem like history is repeating? Few analysts consider it to be a worst kind of situation.
Supreme Court writes in its judgment that "the freedom of speech and expression and of the press are fundamental right. However, these rights cannot be used to denigrate or undermine the glory of Islam, security or defence of Pakistan, friendly relations with foreign States, public order, decency or morality or in relation to contempt of court, or commission of or incitement to an offence. He categorically mentions that "PEMRA Ordinance mirrors the restrictions as set out in Article 19 of the Constitution and further prohibits broadcasts which are, "likely to create hatred among the people or is prejudicial to the maintenance of law and order or is likely to disturb public peace and tranquility." So, Supreme Court has already given clear instructions that if some event is likely to disrupt peace and tranquility, media broadcasts can be prohibited.
Insiders say that we are in a dead end and this is the most crucial time of history for Pakistan, especially when the economic fate has to be decided by IMF on 25th May when Imran khan marches on Islamabad. So let's playout the possible upcoming scenarios which political stakeholders may have to consider;
Marching towards Islamabad with huge crowds is one thing but forcing a government to dissolve assemblies with this crowd is another thing. Imran Khan very well knows this is a do or die situation for his political career as well. He knows his March will only succeed if he can force an early election.
Bringing larger mobs to Islamabad will only be fruitful if there is some kind of disruption by the present government or by the PTI itself. IK knows that a prolonged sit in without happenings in the red zone won't be impactful.
PTI leaders have been repeatedly convincing people including government employees, Army officers and police to bring their families in their Haqeeqi Azaadi March. The question which arises is that "Why IK doesn't bring own family members to join the "Jihad" or "Haqeeqi Azaadi"?
IMF has to take crucial decision on Pakistan's economic fate. Without an IMF Package, a Srilanka type scenario may arise. The decision will come on the same date as of long march, on 25th May. This is a do or die situation for Pakistan's economy. So the leaders of this March should definitely come with a futuristic economic plan and tell the masses how will they get rid of this dire economic situation.
While Srinagar Highway will be full of Marchers led by the so-called Ambassador of Kashmir, a big decision is expected to come from Srinagar about Yasin Malik. Unfortunately, it is expected that his sentencing maybe announced on 25th May as well.
The government also has limited options. They are arresting leaders of PTI. They are raiding houses in their own panic mode which will further incite the situation. The removal of fuel subsidiary has become inevitable and when it happens it will be the most unpopular decision. Rising, Inflation will cut purchasing power. Finalization of IMF program has brought them to a dead end.
The dread is in the air. 25th May is around the corner. It is Crucial. It is Do or Die for Pakistan. We must fear!!
When Politics turns Personal; The Toxic Allegations & Accusations become a Norm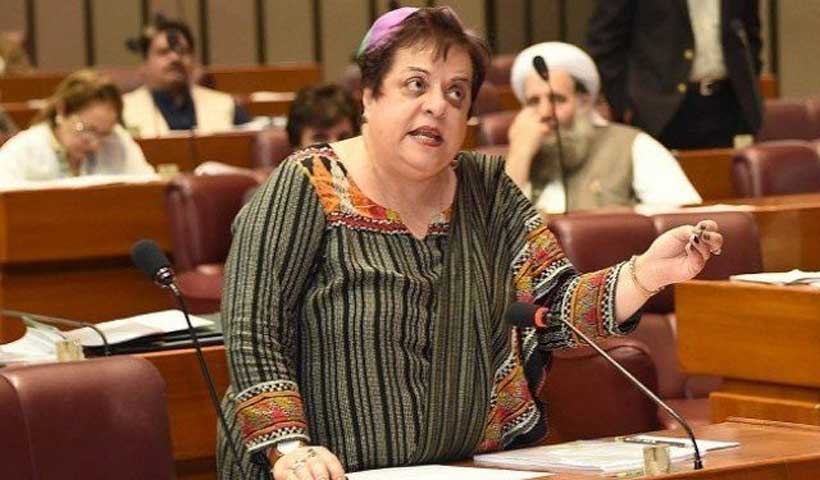 There is something happening beneath this political turmoil which is NOT looking good!!
Whenever Political landscape turns into a Personal battleground, defeats become unacceptable. These past few days are a perfect case study to see that how Political elite in Pakistan has done whatever it took it to stay in power. In this power grab scenario, there could be numerous losses including the integrity of institutions. We have unfortunately entered into a very dangerous phase, where some political stakeholders have put all stakes at risk, where they have stretched their limits beyond a constitutional limit, all to gather mass support, all to stay in power and avoid defeat. Is it a threat of losing power? Is it a double game? Is it a practical hybrid war we are fighting? Whatever it is, it doesn't seem to be good. All is at stake, all is at risk and all is toxic.
As if the political temperature was not noxious enough, Shireen Mazari Saga took place. Once again, accusations, allegations and assumptions started pouring in against the state institutions. Soon after her arrest, her daughter, a lawyer herself Imaan Zainab Mazari alleged that her mother was beaten by male police officers during the arrest. But few minutes later, a video clip surfaced that showed clearly that her mother was arrested by Female Police officers in broad daylight and as per the law. Lie number 1 of the daughter stood exposed. Within moments, without any cogent evidence the lady, known for many controversies in the past targeted state institution for such an act, although the anti-corruption already had taken responsibility of her arrest.
Abuse of power can never be tolerated, regardless of who it targets or from where it emanates. This mantra is true and everyone has an equal belief on it but let's take a deep dive to see that how politics turned dirty in this case, how blame game took place and how this entire episode was used as a tool to churn propaganda against Army leadership and Armed Forces.
1. The anti-corruption police had arrested Shireen Mazari and she herself accepted that Prime Minister and Interior minister were responsible for my arrest. But the mother daughter nexus brazenly started blaming institutions without any solid evidence. Shouldn't there be an inquiry on this too?
2. PTI was always of the opinion that why courts were opened mid night to send IK packing while he wasn't listening to anyone however when same court gave a verdict in favor of PTI ex minister, late night, it was celebrated and much appreciated by Shireen Mazari & IK who have been spearheading anti judicial tirade until recently. Isn't it blatant hypocrisy? Judicial inquiry has been ordered by the Court which is a positive sign, but the serious allegations which Mazari nexus have raised must also be inquired during this newly formed judicial inquiry. Should the Judiciary not question them on hurling these baseless allegations?
3. The present government, whose Police itself arrested Shireen Mazari disowned this attempt. Attorney General displayed his ignorance about the matter in front of the court. So, somehow the government created this impression in the public eye that they are not to be blamed for the arrest of Shireen Mazari. Was it a double game? Or a deliberate effort to discredit institutions?
Pakistan is already facing serious economic downfall, political uncertainty and civil strife. PTI has also announced Long March to Islamabad on 25th May which is likely to further exacerbate already fragile political and economic instability. It has become quite evident now for achieving petty political ends, our political elite has no serious resolve to address the crisis confronting the country. Country is being deliberately pushed to limits of economic and political dead end. The political immaturity and lack of vision to handle the crisis situation is also hurting the repute of institutions amidst internal political wrangling. If political leadership doesn't come to grips of the critical situation prevailing which is likely to aggravate further in coming days, people of Pakistan in particular and the country in general are likely to suffer unprecedented damage. Political elite must put its acts together and steer the country out of prevalent political and economic crisis by showing sagacity and political wisdom until it's too late.
Accusations to Acknowledgement: The Battle of Article 63 A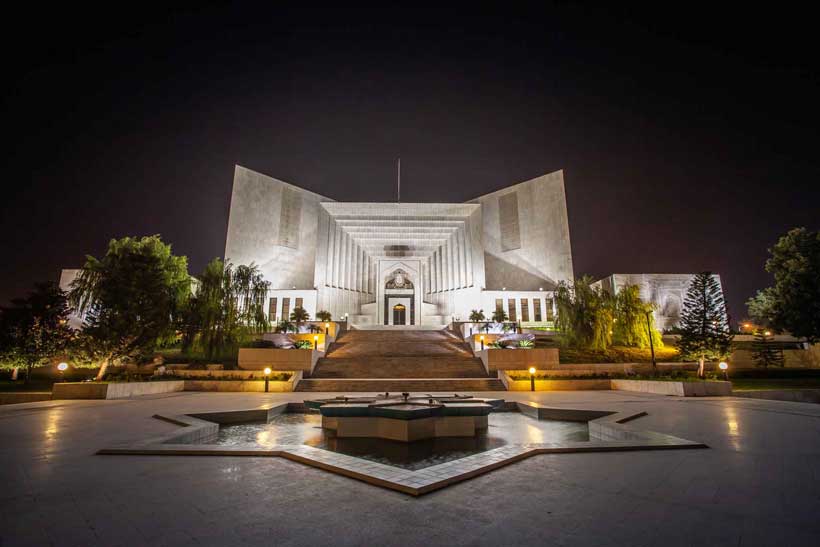 The weather is heating up. As the May is ending, Political temperatures are soaring. The fate regarding the country's political and economic stability will be measured in the upcoming days. Earlier, PDM built momentum by taking on institutions. Maryam Nawaz raised the temperature by targeting key personalities and institutions. Allegations were bursting against the institutions in all dimensions. Today, we witness reversal of roles. Accusations have been outflowing in every Jalsa by PTI. But now suddenly, the "accusations" turned into "acknowledgment". "Complaints" started transforming into "Compliments". Is it the change of narrative? Is it another U-turn? Or is it the restoration of confidence in the institutions? Where will this chaos end?
The Supreme Court's "decision" or as they say "opinion" or "binding" on Article 63 A has raised some pertinent questions on the status of CM Punjab election? In the interpretation of Article 63 A of the constitution, the Supreme court categorically condemns the practice of horse trading by calling it "a cancer afflicting the body politic". Supreme Court in its decision of 3-2 rejected the vote count of these dissident members against the party directives. So the future of the Chief Executive of Punjab is now under threat because it is contrary to what happened in National Assembly. The political instability continues and the situation is messy.
In light of this verdict, Hamza has a support of 172 MPAs in Punjab assembly but at the same time, he also has 4 dissenting members which draws the figure to 168. Now further moving ahead, PTI and alliance also has a collective figure of 168 votes minus 21 dissenting members. The situation here in Punjab is way too complex now. A support of 186 members is required for a clear majority in Punjab assembly to formulate a government. This current Punjab government can either fall through a governor led vote of no confidence or a Supreme court order. The governor even has a right to dissolve the assembly with his discretionary powers according to Article 112 (2) of the constitution. Supreme Court has already made its decision on cross voting against Party fiat. Now legal experts are interpreting the decision in their own dictionaries. What will happen in Punjab? What will happen on the federal level? Will there be an election call? If so, what will be the care taker setup? Will there be a fresh mandate? Who will make the hard economic decisions? Lot needs to be answered in these crucial times.
From "My judges disappointed me" to "Thankyou Supreme Court", a lot has happened and a lot is ready to take place. Islamabad is full of gossips, interpretations, whispers and predictions these days. There is something seething under this political turmoil. The Red zone is under a lot of pressure whether politically or economically. Pre – Elections, Elections and then Post elections, we have a lot of consequences of a lot of hard decisions. But hard decisions need to be taken. Question is who is ready to make the hard choices? Be Afraid!!