In today's digital era, most of our pictures are stored on electronic devices like mobile and computers. But this convenient method doesn't guarantee that you can't lose your favorite photos accidentally.
There could be several scenarios in which you could end up losing important data like documents, photos, etc. Sometimes, we delete them by mistake, even from the Recycle Bin (because of the Shift + Delete command), and sometimes they can get damaged due to file corruption. Regardless of the exact reason, it can be very frustrating to know that your photos are forever gone from your Windows gallery.
But thankfully, there is little reason to worry. There are certain proven ways to recover permanently deleted photos on Windows 10. You will know about some of these ways in the upcoming sections of this article. But before that let's know why this happens.
Reasons for Deletion of Pictures on Windows 10
The most common causes behind photo deletion in Windows 10 are:
· Clearing Recycle Bin without restoring important photos
While clearing our recycle bin, sometimes we also remove those important photos which we didn't remember to restore.
· Unplanned hard drive format
If, due to a system crash or a similar disaster, you end up formatting your hard drive without taking a backup, your important data and photos will get deleted.
· Virus or Malware
Photos and other files can be lost or deleted due to a virus or malware attack on your computer.
No matter how your photos actually got deleted, the good news is that you can recover them without much trouble. The next section will demonstrate how.
How to retrieve deleted pictures on Windows 10
1. Restore Deleted Pictures from Recycle Bin
Whenever a file or picture gets deleted in Windows 10, by default it moves to the Recycle Bin (unless you use Shift + Delete when deleting it).
You can easily get your photos back from the Windows Recycle Bin by following the below-mentioned steps.
Find Recycle Bin icon located on your Windows 10 Desktop.
Double click to open it.
Search and locate the photos you want to restore from the deleted files list.
Select the photos and right-click on them. Then select the Restore option from the drop-down list that appears.
After this, all selected photos will be restored to their original location.
2. Use File History to Recover the Pictures
The File History feature in Windows 10 creates an automatic backup of any audio, video, document, and photo within a "system restore" point. It works regularly to build up a library of previous versions of your files stored on your computer storage device, so that you always have a backup of your data. You can easily browse through these past iterations to restore the photos that you've deleted by mistake.
Just follow the below-mentioned steps:
Click on the Quick Access icon located in your left-hand side toolbar.
Open the folder which contained your lost files. In the Home tab, click on the History icon to open up File History.
If you want to recover all files, simply click on the green icon at the bottom.
To recover a specific file, click on it to see its different versions.
Select the version you want to recover and click on the Restore option. The file will get back to its original location.
Note: This solution will work only if you have File History turned 'On' on your Windows 10 computer. If it isn't enabled, follow these steps to enable it for the future:
Launch Windows Settings from the Start menu
Go to Update & Security, and then select Backup.
Now click on Add a Drive and also enable the "Automatically back up my files" function.
After this, File History will make updated copies of your files every hour.
3. Restore Deleted Pictures Using Windows Backup
If you've made a backup of your data manually or enabled the automatic Windows backup functionality, you can easily get your deleted photos restored on Windows 10. To restore files from your manual backup, most of us already know the easy steps. Just copy the needed files and photos from the backup folder and paste them into the desired location of your device.
To restore your pictures from Windows backup follow these steps:
Open the Windows Control Panel from the Start menu. Then click on System and Maintenance, and select Backup and Restore.
Now click on Restore your files.
Click Browse for files to select the backup files created before.
For restoring backup files or folders, select the desired location or original location.
Now, wait for the restoring process to complete and then check your photos.
4. Use Photo Recovery Software
If none of the above-listed methods work for you, avoid wasting any more time and switch to a professional photo recovery tool to recover permanently deleted photos on Windows 10. It is the most convenient and effective method for any user to recover any type of file that is lost on a computer. Such software come at a price, but they are totally worth it.
We recommend using Stellar Photo Recovery software for the purpose. Stellar Photo Recovery is a professional-grade application that can restore lost, damaged, or deleted photos from a multitude of devices. It can recover various file formats like JPEG, PNG, GIF, TIFF, BMP, and even RAW without any trouble. You can recover multiple photos with this tool simultaneously.
Stellar Photo Recovery makes the whole photo recovery process so simple that even a beginner can recover photos with it. It is completed within the few easy to follow steps detailed below:
Visit the official website for Stellar Photo Recovery and download and install it on your computer.
Launch the application and from the home screen, select the location that you wish to scan to recover deleted photos from. Once selected, click on the Scan button at the bottom.
After the scan completes (which may take some time depending on the amount of data stored at the location you selected), you will be able to see all recoverable data listed in a tree-view in the software interface's left-hand side panel. From here you can double-click on any photo to preview it in the right-hand side panel and be assured of recovering it.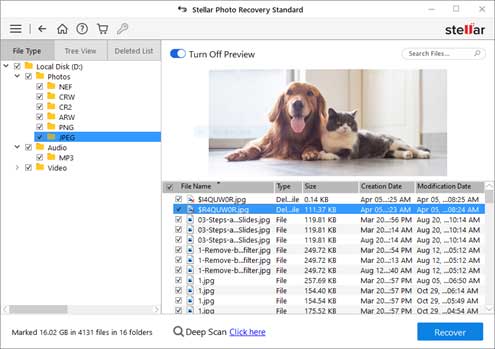 Finally select the photos you wish to recover and click on the Recover button at the bottom.
To sum up
No one welcomes an unnecessary loss of their precious photos, but sadly, it is something that happens despite our best efforts. In such cases, all the above mentioned methods are quite effective on any Windows 10 device. You can easily recover permanently deleted photos on Windows 10 by using these methods according to the level of your problem. But it's always important to back up your files to counter this problem beforehand.