Africa's Position on Russia-Ukraine Crisis at UN: Significance and Implications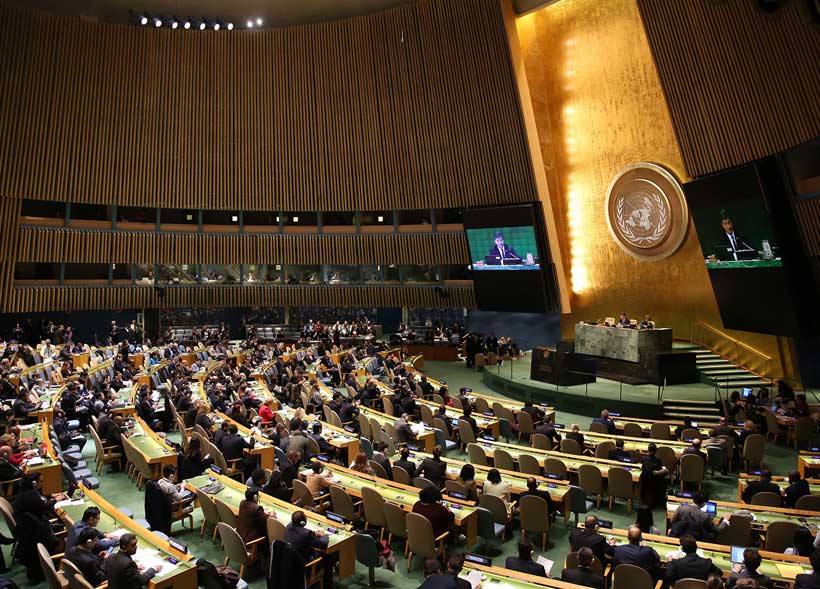 As oftentimes said, Russia and Africa have traditional and cordial relations. Both have common understanding and position on global questions at international platforms, especially at the United Nations. At the UN General Assembly in March 2022, Africans were sharply divided with their votes, since then have divergent views and worse, afraid of contradictions and confrontations posed by the Russia-Ukraine crisis and effects on future diplomatic relations.
Within the confines of international law, political independence, the national sovereignty, territorial integrity are the most important for Ukraine. The circumstances demand settling their international disputes by peaceful means in such a manner that international peace and security, and justice are not endangered has been profoundly undermined.
Since his appointment, Russian Foreign Minister Sergei Lavrov has repeatedly stressed in all his speeches and with almost all African delegations the traditional and friendly relationship between Russia and African countries. He adores mentioning that the time-tested relationship characterized by a high level of mutual trust and more democratic polycentric world order, and that Russia and Africa closely cooperate on significant questions at the United Nations.
Russia and Africa want all UN members to rely on the need for dialogue and respect for the right of nations to decide their destinies independently, as well as a search for reliable consensus solutions in settling conflicts and overcoming crises.
Recalling from Sochi summit, the joint political declaration concretely reflects the principles coordinated by the two sides, the most important are:
–. respect for international law and the UN Charter,
–. the movement towards peace and security through the creation of more equal and fair international relations
–. and a world order based on the principles of multilateralism, respect for national sovereignty, non-interference in the internal affairs of other countries
–. and the peaceful settlement of crises, as well as the protection of national identity and civilisational and cultural pluralism.
In a statement released (official AU statement issued February 28) by the AU Commission in Addis Ababa, Ethiopia. The current Chair of the African Union and President of the Republic of Senegal, Macky Sall, and the Chairperson of the African Union Commission, Moussa Faki Mahamat, noted closely seriousness of the dangerous developments in Ukraine.
They called on the Russian Federation and any other regional or international actor to imperatively respect international law, the territorial integrity and national sovereignty of Ukraine. The statement unreservedly urged "the two parties to establish an immediate ceasefire and to open political negotiations without delay, under the auspices of the United Nations, in order to preserve the world from the consequences of planetary conflict, and in the interests of peace and stability in international relations in service of all the peoples of the world."
The UN General Assembly overwhelmingly adopted a resolution that "demands" Russia "immediately" withdraw from Ukraine, in a powerful rebuke of Moscow's invasion by a vast majority of the world's nations. After more than two days of extraordinary debate, which saw the Ukrainian ambassador accuse Russia of genocide, 141 out of 193 member states voted for the non-binding resolution.
China was among the 35 countries which abstained, while just five — Eritrea, North Korea, Syria, Belarus and of course Russia — voted against it. The resolution "deplores" the invasion of Ukraine "in the strongest terms" and condemns President Vladimir Putin's decision to put his nuclear forces on alert.
As already known, both were together part of the Soviet Union but became independent republics in 1991. Under the directorship of Russian President Vladimir Putin, and approved by the both Federation Council and the State Duma, Russian establishment made the decision to hold a "special military operation" largely aims at demilitarization and denazification of Ukraine.
Arguably, African representatives and their votes was considered very interesting. Some 17 African countries abstained from the vote at the UN General Assembly to deplore the Russian invasion of Ukraine while some other 28 countries in the continent voted in favour. Among those abstaining from vote were South Africa, Algeria, Uganda, Burundi, Senegal, South Sudan, Mali and Mozambique. Others were Sudan, Namibia, Angola, Zimbabwe, Equatorial Guinea, Central Africa Republic, Madagascar, Tanzania and Congo.
Eritrea was the only African country that voted against the resolution. Besides that however, Egypt, Tunisia, Nigeria, Kenya, Chad, Ghana, Gambia, Gabon, Rwanda, Cote d'Ivoire, Libya, Liberia, Djibouti, Mauritania, Somalia, Niger, Benin, Lesotho, Botswana, Zambia, Malawi, Mauritius, Comoros, Seychelles ,Cape Verde, Sao Tome and Principe, Sierra Leone and the Democratic Republic of Congo, among others, voted against Russia.
Burkina Faso, Cameroon, Guinea Bissau, Ethiopia, Eswatini were not in the room. Uganda said it abstained from the vote to uphold "neutrality" as the incoming chair of the Non-Aligned Movement (NAM). NAM is a forum made up of 120 developing countries to assert their independence from the competing claims of the two superpowers.
A quick study vividly shows that Africa has three distinctive groups: those voted for, those voted against and those that completely abstained. South Africa's Foreign Ministry slightly backtracked with a statement explaining their abstention, saying the UN resolution does not "create an environment conducive for diplomacy."
"You'll recall that South Africa abstained the last time, too, in 2014, when Russia annexed Crimea, it supports Russia as one of the BRICS (Brazil, Russia, India, China, South Africa) emerging countries group," Aanu Adeoye, a Russia-Eurasia program fellow at the Mo Ibrahim foundation in London told Radio France International (RFI).
"If South Africa felt so strongly about the failures of the resolution as it was written, it should have voted against. And South Africa … as well as five other liberation movements in southern Africa, have historical ties with the former Soviet Union," he tells RFI. "All six abstained in the vote."
Writing in the Nigerian Premium Times, Lawyer Chidi Anselm Odinkalu describes the breakdown of the African vote as naturally set tongues wagging about Africa's position in this Russia-Ukraine crisis. Governments in many of the African countries that abstained have been severely criticized by their citizens for doing so. Surprisingly, much of this criticism takes place without any clear articulation of how the conflict impacts Africa. That, surely, should be where the conversation should begin.
Addressing the Security Council on the same conflict, Kenya's Permanent Representative to the United Nations, Martin Kimani, took the philosophical path in an impressive takedown of colonialism and its aftermath in Africa but failed to say much else to define an African interest in the conflict.
According to his newspaper article, Macky Sall and Moussa Faki Mahamat failed, however, to take anything further beyond their official statement that only petered out into a whimper, merely urging "all countries to respect international law and show the same empathy and support to all people fleeing war notwithstanding their racial identity." They could not even utter a minimal offer of assistance or strong advocacy to alleviate the crime of racist exceptionalism, which has emerged as a dimension to the war specifically targeting Africans and persons of African descent.
With increasing global isolation, many African countries continue watching almost completely the military crises contradictions and confrontations between Russia and Ukraine, the multifaceted implications and global reactions. United States and Canada, the European Union bloc, Australia and New Zealand and a number of Asian countries imposed stiff sanctions. In addition, Russia's status is being revoked in many prestigious international organizations.
Many Western companies are suspending their business operations. United States and European Union bloc are taking systematic and well-thought-out measures to destabilize the economy of Russia. On the other hand, United Russia – the largest political party in Russia, which supports President Putin's policies – has proposed to nationalization of the enterprises of those Western companies that refused to operate in the Russian Federation.
As the situation turns scary, Russia has been adopting serious measures, trying to perform a delicate balancing act between saving its economy from collapse and achieving the chosen goal in Ukraine. Putin has also spoken with many world leaders including a few from Africa. Putin had a telephone conversation with President of the Republic of South Africa Cyril Ramaphosa at the South African side's initiative.
The March 10 conversation coincided with the three-decade-old establishment of post-Soviet diplomatic relations.
Both presidents briefly reviewed diplomatic relations between Russia and South Africa and reaffirmed their commitment to further develop the bilateral strategic partnership, noting, in particular, their readiness to expand trade, economic and humanitarian cooperation. He also informed the South African leader about the situation regarding talks with representatives of the Ukrainian authorities. The President of South Africa supported the ongoing political and diplomatic efforts. Vladimir Putin and Cyril Ramaphosa agreed to continue their contacts.
In a similar conversation, President of the Arab Republic of Egypt Abdel Fattah el-Sisi urged for adoption of peaceful and dialogue in resolving the crisis after Putin informed him about the main aspects of the special military operation and its current consequences.
As the current Chair of the African Union and President of the Republic of Senegal, Macky Sall, and the Russian leader reaffirmed that it was important to consistently implement the agreements reached at the first Russia-Africa Summit in Sochi in 2019 and further develop diverse ties between Russia and Africa.
Earlier, the African Union called on Russia and "any other regional or international actor to imperatively respect international law, territorial integrity and national sovereignty of Ukraine" and further urged Russia and Ukraine for an immediate ceasefire and the opening of negotiations with the help of the UN. Senegal, among some African countries, which has strong relations with Western countries. It abstained in a UN General Assembly vote on Russia against Ukraine.
In a research report, Priyal Singh, Researcher and Gustavo de Carvalho, Senior Researcher at the Peace Operations and Peacebuilding, Institute of Security Studies in Pretoria, South Africa wrote recently that over the past two decades, Russia has aimed to re-establish itself as a world power. A key way to achieve this has been through its permanent membership on the United Nations Security Council (UNSC). But Russia's posturing on several international conflicts has increasingly divided the UNSC, causing a degree of paralysis that hasn't occurred since the Cold War.
At the same time, the researchers noted sharp division among Africans and, certain African members becoming more aligned to Russia's positions on the council, while other are not. In order to understand these dynamics, a recent study commissioned by the South African Institute of International Affairs (SAIIA) and the Institute for Security Studies (ISS) examined voting patterns. The researchers noted that African countries on the UNSC have increasingly relied on collective positions among themselves and those aligned to the African Union (AU).
In conclusion, African policy researchers and politicians interviewed for this article called on all African leaders and governments have to demand for peaceful mechanism and resolution of the crisis within the norms of the international law, as well as emphasizing the need for their strict compliance by both Russia and Ukraine.
Further noting that Russia and Africa almost have convergence or similarity of approaches to many global and regional issues, and therefore Russia has to, at least, adopt the position to renounce the existing crisis, not necessarily by special military operation. But African leaders and governments together with the African Union have to move more decisively, step up and commit to working together in a spirit of cooperation voice for peaceful settlement to save human lives and ensure global economic stability rather than embarking on military operation.
Discussions and several interviews with most of the researchers and politicians have firm hopes that African leaders continue their contributions toward achieving and preservation of peace and security, and toward building a more just and equitable system of relations based on the principles of respect for sovereignty, territorial integrity, non-interference in internal affairs of individual countries. The African researchers and politicians finally appreciated efforts directed at building on the existing friendly relations between Russia and Africa.
Russia Renews its Support to Mark Africa Day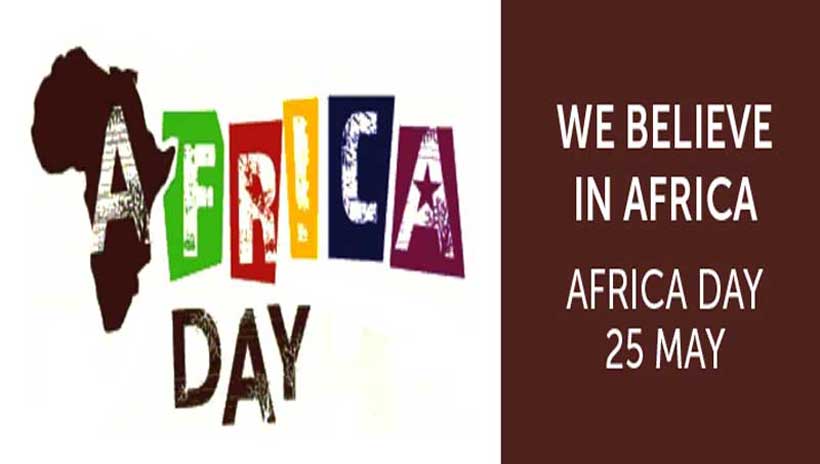 Russia has renewed its unique confidence that "it will be able to ensure the development and implementation of many useful and innovative projects and initiatives in various fields for the benefit of both countries and peoples, in the interests of strengthening security and stability in Africa and around the world."
In a speech, on behalf of Russia's President Vladimir Putin, read by Foreign Minister Sergey Lavrov, on May 25 when the continent marks Africa Day, further noted the change marked the emergence of a multilateral pan-African platform on a qualitatively higher level of interaction in the political, socioeconomic and other spheres.
Putin, in addition, acknowledged that "African states have achieved a great deal together over the past two decades. They have developed mechanisms for a collective response to local conflicts and crises, and are consistently promoting regional integration processes in various formats. Africa enjoys growing prestige on the global stage and plays an increasingly important role in resolving important issues on the international agenda."
Later talking about Russia-Africa relations, Lavrvo told the gathering that Russia would continue to provide comprehensive support and to expand mutually beneficial cooperation. Russian-African relations are traditionally friendly and are making good progress.
Russia has always been and will remain a reliable partner and friend to the countries of Africa. Today, we are confronted with certain Western countries' unscrupulous attempts to constrain our engagement with Africa.
Russia has played a leading role in decolonisation and in consolidating decolonisation processes, as well as drafting UN resolutions. Unfortunately, some of them have been sabotaged by former metropolises to this day. We stand in solidarity with your demands for the complete liberation of Africa from the last vestiges of colonial legacy.
This year marks 20 years since the Organisation of African Unity was transformed into the African Union. That change marked the emergence of a multilateral pan-African platform on a qualitatively higher level of interaction in the political, socioeconomic and other spheres.
"Russia has always been and will remain a reliable partner and friend to the countries of Africa. Today, we are confronted with certain Western countries' unscrupulous attempts to constrain our engagement with Africa. I'm referring to the all-out hybrid war against Russia declared by Washington and its European satellites in connection with the special military operation in Ukraine," he added.
According to him, it is not so much about Ukraine, which is used as a bargaining chip in the global anti-Russian game. The main problem is that a small group of US-led Western countries keeps trying to impose the concept of a rules-based world order on the international community.
Lavrov suggested that Africa must not succumb to Washington's discriminatory pressure. There are attempts to reverse history and subjugate the peoples of the continent again grossly violate the sovereignty and independence of the states of the region, and jeopardize the entire system of international relations, which is based on the principle of respect for the sovereign equality of states in the Unted Nations' Charter.
He called on the African Union (AU) to persistently demand that the West lift illegal unilateral sanctions that undermine the transport and logistics infrastructure necessary for world trade, which creates risks for vulnerable segments of the population.
Russia and Africa will work together to maintain and expand mutually beneficial bilateral ties in the new conditions without external interference. It is important to facilitate the mutual access of Russian and African economic operators to each other's markets, to encourage their participation in large-scale infrastructure projects. All these tasks are at the center of attention in the preparations for the forthcoming second Russia-Africa summit.
Reports show that the Russia-Ukraine crisis has twisted the global economy and many African countries are among the most vulnerable in terms of ensuring food security. Some states of the continent are critically dependent on the import of agricultural products from Russia, therefore will make some deliveries, including food, fertilizers, energy carriers and other goods, of great importance for maintaining social stability and achieving the milestones stipulated by the Sustainable Development Goals approved by the United Nations.
South Africa on the right side of history or captured by Cold War allies?
Authors: Professor Gerrit Olivier and Michèle Olivier*
A seemingly non-negotiable principle of SA's foreign policy, is to be on the side of autocrats and dictators and habitually anti-West, irrespective of the issues. Cosy relations with the likes of Ethiopia's Mengistu Haile Mariam, Sudan's Omar al Bashir Cuba's Fidel Castro and Zimbabwe's Robert Mugabe, characterised our foreign policy under all presidents since Nelson Mandela. With the present government being enamoured with a rabid war criminal like Vladimir Putin, we see a continuation of this policy.
Obsessed with a myopic partisan ideology and habitual hop-nobbing with dictators, of course, come at a high price, particularly degrading SA'S erstwhile high international prestige, role and status as well as stunting our all-important economic development. In short, this means that SA's prevailing foreign policy is totally out of zinc with its intrinsic national interests.
According to ANC declarations, SA would 'stick to its principles' and not take sides in this war in spite of blatantly illegal and murderous Russian war crimes. Hence, it abstained from voting against Russia together with a motley minority of 34 other UN members in the 2 March General Assembly resolution (only 5 states voted against whilst 141 voted in favour).
The minister of the department of international relations and development (DIRCO), Naledi Pandor, issued a statement demanding Russia to withdraw from Ukraine. This clearly upset the Marxist, anti-West faction in the ANC policy establishment who subsequently prevailed upon president Ramaphosa, to denounce the statement, no doubt to assuage Russian and local communist's displeasure.
For many, both inside and outside the country, this was a controversial decision resulting in a rare local public debate about our wayward foreign policy. What emerged was a conflict of opinion between the ideologues and realists in the foreign policy establishment. A hopeful sign, but unfortunately of little consequence in our fossilised ANC foreign policy establishment.
All along, the ideologues accepted that being in cahoots with war criminal Russia was in SA's best interests notwithstanding the normative constitutional dictates and founding moral principles concerning respect for human rights, sovereignty, democracy, and territorial integrity.
What followed was indeed a case study of expedient, if not downright 'Walter Mitty' diplomacy. First, president Ramaphosa rushed to telephone Putin, obviously to bask the reflected glory and honour of speaking to the 'great man'. Afterwards, he subserviently thanked ''his excellency president Vladimir Putin'' for taking his call. At the same time, our 'great negotiator' refused official engagement with the local Ukrainian ambassador as well as with ambassadors of the European Union, our biggest trading partners.
In the latest General Assembly meeting on Ukraine, SA persisted with its pro-Russian pseudo-neutrality but got a humiliating bloody nose after presenting a draft resolution, excluding the country of all blame. No wonder as this resolution was strictly in line with Kremlin propaganda lies casting doubt as to where exactly SA's UN diplomats got their instructions from.
Ramaphosa's aim, it seems, is to push himself forward as facilitator in the conflict, recalling at length in parliament his past experiences a negotiator.
'Illusions of grandeur', it may be called, as SA 's international status and role during about 3 decades of uninterrupted misrule has declined close to being almost insignificant. While most of the world reached out to end the horrible and unthinkable human and material misery inflicted upon Ukrainian people, he offered them naught for their comfort, except portending to be a great negotiator reporting for service.
Belatedly, after strong criticism he rejected war as an instrument of policy, and signalled his wish to also speak to Ukrainian pres Volodimyr Zelinskiy, impressed perhaps by the latter's sterling performances addressing the American senate and the British, Canadian, Israeli, Italian and Japanese parliaments and the German Bundestag. The pièce de résistance of his kindergarten diplomacy, was to blame NATO for being deaf to earlier warnings against eastward expansion, ignoring the Russian brutal invasions, of inter alia, Finland, Latvia, Hungary and Czechoslovakia, in the previous century not realising that NATO membership was their safeguard against future Ukrainian-type of invasions. Theirs was a wise decision. Indeed, Mr President, ignorance is bliss….!
Of course, good relations with countries like Russia are important provided they are based on pragmatism and national interest rather than sentimental ideological predilections. However, the ANC still acts as being a captive of the Cold War and, as if it still owes permanent a feudal fealty to Russia at a time when Soviet Union is passe and with communism on the ash heap of history.
While the world must perforce deal with a totally different and dangerous Putinist Russia, the ANC obstinately refuse to accept that its subservient posture vis-a- vis that country is not in SA's best interest. Lamentably, the global moral imperatives that saw them to power no longer guide its foreign policy. Like the apartheid regime, Putinist Russia today commits a crime against humanity in Ukraine with the support of the ANC government.
The war in Ukraine may yet lead to unthinkable consequences for the world at large. What happens there is really a struggle between democracy and authoritarianism. Putin does not want a democratic Ukraine at his doorstep exposing his bland authoritarianism and precipitating a 'colour revolution'. Given the solidarity in the democratic West and the sluggish performance of the Russian forces in Ukraine, he will probably end up losing. SA policy makers are demonstrably myopic not realising the consequences for being on the side of a war autocratic war criminal war criminal. Like apartheid SA it would probably end up as an isolated global pariah.
An independent SA foreign policy is called for rather than one subservient to the preferences and dictates of Moscow and Beijing. This is the best way in which SA can regain international respect. The way in which it has handled the Ukraine crisis once again laid bare its diplomatic deficiencies, particularly lack of clear headed leadership. This will not change unless foreign policy making is democratised and professionalised rather than being monopolised by a small clique of badly trained and inexperienced ideologues with the help of a few advocating stand-patters.
* Michèle Olivier is a consultant of international law
Reviewing Russia-Mali Strategic Partnership
After withdrawing from the Joint Military Force of the G5-Sahel group which the United Nations described as "unfortunate" and "regrettable" middle of May, Malian Foreign Minister, Abdoulaye Diop, made a snapshot visit, for the second time under the new military administration to Moscow, intended to review various aspects of strategic partnership deals with Foreign Minister Sergei Lavrov.
"We paid special attention to the practical aspects of organizing deliveries from Russia of wheat, mineral fertilizers and petroleum products that are so much needed by the people of Mali today in conditions of illegitimate Western sanctions," Lavrov said at a press conference after talks with Diop in Moscow.
The sound pace of military and military-technical contacts between the two countries was noted during the talks, according to Lavrov, and thanked his Malian counterpart for support for Russia's resolutions at the latest session of the UN General Assembly. Lavrov made to explicit reference to the meeting of the UN Security Council the Western countries that consistently tried to "put their blame at Russia's door" and to shirk responsibility for the food crisis.
"It goes without saying that we discussed the situation in Ukraine and around it, including the meeting of the UN Security Council devoted to world food security issues, where the Western countries tried to put their own blame at somebody else's door. They argued that the crisis, which by and large is a result of their own efforts, allegedly stems from the crisis in Ukraine. Of course, they blamed it entirely on Russia," Lavrov said.
Russia reaffirms its readiness to render Mali support in raising the fighting efficiency of its armed forces. "We reaffirmed Russia's readiness as a permanent member of the UN Security Council to further contribute to normalizing the situation in Mali, render Bamako comprehensive support on a bilateral basis, in particular, in the sphere of raising the combat efficiency of the Malian armed forces, training troops and law-enforcement personnel," Russia's top diplomat said.
France's decision together with Western allies to end the anti-insurgent Operation Barkhane and the European special forces mission Takuba does not contribute to restoring security in Mali and the entire Sahel region. Reports say France has approximately 5,100 troops in the region under Operation Barkhane, which spans five countries in the Sahel – Burkina Faso, Chad, Mali, Mauritania and Niger.
With the final exit and the vacuum created by France, Russia now sees Mali as an excellent conduit to penetrate into the Sahel by pushing the much-criticized Wagner Group that organizes private military for countries in conflict. It is aggressively targeting the Sahel region, an elongated landlocked territory located between north Africa (Maghreb) and West Africa region, and also stretches from the Atlantic Ocean to the Red Sea.
"There is an obvious danger of the emergence of enclaves of power vacuum where militants of various outlawed armed gangs will feel free at hand and they have already prepared for such acts. This threatens the country's territorial integrity and we repeatedly told our French counterparts about that," Russia's top diplomat said.
On March 2 at the United Nations General Assembly, African representatives and their votes were considered very interesting, and have geopolitical implications for study and analysis. Some 17 African countries abstained from the vote at the UN General Assembly to deplore the Russian invasion of Ukraine while some other 28 countries in the continent voted in favour. Mali was among those that abstained from vote. Eritrea was the only African country that voted against the resolution. It opposes all forms of unilateral sanction as illegal and counterproductive.
"All our initiatives were supported by Mali. We agreed to enhance coordination on the UN platform and in other international organizations. We are determined to work for this in earnest, including in the recently created Group of Friends in Defense of the Charter of the United Nations," Lavrov assured.
During his first official visit in November 2021 to Moscow, Abdoulaye Diop and Sergei Lavrov, in fact, focused on increasing bilateral cooperation in economic sectors. But particularly significant was Russia's military assistance to strengthen the position of the new military government and to fight rising terrorism in the Sahel region.
As developments explicitly show, Mali already stands in isolation there as the Economic Community of West African States (ECOWAS), the African Union, the United Nations, and the bilateral and multilateral partners endorse and support the implementation of sanctions and other strict measures to ensure a peaceful return to constitutional and democratic government in Mali.
Mali, a landlocked West African state with an impoverished population, faces increasing isolation from the international community over the political power grab. Even as the African Union (AU), the continental organization, and the Economic Community of West African States (ECOWAS), the regional bloc, both suspended the membership of Mali following military coups in August 2020 and May 2021, the ruling military officials are still holding onto political power by delaying the proposed elections in February 2022.
The African Union, Economic Community of West African States (ECOWAS) and foreign organizations such as the European Union (EU) and the United Nations (UN) have requested a quick transition to a civilian government. They further urged that efforts are taken to resolve outstanding issues relating to sustainable development and observing strictly principles of democracy in the Republic of Mali in West Africa.
Moscow is still planning to hold the second Russia-African summit. The "special military operation" approved by both the Federation Council and the State Duma (legislative chambers) to "demilitarize and denazify" the former Soviet republic of Ukraine has pushed the United States and Canada, European Union members and many other external countries to impose sanctions against Russia.