"sic utere tuo, ut aliaenum non laedas"
"Use your own property in such a way that you do not injure that of another". This maxim[1], regarding a limitation to states' sovereignty, incorporates a cardinal principle enshrined in both the Civil and Common Law systems, and more broadly, in the customary international law. This limitation, also called "the principle of good neighbourliness" in international environmental law, applies to activities within a state territory that may harm other states. The principle places on states two types of erga omnes obligations: the first is the positive obligation of due diligence (behaving as a bonus paterfamilias in Roman law), the second is a negative obligation not to cause environmental harm, or as John Stuart Mill would call it: the "harm principle". A liability ex delicto would arise as a legal consequence in the case of transboundary environmental harm, such as climate change. We could ask then to what extent individuals and institutions must be held responsible for climate change and its consequences, among them migration. A reasonable approach would be to the extent they causally contributed to the problem. However, the backwards-looking responsibility sometimes excuses agents' actions that were not entirely voluntary, as Aristotle already argued in his Ἠθικὰ Νικομάχεια[2].
Public's awareness of human activity as a driver of climate change, with the last being the major contributing factor to the environmental change in lato sensu, dates back to the 1980s. In 1988 the NASA scientist James Hansen gave testimony to Congress, alerting the danger of global warming. As a result, the media and the public started paying closer attention to the causes and effects of climate change. The year after (1989), the United Nations established the Intergovernmental Panel on Climate Change (IPCC). From these moments on, we could consider some actors ascribed of forward-looking responsibility for climate migration, especially the more developed countries (MDCs). This is because their greenhouse gases (GHGs) emissions, for the most part attributable to past and present industrialization, are altering the climate system's energy balance, leading to a variety of natural disasters occurring for the majority of the time in less developed countries (LDCs). To the occurrence of these natural disasters, climate-induced migration as adaptation strategy is predicted to be inevitable.
With global warming increasing the planet's temperature, so does the probability that European countries will face a massive wave of climate migrants. According to recent World Bank estimates (Groundswell, 2021), climate change could cause 216 million climate migrants by 2050 if no further action is taken. However, the report also states that climate-driven migration could be reduced by almost 60-80% if governments as soon as possible cut their greenhouse emissions and create resilient and inclusive development plans for each phase of the climate migration to ensure positive adaptation. Despite these predictions and the spread awareness that climate change significantly impacts migration patterns, "climate migrants" do not fulfil the legal definition of "refugee" provided by the 1951 Refugee Convention (UNHCR 1951) and its 1967 Protocol, and thus are not entitled to receive international protection.
Europe is the third largest emitter of GHGs. If we want to undertake a fitness check of the European legal migration acquis, some complementary mechanisms from the current EU policy instruments could be applied to address the challenges posed by environmentally induced migration. With the Tampere EU Council in 1999, the belief that a successful immigration policy required the action of both an internal and external policy dimensions spread. As a result, the EU started developing the so-called "external dimension of cooperation on immigration and asylum" in order to manage migration through cooperation with the third origin or transit countries and an internal set of law ("internal dimension") for third-countries nationals.
The EU external migration and asylum policy are laid down in the overarching framework of the Global Approach to Migration and Mobility (GAMM), launched by the Commission in 2011. However, according to this framing, the issue is delegated at the local level of affected countries through mostly development cooperation measures and humanitarian assistance, which can be considered "palliative" in nature as they do not address the roots of climate migration. The most important external measures that could be applied to climate-induced migration are Mobility Partnership, Regional Development and Protection Programme, and the EU development and humanitarian aid policy.
With regard to the internal dimension, we find in the Common European Asylum System (CEAS) the subsidiary and temporary protection contained respectively in the Qualification Directive and the Temporary Protection Directive. Other measures that could be applied are provided in the Return Directive, the work immigration rules, and in some Member States (MSs) legislation.
The Qualification Directive (2004/83/EC) regarding Subsidiary Protection, ensures that the Member States apply the same criteria when identifying third-country nationals (TCNs) or stateless persons as refugees or as persons in need of international protection. There is a possibility that Art.15 (b) of the Directive could include the case of subsidiary protection for climate migrants as it states that the people eligible for protection are also those experiencing "inhuman or degrading treatment". Among the obstacles to the application of Article 15(b) Qualification Directive, there is the fact that it applies only to people already present in the EU MSs, at their borders or in their territorial waters. Thus, it is very likely that climate migrants will have to resort to irregular means to access or stay in EU territories. In addition, persons who obtained subsidiary protection after an environmental disaster could potentially lose it in the case the situation eased in the country of origin.
The Temporary Protection Directive (Directive 2001/55/EC) was established to provide a concrete and urgent response to the mass influxes of displaced people following conflicts in former Yugoslavia and Kosovo during the second half of the 1990s, as the Modern Diplomacy (among others) was extensively reporting in the past. While the Qualification Directive grants protection only to the cases cited in an exhaustive list, Temporary Protection's stipulation of Art.2 (c) ii may be interpreted more broadly to include environmentally displaced individuals, as it applies also to "persons at serious risk of, or who have been victims of, systematic or generalized violations of their human rights". Nevertheless, this Directive has some limitations too. According to its Art.1, the protection is applicable only in the case of mass influx, and the Directive does not provide a well-delineated mechanism of protection but leaves broad discretion to the MSs; it is only stated that they should offer residence permits for the entire duration of the protection and reduce formalities to the minimum because of the urgent situation (Art.8(3)). In addition, until the Council has to establish whether or not a mass influx of displaced persons exists by a qualified majority after a Commission proposal (Art.5), the adoption of the mechanism will be hardly used, as the case of failed attempts of invoking the application to individuals coming en masse from Libya (2011), Tunisia (2011), Ukraine (2014) and Syria (from 2011) already showed us. The lack of activation of this mechanism even in the context of the Arab Spring and the Syrian civil war, its lengthy, and the strenuous political process needed, renders even more very unlikely its application with regard to environmental displaced people.
In the case of absent international protection, Art 2 or 3 of the European Convention on Human Rights (ECHR) could still prompt the non-refoulment provision enshrined in the Return Directive (EU RD 2008/115/EC). This Directive defines common standards and procedures that MSs must apply for the return of illegal immigrants. According to Article 5, when implementing the Directive, MSs shall respect the principle of non-refoulement, and according to Article 9(1), they shall postpone removal in the case it violates the principle. If a natural disaster hits a country, MSs could then apply the non-refoulment principle.
Some climate migrants could also levy labour migration to reduce displacement. However, the "Blue Card Directive" of 2009 only covers highly qualified employees with a relevant salary threshold. On the other hand, the "Seasonal Migrant Workers' Directive" adopted in 2014 could be used as an adaptation strategy, but still, it lacks the sufficient human rights guarantees needed. Furthermore, primary law (TFEU) leaves MSs the right to control the number of workers admittable to their labour markets. Thus, whether a climate migrant can make use of labour migration as an adaptation mechanism to escape the environmental degradation in the origin country is highly dependent on each EU national government.
At the Member States level, only Italy, Sweden and for certain aspects Finland, went beyond the obligations required by EU and International law. They were provided with a specific protection status related to climate change and natural disasters reasons for third-country nationals who cannot qualify for refugee status or subsidiary protection status. However, the provisions in Finland and Sweden were eventually temporary repealed after the huge migration flows in 2015-16.
So far, the European Union policy approach to the phenomenon of climate migration appeared to be more reactive rather than proactive. After reviewing the current European legal framework status quo, we can affirm that it is characterized by a legal impasse in protecting climate migrants.
Currently, in the European acquis, there is no specific instrument applicable to the facti species of climate migration. "Climate justice" consideration is also missing. One possible reason could be that the external dimension of the EU migration policy in the form of development cooperation, and humanitarian aid has been prioritized. Since it is implausible that climate migrants will be granted protection under the Geneva Convention at the international level, the EU should start acting autonomously. It could initially create a more coherent complementary protection regime and use those already developed by its Member States (especially Italy, Sweden and Finland) as a sample. In addition, the Lisbon Treaty gives the necessary grounds for revising the asylum and immigration policy, and this could include an ad hoc regulation for environmentally dispersed people.
---
[1] Bracton, Volume 3, Page 163.
[2] Aristotle, Nicomachean Ethics, Book III. The Internet Classics Archive, translated by W.D. Ross http://classics.mit.edu/Aristotle/nicomachaen.html.
On international relations, the public is clueless, democracy fails
Nothing is more important to the people in any nation than international relations, because that includes national security, peace and war, and also includes the nation's economy, which depends heavily on foreign trade.
Take, for example, the big issue in Finland and Sweden, the decision whether or not to join America's NATO anti-Russian military alliance. To join that alliance would cause Russia to target the country as being an enemy nation if there is to be a war between America and Russia — which now seems increasingly likely. These nations weren't targeted by Russia in the past (neither Finland nor Sweden is), because they weren't Russia's enemies in post-WW-II times. So: joining NATO would create an enormous and entirely new national-security threat to the people there. But, apparently, they either don't know this; or, if they do, then they don't think it's important; and, so, it doesn't affect their opinions on whether or not to join NATO — which their leaders are now determined to do. Apparently, Finns and Swedes are being led into this monumental decision on the basis of ignorance, if not of inattention, to the issue of the potentially grave threat to their national-security that might be entailed by their joining NATO.
To judge from what is being reported in the press, public opinion on the matter, in both countries, ignores the issue of whether being targeted as an enemy, by Russia, even factors, at all, in their opinions, on whether or not their country ought to join.
Turkey's AA News agency headlined, on May 23rd, "Swedish public … have mixed thoughts about country's NATO membership bid". None of the respondents volunteered that concern (about whether becoming an enemy of Russia might reduce, instead of increase, their nation's safety and security) when asked "how they feel about the sudden urge of their country to become a NATO member." The closest answer which was volunteered to that was "if you poke the Russian bear too much, it might react because Putin has totally no regard for any laws of war"; but no preference, one way or the other, was cited from that individual.
Alleged experts on the subject were similarly ignoring the issue. On May 13th, France 24 News bannered "In Sweden, misgivings over rushed debate to join NATO", and reported that,
"It's not Sweden deciding the timeline, it's Finland, because they share a 1,300-km border with Russia", said Anders Lindberg, political editorialist at Aftonbladet, an independent social democratic daily.
Sweden is otherwise more accustomed to lengthy government-commissioned inquiries on major issues, aimed at fostering debate and building consensus so that decisions are broadly anchored in society.
In contrast, a security review on the pros and cons of NATO membership prepared by the parties in parliament was pulled together in just a few weeks.
The rapid U-turn is also remarkable given that the country "has built its identity on its neutrality and military non-alignment," Lindberg added.
Support for NATO membership has soared in both Finland and Sweden since Russia's invasion of Ukraine.
But while a record 76 percent of Finns are in favour of joining NATO, Swedish public opinion is more divided, with recent polls indicating that between 50 and 60 percent back the idea.
On April 20th, Reuters headlined "Growing majority of Swedes back joining NATO, opinion poll shows", and reported
A growing majority of Swedes are in favour of joining NATO, a poll showed on Wednesday, as policy-makers in both Sweden and Finland weigh up whether Russia's invasion of Ukraine should lead to an end to decades of military neutrality.
The poll by Demoskop and commissioned by the Aftonbladet newspaper showed 57% of Swedes now favoured NATO membership, up from 51% in March. Those opposed to joining fell to 21% from 24%, while those who were undecided dipped to 22% from 25%.
The March poll was the first to show a majority of Swedes in favour of joining NATO.
Sweden has not been at war since the time of Napoleon and has built its security policy on "non-participation in military alliances".
But like Finland, the invasion of Ukraine, which Moscow calls a "special military operation", has forced a radical rethink. Both countries are now seen as highly likely to join the 30-nation alliance.
The article didn't even mention the issue of whether becoming targeted by Russia's missiles might possibly endanger Swedes far more than protect them by NATO.
On March 23rd, Business Insider headlined "Finland's people now strongly back joining NATO, poll says, a massive political shift that would enrage Russia", and reported: "A survey of people in Finland found that a majority wanted the country to join NATO after Russia invaded Ukraine. The survey by the Finnish Business and Policy Forum Eva think tank found that 60% of people supported Finland joining NATO, a massive jump from previous years." It closed:
Ilkka Haavisto, the research manager at Eva, said of the results: "Russia has shown that it does not respect the integrity of its neighbors. "The war in Ukraine has concretely shown what the horrors of a defensive war on Finland's own territory would be and made it clear that NATO countries cannot use their military forces to help defend a nonaligned country."
No mention was made that joining NATO would cause Finns to become targets of Russia's missiles, perhaps even of nuclear missiles.
On May 9th, The Defense Post bannered "Overwhelming Support for NATO Bid Among Finns: Poll", and reported "Around 76 percent of Finns now want the country to join NATO, up from 60 percent in March, according to the poll commissioned by broadcaster YLE and conducted by research firm Taloustutkimus." The same day, YLE headlined "Yle poll: Support for Nato membership soars to 76%", and reported that, "Backing for membership in Yle polls has grown from 53 percent in February to 62 percent in March and 76 percent in May. Before the Russian attack on Ukraine, a majority of Finns had long opposed membership." No mention was made there, either, regarding Finns' possible thoughts on whether becoming targeted by Russia as being an enemy-nation might possibly create massive new danger for Finns, vastly more than any possible increase in Finland's national security might result from joining Russia's enemies.
Also, none of the alleged news-reports mentioned that, when Russia, on February 24th, invaded Ukraine, it was the result of a war which actually had started eight years ago in February 2014, when the U.S. perpetrated a bloody coup disguised as a 'revolution', that replaced Ukraine's neutralist government, by a rabidly anti-Russian government, which then promptly started a civil war against Russian-speaking Ukrainians, especially in Ukraine's far east and south. Neither Sweden nor Finland is in anything like that situation regarding Russia — at least not yet.
How can democracy work if the public are in the dark, and are being kept in the dark? And are satisfied to remain in the dark? When their government is taking them to war? Maybe even rushing them into a war? Maybe into WW III? Is this really democracy? Who profits from whatever it is? If this is true in Finland and Sweden, then is it true in every country? Is there any way to change it — to produce a democracy that cannot be manipulated so that it is functioning against the most important interests not only of foreign publics, but of its own public? Does anybody even discuss these problems? Why not?
Is European humanity skin deep?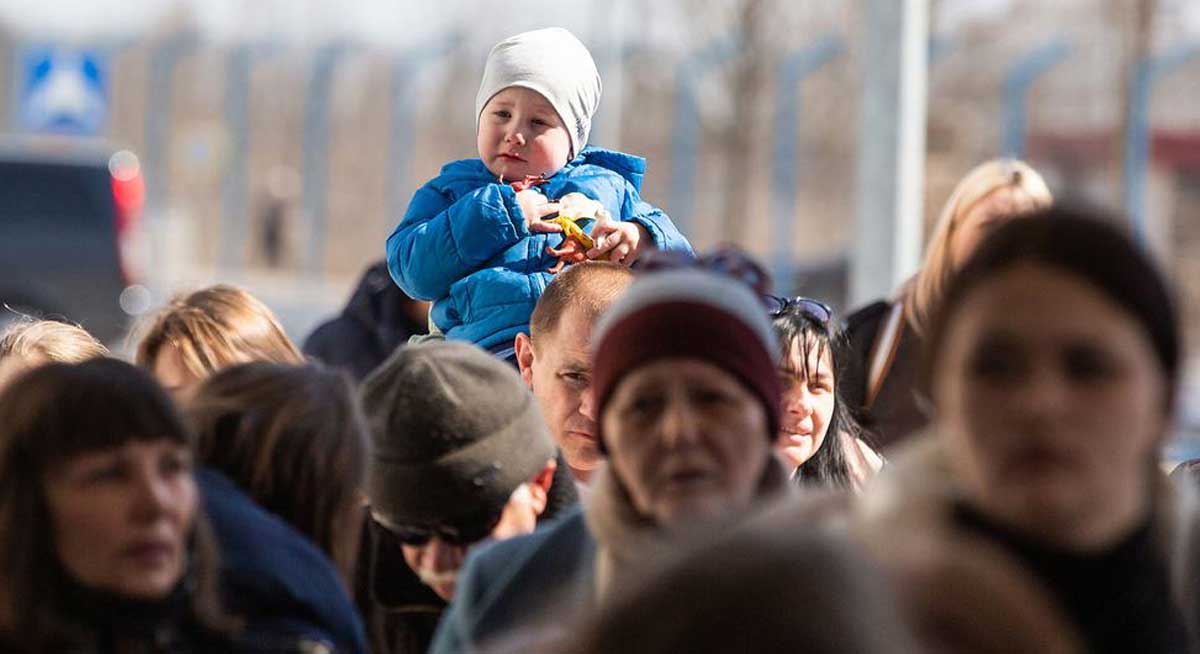 When talking about security the most common line of thought tends to be war and the actors involved in the attack, however, all the people who had regular lives within those territories that are jeopardized are as important. With the increasing tensions and armed conflicts happening within the Twenty First Century, the movement of people searching for shelter has increased. More asylum seekers leave their home countries every single day and contemporary politics is still struggling to find a way to catch up. Europe, history wise, is the zone of the world that deals with more refugees wanting to enter the continent due to different factors: geography, proximity, democratic systems, level of development and more. Nevertheless, with the Russia-Ukraine conflict, true sentiments towards refugees are now being put on display.
Even though all refugees are fleeing their countries because their lives are in mortal danger, authorities and government officials do not seem to care. Processes to apply for the refugee status are getting harder and harder. In Europe, to apply for a refugee passport, people are asked for identifications, online questionaries and many other unrealistic aspects that if not answered correctly, the whole process is cancelled. It is ridiculous to believe that when people are scaping in order to stay alive, they will take under consideration all these requirements to receive help, sometimes even from neighboring countries. Which inevitably leads to the following question: why are refugees accepted based on the legality of their applications and not of their status?
By 2016, nearly 5.2 million refugees reached European shores, which caused the so called refugee crisis. They came mainly from Syria, Afghanistan, and Iraq: countries torn apart by armed conflicts. Similarly, with Russia's invasion over the Ukraine in 2022, only few days deep within the fighting, 874,000 people had to flee their homes. Nonetheless, the issue seems to be that, for Europe, not all refugees are the same. When the refugee crisis in 2015 was declared, the European Union called for stopping and detaining all arriving refugees for around 18 months. There was a strong reluctancy from Europeans towards offering them shelter. On the contrary, countries such as Poland and Slovakia have said that Ukrainian refugees fleeing will be accepted without passports, or any valid travel documents due to the urgency of the situation. Therefore, stating with their actions, that Ukrainian refugees are more valuable or seem to be more worthy of help than refugees from Asia, Africa, or the Middle East.
Correspondingly, it is true that not all countries inside Europe deal and act the same way towards refugees, be that as it may, with the current refugee crisis it has been proved that they all share strong sentiments of xenophobia and racism. For instance, Hungary is a country that refused to admit refugees coming from outside Europe since 2015. In 2018, Prime Minister Viktor Orban described non-European refugees as "Muslim invaders" and "poison" to society, in comparison with Ukrainian refugees who are being welcomed without hesitation. In the same way, Jarosław Kaczyński, who served as Prime Minister of Poland and is the leader of the Law and Justice party, in 2017 said that accepting asylum seekers from Syria would be dangerous and would "completely change our culture and radically lower the level of safety in our country". Furthermore, Germany in 2015 with Chancellor Angela Merkel in charged said that they would accept one million of Syrians. Although, as time passed, Europe's solution was to make a deal with Turkey, who is not part of the European Union, to close the migrant route. Moreover, the promise of letting refugees integrate into German society was not fulfilled since. Seven year later, an impressive amount of refugees are still in camps and centers, with their lives frozen in time. Sadly, most European governments gambled towards the idea of sending them back once the armed conflict was over, without caring for the aftermath of war's destruction.
The common narrative until now pushed by leaders, politicians, and mass media has been that Ukrainians are prosperous, civilized, middle class working people, but refugees coming from the Middle East are terrorists, and refuges from Africa are simply too different. Despite, refugees are all people who share similar emotions and struggle to grasp the fact that their lives may never be the same; having lost their homes, friends, family and so much more. Plus, being selectively welcomed based on their religion, skin color or nationality by the continent which's complete rhetoric is universal rights, just adds another complex layer to the issue. Conjointly, the displacement of people due to war displays how regular individuals are always the ones who suffer the most in consequence to the interests of the few that represent larger powers. Hence, greed, envy, and cruelty are stronger than recognized, even in a developed continent such as Europe.
What Everyone Should Know About Preventing Ethnic Violence: The Case of Bosnia
When the Balkans spiraled into violence and genocide in the 90's, many wondered what caused this resurgence in militant ethnic nationalism and how a similar situation may be countered.
***
The 1990's were a vibrant decade, that is unless you were living in the Balkans. 1995 was especially bad, as the 11th of July of that year marked the Srebrenica Massacre, which saw Serbian soldiers murder over 8,000 Bosnian Muslims over the span of two weeks. This shocked the world, as it was the first case of a European country resorting to extreme violence and genocide on ethnic lines since World War II. After World War II, the idea that a European country would resort to genocide was unthinkable. As Balkan nations continue to see the consequences of the massacre after over 25 years, it is increasingly evident that more needs to be done to curb ethnic violence.
We must first investigate key causes of ethnic violence. According to V.P. Gagnon, the main driver of ethnic violence is elites that wish to stay in power. Ethnic nationalism is easy to exploit, as creating a scapegoat is extremely effective for keeping elites in power. This is exactly what happened in Yugoslavia, which had previously seen high levels of tolerance and intermarriage in more mixed areas that saw the worst violence during the war. Stuart J. Kaufman argues that elites may take advantage of natural psychological fears of in-group extinction, creating group myths, or stereotypes, of outgroups to fuel hatred against them. While they may take different approaches to this issue, Gagnon and Kaufman agree that the main drivers of ethnic violence are the elites.
David Lake and Donald Rothchild suggest that the main driver of ethnic conflict is collective fears for the future of in-groups. Fear is one of the most important emotions we have because it helps secure our existence in a hostile world. However, fear can easily be exploited by the elites to achieve their personal goals. In a multiethnic society such as Yugoslavia, the rise of an elite that adheres to the prospects of a single ethnic group could prove dangerous and sometimes even disastrous. The destruction of Yugoslavian hegemony under Josip Broz Tito and the resulting explosion of ethnic conflict at the hands of Serbian elites in Bosnia underline this because of the immense fear this created.
Regions with high Serb populations in Bosnia sought independence from the rest of the country when they found themselves separated from Serbia by the dissolution of Yugoslavia. Republika Srpska was formed by these alienated Serbs. The leadership and elites in Serbia riled up the Serb population of Republika Srpska by stereotyping and demonizing Bosnian Muslims as "descendants of the Turkish oppressors". This scared the Serbs in Bosnia so much so that they obeyed the elites of Serbia in supporting and fighting for the independence of Republika Srpska by any means necessary. As was seen in Srebrenica, they were not opposed to genocide.
We know how the elites fuel ethnic tensions to secure power as well of the devastating effects of these tensions reaching their boiling point. But what could be done to address ethnic conflict? David Welsh suggests that a remedy for ethnic conflict could be the complete enfranchisement of ethnic minorities and deterrence towards ethnic cleansing. This means that we must ensure that ethnic minorities are able to have a say in a democratic system that caters to all ethnicities equally. Fostering aversion to genocide is also vital toward addressing ethnic conflict because it is the inevitable result of unchecked ethnic conflict.
There is also the issue of members of ethnic groups voting for candidates and parties on ethnic lines. For example, in the United States, White American voters have shown to prefer White candidates over African American candidates, and vice versa. Keep in mind that the United States has a deep history of ethnic conflict, including the centuries-long subjugation of African Americans by White Americans.
Ethnic violence is horrifying and destructive, but it can be prevented. The first measure would be the establishment of a representative democracy, where members of all ethnicities are accurately represented. Another measure would be to make ethnic conflict and ethnic stereotyping taboo so that the average person would not resort to genocidal behavior once things go wrong. Lastly, making people feel secure is the most important step towards preventing ethnic conflict. If the people feel secure enough, they will not even need to think about ethnic violence. In short, while it is important to consider the differences of the various ethnic groups in a multiethnic society, it is vital that each group is kept represented and secure, free of any fears of subjugation.
While the case of Bosnia was extremely unfortunate, it provides an integral view into what could happen if perceived subjugation and fear of eradication reaches a breaking point. As was seen in Bosnia, ethnic violence can be extremely violent, resulting in untold suffering and death. That is why we must take necessary steps towards de-escalation and remediation of ethnic conflicts. These measures can, quite literally, save millions of lives.